This year, we have rescheduled the trip planned in 2020 that we could not make because of Covid. We are traveling with Etienne, Stephane, Claire, Lysiane, Thierry and will meet Annick and Eric for a few days. 
Friday april 15 : as we are leaving early tomorrow morning, we decided to spend the night at the Campanile hotel of Le Mesnil-Amelot in front of Parkineo where we will park our car. We thus leave the house at 6:30 pm for 2 hours of road. We go to bed early!
Saturday april 16 : up at 1:00 am. We don't have far to go to deposit the car to Parkineo. The shuttle takes us to Roissy immediately. Check-in, security, blablabla... as usual! We board on the Lufthansa flight then we take off at 6:25 am (instead of 6:00 am). Arrival in Frankfurt at 7:15 am. We go to the boarding gate for the flight to Las Vegas... how long are the corridors here!... Claire, who took a flight from the South of France, joins us. She has the same flight as us but we won't be next to her in the plane. Takeoff at 10:30 am with half an hour delay. The flight is assured by EW Discover. We arrive at Las Vegas, Nevada at 1 pm. The passage to the customs is rather fast, for once. On the other hand, the wait of luggage is very loooong, as well as the recovery of the car at Hertz. The pick-up that we had reserved 6 months before is not terrible. We had hoped for big doors in the back but they are small, we had hoped for a trunk on the back but there is not. We will not be able to put the bags of trip, photos bags, cooler, shopping only in the back. We thus ask to change. We find ourselves with a Ford Edge 4WD for 15$/day more.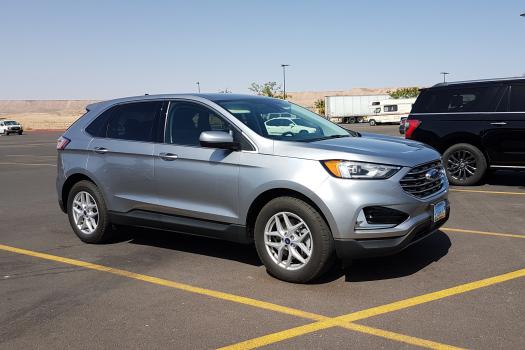 We go all the 3 to the Travelodge (on Koval Lane). It is already 4:15 pm. We rest for one hour. Then, we go to make the traditional shopping in Walmart. That also it is long to find everything! In more, the rays are arranged anyhow or empty for some; there are coolers in one place - not much - but there are others 10 rays farther, pfff! We finish at 8 pm! We go then to dine in Denny's near the hotel.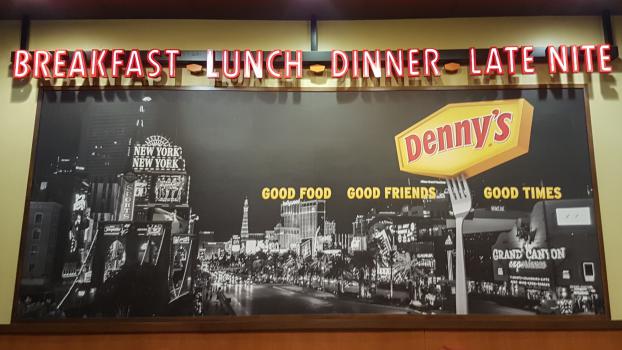 We return a little in rooms before bringing back Claire to the Rental Car: she has to find Etienne and Stephane for the car (because she is driver). The poors arrive with 1 hour of delay at 10:10 pm. They have a "bourgeois" car, a Ford Expedition. Huge but not a 4WD ! It's a shame! Well-deserved sleep!...
Sunday april 17 : up at 6:00 am. As the breakfast is not included in the hotel, we will have it at the Denny's of next door : bacon, eggs, mashed potatoes, pancakes... in the American way! We are going to make some shopping in Walgreen because Etienne forgot in France his toilet bag! Departure at 8:30 am for Kanab, it's 72°F. We arrive at Kanab, Utah at 1:40 pm (Utah time (+1h00)). We go to the guy at whom we rented a Rubicon Wrangler via the Turo website. It is a site where private individuals propose their own vehicle. The guy is nice and explains us everything. The car is blue, superb. Then we join the house in which we rented the ground floor transformed into Air BnB (the owners live upstairs). It is not bad: the main room (living room, dining room, opened kitchen) is big, 2 rooms and a bathroom, small garden. We will not take advantage of it a lot, we only stay there for one night. At the end of the afternoon, we leave "to practice" on the tracks with the Rubicon. We hesitate between Great Chamber or a site of hoodoos. It will be the hoodoos. The track is sandy but David gets out of it easily. We park ourselves in edge of track. The most complicated now is to cross on foot a rather deep wash. We find a place to go down and we follow the point indicated in the hiking GPS on a sandy ground with low vegetation before finding a semblance of way on the other side of the wash (perhaps another access by car?). The hoodoos of red color are not very numerous, the site is very small.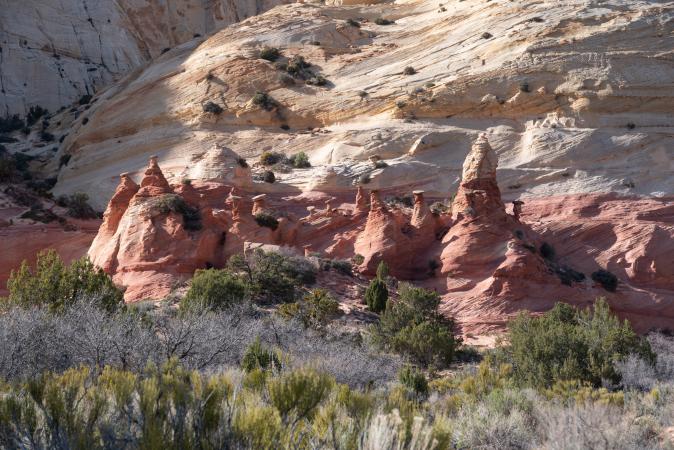 We have to climb a slickrock hill to see the prettiest one that defies gravity! One wonders how it stands!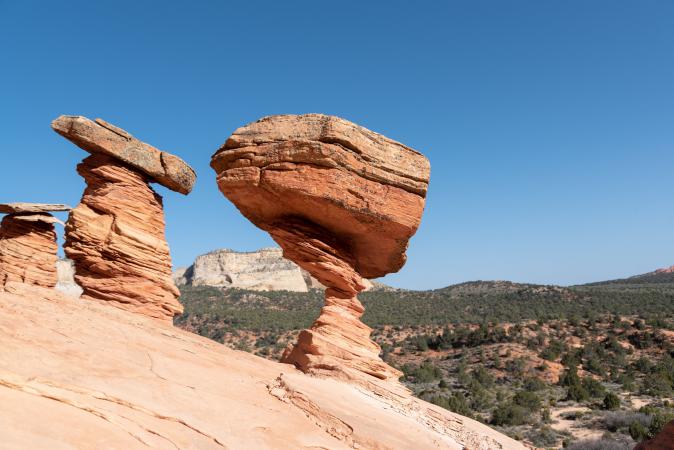 They are quickly in the shade. We take the return trail, we struggle to climb up the wall of the wash in the sand. We are back to the car at 6:30 pm after a 3 miles walk round trip. Direction Kanab. It's nice our Rubicon isn't it ?!!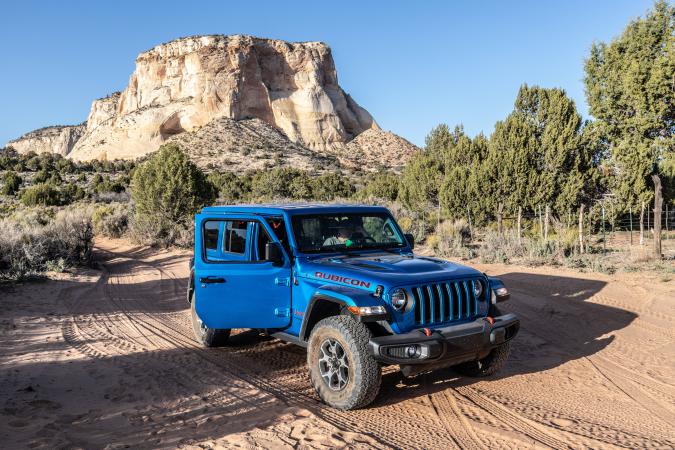 At 8 pm, we have appointment with Thierry and Lysiane in the restaurant Rocking V. It is not bad!
Monday april 18 : up at 7h00. We meet Thierry and Lysiane at 9:30 am to leave all together to Coyote Buttes South. Only accessible with a permit, we managed to have some for 2 days. We are going first to deposit our 2 cars "of city" at our renter of Rubicon (he has a big ground, that does not disturb him and that reassures us also not to leave them anywhere in the city because there is a part of our things inside). Lysiane and Thierry also have a Rubicon rented on Turo and taken in Vegas for the whole trip. We drive toward the House Rock Valley Road. The track is in very good condition. We make a stop in the parking lot of Wire Pass where we discover the new arrangement and all the new places of parking. We connect more and more sandy tracks. We pass barriers that we have to open and close but while wanting to restart, a wheel sinks in the sand. Seriously? We are not going to get stuck in the sand with a Wrangler?! Well, we are, a little but we get out of it very easily. In fact, David had not yet passed in the 4WD mode because it was not necessary until there. We arrive at CBS at noon (Utah time, we passed again in Arizona). There are 3 cars. We take out the chairs of camping (yes, we embourgeoise!!) and we nibble. Finally, we go for a walk. It is always so beautiful even if the light is not the best. We see hoodoos, "waves", buttes and full of colors. We shoot a lot of photos and videos.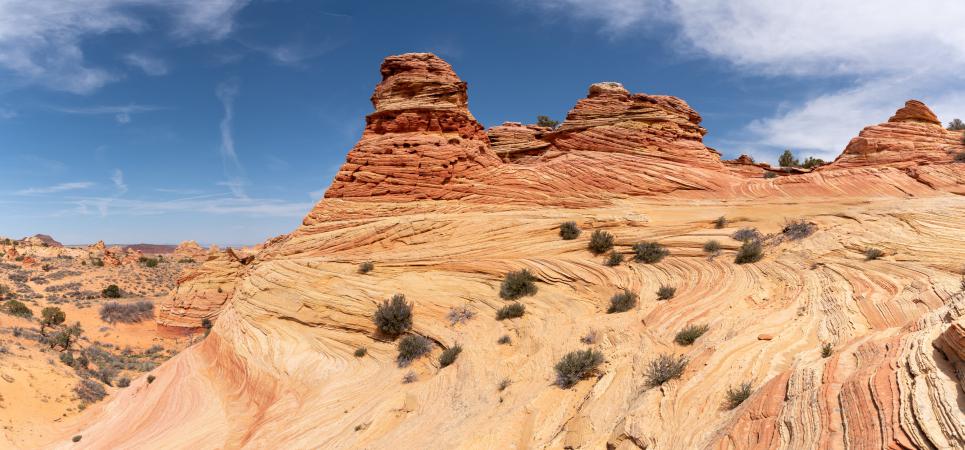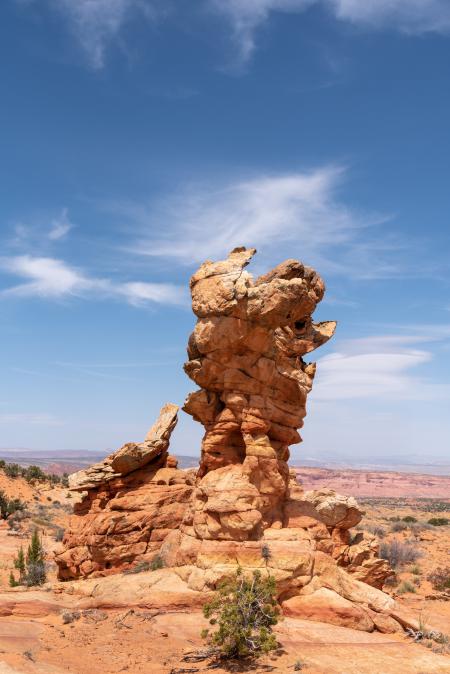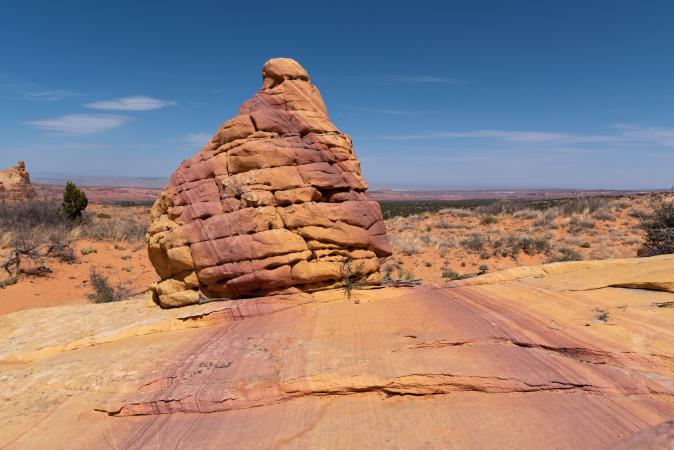 We are alone. We see just a small group of persons at a time. There is wind from time to time but it is good. We return to the parking to set up the tents; this night, we sleep here. Next to the parking, there is a rather flat zone with sand. After the installation, around 5:40 pm, we return to the site to have the beautiful light of the sunset. It is not as beautiful as we hoped because of veiled clouds, but the magic operates nevertheless.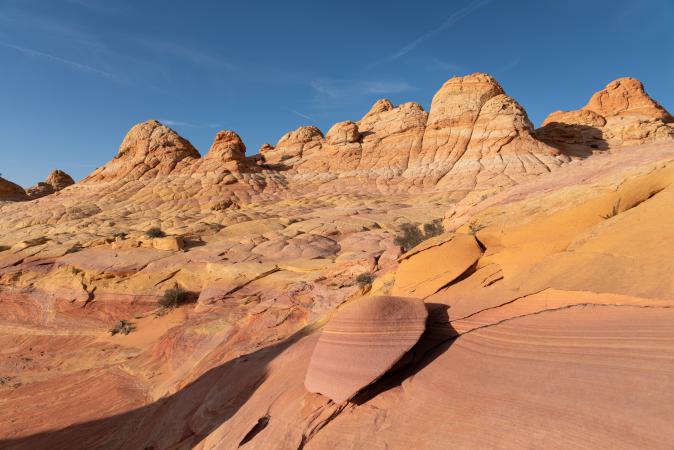 Return to the carpark at 7:30pm. We heat water for lyophilized meals. It is cold, the wind rose, we covered ourselves. We go under tents at 8:30 pm!
Tuesday april 19 : up at 6:30 am. Thierry, Stephane and David went to see the sunrise in CBS.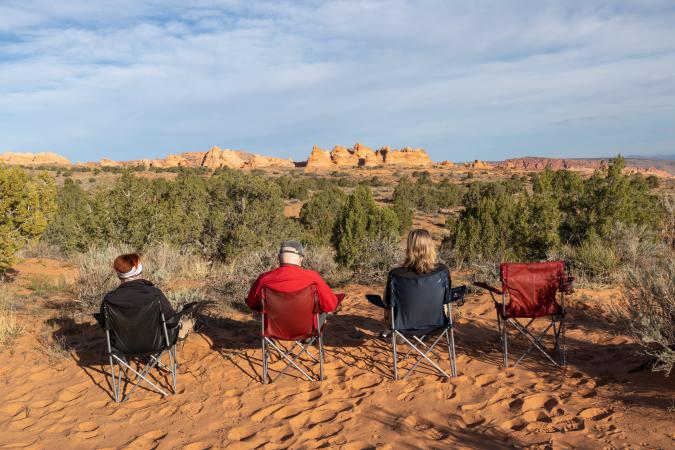 Then, removal of the tents and breakfast. At 8:50 am, we take again the cars to go to White Pocket that we reach in 45 minutes. There is a lot of wind. The dust of the parking lot flies. We go for a walk. There too, it is always so beautiful even if the light is not the best. It is nevertheless better than the last time we were there: it was raining and we had visited it in the pace. Today, we take our time.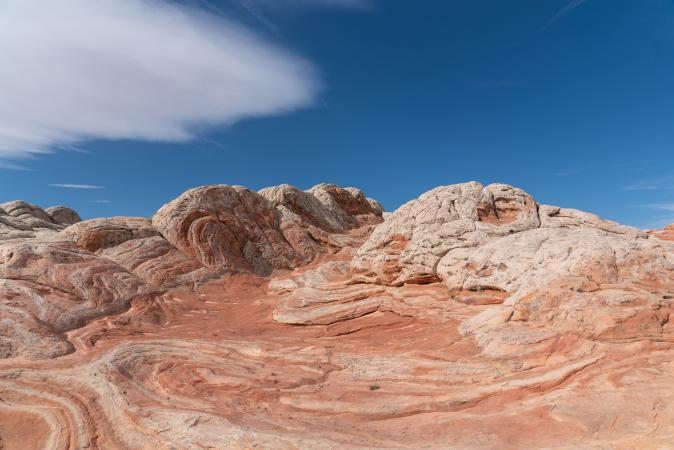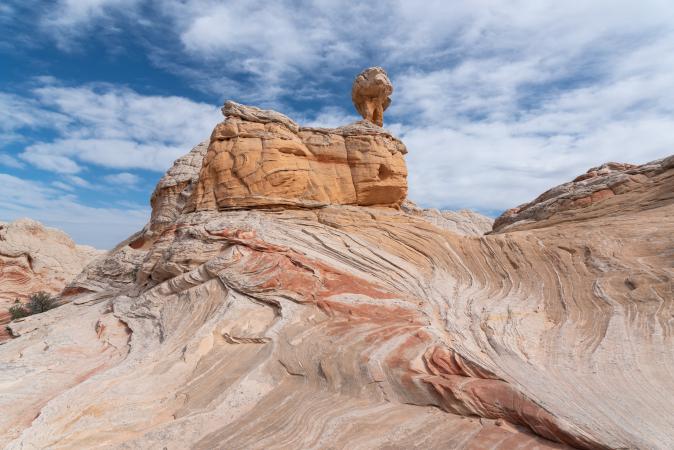 There is almost nobody. And we have fun...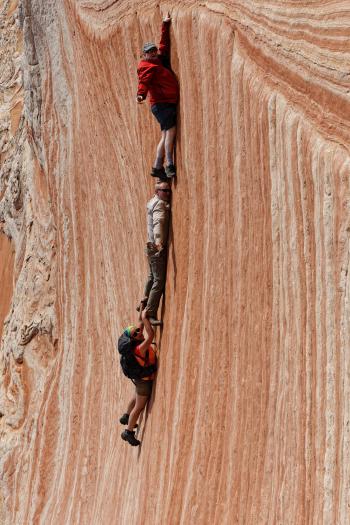 We return to the car around 12:15 pm. We settle down near the trees on the left of the parking slightly less in the wind. We picnic and we decide not to camp here as it was planned: too much wind and this one did not decide to lower. We join Kanab and we take rooms in the Day's Inn (Thierry and Lysiane go to the Travelodge). The Rubicon was at the top in the sometimes deep sand and David assured - good driver! We are going to have dinner in Wendy's. 
Wednesday april 20 : up at 7:00 am. Breakfast at the hotel. Having realized that in the Ford Edge we had neither spare wheel nor spare kit, we go around the garages of Kanab to buy a spare wheel. It is quickly done, there are only two garages and they say to us not to have some, it is on order! Instead, we buy an anti-puncture spray. Well, it is necessary to find to occupy this day which was planned for the sunrise in White Pocket. We take advantage to have the Wrangler to go to Inchworm Arch with Claire, Etienne and Stephane. None of us knows. It is 9 am, it is a morning arch. David is happy, he will be able to have some more fun driving the Rubicon! The track is sandy but easy, just a nice hill at the end. The trail to the arch is very short, downhill. Inchworm Arch is small but pretty. It looks like 2 rocks kissing each other.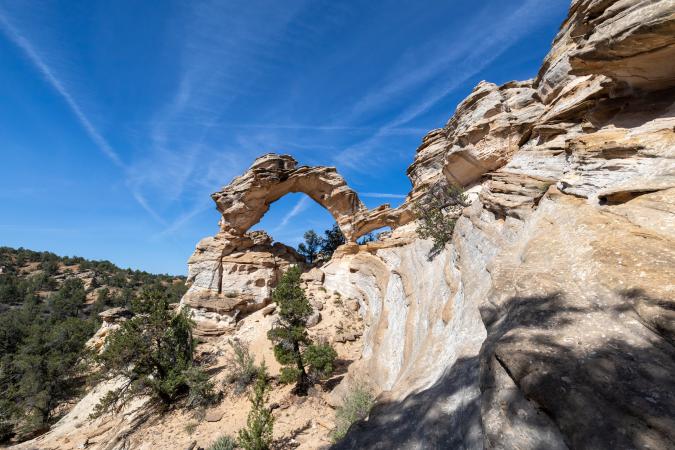 We are alone, it is cool for the photos. But a family of locals arrives. We discuss a little. Return to Kanab at 12:30 pm. It is time to prepare the handing-over of the Rubicon to its owner. It passes to the car wash and under the vacuum cleaner. During this time, we make some laundries. Then we return to the guy, we deposit the Wrangler (goodbye pretty Rubicon!), we recover our 2 cars and we leave Kanab at 2 pm. We stop to picnic in Old Paria Movie Set around 2:45 pm, 75°F.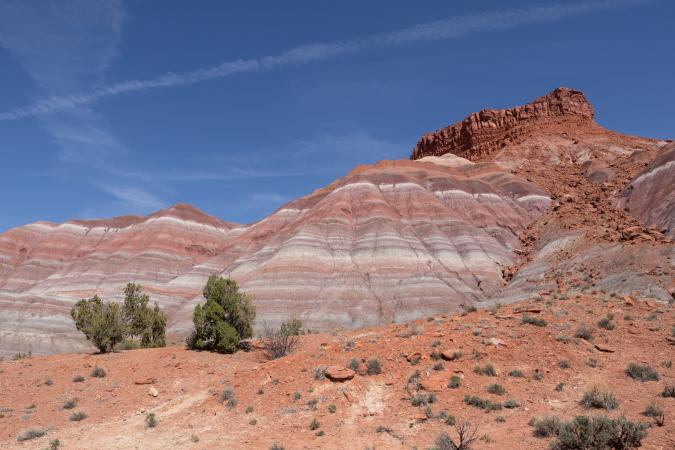 We leave 45 minutes later to take the direction of Escalante via the Cottonwood Canyon Road. The track is in good conditions. We stop to make photos of Cockscomb (crest of cock in French) from down,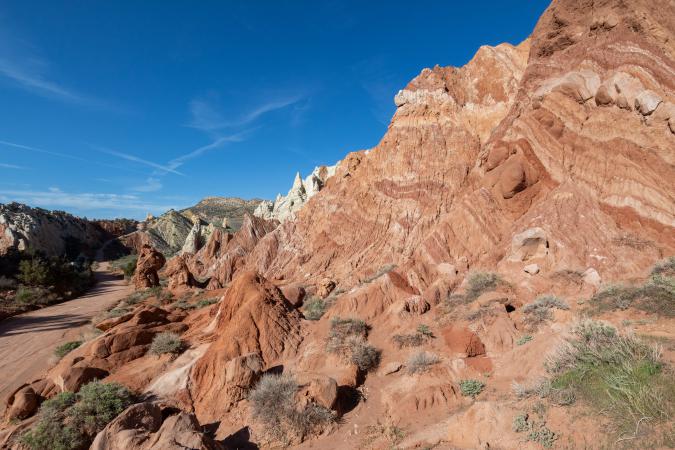 then from a little farther. Here we see a snake. Brrr…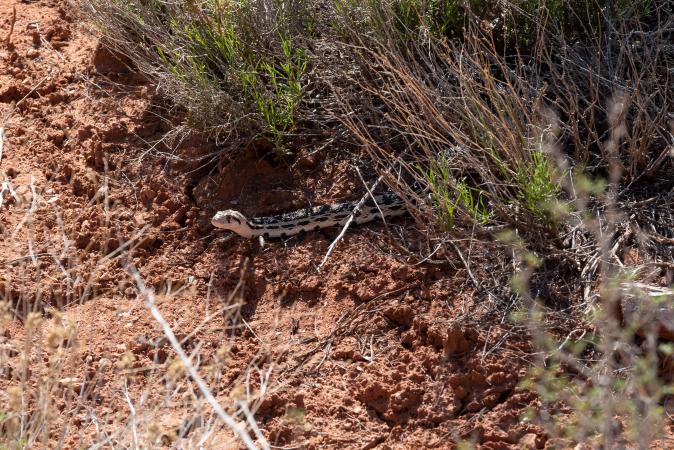 We arrive in Escalante à 7:10 pm. We get the keys of our rooms at the Prospector Inn where we meet again Lysiane and Thierry. We have dinner altogether at the Circle D. It's medium. 
Thursday april 21 : up at 7 am. With Stephane, Claire and Etienne, we go to Zebra Slot at 8:20 am. The last time, we could not enter the canyon because of the water. We hope it will be dry today. The Hole in the Rock Road is very drivable, a highway! A few car on the parking. We take our backpacks and it's go for the hike. At the beginning, it's rater boring but then the landsacpe is rather pretty. We join the wash and pass under a barrier (still there, I remembered it). The entrance of  Zebra is dry.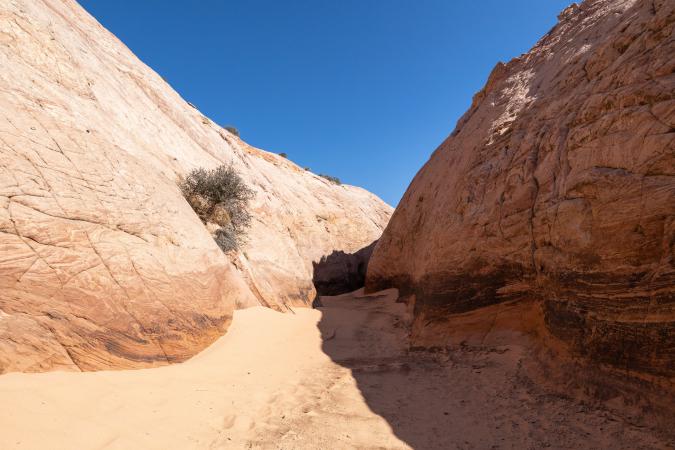 We sink the canyon until we have to remove our backpacks. It becomes very narrow and very beautiful. And a little acrobatic too. Stephane, David and I pass the narrowest part. One passage is tricky where the guys have to pass "in opposition" (feet leaning on one side of the rock, buttocks and hands on the other side) because there is not much room to put the feet on the ground. I can do it. It's so beautiful!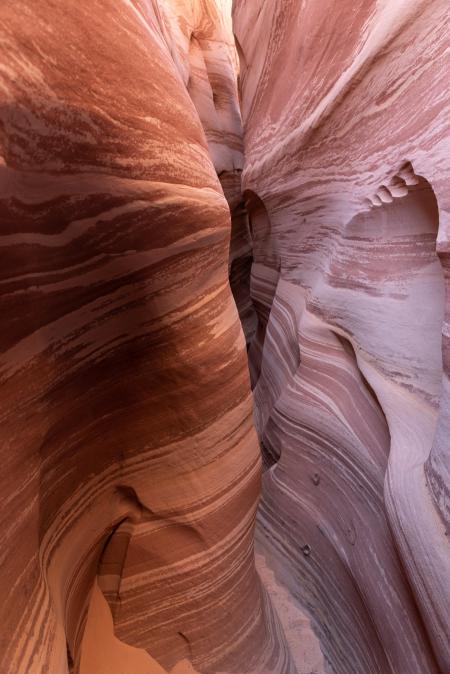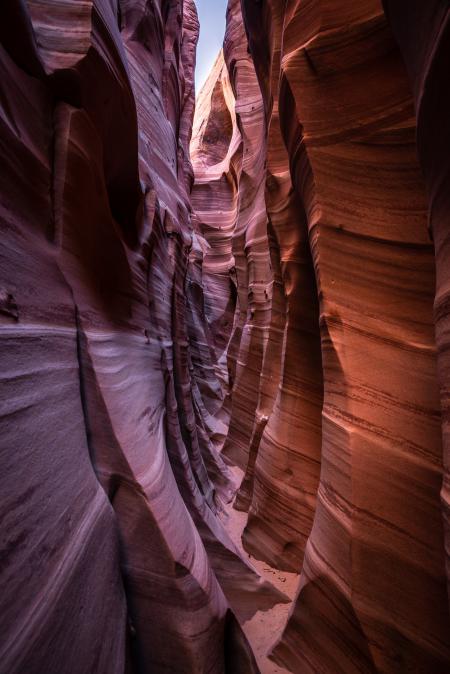 Then there is a high step where I will not be able to follow David and Stephane. But they are blocked almost immediately because there is water. Back in reverse. This time, I take the tricky passage in opposition. I manage it well and it is fun! We cross some people but it is not the crowd, fortunately. Then, we go to a site of Moqui Balls in the north of Zebra. Moqui Balls are balls of sandy concretions with the iron crust more or less big, very black. There is an enormous quantity of them. We settle down here to nibble.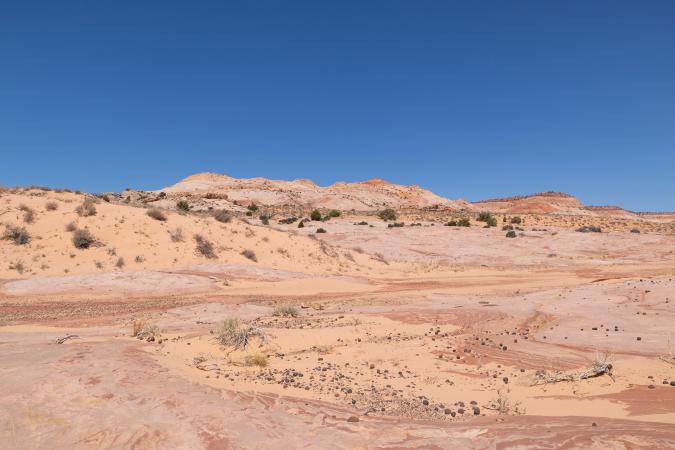 Then Etienne leaves alone towards the car, while we are going to try to find the small oasis advised by Thierry. We don't have a trace just a GPS point. We end up finding the site which is quite pretty. The trees are a little bit decrepit!
The GPS indicates another "thing" that we try to find in vain. We make a check of our reserves in water and cereal bars because the guys would like to see this curiosity indicated on the GPS. It is good, but they agree to pass just behind the hill and if there is nothing, they will return. Claire and I turn around and go wait for them at the oasis. Barely enough time to have a little nap, they are already back. They have seen nothing but a very recent cow corpse with a little calf next to it. The poor won't last long without its mother. The return seems very long until the car and it is hot. We arrive there at 3:30 pm after 11 miles round trip. One hour later, we are under the shower in the hotel and it is very good! This evening, it is pizza at the Outfitters. But that has changed: there is not more table inside, they were replaced by souvenirs. There is still the covered terrace with few tables and a new terrace outside. But it is too fresh. We place an order to take away to the hotel but that is going to be a pain to eat all 7 in the rooms! Then, we wait that a table is free. It is a little the mess, it is not what it was! But pizzas are good and as usual, there is some left. We make a doggy bag.  
Friday april 22 : up at 6:45 am. Departure at 8:30 am, it is 52°F and it rains some drops. We are going to make some shopping at the mini-market, gasoline and we leave Escalante at 9:10 am, toward Bullfrog via the Burr Trail Road. The temperature drops to 41°F and the sky is covered. We make a photo stop at the exit of Long Canyon, in hoodoos.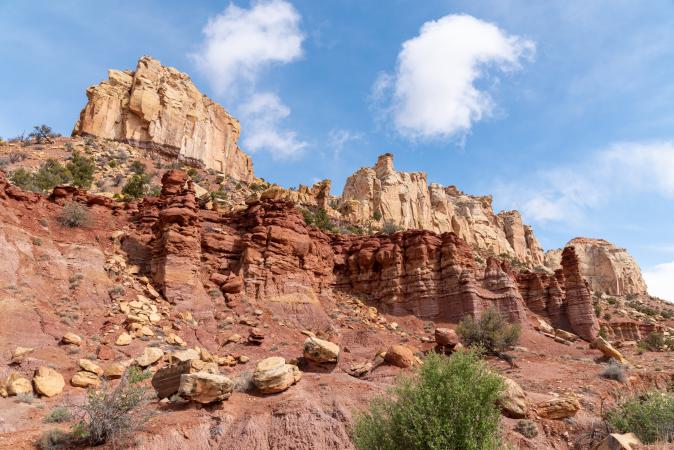 The sky is very cloudy and dark, 43°F. At the junction with the track which leads to Strike Valley Overlook, Thierry and Lysiane go to see the state of the track for our 2 unsuitable cars. It is full of mud so we do not go there. And we did well because it starts to rain big drops. We are not very reassured on this track, we wonder how it can become when it's very wet. But the blow of fear does not last, the bitumen returns quickly. At 1:20 pm, we are at the entrance of Glen Canyon National Recreation Area. No more ranger, it is necessary to pay to a terminal: 30 $. The sun returned, always with clouds and it is 63°F. We picnic on the tables, there is a lot of wind. We are going then to take possession of our rooms in Defiance House Lodge. Once, it had almost the feet in the water but the lake Powell is dramatically low and thus far from our windows. We mould until 6 pm. We go out to see the sunset while going towards the camping of Stanton Creek. Having taken only 2 cars and the track being very stony, we turn back. Lysiane, Thierry and Claire in their Rubicon continue. We go towards marinas. The colors are pretty.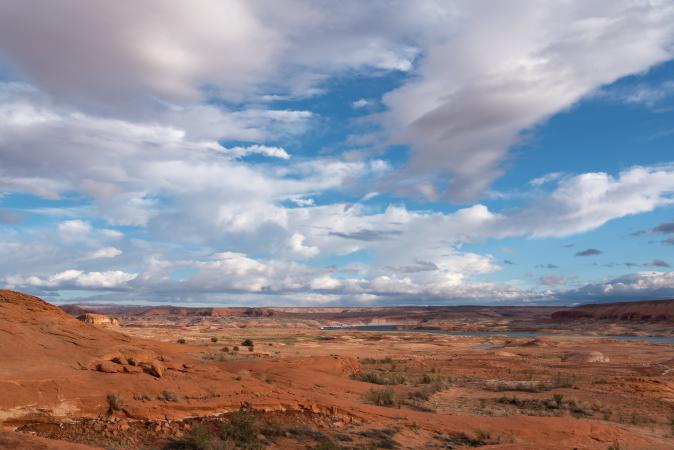 We dinne at the hotel's restaurant, the Anasazi. We taste the famous Mac&cheese : not bad at all !
Saturday april 23 : up at 5:45 am for David who goes with Thierry to see the sunrise.
Around 8:30 am, we all leave to Pedestal Alley. It's cool 50°F but sunny. We walk in the hoodoos from 9 am to 1 pm. They are of all shapes, small, large, fat , fine, biscornus… We have the place for us all alone.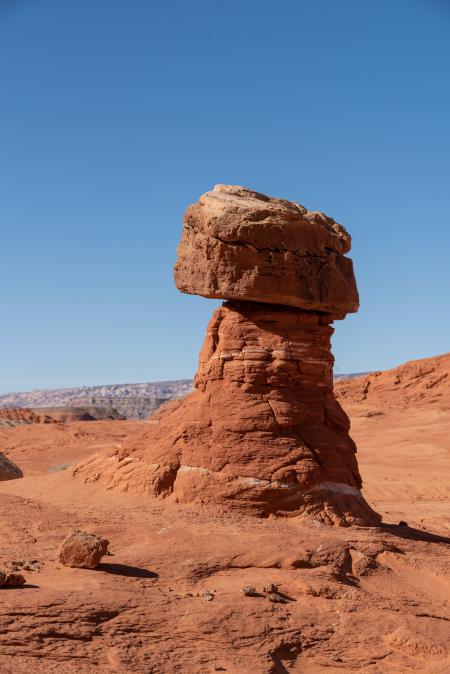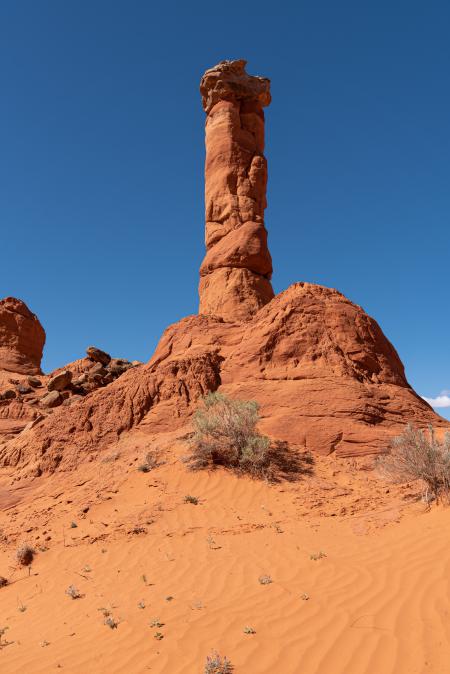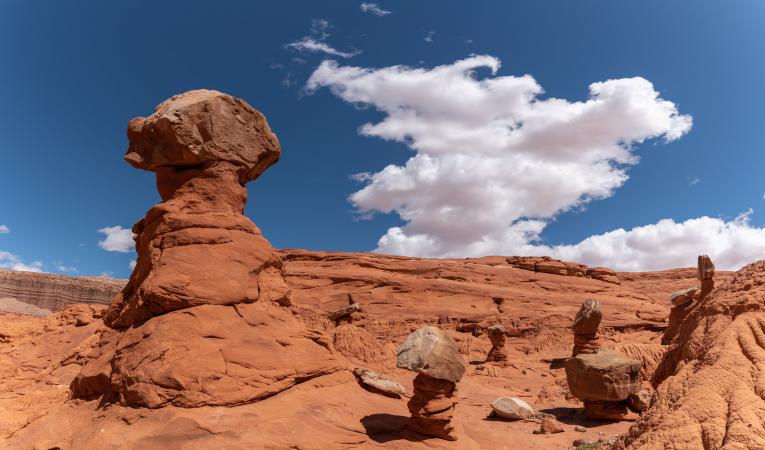 After 5,6 miles, we picninc at the parking and we leave at 2 pm (64°F). The road 276 that joins Hanksville is very pretty. But before, we make a stop to discover Arsenic Arch via the North Turkey Knob Road. The trail is a bit boring in a sandy wash. Claire, Etienne and me turn around. The others will go to the end. The arch is not very big but it's quite pretty (1,9 miles roundtrip).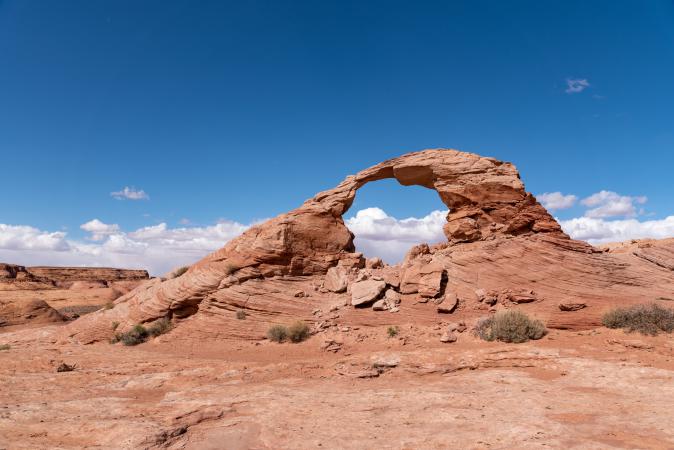 At 5:30 pm we are back on road 95. We arrive at Hanksville. With David, we go to the Duke's RV Park while our friends go to the hotel. We set up the tents on the grass whom size has dramatically decrease because of the building of bungalows. It starts to be windy and it's cold. At 8 pm, we all meet at the retsaurant Duke's Slickrock Grill just next to the campground. Always nice and good !
Sunday april 24 : up at 7:00 am. The car indicates 27° F and there is a light frost on the tent. Breakfast, dismantling of the tent. Departure at 9 am with the buddies, direction Little Wild Horse Canyon. We planned to make a stop in Lith Canyon but after verification of the state of the track by Thierry, we give up because the track is bad. We arrive at the parking lot of Little Wild Horse around 9:45 am. This one is full of people. Ah yes... we are Sunday! It 's 43°F. Finally, there is not so much people in the canyon.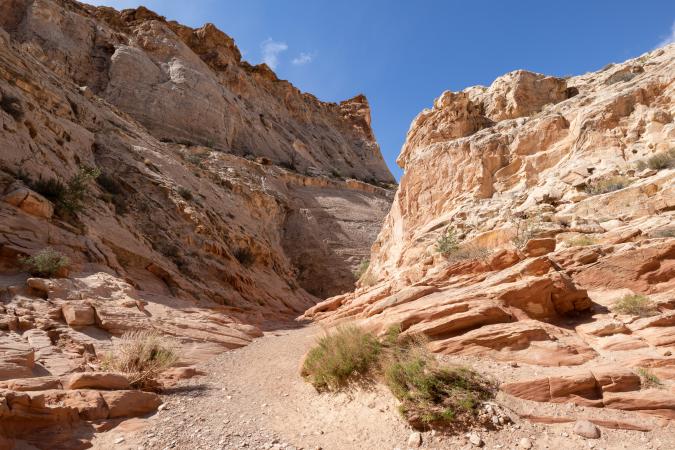 We venture further than the last time we came. It is very nice with very narrow passages sometimes, small obstacles to cross.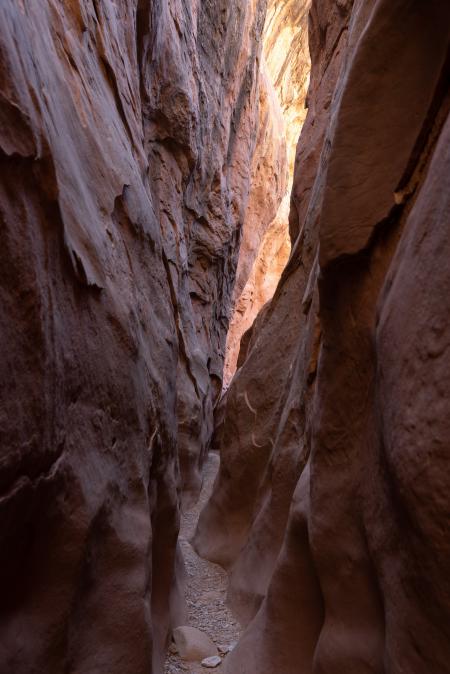 We end up turning back because there is water in the canyon. We take back the cars at noon and we find a quiet place to picnic at the edge of a hill. We leave under the wind and with 54°F. Towards Moab. We arrive at 3 pm and we settle down in Bowen Motel. We are going to make some shopping in the City Market and in the Gearheads Outdoor Store next to. With Claire, Stephane, Etienne and David, we go to drink a glass in a bar. We are joined by Yves  that we knew via Facebook. It's a pleasure to finally meet for "real" even if it's very short because we have an appointment with Lysiane and Thierry to go to picnic at Fisher Towers for the sunset. The light is incredible and the place is quiet.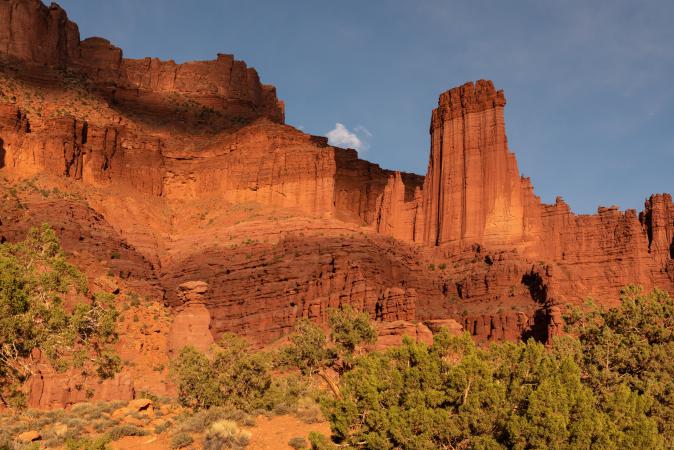 It's very nice after the hustle and bustle of Moab.
Monday april 25 : up at 6 am. At 7:35 am, we go to Cliffhanger Jeep Rental to recover the Rubicon that we rented with Etienne, Claire and Stephane which will allow us to go on the White Rim Road in Canyonlands. We transfer all the things we will need for the next 2 days and leave our 2 cars. Thierry and Lysiane join us and it is time to leave for Canyonlands at 8:10 am. David has a lot of fun at the wheel of the Rubicon! He likes to drive this kind of vehicle! Around 8:45 am, we attack the White Rim Road via Mineral Road which we join by the road 313. The track is rather rolling, some small chaos but it's ok. We then go along the Green River, it is very beautiful. Reflections in the calm water are nice.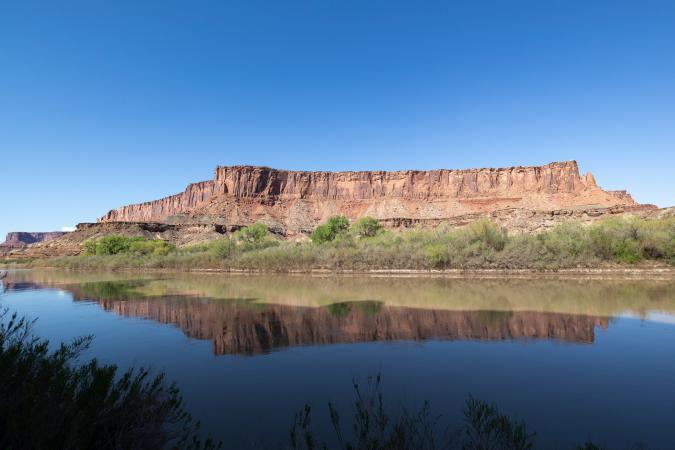 We temporarily leave the White Rim Road for the Taylor Canyon Road to go to see Moses and Zeus. Two huge pointed rocks in the middle of nowhere. We stay there 2 hours before leaving.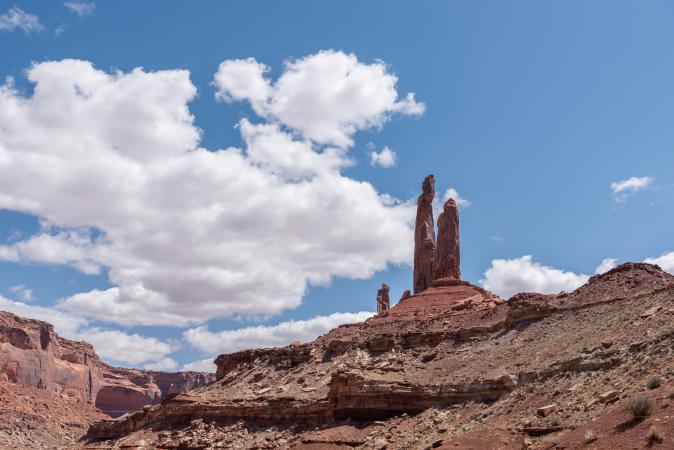 We often stop to take pictures. We are really very small in front of such landscapes.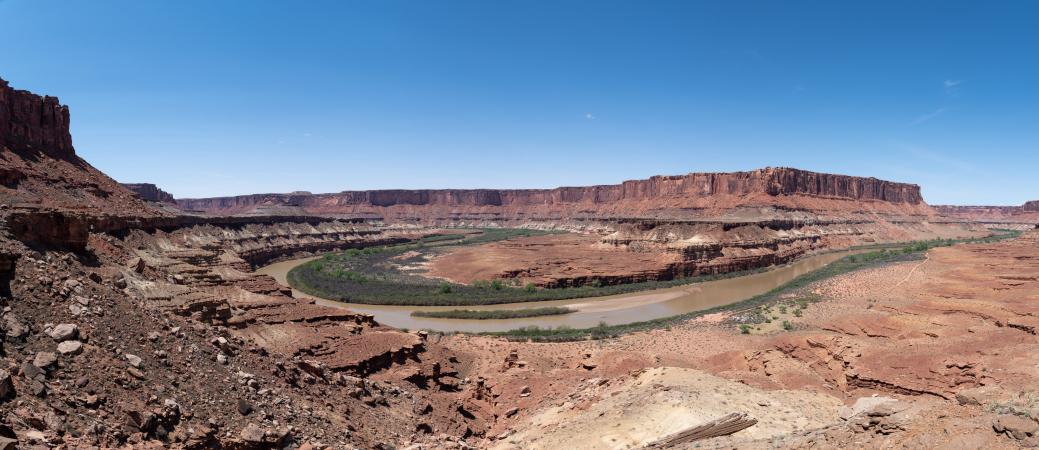 We cross nevertheless a lot of cars, motorcycles, bicycles. We stop for lunch around 1:30 pm with always a little wind. We continue the track. There are some difficult passages but the Rubicon passes and the driver is exceptionnal ! We accumulate the photo stops and we take full eyes.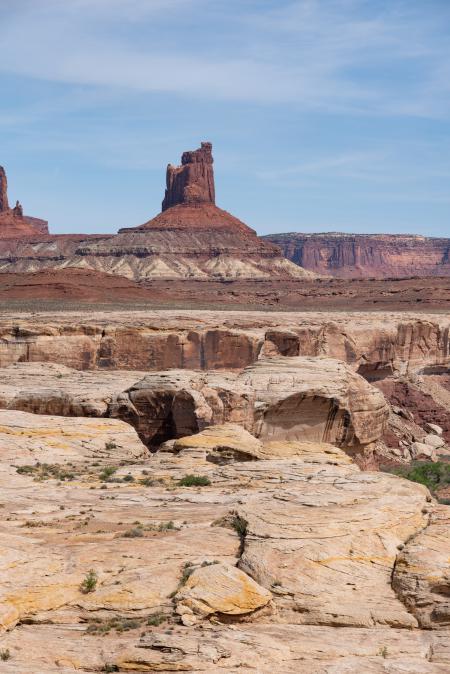 We arrive at 7:15 pm at the White Crack Campground - at the end of the end ! - that we had reserved months in advance and that we have for us all alone. A few shots at the sunset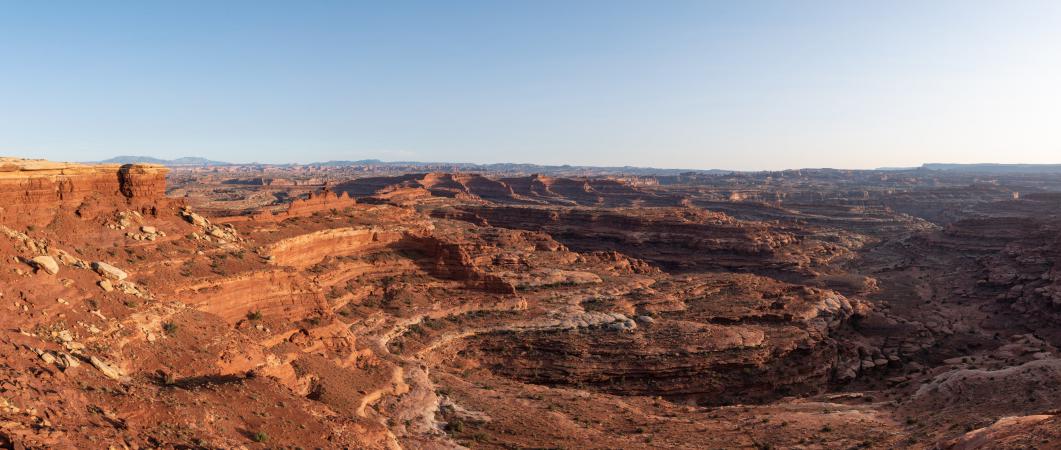 and we set up the tents not far from a not very friendly roommate !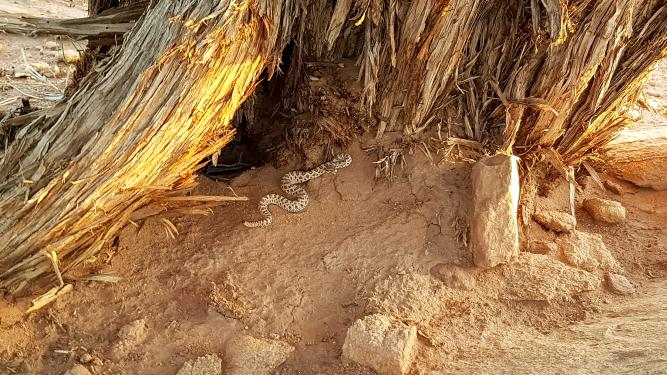 We have the impression to be at the end of the world or on another planet. How calm it is ! We dine at the corner of our campfire. We are so well!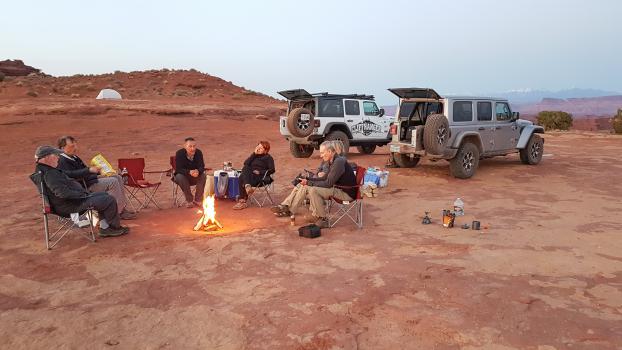 Tuesday april 26 : up at 6:30 am. Breakfast, dismantling of the tents and packing of the cars. We leave at 8:30 am. Same program as yesterday : photos, more or less rolling track, photos, picnic, photos, photos,…!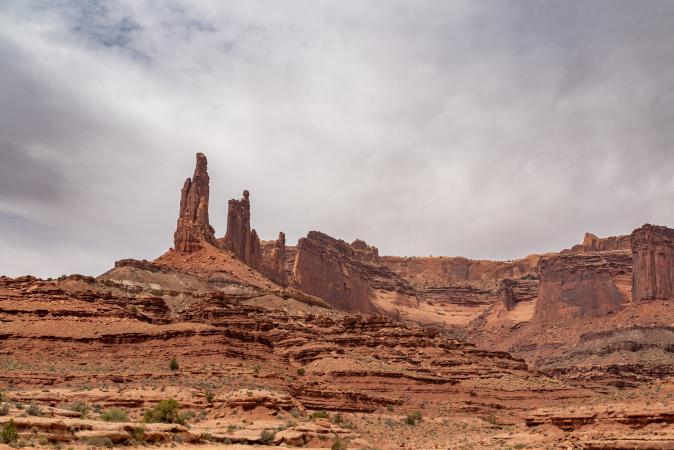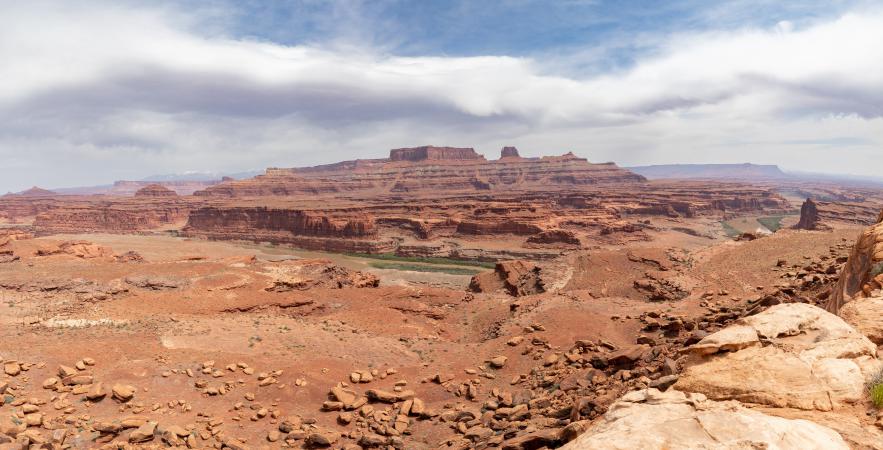 We try to locate ourselves with regard to the overlook of Island in the Sky. We see in the distance, the small Mesa Arch then the gooseneck of Dead Horse State Park via the Potash Road by which we leave Canyonlands at 4 pm.

We return the Rubicon to the hirer at 5:30 pm and we leave Lysiane and Thierry. We are going to drink a fresh blow in McDo. As if we had not made enough road, we go to Monticello. We settle down in the Wayside Motor Inn. We gave appointment to Eric who is also in the area, in the Granary Bar & Grill for dinner at 8 pm. Met as Yves on Facebook, we see ourselves for the first time. We talk a lot. It is very nice.    
Wednesday april 27 : up at 8 am. We are going to the laundries in front of the hotel while we have breakfast in the room because the Granary is closed this morning due to a lack of staff, it is a little everywhere like that! We leave Monticello at 11 am and direction Dry Bayou Mesa. 57°F. We arrive there at 12:30 pm. We take some photos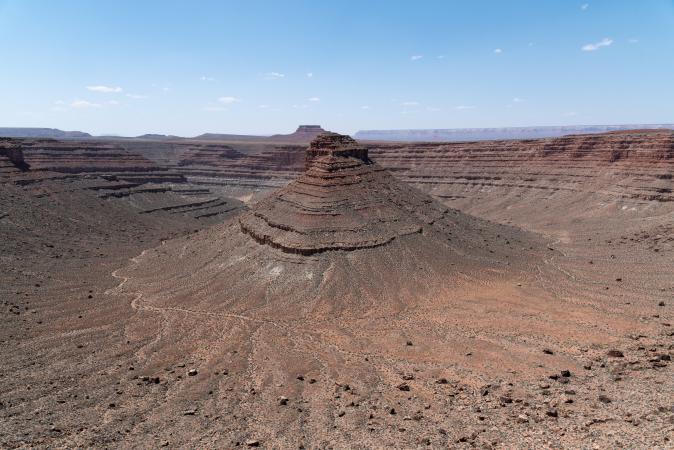 then we go up a small hill to have a plunging view, it is nicer from here. It is impressive the size that it makes. We settle down in front of this view for the lunch in spite of the wind. Then, we go on foot further on the track to go to see meanders of the San Juan River.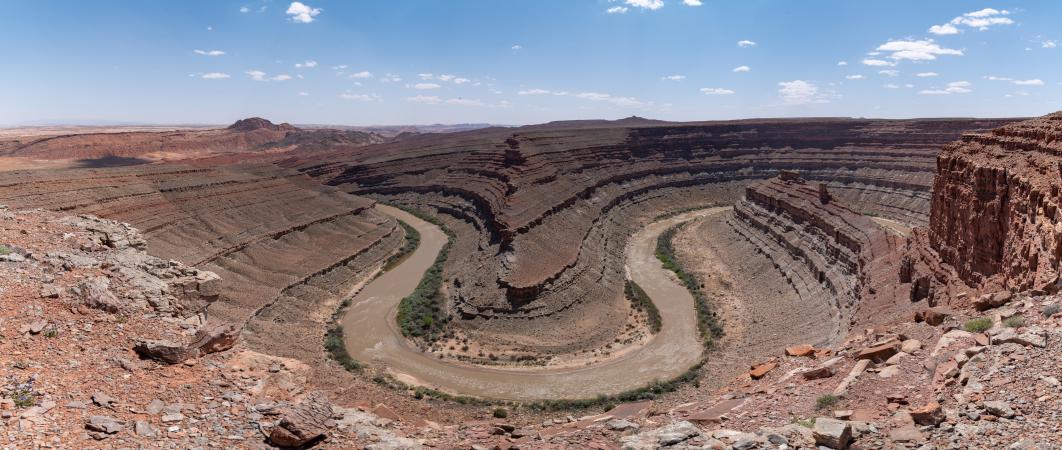 Back to the car after 3,1 miles. Departure at 3:20 pm and it is 84°F. We take the track for Ridge Point. At 5:00 pm, we appreciate the very beautiful sight although the canyon is against light, but much less the wind which blows enormously. We planned to camp here but we give up. We go to Bluff to look for a hotel. They are all very expensive. We stop our choice on a room for 5 persons at the Dwellings Resort & Spa for 277 $. The luxury! We spin a bad cotton, we become bourgeois! The room is big and beautiful with a nice terrace, there is a spa, a swimming pool, a snack.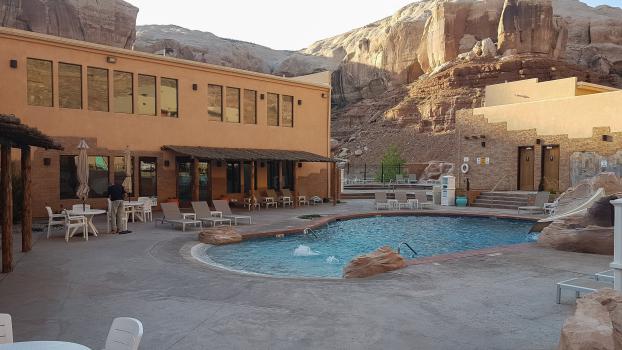 We take advantage of it to plunge in the spa, that makes good! This evening, it is pizzas ordered to the snack, in the corner of a false fire on the terrace.
Thursday april 28 : we get up at 5:30 am to leave at 6 am to attend the sunrise at Ridge Point. We are there in 30 minutes and we stay there until 8:30 am. It's a cold of duck and there is still wind (that becomes painful !). The show is not bad!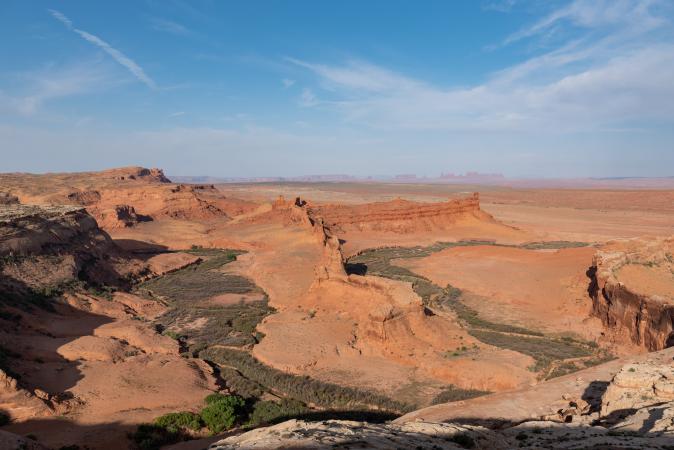 We wanted to take our breakfast in Twin Rocks Cafe but it is closed. We fall back on the snack of the hotel. We order there waffles with hot drinks and orange juice. We pack up and we leave Bluff at 10:35 am. We do not go very far: Recapture Pocket. We walk among hoodoos quite nice on 2 different areas during 2 hours, although the light is not terrible at this hour.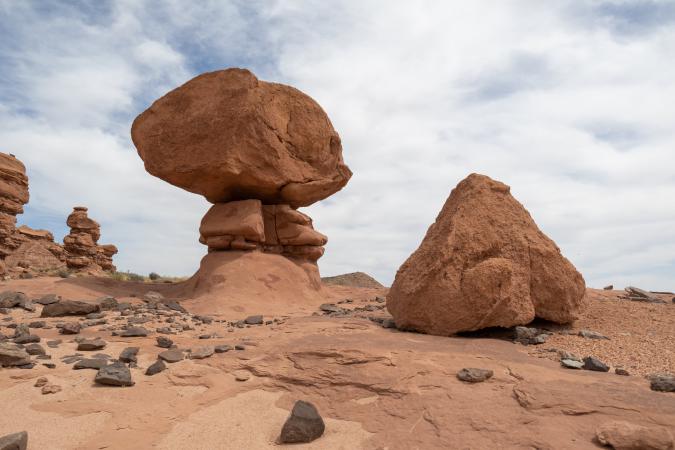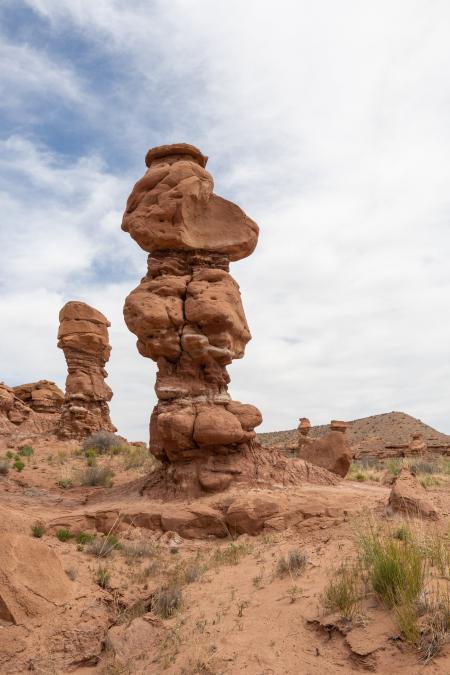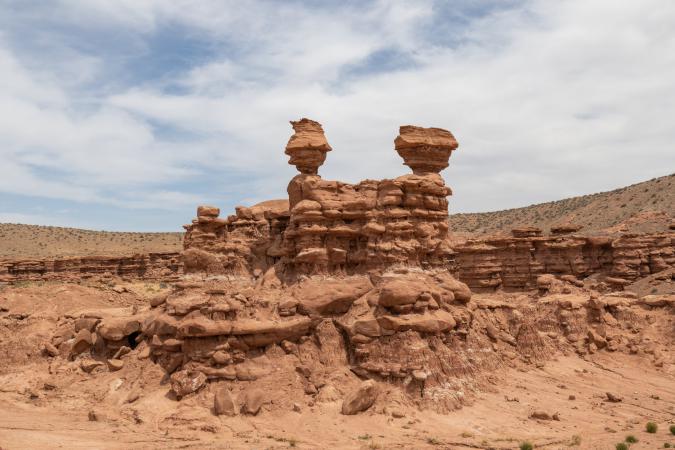 There are 2 campers vehicles here but we don't see people. We change of corner at 1 pm to see another area after picnic. This third area is small but there is a big and beautiful hoodoo.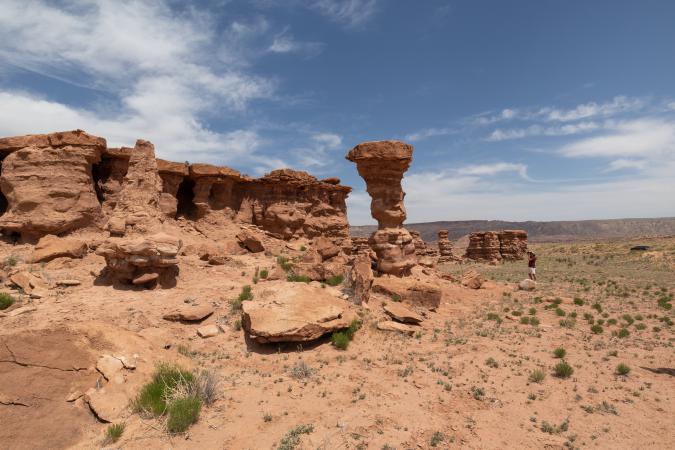 We leave at 2:30 pm for Farmington in New-Mexico. We arrive at the Rodway Inn at about 5 pm. We take possession of rooms and we say to ourselves "never again this hotel": it is very old, disgusting, the linen hardly clean or rather stained... but well, it is not expensive! And we understand why! We are going to have dinner at 7:30 pm in Denny's. 
Friday april 29 : up at 7:30 am, breakfast at 8 am at the hotel, departure at 9 am. We arrive at Lybrook at 11 am in the area of Mushroom Factory. Here, only small hoodoos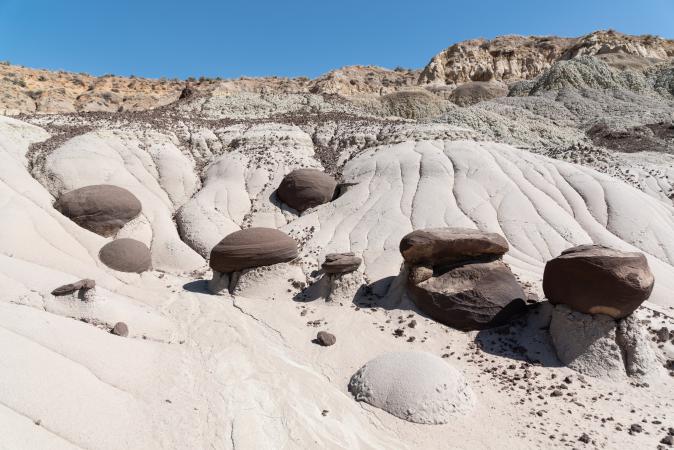 or "disco balls !".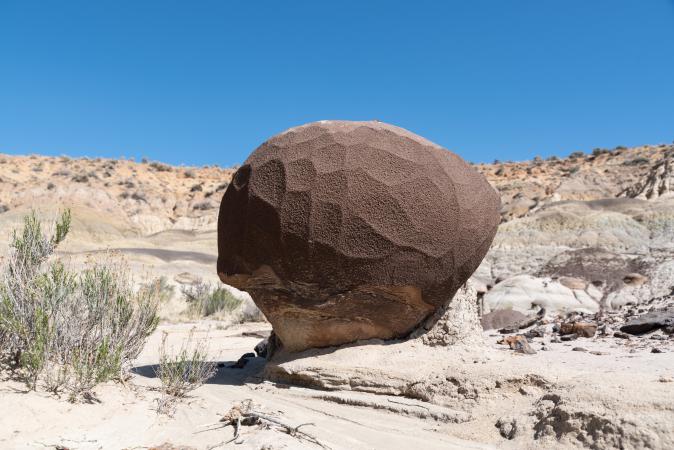 Then direction Hoodooville that our 3 friends don't know. We see Fat Albert, The Orb, Spinner Top,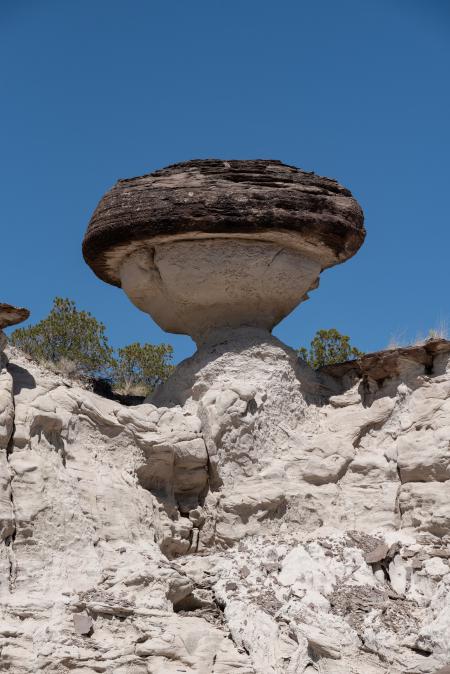 The Sentinel…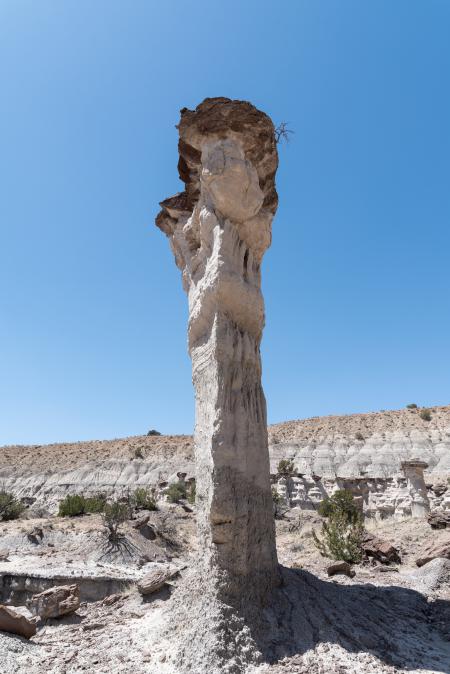 Around 1:30 pm we find a small corner in the shade of a tree to have lunch. From this place, David, Stephane and I go to see an area that we don't know (except Stephane). It's a bit far and frankly not terrible, except 2 or 3 nice hoodoos. 
Big and White Hoodoo :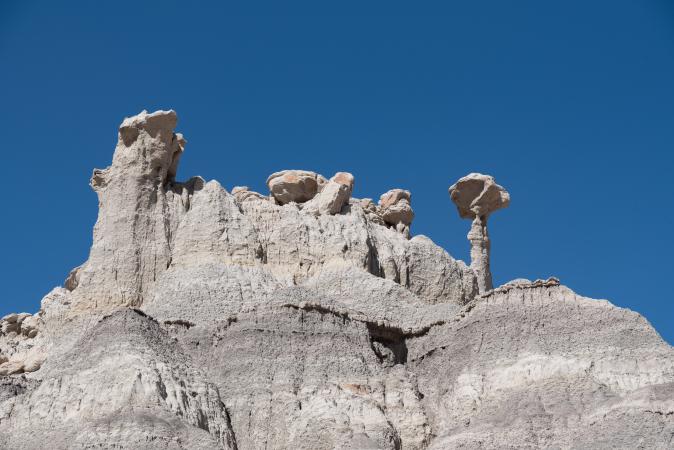 The Organ :
This one has a cobra's head ! :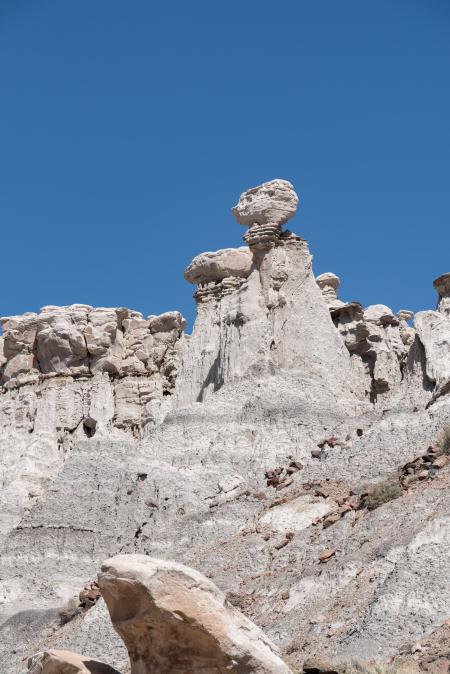 It will have taken us nevertheless 2 hours. We did not see anybody of the day. There are still lost corners without tourists. We leave Lybrook at 4:30 pm, back to Farmington. We are going to make some shopping before joining at 6:45 pm another hotel, Brentwood Inn much cleaner! We find our friends Annick and Eric and we go all 7 to the Denny's for dinner. 
Saturday april 30 : up at 7:15 am, breakfast in the hotel (very good), departure at 9:30 am all 7 for Valley of Dreams. We use very rolling tracks that lead to the parking of Alien Throne. We park at 11:10 am. We go to the discovery of an area on the east side of the parking. We will learn thereafter that this area is called Three Kings. We climb a small hill and there, we discover a huge area filled with thousands of small hoodoos.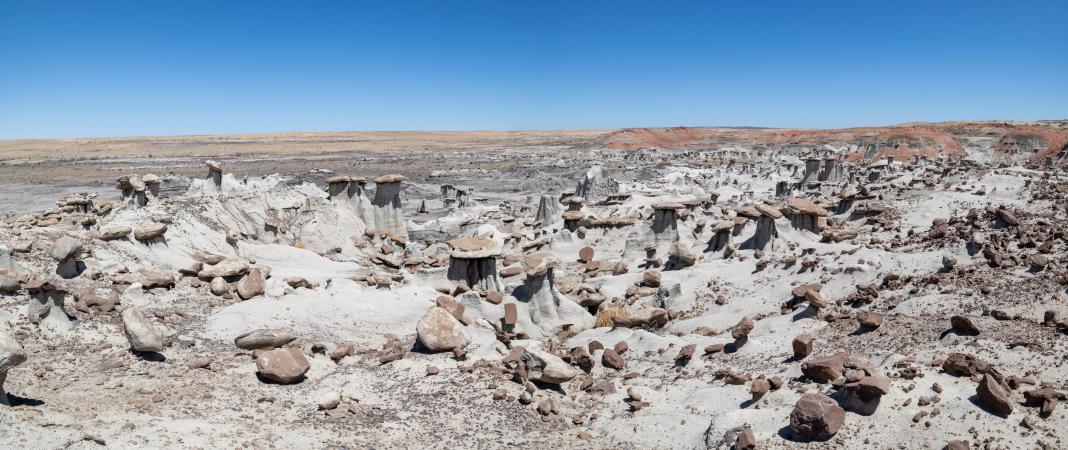 It is incredible. We walk and take a lot of photographs. We are alone.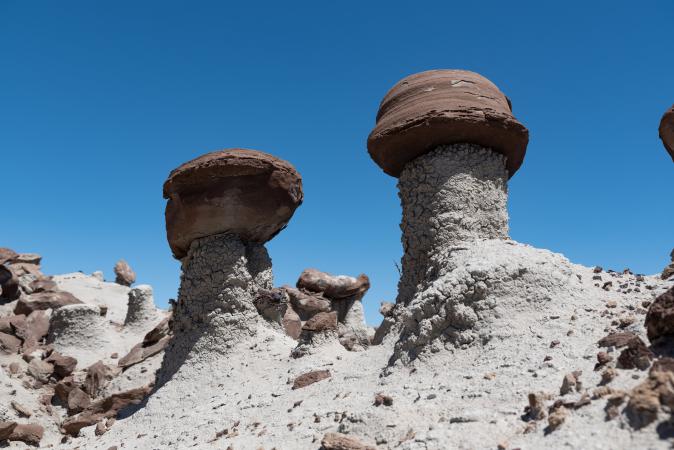 We reach a place where hoodoos are bigger. They are the "Three Kings" but one has lost his hat :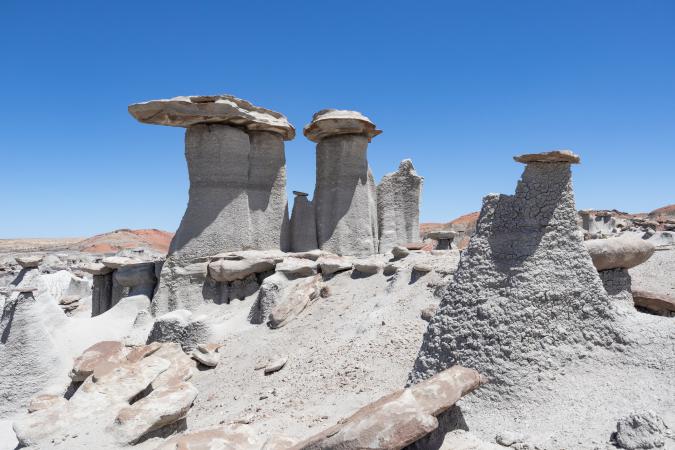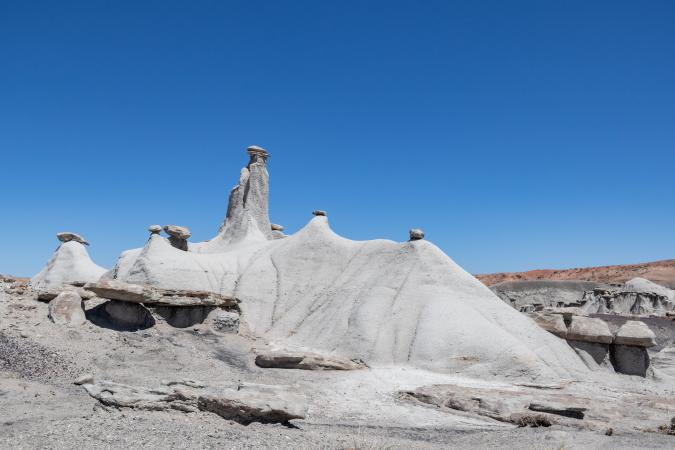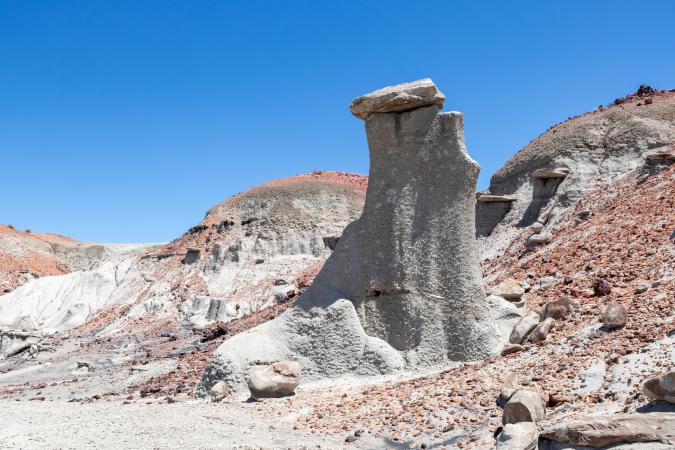 Very nice! At 2:30 pm, we go back to look for the cars to park them at the foot of this hill. We shall camp here this evening. We picnic and we set up the tents. At 4:30 pm, we go on foot towards Alien Throne (between 30 and 40 minutes).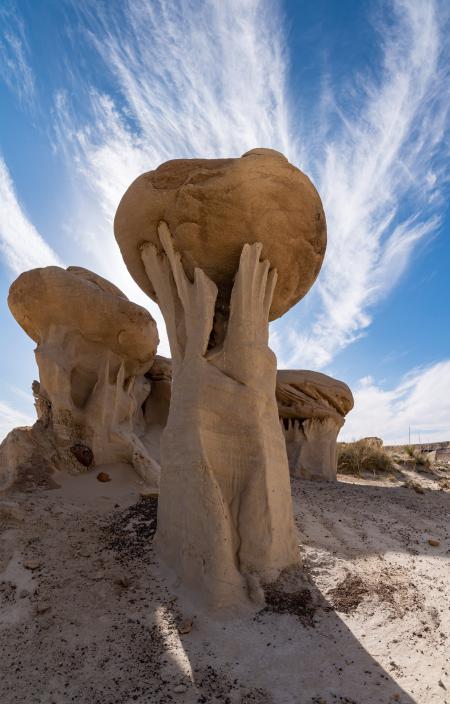 We watch the sunset on the alien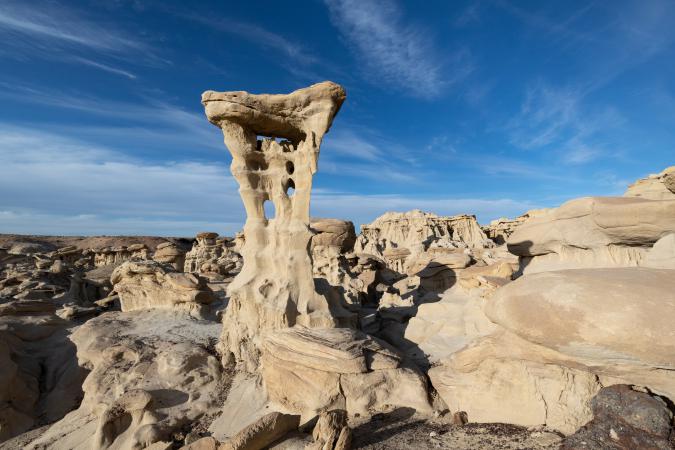 and we go back to the campsite at 7:45 pm. We dinne near a campfire.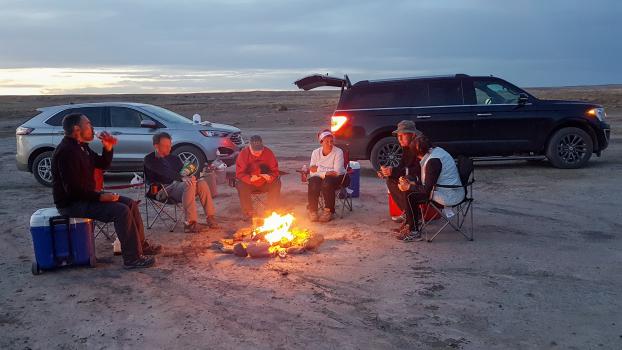 Sunday may 1st : up at 7 am. Breakfast. Packing of the tents. At 8:45 am we go back in Three Kings. The light is better at this hour.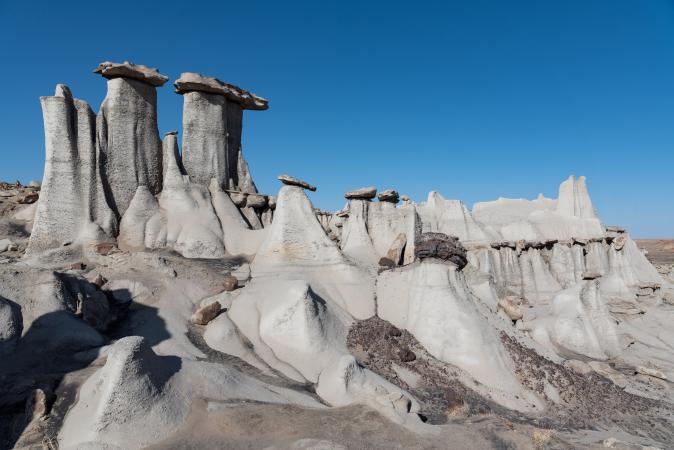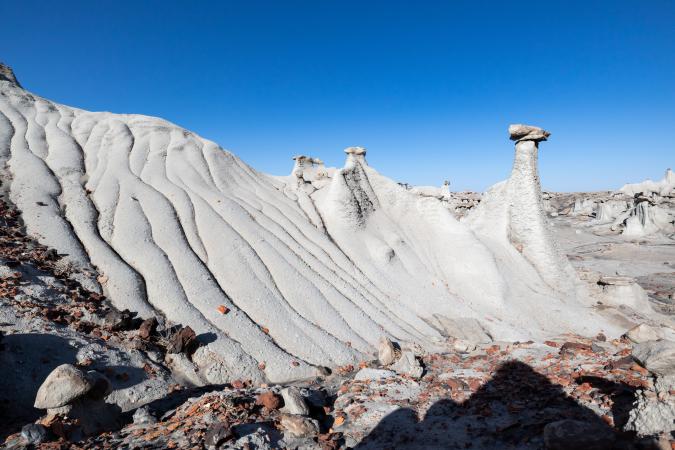 We are back to the cars at 9:50 am but at the time to leave the car of Claire, Stephane and Etienne does not start. Ouch... we are nevertheless in the middle of nowhere and at more than one hour of road of Farmington! We think that the battery is out of order because yesterday evening, we did not manage to turn off the lights. A couple camps near Three Kings not too far from us, we go to see if they have cables for the battery: no. Damn! David and Stephane take a car to go to buy cables in Farmington. We take out of the trunk the chairs of camping, the wait is going to be long! But little time after their departure, we see them coming back followed by a pick-up. The American and his wife were parked in one of the parkings of Alien Throne and by chance, they had cables. The man wears a pistol on his belt, it's weird to see that. In fact, when David and Stephane asked him for help, he put his gun on his belt before following them. This is understandable in this very deserted area to follow guys he doesn't know. So he plugs in his cables and phew... the car starts.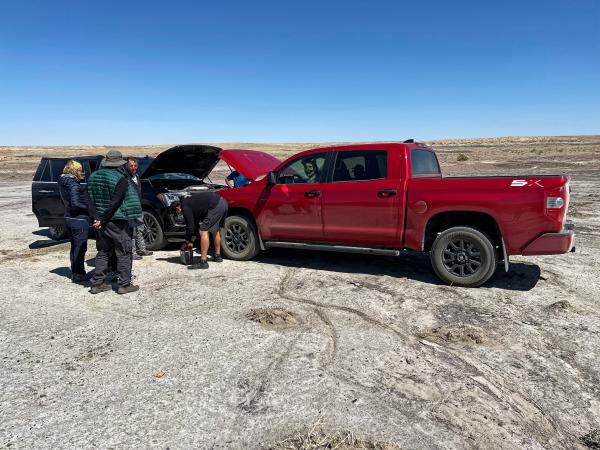 We thank him warmly but he leaves without speaking to us. So, Etienne and Claire join Farmington, recharging the battery while driving, because we  do not go very far: King of Wings. New discovery for Eric and Annick. We park at noon then we reach the king of wings, still in company of the wind (that becomes very boring!). The luminosity is rotten and the sand flies quite a lot around us.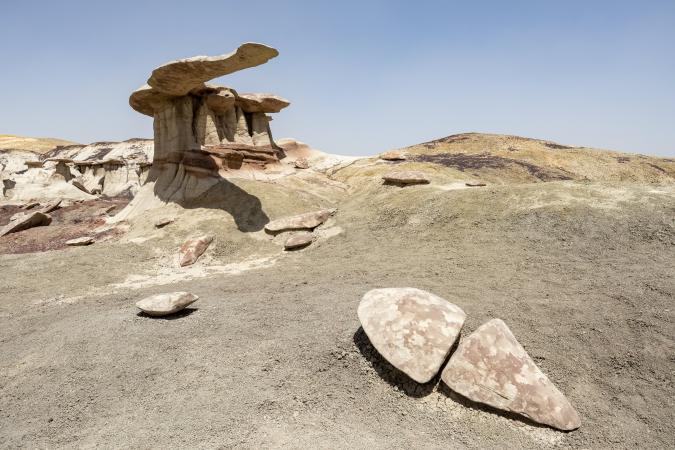 We nibble quickly cereal bars before joining the cars. The wind intensified. After 3,1 miles round trip, we arrive at the cars at 3 pm. And there, it is a sandstorm which rises. We do not linger and we drive up to Farmington. We arrive at the Brentwood hotel at 4:30 pm. We return to have dinner in Denny's at 7 pm.
Monday may 2nd : breakfast at 8 am, departure at 9:15 am for Ah Shi Sle Pah. Before that, we say goodbye to Eric and Annick, who feels a little tired due to the hikes of the last 2 days. We arrive at 10:45 am at Ah Shi Sle Pah. We are going to discover an area that we don't know. We head west for about 30 minutes along the rim before going down the hill. We look for yellow/orange hoodoos that we had seen on photos of our friend Jean-Michel. The light is not very good but the hoodoos are beautiful.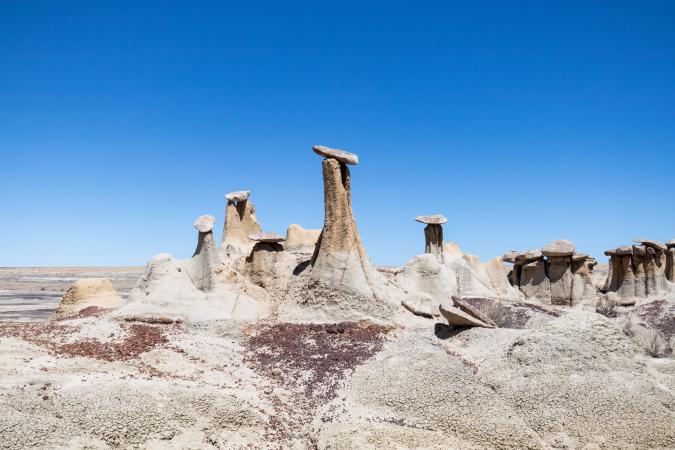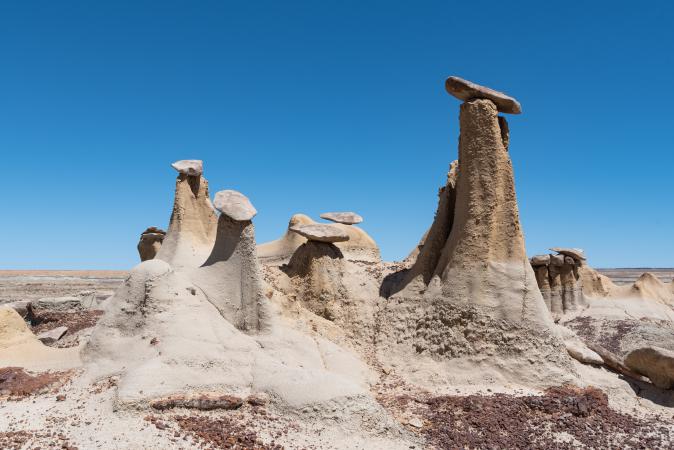 We continue our hike following the hoodoos, of all shapes and sizes.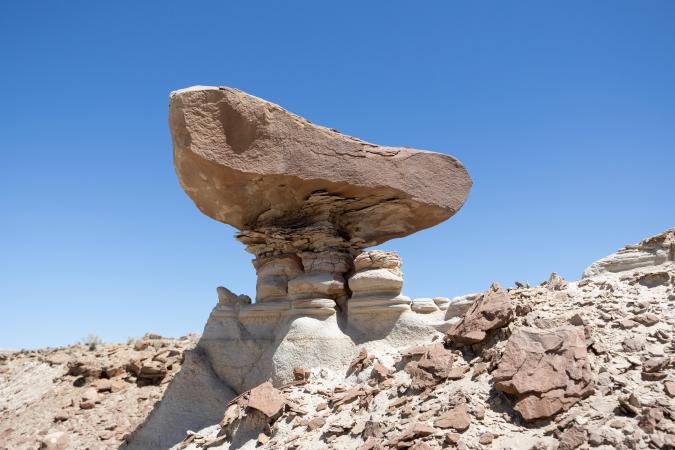 Picnic stop. Then we go in an area far to the north (we can't take it anymore, it's hot !) where we had spotted nice shapes. We turn a little before finding them : Mutt & Jeff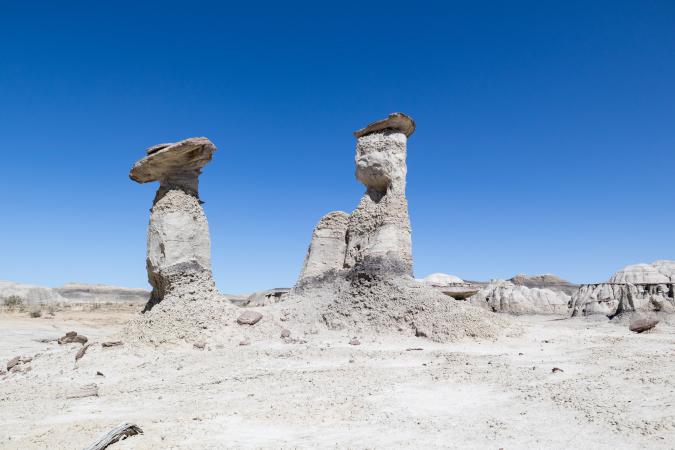 passing by Goblet.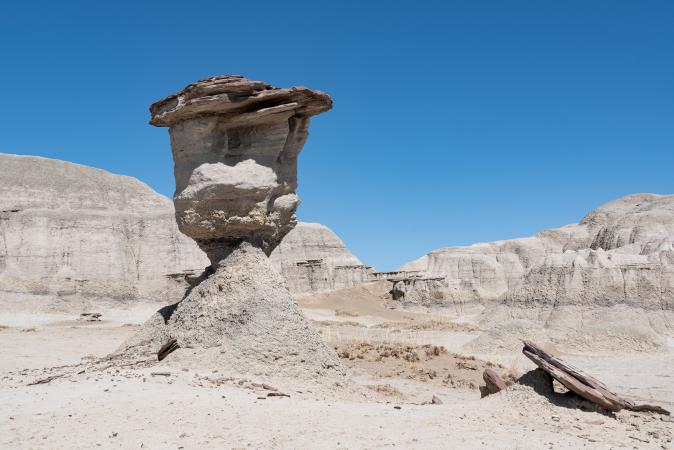 We rest a little to nibble. At last we reach the parking. We did not really realize but we spent 5 hours and 30 minutes here ! for only 6,8 miles, we really took our time ! And once again with nobody... oh yes, just a man with whom David spoke a little. When we arrive at the car it's 4:30 pm ! We drive until  Gallup and the Royal Holiday Motel. We arrive at 7 pm. We have dinner at Pizza 9.
Tuesday may 3rd : up at 6:45 am. Breakfast at the Denny's at 7:45 am because there is no breakfast at the hotel. Laundries. Shopping. We planned to go to see the hoodoos around Gallup but we have enough of hoodoos! At 10:10 am, we leave the city to go to Williams in Arizona and we gain one hour. We arrive at 1 pm and we settle down in Travelodge and the buddies in Motel 6. We eat the remainders of cold pizzas of yesterday evening because in none of the 2 rooms there is microwave. Around 3:30 pm, we go to Grand Canyon, South Rim. It was not planned but it is pleasant to return there after all these years (15 years for the South Rim!). We go to the various viewpoints : Pipe Creek Vista, Yaki Point via the shuttle of South Kaibab, then we join the carpark of the Visitor Center and on foot, we go to Mather Point, Yavapaï Point.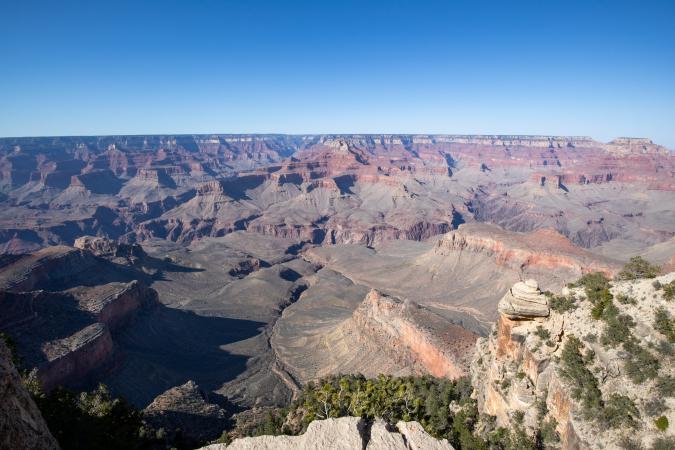 Strangely, we find that there is not a lot of people. Although we know the place, we take nevertheless a slap! This canyon is superb. We attend the sunset: magnificent!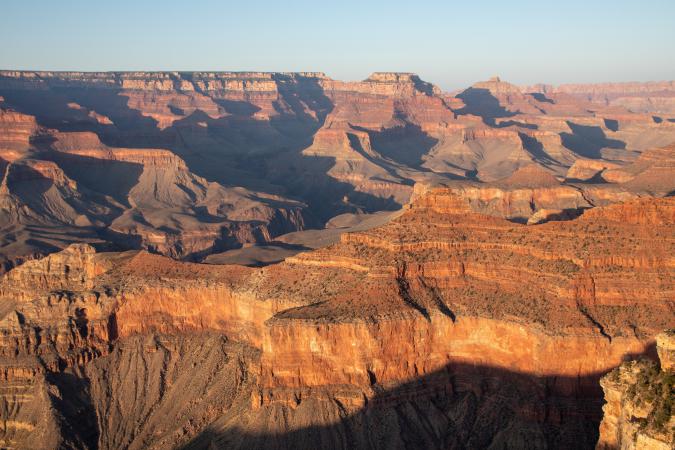 Back to the parking lot at 7:45 pm, then to Williams at 8:30 pm. We go to dine at the Frontier BBQ & Beer Garden. Seduced by the Mac&cheese of Bullfrog, we let ourselves be tempted with Etienne. Oh man, we should not have! They are hyper sticky, it is disgusting!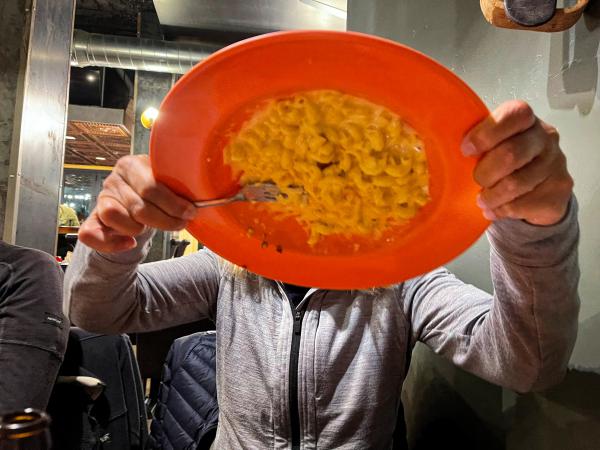 The beers are not great and the pineapple cider... well, it's weird!
Wednesday may 4 : up at 7 am, breakfast at the hotel with pancakes (bof !).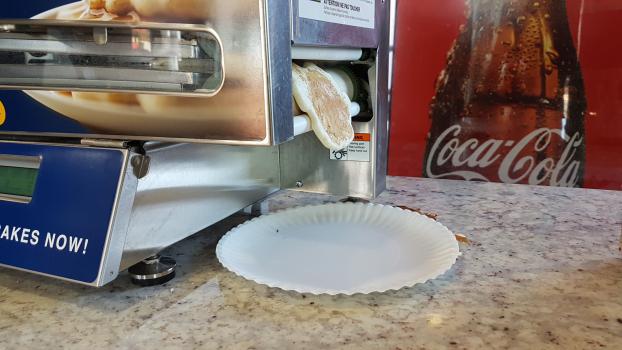 We are in a separate group today. Claire, Etienne et Stephane go to Sedona; since the time they put Sedona in their program and that they never go there... David and me, we return to Grand Canyon at 8:40 am. We arrive at 10:00 am, it is 52°F. We go to see the viewpoints on the East side. No shuttle in this part, it is necessary to take the car. We connect the stops: Grandview point (very beautiful), Moran Point (beautiful), Lipan Point where we see the Colorado River in 3 places, it is superb, Navajo Point and finally Desert View with the famous tower.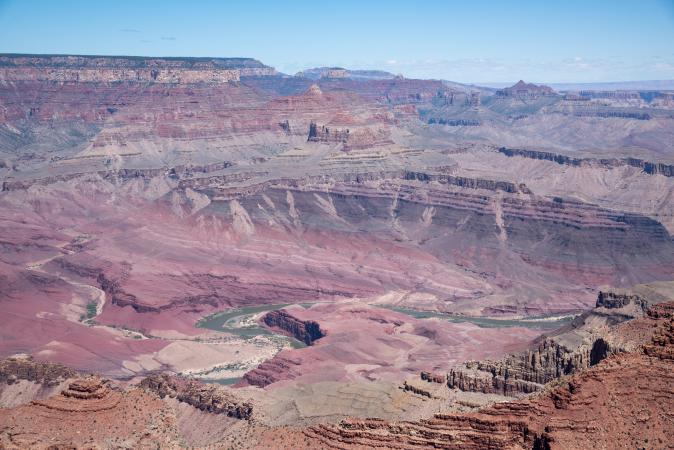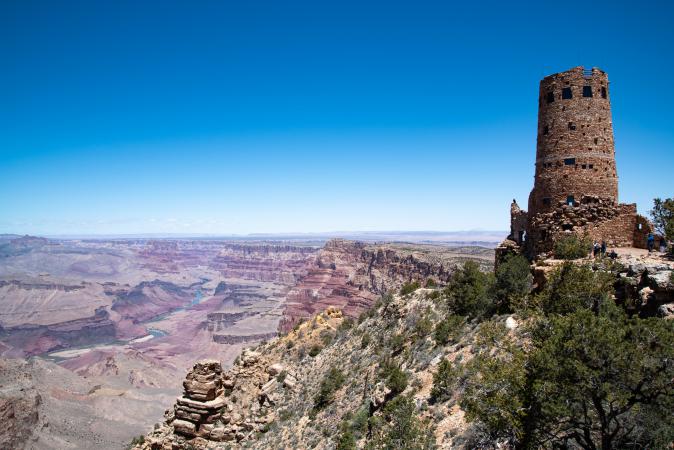 We stop then at the picnic area of Buggeln to have lunch, pity that we do not have sight. We leave at 2 pm. We make a pause coffee, pipi in a station where there are old cars. By passing to Williams, we make some photos of the city and the trains.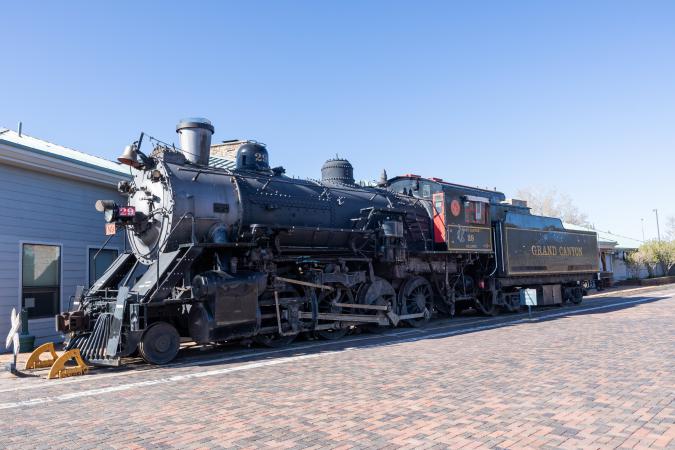 Then we go to Prescott which was not foreseen either but we saw beautiful photos of lakes and granites on Internet. We arrive at 6 pm. We wanted to camp but the road which leads to the Watson Lake and to the camping is closed. Lack of chance! We go to see to the camping close to the Willow Lake. Nobody at the reception. We are going to make a tour in the camping in search of the tent sites. Those are all rotten, small, not arranged, in rocks and we are attacked by flies. We thus leave in search of a hotel. I look at the same time on booking. They are very expensive. We stop finally in Hassayampa (120$ the night for a small room!). We return to Willow Lake to try to see the sunset but with all that, we arrive too late. Return to the room at 8:30 pm where we eat a salad of rice - rice which we cooked this midday in Grand Canyon!
Thursday may 5 : Up at 4:45 am to go to see the sunrise at Watson Lake. We found yesterday evening on documents and internet an access to the lake on foot. We arrive at the parking at 5:20 am where it is necessary to pay 3$ (ticket for the day). We follow the trail then we climb on rocks which we call Granite Dells. We do not know too much where to go but we climb, toward the lake. We find a rather nice place and already the sun rises and illuminates Granite Dells. It is very pretty.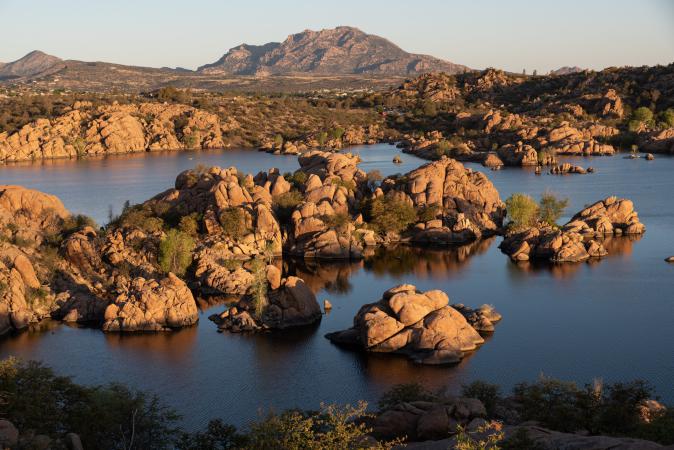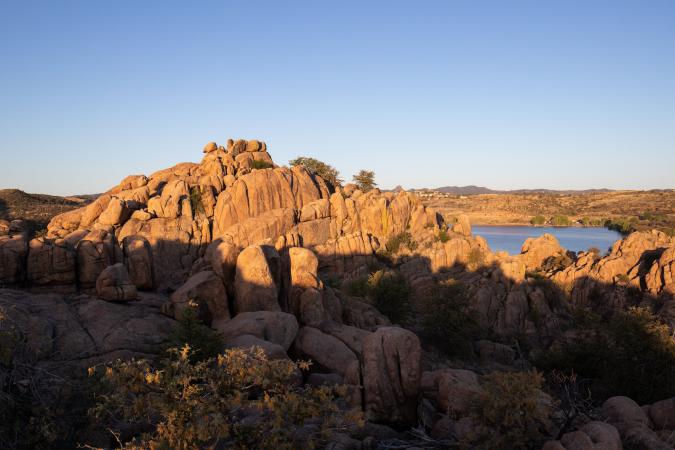 It is a pity that we hear the cars on the road in front but we are all alone. Return to the car at 7:30 am after 3,7 miles, it is 54°F. Return to the hotel to take a breakfast in the room. At 9 am, we return to Willow Lake but it is not terrible. We leave Prescott to go to join our friends in Seligman. We arrive at 10:30 am and we find Stephane, Etienne and Claire established at the RoadRunner with drinks. We walk a little the city to make photos.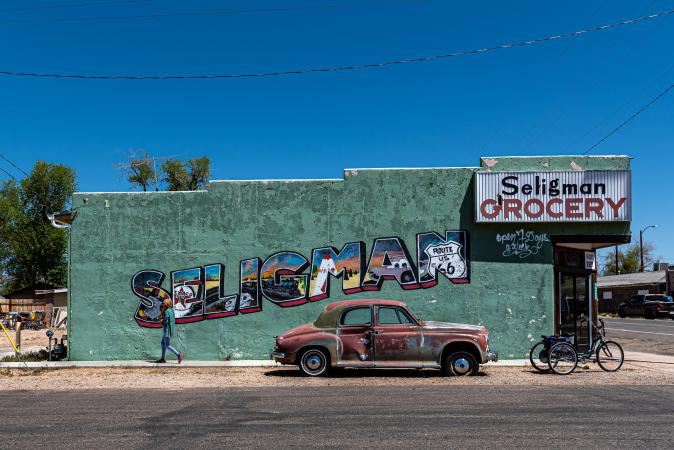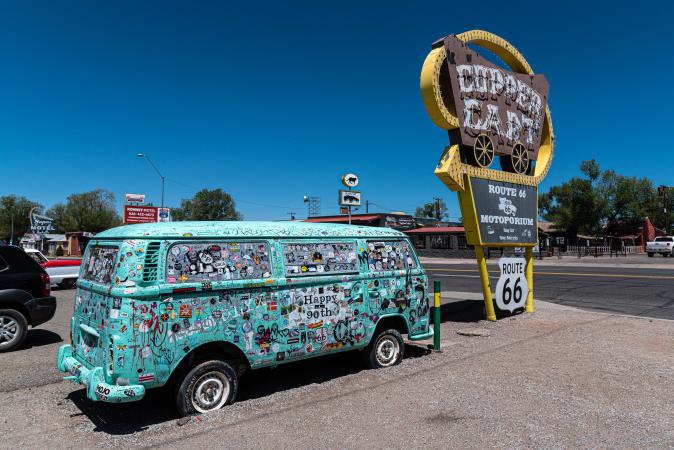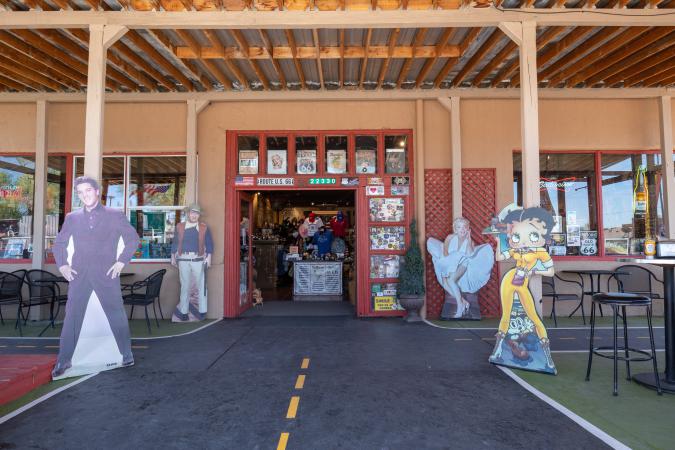 We leave at 12:05 pm. We stop to lunch in Peach Spring on picnic tables. There is still wind. Not planned either, we go to Nelson Ghost Town. The entrance is 10$ by person for one hour, new rules says to us the not at all friendly owner. We leave and we join Las Vegas, Nevada. We arrive at the Travelodge of Koval Lane at 5:30 pm, 97°F. Around 7:00 pm, we go to the Excalibur to eat in the buffet but it is closed the evening for lack of staff. It is bad luck! We settle then in an Italian restaurant but when we see the card, we strangle! Too expensive, we leave. We go to see if the New York makes a buffet but not. Decidedly! We finish in a restaurant of burgers. Then we walk a little on the Strip.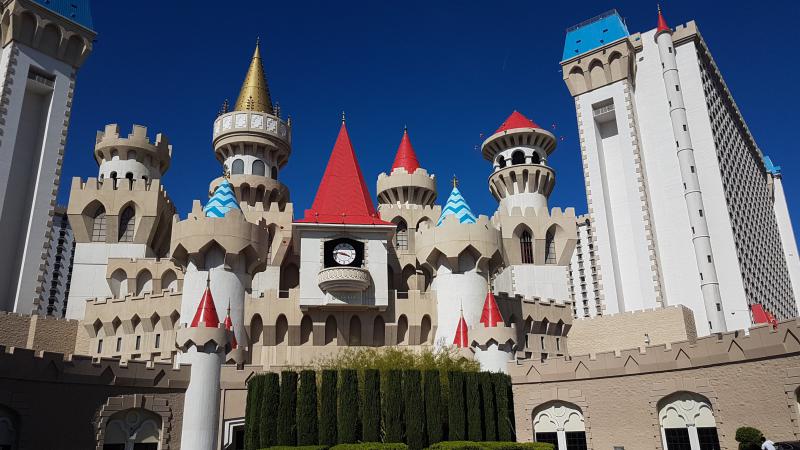 We end the evening at the Denny's with Oreo Shake. Too good !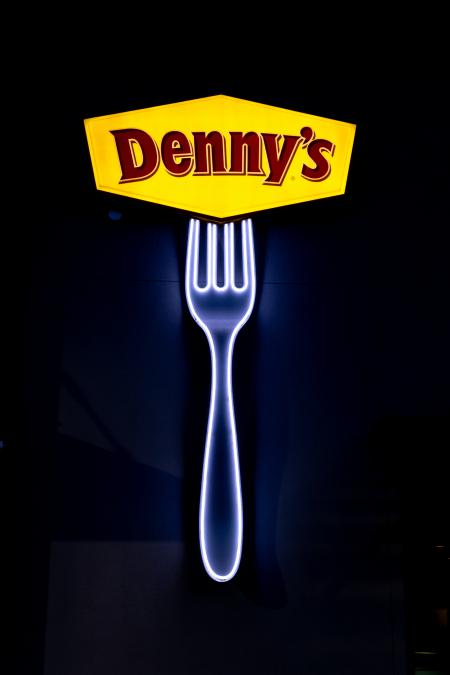 Friday april 6 : up at 7:45 am, breakfast at the Denny's near the hotel.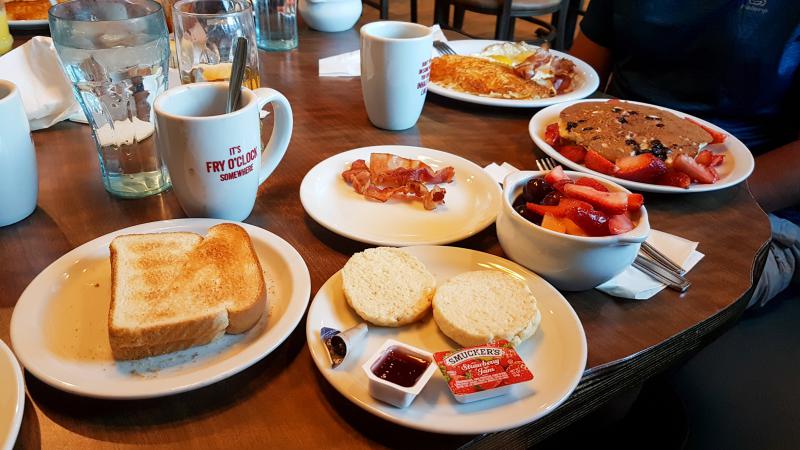 Then, we begin to remake the bags in view of the departure of tomorrow. Around 11 am, Claire, Etienne, David and me go to the outlets. The buddies make some business. Return at 1 pm. We go then to lunch to the buffet of the Excalibur, 30$. It is not too bad. Return to the rooms to lock the suitcases, wash the cars. Then "moulding" as would say Etienne! Around 7 pm, we join the Strip to make some photos by night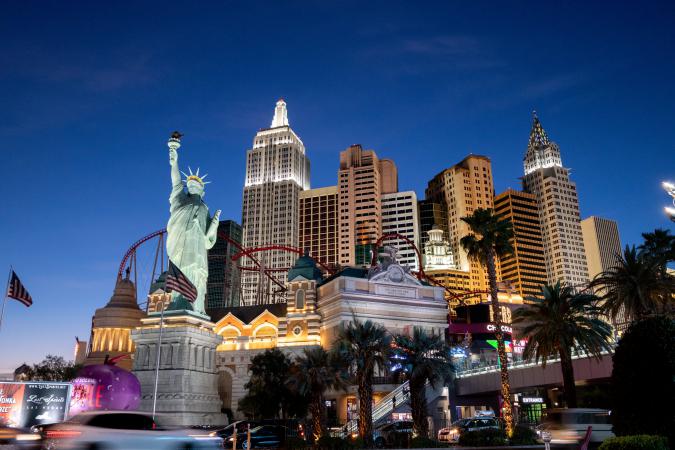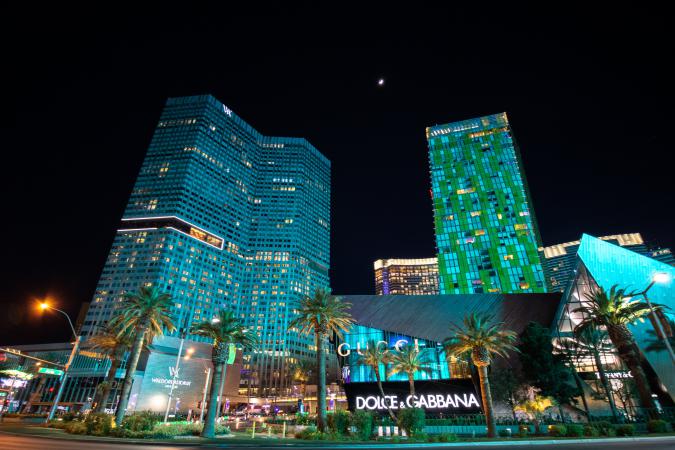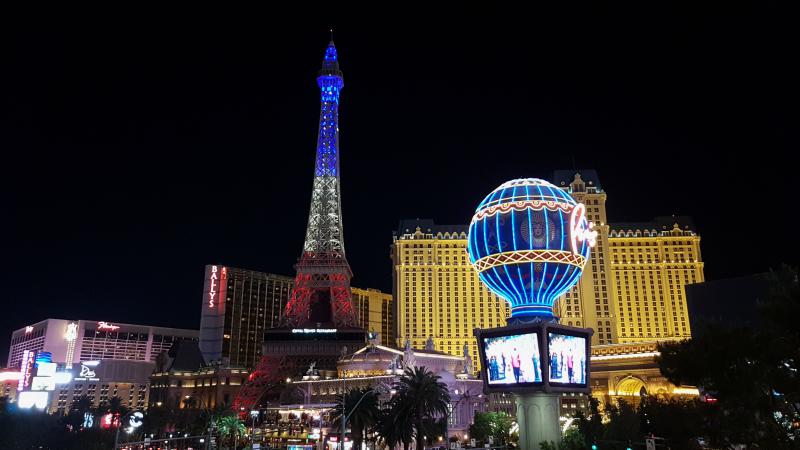 and we go to the show of the Cirque du Soleil "O" in Bellagio. There are some beautiful scenes but we remain a little on our hunger, there is no spectacular final. We try then to go to drink a beer in the Irish pub of the New York. The guy in the entrance announces us 5$ by person to... enter the bar! No, but nonsense! Is it because there is a band that they charge the entrance before having even consumed? Direct turnaround! So, we fall back on the Denny's close to the hotel to nibble slick cheese and Oreo Shake.
Saturday may 7 : up at 7:15. We say goodbye to Stephane and Etienne who have their flight this morning. We have breakfast in the room with Claire who has the same flight as us. We leave the hotel at 9:30 am, towards Rent a car center to return the car. A quick eye on the dashboard : 2200 miles. And this is without the miles done with the 2 Rubicon. We take the shuttle to the airport. Check-in, security.... wait. We have lunch because we don't know if we will have meal on the plane. We board at 2:50 pm instead of 1:35 pm and we finally lift off with a 2 hours delay for Munich (EW Discover flight). 
Sunday may 8 : in Munich, we say goodbye to Claire who takes a flight for the south of France. Inevitably, we miss our flight for Paris planned at 12:05 pm. And yet, we arrive at the boarding gate and the plane is still there. With other French people, we try to negotiate with the hostess who is there but nothing to do because Lufthansa has put us back on the next flight. We rage! We have to wait until 3:35 pm. We nibble salami sandwiches. We take off on time at 3:35 pm for an arrival in Paris at 5:15 pm. We recover then our luggage, Parkineo comes to look for us to bring us back to the parking lot of our car. And still 2 hours of road for an arrival at home at 8:30 pm. We do not make old bones to go to bed!
* * *
Small review of this trip :
The good sides :
- the friends Etienne, Stephane, Claire, Lysiane, Thierry, Annick and Eric. It's always a pleasure to spend good moments together, to do wild camping far from everything, campfires... it was great!
- the "real" meetings with Yves and Eric, known via Facebook. It was too short but very nice.
- places still deserted by tourists and where we were alone
- no hot weather in april
- no need of Covid test for the return
- discovery of the site of renting Turo (from private individual to private individual) for the rent of the Wrangler in Kanab. Although a little expensive, the model of vehicle is guaranteed, off road authorized in some cases (check the conditions), which allowed us to go to CBS, White Pocket...
The negative points :
-  the impression of having done the tour of this part of the USA, nothing amazed us, no "Wow" effect and rarely at the right time for the sunrises and sunsets
- the wind almost every day, which prevented us from camping
- everything was more expensive: rental car, hotels, gas, restaurants, food
- not always easy to find open restaurants because of the lack of staff due to the Covid crisis
- Las Vegas has changed: expensive restaurants, it smells cannabis on every corner, there are more and more people lying in the streets, a feeling of suffocation with the new hotels/casinos (like a tower block) stuck between the mythical ones...