Sunday June 11 : departure to Roissy Charles de Gaulle airport at 9:50 am. Take off of the plane (Boeing 747) of United Airlines at 2:20pm towards Los Angeles. And departure from LA at 4:30 pm towards Las Vegas. Arrival in Vegas at 5:40 pm. We take the car at Avis rent a car and we look for the Quality Inn. The hotel is not bad but the air conditioning is not working properly in the room, but it works well in the casino !
Monday June 12 : visit of Las Vegas. It's 43° C. We realised that the escalators are working to enter in the casino but not to go out. You have to walk !!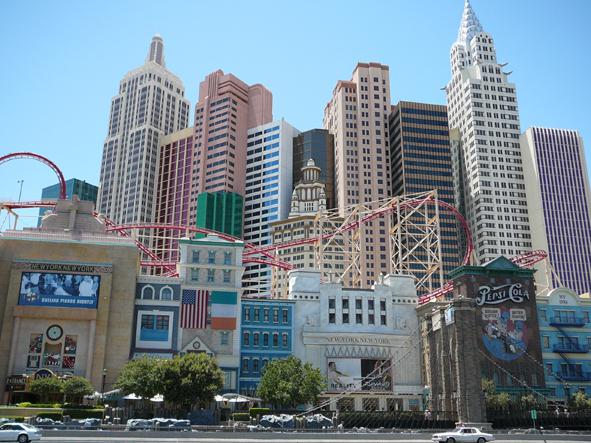 Around 2 pm, we leave Vegas to Kingman using route 66. We stop a few moments to see a panoramic view on lake Mead and its dam. We spend the night in the Motel 6 of Kingman. It's noisy, but air conditioning is working.
Tuesday June 13 : early wake up at 5:30 am. Departure from Kingman towards Grand Canyon (2:30 drive). At 10 am we start to descent in the canyon to join Supaï (Indian village) and then Havasu Falls (20 $). After a descent in the sun with 30°C and 10 miles in the sand and rocks, we finally reach Supaï around 3:30 pm. This indian village is quite cool : wooden houses, shop, restaurant. But indians are no longer what there were ! They are dressed with Nike clothes, listen to Metallica on Sony players. They also have parable of 1.5 meter in diameter ! We supply in cold drinks and continue to descent to the campground (10$). At the bottom it's heavenly ! The paradise after the hell of the descent! Havasu Falls is there, majestic. We take in our eyes. It's beautiful.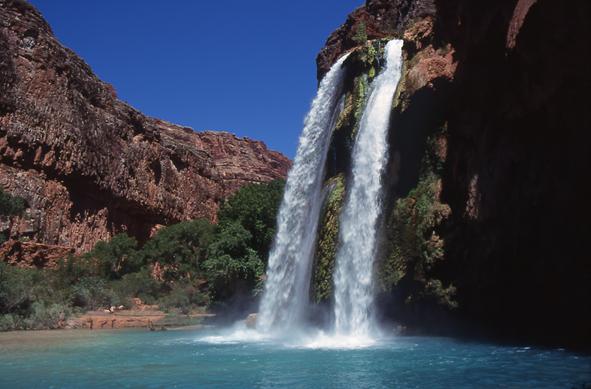 We almost forget the 10 miles that were very difficult. Especially since at the campsite, it's very hot, with no breath of air, but there at the foot of Havasu it's cool. Two of us swim but the water is very cold, 12 degrees. As for camping, it is small with no comfort: just cool tap water coming out of the mountains and indian toilet (a hole in a concrete block!). 
Wednesday June 14 : we get up at 4am to start the walk at 5:30. The start is very difficult. We stop to have breakfast at the bar of Supai. The last 2-3 kms are even more difficult because it is in full sun and it is 12:00. We must stop in the shade whenever possible, especially towards the end, and drink a lot and especially not give up morally so hard it is. We still have the strength to do a group photo at the top overlooking the Grand Canyon: the relief to be finally arrived at the top. But it's not over, we must take the car to go by road to Flagstaff on route 66. It's very tiring for drivers. Flagstaff is a small pleasant town with a nice frame. It is 1800 m above sea level. We camped at the campsite Woody Mountain, under the pines. The night is cooler.
Thursday June 15 : departure for Tusayan, 1:30 drive. And we moved to camp "Grand Canyon Campground" (can rent teepees). We will then watch the sunset over the Grand Canyon. We had to be patient and wait until the last 15 minutes : this is the best moment.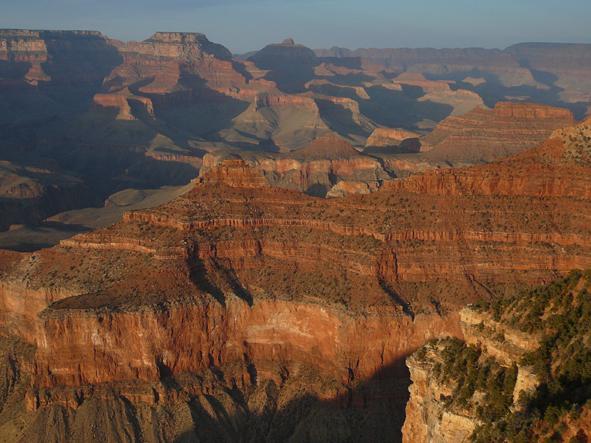 Friday June 16 : walk along the Grand Canyon with a stop at each viewpoint : Yaki Point, Maricopa Point, Powell Point, Hopi Point, The Abyss, Pima Point, Hermits Rest ...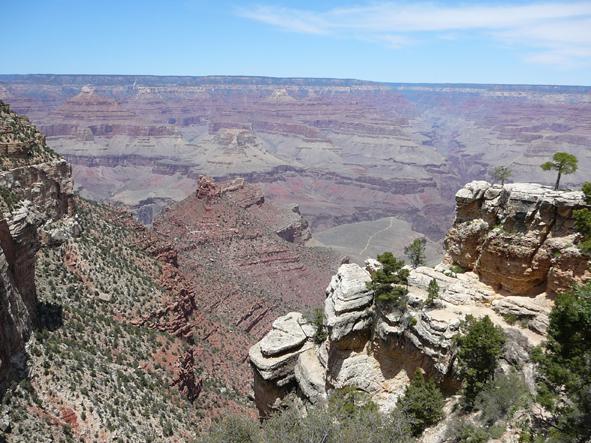 This walk is 7 miles: it can be done on foot or take shuttle when you want to go from one perspective to another. In the shuttle, there is no air conditioning and not comfortable !
Saturday June 17 : departure from Grand Canyon with stops at Navaro and Desert viewpoints. Then we stop at Cameron Trading Post. This is an Indian gift shop with lots of choice. Then we go to Page at the "Wahweap Campground," well placed in front of Lake Powell. We walk to the dam of Lake Powell and visit Page.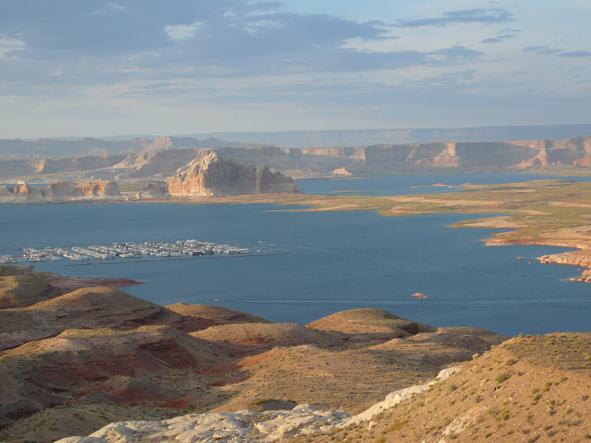 The weather is quite cloudy and it is only 17 °.
Sunday June 18 : day break. We follow the road : Bitter Spring, Marble Canyon, Lees Ferry and Paria Canyon. We stop on a beach along the Colorado river, there are fishermen and rafts. We go back to the campsite. There is a storm and it starts to rain.
Monday June 19 : it is the day of visit to Antelope Canyon. permit is $ 5 and entry is $ 12.50 for two canyons. We start with the Lower Antelope Canyon that is better to do during lunch for a better light. In it, we must go down inside. With the rain the night before, we have water to the thighs in places. We do the "knowledge" of a snake that even the Indian guides do not dare to touch. They prefer to bury it under rocks. Nevertheless it is beautiful and not to be missed.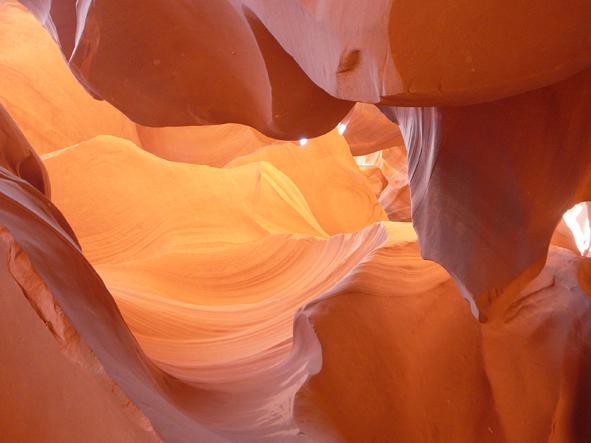 We then go to the Upper Antelope Canyon. To get there, you have to climb by jeep "jigger" led by an Indian. It is less impressive than the lower. Finally, we will see Horseshoe. 0,7 mile from the car park and the view overlooking Horseshoe.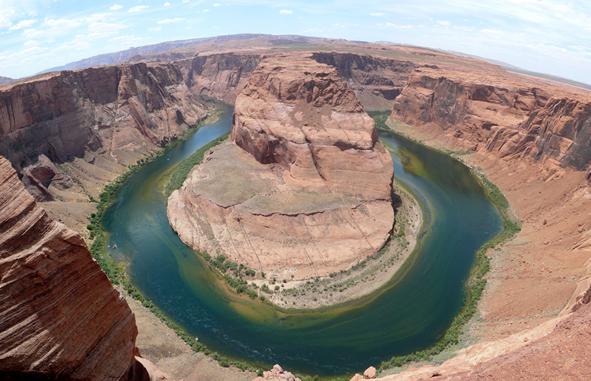 It is very beautiful but do not go too late to take pictures, the sun is less well placed. 
Tuesday June 20 : toward Monument Valley and its campsite inside the park. 3 $ per person for the entry and 10 $ for the campsite. We see the sunset over Monument Valley.
Wednesday June 21 : visit of Monument Valley with our car. Very nice.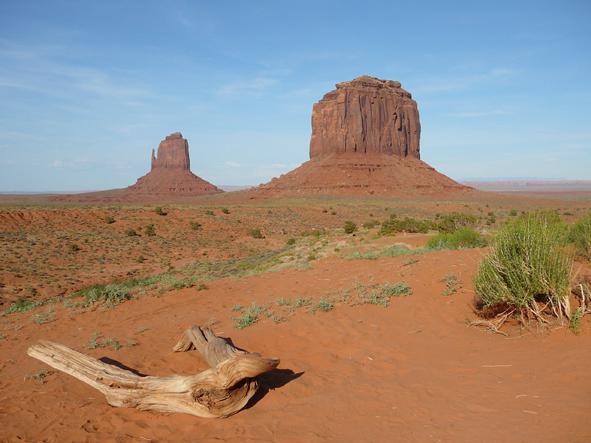 Then departure for the Arches National Park. On the road, we stop to take some pictures of Mexican Hat. In late afternoon, we move to Delicate Arch: the walk is 1.5 mile long an elevation of 146 m. The climb is short but difficult in the rocks. We are seeing the sunset over Delicate Arch and its orange lights. We camp in Moab.
Thursday June 22 : walk in Arches National Park : Landscape Arch, Wall Arch, Double O'Arch, The Windows North and South, Turret Arch.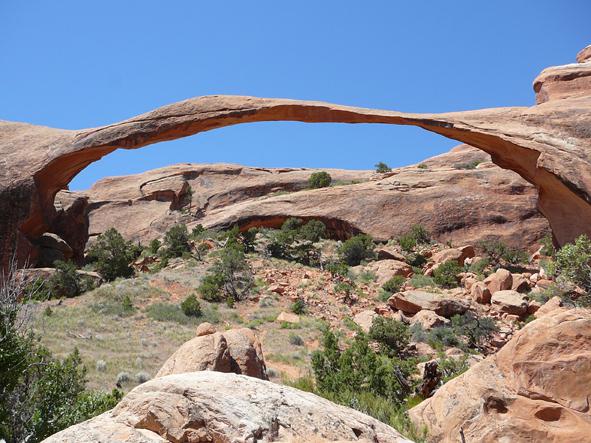 Friday June 23 : departure for Bryce Canyon. The weather is rotten: it's raining. Around 14:00, we stop at a few "View Points" but as soon as we start the storm arrives and follows us on the road. At 6:30 pm, it's 8 ° at 2400 m above sea level. 45 minutes later it is again 34 °. We spend the night in Jean near Las Vegas at Nevada Landing Hotel which is very good.
Saturday June 24 : as we could not visit Bryce Canyon, we decide to go to Carpinteria about 10 miles from Santa Barbara, just to see the Pacific without getting lost in big cities like Los Angeles. We camp at Carpinteria. The evening strolling along the beach, we saw dolphins. 
Sunday June 25 : visit of Santa Barbara : State Street, the beach. It's a fun town.
Monday June 26 : in the morning walk on the beach of Carpinteria and in the afternoon, swimming in the Pacific at Santa Barbara. Then departure to Las Vegas.
Tuesday June 27 to Saturday July 1st : Las Vegas : walk, casinos, free entertainment…