Friday June 8 : that's it, here we are! After more than 12h30mins of flight with a stopover in Dallas for immigration controls, fingerprints and photo webcam, we finally arrive in Las Vegas at 6:30pm. We then retrieve the car from Avis.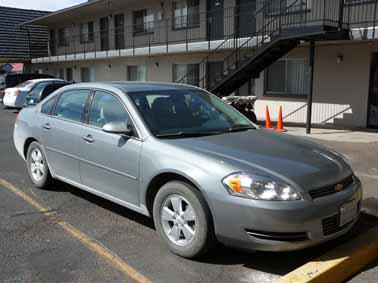 We start looking for the Comfort Inn on Paradise Road (very good). We deposit our luggage and we'll stretch our legs by going to the strip and eat at a Denny's.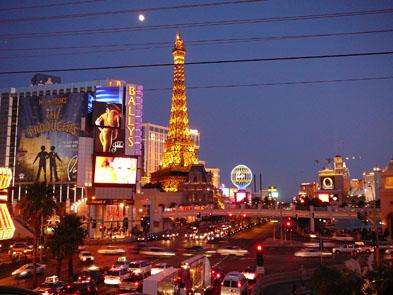 Saturday June 9 : we decided this year to visit the new "Skywalk." The way to go was not easy to find: there is no indication. Finally, we turned back on the road from Vegas to Kingman to make up a small road where there was a sign "Grand Canyon". But still no indication of the Skywalk. It starts well! We stop in a village, Dolon Spring, to buy water and asked the way. We're on the right track. A few miles further, a sign tells us to turn right on a "stony" road, then a piece of "real" road before arrival. It is 2 pm when we arrive at the parking lot. It is also a departure of helicopters and small planes. After inquiry, we learn that we have to take a bus to the Skywalk. But in fact it's a "scam". The rate is not what we had heard ($ 25), but $ 75 for walking on it, with a tour and meal ! If we want to go just to see, it's $ 50 ! It is too expensive for us and especially too long for the program we planned. We thought we would spend 1 or 2 hours there. We then leave for Flagstaff around 2:40 pm. We then lost a lot of time making the road to Kingman and for shopping (cooler, food and drinks). So, given the time (7:30 pm), we will not go to Flagstaff. We stop at Williams on Route 66 and take a room at the Budget Host Inn: it's not great and it smells bad! We'll have dinner at the Pine County Restaurant. There, on the other hand, it is not bad. Williams is a pretty nice town.
Sunday June 10 : Taking a breakfast at Jessica's Family (Greek restaurant) : pancakes and omelettes. We start the road to Tusayan at 9:30 am. We find our usual camping (Grand Canyon Campground) and, oh surprise, prices rose : $ 20 for a tent. We take possession of the sites and settle the tents on the usual places! We then go to the Grand Canyon 12:00. We arrive around 12.30pm and asked the Golden Eagle Pass (as usual) that provides access to all national parks, but there is more. It is now an "annual pass" at the price of $ 80. Then we walk on the 8 miles trail along the Grand Canyon.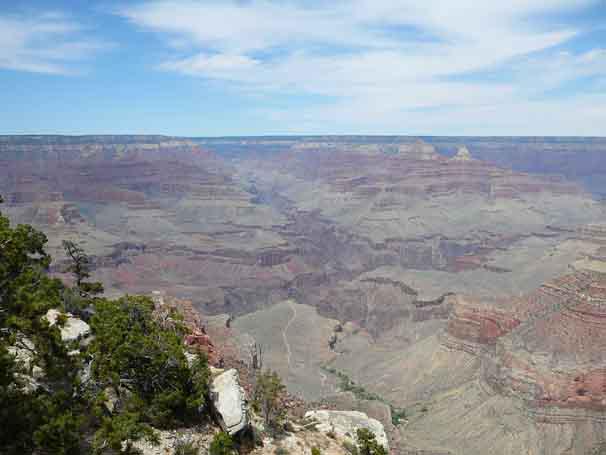 Then there is the sunset. Still impressive. It is 8:15 p.m., we go back to the campground. Dinner in the light of torches. Then shower ... does not work! There are two showers in those sanitary with one having no water! It is quite deteriorated since the last time.
Monday June 11 : it's a bit cool because of the wind. Around 10:30 am, departure to Page via Cameron for some souvenir shopping (Indian shops). Then we arrive at the campsite of Lake Powell Wahweap Campground at 2:30 pm and temperature is 30° C.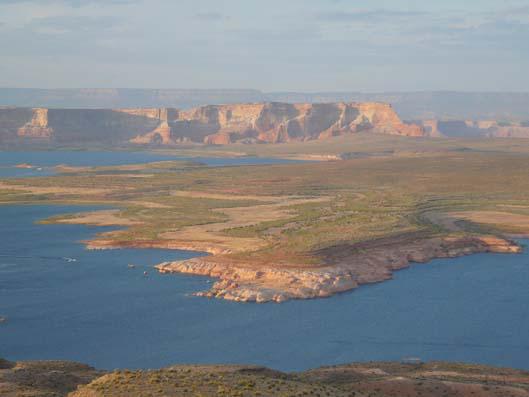 We find our American friend Richard when arriving and we go to his location. We eat a piece and settle the tents. The campground has also changed, but it's better this time: there are new sanitary "every comfort" and very clean. Richard then takes us to a swimming pool and Jacuzzi near the campground. The water is warm, it feels good. Then dinner in a restaurant. 
Tuesday June 12 : early wake up around 6 am, to get a permit to visit The Wave. It's a place where entries are limited to 20 people a day. The lucky one are the people selected during a daily lottery at 9 am. We arrive at the ranger station around 8:50 am. We register for tomorrow. To our surprise and delight, we are drawn to the first spin. Great! We then locate the path. Then towards Antelope Canyon. We go down in the Lower.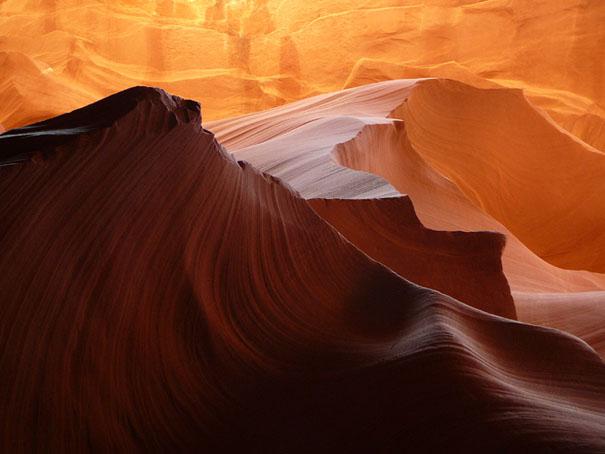 Still as beautiful. We start to take a lot of photos! Then we go to Horseshoe. It is very hot. We'll have a look at page for some shopping. And finally, swimming pool. 
Wednesday June 13 : once again early wake up at 5am to enjoy a bit of freshness to go to The Wave. Departure from the campsite around 6:15. Arrive at car park at 7:30. We load the backpacks with food and water, and start the walk at 7:40. The beginning is flat with fine sand and gravel, and sand again. It's not easy to walk in the sand ! Then we start walking on rocks and it goes up slowly. Already there, the landscape begins to be beautiful. It promises for the future. We come next to a desk where you have to sign a register to signal our entry and it has to be signed on return. The Rangers have provided a simple plan and some pictures to guide gor the go. But nothing for the return ! That's why there is a register. In case you get lost, they send rescue ! The hike is 9 miles roundtrip. It is hot and there is not much shade. Therefore you have to drink much. The instructions were to carry3 liters of water per person. The scenery is beautiful: it is desert but with yellow-orange colour. We arrive at 9:15 to The Wave. The last meters are hard as it is fine sand. It is hard also for Richard. It's beautiful all these colours. We shot pictures!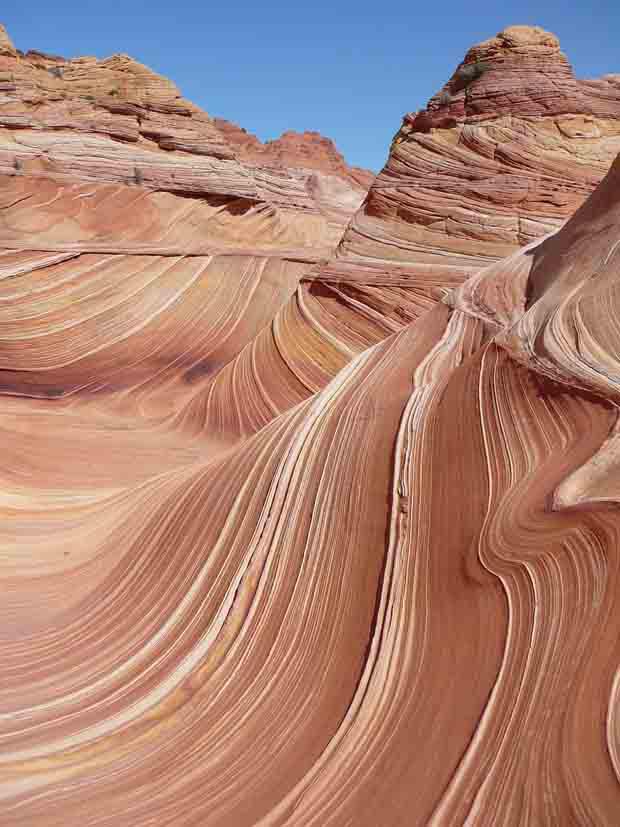 But there is no shade. Richard takes us a little higher to show us another The Wave, smaller and less impressive. We find a small shady corner behind a rock to drink, eat and rest. It's very quiet, no noise. We leave a little before noon to see if the colours are different. This time, there are clouds: we therefore take pictures and then back down quietly. It's harder and still no shadow! It is very hot. We drink a lot and luckily there are a few breezes of wind to "refresh" us. Came down at 2:30pm without getting lost! We return to shop and buy ice blocks. The cooler, remained in full sun in the parking lot, heated: there is no more ice and the butter melted in it. Everything has been thrown. A little break to the pool to relax and Italian restaurant (buffet) : not bad. 
Thursday June 14 : wake up at 5am once again. We have to be in Page at 6:30 am to the starting point for rafting on the Colorado at 7:00. We should see Horseshoe but this time from below. We decided to do rafting because it's cheaper ($ 70 per person) than the Rainbow Bridge boat tour on Lake Powell ($ 129). So starting at 7 am by bus. We're going to the dam, passing through a tunnel. At the bottom of the dam, we go in rafts (10 persons). And go for 3 hours on the Colorado. It's cold in the shade of the canyon. It is best at 9:30 and the sun begins to heat. Be careful of sunburn with the reflection of water. It's quiet : there is no rapids here. But it's very nice, it gives a different view of the canyon.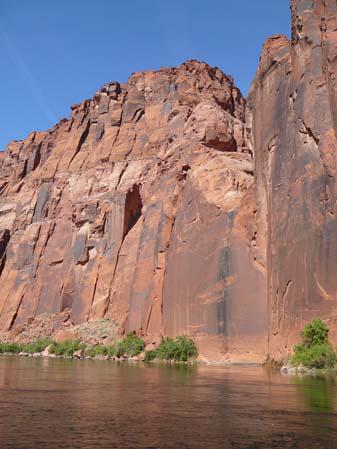 We arrived around 11 at Lees Ferry and take the bus to Page. It is 100 ° F (38 °C). At 1 pm, we return to Horseshoe for more photos. It is very hot. We returned to camp at 2:30 for the laundries and rest in cool ! In the early evening, we see the sunset from a high place over Lake Powell. Then dinner in a pizzeria.  
Friday June 15 : it was very bad night: it was too hot in the tent. We are up at 7:15 and we take the breakfast at the Hotel Wahweap: buffet with fruit at will. Too good, it feels good! Return to campsite for tents and removing any store. We say goodbye to Richard and it is very touching. We all have tears in eyes. He's really a lovely person. What is good in the U.S. is that people are very open and very simple. Richard touched everyone! They all speak together without knowing each other. It is not likely to happen in France! Towards Monument Valley at 11, passing in Page for shopping. We arrive at Monument Valley at 2:30 p.m. / 1:30 p.m. Utah time. We buy the pass for $ 5 per person. And, oh surprise (one more!): the campground no longer exists! It was not planned! So we return to Kayenta to find a motel. This is not the day: either there is no room, or it's too expensive. We hit the road again to go to Goulding in front of the entrance to Monument Valley. And found a campsite. We should have started that way! It is almost 6 p.m. when the tents are mounted. It is quite fun this camping and toilets are clean: $ 22 for a tent. We leave to visit Monument Valley by car at 6 pm. 

We're going fast because the sunset is at 8:30 pm and we already know. The sunset is not as beautiful as usual. We are still waiting a bit and we leave at 9 pm. There are still only four cars on the premises of Monument Valley. Arrived at the entrance, we discover with amazement and anger that the gates are closed and locked! It starts to be a little panic. Among the people "stuck" there is a French couple with their daughter. We go round in circles trying to find another way out: no way. We start to say we'll have to sleep in the car. Finally, we return to the gate. The four cars are there and some people try to force the barrier. A guy finally managed to drag the chain and we are free! We don't even bother to close behind us. We return to camp to eat in the dark and then sleep.
Saturday June 16 : towards Moab at 9:30am. Around 12, we arrive at the campground in Moab. The manager was cool : he gave us a place in the shade. The bathrooms are new and clean. And there is a swimming pool. We settle the tents and eat. At 2 pm, we go to Dead Horse Point. It is very hot. By the way, we stop at the Visitor Center to see the sunset hours on Delicate Arch. We realise that time is too short to make the 2. We decide not to go to Dead Horse. We buy water and go back to the campsite. We leave around 5 pm to Delicate Arch: it is 103 ° F (38-39° C). The climb is quite hard with such a heat (40 °) and no wind. We stop often to drink. At the top it is still as beautiful but always a lot of people in front of the ark. No easy to take pictures. 
We go down at 8:15pm. It's cooler. We stop at Denny's to eat and return to camp at 10:50pm.
Sunday June 17 : It was very windy this night. So, there is a little sand in the tent because we only put the net. Departure at 9:30 pm to Arches National Park (32 ° C). Walk to Double o 'Arch from 10:45 a.m. to 1:50 p.m.. Very warm with some wind breezes. We then returned to the campsite to enjoy the pool. 
Monday June 18 : departure to Yellowstone at 10 am. The road will be long so we stop often to rest. The more we advance towards north, the more the landscape are green and mountainous. And it gets a little cooler (25° C). We stop in Rexburg for one night in motel at 6:35 pm. The hotel is an AmericInn. It's very classy with indoor pool and Jacuzzi, Internet access, included breakfast, gym at only 89 $ for the three of us (tax included).
Tuesday June 19 : departure at 10 am. On the road, we cross forests of pine trees. There is snow on the tops of mountains. It's beautiful. It is 18 degrees with the sun. We arrive in West Yellowstone and we look for a hotel. They are either too expensive or full. We finally found a room at the Madison Hotel around 12pm. We will then visit Yellowstone. It's already beautiful : forests, river and then the "pools" and "geysers."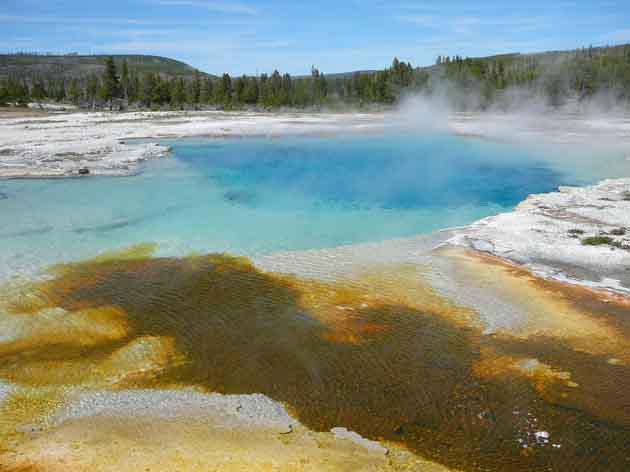 We stop around 2pm for a picnic in a place intended for it with wooden tables. A buffalo stands with us ! There are plenty of animals in the wild. We continue our walk all afternoon : it's beautiful. And we take a lot of photos. We return to do some shopping around 6:30 pm. We eat in the room and then we'll eat ice cream in town. 
Wednesday June 20 : breakfast in the room and departure at 9:30 am. It's 14° C. Walk in Yellowstone all day long, we make the bottom loop. Everything is wonderful, we hardly can, believe our eyes ! Back to the hotel around 8pm and dinner in a restaurant.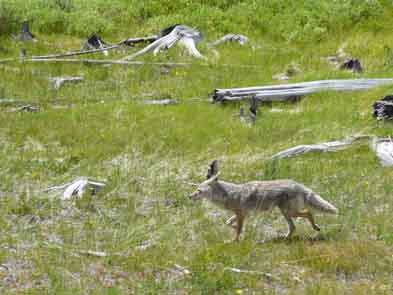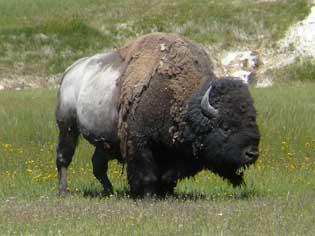 Thursday June 21 : 8:45am departure. Because we did not have enough time yesterday, it was decided to extend by a day here. We stop at Gibbon Falls. Then walk in the park, we make the top loop with Mammoth Hot Springs. It's different than geysers and pool but it is also very beautiful. At 3:15 p.m., we take the road to Grand Teton. 
Around 6 pm, we find a campsite at Colter Bay Campground in the heart of the forest ... and tons of mosquitoes! It would have been fine as camping without mosquitoes. We do some shopping and have dinner "hidden" in our pants and hooded sweet and soaked in lemon grass. It's hell! There are even mosquitoes inside our pastas! We take our showers for $ 3.50 and do laundry. And we'll hide in our sleeping bags in the tent! We should have taken a bungalow! We will know for next time! 
Friday June 22 : starting at 9:30 am for a car ride in Grand Teton, just to see all the lakes, mountains, overviews. The extra day past in Yellowstone was normally expected in Grand Teton. So, we will not see everything. This will be an excuse to come back again! We picnic lunch and dinner on the beach of the lake near the camp site. Here, oddly, there are no mosquitoes.
Saturday June 23 : it's only 10° C. We'll have the breakfast at Jackson Lodge : buffet for 13 $. Great !! We leave at 9:30 am towards Cedar Breaks. And the more we advance, the more the temperatures are high (100° F). Stop in Beaver in a motel Rodeway Inn around 6:30 pm. Dinner at Wendy's.
Sunday June 24 : breakfast at the motel. Not the best we had ! Road to Cedar Breaks where we arrive at 11 am. Elevation is 3000 meters and it's only 15°C and windy. It's cold ! It's not very big seen from above. We take a few pictures and we go to Bryce Canyon.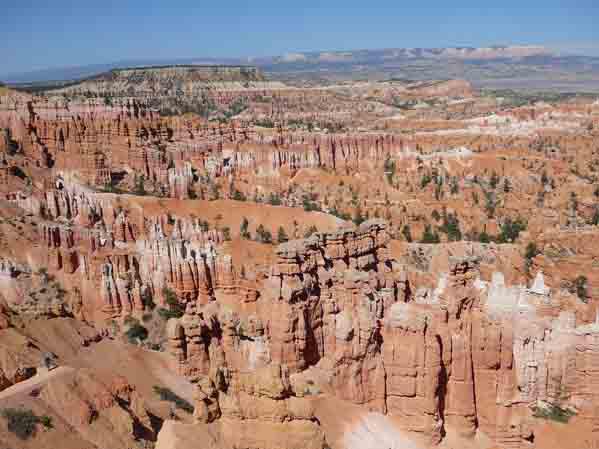 And it's hot again ! We arrive at the campground around 1:40 pm. We settle up the tents and have a walk along the canyon.
Monday June 25 : up at 5:30 am to see the sunrise. It's 8-9° C ! We return to the campground around 6:45 am and we go back to bed until 8:30. Around 11 am, we start a walk in Bryce Canyon : descent at Sunset Point and back up at Sunrise Point at 2 pm. Then we'll return with the car to Bryce Point for pictures. 
Tuesday June 26 : towards Las Vegas and its 40°C ! At 3:20 pm, it's 41° ! We try to find a casino-hotel on LV boulevard. We try the Mirage : 220 $ a night : too expansive ! Treasure Island, it's 135 $, we book the room. The room is classy. We then go to visit for the afternoon and we have dinner at Denny's. Back to our room around 10:30 pm : we are tired !
Wednesday June 27 : walk all day long in Las Vegas. Ice cream at the Venitian, pool and dinner at the Treasure Island.
Thursday June 28 : up at 8 am to go in another hotel. We go to the Paris Las Vegas. Walk, ice cream... And we start to make our bag for the return to France.
Friday June 29 : up at 6:15. Quick breakfast in the room: cereal bars, not to lose too much time. We are ready in 1 hour. We then drop the keys of the room and take the car, direction Avis car rental. We give back the car without problem. Airport Shuttle: 8:00 arrival. It is not late. However the plane Las Vegas / Dallas has delay. We board at 12 (instead of 11:30 am) and then they "think" there is an oil leak in the right engine. So we are stopped. Finally, there was no leak! So we take off at 1 pm with the delay. And we miss our flight Dallas / Paris scheduled at 5:15 p.m. (Eastern Time Dallas). We are redirected to a window to find other seats on another flight. After a very long time, the agent found us a flight Dallas / New York, New York / Boston and Boston / Paris. No less! But we have no choice. It is 8 pm when everything is set. The flight from Dallas being at 7 am next morning, we decide to stay in the airport to avoid airport and hotel travel to get up early. We spend the night settled uncomfortably on the seats or floor. We ended up finding cots and staff gave us blankets. But we did not get much sleep, there is always noise in an airport!
Saturday June 30 : after a difficult night, we get up at 5:30 am. Breakfast : coffee/chocolate et 1 croissant paid by American Airlines. Take off towards New York at 7:30 am in first class. that's fun ! Then New York / Boston in first class also. Despite all it was cool to fly over New York : we could see the Statue of Liberty, Manhattan, Central Park… and finally we take our plane to Paris where we arrived at 7:30 am on July 1st.
Sunday July 1st : we finally arrives with a 24 hours delay. Our baggage are not here. A member of American Airlines staff took our address and phone number to send them via Chronopost. Our baggage were not in our plane but in a flight from Dallas to Paris. Back home around 10 am. We are so tired that we go straight to bed to sleep. 
Our baggage will finally arrive on July 2nd delivered by Chronopost.