Saturday september 2 : the alarm clock sounds at 3:00 am for a departure from home at 4:00. It's gone for a long day of transportation. At the airport, we must wait for the United Airlines ticket office to open for check-in. It starts at an electronic counter and obviously it does not work well. The flight to San Francisco lift off at 9:15 am and arrive at 11:00 am (local time). The landing gate is not free, we wait 1 hour on the tarmac. We pass immigration service and security without problem. We have a stopover of 4 hours. Then the flight to Las Vegas departs on time at 4 pm. We land at 5:10 pm. We then go to Alamo to pick up the car. In front of us, 4 are available. We check the condition of the tires, the spare wheel and especially the ground clearance. We take the Nissan Armada which looks better.
We drive to the hotel, the Royal Resort. Just entered the room, we say "damn, there's only a bed" ... but no, a bed is "hidden" in the closet! Tonight, 1st McDo of the stay.
This trip will be a little different from others. Apart from our friend Florent, we plan to see friends several times, Annick and Eric, Etienne and Stephane.
Sunday september 3 : we start the day by doing shopping which takes time. Around noon, we go to Glendale to find Annick, Eric, Etienne and Stéphane at the Arco gas station. It is already 102 ° F. At 2 pm, we go to Little Finland. The temperature rises to 106 ° F. We take the Mud Wash. It is not too bad; some delicate passages for Eric's car (Hyunday Santa Fe), which clearance is not very high. At times, our car reacts oddly on the sand. Arrived at the cattle pen, we decide to go to the 2nd car park to be at the foot of the "wall". Ouhh the bad idea ... our car skates and finally is stucked in sand. While Stéphane and Étienne went well with their Infinity. This is where we realize that we do not have a 4WD but only a 2WD. Given the size of the car, we thought it was a 4WD!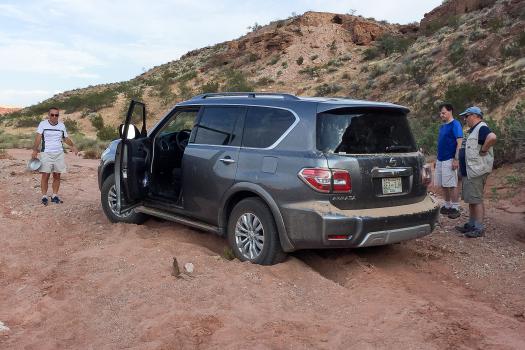 After several maneuvers, "scooping" the sand, shrubs under the wheels ..., we finally get out after 2 hours. Fortunately, we with 6 people pushing the car, it passes. So we turn around to park at the cattle pen. It is 6:20 pm and it is 104 ° F. We go quickly in Little Finland but we arrive a little late for the sunset.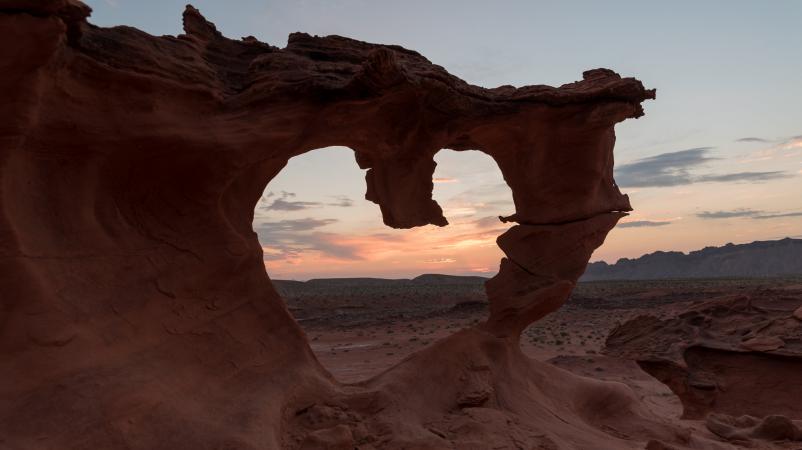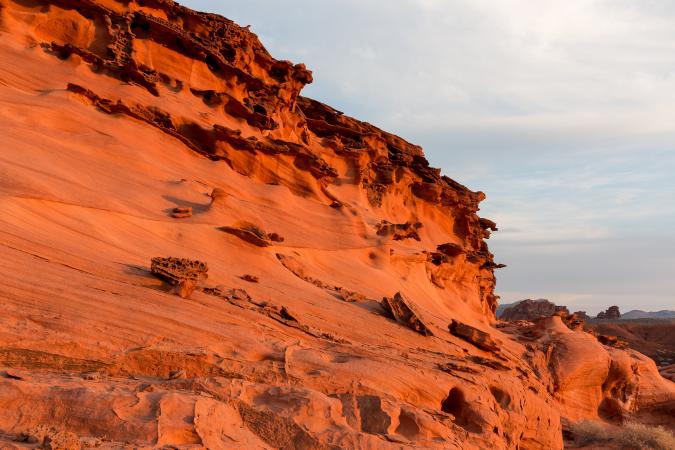 We go back to the car park, we settle up the tents but without the double roofs, it's too hot. We are not going to be cold tonight.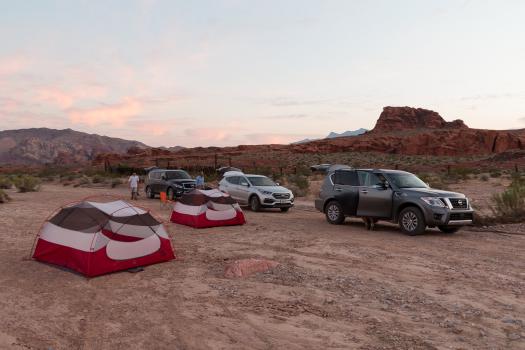 We nibble and we go to bed around 10 pm. It is very hot and we sleep badly. Through the mosquito net, I see the starry sky. The moon is almost full but I see Orion, it's beautiful. It's super quiet, not a sound.
Monday september : since we do not sleep anymore, everyone gets up around 5:30 am. We tear down the tents, take a quick breakfast and return to Little Finland for the sunrise. It is already very hot, 100 ° C. The colors are beautiful and sweet.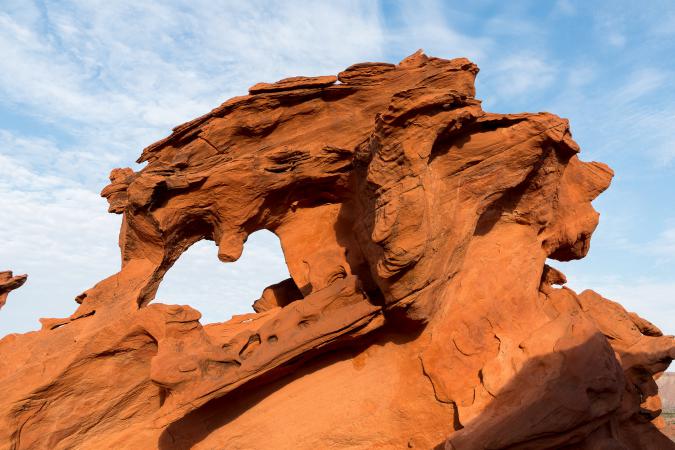 We take the track for the return. In the wash, we are not very reassured, we fear to sand again because there are some sandy parts. Especially, at a cornering place. Already on the way in, the car had slightly skated. Precisely, we see Stéphane take this turn. Neither one nor two, David points and cuts the bend before, at a place where there is less sand, it skates a little but it passes. Phew ... Behind, everythnig is ok for Eric. We don't stop at Whitney Pocket ... too hot (95 ° F). We go straight to St George. We all take a room at the Days Inn. We rest and we nibble each of his side. At 4 pm, we all meet to go to The Vortex. Annick and Eric realize that they have a flat wheel at the rear. So they go to a garage. With Stéphane and Etienne, we go to the Vortex in the heat (109 ° F). We park at the parking at 4:45 pm. The hike is done in sand - what a pain - then on the slickrock. It climbs hard. And with the heat, I can not anymore. With Étienne, we give up while David, Stéphane and Florent continue. We go back down to the shade. A storm roars not far and the sky is black.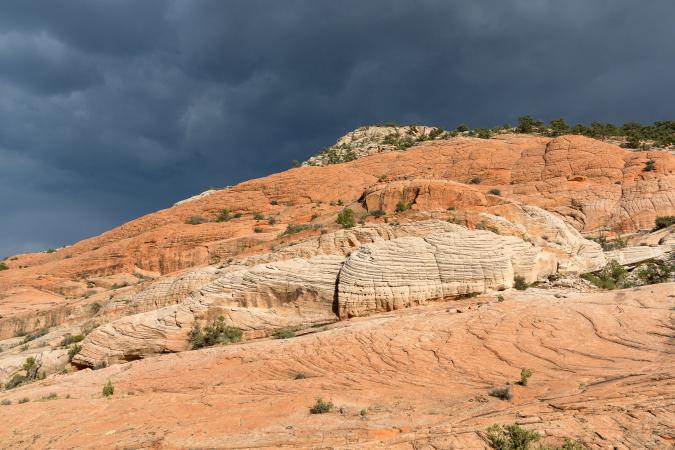 Our 3 companions join us after going to the Vortex - in the shadows apparently.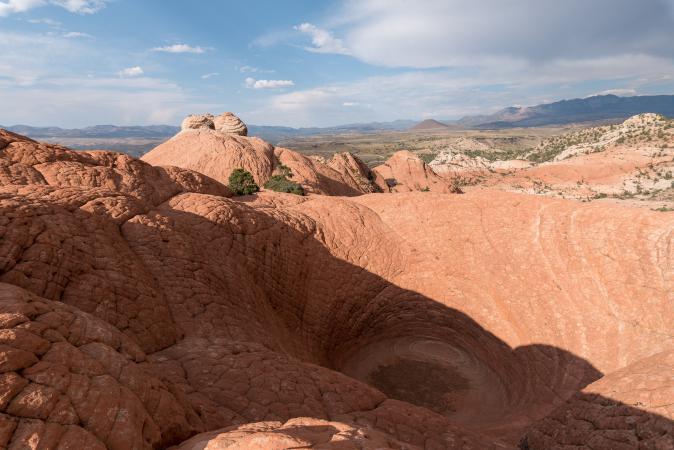 On the way back, it starts to rain big drops and the thunderstorm is rumbling. We arrive at the car at 6:30 pm. We return to the hotel. The temperature dropped to 88 ° F. At 8:00 pm, we all eat at Five Guys. Very good and the fries are top !
Tuesday, September 5 : we will try to change our car at Alamo at St George's airport. Unfortunately, they do not have a 4WD in stock. We join Etienne and Stéphane at McDo at 1 pm. Then, we start preparing the backpacks bags in the Smith's car park. We leave at 4:20 pm to go to Yant Flat where it is almost 102 ° F. At 5:30 pm, we start the hike to Yant Flat. The beginning is a little in the forest and the end is painful in the brush and the sand. Once arrived, we put the backpack to explore the area at sunset. It's superb, the shape of the hills is reminiscent of large scales. The colors are superb.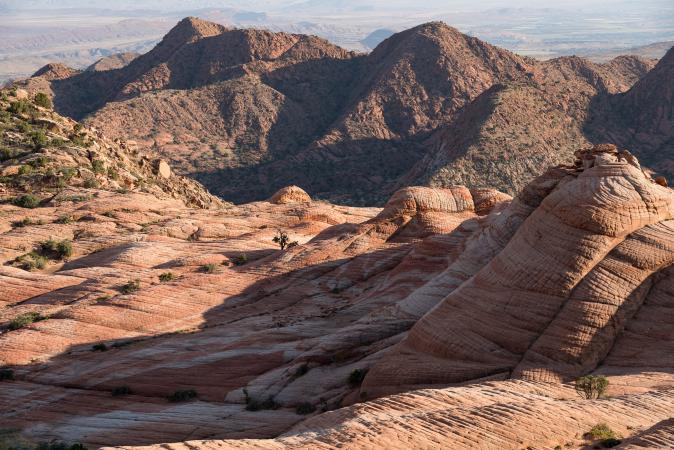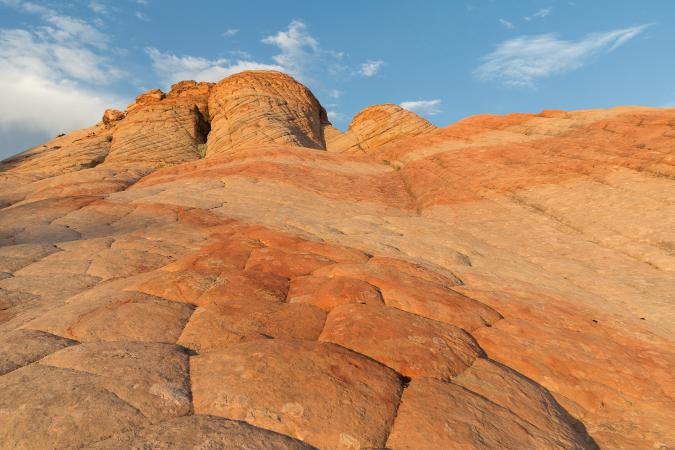 Then we settle up the tens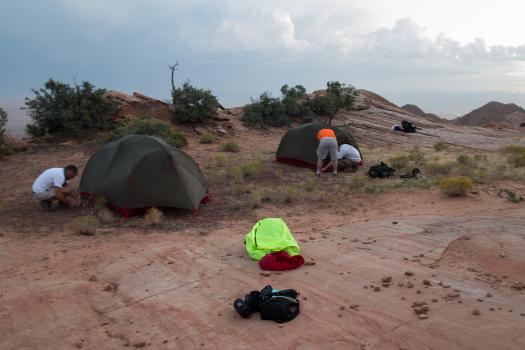 and we dine in the dark with a view of the lights of St. George and the lightnings of thunderstorms rumbling all around us but not above us.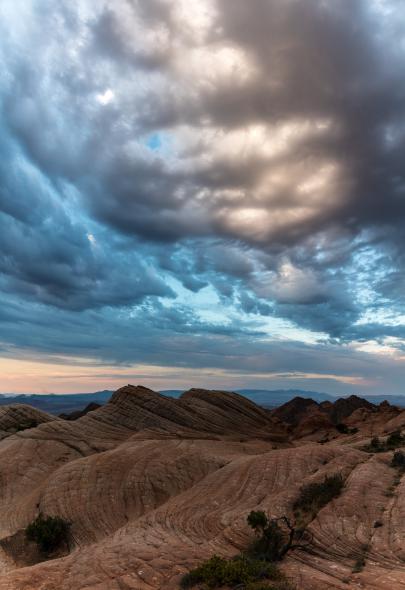 This is our first backpacking experience and we like it.
Wednesday september 6 : the sky is overcast, we will not have a beautiful sunrise. We have breakfast and then dismantle the tents. David, Florent and I are going to explore the eastern part. That's wonderful.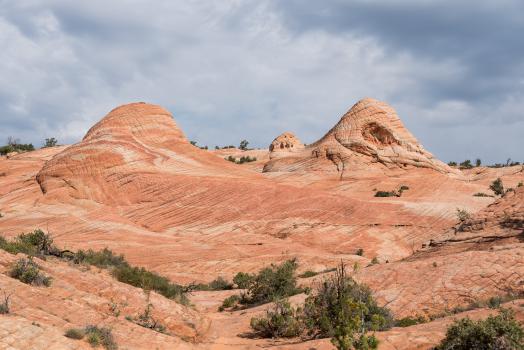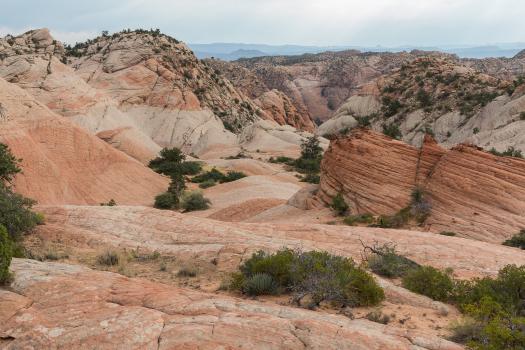 But we are not on the right path for The Turtle. We try on one side, it's the hole, we try another side, it's very rough. We do not really see how to go. Florent is a bit short with the water and it's getting hot so we decide to turn around. We join our camp area, we take a short break and we leave at 11 am.  Etienne and Stéphane are still in the car park. We drink and nibble before returning to the road. Our friends take the direction of Cathedral Gorge and us, we go to Hurricane. We take a room at Super 8. We finish the afternoon with laundry and washing the car. 
Thursday september 7 : departure for Zion National Park, Kolob Terrace part. However, we must first go to Springdale to buy the $ 80 America the Beautiful pass. We go back to take the Kolob Terrace Road. We arrive at Wildcat Trailhead that we take for 0.9 miles. The trail is nice under the pines under a cool overcast sky, then we follow the Northgate Peaks Trail for 1.1 miles (at the 2nd sign). It drops a few drops of rain. At the end of the trail, the Northgate Peaks stand on either side of us: Northgate Peak East and West.

Opposite is North Guardian Angel Peak.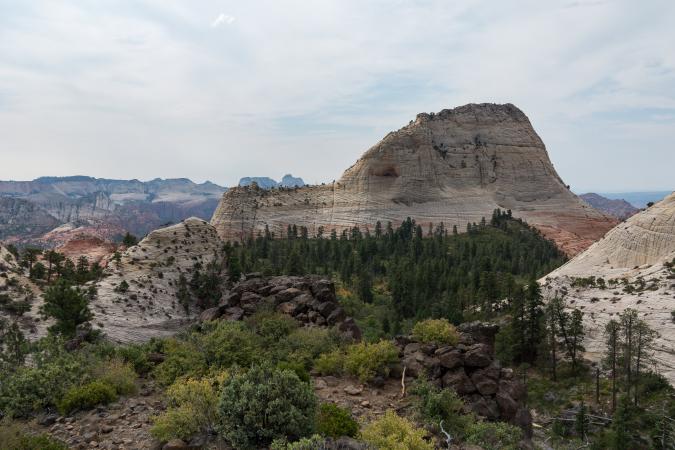 We are almost alone. When 3 other people arrive, we go back and we nibble some nuts and have a drink. We then resume the way back. We arrive at the car at 12:30 pm and we have a little picnic. Then we drive to Hoodoo City. We park in the Hop Valley Trailhead car park and we follow the path on the right (Connector Trail), we walk a little on the road and when we see the hoodoos, we turn left. It is a very small site but quite photogenic. There, we are all alone.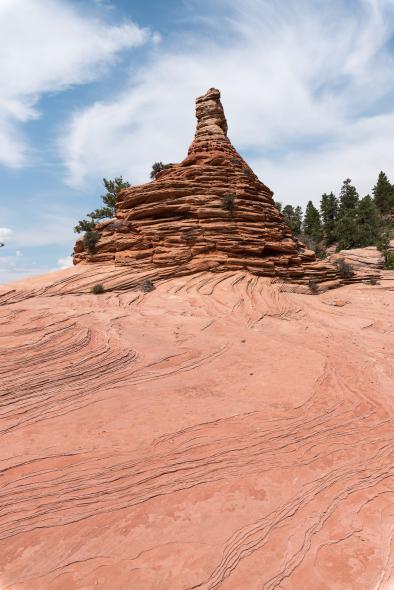 We come back to the car. We go back to Lava Point. We will see the view point. It's spectacular, huge!

Very different from the Zion we know; it's very green. We go then to the primitive camp-site. Phew, there is still room and it's free. We chose the location # 3, it is top. Around 4 pm, we settle up the tents.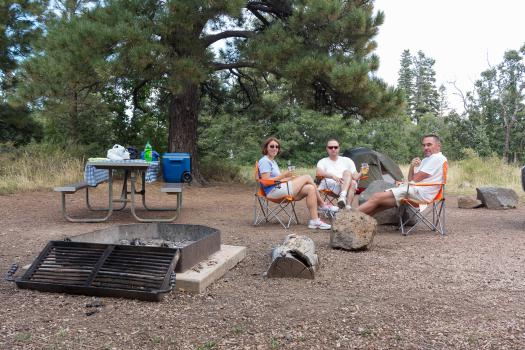 After dinner, we will see if there is a beautiful sunset from the point of view ... but no, it's overcast. We go to bed. This is very quiet.
Friday september 8 : an elk quietly crosses the groves behind our location, it makes no noise and it is not afraid of us being very close. Magic ! Everything is still calm. It is not too cold, 57 ° F. We take off at 6:30 am. It starts to rain. We stop at Springdale to refuel and a few shopping. Then we cross Zion. The rain has stopped, there is even a little clearing. Oh, miracle ... there are parking spaces available at the end of the tunnel. It's rare. We take the opportunity to park and finally be able to go to Canyon Overlook which is 1 mile round trip. The view is very nice but blocked by the gray sky.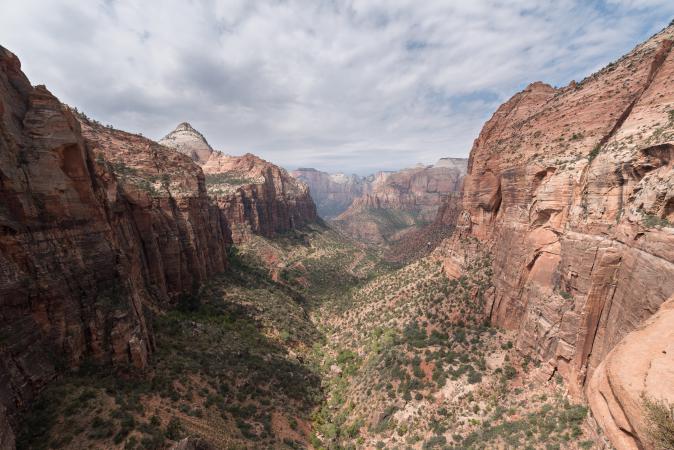 It begins to rain on the way back to the car. The next stop is for Checherboard Mesa, never taken in pictures until today. That's done ! We then go to Kanab. We start by looking for accommodation. Unfortunately, the Hitch'n Post Campground, which we liked a few years ago, is complete. We fall back on Crazy Horse Campark, $ 23 a night. The locations are poorly defined and the bathrooms are old. But hey, we'll do it! We pitch the tents.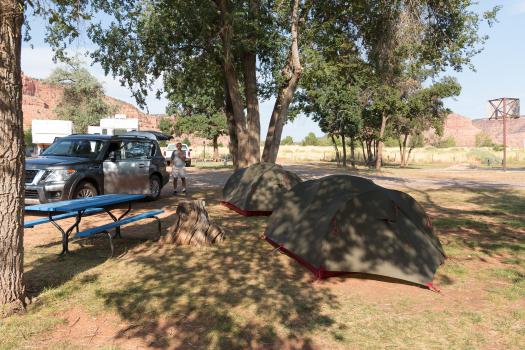 Then we're about to go for a ride when it starts to rain. And the sky is well covered. So we decide to go take our showers. Around 5:10 pm, return of some clearings. We will walk in Kanab and then find Annick, Eric, Etienne and Stéphane. We're going to eat at Rocking V Cafe. It's very good but a little expensive. Leaving the restaurant, we see that it has been raining again.
Saturday september 9 : We did not sleep very well with the road noise and the rain. Besides, it's still raining. So we'll have breakfast at Mc Do. We will then try our luck in the lottery for The Wave at 9 am. We find our friends there. Only Annick and Eric are drawn. It's cool for them, they have never been there. We are happy for them and we give them advice. Around 10 am, we take the road to Page to see if the weather is better: but no, it also rains and it is only 63 ° F. We try to see the overlook behind the Denny's but finally we stay in the car, it's raining too much. In order to pass time, we will take a tour in Walmart and Safeway. There is a general power outage. Around 1:00 pm, we eat with Eric and Annick at Fiesta Mexicana. It's not very expensive and it's good but rich. As the weather improved, at around 2:45 pm, we all 5 turned towards a small site accessible after Glen Canyon Dam: "Wild-ere Land", named after our friend Etienne ! Also called Little Wave by Philippe Schuler. We walk until 5:30 pm. The place is superb: hoodoos, small waves ...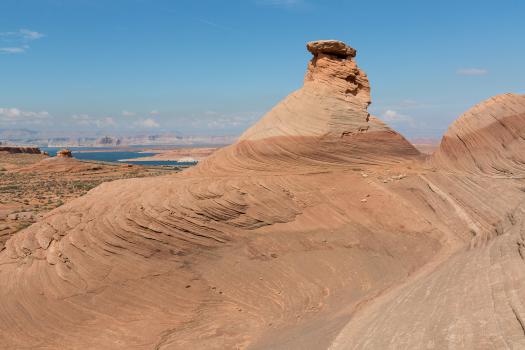 It's a beautiful discovery. We leave our friends and we return to Kanab to find Stéphane and Étienne at the pizzeria Lotsa Motsa, in front of Big Al Burger. The pizzas are super good.
Sunday, September 10 : dismantling of the tents. At 10:00 am, we take the direction of Diana's Throne. Short 15-minutes walk in the wet sand to go to the site. It's nice but it does not break 3 legs to a duck !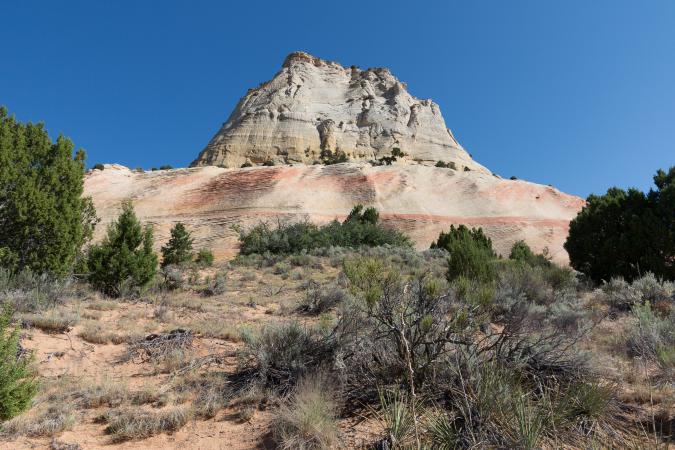 We then take the road to Johnson Canyon. We park at the edge of the road, the Johnson Canyon Road, in front of the yellow mounds. There is no real trail: we first cross the vegetation, then we must go down in the wash - a little water today following recent rains - to pass on the other side, then again brush in sand. It is a small site very pretty and photogenic. These little yellow hills are nice.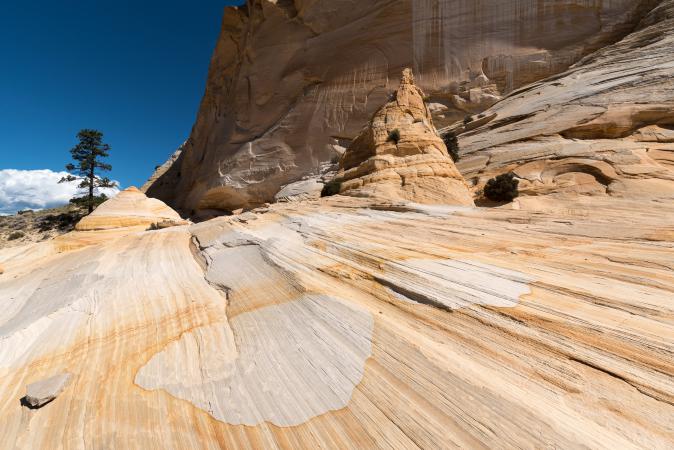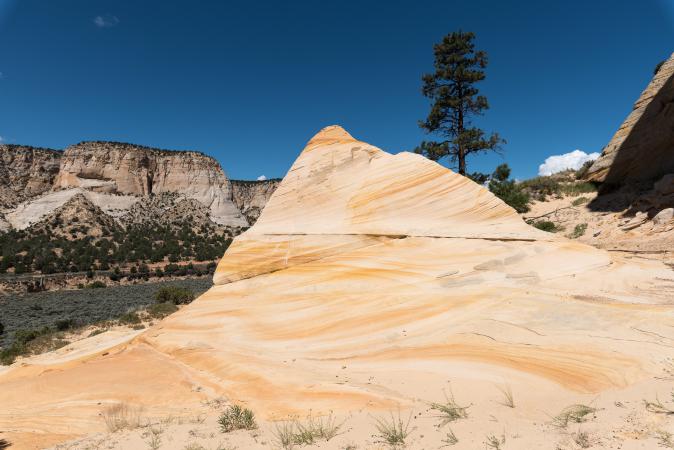 After these walks, we return to Kanab and we take a room at the Red Rock Country Inn. The room is not ready, we eat a salad at Mc Do. Around 3:00 pm, we find Étienne and Stéphane in the same hotel as us. We all go together to Painted Desert on the House Rock Valley Road in their car. The road and the track are long but it's worth it. The colors are incredible.
It is superb at sunset. We return to Kanab after dark and we dine at Wendy's.
Monday, September 11th : backpacks are being prepared for the backpacking at White Dome. We leave Kanab at 7:40 am. There are flags everywhere in the streets. The road to Colorado City is doing well. Then we take the Water Canyon Road to Squirrel Canyon parking lot. 1600 feet before, there is a delicate passage but cars pass. We start the hike at 8:55 am and it is 70° F. It begins with a descent then a rise in soft sand. We cross a dry wash. The path continues in the undergrowth and rises gradually. We cross a very small stream, we take the opportunity to hide bottles of water for the return. They will be very fresh. At one point, there is a rather steep climb in a scree of pebbles. It's not very long luckily. Finally, we walk on slickrock and it always goes up. The landscape is very beautiful.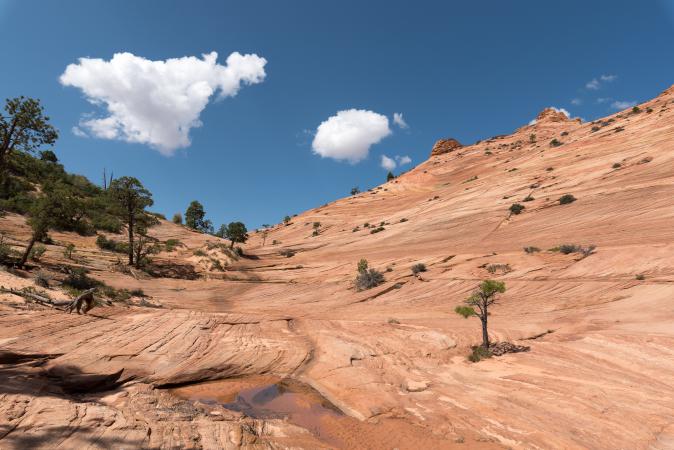 The GPS unit helps us a lot because it is very paumatory. We hide bottles again and we point the location on the GPS unit to be sure to find them. We do a lot of breaks and poses ... photos. At the end of the trail, it's sandy. At the end of the last climb, it turns right and suddenly ... the White Domes are just there, visible at the last moment at the turn of this turn. We breathe a sigh of relief, we are there, we succeeded! It is 2:00 pm. We need 5 hours to walk the 5,6 miles and the 1 800 feet of elevation by going there quietly. We drop the bags and rest a bit before going to explore the area. Everyone then leaves to discover the place. I really appreciate this moment alone. It's quiet, calm. It's beautiful, magical.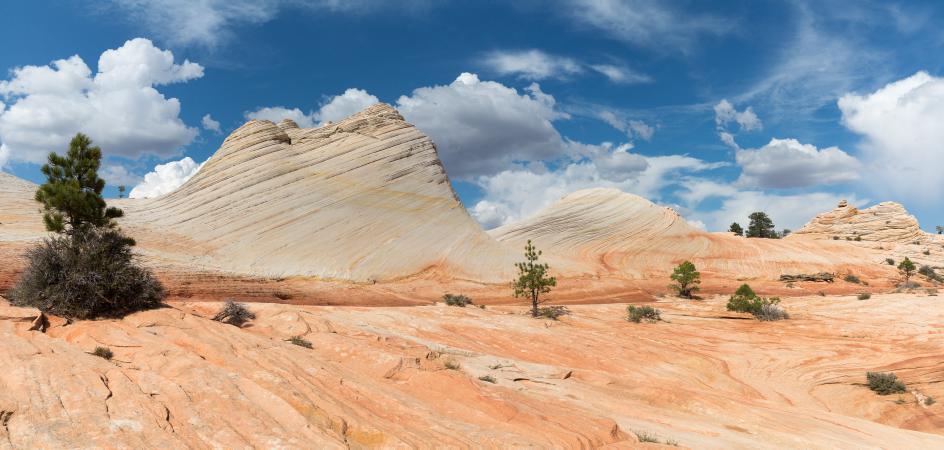 It is a very beautiful discovery. Stéphane and David are brave enough to push the hike to an area called Black Rocks. As the name suggests, they see black stones there.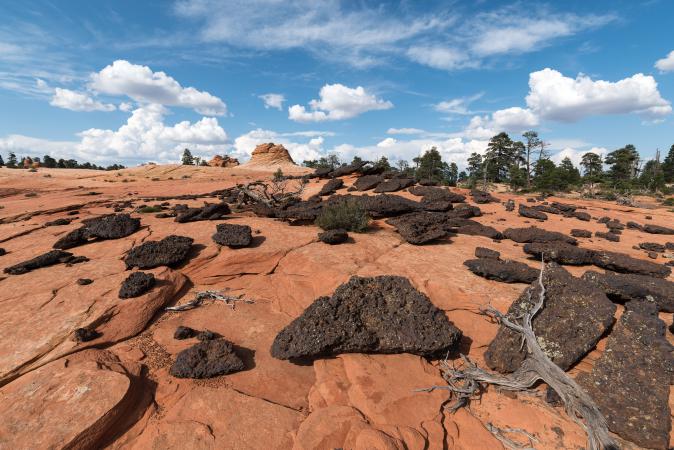 In the late afternoon, the light softens, it's beautiful. The cameras are running at full speed! We take advantage of the last lights for dinner and tents. We go to bed early around 8:30 pm except Florent who makes photos of nightscape.
Tuesday, September 12 : a few drops of rain fall. We all have a thought for Étienne who only mounted his mosquito net. But the rain does not last. We get up at 7:00 am to watch the sunrise. Unlike at evening, in the morning the domes are illuminated with orange. That's wonderful.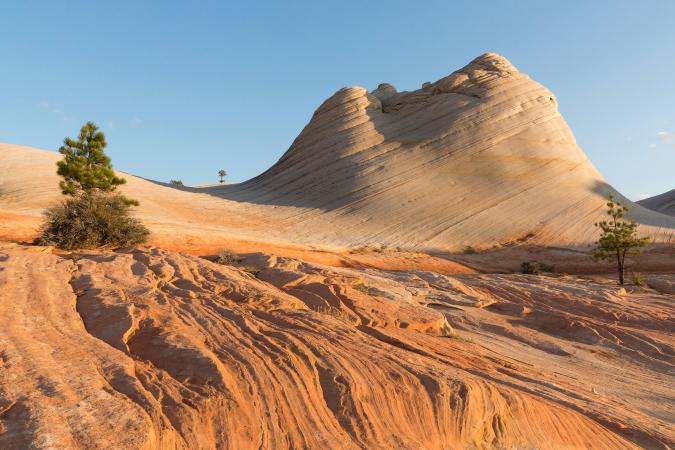 I miss superlative to describe this place that I love! We fold the tents, we have breakfast and we attack the descent at 9:00 am. In the sand, it's pretty painful. Hidden water bottles are collected along the way. The one who was in the river is very cool, it feels good. The last climb before the car park is steep. It takes 2h50 to go down. We arrive at the cars at 12:15 pm. We drink and we nibble. We then take the road to Page where we arrive at 2:00 pm. We are looking for a room. We do 5 hotels but they are all full, it is not yet the weekend. We will see the campsite in Page: the 2 remaining sites are rotten, small and roadside. So we go to the Wahweap Campground. We take 4 nights. We settle down and at 4:20 pm, it breaks a storm and it rains hard. The temperature drops from 97 ° F to 70 ° F in 20 minutes. We take the opportunity to go to the shower. Around 7:00 pm, we eat pizza at Strombolli's with Étienne and Stéphane.
Wednesday, September 13 : at breakfast, it is already good. We take the Cottonwood Canyon Road to the Yellow Rock car park. We start the hike. The start is done in sand and a wash, then we attack a big steep climb. Then it's slickrock. Yellow Rock is beautiful, all in nuance of colors - yellow, orange, white.

It is 91 ° F. We walk quietly.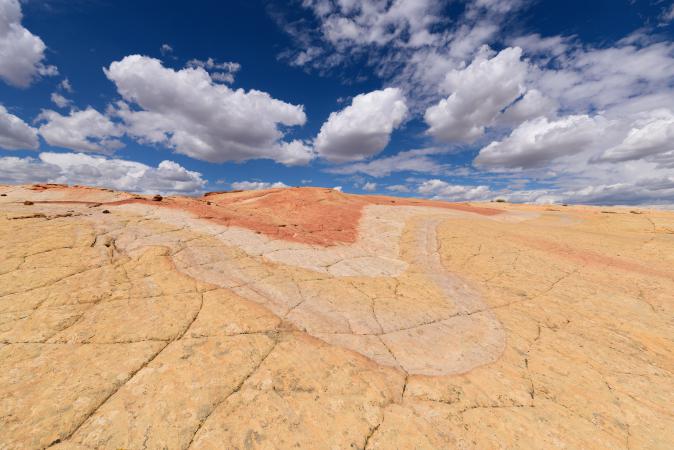 We come down to the car at 12:30 pm. We're going to do some shopping and on leaving the Safeway, it's raining. We go back to the campsite to do laundry, nibble and shower. At 7:00 pm, we find Annick and Eric to dine together at the Bonkers. It's too good and hearty.
Thursday, September 14 : we get up at 5:10 am to be at Paria Outpost at 7:00 am for our excursion in Coyotte Buttes South. We booked for Cottonwood Cove and White Pocket. Susan welcomes us and explains a lot about the day ahead. And we go with Eric, our guide, and 2 other people ... french! We take the House Rock Valley Road to the Cottonwood Cove car park. The access path is sandy. We need a real 4WD and especially knowing how to use it. Eric masters perfectly! The hike is done on soft sand (still, it's tired of sand !!) and slickrock. The sky is threatening. It's very beautiful, the rocks are tortured.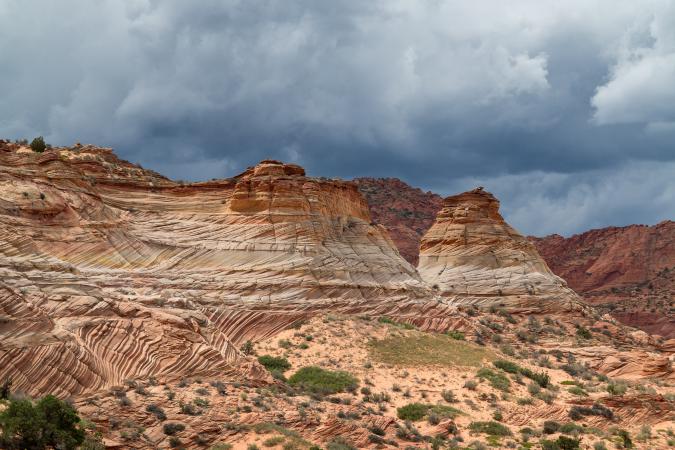 It finally burst storms all around us and finally we have rain. We put our rain ponchos. The guide suggests we continue the visit of Cottonwood Cove because he is not sure to be able to take us to White Pocket because the track is under construction and it rains. We return to the car around 12:30 pm. Eric phones Steve to know the condition of the tracks. Finally, he leads us to White Pocket. Cool ! I would have been disappointed not to go. The track is even more sandy than the other. The whole visit of the site is done in the rain. Too bad because there is a lot of potential for photos. That said, this black sky gives a dramatic side to the photos.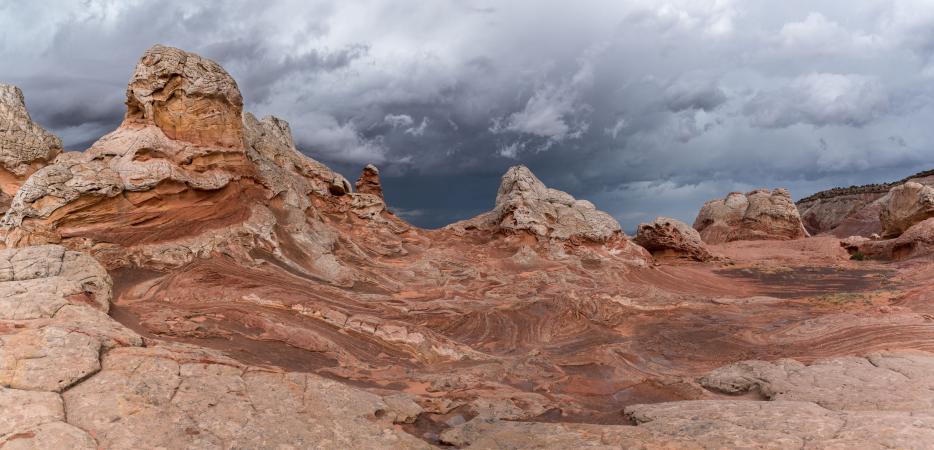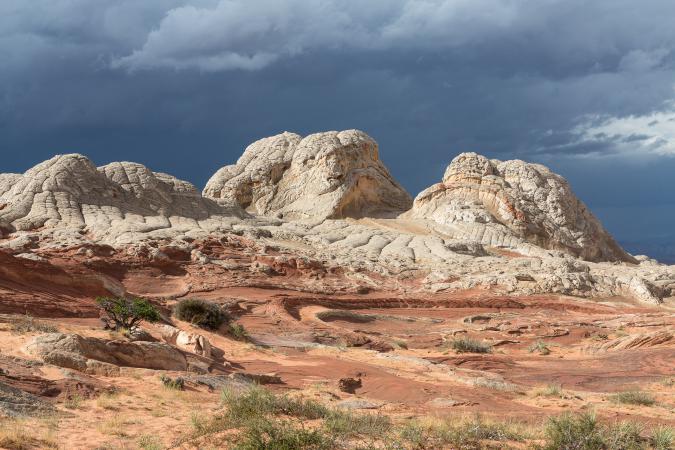 The colors are impressive, red and white dominate. Back to 4WD and on the House Rock Valley Road. There is a lot of mud. The wash is wet and that of Buckskin Gulch, well ... it is a river that flows very fast! A sedan is stopped on the side. Eric gets out of the car and says to the guys "So, guys, you're not going," fooling themselves with them ! He takes a look at the wash and return to the car. "With luck, you'll be on time at dinner," he says to the guys. He goes back on board and he crosses the river easily. Return to Paria Outpost at 5:30 pm. We take our car, buy ice for the cooler and wood and then go back to the campsite after a great day of discovery.
Friday, September 15 : we normally had a permit for Paw Hole today but given the condition of the tracks, we do not venture there. We do not call Eric! We are changing the program and we are heading towards the north shore of the Grand Canyon. We arrive around 11:00 am by a pretty road lined with fir trees, aspens already yellow, meadows. There it is 55° F but we are 8 825 feet above sea level. We start with Bright Angel Point. The parking is full. We admire the view, we tour the lodge and then picnic.

At 1:30 pm, we take the direction of Point Imperial, which is more beautiful than the other. The shadow of the clouds is projected on the canyon, it is superb.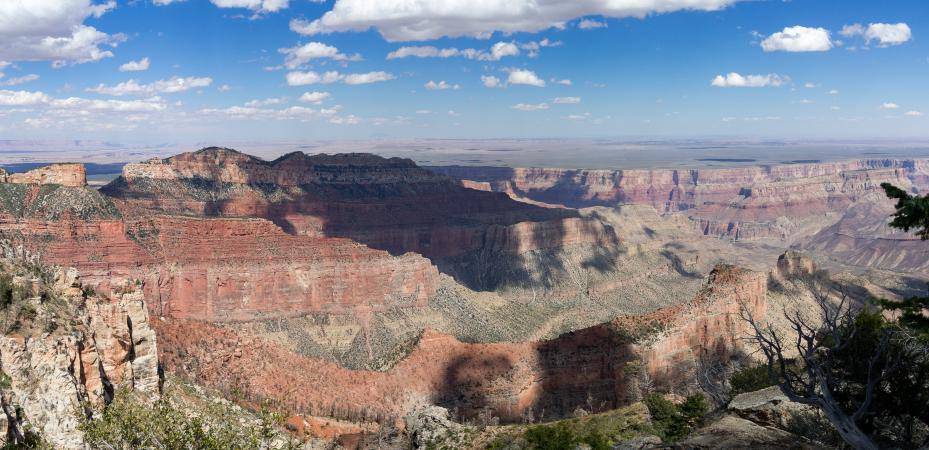 Then we head for Cape Royal which is also a beautiful viewpoint. From here, we can see Angels Window.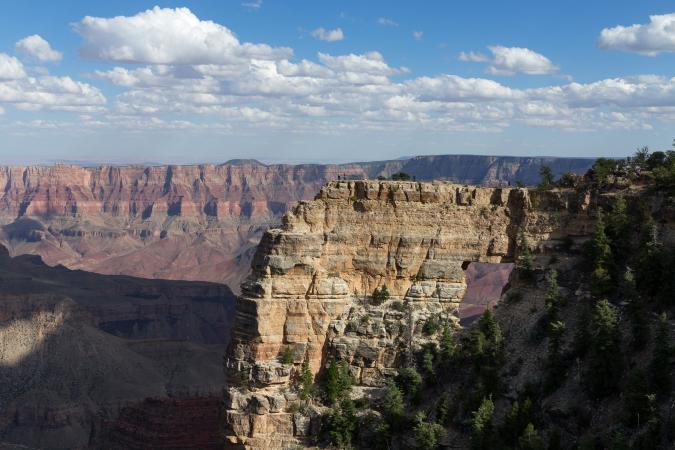 We leave the Grand Canyon around 4:15 pm and we arrive at Page at 7:45 pm. We dine at Denny's.
Saturday, September 16 : we go to the office to book an extra night but unfortunately, it's complete. Well yes, it's Saturday, we had not thought about that! We find ourselves as goodies! No choice, we dismantle the tents, we lose 1 hour. We refuel and drive to Churchwell to take a trail that leads to Sidestep and Colorful Canyon. But, in one place, we are blocked by a wash quite muddy and with a march to go down. We park before and we continue on foot. It is 10:00 am. The walk is done in sand (still him!) up and down. It's exhausting. Sidestep is huge, bizarre shapes as far as the eye can see, impressive, especially this view :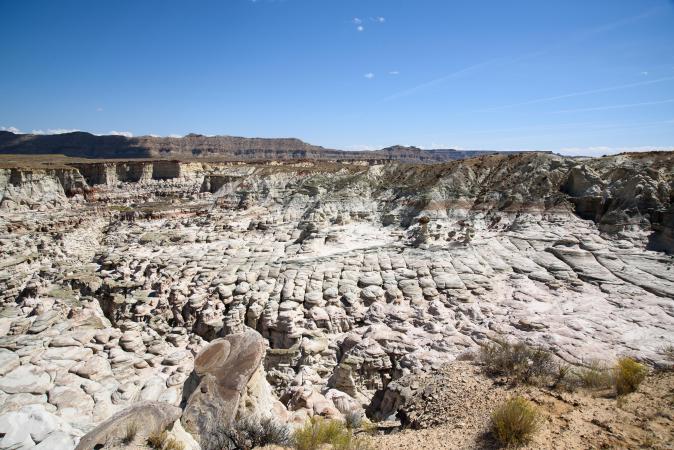 How to go down? no doubt by a big detour. There are also nice hoodoos.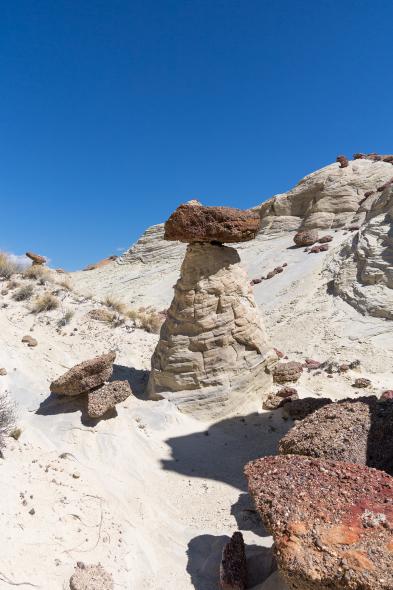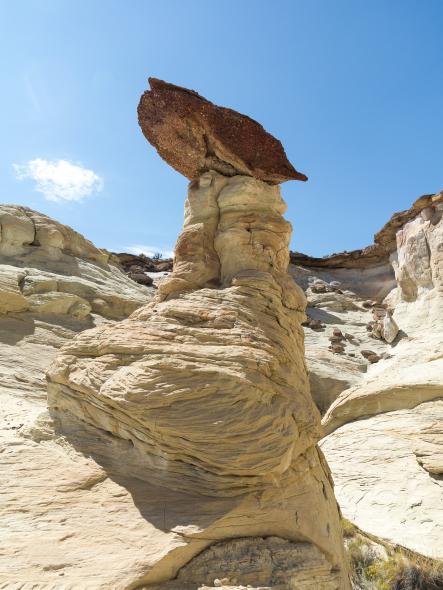 We take a lot of pictures and then we go to Coloful Canyon.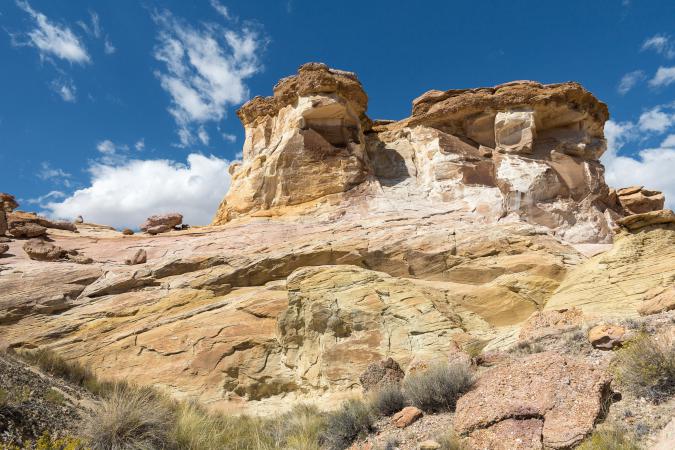 We can see the famous shape, Twisted Hoodoo
and other hoodoos. It's less pretty. We do not linger too much. We resume the way of the car. What I hated this hike, not the 2 sites, but the way to go: sand, scrub, bleak landscape and flat ... Return to the car at 4:00 pm after 8,7 miles (81° F). Well, now, we have to find accommodation. Many hotels are full. At Rodeway Inn, there is one room left ... $ 227. Tired of looking, we will find nothing else and on that one, we played badly. So we pay. We'll do some shopping. In the evening, we go to dinner at Srombolli's.
Sunday, September 17 : we leave for Farmington, New Mexico, at 8:10 am. We arrive in the city of Shiprock at 1:00 pm (NM time) and we find Annick and Eric at Domino's Pizza. We will spend 4 days with them and a couple of American friends to them, Janet and Graham. We leave immediately to get Janet and Graham to Bloomfield RV Park. Graham speaks a little French. Given the stormy sky, we decide to go to Bisti Badlands instead, access being easier. It is 63° F at 3:30 pm, it changes! A sign now indicates the access path to Bisti / De Na Zin. We arrive there around 4:00 pm. We go on a ride in Bisti: hoodoos, eggs, arche ...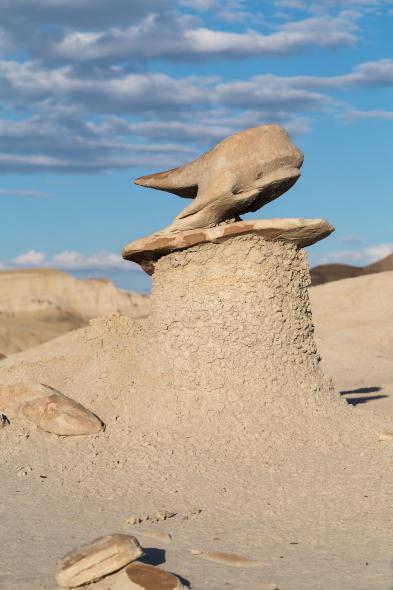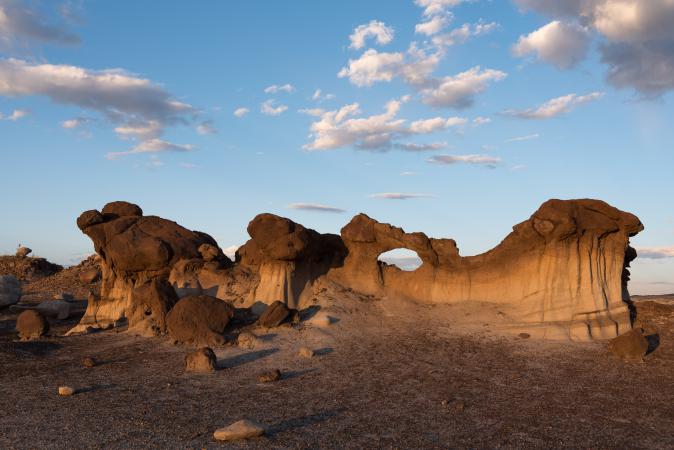 Back to the car at nightfall. We set up the tents while Janet and Graham prepare their pickup to sleep in it. We dine in the light of the headlamps.
Monday, September 18th : raised at 6:15 am. We go straight to the wings to attend the sunrise, it is 43° F!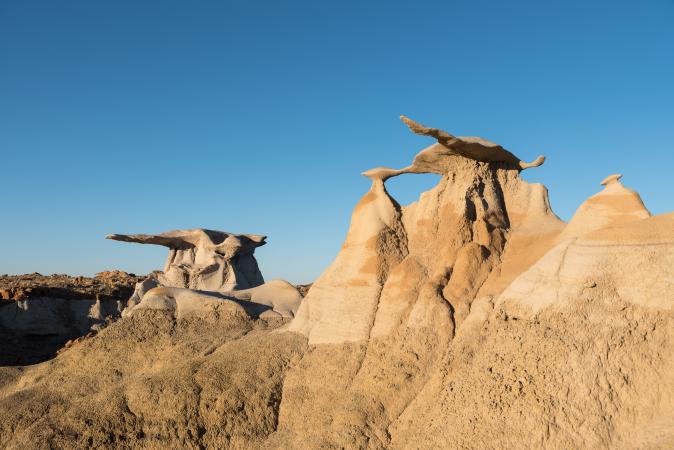 On the way back, hoodoos are photographed. We take our breakfast at 10:30 am and then dismantle the tents. The American friends return to Bloomfield and we 5, we leave at 11:00 am for another site in Bisti a little further on the parking lot: Eggs Garden, little eggs all round. They are funny.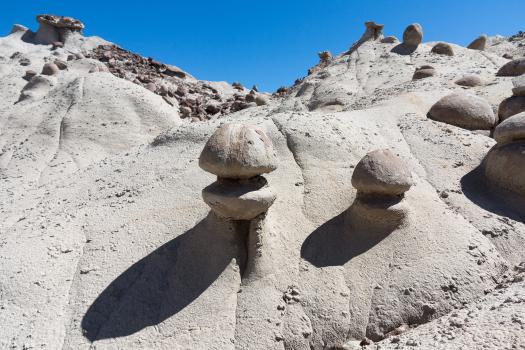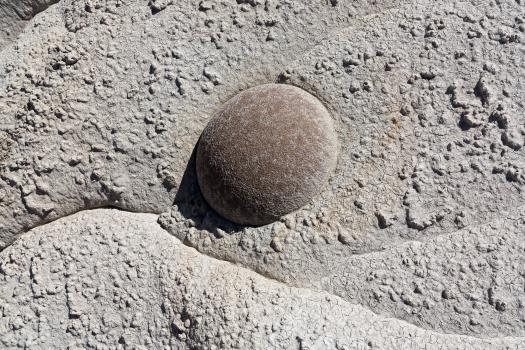 Around 1:30 pm, we start tracking for the track of King of Wings. It rolls well to the wind turbine.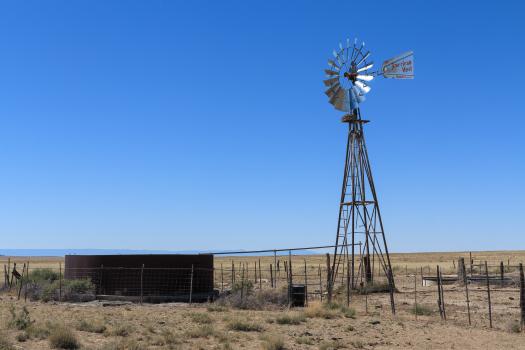 Despite its low clearence, Annick and Eric's car passes anyway. They return to Farmington. We check the track for Alien Throne. A coyote crosses the track in front of us, then stops in the meadow and looks at us. I take a picture before it leaves.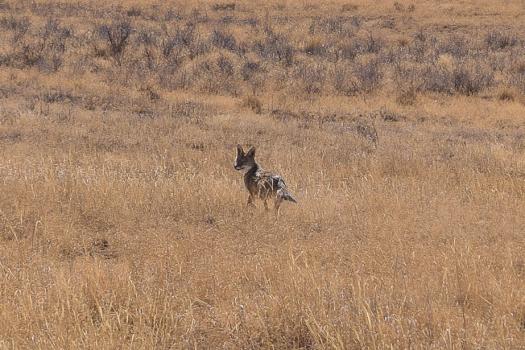 The track is good too. We take the road to Farmington at 4:00 pm. We take possession of our room at the Rodeway Inn. It's old-fashioned. At 7:30 pm, we meet every 7 at the restaurant, the Golden Corral. It's a $ 17 buffet. It's very good.
Tuesday, September 19 : sleep until 8:15 am. David has an ophthalmic migraine ... it was a long time! So, we stay in the room until the check-out at 11:00 am. We're going to do some shopping, Florent and me, while David is resting in the car. Then we'll spend the time at Mc Do. David's migraine finally passes. We have an appointment with Annick, Eric, Janet and Graham at Bisti on the 371 at 2:30 pm to camp at Alien Throne. A car with a caravan is already in the car park. There is a lot of wind, we do not go up the tents in a row. We will first visit the site. Alien Throne throne in the middle of hoodoos of all forms.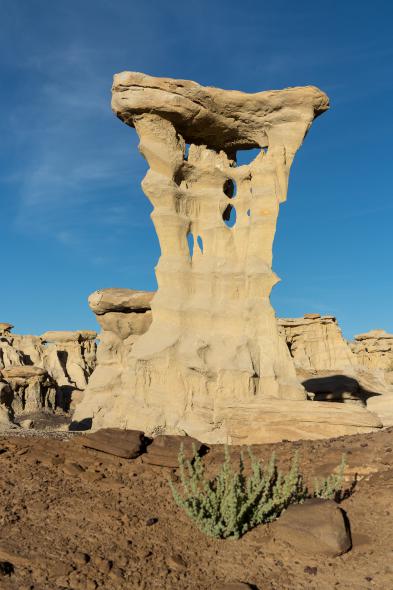 It's nice. We return to the parking / camping to mount the tents. We sit down for dinner by candlelight, uh ... at the headlamps. Graham gives us a little drink and takes his guitar to sing us a song. We share our food. We spend a very pleasant evening under a beautiful starry sky.
Wild camping is great !
Wednesday, September 20th : wake up at 7:00 am with the howling of the coyotes. They do not seem to be very far away. Departure at 9:00 am for Lybrook. We go for a walk in the middle of hoodoos and other bizarre shapes until 2:00 pm.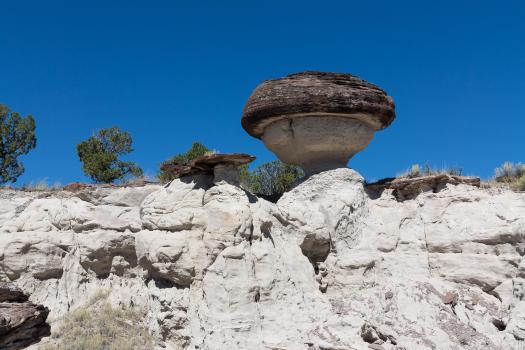 We come back to the car where we nibble. Janet offers watermelon, refreshingly, and Graham sings a new song "Happy trail to you" because it's time to leave. He gives me goosebumps and I have tears in my eyes. But I hide them behind my sunglasses. We had a great time with them. It was really nice. We all leave at 2:20 pm, each on his own. On Route 550, at a gas station, we buy ice for the cooler and sandwiches for tonight. And we're going to King of Wings. We pass in front of the wind turbine and we continue a little further to park on a flat ground where we can mount the tents. We arrive at 4:00 pm and go directly to King of Wings because there is too much wind to mount the tents. We explore the surroundings of the King, we picnic and finally, we attend the sunset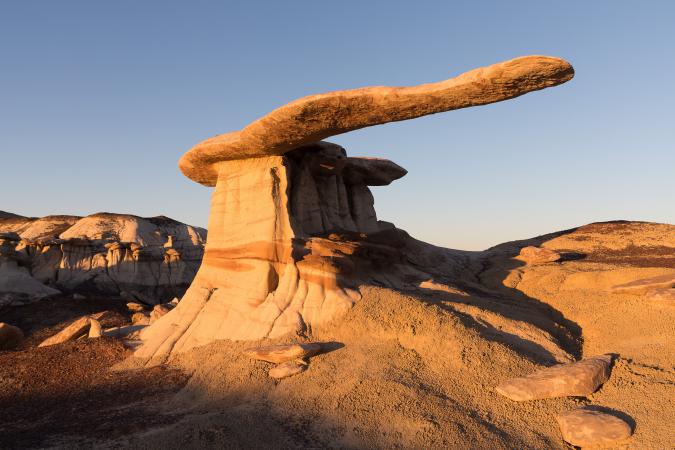 and at nightbreak. We are alone and it is very calm. When darkness is there, we take pictures with the Milky Way. And we have a little fun ...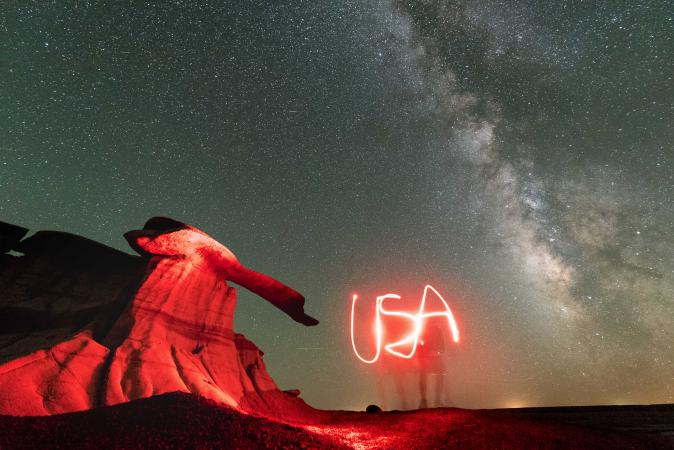 We take the way back with the only light of our headlamps. Fortunately, we have the GPS unit to guide us because it is very dark, we can not see anything. We set up the tents and go to bed at 11:15 pm.
Thursday, September 21 : breakfast in peace! Departure at 9:00 am to Painted Desert and Petrified Forest. We arrive at 11:40 am (AZ time) at the Visitors Center of Painted Desert. We make a tour of the viewpoints : Tiponi Point (nil), Tawa Point (nil), Kachina Point and the National Historic Landmark (medium), Chinde Point (nil), Pintado Point (nil), Nizhoni Point (medium), Whipple (no stop), Lacey Point (nil).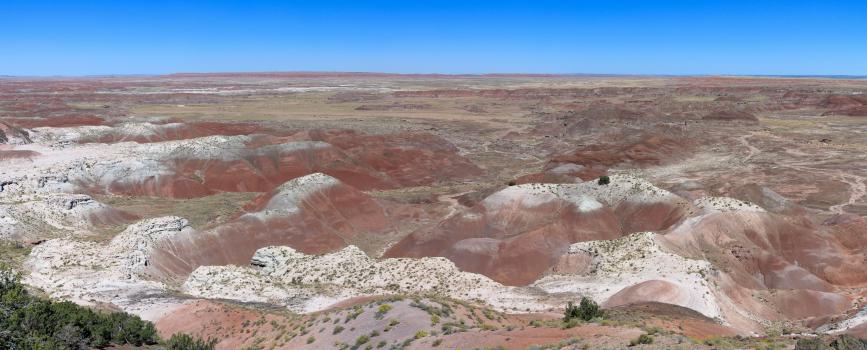 We cross Route 66 to Petrified Forest. We stop first at Puerco Pueblo, well preserved ruins, then at Newspaper Rock where we can see petroglyphs, the viewpoint The Tepees ... not found. We arrive at Blue Mesa. We take the time to walk the Blue Mesa Trail, loop of 1 mile. It is not at all at the right time - it is 2:00 pm, the light is not beautiful and the colors do not stand out.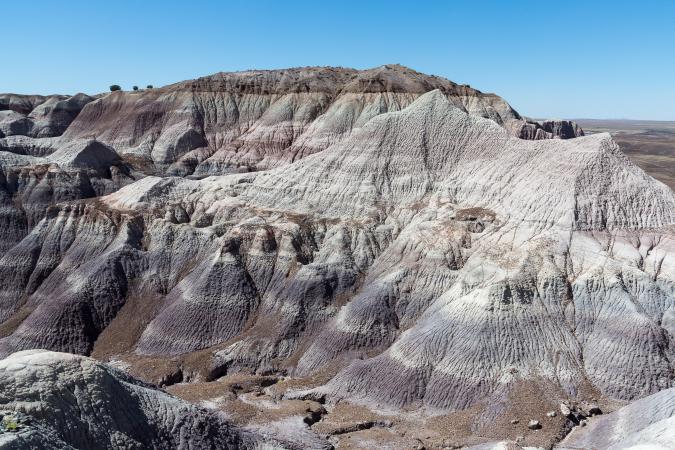 We do not stop at Agate Bridge to go directly to Jasper Forest. There is a great plain with pieces of petrified wood, blah. On the other side of the road, there is a large petrified tree trunk in very good condition. We continue to Crystal Forest and walk on the 0,7 mile loop which brings together a large concentration of petrified trunks. This is the best part of the park.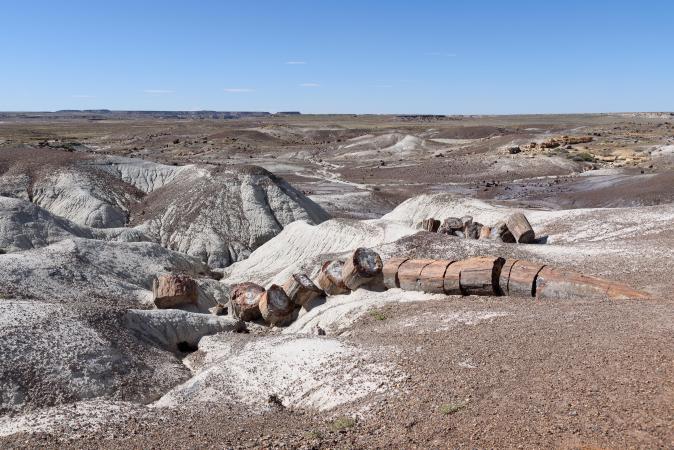 Returning to the parking ... on whom we fall? ... Annick and Eric ... We talk a little and everyone continues to his side. Finally, our last stop is at Giant Logs. We follow the pedestrian path of 2 000 feet but we find it average. At this place, there is a museum that houses reproductions of dinosaurs. We were not at all impressed or blown away by these parks. It has been a dozen times that we travel to the United States and have never been there. We saw a lot better in the meantime. Even Little Painted Desert is much prettier than Painted Desert. We leave the park at 4:00 pm to reach Holbrook and find a hotel there. We moved to Super 8. At 7:15 pm, we find Eric and Annick for dinner together at Mesa Italiana Restaurant, it's very good.
Friday, September 22 : on the road, we make a small stop at Little Painted Desert.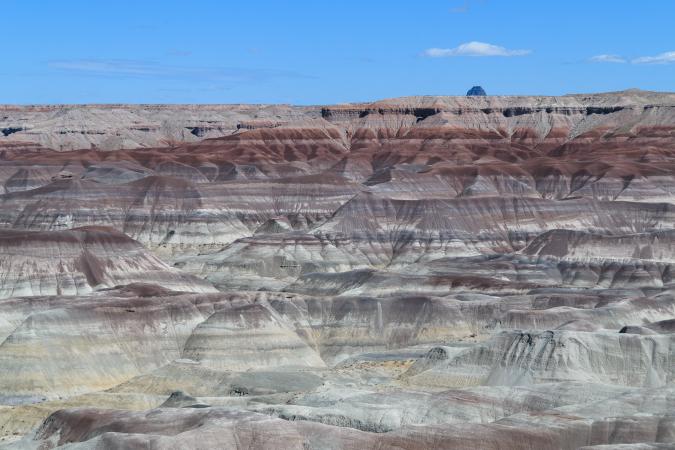 Arrived on Flagstaff, it drops a few drops of rain and it is only 59° F. As it is often the case when corssing this city, we stop at the "Peace Surplus Outdoors" store, which sells a lot of items for camping and outdoor activities. We leave at 1:20 pm and to please David who claims a baconator (bacon burger from Wendy's) since 2 hours, we stop eating one at Wendy's. We restart the belly filled at 2:15 pm. We arrive at Page and go directly to the Wahweap Campground. We are told that it is complete. The Navajo offers us to go to Lone Rock. We try and take a night at $ 14. Well, there is no definite location, no table and no fire. But there are dry toilets. We do not go too far either because the closer we get to Lake Powell, the more sand there is. It's pretty windy. It is painful to set up  the tents and we have to take refuge in the car for dinner.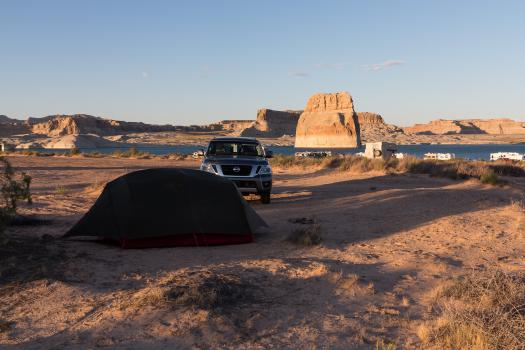 Saturday, September 23 : the night was calm. We go for breakfast on the picnic tables at the marina. We wonder about the program and the next night. We finally take an extra night at Lone Rock. At the moment we pay, I receive an SMS from Étienne who proposes to go with them to Adeei Echii Cliffs to camp there tonight and go tomorrow to Point Hansbrough. Change of program: we tear down the tents, we do some shopping for wild campsites, gas, and toward Cameron to be at the meeting place at 12:00 pm (UT time). We all meet at Burger King for lunch. Then we get the permits for the 2 days which are $ 12 per person per site. We take the road in the early afternoon. The track is long and a little sport but David ensures. At one point, we are blocked by a rather sandy area. Given our misadventures in Little Finland, we do not continue with our car. We park. We transfer the necessary stuff for camping in the car of Stéphane and Etienne (which is a real 4WD) and it's gone. On the end, the track is really sport on slickrock and stones. Stéphane ensures! We park and then walk to Crazy Duck and Eye of the Needle to watch the sunset. The latter is already nibbling in the shade.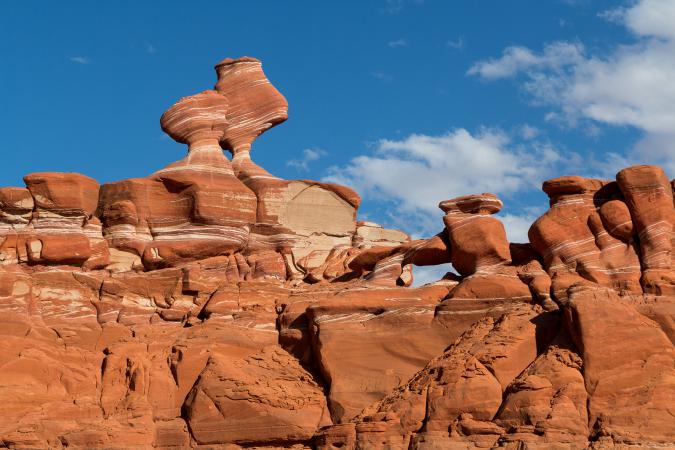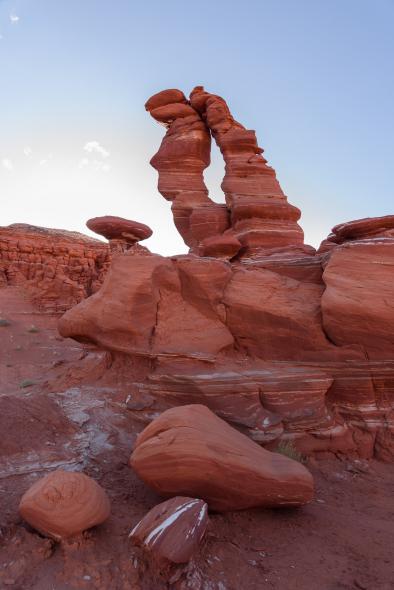 We are a little disappointed by the site because apart from these 2 emblematic forms, there is not much else to see. We go back to the car and set up the tents at the foot of a cliff sheltered from the wind.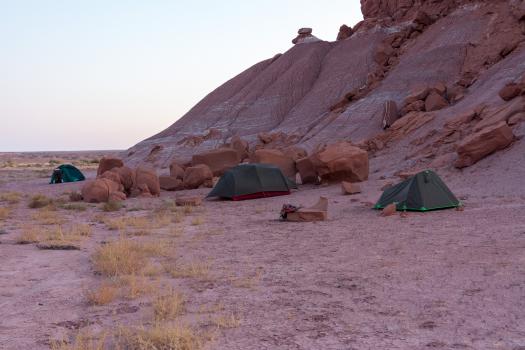 We dine in the dark and the cold. So, we do not make old bones and at 7:30 pm, we go in the sleeping bags !
Sunday, September 24th : up at 7:00 am. We tear down the tents and share the breakfast. We leave the place. We recover our car en route. We meet horses on the road, then an Indian who stops us. He asks us what we do there, we tell him where we went but he does not know. We show him the permit allowing us to be here and he takes a picture of it. Then, he lets us go. Back on route 89 at 10:15 am after 2 hours and 10 minutes of track. We take the direction of Tuba City where we make a stop at Mc Do and in a gas station. At 1:00 pm, still with Stéphane and Etienne, we take the cars to go to Point Hansbrough via a rolling track, apart from 2 or 3 places a little tricky. At the end of the track, it's ... the hole. Be careful not to play the Thelma and Louise! The point of view is insane.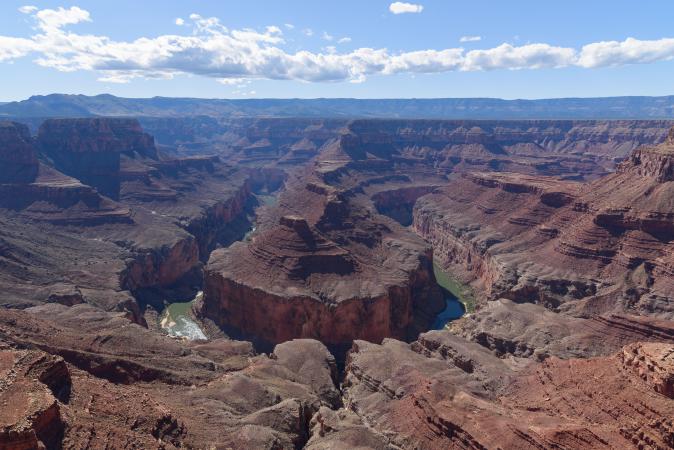 This is a kind of Horseshoe with the Colorado River, less crowded. We are only all five. We spend the end of the afternoon watching this view, well installed in the folding chairs.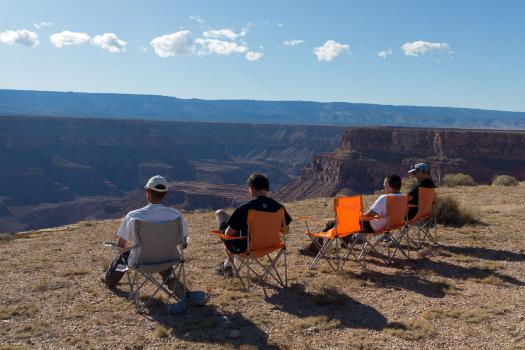 Then we set up the tents in the middle of nowhere,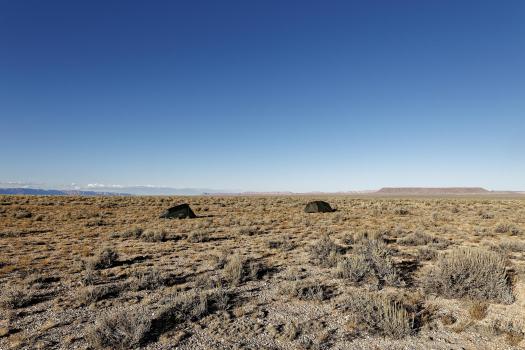 we cook the beefaronis with extra cheese, we light a campfire with agaves and dead wood.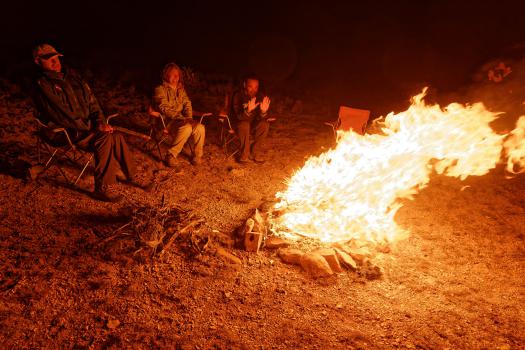 It's happiness ! What else ?! We are too good ...
Monday september 25 : the night was cool. In the early morning, the coyotes screamed. Raised at 6:45 am to attend the sunrise.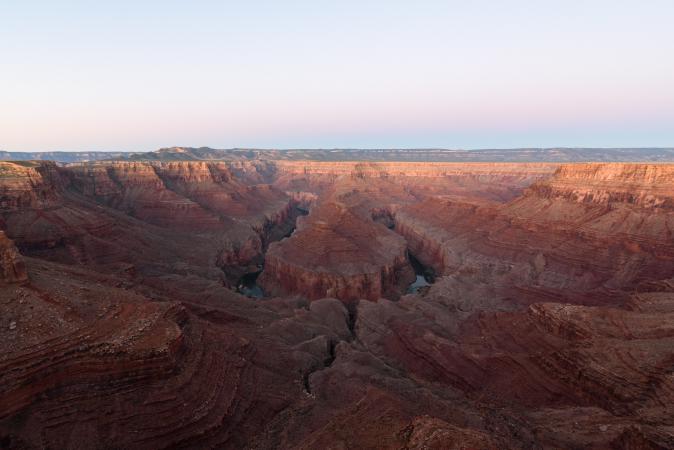 We light a fire to warm up during breakfast. We leave at 9:00 am to continue a little further and go to Tatahotso Point, it is cool: 50 ° F. The beginning of the track is quite good then it becomes technical with high steps of stones. We leave the cars and we walk but Tatahotso is still very far. The view on the side of the meander is not bad.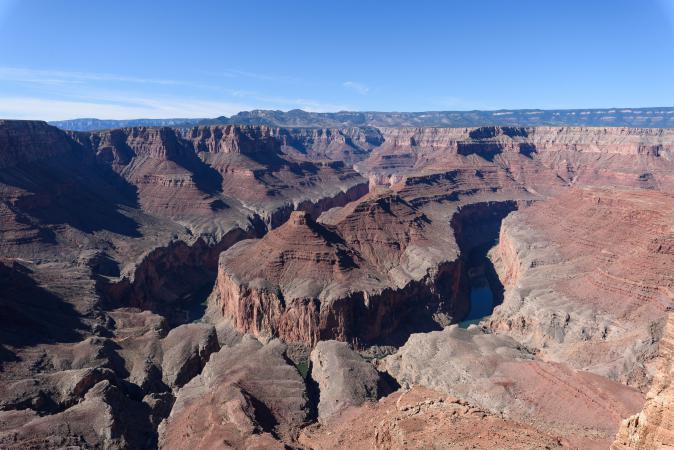 We resume the way back. We stop again at Point Hansbrough for a picnic. Then we leave for Fredonia, where we take rooms at the Grand Canyon Motel: bungalows at $ 44. There are cats everywhere. The office is an infection, it stinks cat pee, it's horrible. I let the guys pay, I can not stay in there. The lawn also smells bad. There must be about forty cats. Luckily, it does not smell in the rooms but it's dated, not so good. We are going to dine every 5 at Cowboy Butte Grill & Steakhouse in Fredonia. It's not bad.
Tuesday september 26 : we have our breakfast at Kanab's McDo and then we do laundries. Departure for Rock Valley Road House in our car with Stéphane and Etienne. On the program: Edmaier's Secret. On the track, we take the left before the wash. We do not go to the parking lot for fear of getting stuck in the sand. We picnic in the wash. We start the hike at 1:30 pm. After 50 minutes, we have to go under the wire fence. And the exploration begins. It's huge. Full of different shapes, full of colors - white, orange, red ... - we do not really know where to turn.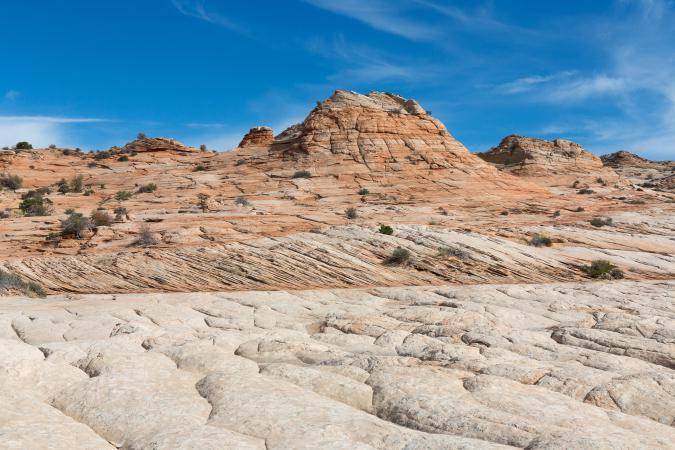 We go up to West Clark Bench. It's beautiful.
When we return on our steps, the colors of the sunset give different hues, warmer.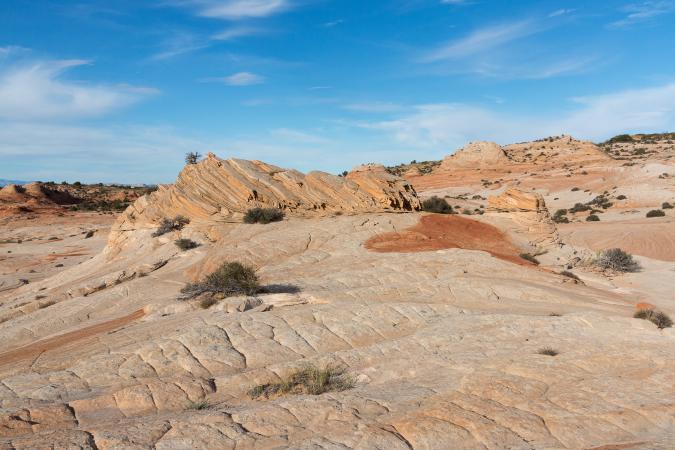 Again, we take a lot of photos.
We leave the area quite late. We go to dinner at the Kanab pizzeria before returning to Fredonia.
Wednesday september 27 : we have breakfast on the tables outside. Departure at 9:30 am for Valley of Fire (85 ° F). We arrive at 11:30 am (Nevada time). Still at 5, we take two locations side by side at Atlatl Rock Campground ($ 20 the park entrance + campsite). We nibble and set up the tents.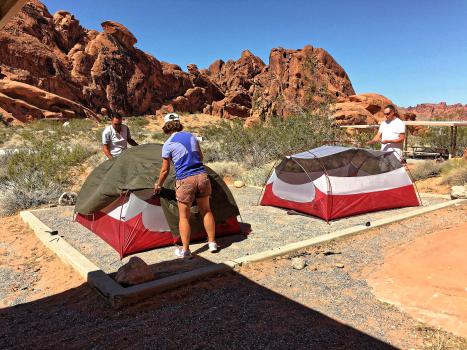 Around 3:30 pm, we take the Mouse's Tank Road and we park at the Fire Wave parking. We start the "7 wonders" hike. The loop is 2.9 miles and we discover, as the name suggests, 7 sights: Fire Cave, Thunderstorm Arch, Crazy Hill, Kaolin Wash, Striped Rock, Pink Canyon, Fire Wave. First of all, we see Fire Cave, a kind of cave with arches, which is a bit like a skull,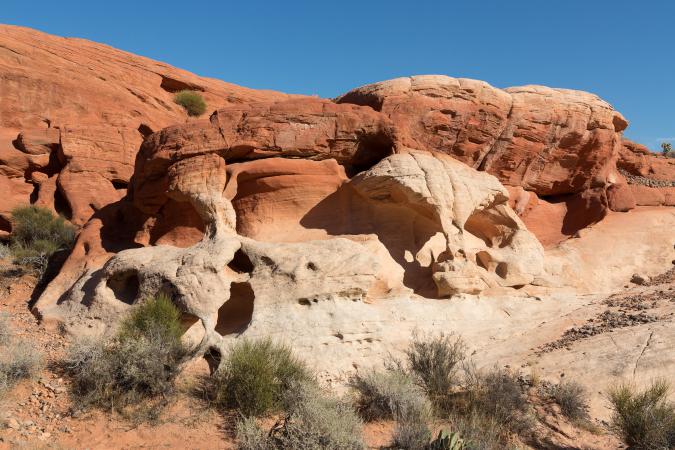 then Thunderstorm Arch, a little hidden behind a big rock.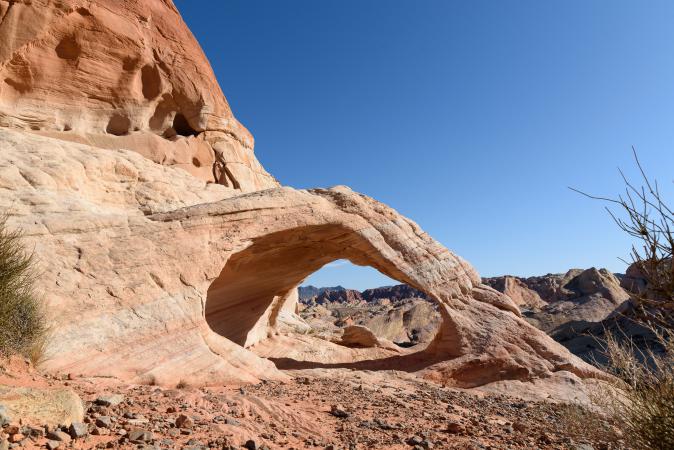 A little further, we arrive at Crazy Hill. It's a little colored butte : white, yellow, pink, orange.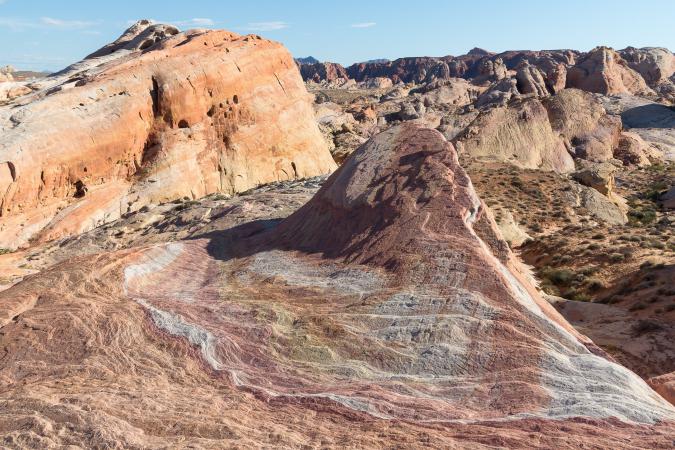 This site is not well lit, it must be better in the morning. Striped Rock, which looks like the Nike symbol, is in the shadows. We'll have to come back tomorrow morning. Then we cross the road and we enter Pink Canyon (or Pastel Canyon), very small pink pastel slot canyon. The landscapes are nice.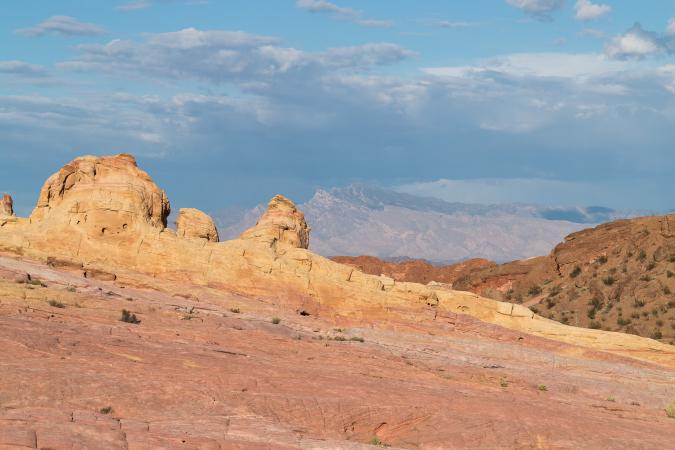 Finally, we continue to Fire Wave that illuminate with the colors of the sunset. On the way back to the parking, we pass in front of Gibraltar Rock which  becomes orange with the last rays of sun.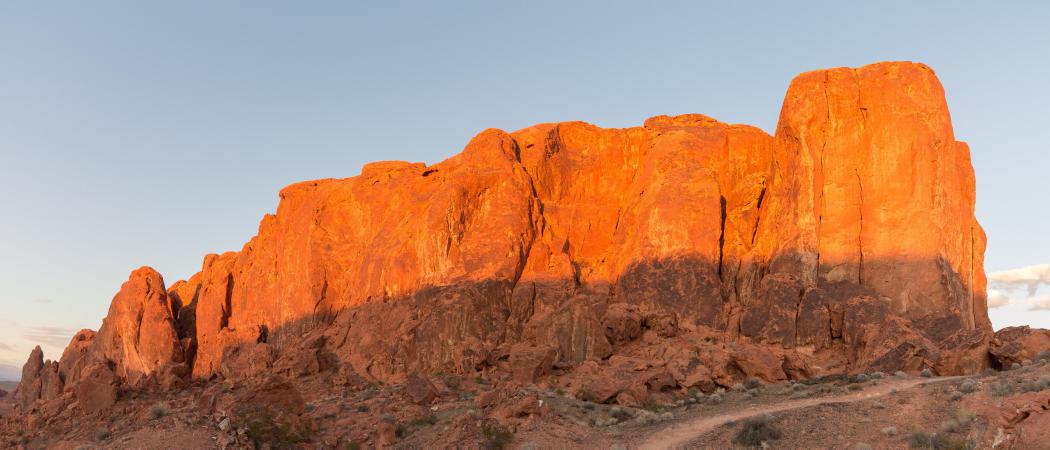 We finish the loop at 6:20 pm. Yes... we took a lot of time and we took a lot of photos ! We have discovered a new side of Valley of Fire that we didn't know and we loved it. Dinner at the campground with campfire.
Thursday september 28 : we dismantle the tents and we leave at 8:40 am. We go back to Crazy Hill and Striped Rock to take photos and the light is better than yesterday.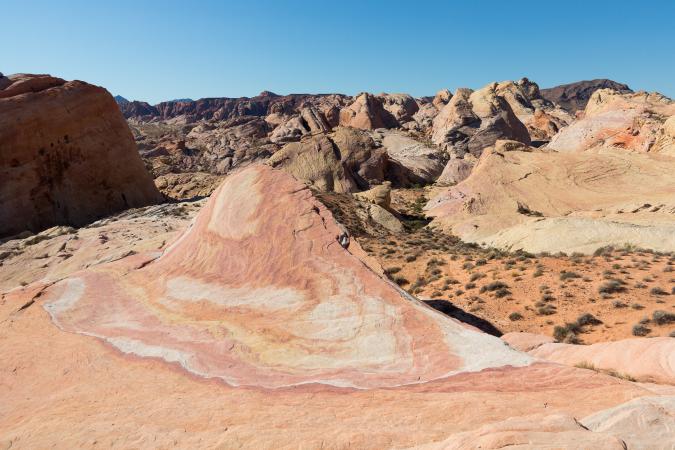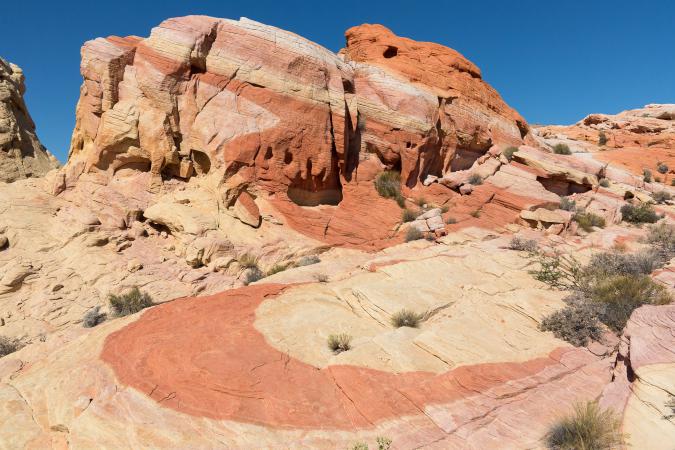 We leave the park at 11:00 am and we go to Las Vegas. We take our room at the Super 8 Ellis Island. We pack our bags for tomorrow departure, we nibble, take a shower. And we meet Étienne et Stéphane to lug in Vegas. We discover the new hotels casinos : the Cosmopolitan, Aria...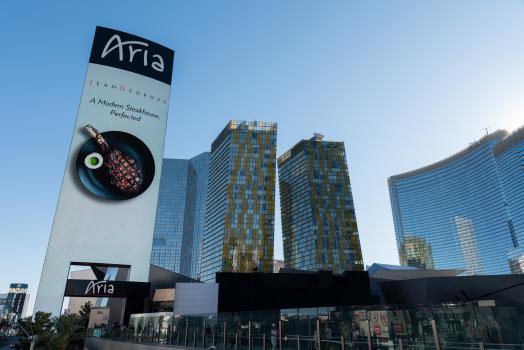 For dinner, we are joined by a facebook friend, Val Noa and her husband Guy, at the buffet of the Wynn.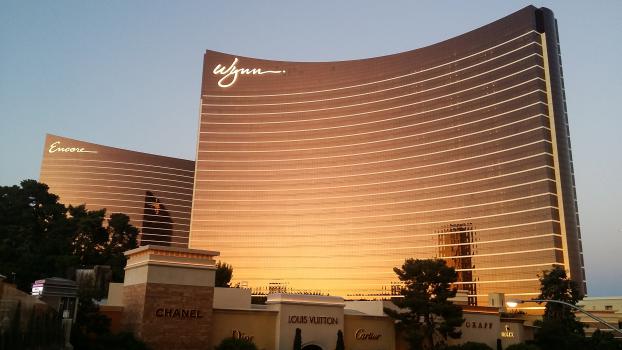 The buffet is quite expansive (49$) but there is a lot of choice. Val and Guy are very friendly, we sont très sympas, we talk about ... west USA ! We have a very pleasant evening.
Friday september 29 : it's departure day. For once, we don't wake up in the middle of the night. Our flight is at 10:50 am. We return the car with no problem, we did 3 235 miles. And it's go for the usual formalities. We have a stopover in Chicago at 4:30 pm (local time) to leave at 5:55 pm, toward Paris where we arrive at 9:30 am the next day.
It was a very beautiful trip especially because we shared great moments with Étienne and Stéphane in remote places where we were alone. And also with Annick and Eric that we guided in as much remote places where they didn't dare to go alone. The unforgettable encounter with Graham and Janet. And finaly the last evening in Las Vegas with Val and Guy or how the same passion gather people. For all these good memorable moments, I would like to thank David, Étienne, Stéphane, Annick, Eric, Florent, Janet, Graham, Val and Guy.