After catching the Africanovirus in 2021, we decided to go on another photo safari in Kenya via Melting Pot Safaris, run by wildlife photographer Tony Crocetta and Kenyan guide Simon Chebon. We're traveling again with Etienne and Stephane. This time, in addition to the Masaï-Mara National Reserve, we've added Amboseli National Park, located further south-east on the Tanzanian border and on the edge of Kilimanjaro.
As in 2021, we leave with all this photo equipment :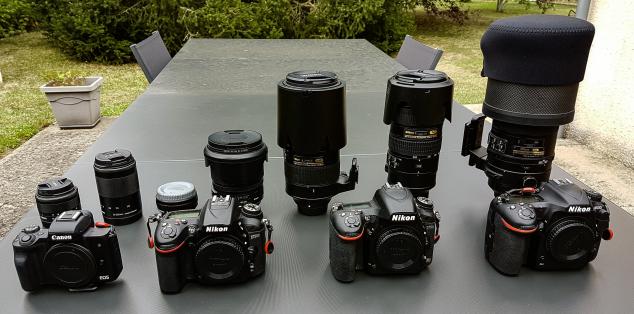 Sunday April 2 : David and I spent the night at Etienne's in Paris to avoid getting up too early and driving to the airport from Pithiviers. We leave the apartment around 8:00 am, meet up with Stephane and take an Uber to Roissy CDG airport. We're a bit worried about the strikes and demonstrations in the middle of the pension reform protests. Forty minutes later, we check in our luggage all by ourselves, like grown-ups, and it's quick. Passing through customs and security was just as quick, and there weren't many people around. Fortunately, because we still had to get out all our cameras and lenses. What a pain! Then we wait...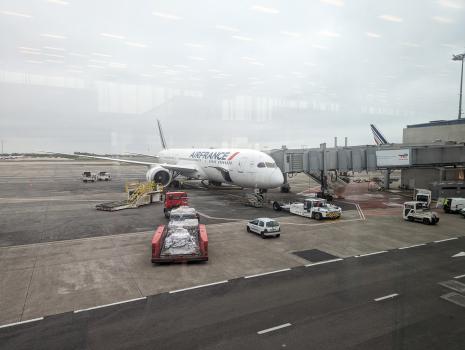 We take off for Nairobi at 12.45pm, half an hour late. We arrive at our destination at 9.30pm (+1h compared with France). Customs cleared very quickly. On the other hand, we have to wait a long time for our luggage. And finally, Etienne's suitcase is missing. We do the necessary paperwork and join the Melting Pot Safaris (MPS) cab guys. There are already 4 people in the minibus. They're from Dieppe. We arrive at our first accommodation, the Roussel Gesthouse convent, at 11.45pm. This is the usual "drop-off" point for MPS. The nuns offer us a dish of spaghetti bolognese, which we share with the Dieppe people and get to know each other. Tomorrow, they're off to Baringo and then on to Masaï-Mara, where we'll meet them again. Then bed at 00:45. Big storm tonight.
Monday April 3 : breakfast at 7:00 am. Our driver/guide meets us at the sisters' house. It's David, the same as in 2021 at our request.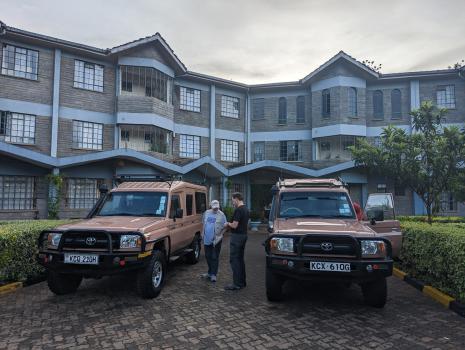 After loading our luggage, we leave the convent at 7.45 a.m., heading for Amboseli. The sky is overcast, but there are a few sunny spells. After almost 5 hours on the road, we finally arrive at Kibo Safari Camp Lodge, located just outside the south-east entrance to Amboseli National Park. It's a heavy day. We're welcomed with refreshing towelettes and a fruit juice. We settle into tents n°2 (us) and 3 (Etienne and Stephane). It's super elegant. The rooms are more like huts than tents, with hard floors and straw roofs, and tent canvas on the sides. It's very comfortable.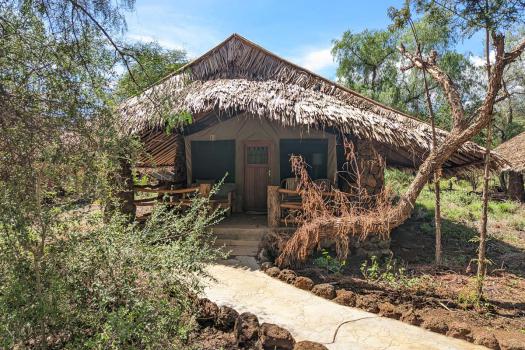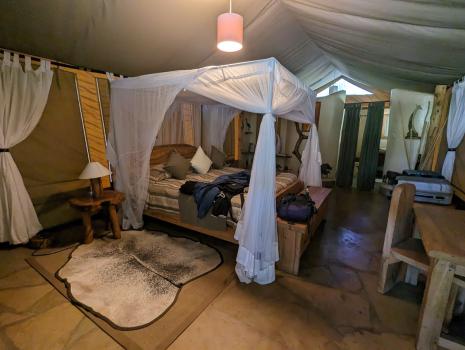 The restaurant and bar are very nice, as is the swimming pool.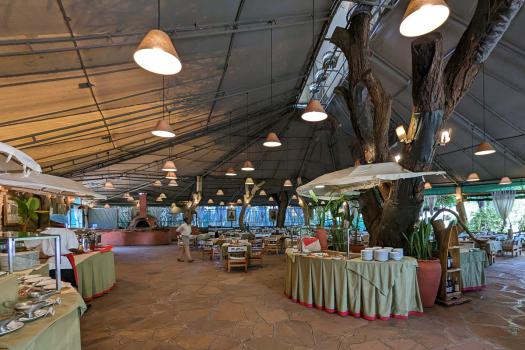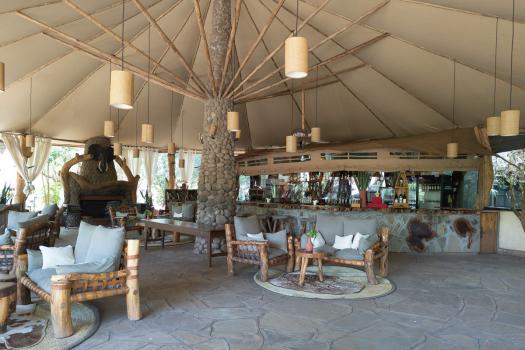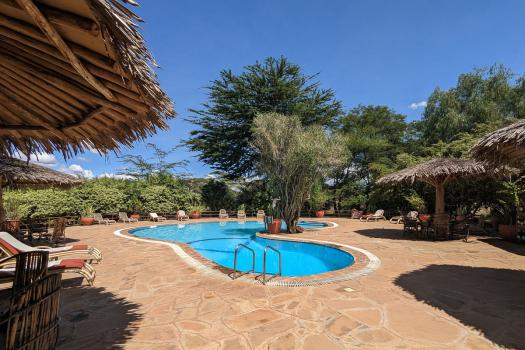 All this in beautiful surroundings with lots of trees, flowers, birds, monkeys and peacocks. We can even see Kilimanjaro, in Tanzania. Lunch at 1:00 pm is a buffet with soup, crudities, a choice of hot dishes and desserts, coffee and tea. Then it's off to rest... or mould, as some would say! At 3.30pm, we set off on our first safari in search of the emblematic Craig, Amboseli's most famous tusker. He's a fifty-year-old elephant with very long tusks. We came here for him, and hope to see him. Our guide David had some information on Craig's whereabouts. We take on board a Masai named Johnny who knows where to find him. So we go to Kitenden Conservancy, close to Amboseli National Park. We start by seeing warthogs, Thomson's and Grant's gazelles,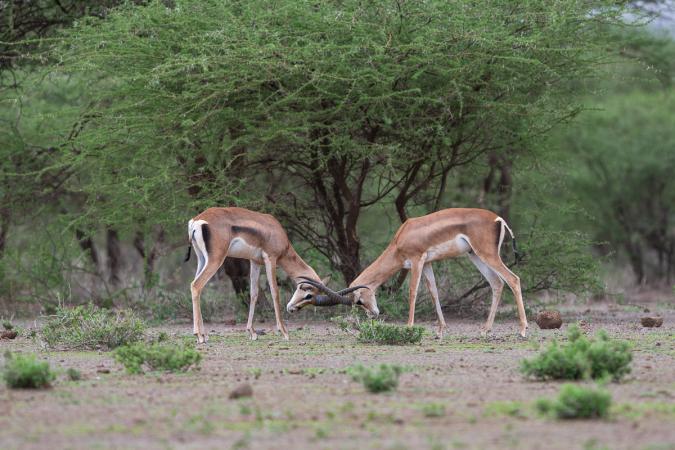 Numidian guinea fowl and jackdaws. Kilimanjaro can be seen in the clouds. We look for Craig and a ranger car leads us to him. There he is. Wow, he's impressive, especially his tusks.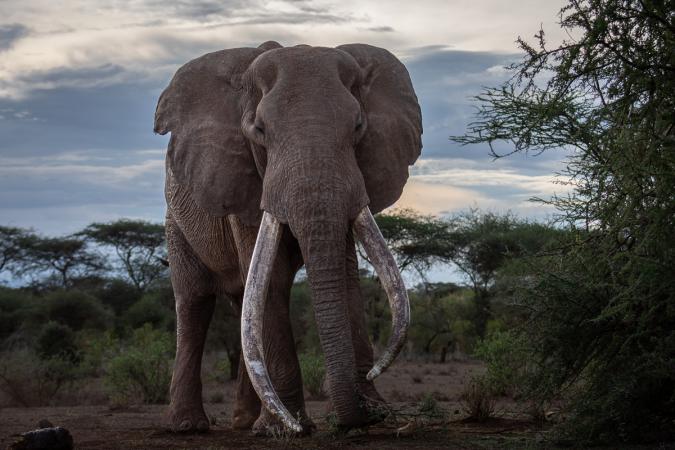 He takes all the poses for our photos: he eats in a tree,
he throws dust at himself,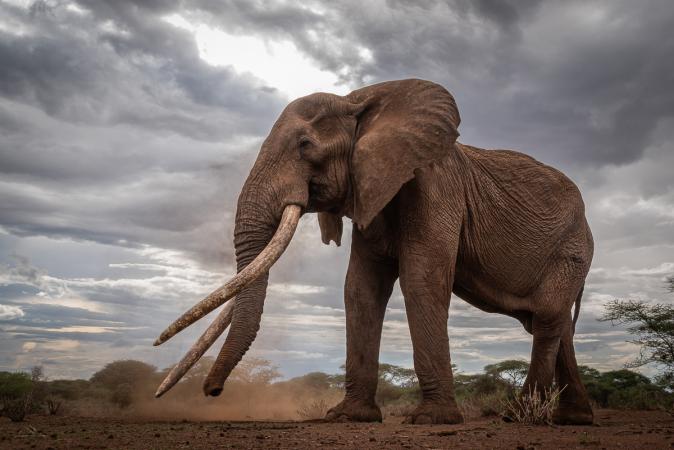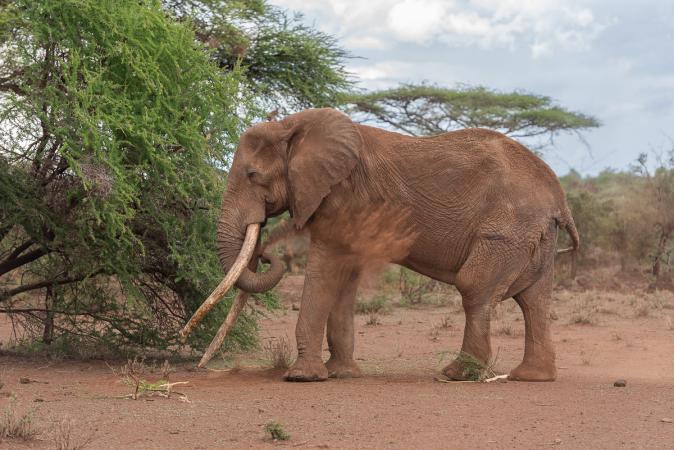 he poses in front of Kilimanjaro, which has come out of its clouds.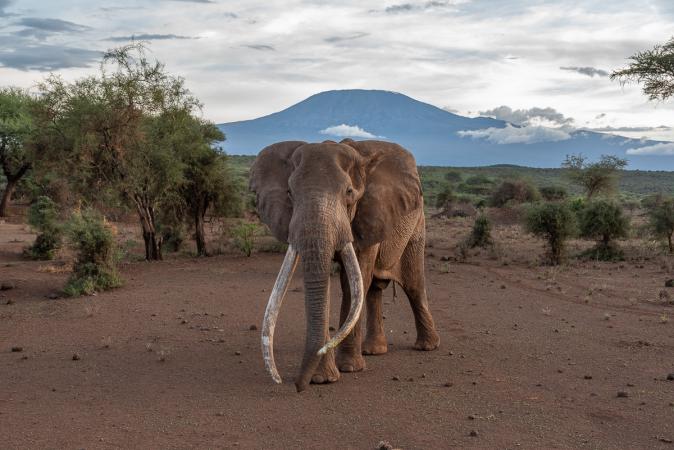 Our guide suggests we get out of the car. What? We think it's a joke, but no, he's serious. As this isn't a national park, it's possible, but we have to stay very close to the car. We're only 8 or 10 meters from Craig, which is even more impressive. The five of us take a quick photo... well... with Craig's butt!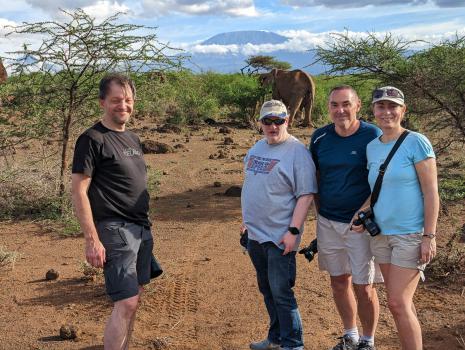 Our guide explains that Craig has such long tusks because he's never broken them in a fight. Another elephant arrives. His tusks are much smaller.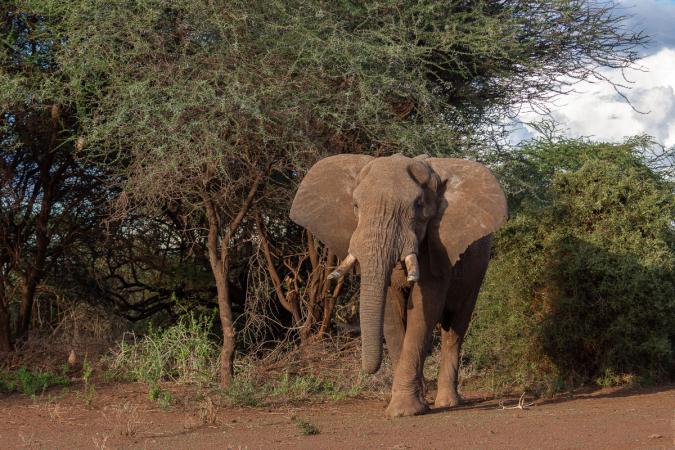 A few more photos and it's time to head back.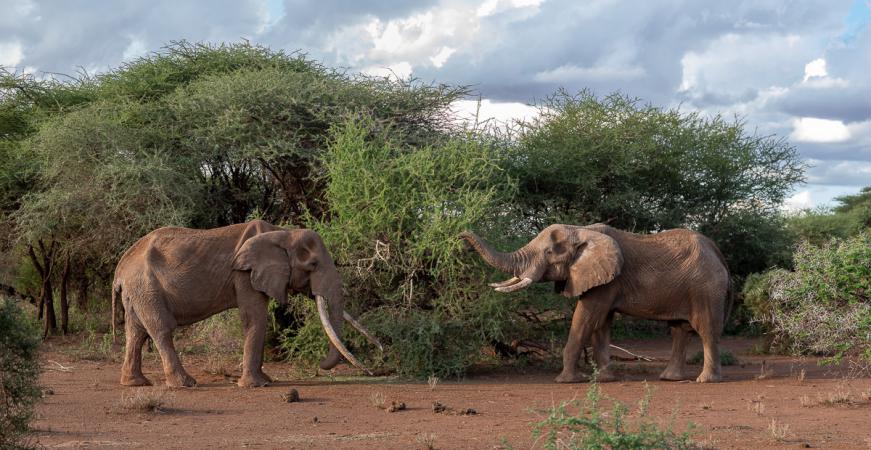 We spent 2h00 with Craig. What an intense time! On the way back, we cross paths with generuks. Also known as giraffe antelope or giraffe gazelle, Waller's gazelle is distinguished by its long neck.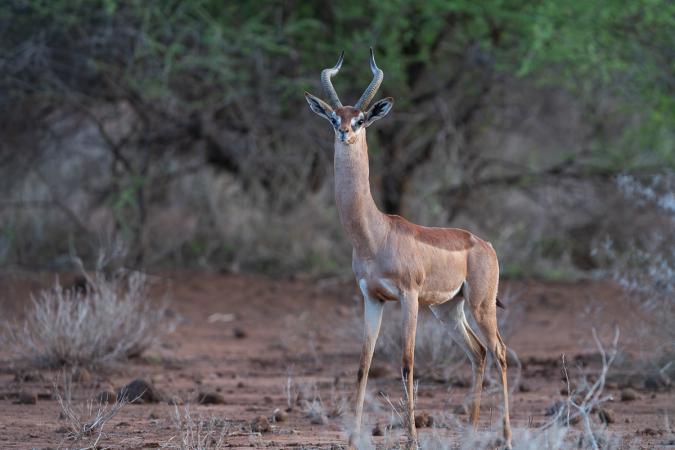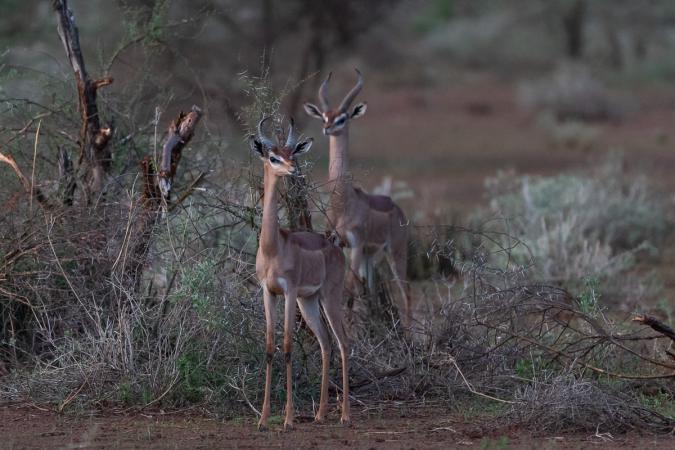 Coming to Amboseli, I was also hoping to see some, and now I have. Then we see a Kori bustard. We return to the lodge at 6.30pm. We attack our first Kenyan aperitif: Tusker beers and Tusker Cider by a brazier. A real treat! Then a pizza dinner. After the meal, the Masai dance around the campfire. What an emotional first safari! Two objectives achieved: Craig and Generuks!
Tuesday April 4 : up at 5:30, breakfast at 6:00, safari departure at 6:30. It'll be like this every day. Vacations are tough! It won't be restful! We go light on breakfast, as we'll be having a bigger one in the bush. It's raining hard, but we're still leaving with the top down! Today, we enter Amboseli National Park for the first time via Kimana Gate.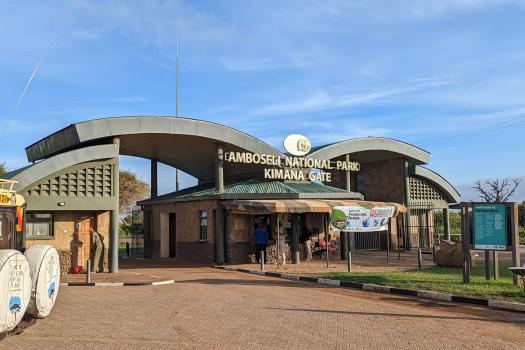 Come on, a little history-geography: Amboseli National Park is located in southern Kenya on the border with Tanzania, which is why we can see Kilimanjaro when the sky is clear. Amboseli is one of the country's largest parks, covering almost 400 squares km. A national park since 1974, it was designated a UNESCO World Heritage Site in 1980. Lake Amboseli covers more than a quarter of the park, but is often empty during the dry season. After the rainy season, the lake and marshes are a haven for animals, including hippos. At the entrance to the park, there are many trees. We start by seeing a fish eagle in a tree, followed by a Great Horned Owl. Then it's on to the ground with blue wildebeest,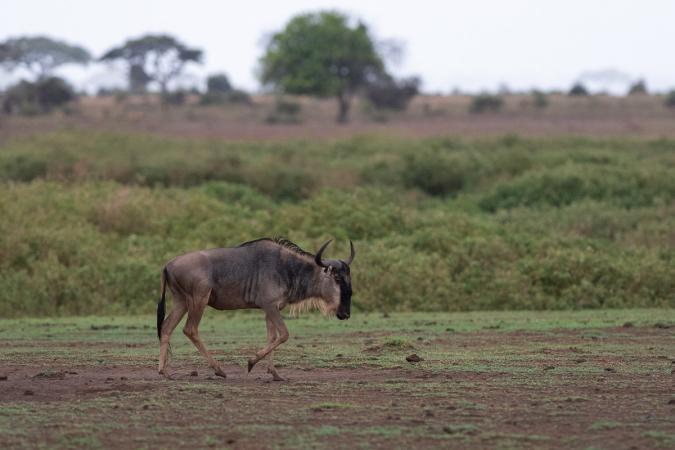 a crowned plover,
Thomson's gazelles, shabrack jackals,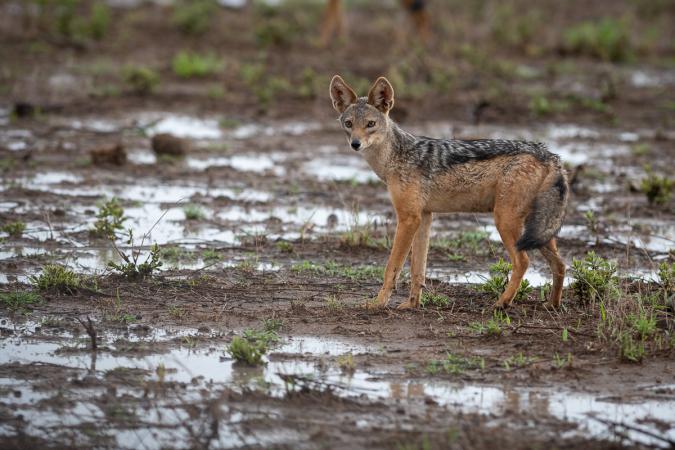 a goliath heron.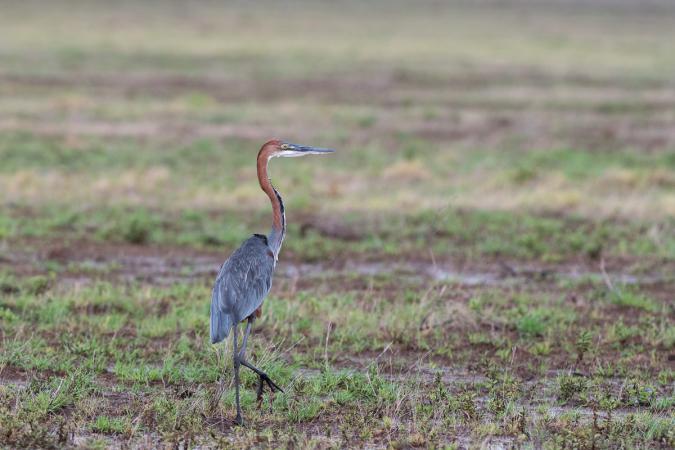 It's still very overcast and Kilimanjaro is hidden from view. Apart from the trees, we discover a very green park with shrubs and large flat areas. It rained in the weeks before our arrival, after a long period of drought. Some buffalo can be seen in the distance.  Then we pass a sacred ibis fishing.
One of my Amboseli "objectives" was to see royal or crowned cranes. I achieved my goal! They're superbly beautiful and colorful, and I find them elegant with their yellow crests.
The guide then shows us a reedbuck, a kind of stocky antelope.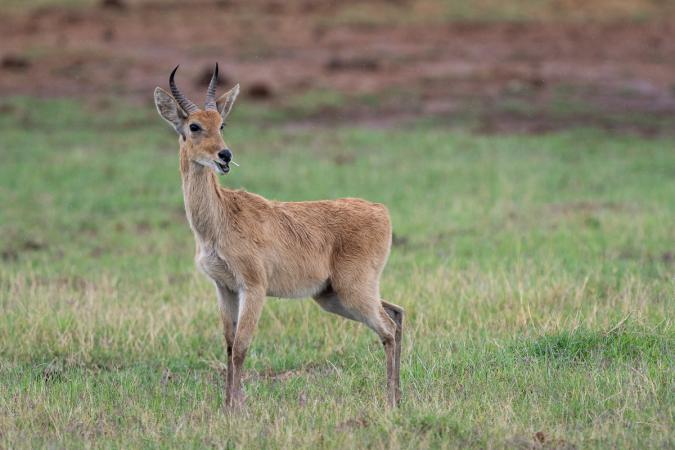 We continue on the rolling tracks and approach an elephant wading through a swamp,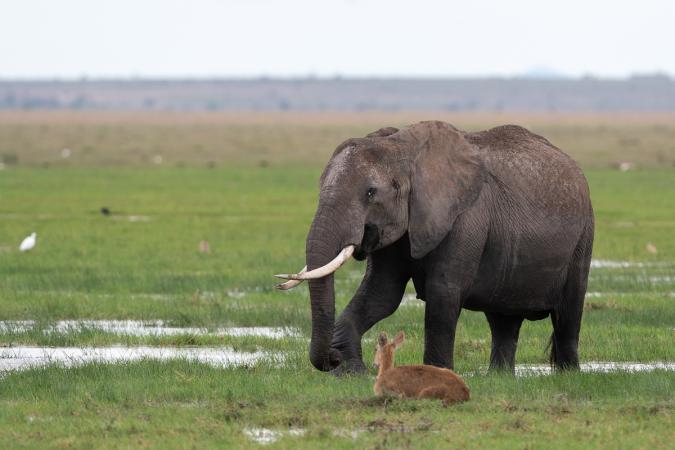 then pelicans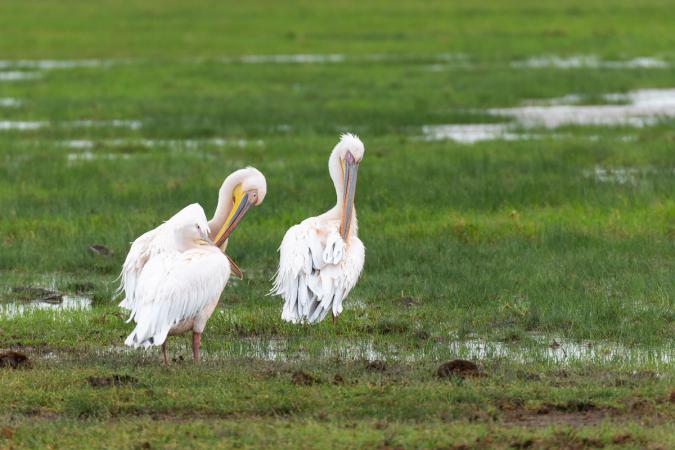 and pink flamingos.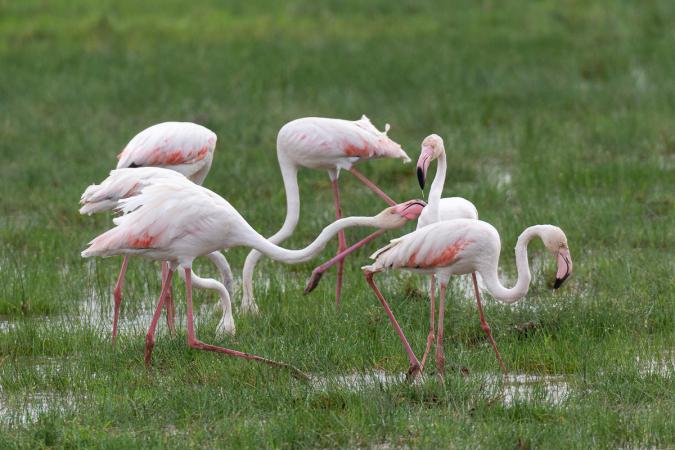 The sky is very threatening, but the herd of elephants is very photogenic in this "light".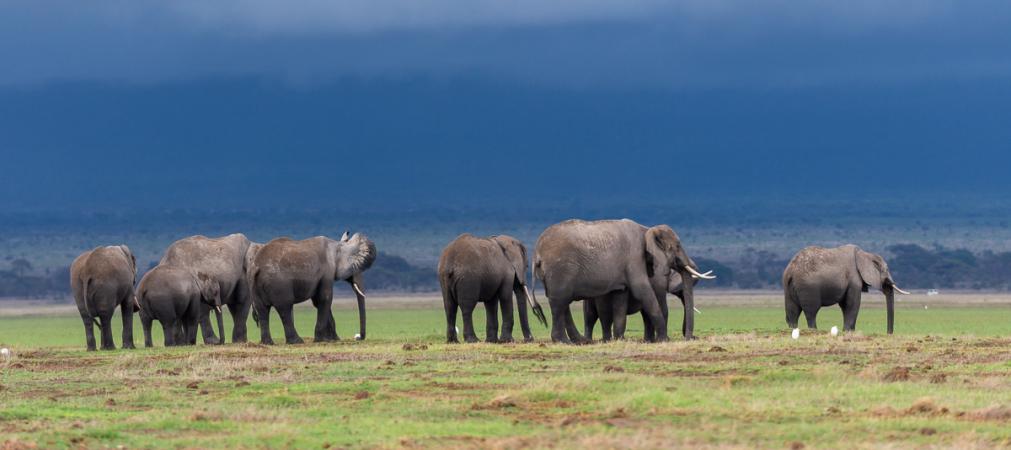 A buffalo eats in the swamp. Next, the birds: blacksmith lapwing,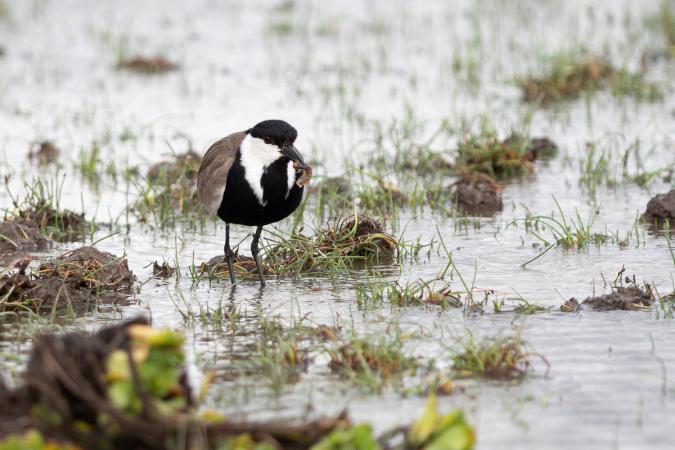 golden-breasted jacana,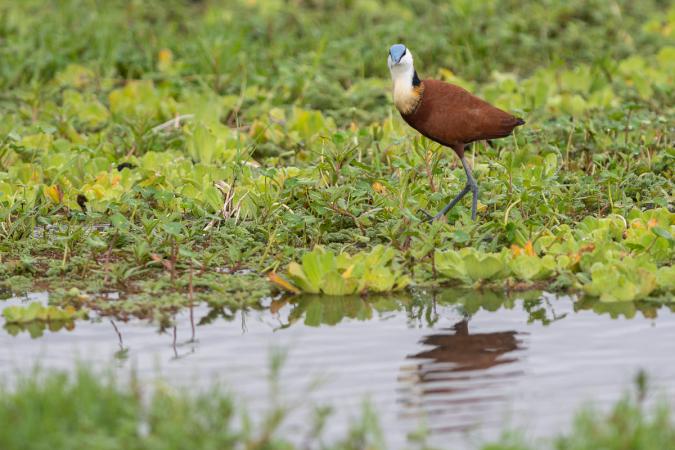 oedicneme,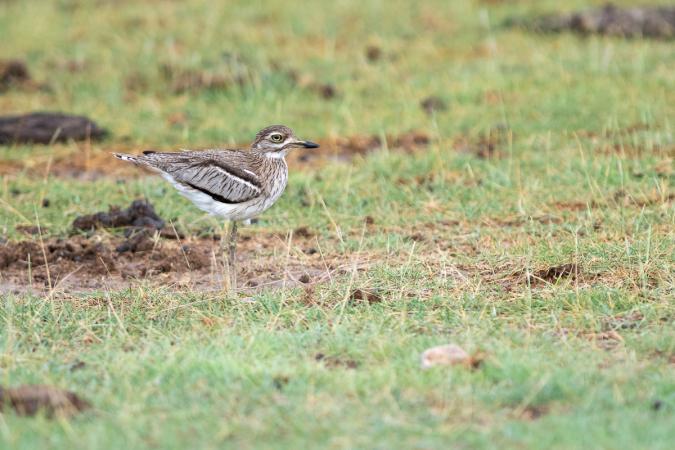 grey heron,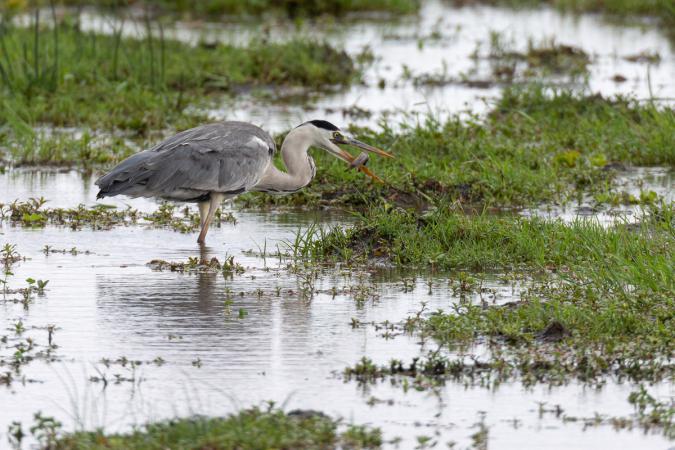 spatula,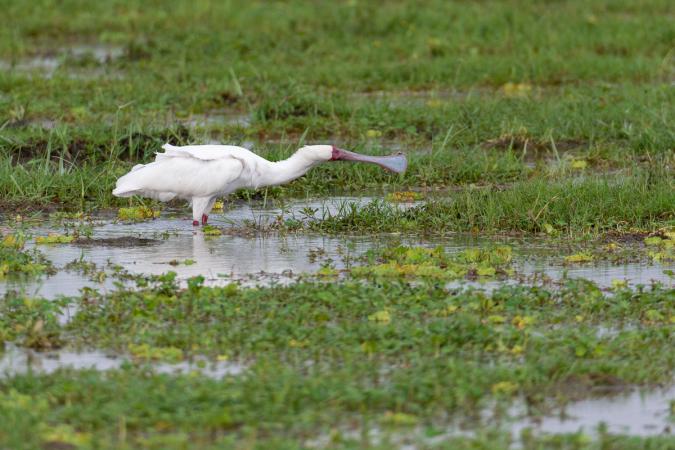 egret, black ibis,
spur-winged goose,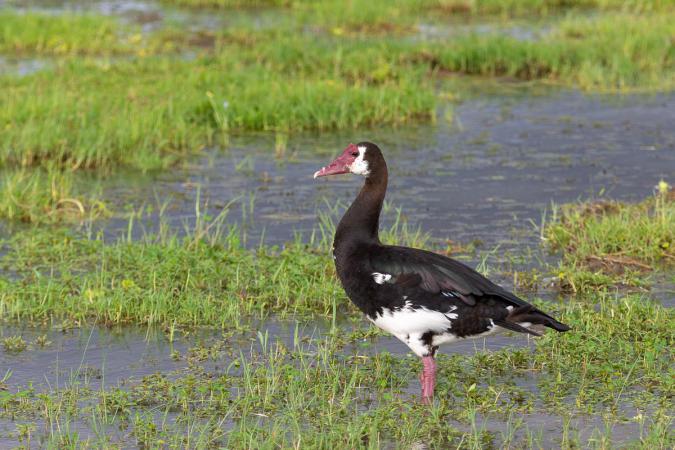 pink flamingos,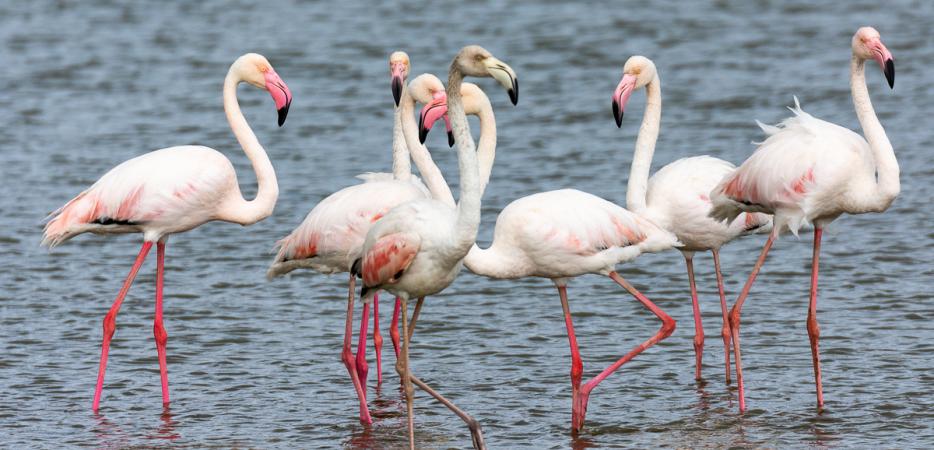 crabbed heron.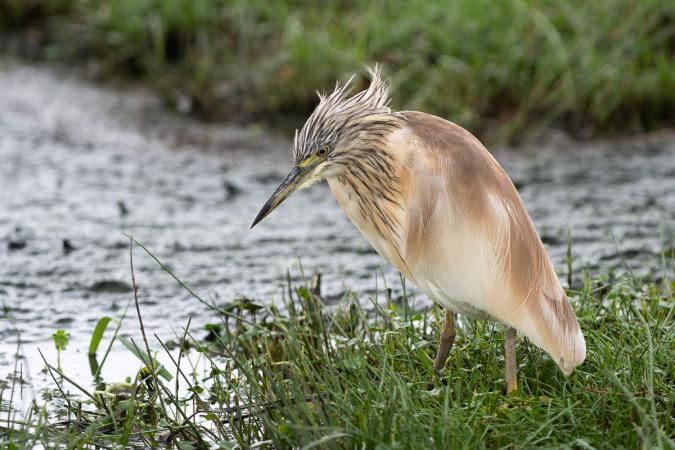 Around 10.00 am, we reach a hill called Observation Hill, the only authorized picnic spot.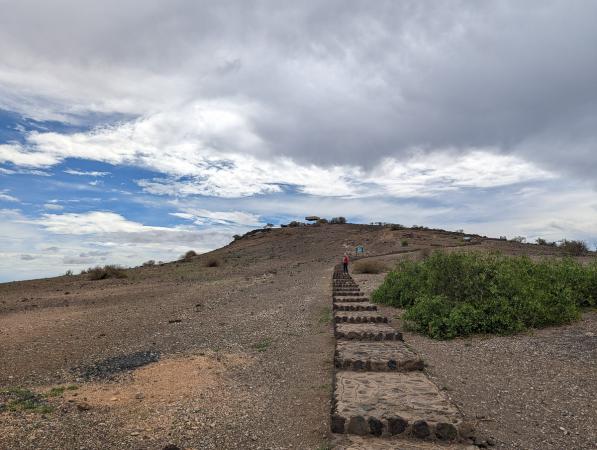 The lodge has packed breakfast boxes for us: sandwich bread, egg, cold sausage and potatoes, fresh fruit, apple, muffin, cookies and juice. Then it's up the hill to a panoramic view of the park.

The sky is gradually clearing. The sun and the blue sky make their appearance and the lake with its reflections is magnificent. The next part of the safari brings us to a fishing eagle,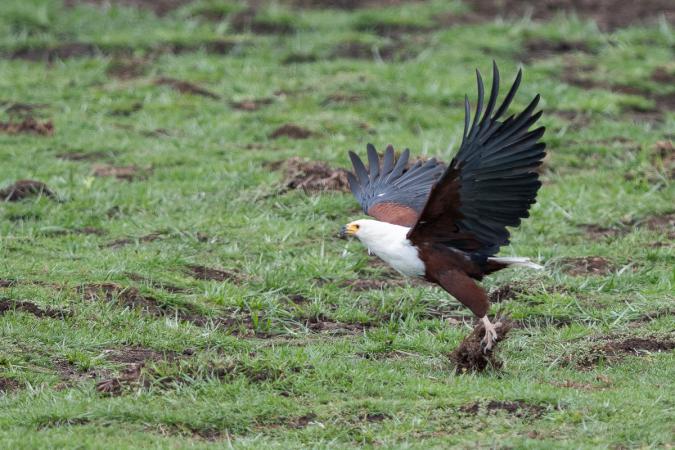 hyenas. Our guide has the eyes of a lynx, and sees something in the distance: it's an African wildcat. He's got good eyes, because even at 600mm, it's a long way off! Here on the right, tail in the air and 2 crowned cranes on the left.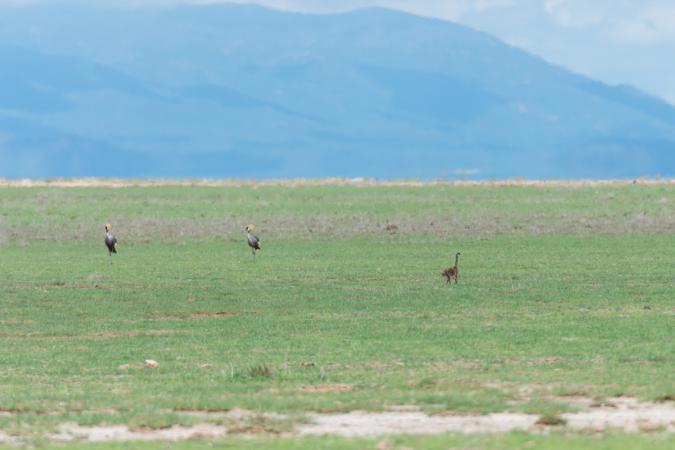 Continuing on, we encounter lions, a crabbed heron and buffalo. We arrive in a flooded area with dead trees, which is very beautiful.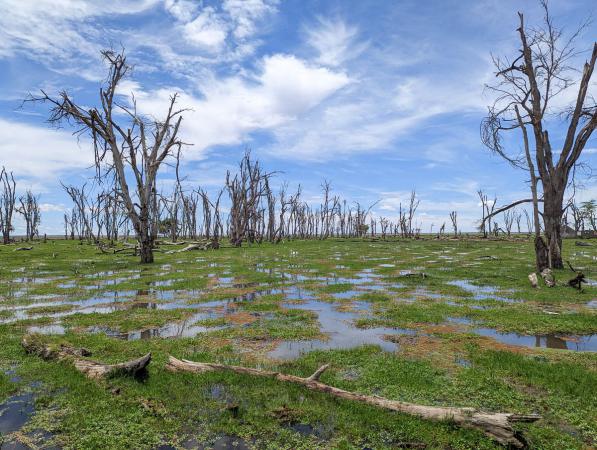 Here, there are the remains of an abandoned lodge in a flood zone. We then spot a goshawk, a jabiru,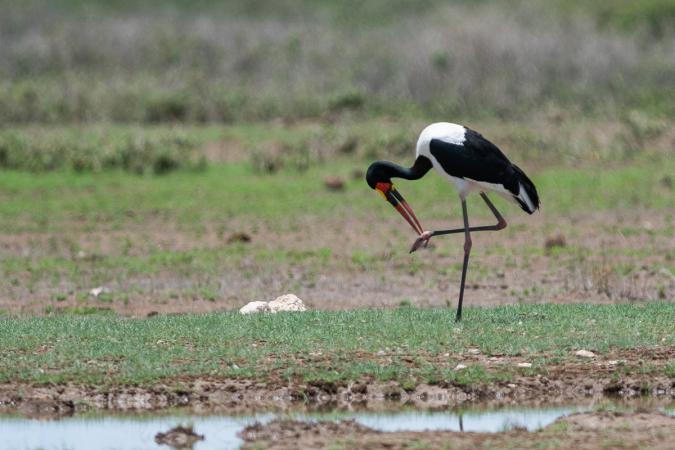 yellow baboons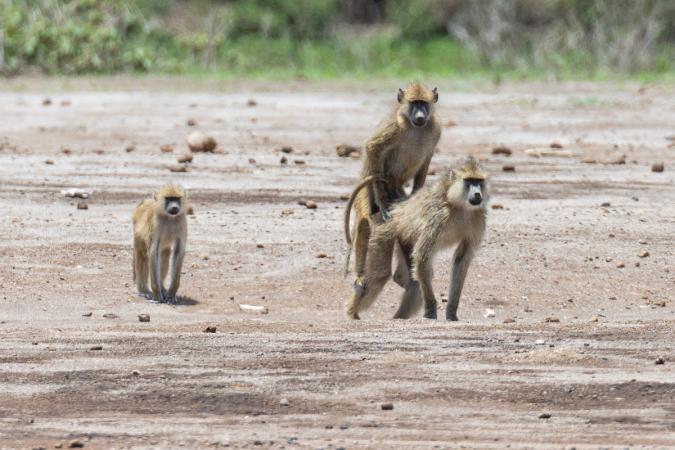 and elephants, including Michaël, 35 years old.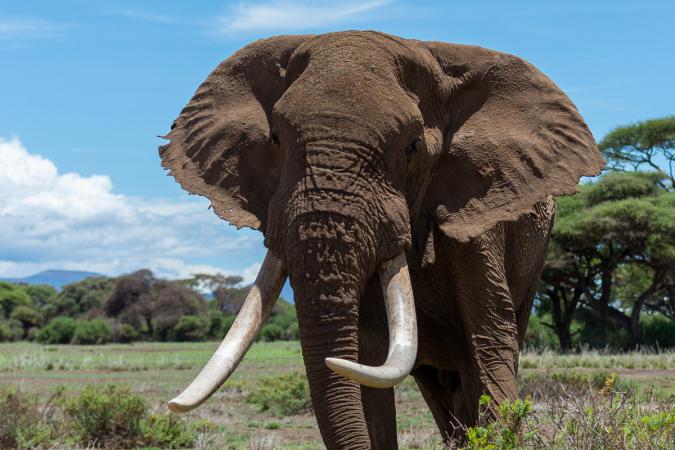 We return to the lodge at 1:15pm for lunch. Then it's off to the little store at the entrance and a stroll by the pool. Etienne, who still hasn't got his suitcase, does a little laundry in his room. We've all lent him some clothes. Yes, me too, socks! He didn't want my panties, I don't understand why! The guide told us that it was complicated to bring the suitcase back because Amboseli is far from Nairobi and no one from MPS is supposed to come with a group. He's arranging for it to be flown in on the next flight due to arrive tomorrow at the park's small airfield. To be continued... We set off again on our game drive at around 4pm. We see elephants again, with Kilimanjaro in the background,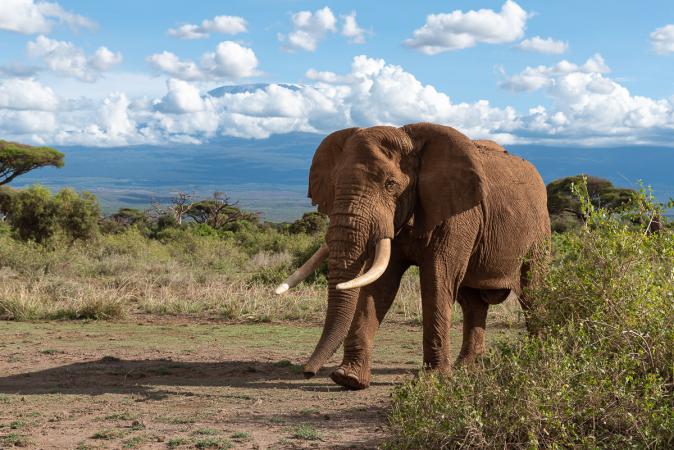 a raptor eagle, gazelles, warthogs. Our guide sees something in the distance and grabs the binoculars: they're otocyons, a kind of fox with big ears. We get a vague glimpse of these big ears, but we can't take any photos as they're much too far away. We're treated to a magnificent sky and beautiful light in the late afternoon.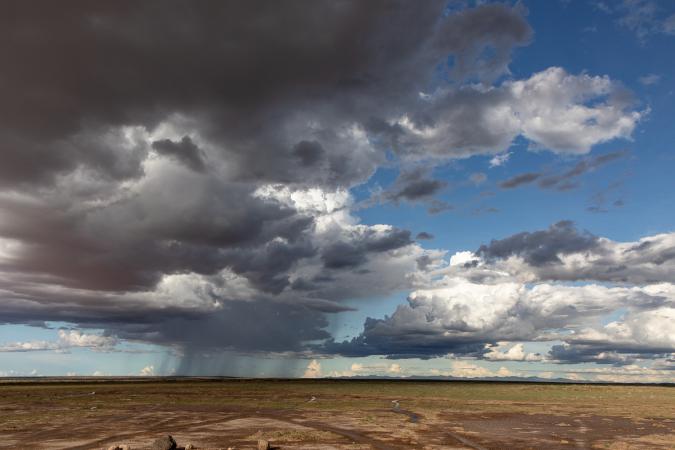 We see a hippopotamus up to its neck in the swamp with its accompanying birds, and buffalo with their feet in the water,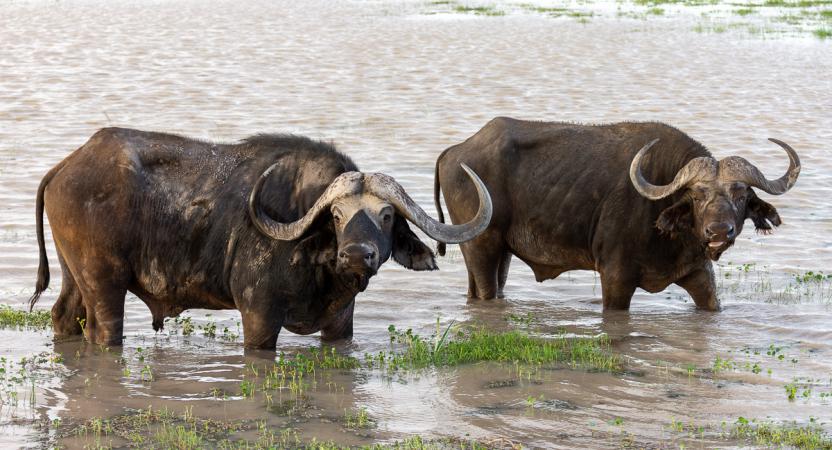 marabouts,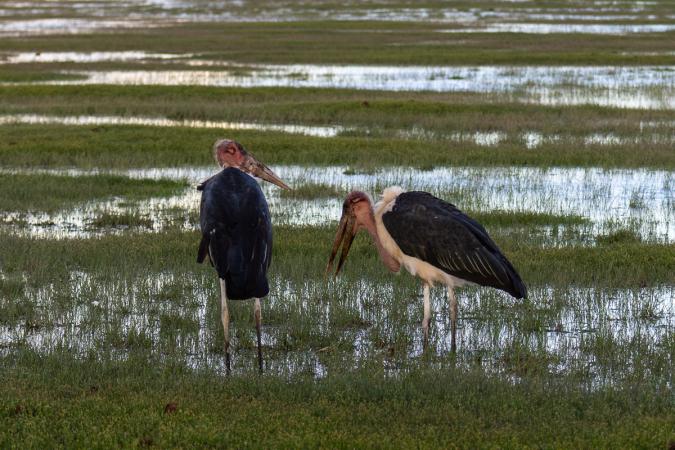 a zebra, lions far away and a cobe.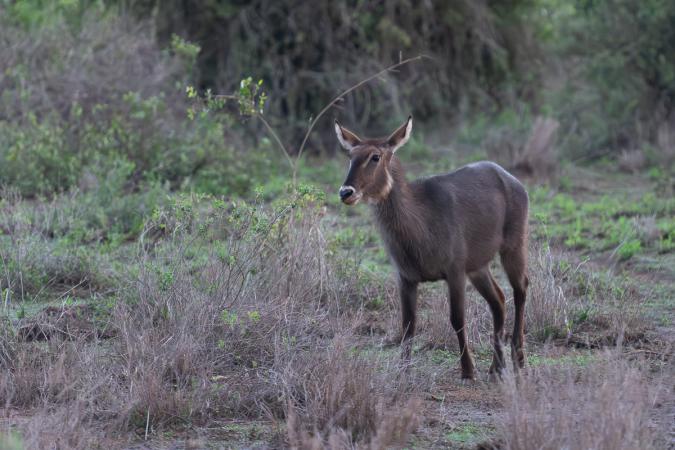 Our guide explains that, for the moment, there aren't many elephants, giraffes and gazelles, as they don't like having their feet in the water, so they've taken refuge closer to the mountains, where the water runs off but doesn't stagnate. They'll be back as the ground dries out. We leave the park at dusk around 6.30pm and return to the lodge in 10 minutes.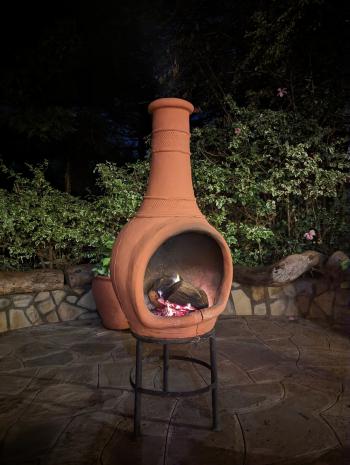 Wednesday April 5 : despite the clouds, Kilimanjaro can be seen.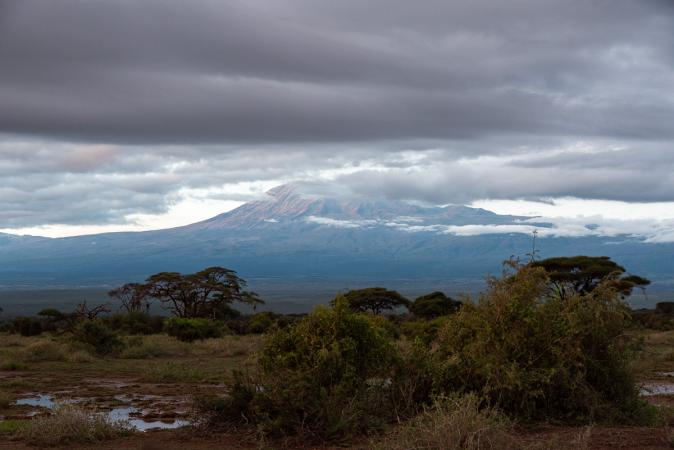 A beautiful light falls on an elephant and an Egyptian goose perched in a tree.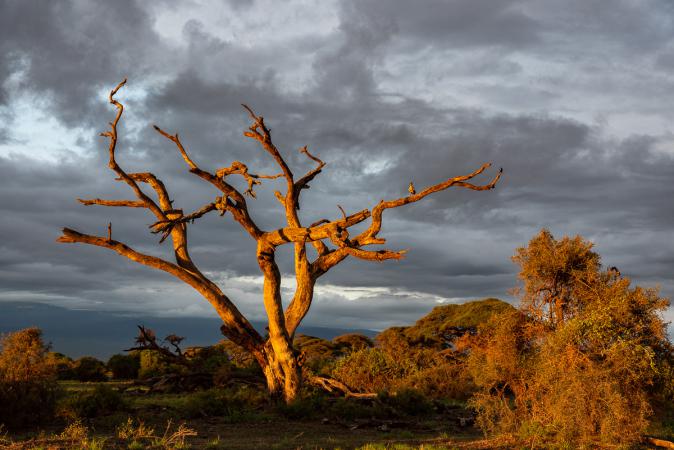 Along the trails (no off-roading in this park, it's forbidden), we come across a lioness, hyenas, black-faced monkeys and a yellow baboon,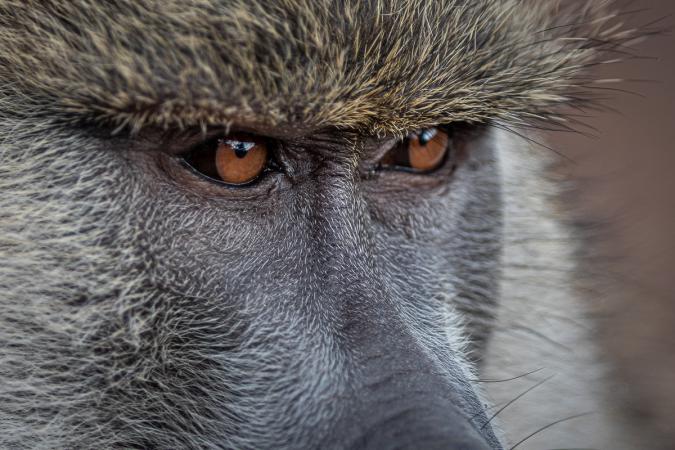 a fishing eagle, a hippo in its marsh.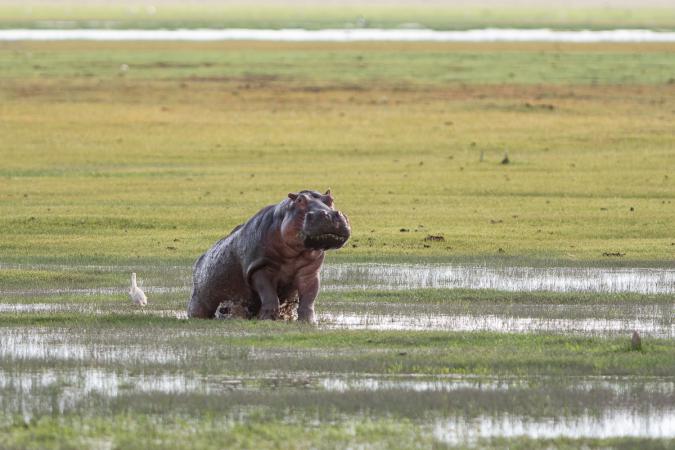 Since the beginning of our stay in Amboseli, we've seen a lot of animal carcasses.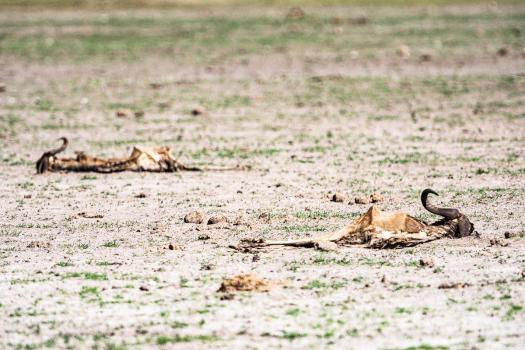 David, our guide, explains that there was a severe drought at the beginning of the year and, apart from the lack of water, the animals starved to death because the vegetation was not nourishing enough. In fact, we see a lot of carcasses near waterholes. It's easy to imagine animals coming to these watering holes in the hope of finding greenery to eat, but as there was no grass, they died on the spot. It's desolate and heartbreaking. Around 8.15am, we head for the airfield to pick up Etienne's suitcase. The little plane arrives with a few passengers and the famous suitcase, much to our friend's relief - yippee! The safari continues with Thomson's gazelles,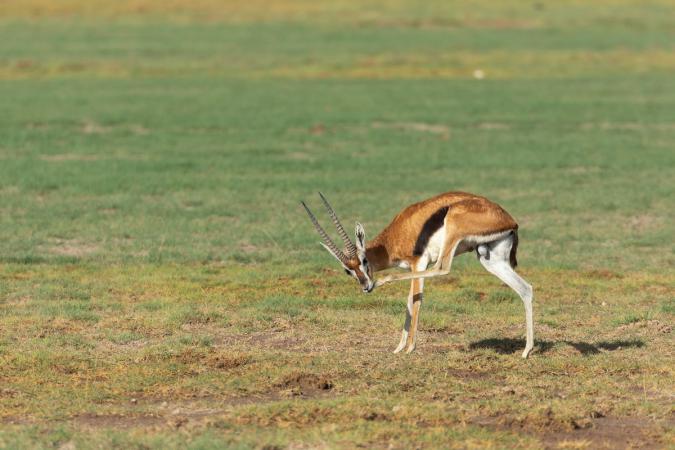 a blacksmith lapwing, crowned cranes, live buffalo... or dead,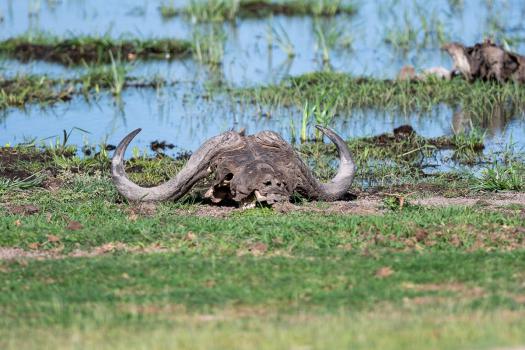 an egret, a spatula, elephants in the swamp, a sacred ibis, a yellow baboon with a baby under its belly,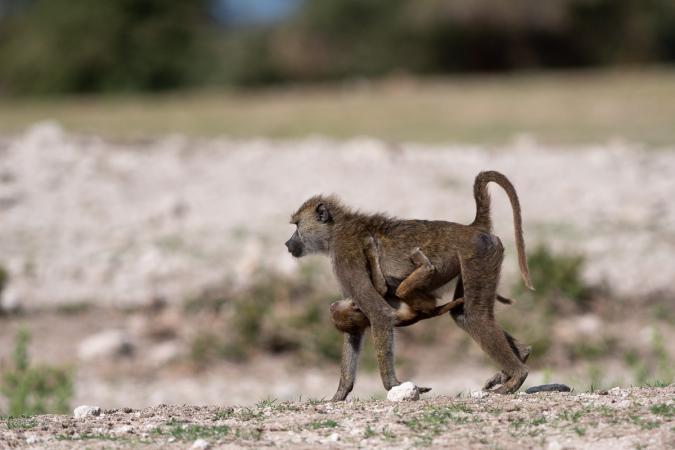 or on its back!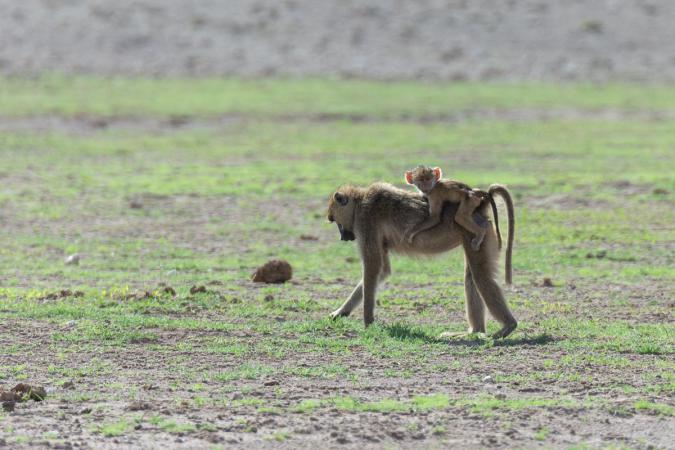 In the distance, we see a flock of pink flamingos. Then we come to rivers where there are many carcasses and a young hippopotamus killed by lions.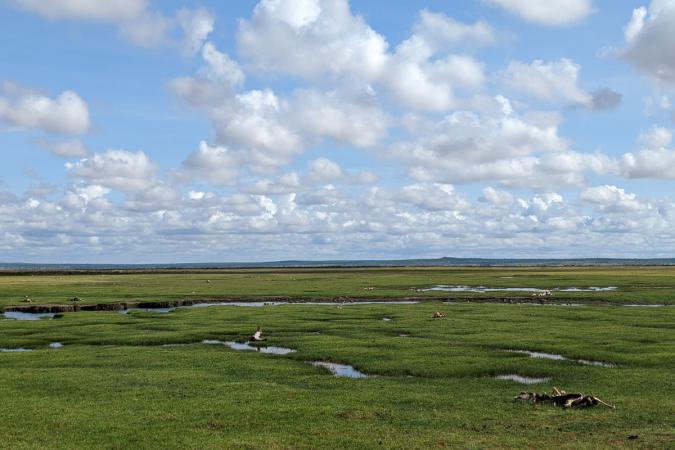 Sounds attract our attention: it's a martial eagle. It's superb.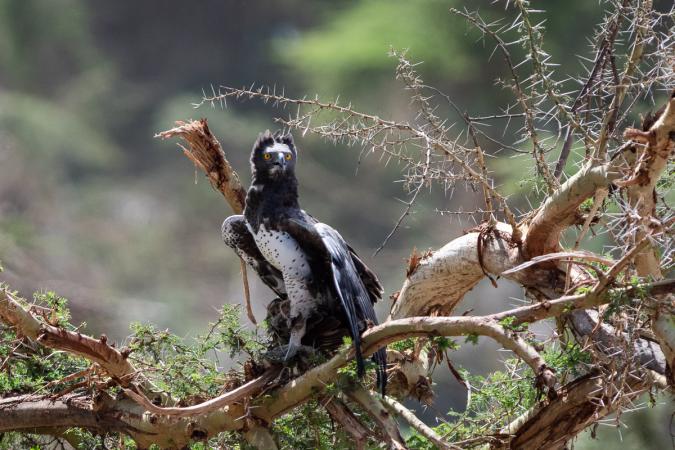 We spend almost 30 minutes watching him as he calls out to who knows whom, only to be attacked by 2 raptor eagles.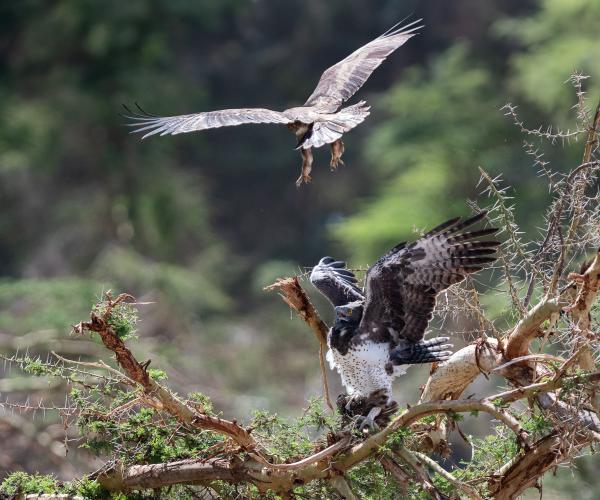 A little further up in the trees, 2 owls caught our guide's bionic eye!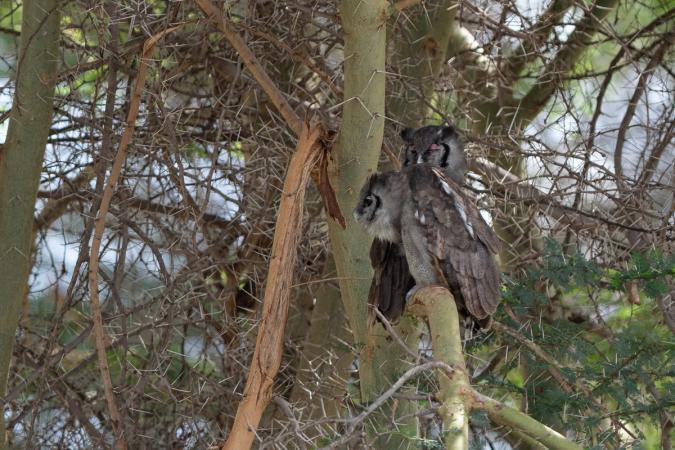 An elephant takes a dip in the swamp. For an animal that doesn't like water, he's pretty well stuck in it!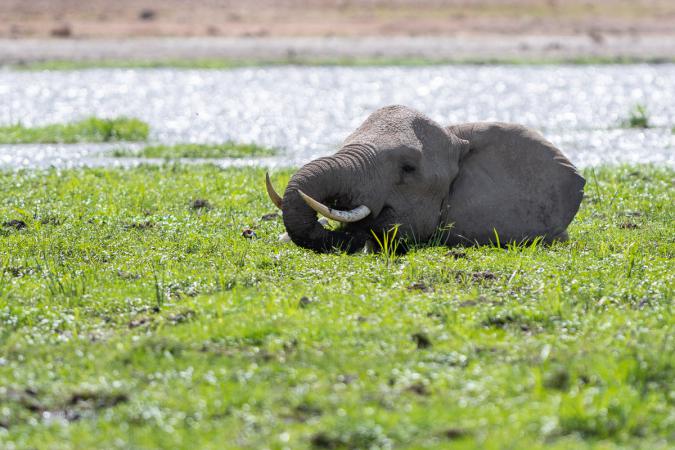 Around 11.00am, we reach the Observation Hill parking lot for our breakfast... which is a bit late! Like yesterday, a dozen birds come to get their share, including a yellow-necked francolin,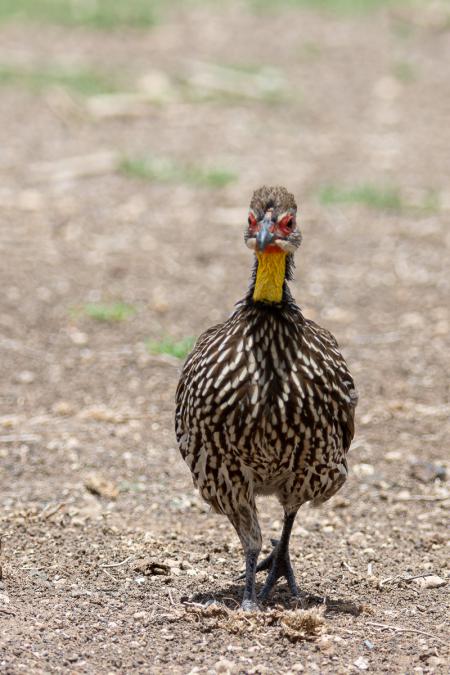 jackdaws. Leaving the site 30 minutes later, we photograph a Persian bee-eater,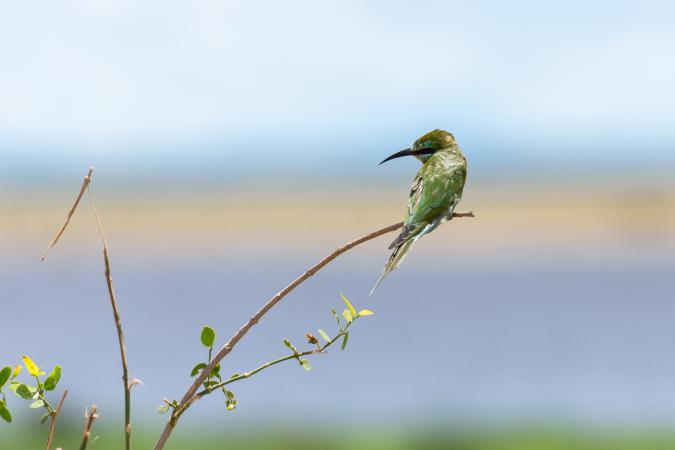 then another elephant, a hippopotamus with only the top of its head visible,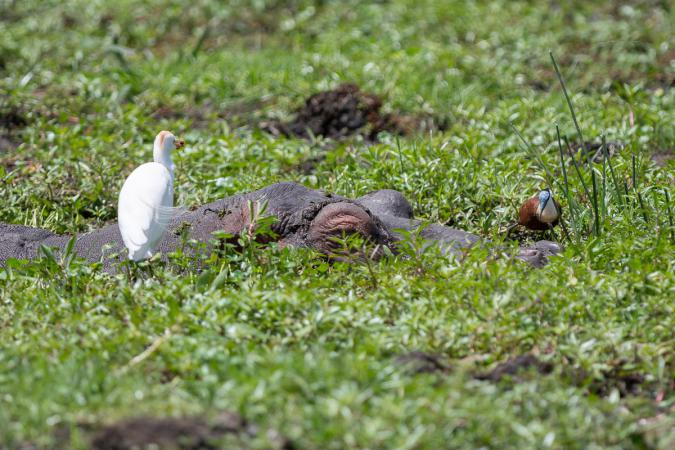 a fishing eagle,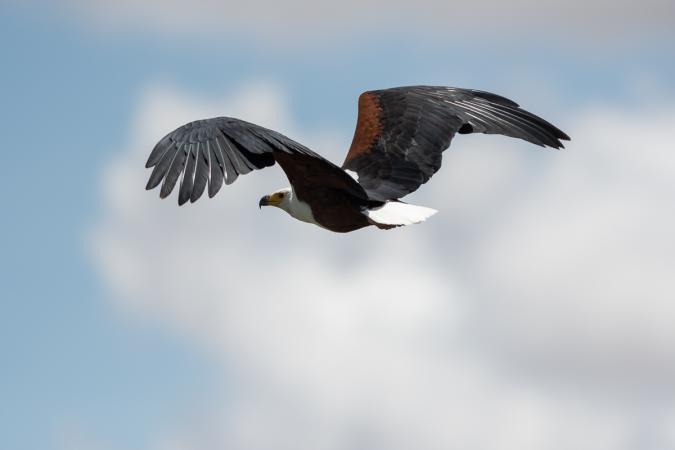 crowned cranes, wildebeests with babies.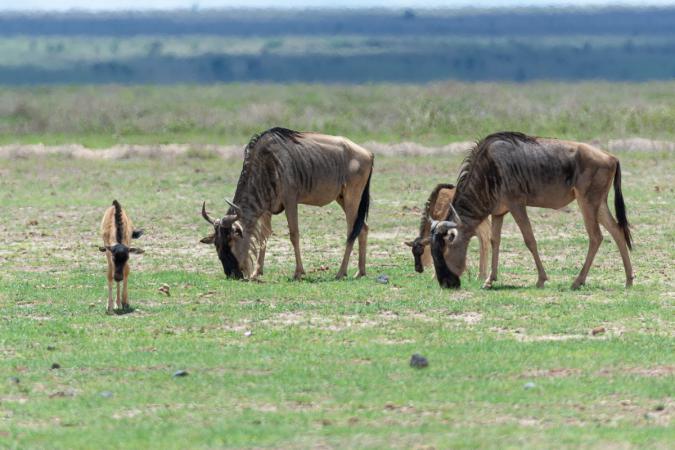 Then we're lucky enough to see a secretary bird also known as a serpentaire or sagittarius messenger,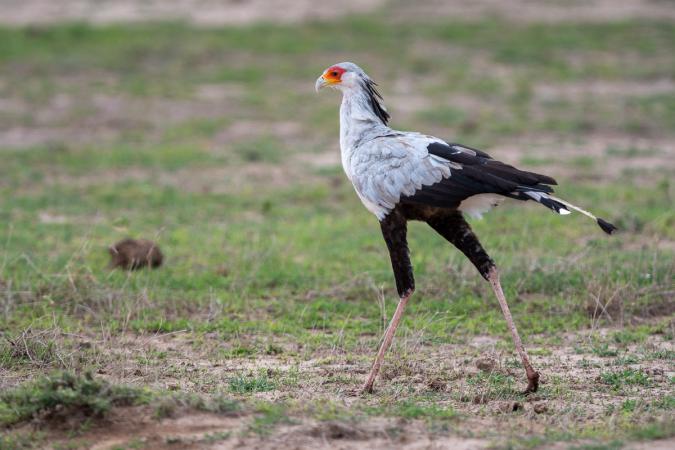 then ostriches.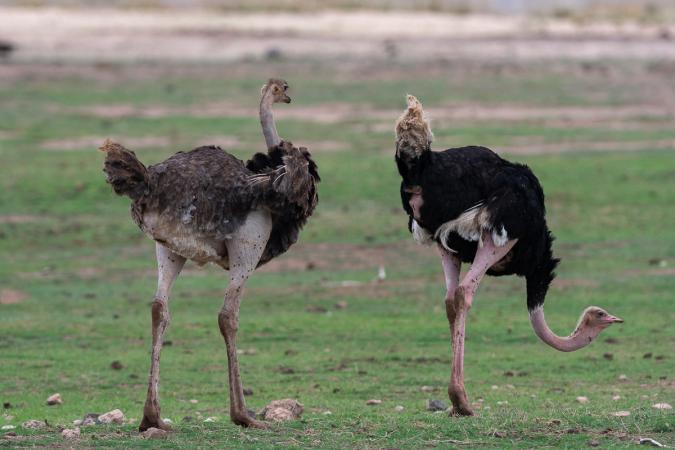 Before returning home, we pass elephants (yes, again, and there's more to come!).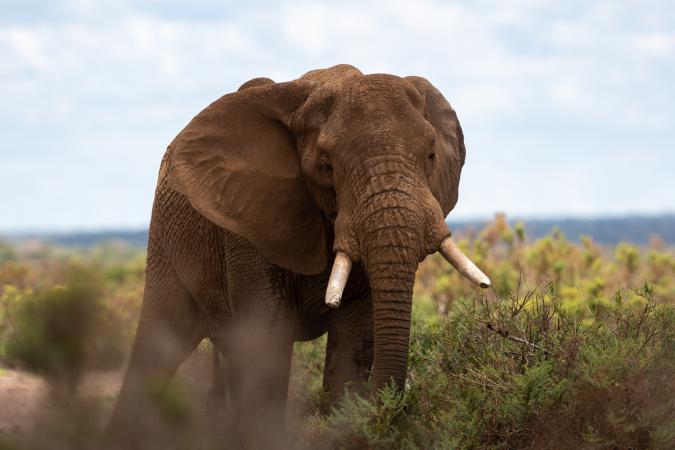 How calm and quiet and peaceful they are! We just love them! Back to the lodge at 1:00 pm. After a good mould, we're back on safari at 4.20pm. Elephants, eland, zebras,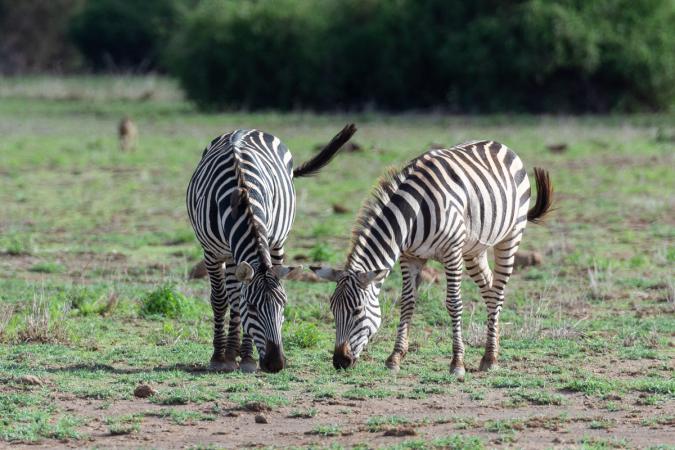 jackals and Grant's gazelles punctuate our route. In the bush, we catch a glimpse of lions. Then we pass a group of yellow baboons, a vulture on a dead baby gazelle and a crested kingfisher,
hippos and buffalo in the swamp,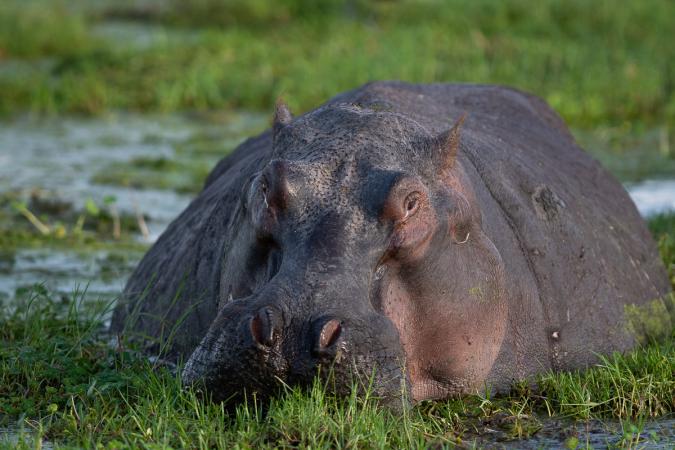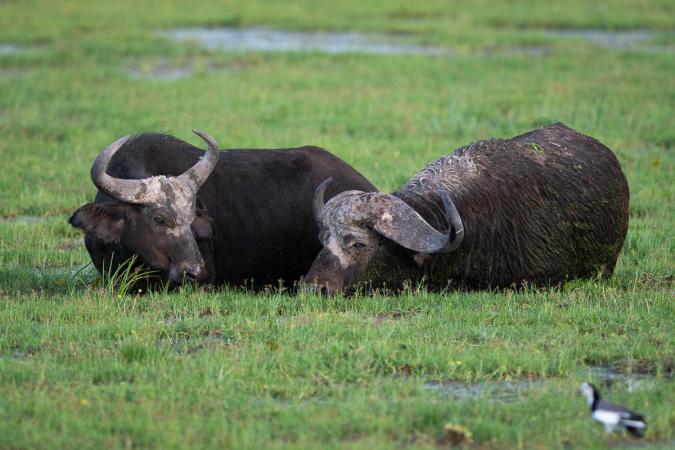 egrets,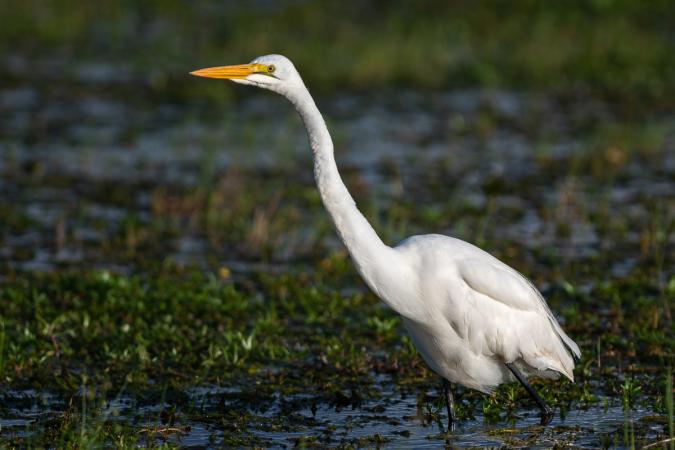 white-headed ducks,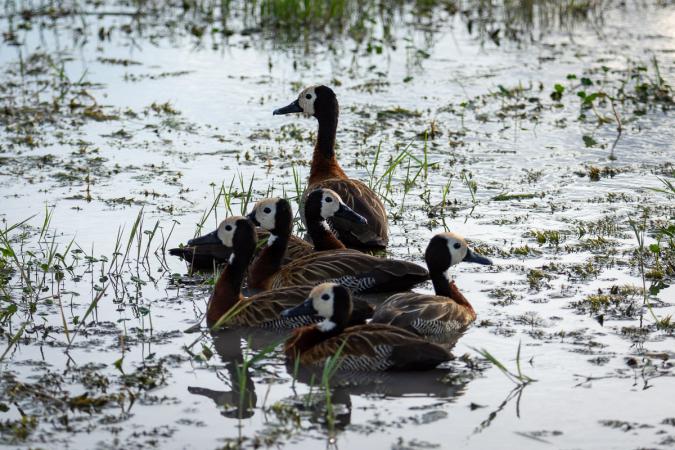 a gambit sandpiper,
a black ibis, some reedbucks. Before leaving the park, we see our first cheetah of the trip, who can't even see that his meal is going right up his nose!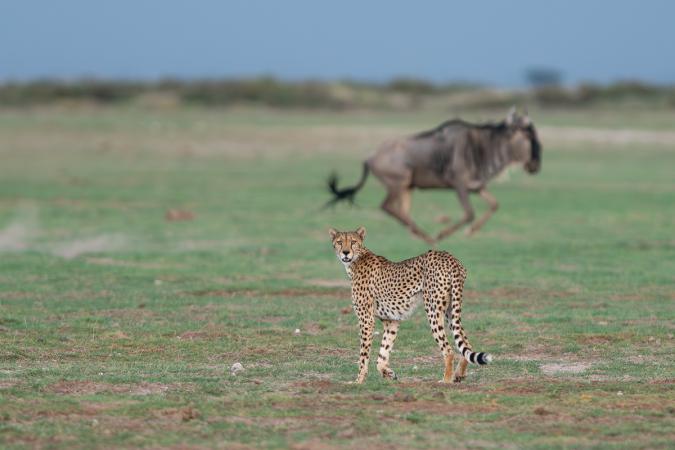 It starts raining on the way back at 6.20pm, so we close the roof. Arrival at the lodge at 18h35. It thunders during dinner.
Thursday April 6 : this morning, as we enter Amboseli Park, we discover snow-capped Kilimanjaro.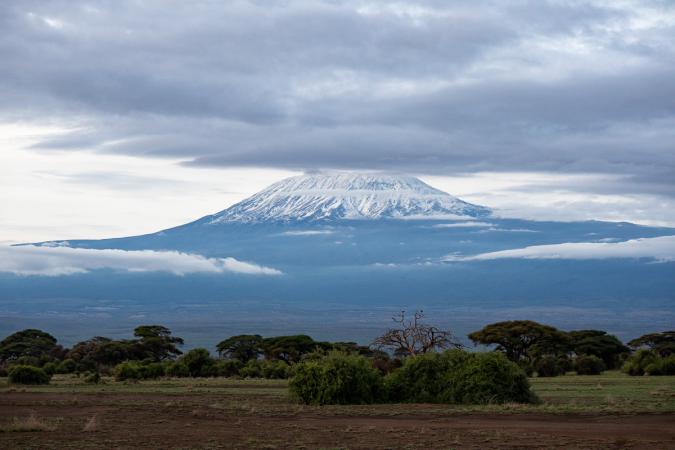 We start by meeting some elephants, including a cute baby.
A vulture poses on its tree with the volcano in the background before taking off with a branch in its beak.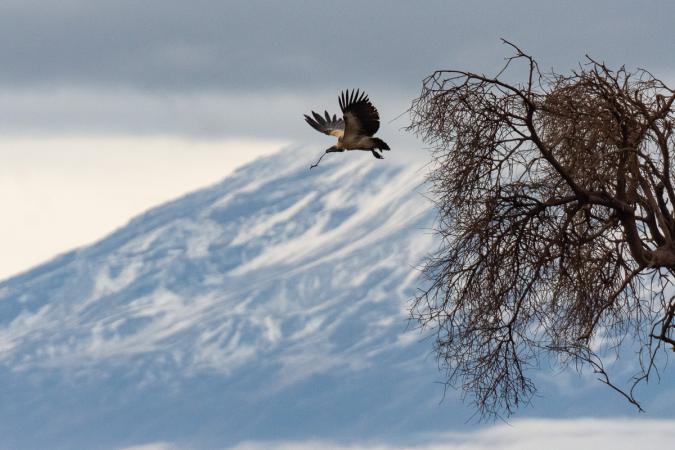 Lions and hyenas can be seen in the distance. As they approach, the 6 lions cross the track.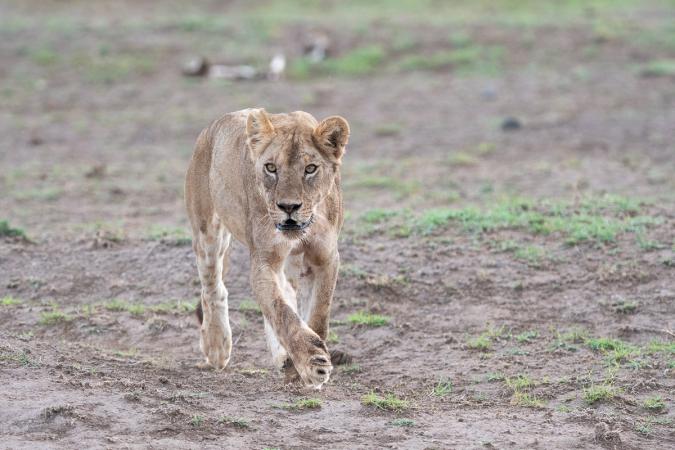 A little further on, a lion and a lioness are circling each other. Eventually, they mate. Now the cameras are going wild.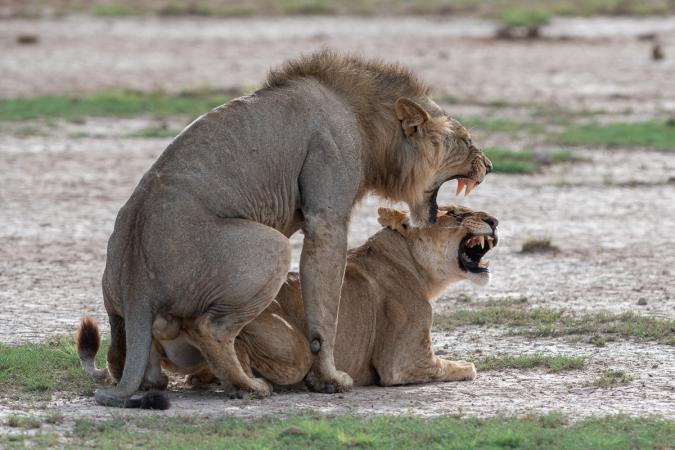 This is the first time we've seen a lion mating. After their little affair, they take 3 steps and wham, slump to the ground.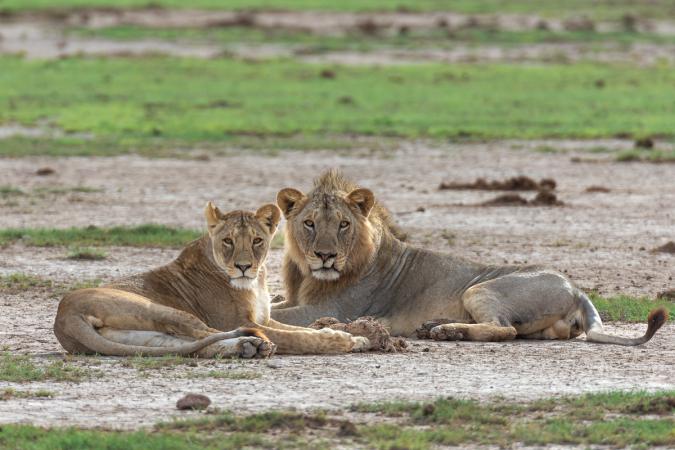 A quarter of an hour later, the female stood up. This is the lion's message to come back to her. Our guide explains that they can mate up to 90 times on day 1 of their encounter, 70 times on day 2, 50 times on day 3, etc., and all this for 7 days, all without eating - they just drink. That's what we call "living on love and fresh water"! Well, let's leave them alone for a while and get on with the trail. We take the same ones and start again: pink flamingos, buffaloes, white-headed ducks, spatula,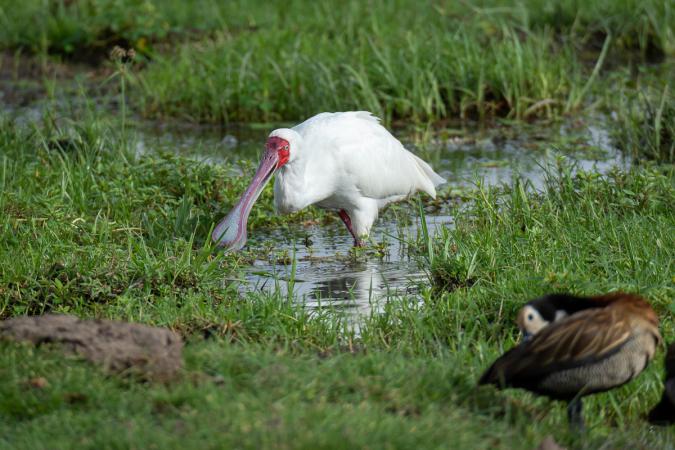 fishing eagle, pelican,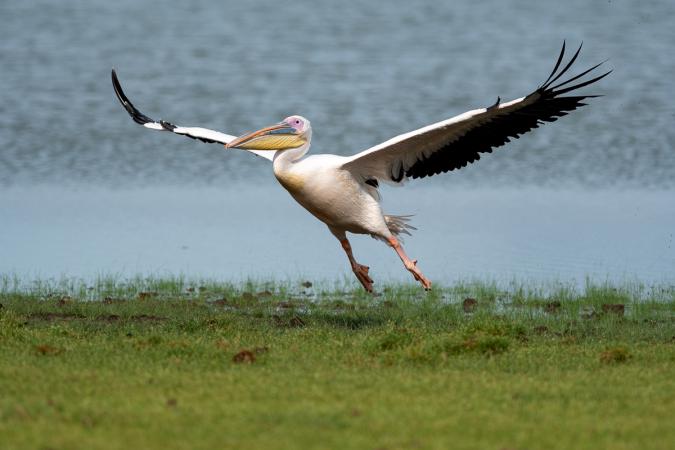 hyenas on the track,
lion, Persian bee-eater,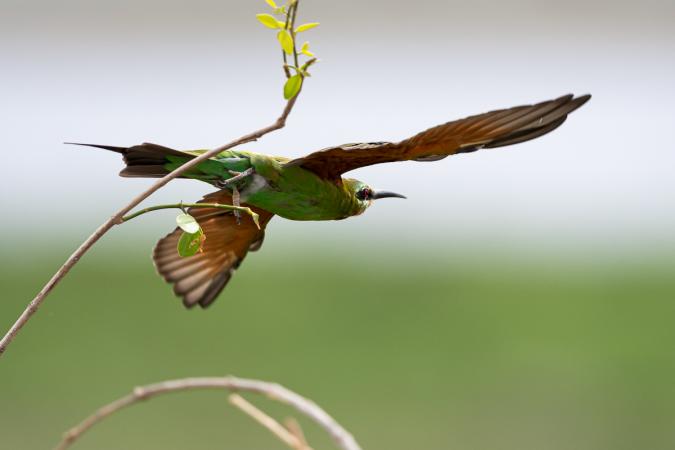 crowned cranes. New to the list: a python at the water's edge,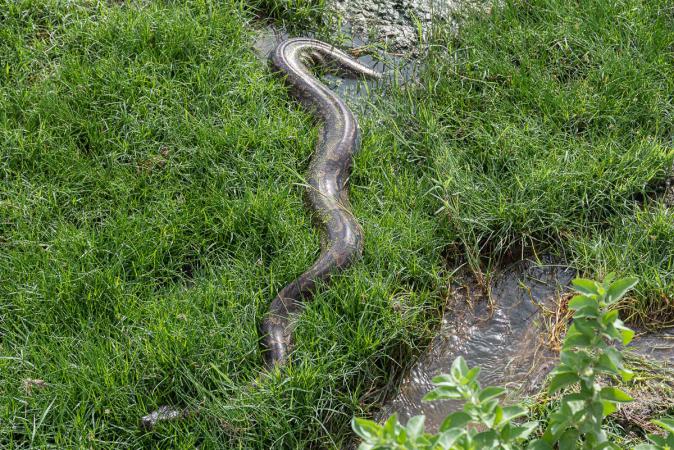 ibis tantals.
We take a bathroom break at the airfield. We buy a doc of the park with a map and a list of the animals present. We chat with a guy who works here, who must be a bit bored. He tells us about the park and the animals. He tells us that the rainy season is from November to December for the light rains and from February to May for the heavy rains. Well, we're still a bit lucky, as it doesn't rain much. High season for the park is from June to February. We then go and have breakfast in the usual place at around 10.00 am. After breakfast, we meet a pair of crowned cranes with 2 juveniles.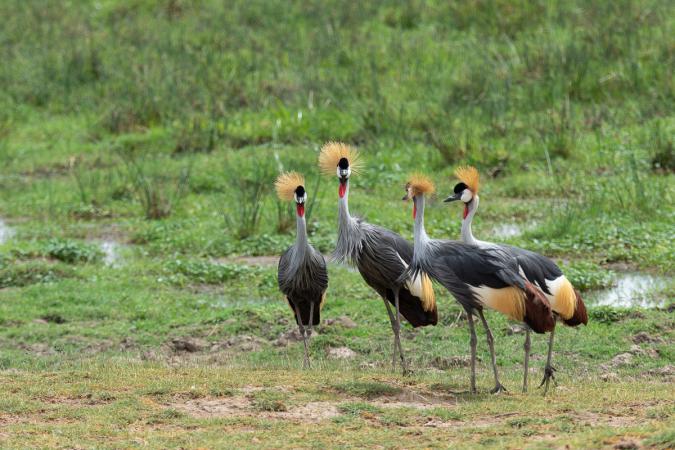 Next we see a dead hippo, this time with the lion that killed it at his side.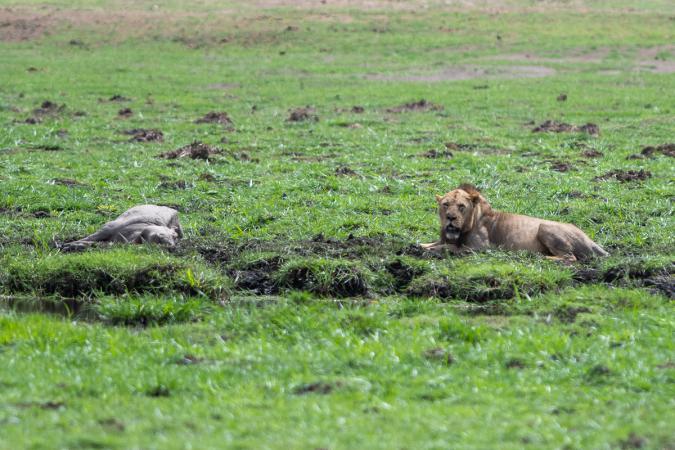 Further on, a wildebeest seems to walk on water.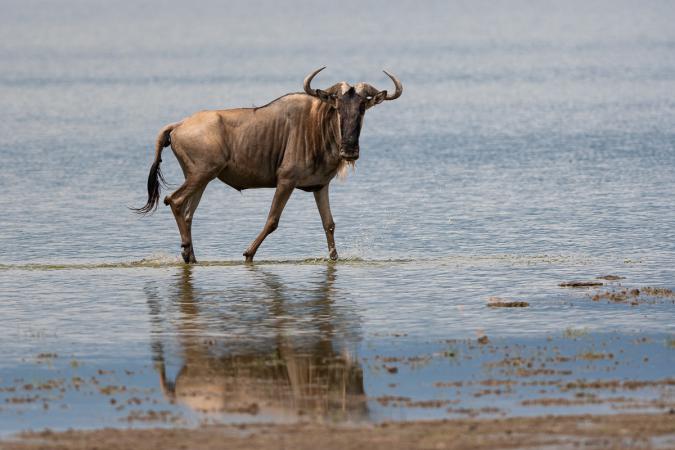 We pass the python again, which hasn't moved much. Then we see ostriches and zebras in front of Kilimanjaro.

We return to the lodge at 12:00. We relax at the bar with cold drinks until the buffet opens at 1:00 pm. We set off on a game drive at 4.00 pm. We see lions in the distance and small herds of elephants near us.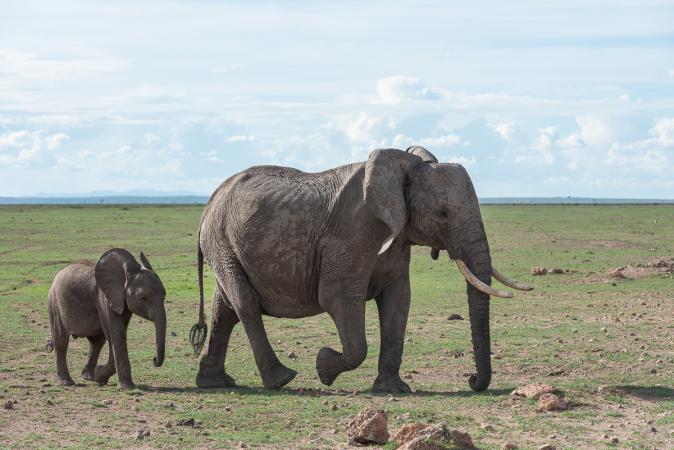 They seem to be returning from the mountains. I thought they were rare, but we're still seeing crowned cranes.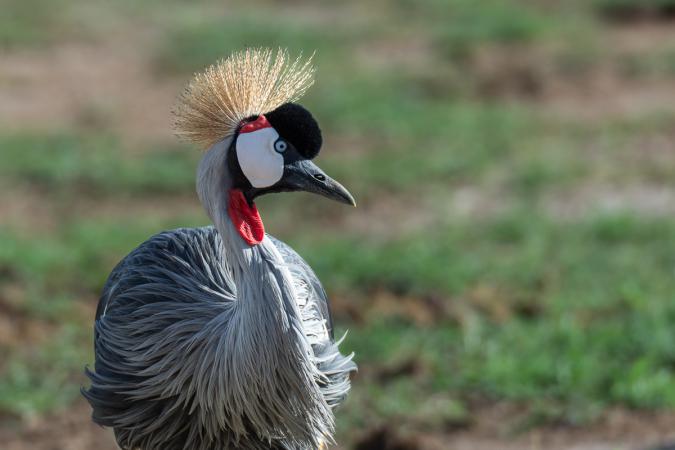 They're beautiful! We'll be back to see our little couple, still mating!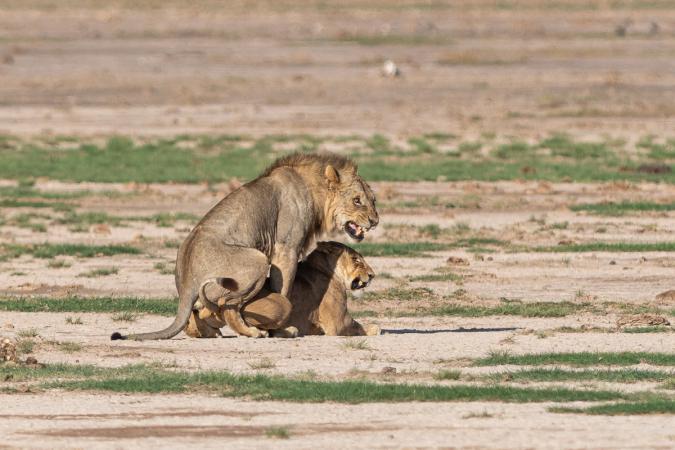 Only 3 times in the 20 minutes we watched them. They're in great shape! We then photograph a goliath heron, a black heron or a slate egret with a funny way of fishing,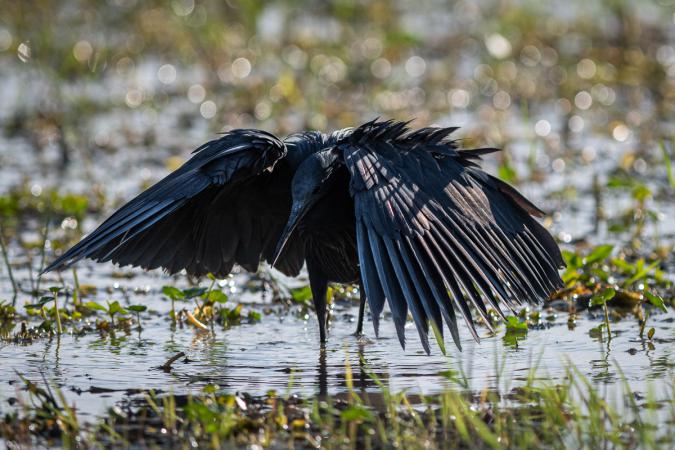 an ox-guard heron,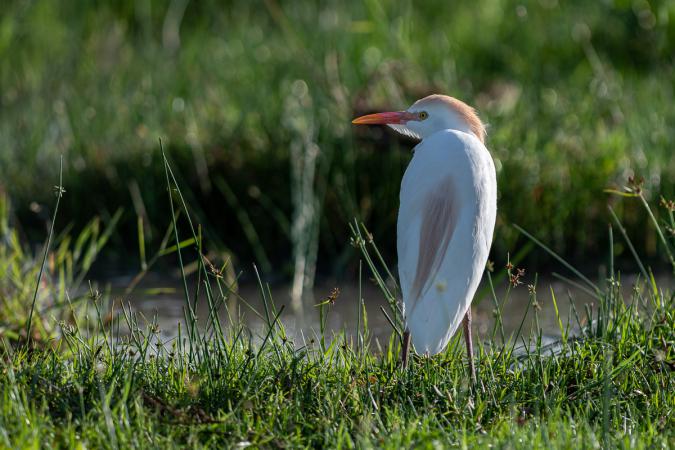 a buffalo, a hyena eating a leftover wildebeest head. A beautiful column of elephants (and yes, again, at the same time, our tour is called "Tembo", which means elephant in Swahili!) heads towards the track.
Among them is a tiny baby who has just reached the top of his mother's "thigh".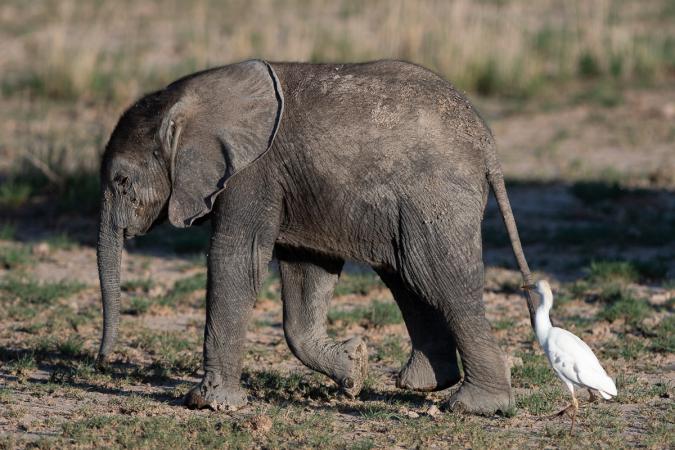 He's so cute, he's still got his little fuzz on the top of his head. Adorable. They cross the runway in absolute silence and calm. On the way back, we see our first giraffes in the park.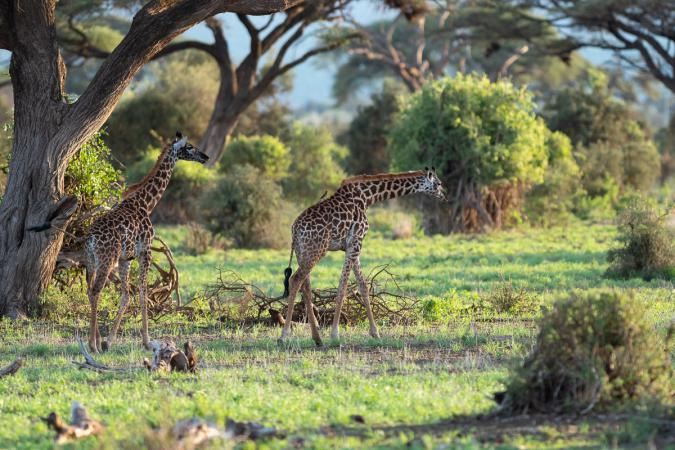 They are also returning from the mountains. A bird of prey and 2 jackals round off the day.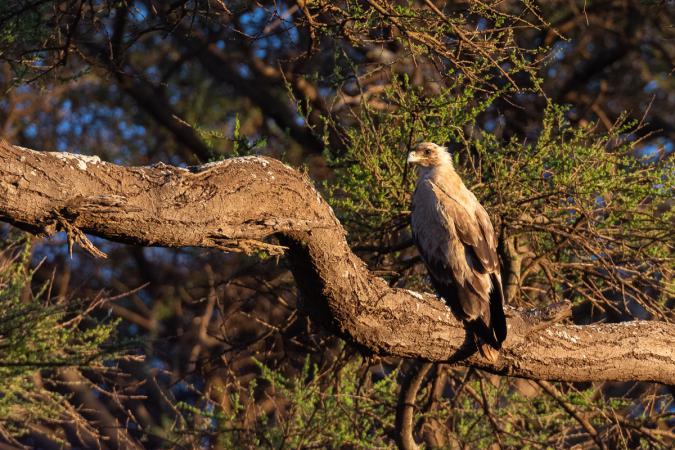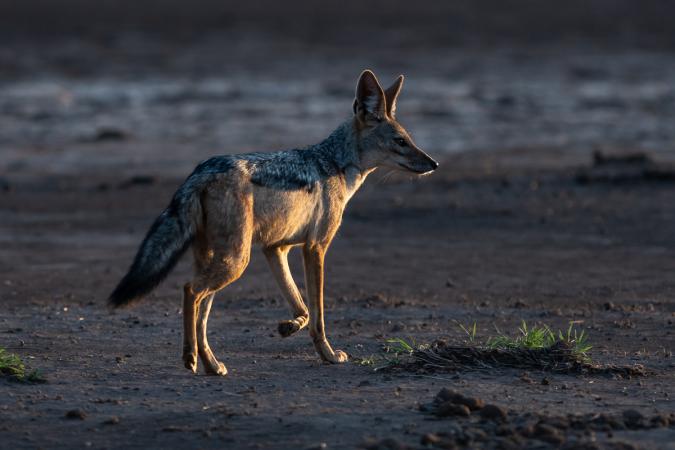 Friday April 7 : this morning, we leave the lodge after paying for our drinks.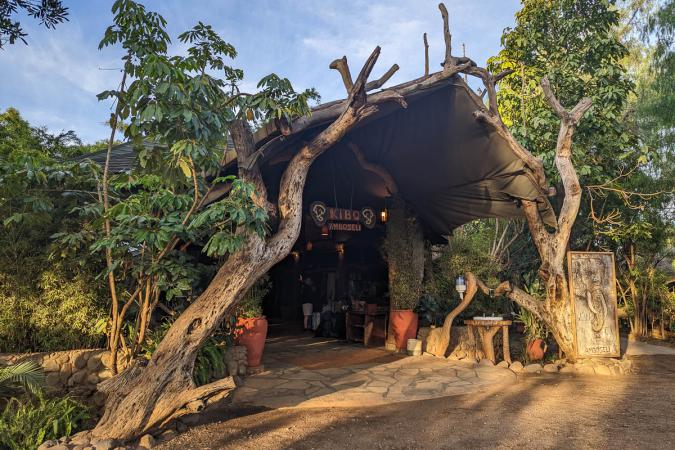 We leave at 7:30 am, heading for Nairobi. There is no direct road to the Masaï-Mara. We make a final stop in Amboseli National Park to exit via the Meshanani Gate. We take one last photo of Kilimanjaro, with its summit in the clear.

And as a bonus, a beautiful herd of elephants with cute little ones who don't quite know what to do with the thing dangling in front of them!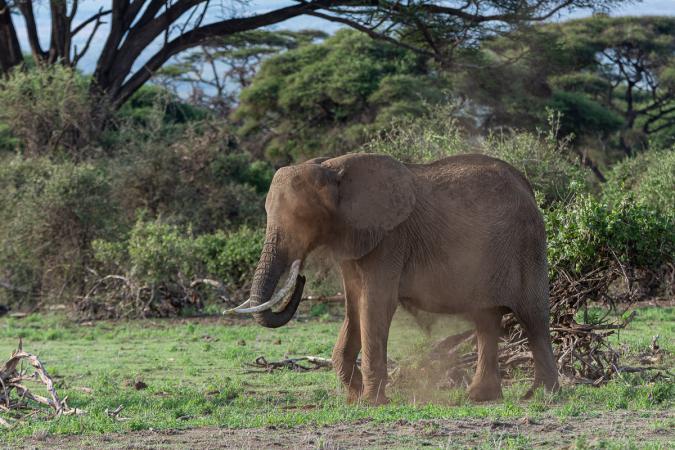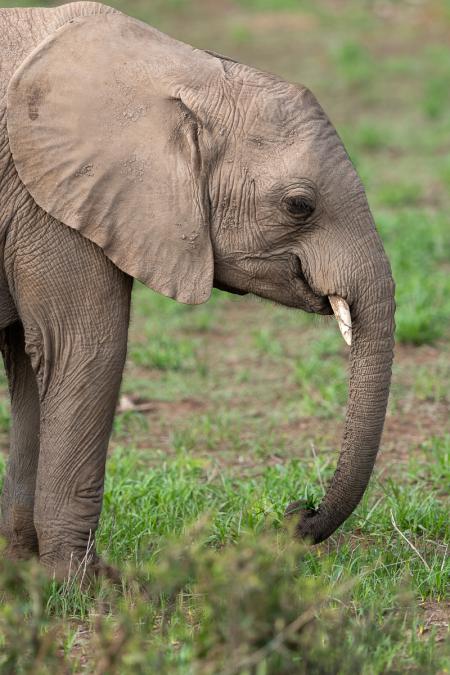 Etienne calls them "Trumpet"! It suits them! We then come across some giraffes, who are also making their return to the park. Otocyons can be seen from a little further away than the other day.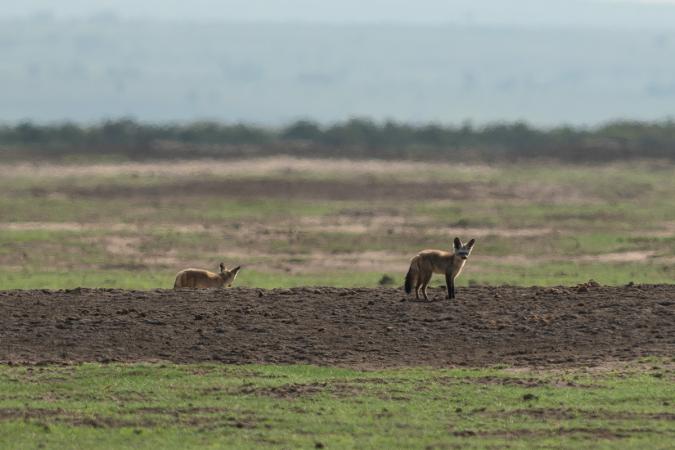 Too bad they're not closer. A few more shots of Kilimanjaro with the reflections in the lake. Just wonderful.

Then we see a crabbed heron,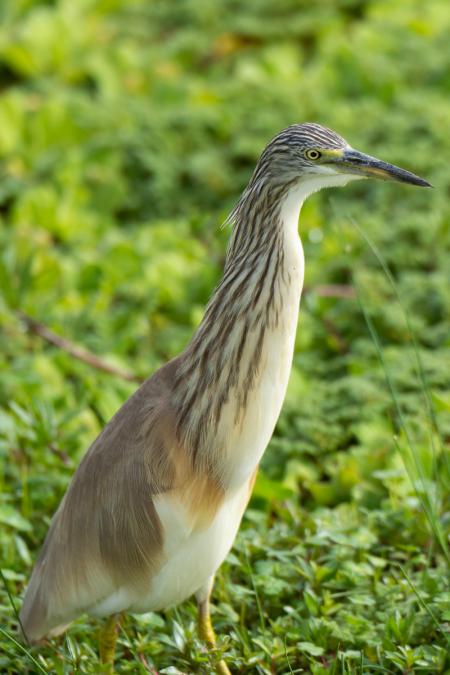 an egret, white-headed ducks, sacred ibises and pink flamingos,
a slate egret,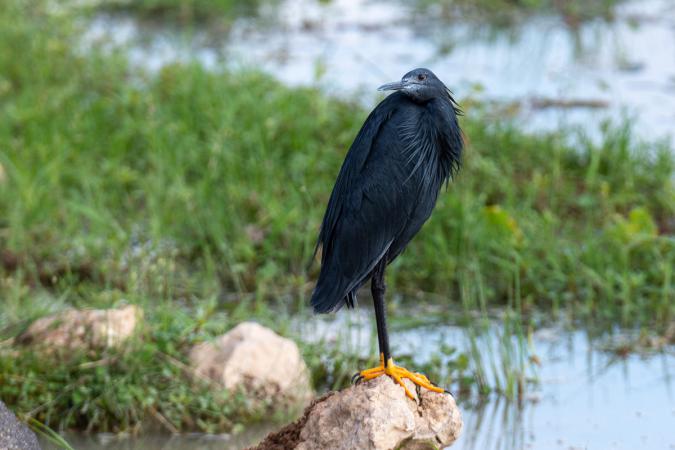 a buffalo in the swamp, a purple heron,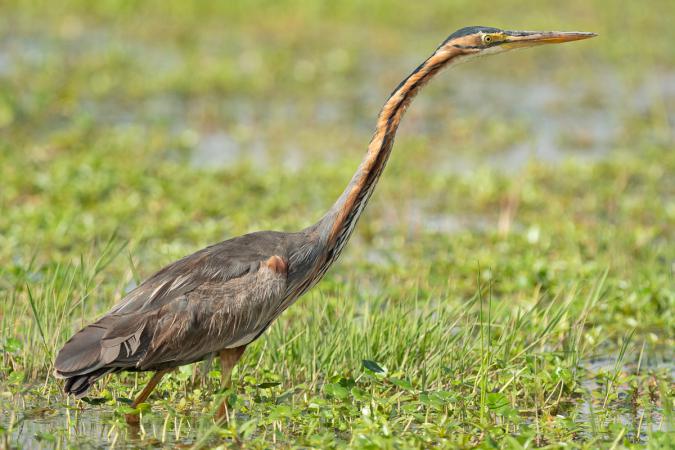 a cormorant, a hippo and finally a goshawk showing us the way out.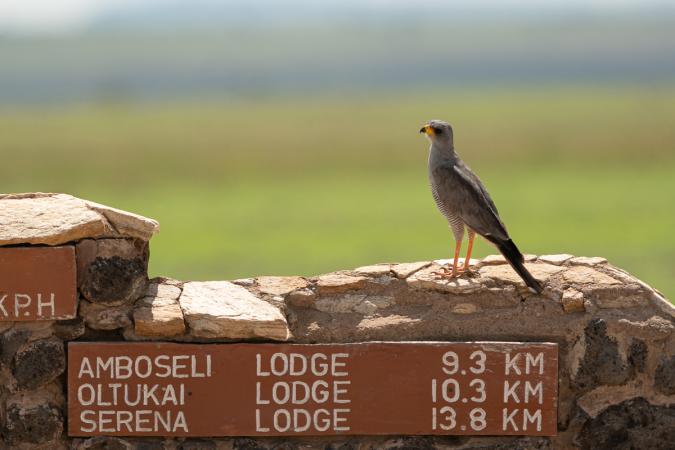 We leave the park at around 10.30 am. A little more track and we're back on asphalt in the town of Namanga, close to the border with Tanzania. Then we head due north towards Nairobi. We pass through villages and towns, and see trash lying around everywhere. As in all the countries we've visited in Africa, there are no pavements, no sidewalks, just dirt everywhere... except in front of Total petrol stations!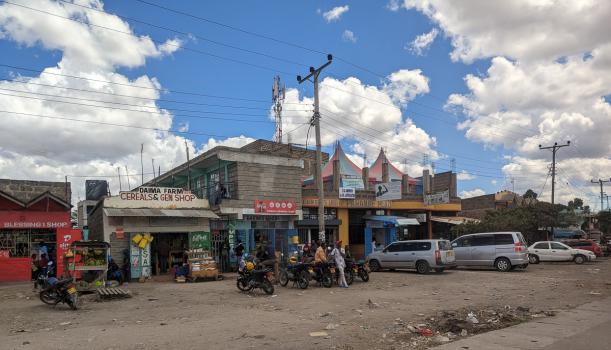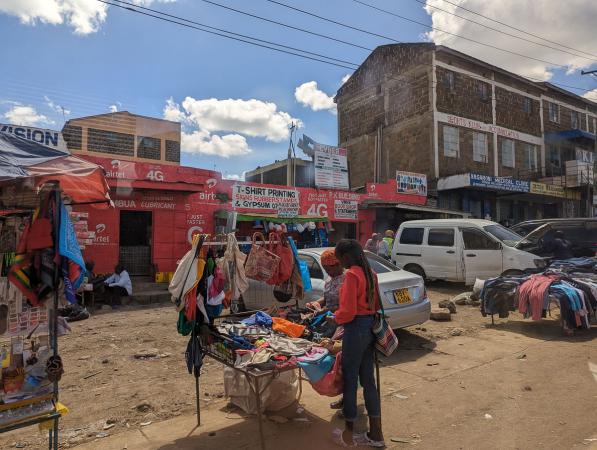 Around 12.45pm, we stop by the roadside for a picnic. We finally arrive at our Macushla House guesthouse around 3pm. What class! It's a beautiful house in a quiet location with a superb garden, swimming pool and terraces for relaxing.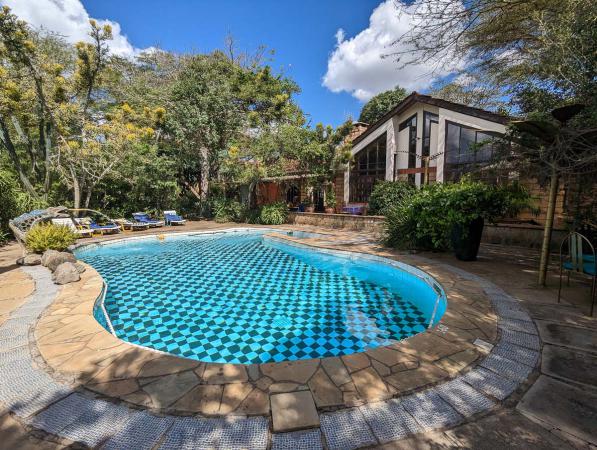 Inside, you'll find a succession of small, chic lounges with African decor.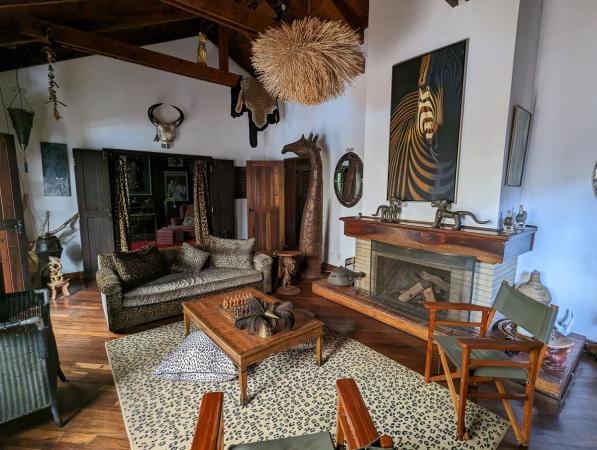 The rooms are nice too.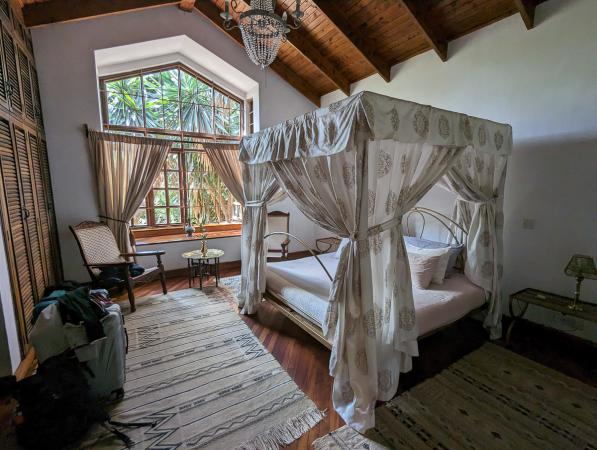 We drink fresh Cokes, dip our calves in the not-so-warm pool. We mould until aperitif time and dinner at 7pm. Each guest group has its own private dining room.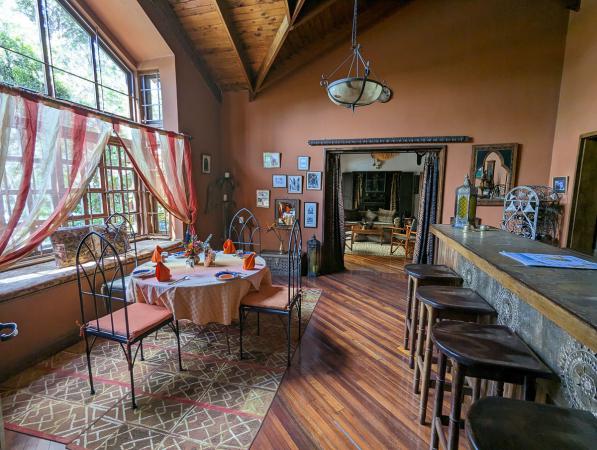 The meal, chosen in the afternoon, is excellent.
Saturday April 8 : up at 6.15am (yes, a bit of a lie-in!). Breakfast at 7:00 am: pancakes, croissants, fresh fruit, fruit juice, too good. Our guide David meets us and we leave at 7.30 a.m. for the Masaï-Mara. On the long road, it's overcast with a few drops of rain. At one point on the road, you can hardly see the Rift Valley because it's so foggy. Here, it's always traffic jams, as the sloping road can be slippery and the trucks don't move fast. It's been nicknamed the "road of death". We make a pit stop in Narok, as in 2021, in a large gift store. David and I fall for a big wooden elephant. It weighs at least 10 kilos, is 35 cm high and long, and 20 cm wide. We negotiate because the advertised price is exorbitant, and our guide helps us. It's a deal. We don't know how we're going to get it back! Stephane has space in his suitcase, so we'll be able to give him some clothes! In the meantime, the sellers put him in a box which we load into the car. After a 5h00 drive, at around 12.40pm, we finally arrive at Melting Pot Bush Camp on the edge of the Mara River and the Masaï-Mara National Reserve. We are welcomed by the team, Samuel the intendant, Benjamin, Conana, Passy... and Sylvie Crocetta. We are then taken to our tents: Hippopotamus for us,
Zebra for Stephane and Etienne (this is the one we had in 2021). The accommodation in the tents has evolved, with real flush toilets replacing the dry ones. The showers can be used whenever you want, so you don't have to wait for someone to turn on the hot water. There's always the washbasin without tap, with a thermos flask of hot water and a jug of cold water. We settle in and have lunch with the other safaris at 1pm. We meet up with the 4 Dieppois. Moulding in the armchairs of the lounge-bar tent. At 4.30pm, we leave for our first game drive in the Masaï-Mara reserve. We immediately notice that the savannah is greener than during our stay in 2021, thanks to the recent rains. We see dik-diks, adorable little antelopes,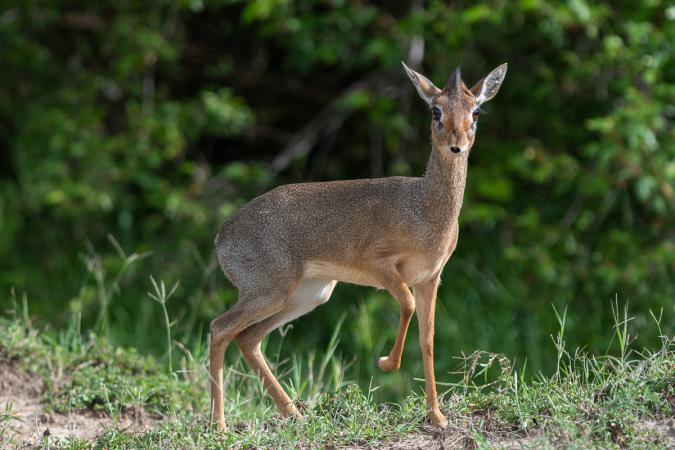 then a kingfisher.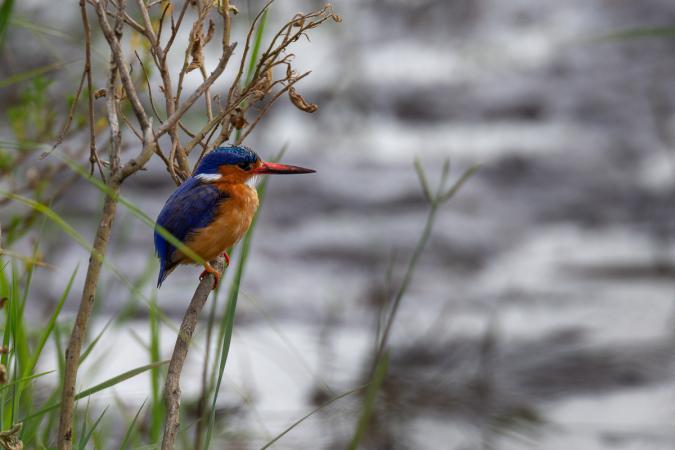 Lions and lionesses circle buffalo. Hunting - not hunting? It's too tiring and they've been spotted.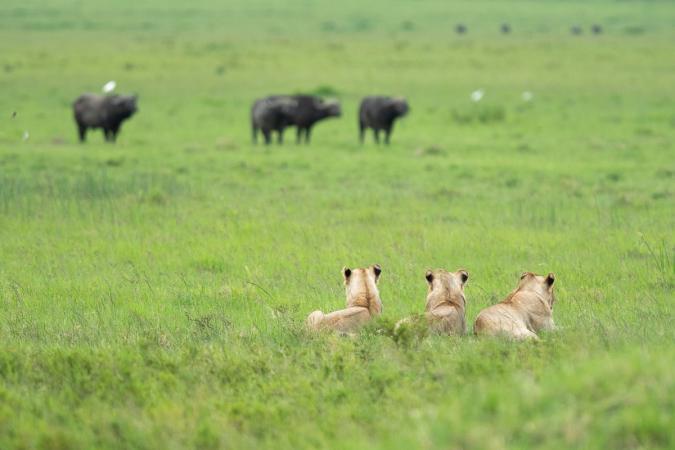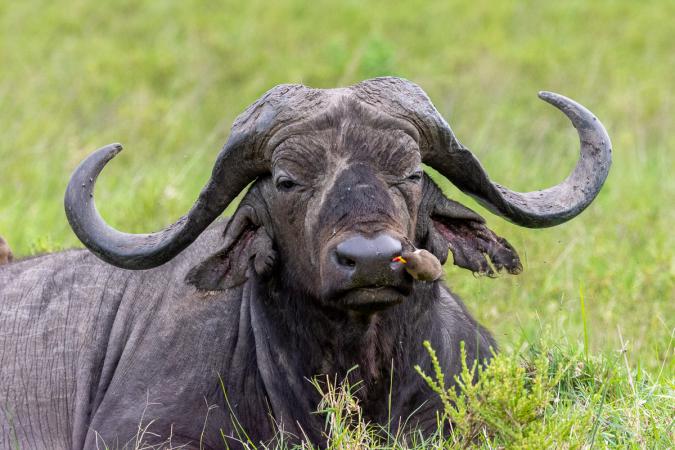 We're going for a drive in the forest in search of the famous leopard Romi. But apparently we won't be seeing her again this time. She's had a baby, but she's not around at the moment, perhaps on the other side of the Mara. And right now, it's too high to cross with a baby. Back to camp at 6:40pm. Aperitif and dinner at 8pm with the bush babies.
Sunday April 9 : back to routine : up at 5.30am, breakfast at 6.00am, safari departure at 6.30am. I'm telling you, this is no vacation! Pink skies as we leave camp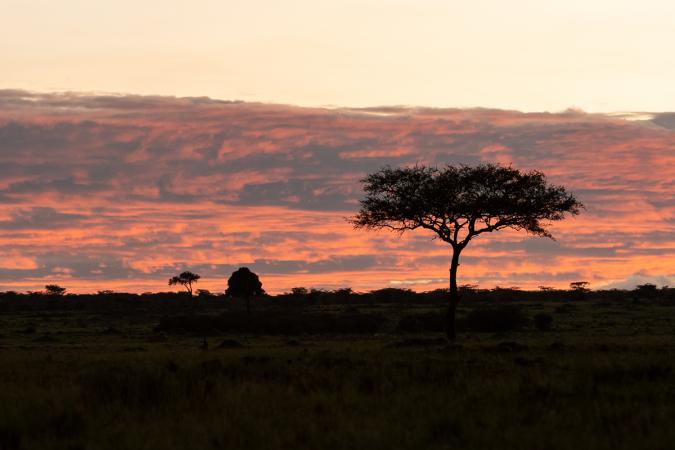 and an elephant by the river. Then our driver David starts driving faster on the bigger tracks, plotting, plotting... but where are we going? Something must be happening somewhere! We pass the Musiara Gate. On the way, we see hyenas and a crested cockatoo,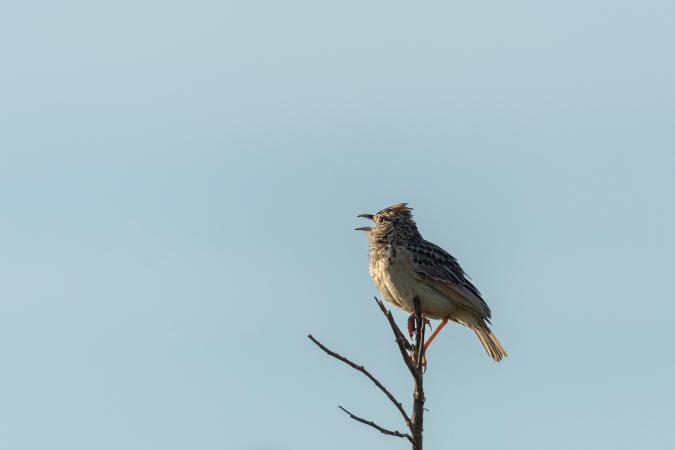 a lioness with two 3-month-old babies.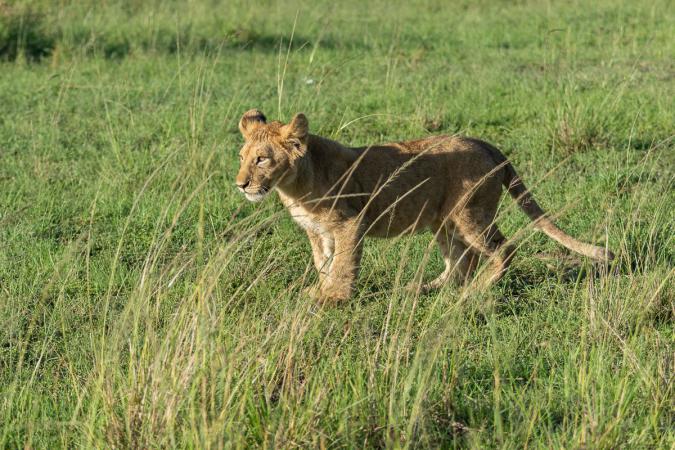 But we don't linger, our guide is in a hurry. And we understand why when we see a leopard in the bush. It's the female Bahati. Wow, magnificent!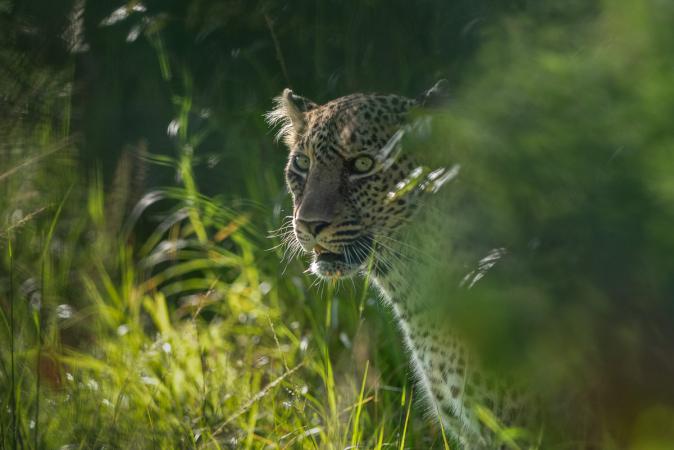 There are already a few cars around. As usual, our guide manages to position himself well so that we can see her best. Not very active at this early hour, Bahati! Next to her is a tree with an impala prey. We wait for Bahati to deign to move. Apparently, she has a baby, but nobody knows where it is or whether it's still alive. Meanwhile, we photograph a yellow-throated sentinel lark.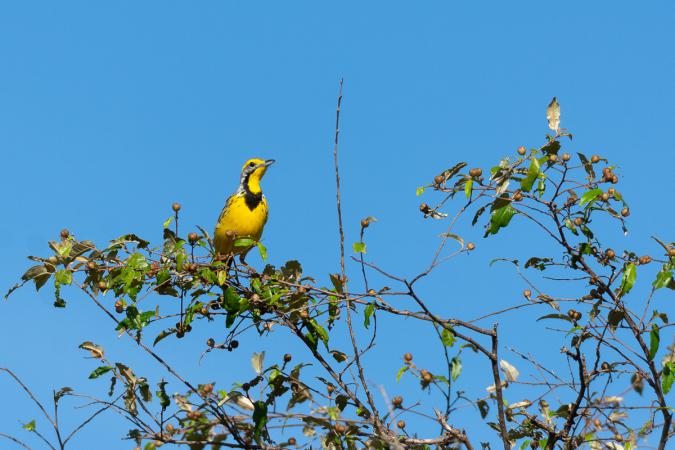 The other MPS 4WD are there too. After forty-five minutes, we decide to go to the edge of the Mara for breakfast, which includes sausages, hard-boiled eggs, pancakes, honey, jam, cakes, coffee, tea and hot chocolate. We then return to Bahati at about 10.00 am. This naughty girl took advantage of our absence to climb her tree next to her breakfast. No photo of the climb, pfff! We circled the tree to find a good photo angle. She climbed to the top of the tree (on the left in the part we lightened).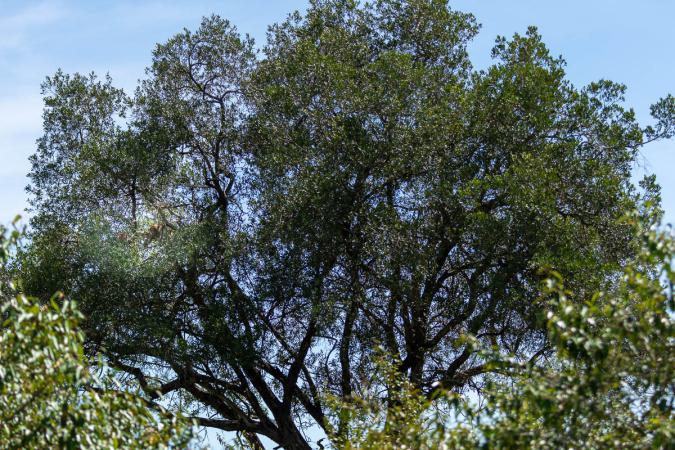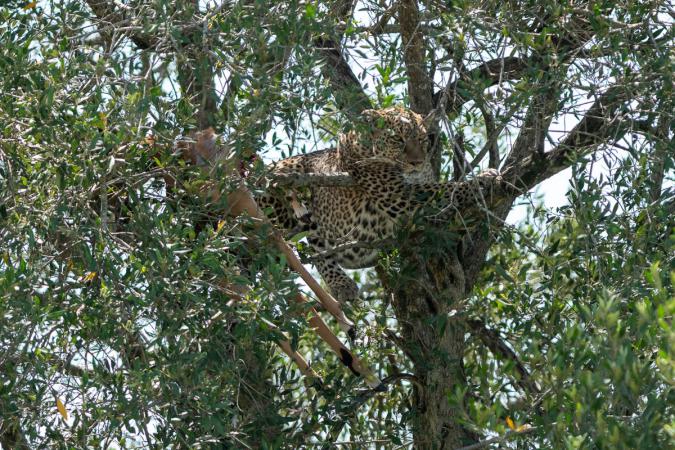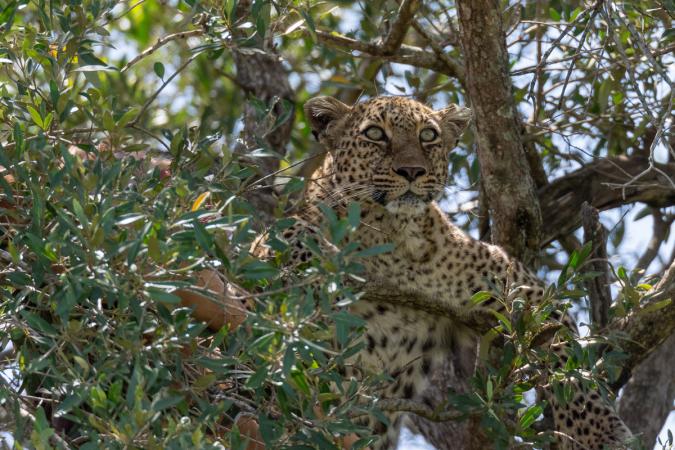 We shoot for 1h00 before leaving at around 11h15, happy to have seen a leopard. A great start! On the way back, we pass a Kori bustard.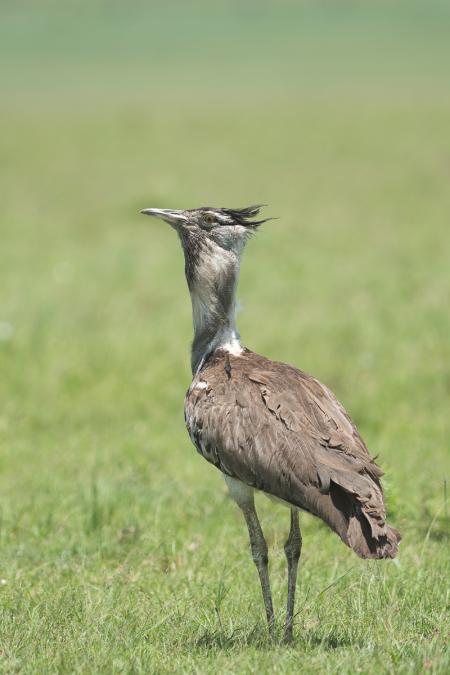 The guide rushes off in his car because we're not early. We return to camp at 12.50pm. Lunch at 1:00 pm. In the early afternoon, we share our experiences with the other Meltingpotians, which is great fun. The afternoon safari starts at 4.30pm with dik-diks, one of which has a limp,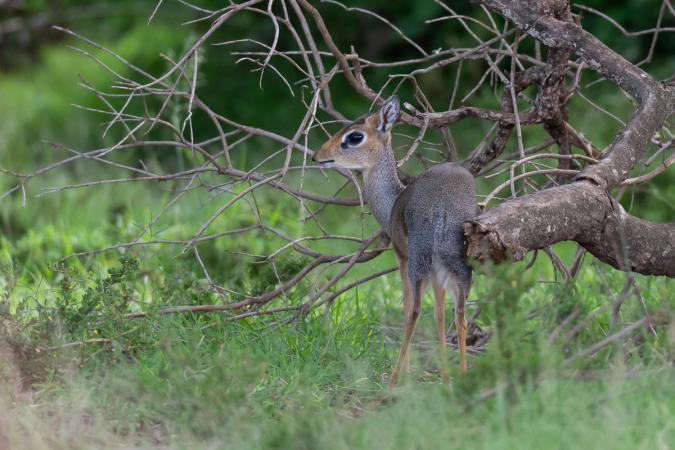 a hippo in its bath, ducks with white heads... uh a duck with 2 white heads !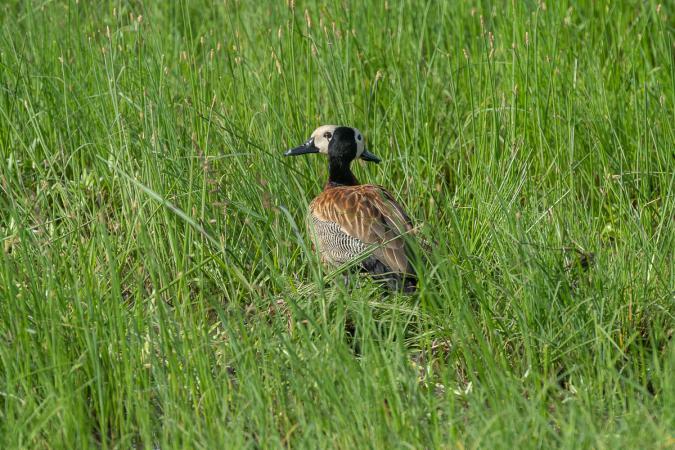 We continue along the tracks and come across... oh, a herd of elephants! Just great! Did I ever tell you how much we love them? Well, them, maybe less?! What's with those trunks in the air?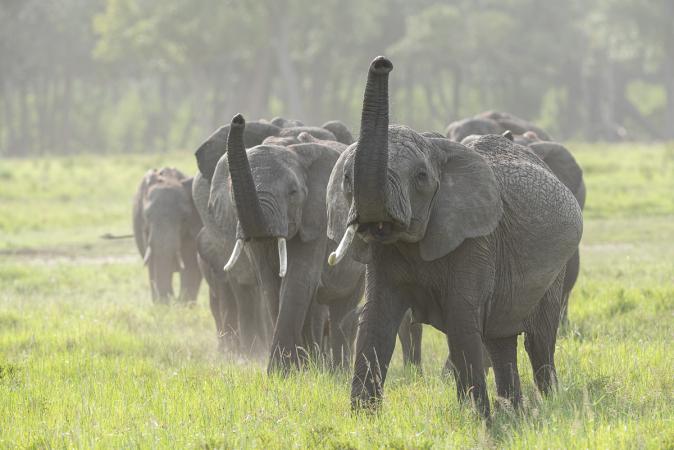 We're nice to you! This group also includes " trumpets ", cute babies, as Etienne and I call them.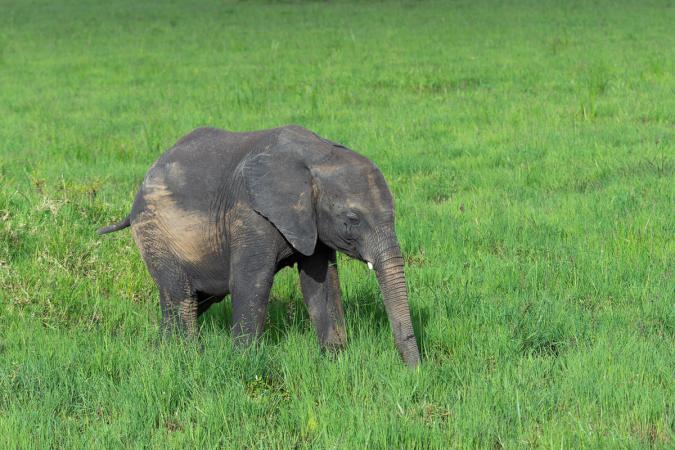 Further on, we see baboons with cute babies too,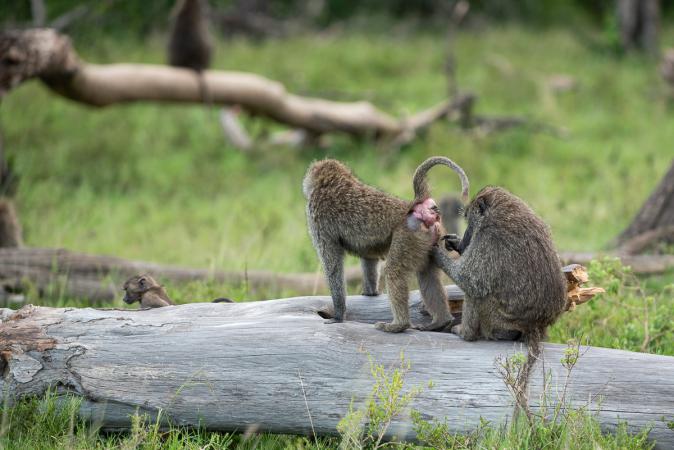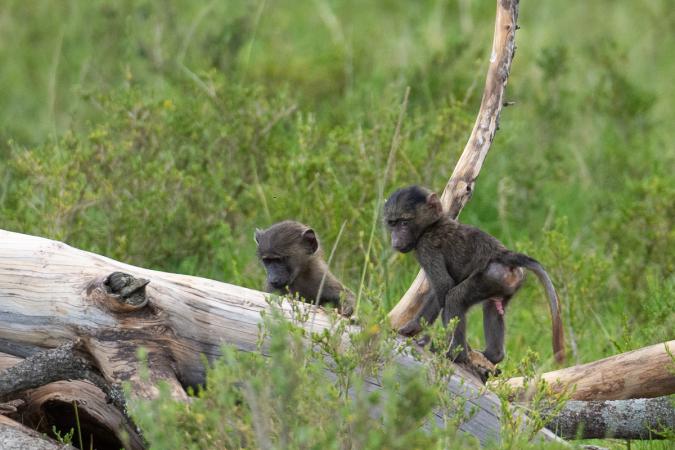 then the lioness Yaya with 2 youngsters. Our guide tells us that the 2 youngsters are Pamoja's cubs. We had seen all three of them in 2021 and the cubs were 3.5 months old. Pamoja was killed in May 2022, so it's her mother Yaya who is raising the young male and female, who must be almost 2 years old.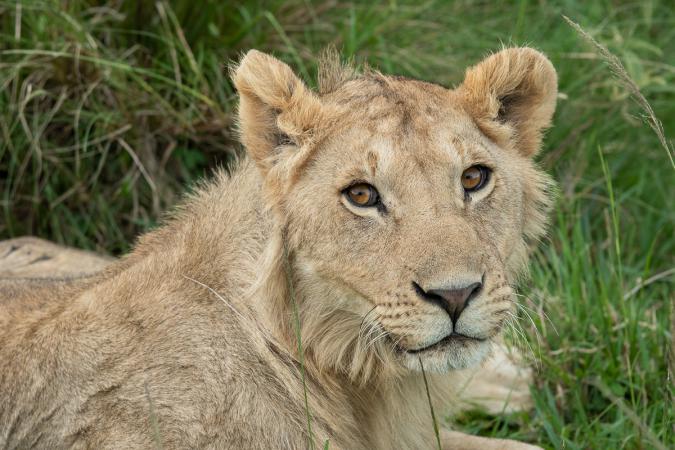 The young female would like to start a family with a lion. Yaya, for her part, would like to join the Marsh Pride, but the Half Tail lion should kill the youngsters because they're not his. So she finds herself alone without a "family". Then we meet a lion in his favorite position: wallowing! It's Kibokoyo. One of the "6 boys", but they are only 5 left, as one of them has been killed.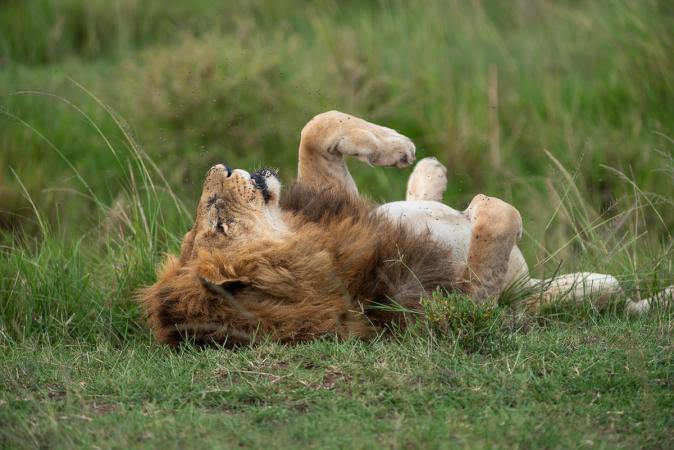 There's a second one behind a small mound. At the camp, we were told about a family of hyenas with babies. We asked our guide to take us there. The mother is lying on the trail, suckling 2 cubs.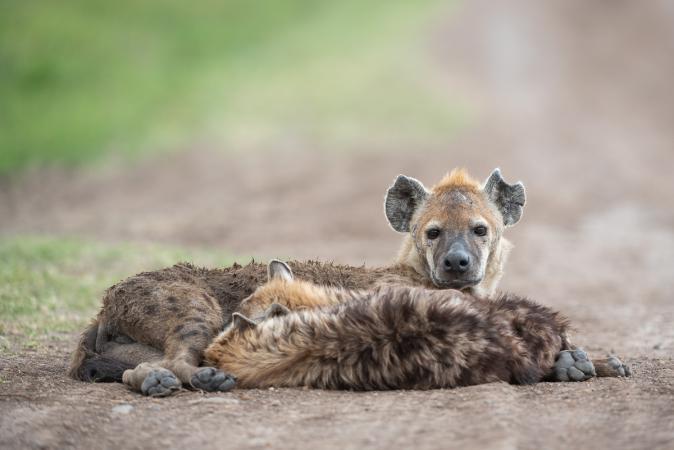 Another one is walking around. He's so cute with his little bear head!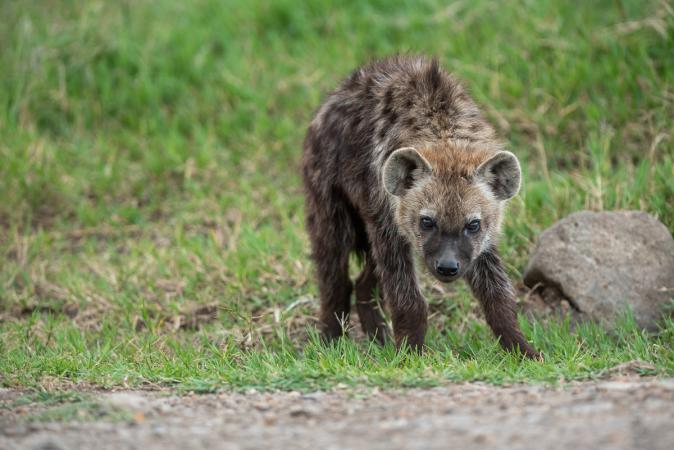 They've squatted in a drain hole, and a very small baby shows its nose, but quickly hides.
We continue our journey and see a Pied Kingfisher. We'd never seen this black-and-white species before, and it's very beautiful.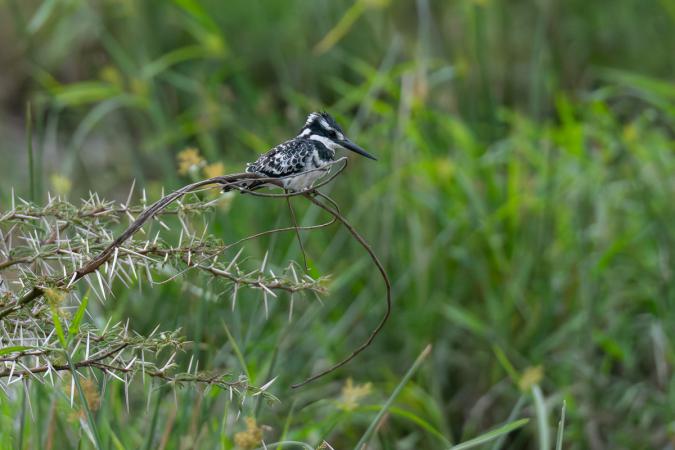 Dwarf bee-eaters rest and take turns on tree branches.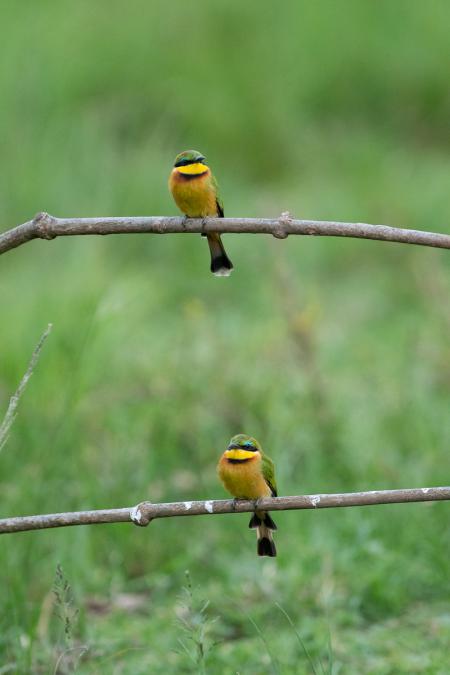 We end the day with 3 young lions whose manes are not yet fully fleshed out.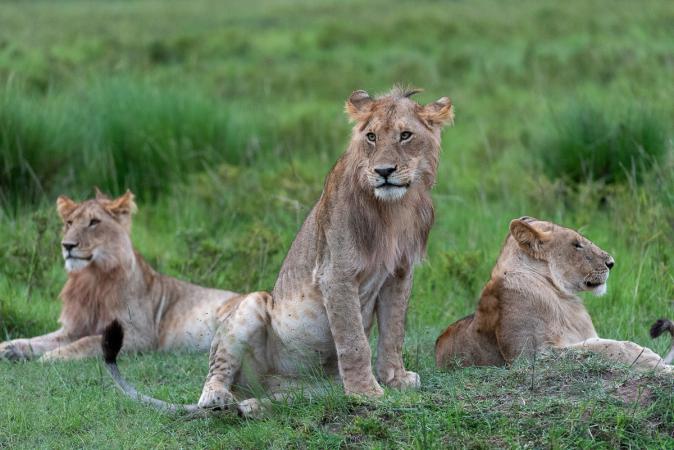 Yawning, sleeping... it's hard to be a lion! Back to camp at 6:45pm. A wonderful first day comes to an end.
Monday April 10 : a week already gone! Beautiful sunrise with an elephant on the horizon.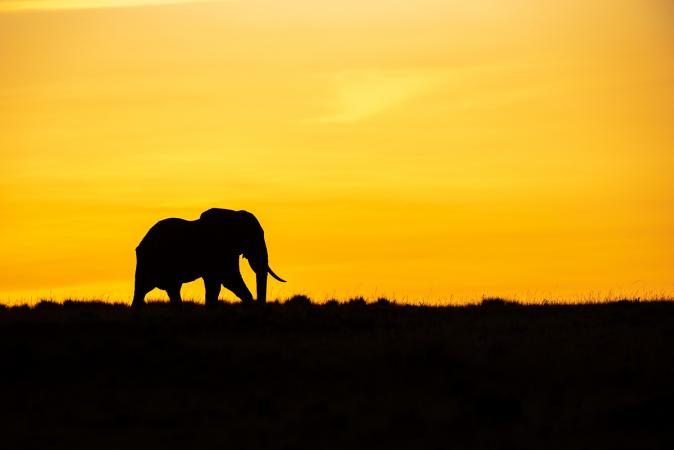 A young lion creeps through the bush in the first light of day. He's a beauty. Other elephants cross our path... or maybe it's the other way around! We witness a fight... a friendly one, apparently.

According to David, the guide, they're part of the same group, but they're showing each other who's the strongest. The sound of clashing tusks can sometimes be heard. Further on, 5 lions are devouring a warthog. There's a lot of grunting and fighting for the best bits. A lion runs off with its head,
another with a leg... Then we have fun watching a long-tailed roller, which has caught a frog. He taps it on the ground, makes it fly and then gobbles it up.
Then a varan, elephants,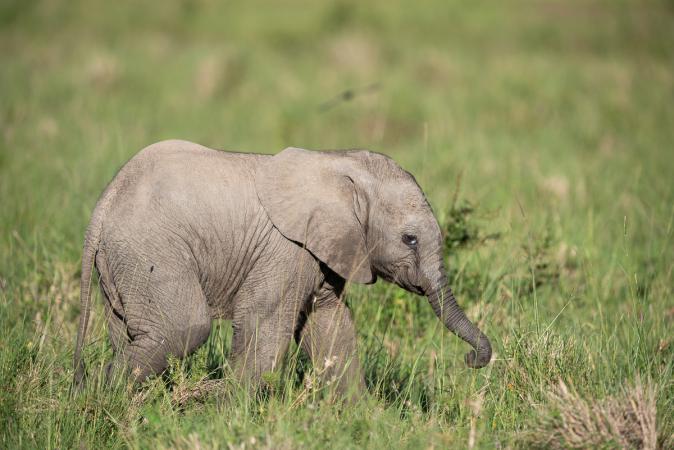 another roller. We then pass 2 lions, one of which, according to our guide, is Half Tail. Then we are hallucinated by the sight of 21 Topi Pride lions.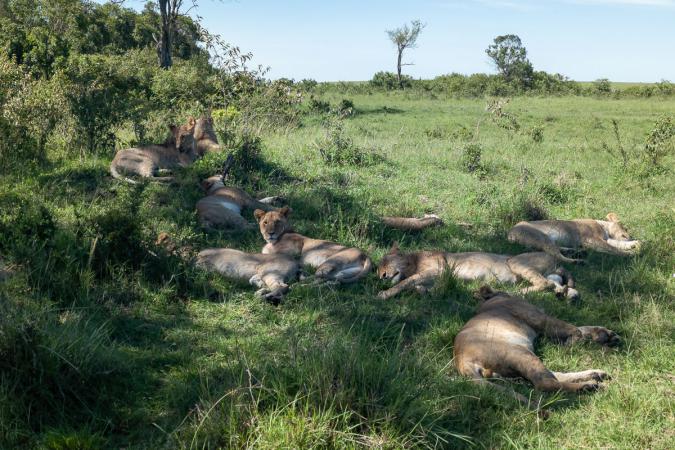 Adults and youngsters lay in the shade under the sharp eye of a martial eagle.
Look out, it's moving. The whole troop is on the move. They move from one corner to the next to wallow 300 meters away! Some stop to drink in a river. Wow!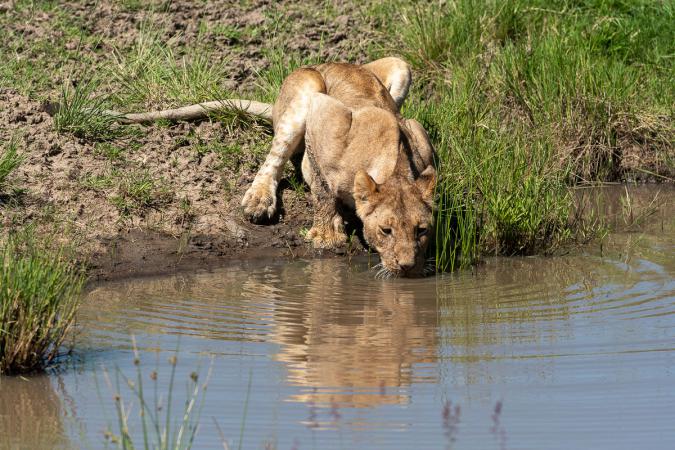 Breakfast for us too at 10.30 am in the forest. We get back on the road and see some topis,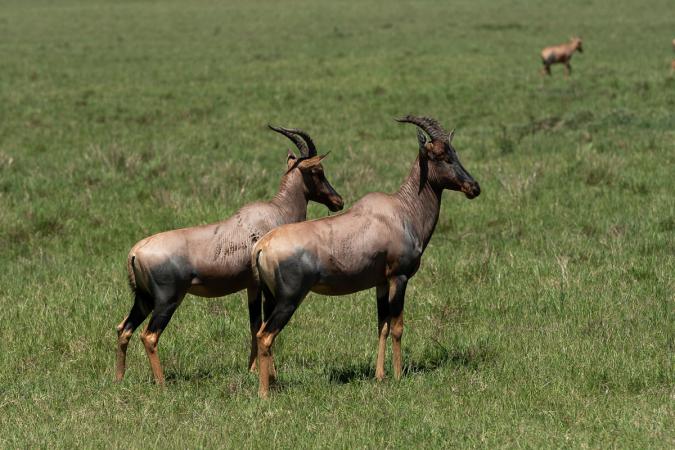 mongooses, giraffes. Return to camp at 12.10pm. Lunch at 1:00 pm. Safari at 4:00 pm. We see giraffes again. They are elegant and quiet.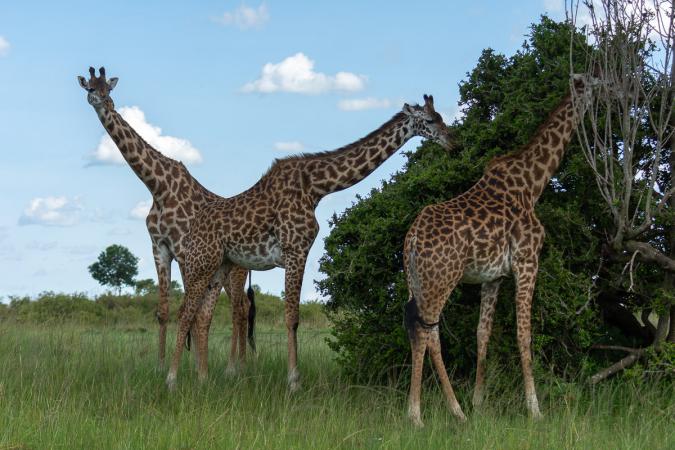 We can't hear them. On a dead tree trunk, we photograph a tree agama lizard.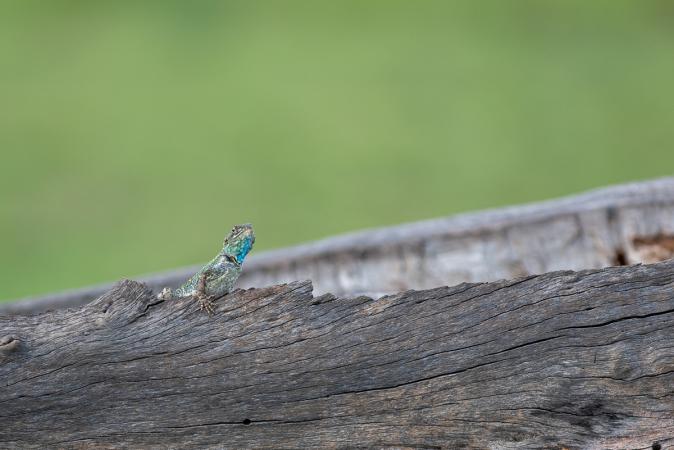 In the river, hippos have a field day with their raucous laughter. Nearby, a goliath heron perches high in a tree. Then we come upon a herd of some forty elephants of all sizes. There's a commotion: lions are very close to a small group with babies. Two elephants face the lions to ward them off, while the others protect the youngsters by placing them in the middle of the group.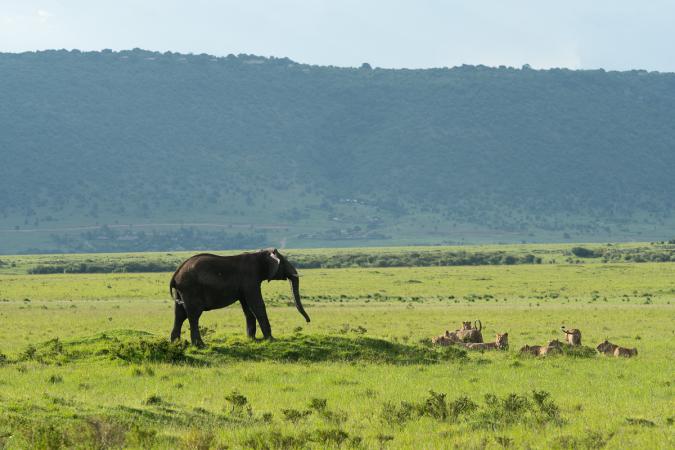 What family spirit! In the late afternoon, we head off to Hippo Pool. Compared to 2021, there aren't many hippos.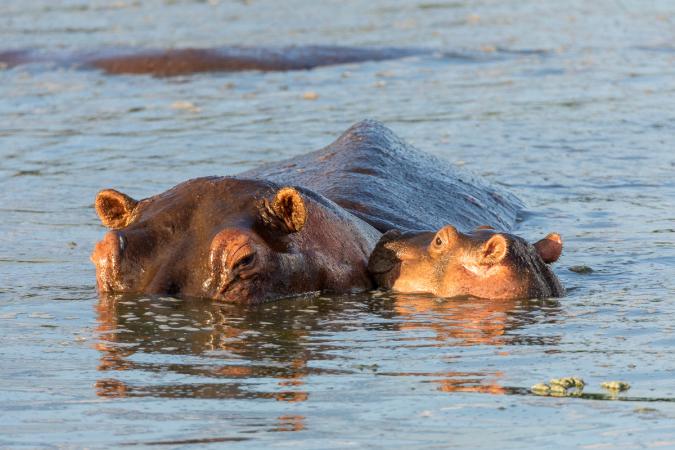 It's time to return and the sun offers us a beautiful light.
Suddenly, David stops the car, looks around, grabs the binoculars and starts off again... but not in the direction of the camp. What has he seen that we haven't spotted yet? We drive into the bush, go round in circles and at one point, the guide says "serval, here". But how does he do it? Indeed, a beautiful serval is lying in the tall grass. He gets up and gives us his best poses in the last light of day.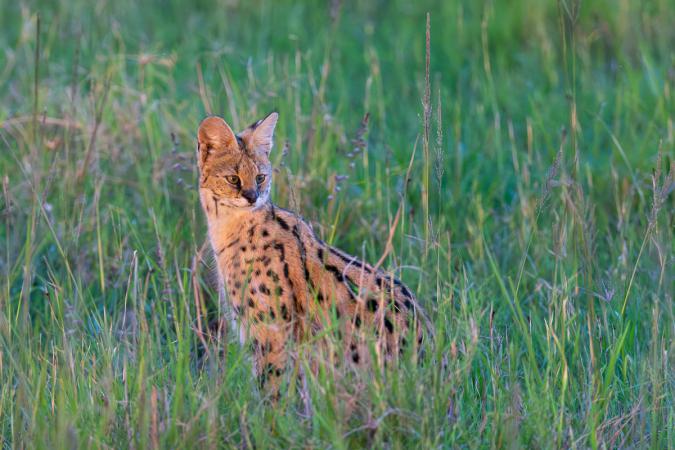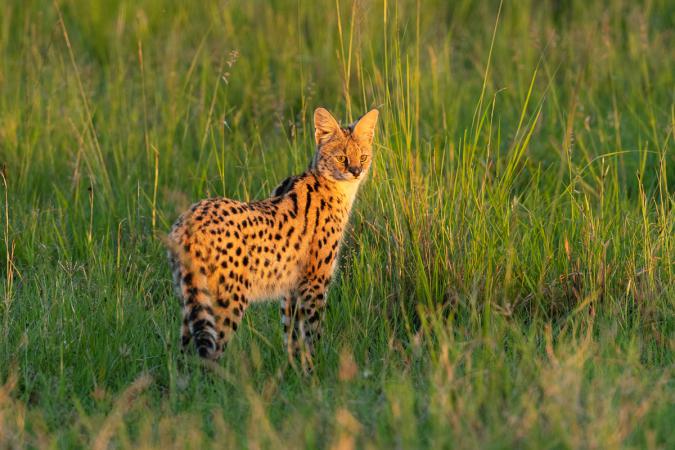 Magic! This time, it's time to go home, it's 7.00 pm. Another beautiful day to end on a high note.
Tuesday April 11 : another day, another sunrise with an elephant. Magnificent!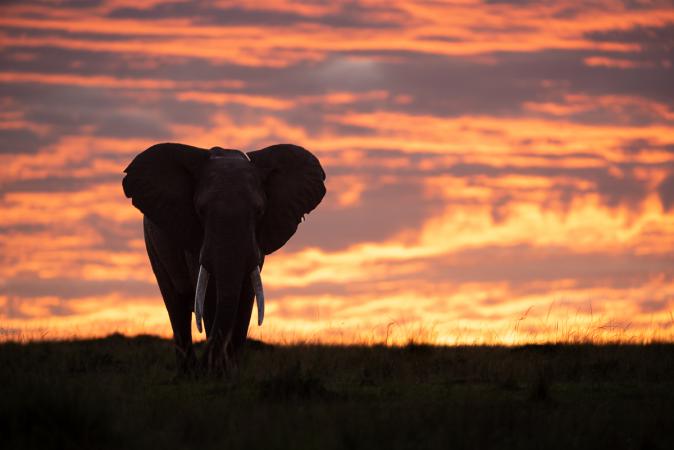 We come across warthogs, wide awake!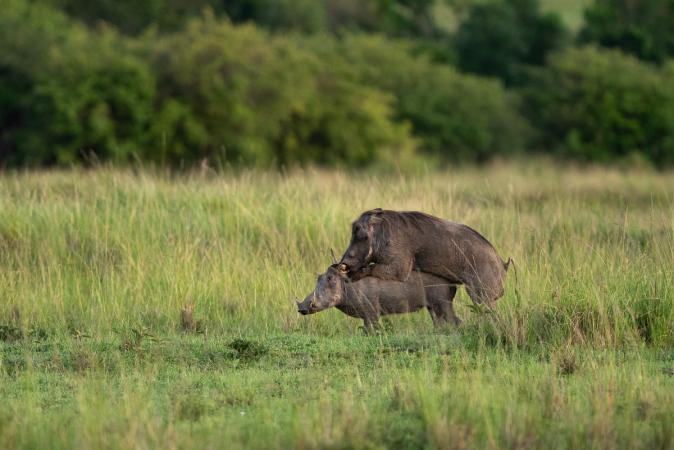 Then buffalos,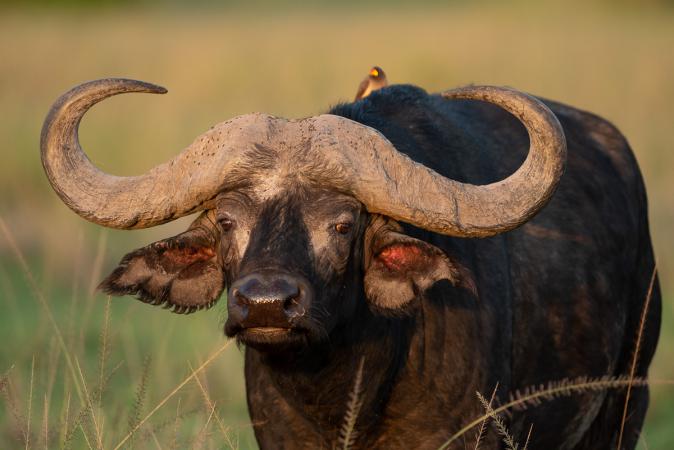 impalas, umbrellas,
ibis tantals, Half Tail and its group of lions,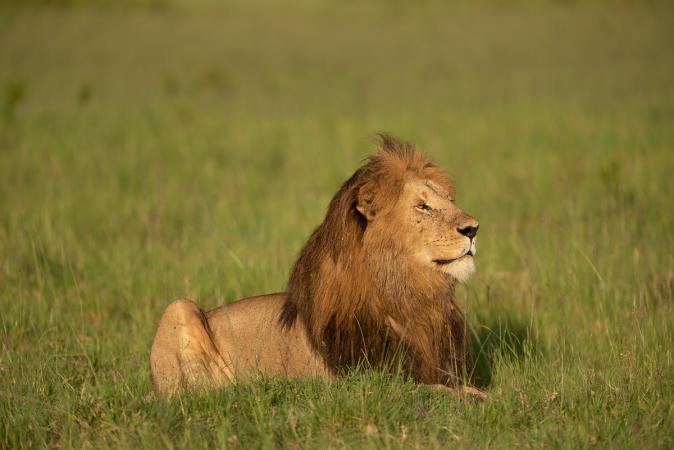 cobes,
a varan, a roller, elephants, an eagle and a yellow-throated sentinel lark. We reach Paradise Plain. We meet a bucorve, also known as a ground hornbill,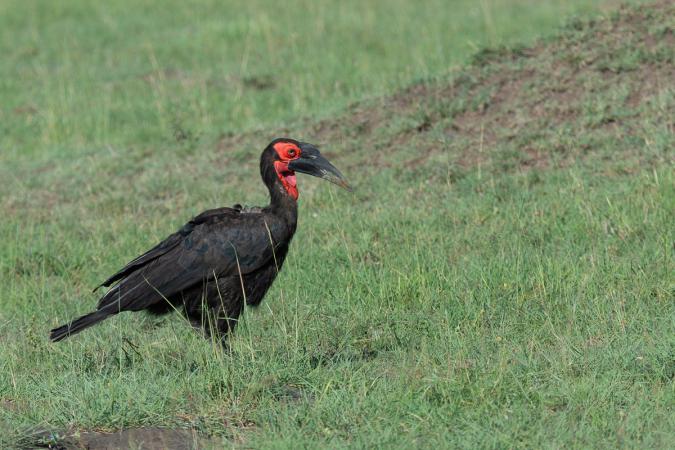 Thomson's gazelles, topis, a roller, hartebeests, the Kibokoyo lion, hippos in the Mara as well as crocodiles and a bee-eater.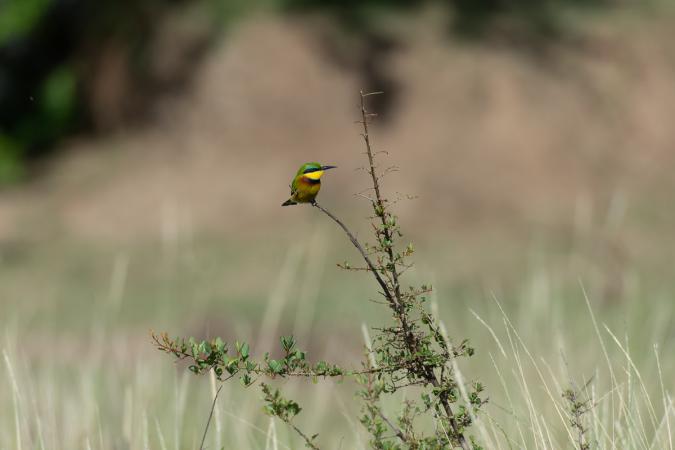 Strangely, we see neither wildebeest nor zebra. We ask the guide why, and he tells us they're further away on the other side of the river. We have breakfast on the edge of the Mara with the Dieppois and their driver-guide Albert. The rest of the safari takes us close to the giraffes,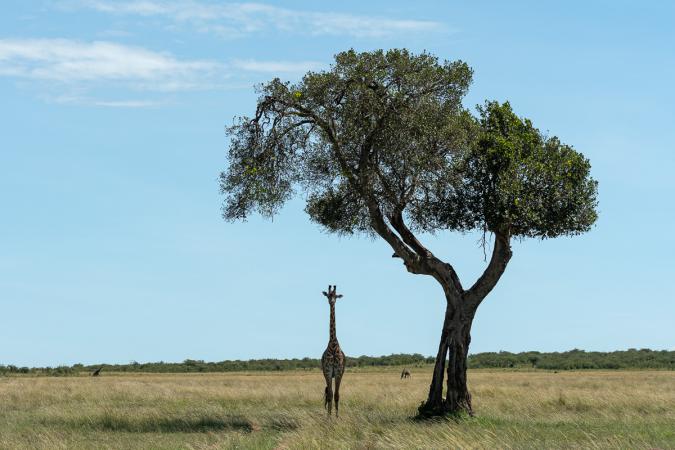 an impala with a baby,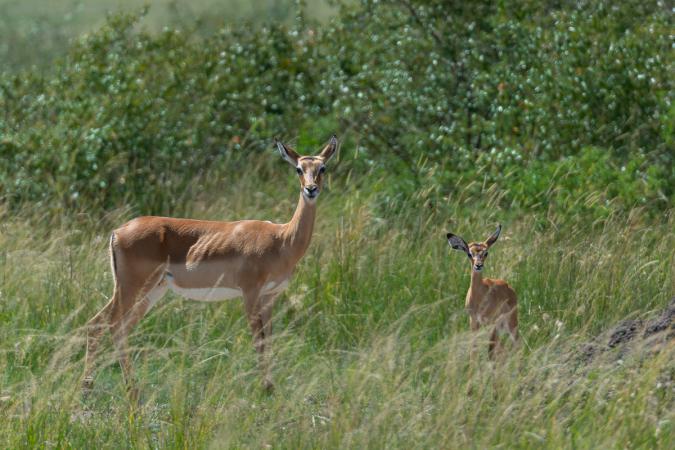 elephants with yet another cute baby,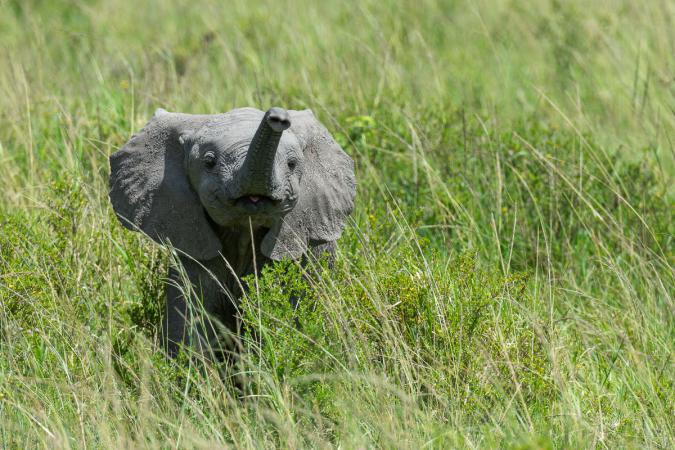 black-faced monkeys, warthogs, including one in its own mud bath,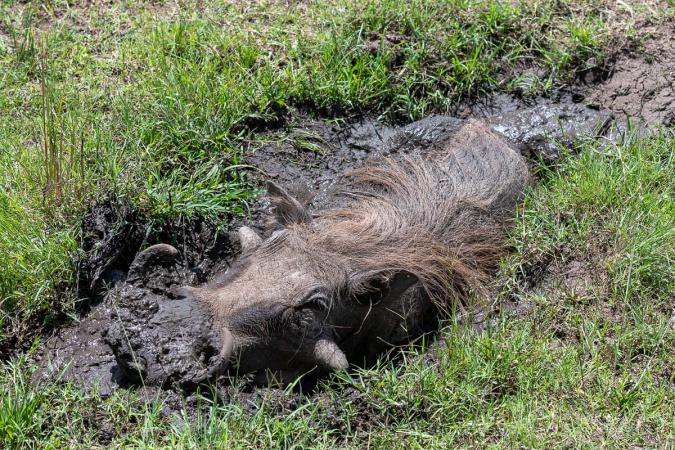 cobes, a mongoose.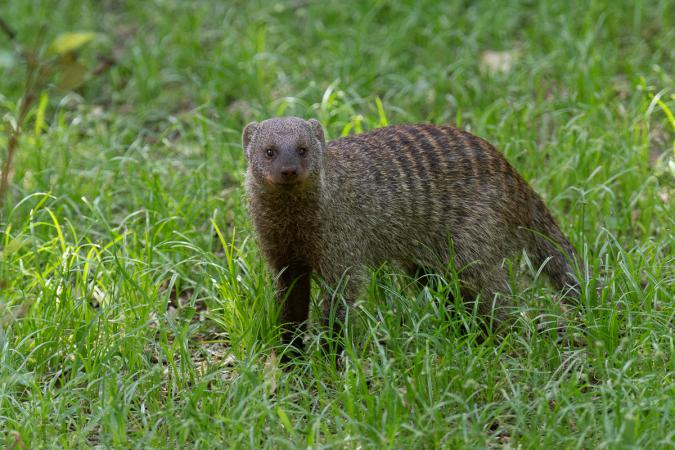 Back to camp at 12:00. We set off at 4:00 pm in the rain, so the roof is closed. We still see crocodiles,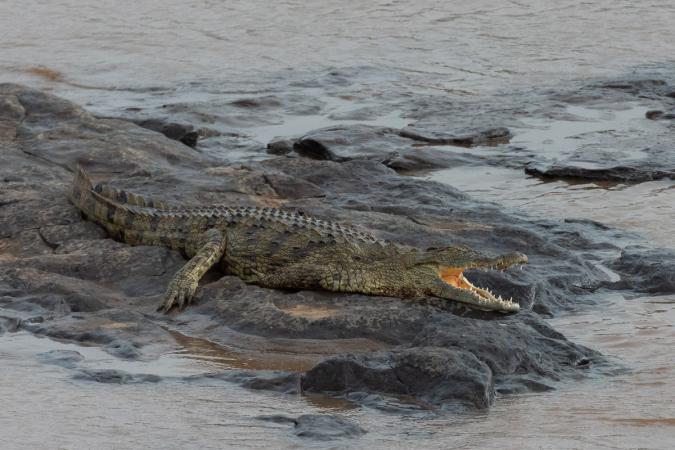 hippos and baboons,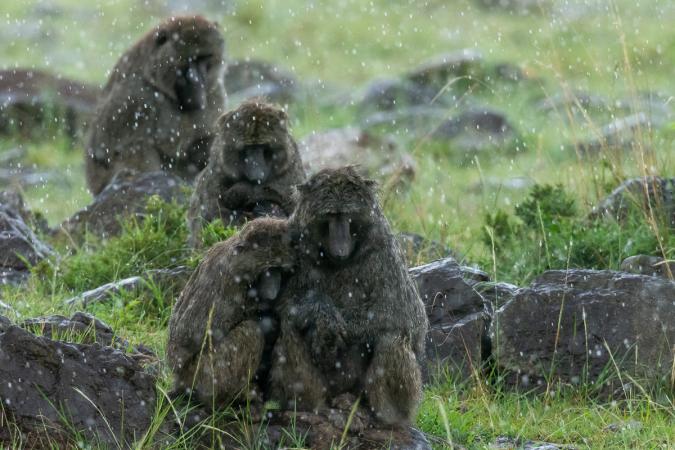 elephants, one of them rubbing against a tree. Now that's a good scratch!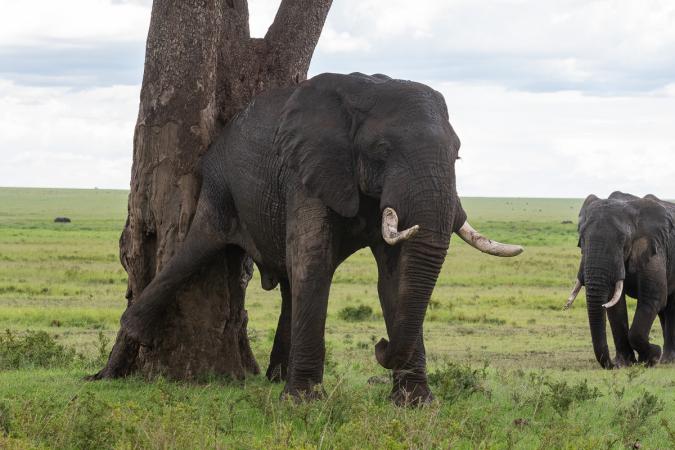 Next, we photograph a jabiru that has just caught a frog.
Then we meet the lioness Kito and her cute baby.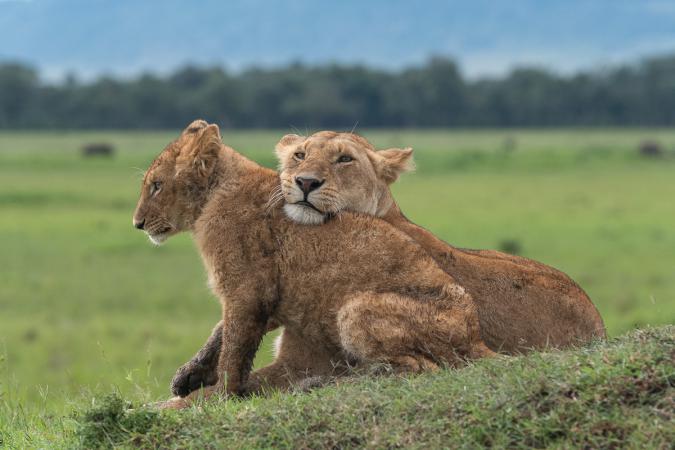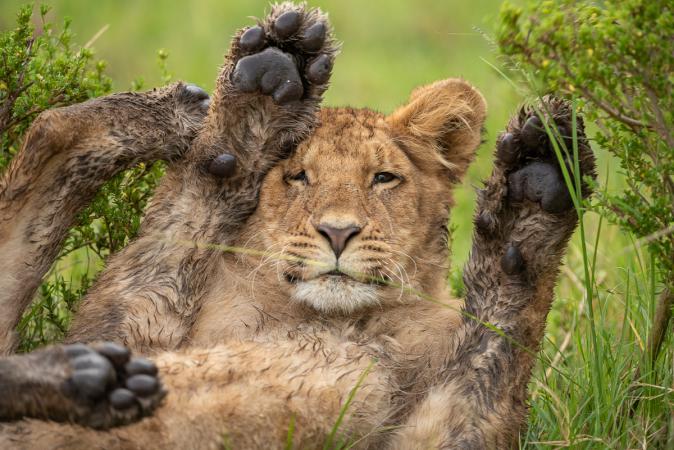 Further on, Half Tail is in full swing!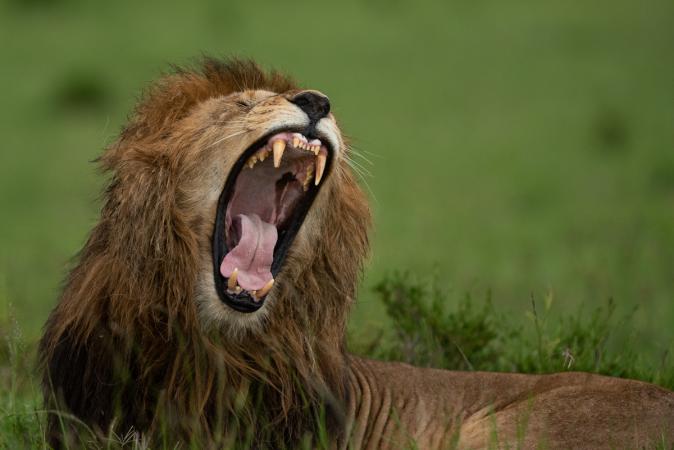 A hartebeest,
a topi and the day ends under a very cloudy but photogenic sky.
Wednesday April 12 : just outside camp, lion Doa (one of the "6 boys") sniffs the morning air in the beautiful sunrise light.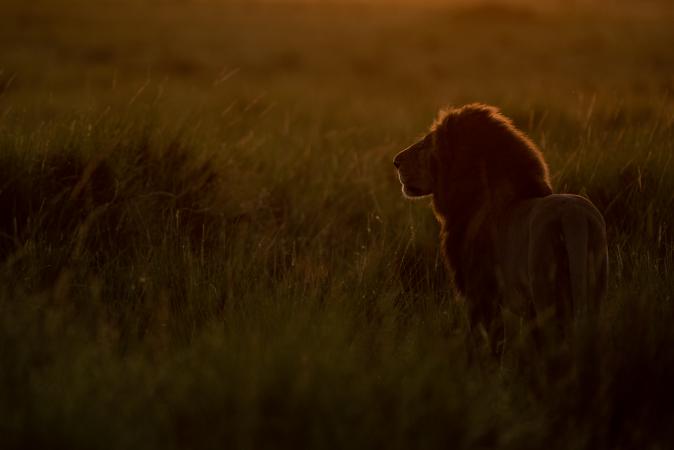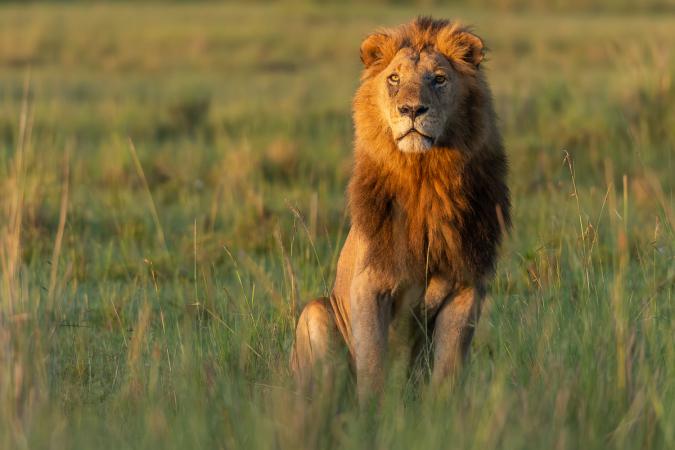 He felt Yaya and his grandchildren lying in the tall grass. We continue on our way. We see elephants and a roller,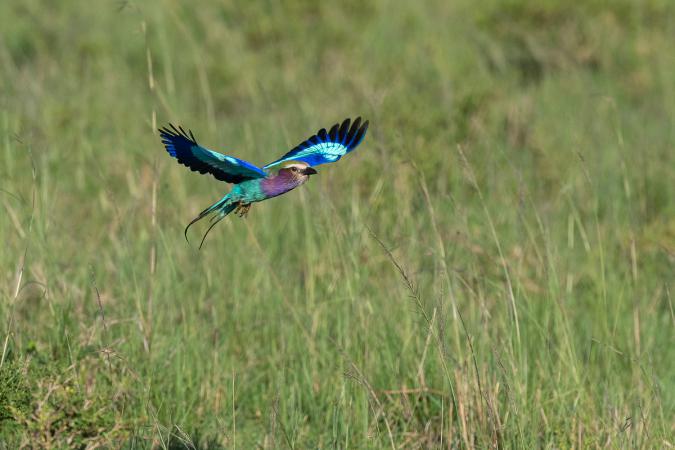 a varan, a reedbuck, a striated swallow,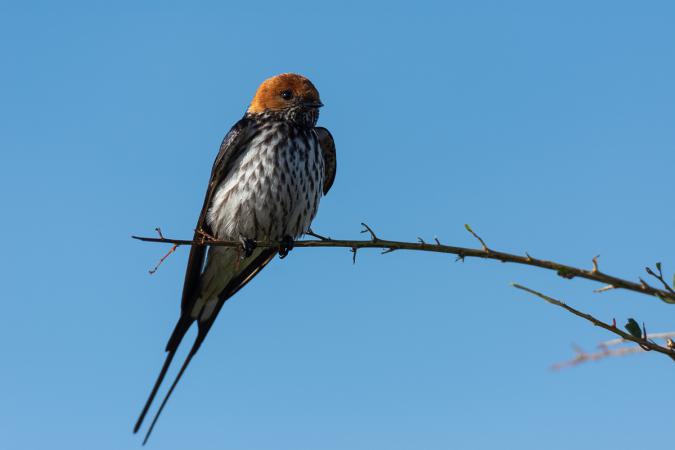 Grant's gazelles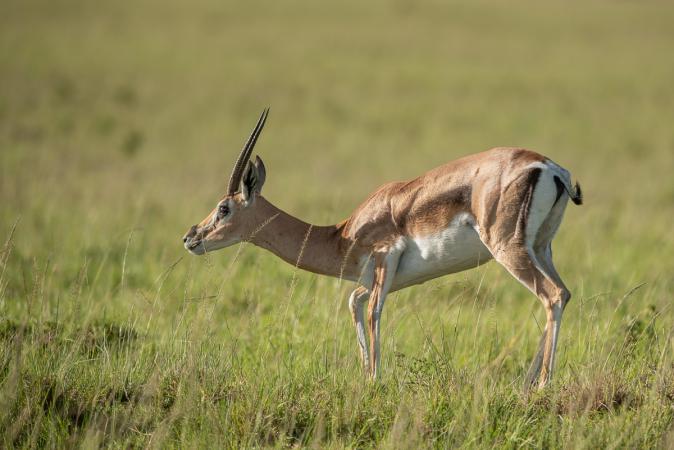 and Thomson's, mongooses, topis and a Kori bustard.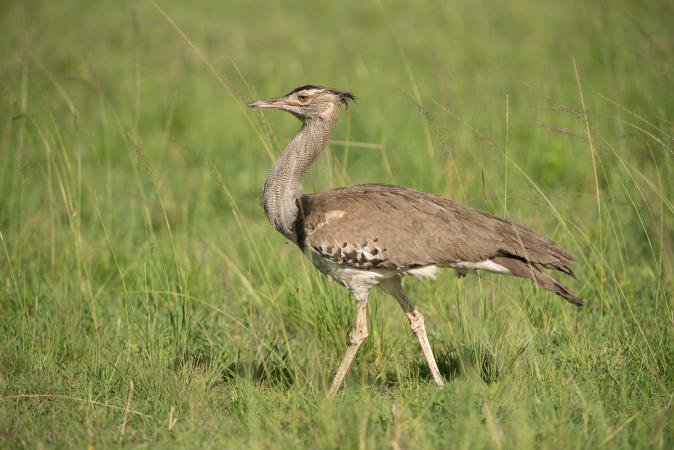 A little further on, 2 secretary birds show off their puffs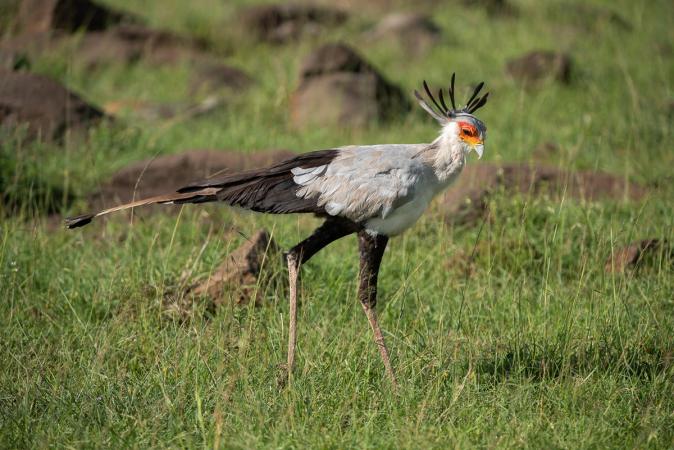 then lions. They are covered in flies. They must have eaten not long ago.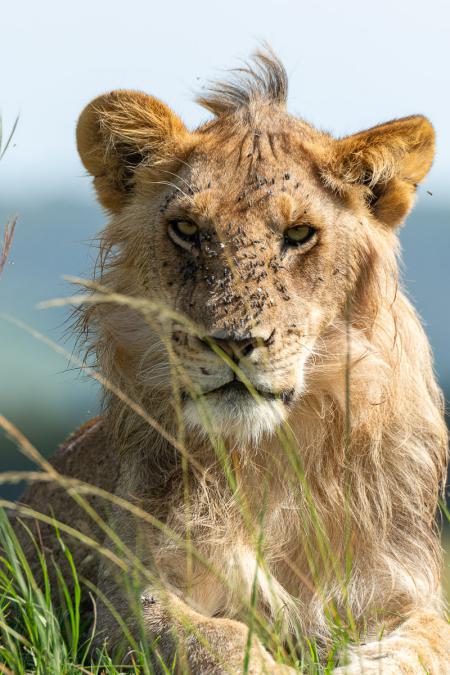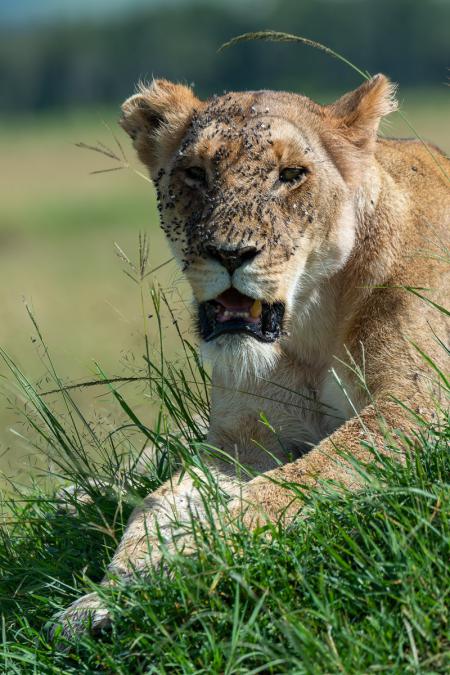 On our way to breakfast, we find ourselves in the middle of some sixty elephants of all sizes. It's all very impressive. We don't know which one to photograph.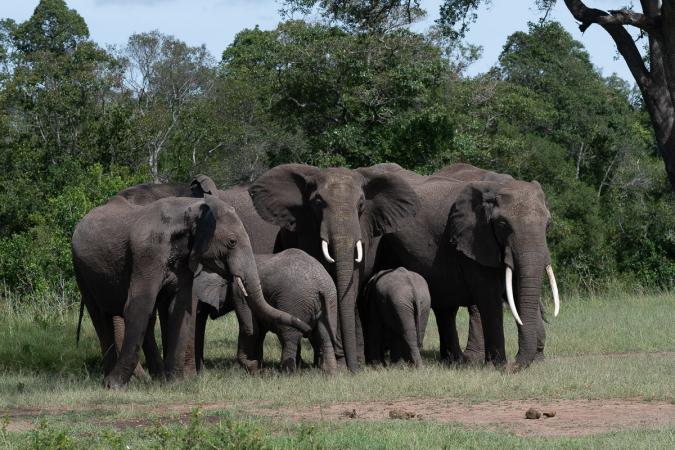 As a result, we eat late, around 11.00 am. On the way back to camp, we come across warthogs and giraffes.
Back to camp at 12:00. At 3:30 pm, it starts to storm with heavy rain. We wait a while before joining our guide at 4:15pm. The roof of the car is down, as are the plastic "windows". Yaya and the youngsters are still around.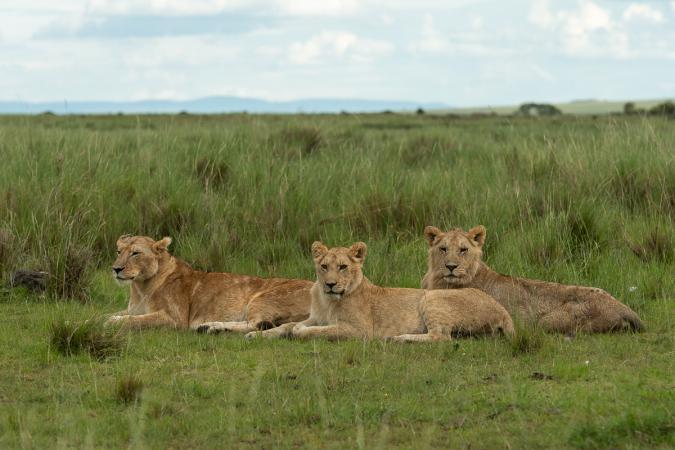 as well as Doa.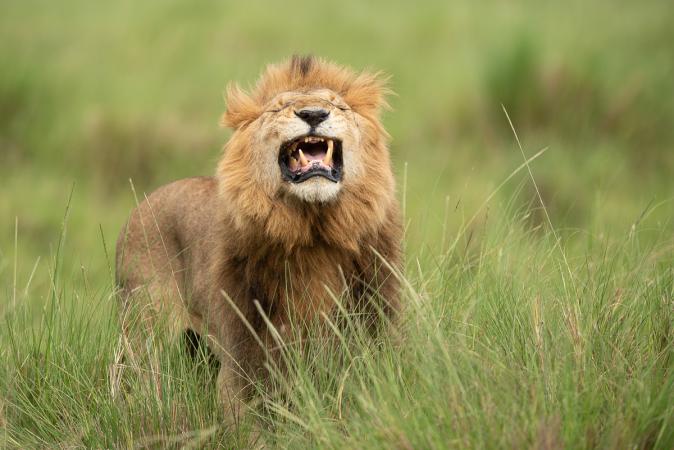 Further on, we stop in front of some beautiful giraffes.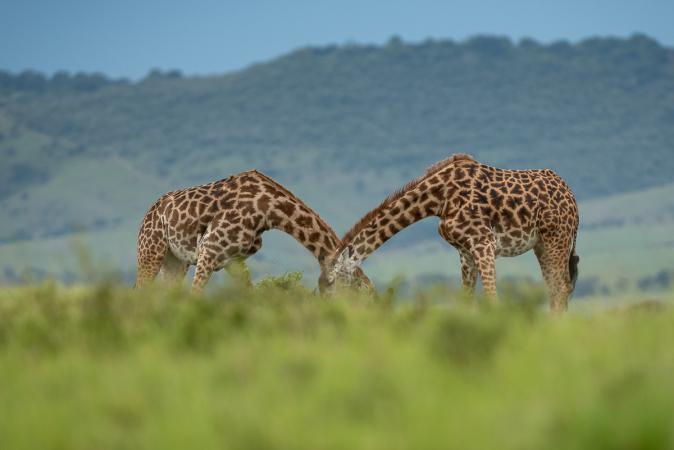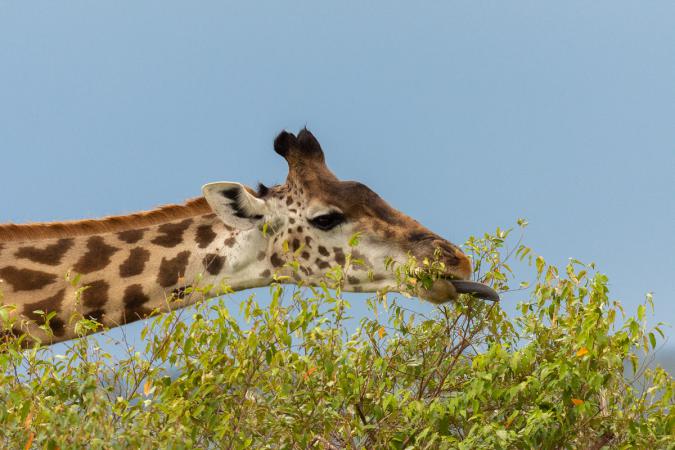 We peeked into the forest to see if Romi the leopard had returned, but to no avail. We see impalas and baboons in a tree,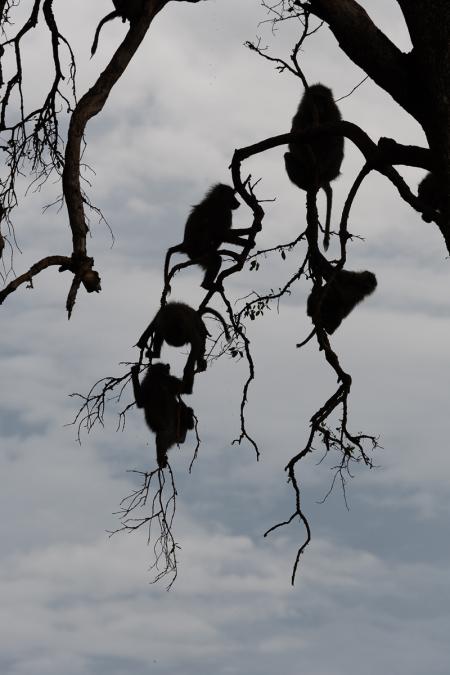 black-faced monkeys, an elephant trying to grab food from a tree,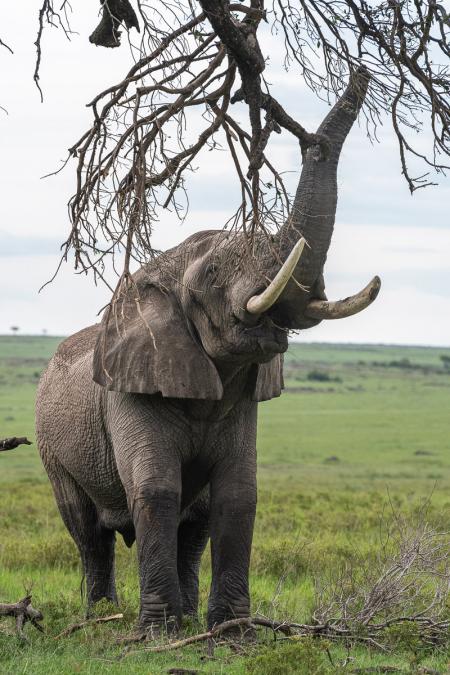 a ground hornbill that finds happiness in elephant poop, yuck!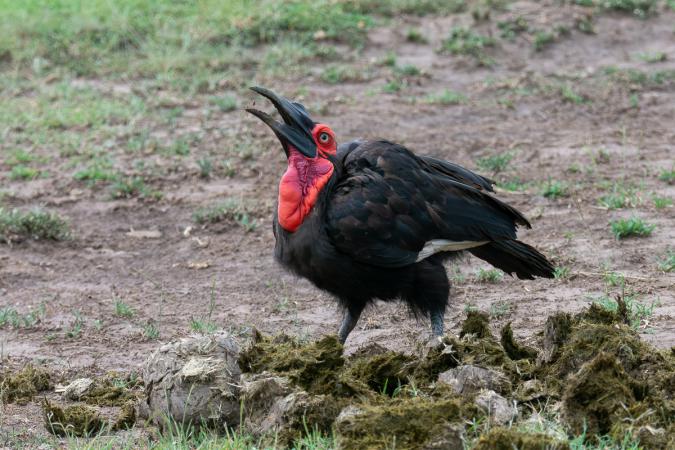 Back to camp at 6.30pm.
Thursday April 13 : jackals on the prowl, lying in wait... We understand when we see the lion Doa next to a dead young hippo.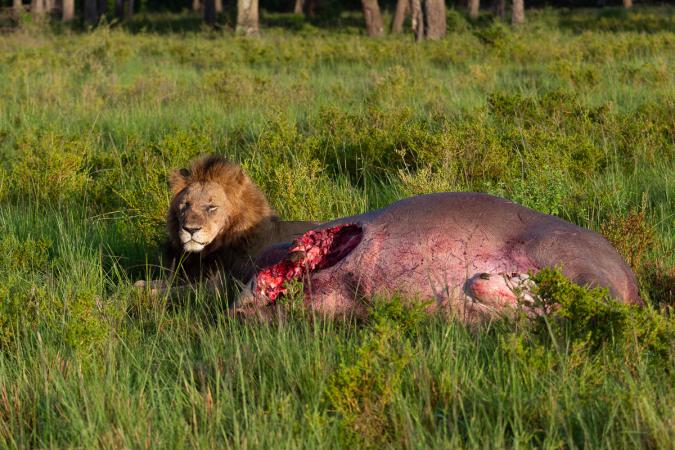 He protects his prey. A vulture watches from the top of his tree.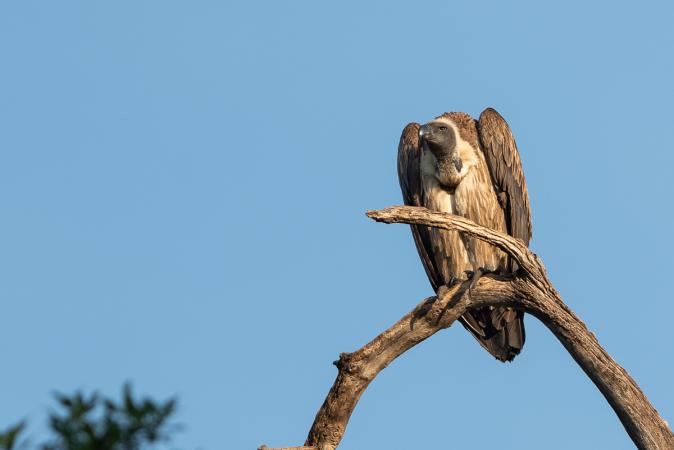 The elephant in the background is more interested in scratching his bottom before joining a small group of companions. A few metres away, our guide spots another serval. What a beautiful animal!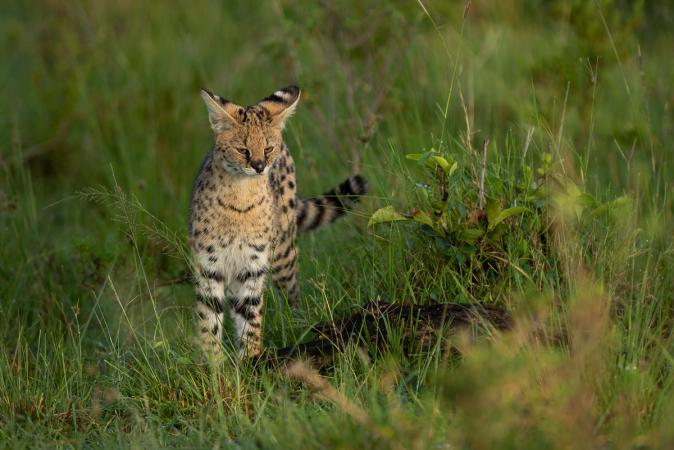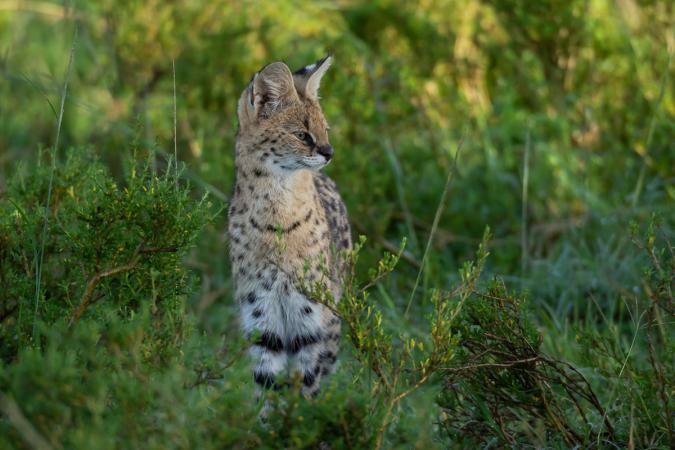 It is superb. Continuing on, we see a ground hornbill, warthogs, mongooses, hyenas and 3 babies, 2 elands,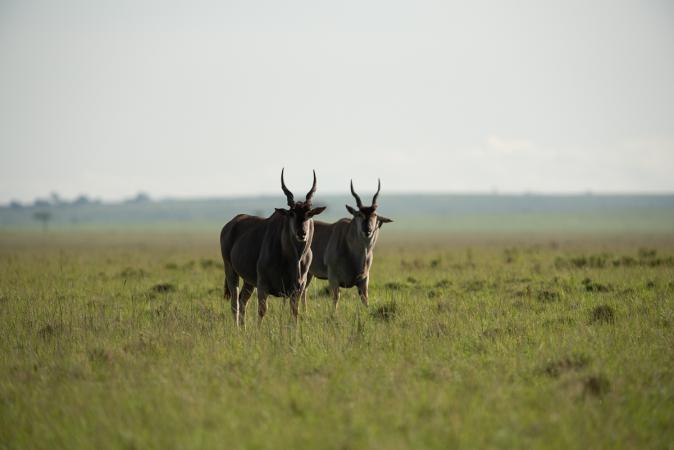 a turtle, ostriches, hartebeests and yellow-rumped euplect birds.
We go far south in the Masaï-Mara and cross a river right next to a striated heron.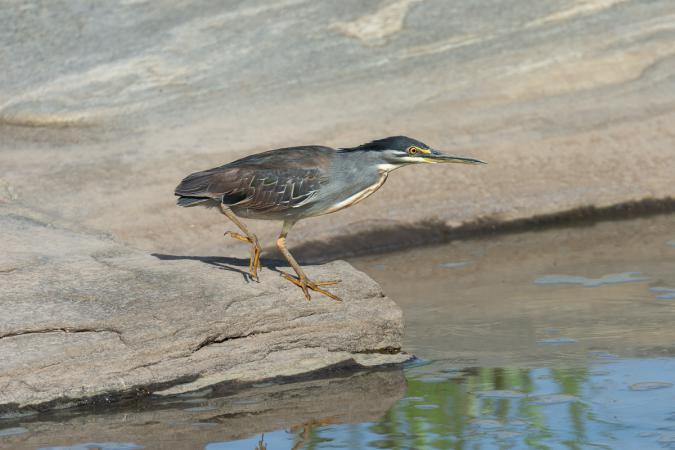 Then hyenas again on a topi carcass,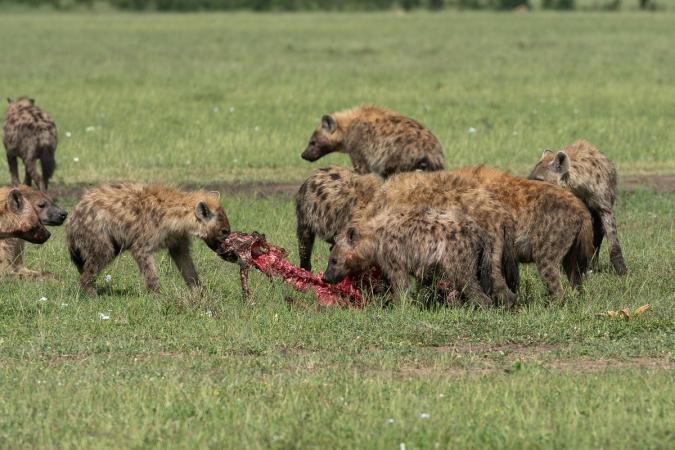 jackals and marabouts wait for their share.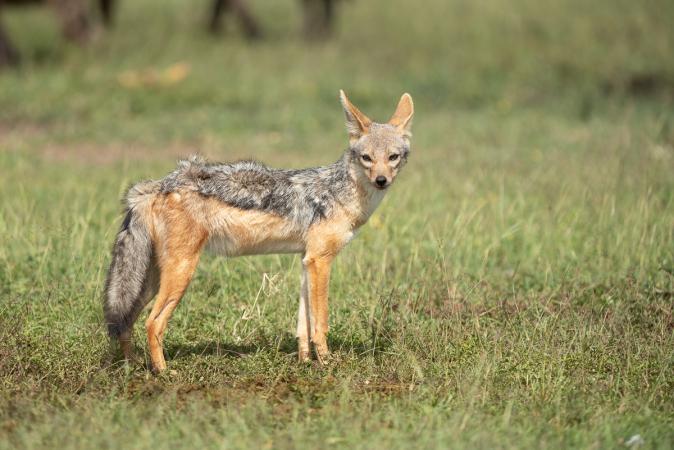 The aim of the whole route was to see cheetahs. The guide got some info and 2 cheetahs are trying to hunt without success. They were in Tanzania yesterday. They are 2 brothers - there were 5 of them but the others are dead. We had already seen this group of 5 in 2021, and recognized one of them by the marks or scratches on his head.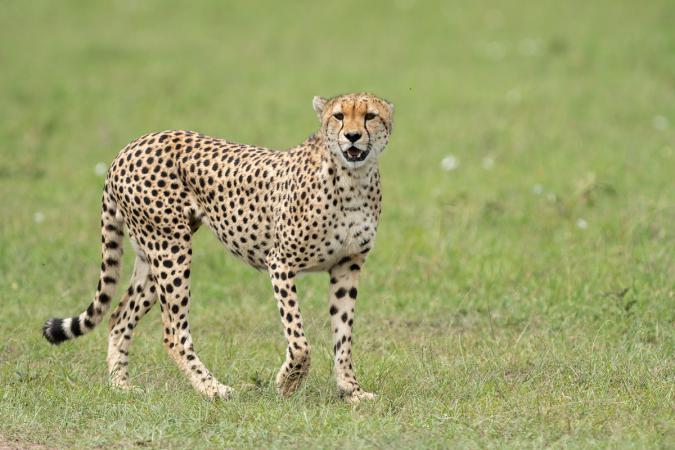 We then pass a Kori bustard, before going to breakfast at around 11.00 am. We go back to see the cheetahs, but they're not determined to hunt. It's time to head back, there's a lot of road ahead. We leave the park via Talek Gate to join a fairly rolling track. Then we re-enter the park via Mpuai Gate, passing Double Crossing and then Musiara Gate. We're not sure what we did, but we went flat out! We did 95 kms. We arrive at camp at 1pm. There's only the 4 of us left in the camp, as all the other Meltingpotians have left. It's a bit weird. At the table, we're served by the plate and the dishes are superbly presented. The afternoon safari starts later, at 5.00 pm. 300 meters from the camp, David, who is talking on the phone, stops the car engine. When it's time to restart, nothing happens. Not a click, nothing! Oops! The guide looks under the hood, tries to start again, nothing. He calls MPS technical assistance. A guy arrives with Wilson, one of the driver-guides. Well, we won't be able to get back to camp in it, it's an SUV utilitarian. The 3 of them look under the hood, then ask us to get out of the car. Are you serious?! Yesterday, there were lions in this place! Well, we get out and they try to tow the car in an attempt to restart the engine, but it doesn't work.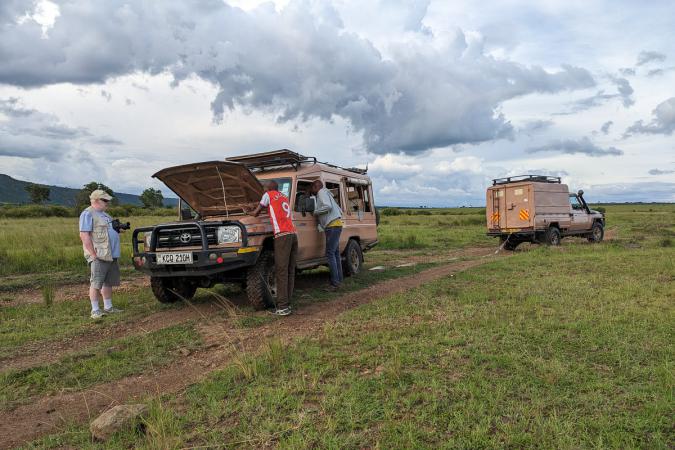 The guy then goes back to the camp to get a cable which he plugs into the engine. Meanwhile, we keep an eye on the surrounding area. Another tow and the car starts. Apparently, it's a big problem. The guide suggests we go on safari, but it's going to be dark in less than an hour, and we don't want to spend the night in the bush. We prefer to go home, as it's 6.00 pm.
Friday April 14 : one last beautiful sunrise with an impala and a monkey in front.
Magnificent. We return to see the hippo carcass being devoured by the brothers of the "6 boys" gang: Kiok, Doa, Koshoke and the one-eyed Chongo.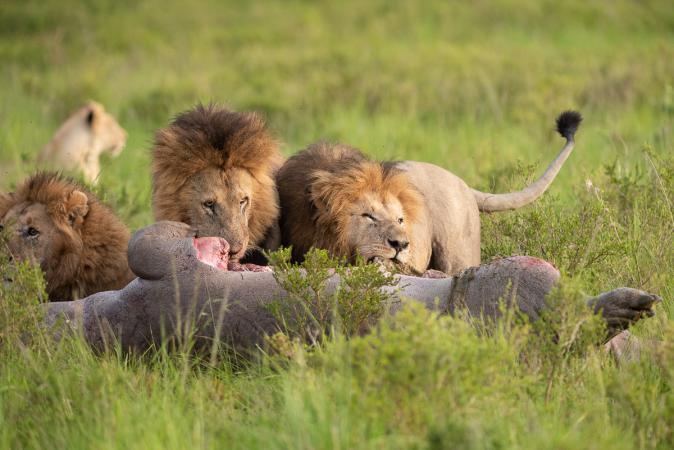 Only Kibokoyo misses the feast. Yaya is also there with her little daughter. The young male stays further away at the edge of the forest, as it could be dangerous for him to approach these large males. The young female risks an approach for a bite to eat, but is chased by one of the males. There's a bit of growling and Yaya is barking. Then 2 others head for the young lion. It's going to end badly... Meanwhile, Yaya takes the opportunity to take a bite of meat.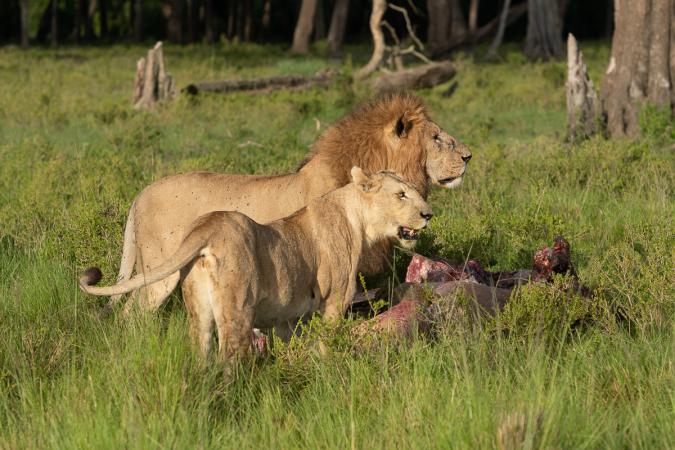 Is the young lady looking for trouble or what? She's chased away again. Finally, everyone calms down, and Yaya and the 2 youngsters move off a little. Around this feast, there are hyenas being chased too, jackals, marabouts, vultures in the trees.
They wait to finish the leftovers. We keep going for a while to say goodbye to the elephants and all the little "trumpets".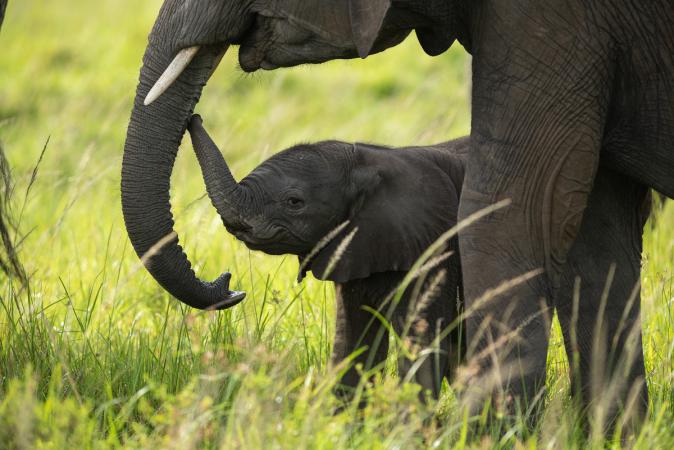 We've seen a hell of a lot of elephants this year. What a luck! Then we come across a family of warthogs.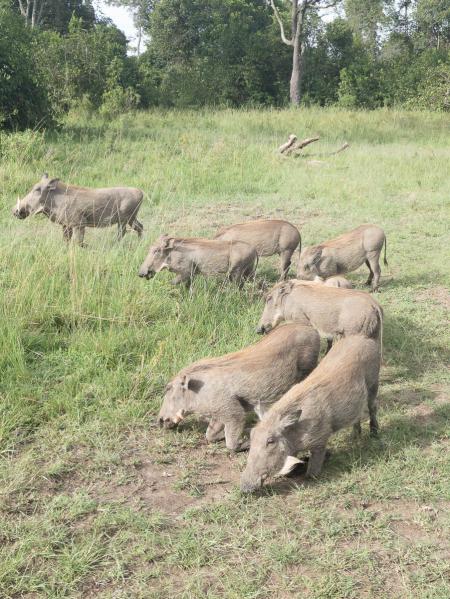 At 9:00 am, we have our last breakfast near the Mara River. It's so nice here. Then it's back to camp, where we see Grant's gazelles, Yaya and his grandchildren,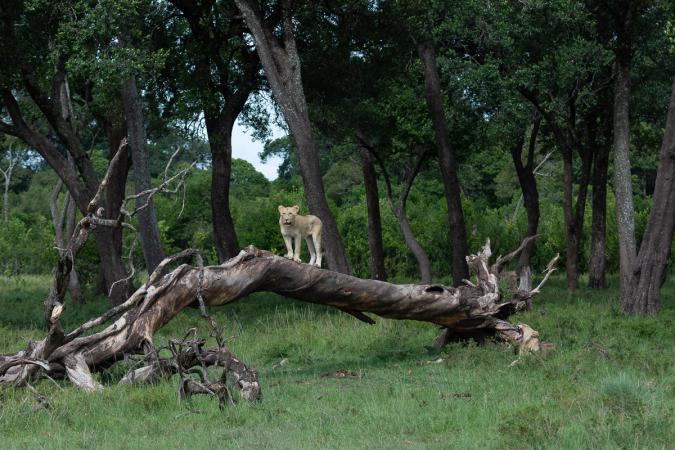 vultures on the hippo carcass.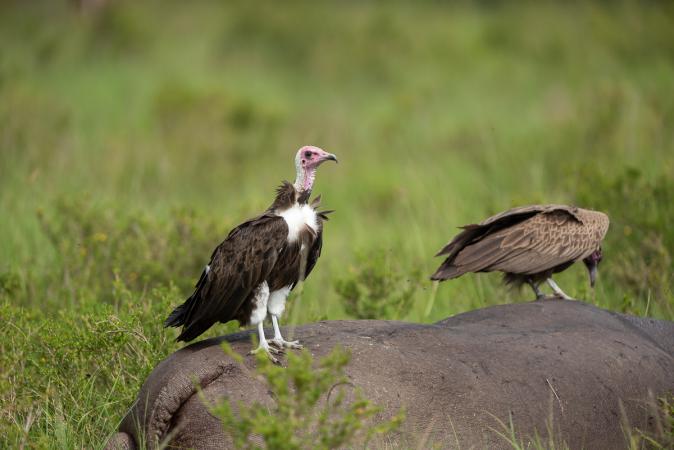 We arrive at camp at 10:00 am. We take a final shower under the trees and pack our bags. Lunch at 11:15am. Then we leave the camp at noon with our souls in pain, heading for Nairobi. Our guide David has a few days off, so he heads down a few kilometers past the camp to join his village and family. Another guide takes the wheel, and we pick up another in a village further on. Inside the car, it's pretty quiet, apart from the 2 guides talking to each other. It starts to rain. On the "road of death", at the level of the Rift Valley, it's complicated. There's a lot of clogging and overtaking. What's more, the driver is also overtaking, but there are cars coming in front, so instead of turning back, he goes straight over to the other side, onto the median! Wow! Otherwise, he overtakes on the left (in Kenya, we drive on the left)! How folksy! Well, we finally arrive alive at Roussel House at 5pm. A cab with a minivan takes us to the airport at 7pm. To enter the airport, car passengers have to walk through a security building, without bags or anything. Inside the airport, we pass through a security gate with all suitcases and bags, then check-in, customs, and security again with hand luggage. All this in 30 minutes! We dine on burgers at 8.30pm. We board and take off on time at 11.30pm. 
Saturday April 15 : sleep or try to. We skip the meal, not hungry. But we take the breakfast snack before landing at Paris CDG at 6.45am. The border crossing is extremely long, taking 1h30. All African flights arrive at the same time, as well as flights from the USA. And half the automatic gates are out of order. This is France! We pick up our luggage, which has been removed from the conveyor belts and placed next to them. We take a cab at 9:00 a.m., not wanting to take the metro. We drop Stephane and Etienne off near their home and continue to Gare d'Austerlitz. Here too, everything is well signposted, and we circle twice to find the RER C to Etampes. We arrive at 11:30 and David's sister drives us home at 11:45.
Another superb trip with our friends comes to an end...
After our first trip in 2021, we had high expectations for this one. Although different, we were delighted with this trip.
The first difference was that the savannah and bush were green. The recent rains have done the land a world of good, and it's now green. Secondly, there were no large herds of wildebeest, zebra or antelope in the Masaï-Mara. On the other hand, we saw an enormous number of elephants.
My pre-departure hopes were to see Craig, one of Amboseli's last great tuskers. I also wanted to meet generuks, those strange giraffe-necked gazelles, as well as the elegant crowned cranes. My wishes were realized... and exceeded by all that we saw: 91 species of animals including 56 species of birds, elephants in great numbers with adorable cubs, a pride of lions (the Topi Pride), a leopard, two servals... All in all, a magnificent trip!