Saturday september 21 : we leave home at 3:30pm. There are many cars in Paris. We arrive at Parkinéo at 5:40 pm which takes us to Roissy CDG. There is a crazy world at check-in at Ethiopian Airlines. We never saw that. It takes 1h30 to go to the registration. However, it goes pretty fast to the security check except that they made me open and completely empty my camera bag. Quick snack. We board at 9:30pm. We take off at 10:15 pm It is an Airbus A350, it is rather quiet and there is room for the legs. On the other hand, the hostesses are not very friendly. After an hour, we are given food. We thought we had no meal on board and it's why we had a snack before boarding. So, we are not very hungry! We sleep most of the flight.
Sunday september 22 : we land in Addis Abeba, Ethiopia at 6:10 am local time (+1h compared to France). We pass security. For boarding, we take a bus to go to the plane and we lift off at 9 am after a 30 minutes delay. We catch up the delay during the flight because we arrive at Windhoek on tume (1:20 am local time which is also France time. We get out of the plane on the tarmac.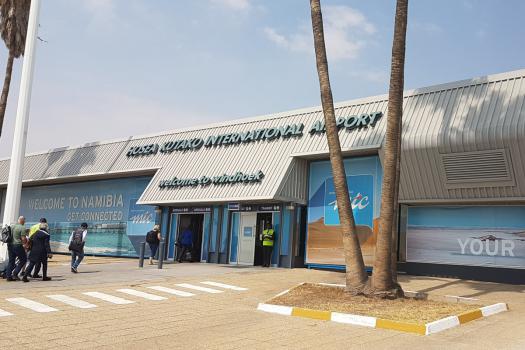 We are greeted by Serge of Damarana Safaris.  He helps us for the change of money (namibian dollars),  for the car at Avis and shows us a lot of things about the car. He advises us to drive at 80kms/h on paved roads instead of 120kms/h and at 60kms/h on gravel roads instead of 80kms/h.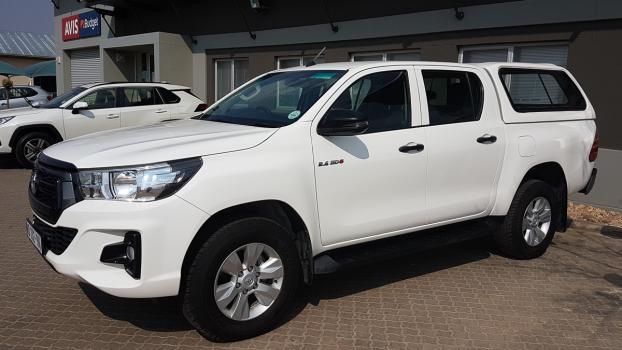 He gives us documentation, a plan and a SIM card that we can hardly install in my old cell phone or in David's one. We finally understand that this SIM card does not work with our phones because they are lock with our operator. Fortunately, my new cell phone is not "Orange" blocked and it works. We leave Avis at 4:30 pm. We stop to buy water and we go to Windhoek. We can already see  warthogs and guinea fowl along the road. The entry in the city gives us a strange feeling : all the fences of the houses are surmonted by barbed wire – against babbones or thieves ? We arrive at Londiningi Guesthouse at 5:30 pm. We park in the yard. The room is quite simple but not bad. We rest a little before having a good shower. For dinner : soup, antelops-carotts-spinach, fine apple pie. Very good meal.
Monday september 23 : up 6:15am. Breakfast (buffet) with orange blossom pancakes. Departure at 8:10am for Okahandja to do some shopping. Similar landscapes can be found in the United States: desert, open spaces, infinite straight roads, crimson vegetation and some slums. Namibians are crossing the 2x2 lanes roads no matter how. We do some shopping at the Super Spar as well as a recharge card for the phone and full of gas. And we see a first little child claiming money. It is 22 °, the sky is misty white blue. On the road a guy stops us, there are other guys and a chick. He wants to know if we are going to Swakopmund to bring someone. It's not very reassuring. We leave the paved road to attack our first track ... corrugated iron, to go to the Waterberg Plateau Park. 12:45, we arrive in the Park. We pay $ 170 N for us 2 (80 x 2 people + 10 for the car = 10 €). We go to the Mountain View Trail. The trail goes through the forest and it climbs. It takes 30 minutes to get to the point of view. We are at 1650m altitude. We have an incredible view on a plateau. It is flat.

While going down we see some kinds of marmots, dik-diks and mongoose.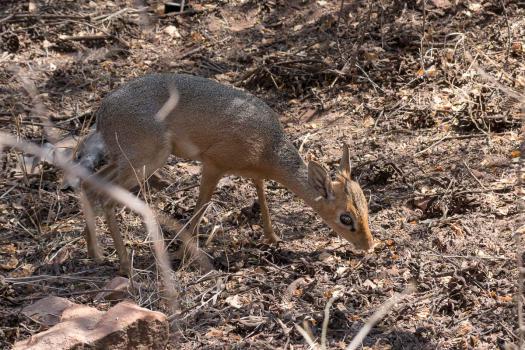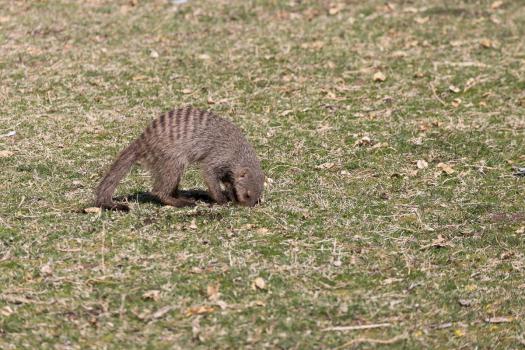 We fill up at the Visitors Center and we leave the park. We make a few kilometers to reach the Waterberg Plateau Lodge at 3:30pm. First hut at the entrance to indicate that we have a reservation. At the reception, we are given the chalet 7 and we must climb the mountain with our car. It is 3:45 pm and there is a rhinos drive at 4:00 pm on the grounds of the lodge reserve. We leave the car at the cottage, we take the cameras and we quickly returned next to the restaurant to leave. We ride in a big 4WD with 8 other people. After 1h15, we see white rhinos. There are 6 including a baby. Wow ! We get out of the car to approach them. It's impressive !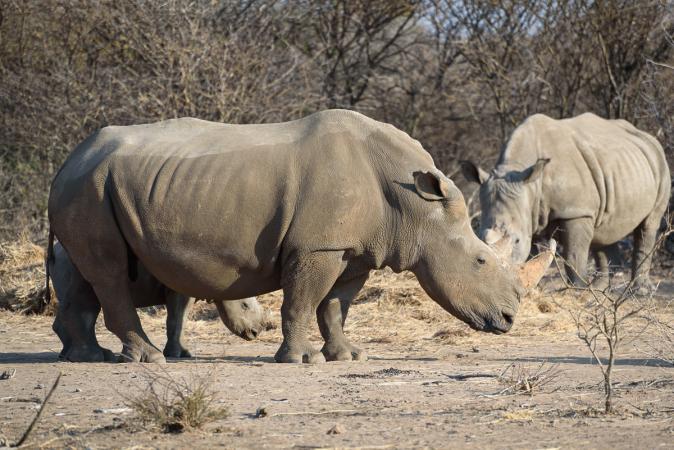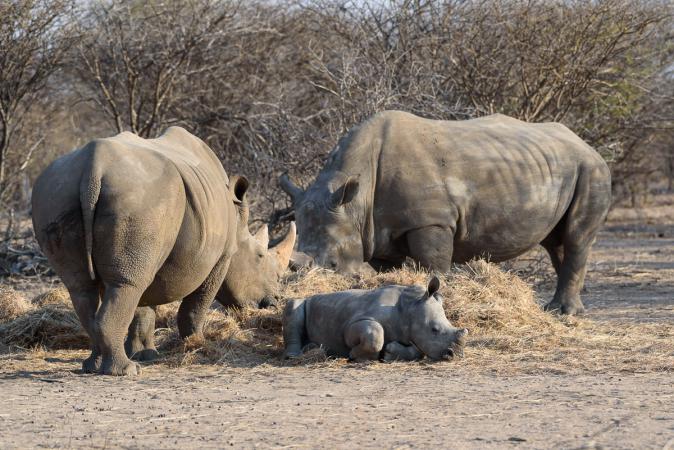 We go further and the guide offers us to drink. He tells us about the rhinos and the backside of the decor that spoils our first wonder. They are fed and supervised 24 hours a day. Three were bought in South Africa, one in Erindi Park in Namibia and 2 were born heret. On the way back, we also see giraffes, wildebeest, impala, kudu. We return to the lodge at 6:45 pm. We put down the cameras and we're going to eat. Tomato soup, cabbage salad, kudu-carrot-tagliatelle and milk pie with cinnamon to the chagrin of David. Everything is very good. Back to the chalet where we take some pictures of the Milky Way. Too beautiful ! The room is too beautiful with canopy bed, small pool, large bathroom and view of the plateau. 
Tuesday september 24 : wake up to the sounds of birds and monkeys. Departure at 8:15am. At the reception, we pay the "rhinos drive" ($ 600 N / pers) and the drinks of last evening. We notice that our left front tire is deflated. It begins ! We have to find a station. We turn back towards Otjiwarongo by the road to also avoid the tracks. We put pressure in the tire and then Tsumeb direction. The road is long, monotonous and always straight. The landscape is only bush as far as the eye can see: small burnt trees. We pass in Otavi. Then always this straight road. We pass in a hilly area, it changes! We refuel at Tsumeb. It is 34 °. Before the entrance to Etosha park, we fork to the right, we leave the paved road for a gravel one. We finally arrive at Onguma Bush Camp at 2.30pm. We are greeted with fruit juices and cold towels. Top ! We have a small cottage, class but small.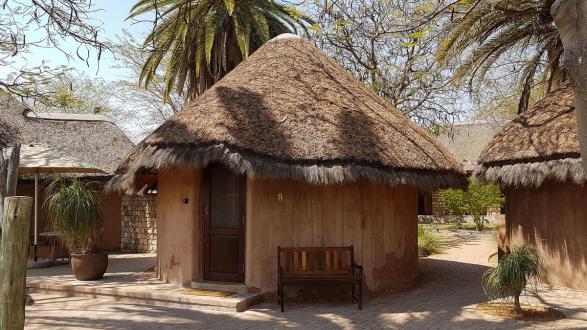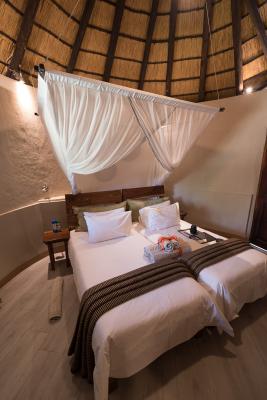 Well located near the water point to observe the animals. The tire has deflated again. We "mold" like Stephen and Etienne, by the pool, not having the courage to take the road again to go to Etosha after 400kms. When it's less warm, we change the car's tire. Then we go to the water point. There are giraffes, springboks and guinea fowl from Numidia.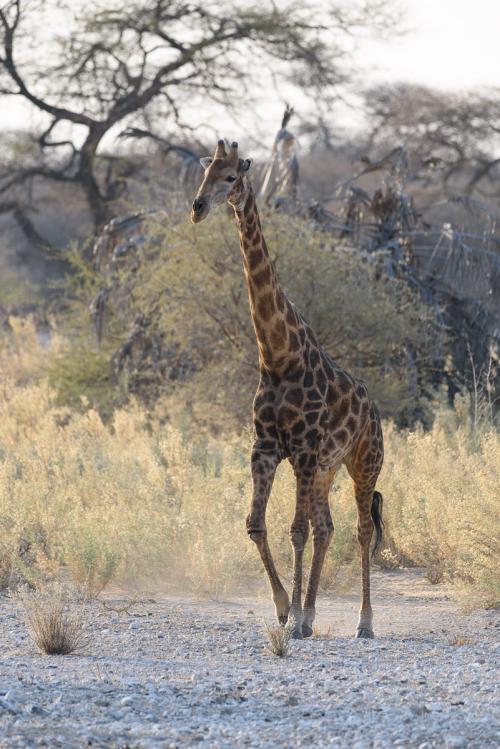 At 7pm, we move to the restaurant in good position in front of the water. Mojito aperitif for me and beer for David. Beet soup, very good. Pork for me and sheep for David with couscous and vegetables. Milk pie. During the meal, are coming to drink sprinboks, a wildebeest, 2 foxes, 2 hyenas. We go back to the bedroom to sleep and the mosquito net was put on the bed. Great this lodge !
Wednesday september 25 : we enter Etosha via the Von Lindquist Gate (tracks). We are given our license for 4 days: $ 680 N (80 x 2 people + 10 for the car x 4 days = 42 €). We have to pay in the park at one of the lodges. We pay in Namutoni and we buy a map of the park 53 $ N (3,30 €) which is essential to find the water points. Furthermore, there is a drawing of all the animals to help their identification. Then we'll see the guy from the small petrol station for the tire. He finds 2 leaks that he repairs by putting a paste. He does not know how much he owes him, he says there is him and his colleague. Brief he baratines us. We give him $ 400 N (25 €). We finally leave at 9:40 am to visit the park. I sit in the back to be able to change places if necessary. On the road, we already see zebras and wildebeest. We will see the water point Koinachas where there are some zebras, springbok and our first kudu.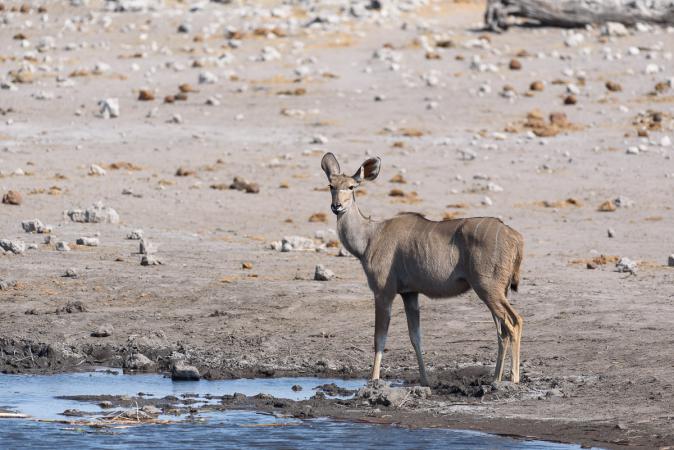 We continue to Doringdraai and we see springboks and an elephant in the distance. On the road, we meet 3 giraffes and zebras, springboks and wildebeest. Next waterpoint is Kalkheuwel where there are impalas, a raptor on the ground a little hidden and always zebras, wildebeest.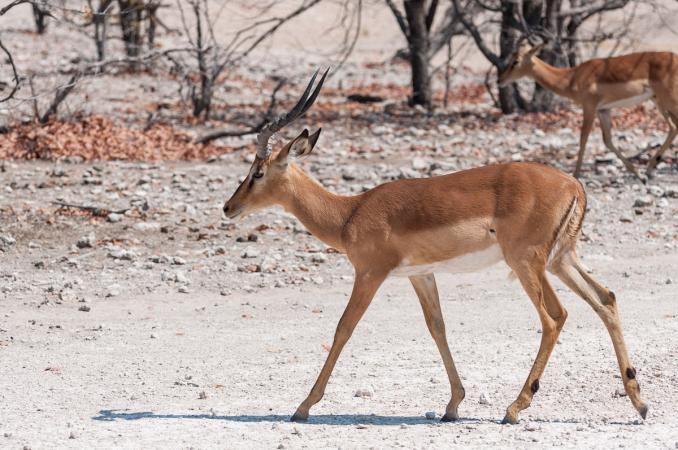 We see 6 elephants. Then we go to Okerfontein: there is not much except the springboks. In the distance, we see 2 ostriches and wildebeest. We are going forward. An oryx is walking alone. We roll and suddenly I shout to David "stop, back, lion". And I open my window, David says "no" but he does not see that the lion is lying under a tree in the shade, it sucks nothing. One even has the impression that he is dead. We observe, we are alone, then a bus arrives. The lion is finally lifting his head and he is superb. What a luck !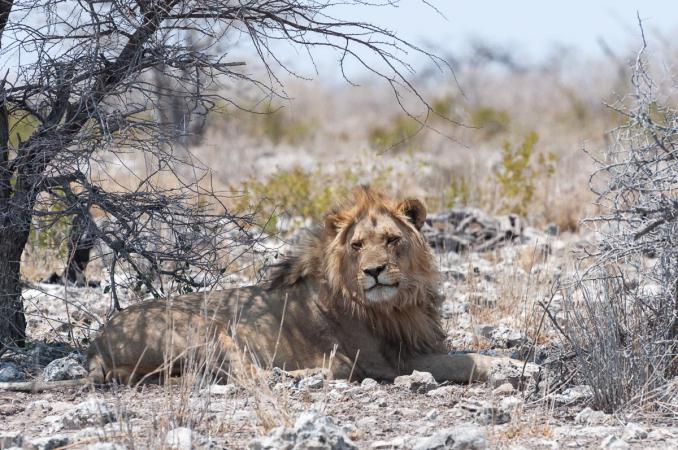 I can not believe it, wow ! He gets up, changes sides and goes back to bed. Too hard the lion's life in Etosha! We leave him alone and we stop a little further to watch elephants in the distance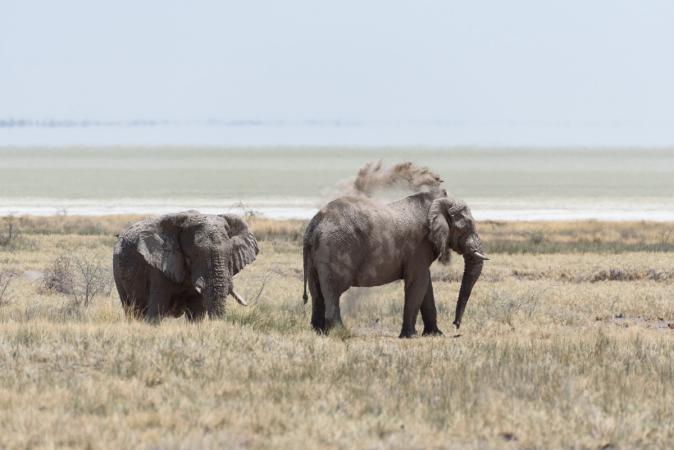 and even further we see lioness. Then 2 ostriches. We continue to Batia. Here the grass is greener and so there are plenty of zebras, wildebeests, impalas or springboks.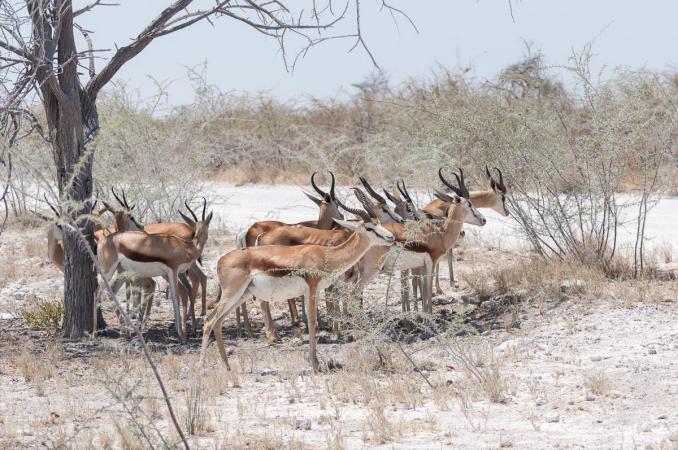 At the waterpoint there are 2 rhinos but they're a bit far and in a hole, we can not see well their head. It's not counting on the springboks that would like to drink but one of the rhinos does not agree and hunt them.
So, we see them better and they end up leaving. We then see red hartebeest and 4 giraffes.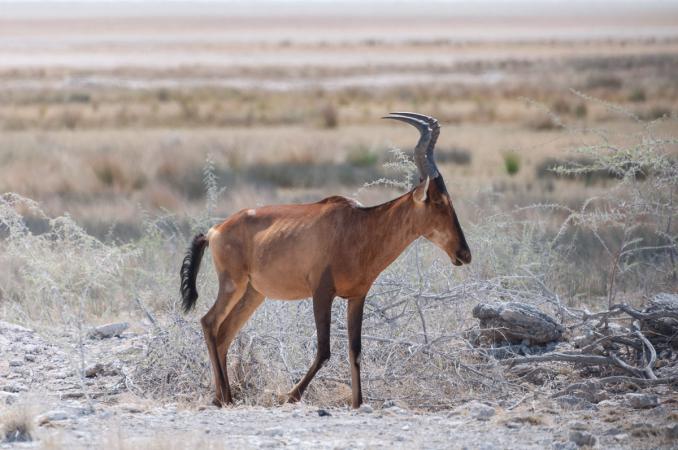 It goes too fast, we must already turn around because the park closes at 6:30pm and we don't have enough time to go to Halali. On the way, we branch off to the Ngobib water point. Before we get there we see 2 elephants, one really by the side of the road. Too beautiful. He has his head in the branches of a tree. We "have it" for ourselves !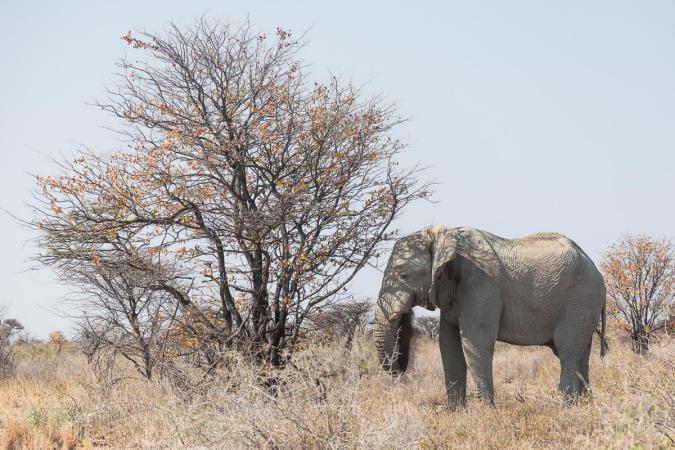 At the water point, on the other hand, there is nothing. We almost did not go to the Chudop water point. But we were inspired to go to it finally. There are 3 elephants in the water and 3 zebras waiting for their turn. Suddenly, I see a flock of elephants arriving. We are like crazy ! They move slowly and then accelerate near the water point.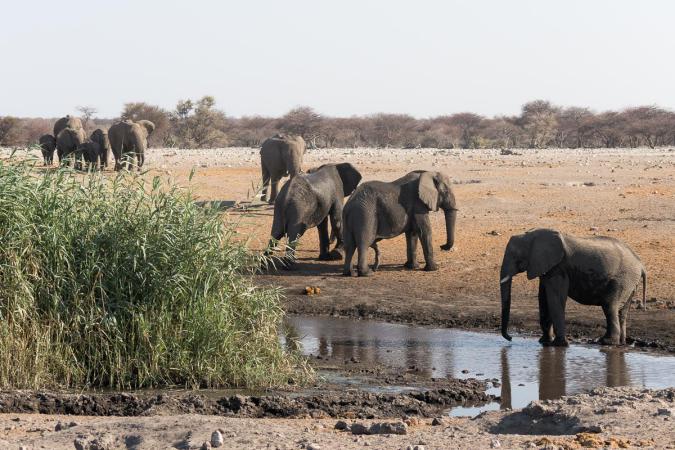 They are 10 in total to snort in the water. There are at least 3 or 4 pups. It is magic ! I even shed some tears ... emotion! Magnificent !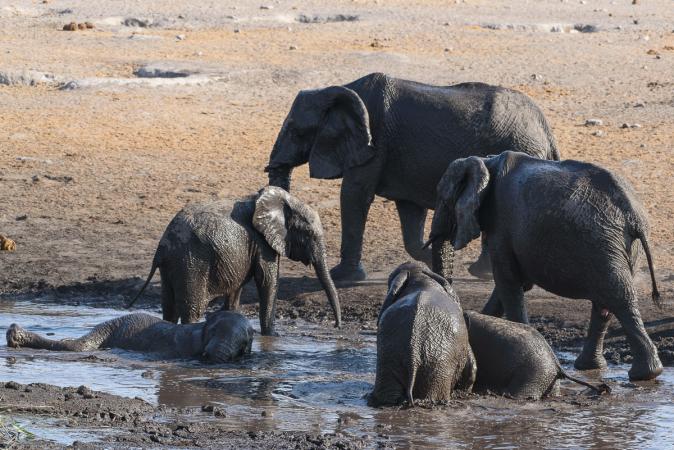 They throw sand and water on their backs and they chase the approaching zebras. Then, suddenly, all of the elephants go away. Two on one side and the others on the other side. Zebras can finally go drinking.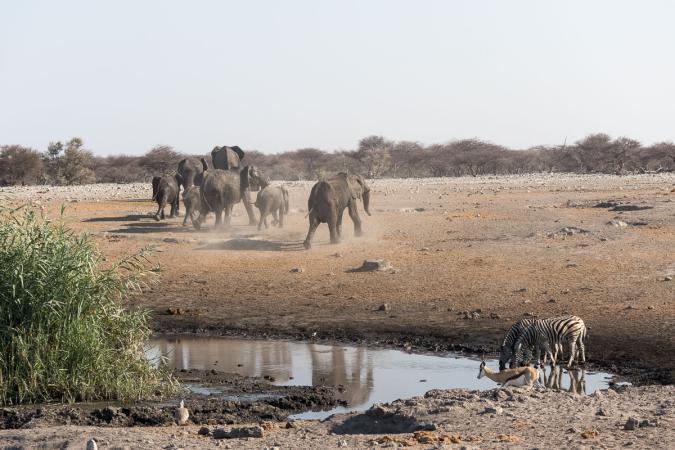 We too must leave. What an emotion to see them so close, so free, so happy to find water. We leave the park and we are back at the lodge at 5.30 pm happy to have seen all these animals on the 1st day.
Thursday september 26 : departure at 7:10am, direction Etosha. We stop first at the water point Klein Namutoni but there is nothing. In Chudob, where there were elephants yesterday, nothing either. On the way, we see a bird that seems to be a kori bustard,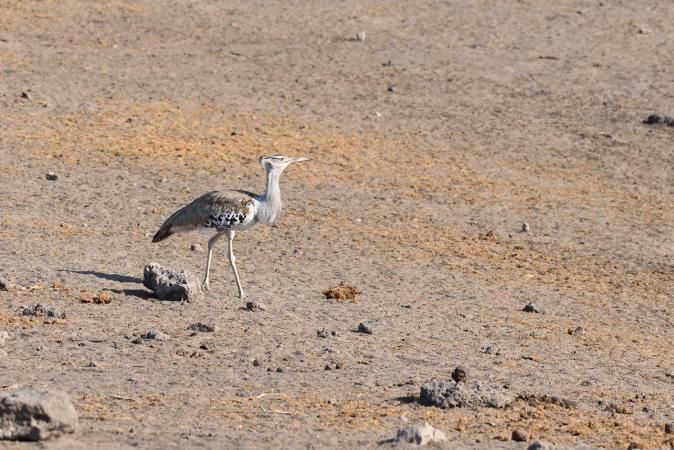 giraffes and 2 elephants crossing the road. Superbs.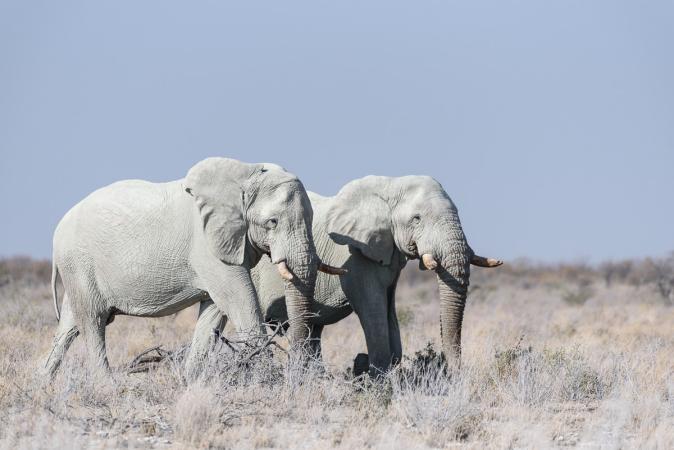 At Batia, there is nothing to see. We go to Springbokfontein, which is on the roadside, nothing too ! We see a few more wildebeests,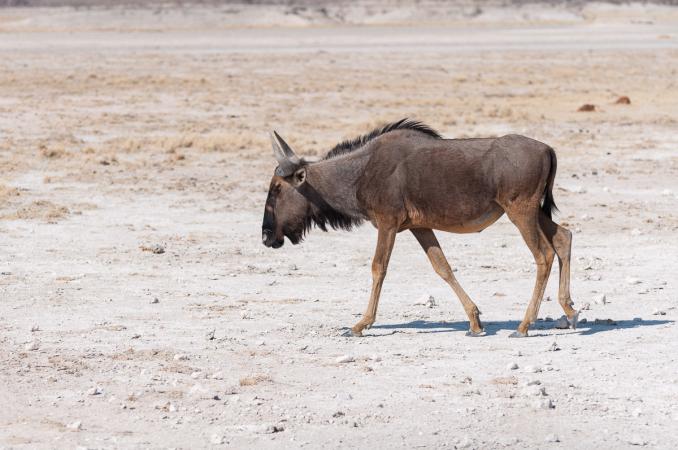 giraffes, springboks, impalas. But overall we see less animals than yesterday. Next stop is at Goas, there is nothing but the place is nice. Nothing either at Noniams, it's dry and the way to go is full of pebbles and holes. We pass two rocky hills: Helio Hills.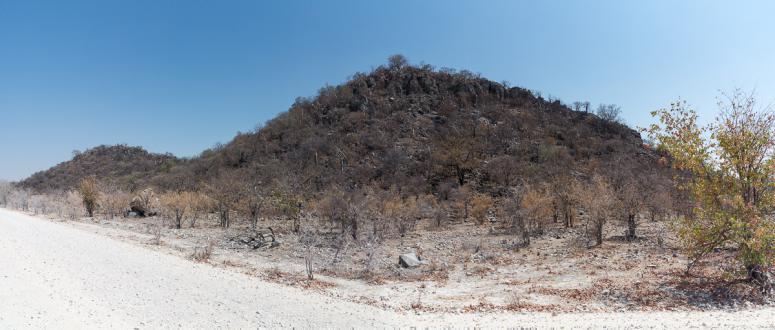 The Helio water point is also dry. We ended up arriving at Halali. We pause and refuel. Like "bets", we do not think to go to see the waterpoint ! By taking the road, which from the beginning is almost nothing but corrugated iron, we go through Reitfontein, a good water point with potential, where we can see our first oryx, as well as springboks and zebras. Then, in Salvadora, there are many zebras, wildebeest, springboks.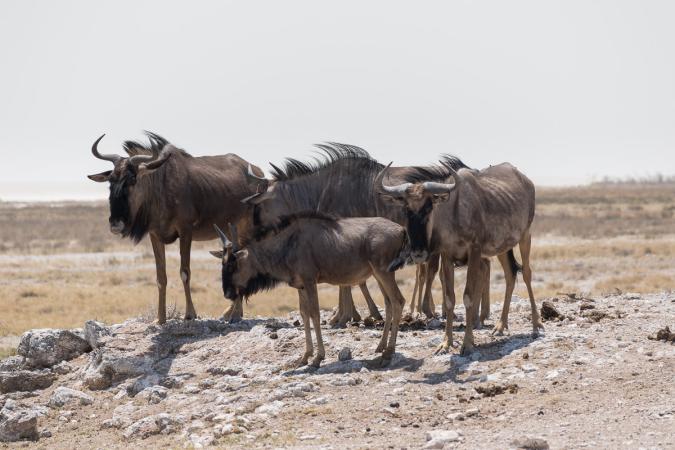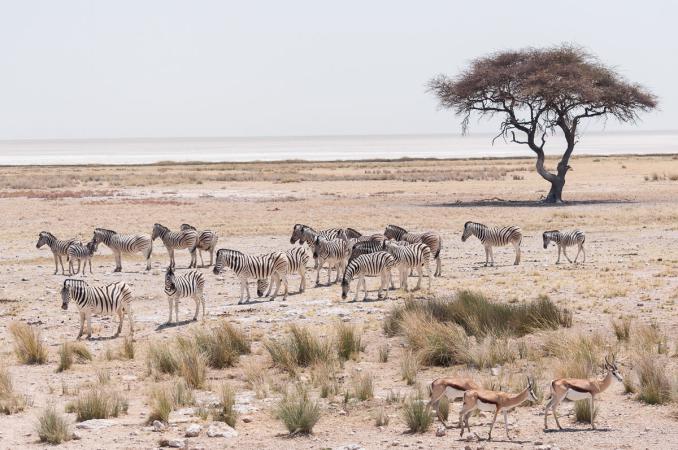 From a distance we see a crowd of cars, we say that there is something. This is the Charitsaub water point. There is a tree and ... below 1 lioness and 2 cubs !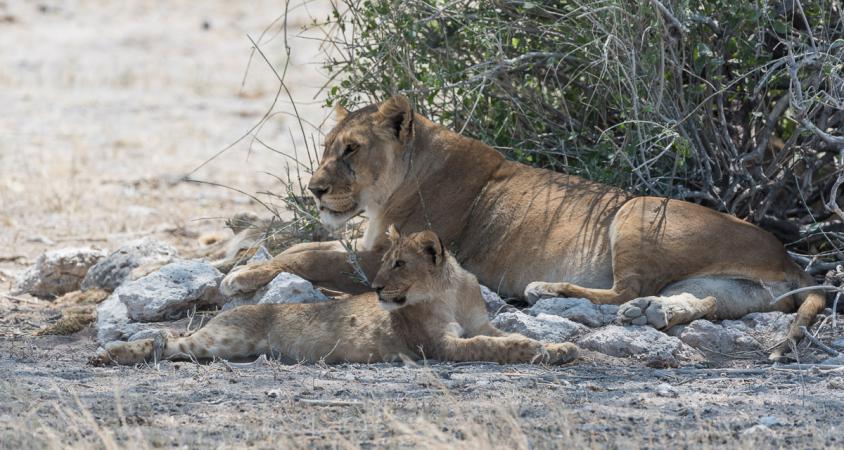 It moves in the branches ... wow ... there is another lioness and more cubs. In all, there are 2 mothers and 4 youths (who appear to be 2 babies and 2 "teens"). Extraordinary !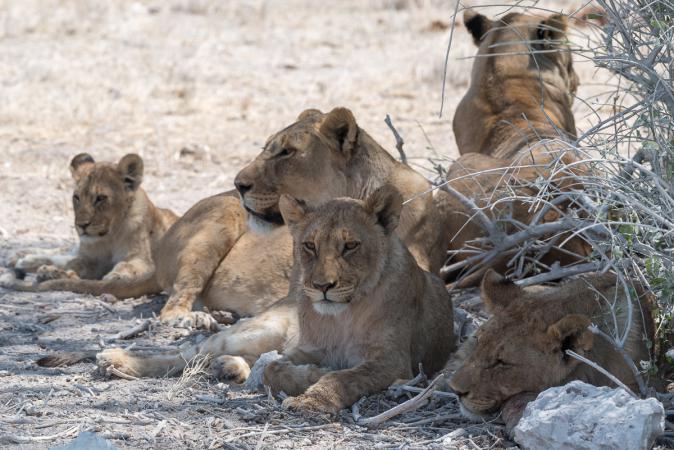 We stay there for a moment, amazed ! All of a sudden, a lioness gets up and runs to a springbok that has come too close.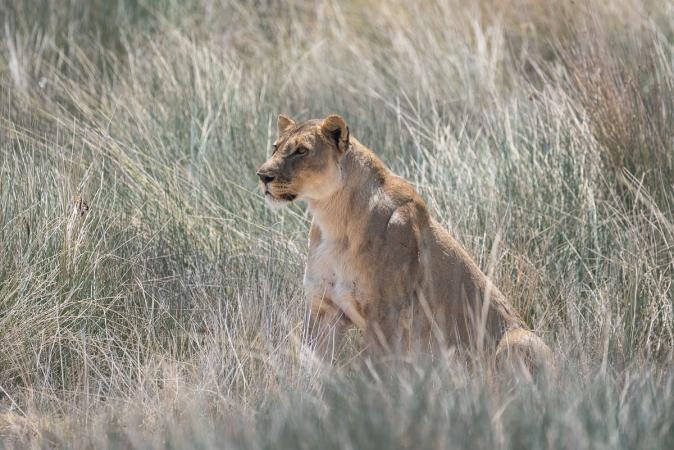 But finally it escapes. We leave them reluctantly but we must continue. In Sueda, there are plenty of ostriches.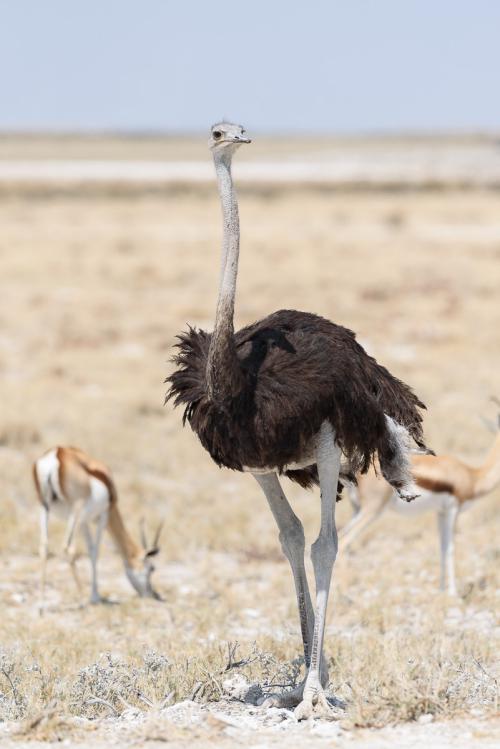 At Homob, big waterpoint we see oryx,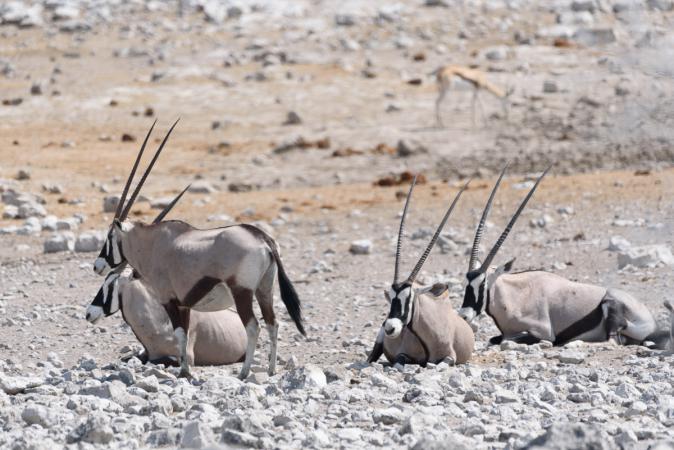 giraffes, springboks and zebras. At Ondongab and Kapupuhedi, nothing, it's dry. At Nebrowni, there are ostriches and springboks. We finally arrive at  Okaukuejo at 4:15 pm. The lady at the reception is very friendly. She gives us the room 86, not far from the waterpoint.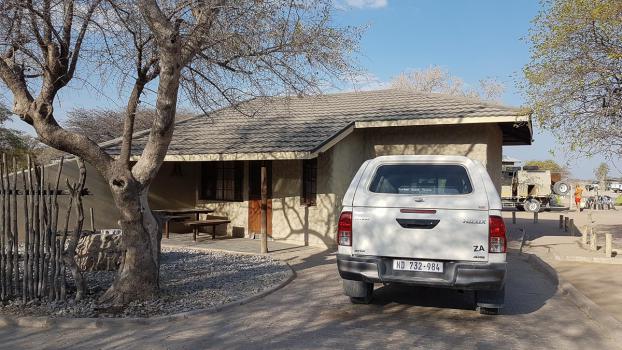 The room is less typical but spacious with kitchenette, and not super clean. We will see some animals at the water point: rhinos and giraffes. Then we will eat at 7:45pm. It's a buffet but not great. We return to the water point, we see rhinos, giraffes and elephants.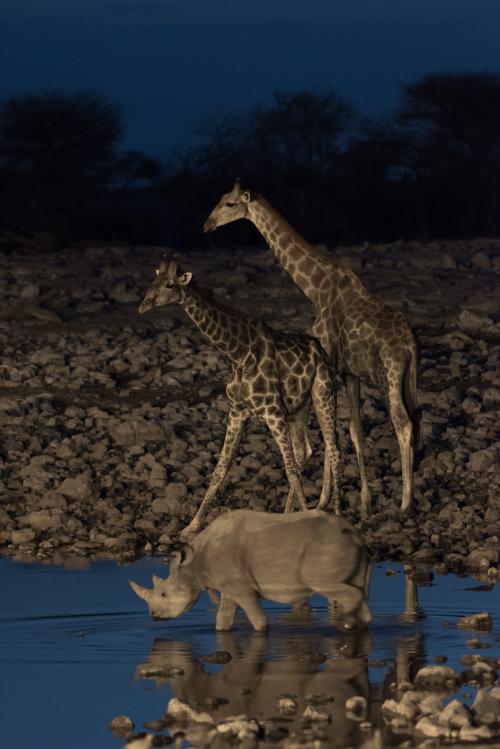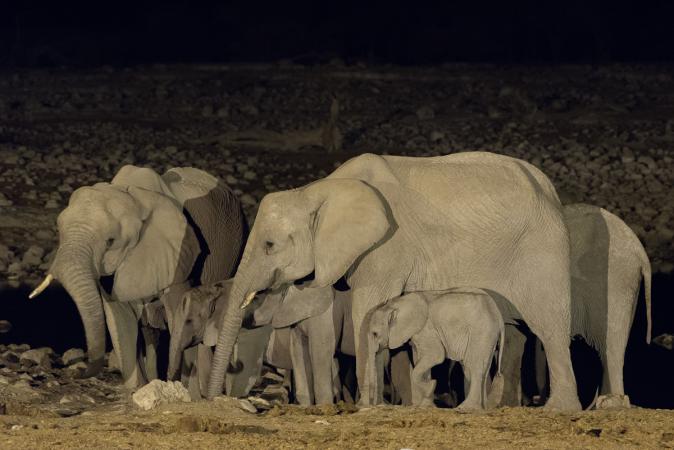 Friday september 27 : up at 5:45am. No animals at the water point. Departure at 7:50am. New day in Etosha. En route, we start by seeing a raptor, a fox and a kind of polecat (after some research, it is a ratel).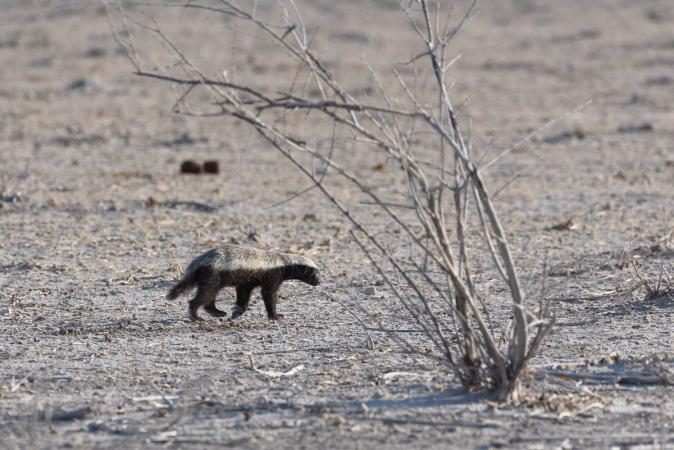 We go to the water points Gembokvlakte, Olifantsbad and Aus but there is nothing at all. Ondongab: nothing. On the way, we see female kudus. We go back to Homob. Cool there is also at the water point as well as male kudus, wildebeests, springboks.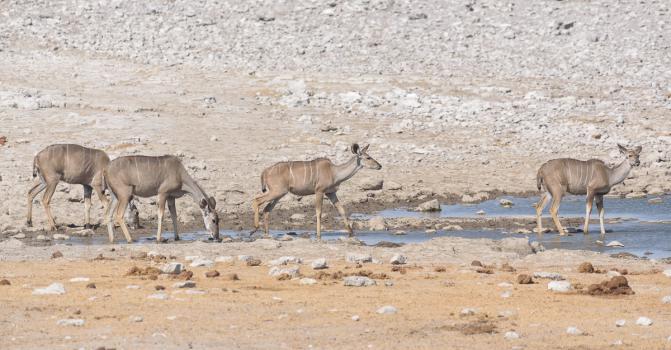 We go back to Charitsaud but the lionesses are no longer there. Just a little further to Salvadora, we find them with their young under a tree but too bad it is too far. Zebras and wildebeests drink and watch the lionesses (near the tree in the photo below).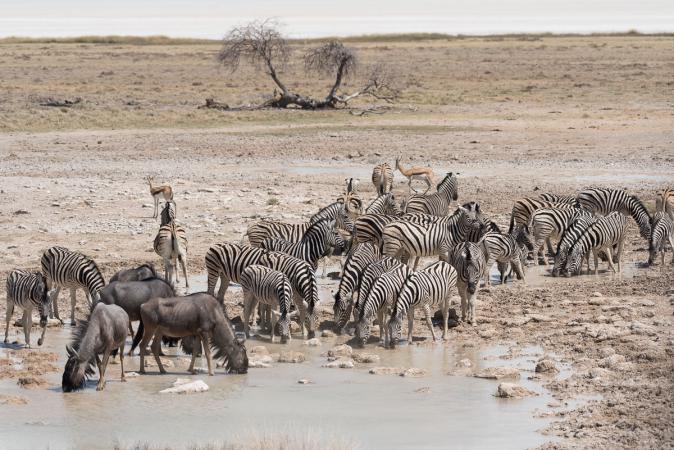 We stay there a moment and we nibble. We leave at 12:30pm. We then stop at Reitfontein. We see kudus, zebras, springboks. We then see some vultures in the distance shred what seemed to be a wildebeest. Then we take a picture of a bird Northern Black Korhaan (white mirror bustard).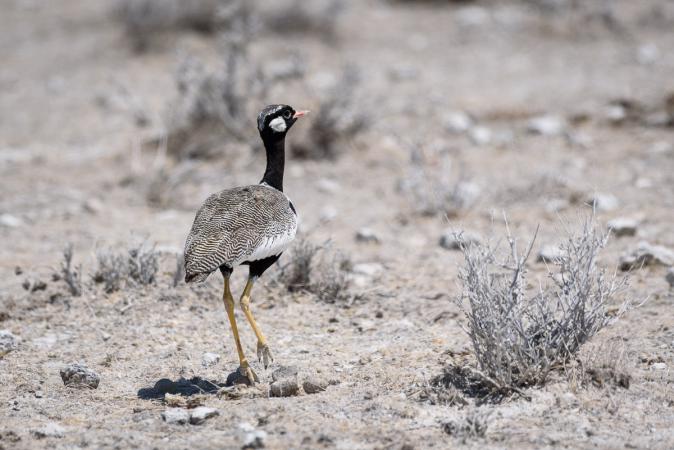 We stop again at Homob. At the water point, there are wildebeests, springboks and 2 giraffes arrive. We wait for them but do not be in a hurry ! They take their time. We turn around and attack the return to the lodge. Passing near Nebrowni we see an elephant drinking. He turns his back on us.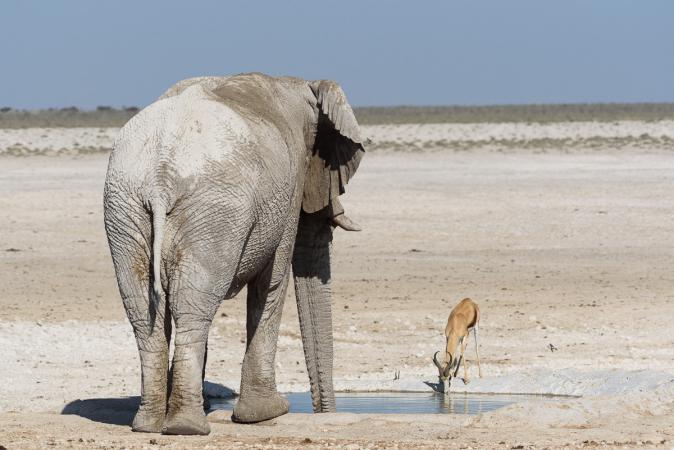 We wait 40 minutes before he leaves ... without looking at us. There are also springboks and a fox. Return to Okaukuejo at 4:40pm. We still find that there are fewer animals between Halali and Okaukuejo than the Namutoni Halali part where it is teeming with wildlife. We go to the water point of the lodge. And there, arrive 18 elephants. They arrive in the setting sun, lifting the dust ... wow !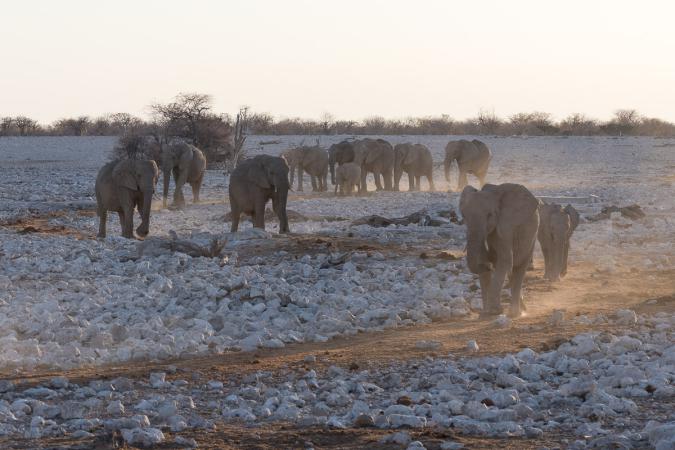 Exceptional! We observe them drinking for a long time. Around the water point in the lodge, it is total silence, we are all in awe of the spectacle that nature offers us. Extraordinary !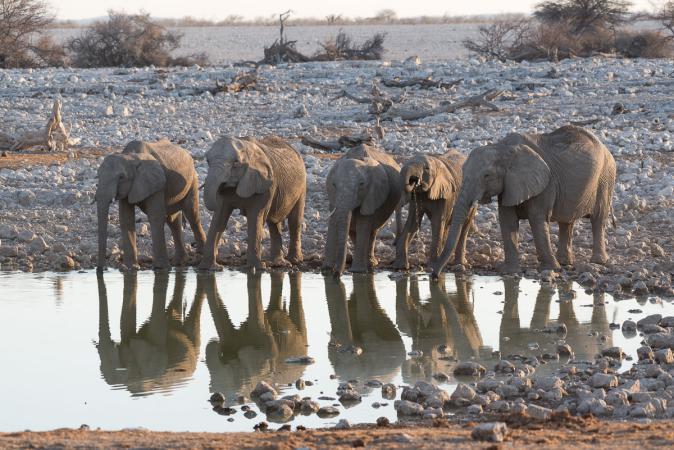 We go to dinner, the buffet is average. On return, we take our cameras in the room to go to the water point. There are 3 elephants. Unbelievable ! As well as 2 rhinos. Two others arrive. Return to the room at 10 pm. Suddenly, no more electricity. We look outside. Phew, it's not just us. The whole domain is in the dark. Sleep at 10:30 !
Saturday september 28 : electricity came back at 1:20 am, cooler and light on in the room ! We leave Etosha, towards Grootberg. On the road leaving Etosha we see giraffes and a rhino at about 20 meters of us. Too beautiful !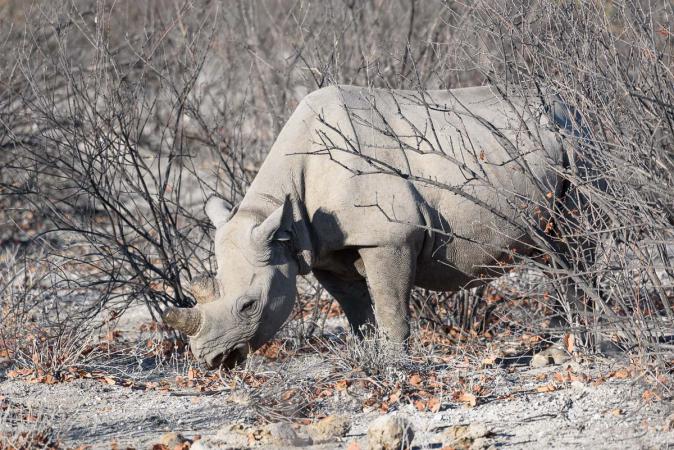 We will see the water point Ombika but there is nothing. A fox is walking on the track. We leave by the Andersson's Gate, back to paved road. We stop at a Trading Post to see for the tire but they are not AVIS licensed. I buy bracelets at the shop. Around 10am, in Outjo, we find a station that changes the tire with the agreement of AVIS, so we do not pay anything. We refuel and we leave at 11am. We make a gasoline stop in Kamanjab (the fear of not finding a station !). Then we attack the track to Grootberg Lodge. We arrive at 3pm. There is a super steep climb of 2kms to reach the lodge. We pass the 4WD low mode. We check in with a woman who seems completely elsewhere. It is a small hut with a view of the canyon. Nice !

The room is nice. We sign up for a scenic drive at 5 pm. We rest a little while waiting for the time. We then embark in a 4WD open to the 4 winds to go for a drive on the plateau of Grootberg. It shakes damn. The plateau is only red stones as far as the eye can see and very little vegetation.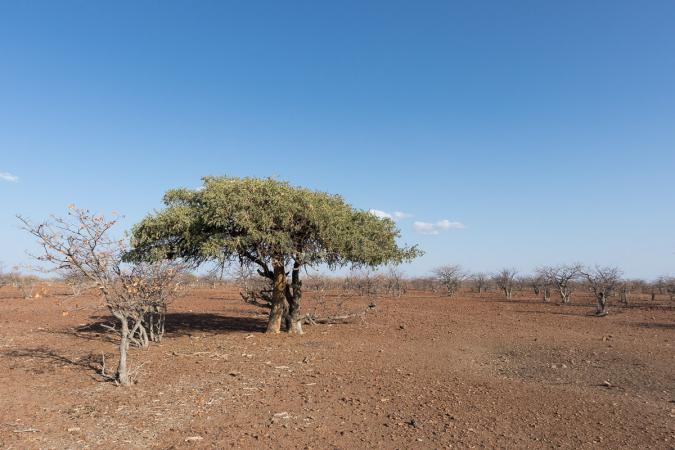 Some springboks and zebras of Hartmann, rather timid compared to those of Etosha, walk around. We stop at 2 viewpoints on the canyon. Then we have a drink watching the sun go down. This excursion is not very interesting. Back to the logde for dinner at 7 pm. After the meal, an employee accompanies us to the room. We hoped to take pictures of the Milky Way but we are in a bad position and there is wind. Bed at 9:15 pm after having secured the area: there is a spider on the mosquito net.
Sunday september 29 : departure at 8:30 am for Twyfelfontein. We continue on track C40. It offers superb landscapes.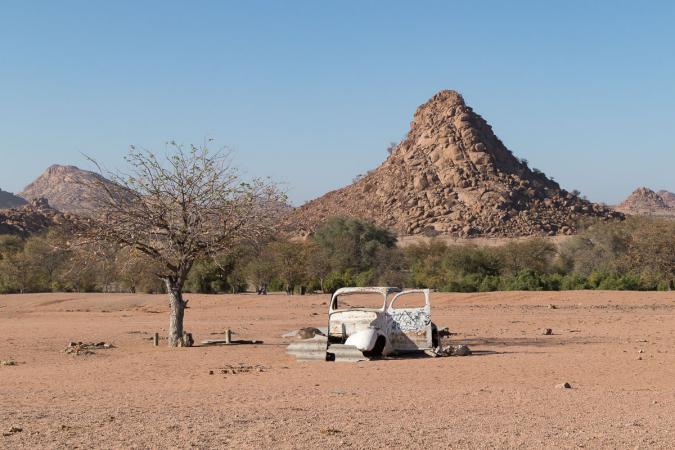 There are villages with houses made of sheet metal, wood, fabric. And on the edges of the track, huts selling stones or jewellery. Sometimes people or children wave at us to stop us. At 11:30 am, we go directly to Organ Pipe and Burnt Mountain at the end of track 3254. We pay $100N for the entrance fee for both sites for both of us. Organ Pipes are basalt columns located in the bed of a dry river. It's very small.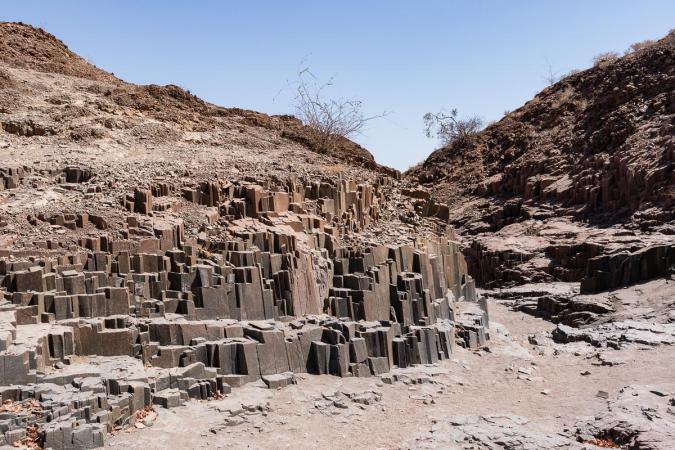 Burnt Mountain is small too. The colours of the hill are as if burnt. This is the only place where we will see the famous Welwitschia Mirabilis plant.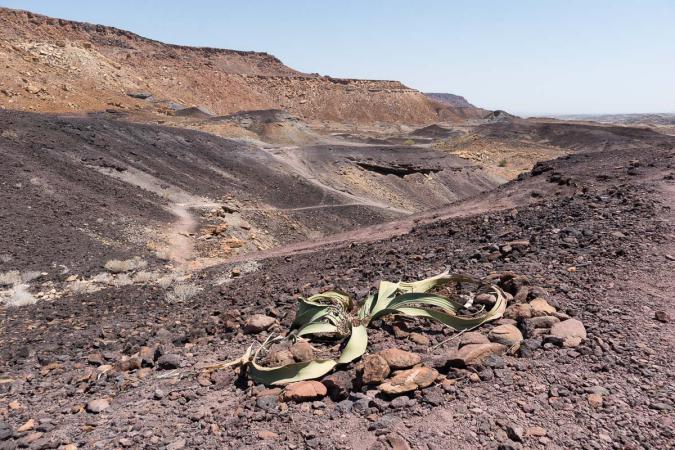 We visit both sites in half an hour. It's not very interesting. Then we reach the World Heritage Site (rock engravings). It's $200N for both of us. The visit is done with a guide. Désirée, our guide, leads us to engravings made by bushmen between 2000 and 6000 years ago. Discovered in 1921, they are well preserved because there is no erosion. It hasn't rained in five years here. It is very hot.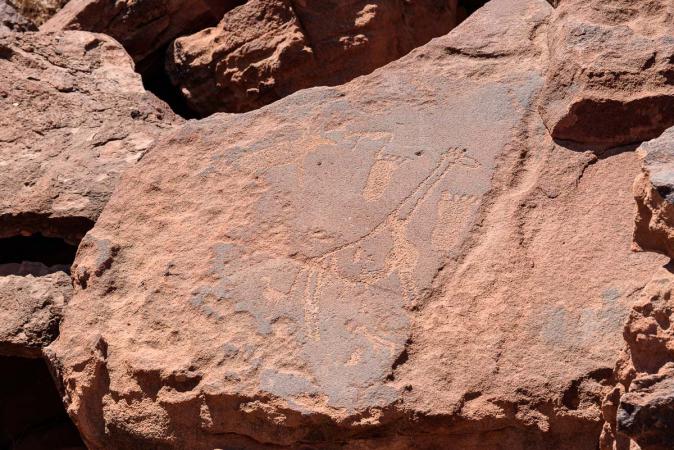 At 2 pm we arrive at the Twyfelfontein lodge where we are very well received. The lodge is great. We settle in the nice but not typical room. And we're going to book an elephant drive. At 3:30 pm, we board a 4WD safari with our guide Lucas and other people, and take the bed of the dry Hueb River. We drive for 1h30 before finding a group of 8 desert elephants in total freedom. Superb ! We're really close.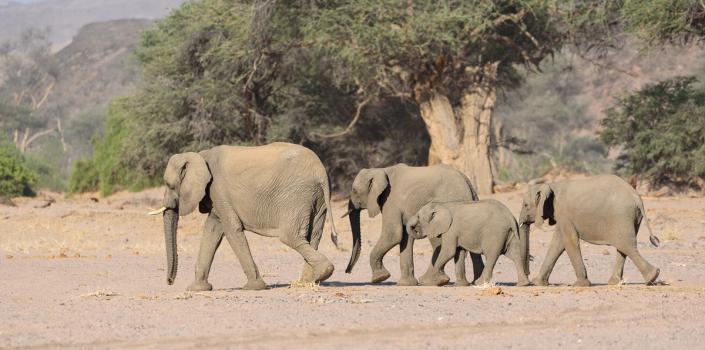 Some of them cross right in front of the car. One of them will almost charge us because the guide has blocked his way a little bit. They are impressive.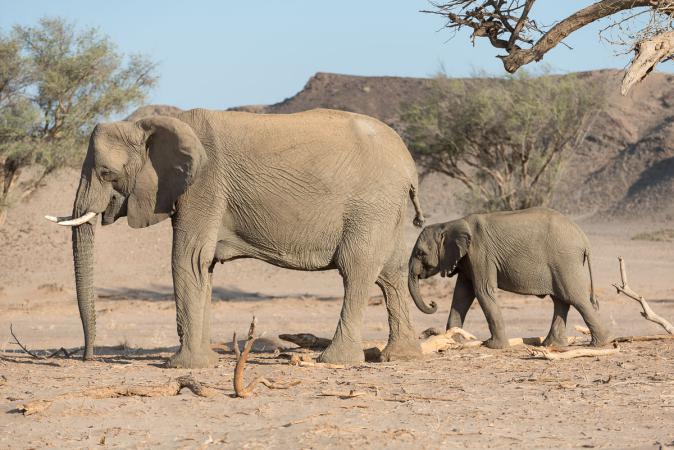 We follow them for a while before returning to the lodge. We meet 6 giraffes. Too beautiful. We take an aperitif break in front of the sunset. We would have preferred to stay longer with the elephants ! Return at 7:45 p. m. Buffet dinner: medium. 
Monday september 30 : up at 6:00 a. m. Breakfast (buffet) not bad. Departure for the coast at 8:00 am. On the way on track C35, we pass in front of huts with himbas and hereros selling trinkets. They're all waving at us to stop. We're going to Uis to refuel. Some guys are trying to sell us stones. Return on the C35 to Henties Bay. When crossing a car, we get a rock on the windshield. There's an impact and a crack. That's all we need !  The landscape becomes flat, white and monotonous again. And always a straight and corrugated iron road. It feels good when it stops, the track gets better. As we approach the coast, the road is paved. The temperature has dropped, it's 18 degrees. Around 2:00 p. m., we arrive in Swakopmund. We park and of course a guy comes to tell us that he's watching our car... to whom we'll have to give a tip! We're just visiting the pier. There's a little fresh air.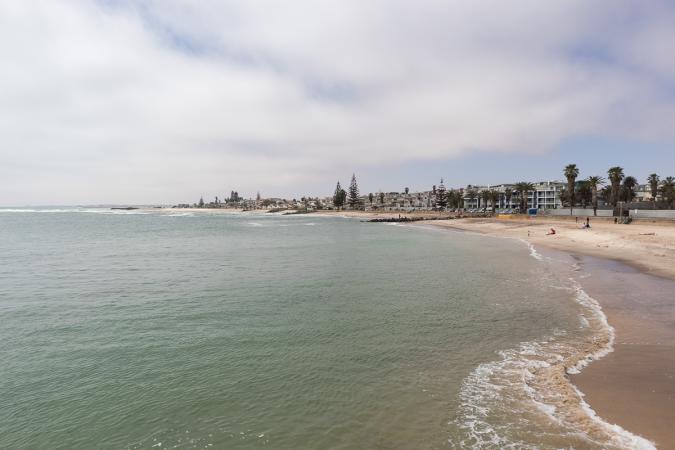 At 3 pm, we take back the road to Walvis Bay along the Atlantic Ocean. We arrive at the Oyster Box Guesthouse at 3:30 pm, the staff is helpful but not always very friendly. We're moving into room 5 with an ocean view. The room is beautiful, large with shower and bathtub and small living room.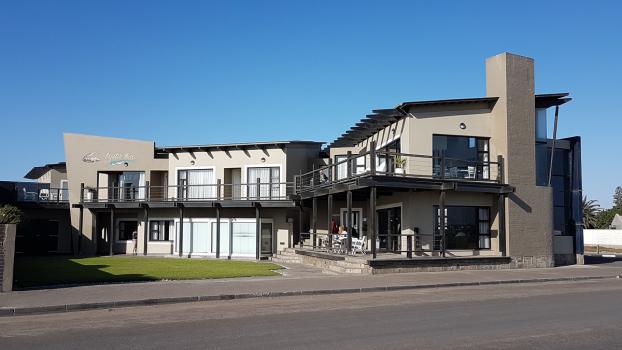 For the first time during the trip, we ask if there is a way to wash our clothes (we will see on the invoice when we leave that it cost us 60€ !!!). A lady of the staff proposes to do so. There is a AVIS Rent a Car in the city. We go there before closing time and the very nice girl proposes us to pick up our car tomorrow at our accommodation, change the windshield and bring the car back. Super cool ! We then take a short walk along the sea. At 7pm, we will have dinner at The Raft restaurant at the end of the street: trio of fish and rice for me and bushman plater and chips for David (different kinds of meat). Not bad !
Tuesday october 1 : AVIS is picking up our car. At 8:00 am, a guy from Laramon Tour picks us both up in a 4WD for an excursion to Sandwich Harbour. We'll pick up drinks and food first. Then we head for the lagoon. We go along the ocean and the dunes. It's beautiful.
In Sandwich Harbour, we climb the dunes. We go up and down very steep hills. It's like a big eight. That's impressive! The views from the top of the dunes are superb.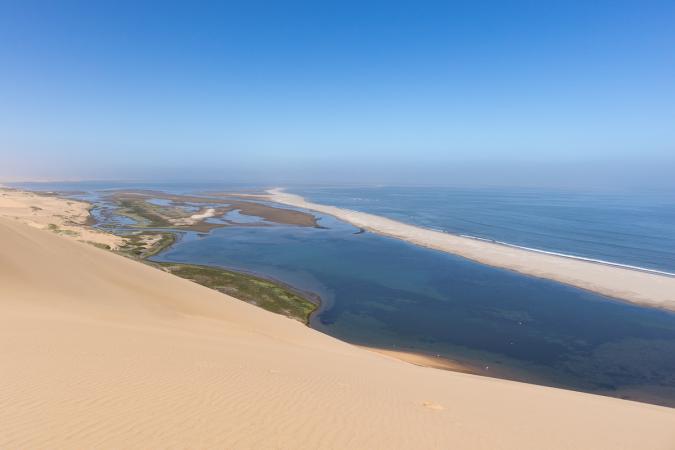 David's stomach is starting to get smeared. We stop at the top for a little snack: salty toast, chocolates, drinks. We then reach the beach for the return trip. The guide drops us off in front of the Oyster Box at 12:15 pm. We wait for our car in the sun on the terrace. The AVIS guy arrives at 1:15 pm. Since he came alone, David takes him back to work. We "mould" in the afternoon. At the end of the day, we'll see the flamingos on the track we took this morning. They are far from the road. We can barely take pictures.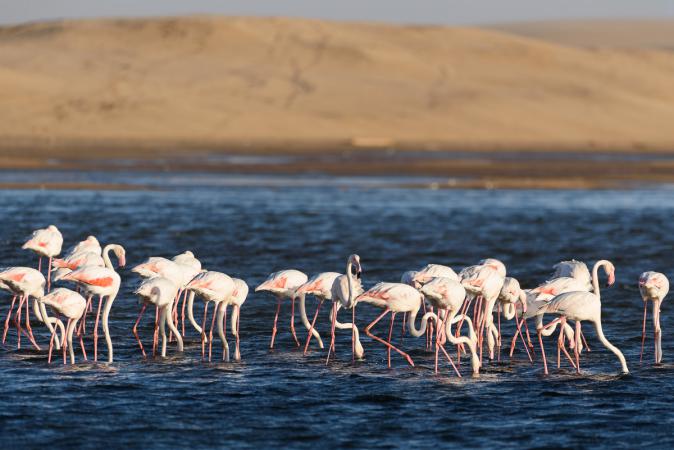 We're disappointed, we thought we'd see a lot of it. We're going home. We're staying at the guesthouse for lunch. They offer some dishes for the "little hungry". We have an aperitif: beer and Savanah Dry (local cider). Generous spaghetti bolognaises. Apfelstrudel and cherry compote. For "little hungry people", this is quite correct.
Wednesday october 2 : departure at 7:30 am for the Namib Desert. The sky is overcast for the first time during the stay. We refuel. We take track C14. There's fog. And all of a sudden, the sky clears. After a while, we realize that it's been a long time since we've seen a car or been passed. It's a strange effect ! At 9 am, it's already 25 degrees. Then 28° a quarter of an hour later. Vultures are attacking a carcass. We pass a car ! And here we go again for corrugated iron. Oh, that's so unpleasant. We cross an area of black mountains, then a canyon, the Kuiseb Canyon. From the crossing with the track that goes to Windhoek, the earth changes color and becomes orange. We stop at the Tropic of Capricorn to take some pictures.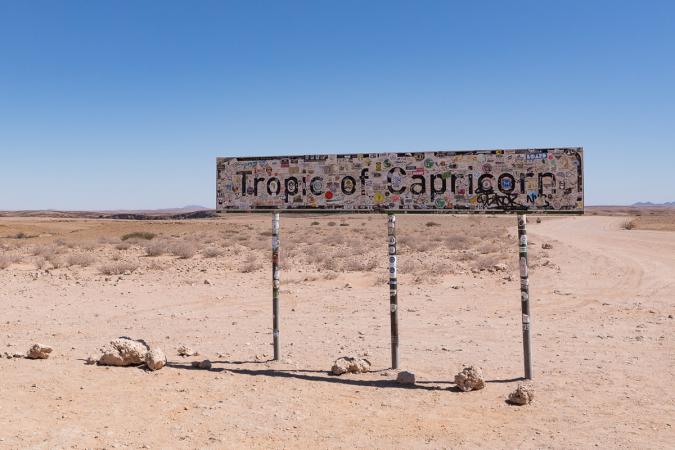 It's hot 31°. We see oryx. At 11:45 am, we arrive in Solitaire. I taste the famous apple pie: not bad. David takes a shortbread. Some pictures.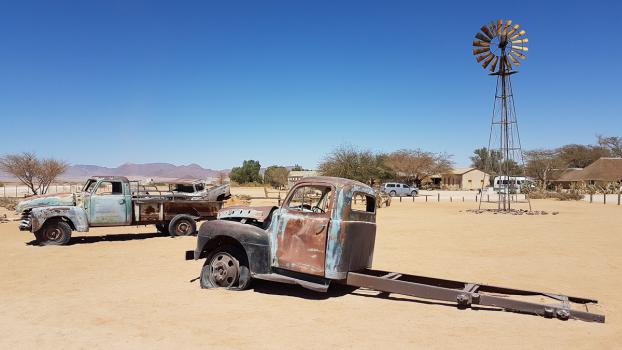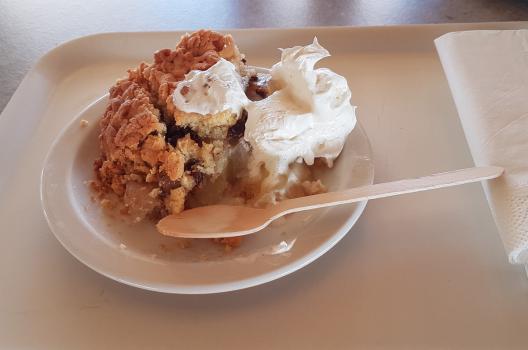 From there, the track is more rotten, big corrugated iron, pebbles and potholes. It's horrible. We finally get to Sesriem. We refuel and deflate the tires. We pay the park entrance until tomorrow evening (80$N per person + 10$N for the car) then we reach the Sossus Dune Lodge which is located inside the park. It is 2 pm and it is 34°. We have to park in the parking lot and then a guy from the lodge takes us with our luggage to the reception. The chalet is very classy. Luxury !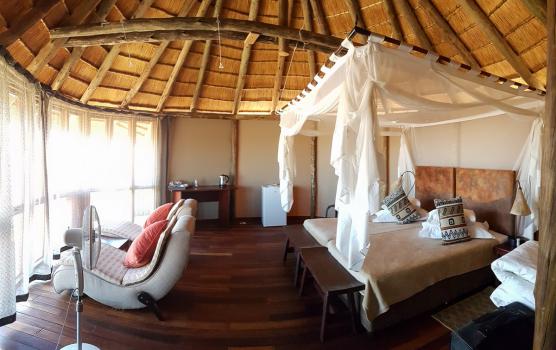 At 3:50 pm, we leave for the dunes. We are surprised to find a paved road at the end of the lodge's track. It leads to a first parking lot. Then, you have to switch to 4WD mode. Let's go for the very sandy track. We get to the second parking lot without getting stuck in the sand ! We're walking to Deadvlei. There's no indication, the GPS is helping us. Deadvlei reveals himself to us after one last dune. Wow! Behind him, Big Daddy sits on the throne. It is necessary to go forward on the dry lake because the edge is not very photogenic. At the bottom, the dead trees are nice for the pictures.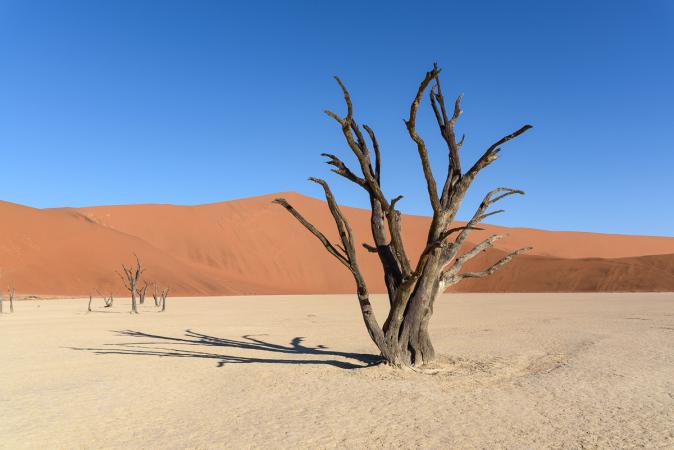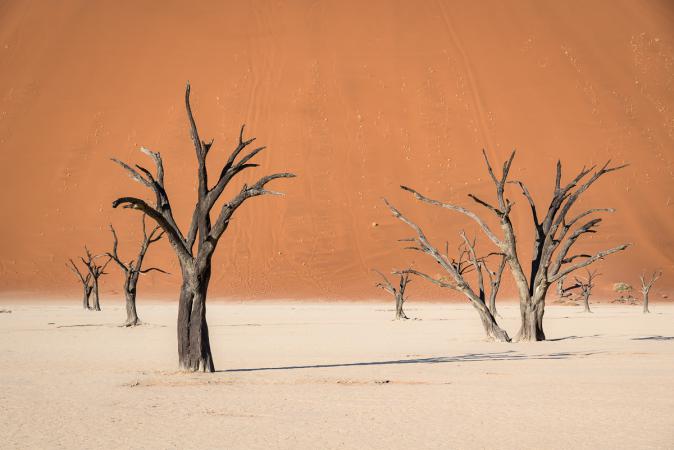 It's not crowded, we're only six people. We go back to the car park to see the sunset on the dune at km 41. We find it prettier than the 45 which has a parking lot at its foot.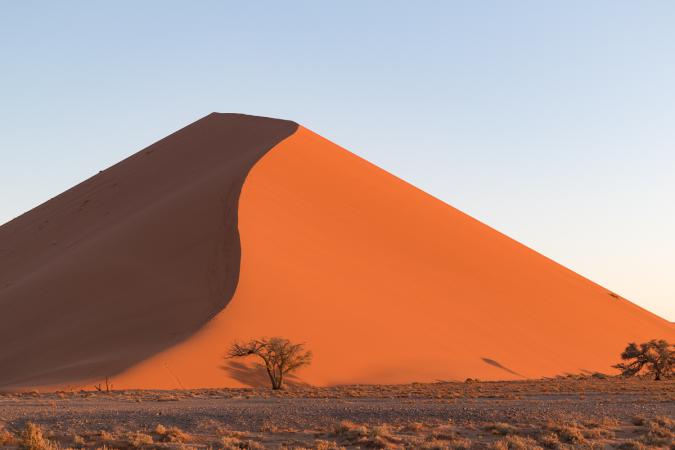 We take a lot of pictures and join the lodge at 7:40 p. m. Dinner: butternut soup, small spinach and mushroom quiche, rice and green peanut kudu steak, "cocktail fruit pudding". Good ! David then took some pictures of the Milky Way and the Magellanic clouds.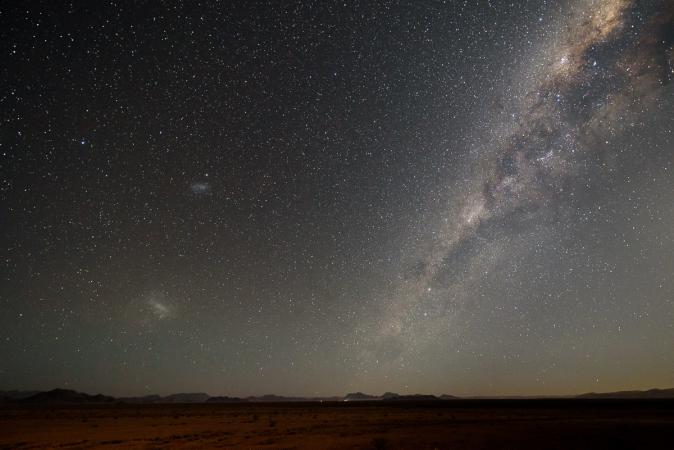 Thursday october 3 : up at 5:00 am to leave at 5:45 am after picking up the breakfast packs. Road to Deadvlei at 6:00 am. It's the tail on dune 45, it's like Angel's Landing in the United States ! We park at the first parking lot and see the Hiddenvlei sign. So, let's go (it's 7am and it's 11°). There are 2 km to one way.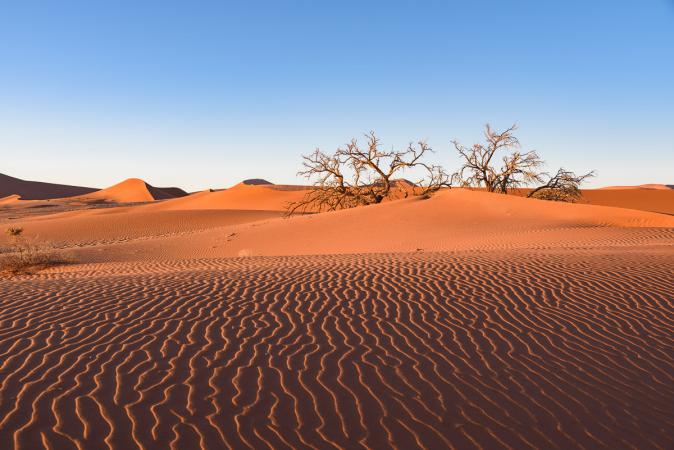 At first, it's flat and then it goes up. Walking in the sand is painful. We end up with a big descent. We start the photos with a nice little dune half shade half sun. Too beautiful !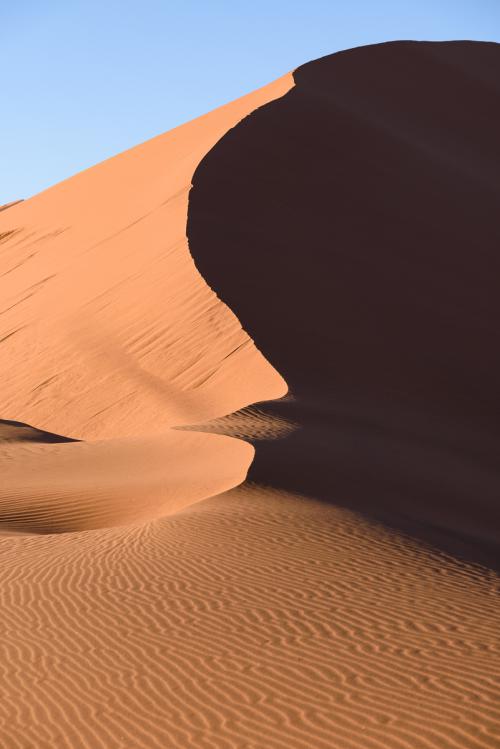 We nibble on our breakfast pack (sandwich and cereal bar with mango juice). Then we go to vlei. It's beautiful and quiet. There are not as many dead trees as in Deadvlei.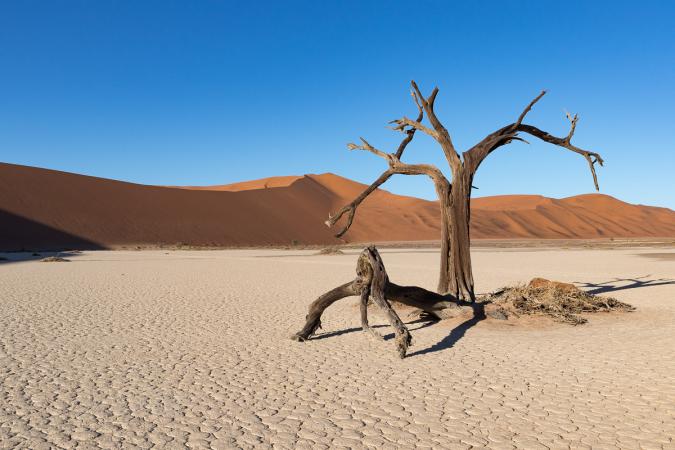 We'll be back to the car at 9:30 am. We prefer to take a shuttle to Sossusvlei. There are a lot of cars that drive a little bit anyhow. It's 170$N per person (10€) but I have the impression that not everyone pays. We did well, a car is stucked in the sand. Our driver stops to help them. Then takes us to the Sossusvlei parking lot further than we were yesterday. The vlei, which is at the foot of Big Mamma Dune, is less beautiful than Deadvlei.

It is 10:00 am and it is already 37° in the sun. We finish sandwiches in the shade. We take the shuttle back to the parking lot. There's still one more sanded car. On the way, we stop to take pictures of the dunes and dune 45
and then we snack. It's noon and it's hot. Then we go to Sesriem Canyon. At 1:30 p. m., we're going to walk around inside a little bit on one side and then on the other. It is quite large.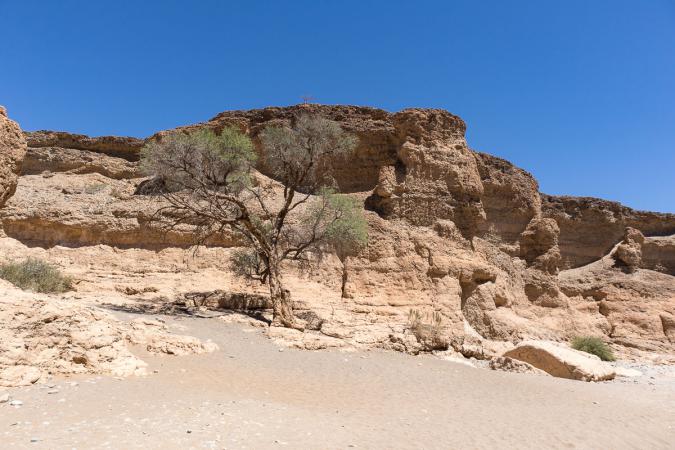 We're going to inflate the tires that we had deflated to drive in the sand and refuel. Direction Desert Homestead Lodge via track C27, it's really rotten, it's really shaking. We get there at 3:40 pm. The lodge is very classy and beautiful. The room is nice, a little small! We will rest for the afternoon. Seen the track, we don't have the courage to return to Namib in the late afternoon. We should have taken two nights at Sossus Dune Lodge. 
Fridau october 4 : up at 7:00 am. Breakfast (buffet) with small pancakes. Departure at 9:00 am. We arrive in Sesriem at 10:00 am. We take the permits for the day $170N for both of us. We're asking for the time of the last shuttle: it's 3:00 pm. It's early. We're going back to Deadvlei. It's beautiful even in the middle of the afternoon.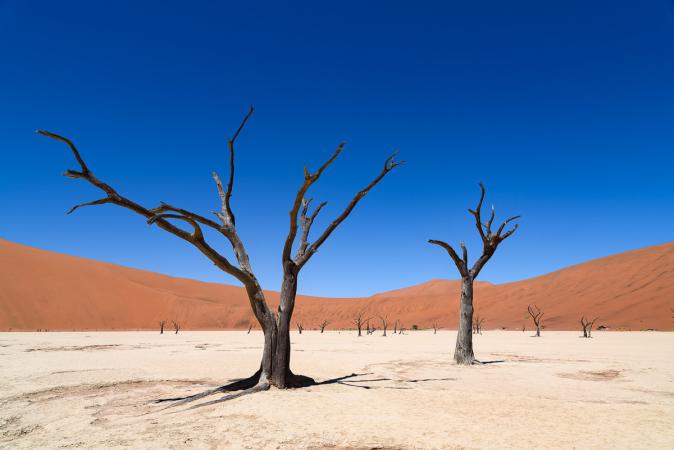 It's 41° !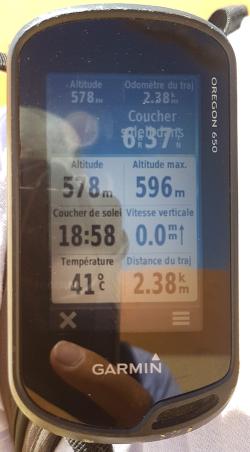 In the background on the right, there is an oryx in the shade of a still green tree. We come back around 1:00 pm, have a snack and wait for the shuttle. We don't go to Narravlei as planned: too hot and we see far fewer shuttles passing through. We resume the main road of the dunes at 1:35 pm. We're going to see the Elim dune. It is covered with vegetation.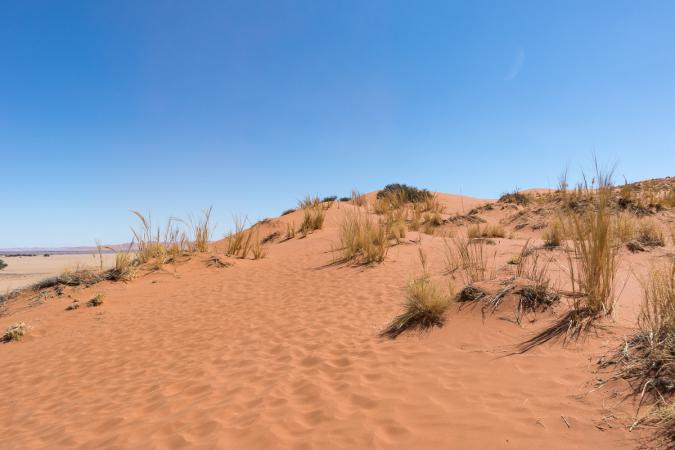 3:00 pm, we're back on the track. We make a stop at Sesriem for ice cream and a drink. Back to the logde. Aperitif by the pool... you have to quench your thirst !
Saturday october 5 : departure at 8:45 am for Namibrand. We arrive at Greenfire Desert Lodge at 11:30 am. We go to the reception and the guy takes us to the lodge a kilometer away. It is a building with 6 bedrooms, a common room and a swimming pool. No staff ! There is a water point just in front and an oryx drinks. We thought the game drive was in the afternoon but it's only at 5:00 p. m. Lunch is at 12:30 pm (lunch is included in the price). Right now, we're alone. Christina comes specially for us, she makes us a mixed salad.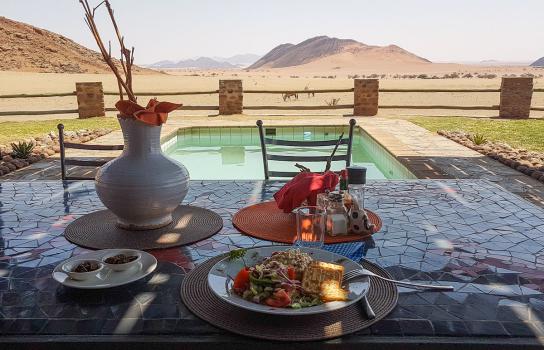 We're not bad ! There is no water in the room. The owner is working with his guys to solve the problem. A little before 2:00 p. m., everyone leaves and we're alone again. We're going to walk around the mountain of the lodge. It's hot! 4 other people arrive and then 2 more, all Germans. At 5:15 pm, the guide, Migel arrives for the 4WD ride on the private reserve. Let's go for 2 hours of track at 20kms/h ! to finally not see much: some oryx, zebras, squirel and mongoose, all that a little far away. On the landscape side, beautiful but nothing more.   
The sky is overcast with a few white clouds, the first of the trip! We return for dinner served at 7:30 pm all at the same table by Christina, Elton and Rivianyi.
Sunday october 6 : up at 6 am for David who wants to take pictures of the sunrise.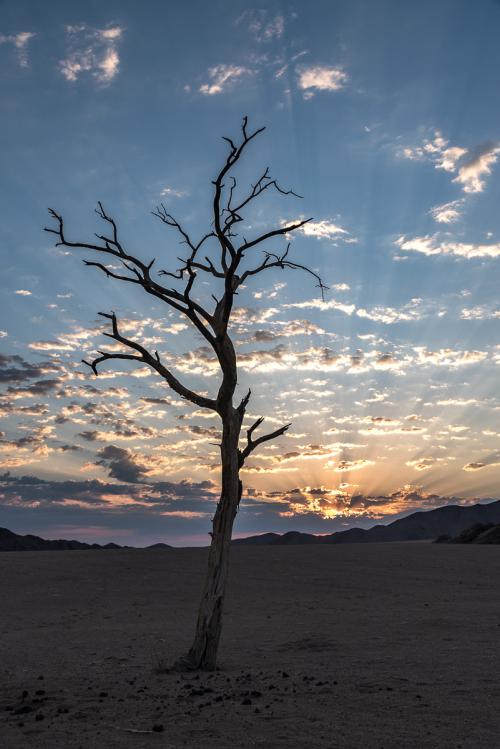 He sees 3 klipspringers, family of dik dik but bigger. Breakfast is only at 8:00 am. Departure at 9:15 am. There are still white clouds this morning. We stop in Maltahohe to refuel. We arrive at Kalahari Anib Lodge at 2:00 pm, 37°. It's a little less intimate. It is a large complex of at least 50 cottages.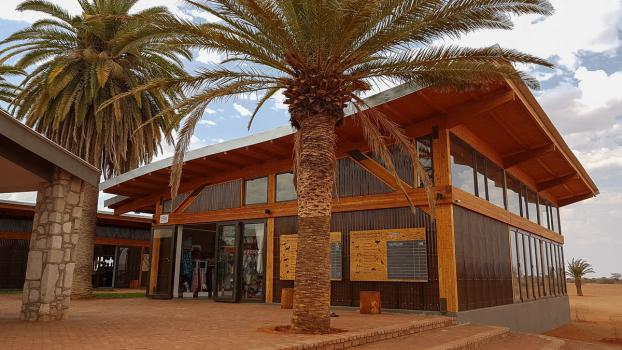 We're disgusted, tonight's safari is full. Another wasted day doing nothing. Behind our room, there is a water point and fodder put in by the lodge. As a result, there are lots of moose and marabouts. And a herd of wildebeests comes along. We take a lot of pictures with the setting sun.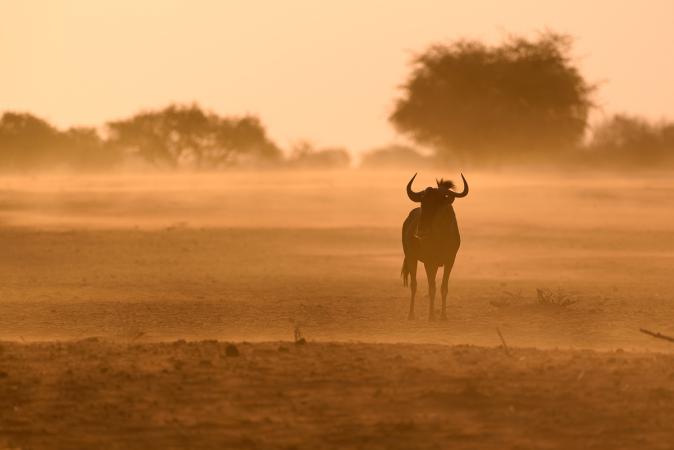 We're going to dinner at 7:00 pm, it's buffet. It's a little better than the others we've had before. Mixed salads, mashed potatoes, dried springbok, elk, impala, pear cake, ice cream.
Monday october 7 : up at 5:15 am for the drive on the property. The guide leads us on a small dune to watch the sunrise. That's right !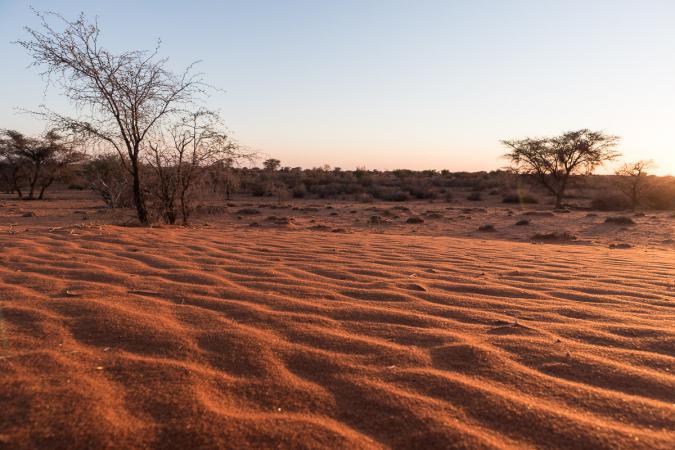 He offers us a coffee. Then we go for a drive on the estate until 9:15 am. We see wildebeests, kudus, springboks, ostriches, giraffes, abandoned ostrich eggs.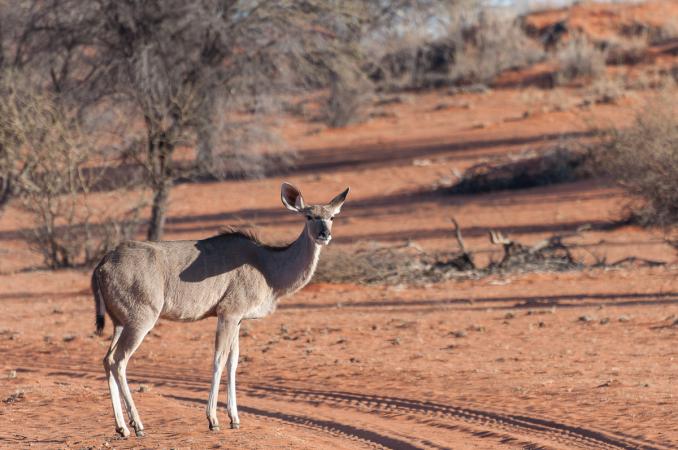 Not very interesting. We had seen some nice pictures of the Kalahari before we left, now we're a little disappointed. Once back to the lodge, we will have our breakfast (buffet). Departure at 10:15 am, return to Windhoek. We're going to Daan Viljoen Game Park at 1:45 pm. It's 90$N for both of us (40$N per person + 10$N for the car = 5,50€). We do the 4 kms hike "the Wag'n Bietjie Trail" which goes to the dam where there is some water.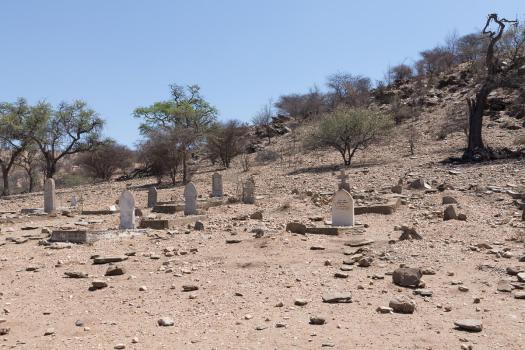 On the guides, it was written that there are many animals and birds. Where the hell are they ?? We only see three moose and a warthog at the water's edge. Almost all the vegetation is roasted. It's between 38 and 40 degrees. It's a bit of a scam, though, this park! There's nothing to see. We then go for a coke at the lodge restaurant on site and leave the park at 4:10 pm. Direction the River Crossing Lodge which is located between the city and the airport. The room is less classy but we have a view of the mountains and there is a beautiful swimming pool.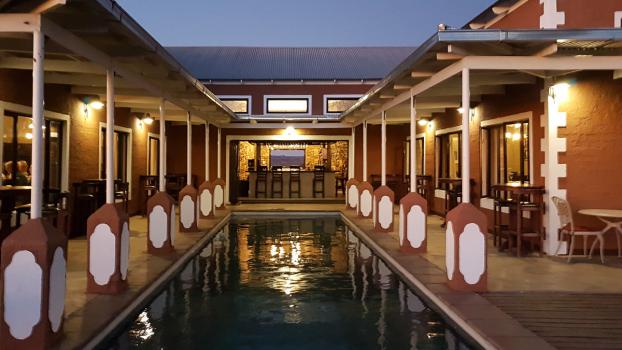 Dinner at 7:00 pm: mushroom soup for me, beef and bacon brick for David. Roast oryx stuffed with potato, butternut and cabbage mushrooms. Banana vanilla ice cream for me, chocolate fudge for David. Very good!
uesday october 8 : departure at 9:00 am to visit Windhoek. We're turning around a little bit to find a parking space. Some guys are trying to force our hand a little bit to park, but we don't agree. There is a place in a quieter place not far from the National Art Museum. We start by going to see the Christuskirche church.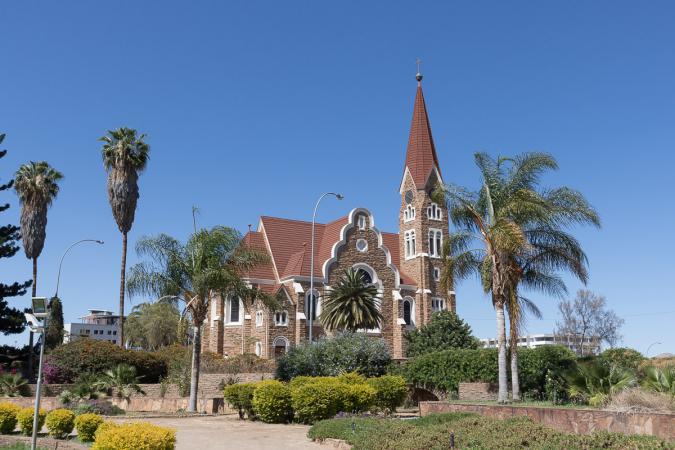 It's pretty. The interior is very simple. It is located next to the Parliament and the gardens. There are bougainvilleas and pretty trees with purple flowers.
We pass at the foot of the Independence Memorial Museum.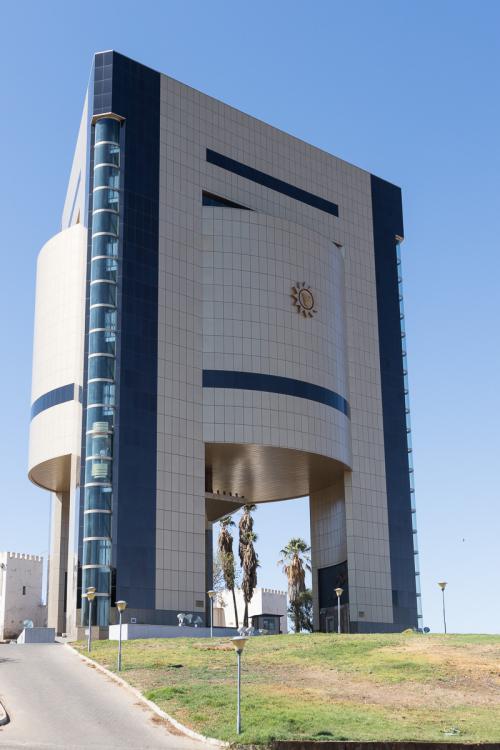 We will then make some souvenir purchases at the Craft Center. We stop for a coke in a small restaurant. Then we will visit the National Art Gallery.
It's small and the paintings are simple !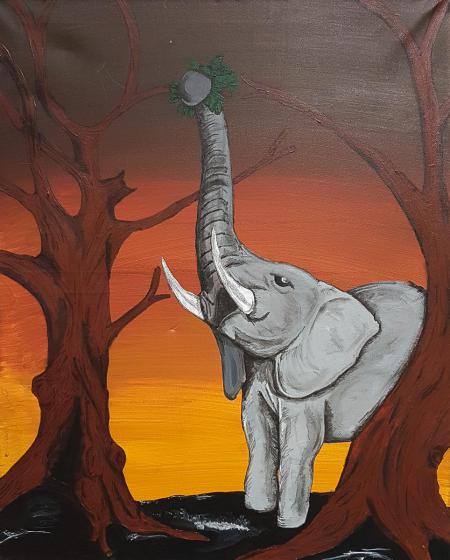 I don't know why but I love this painting.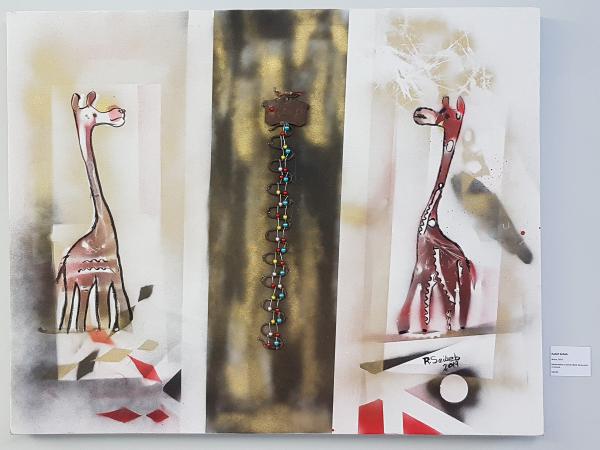 It's still pretty average but it's free or we give what we want. We then take the car back and a guy joins us for his tip. We give him 100$N (6€) and then his face lights up, he's super happy, he shakes our hands, he says thank you in French ! He probably doesn't have that much experience. And for us, it's the first time we've seen someone who's happy to get a good tip. We're going to the National Botanical Garden. It could be beautiful but at this time of year all the trees are roasted. Access to the garden is free of charge.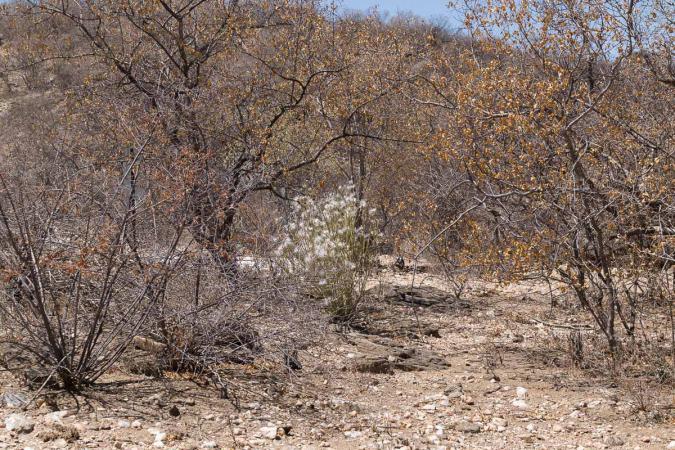 Return to the logde at 2:00 pm. A small glass on the terrace before going to prepare our suitcases for the return. Rest before the last aperitif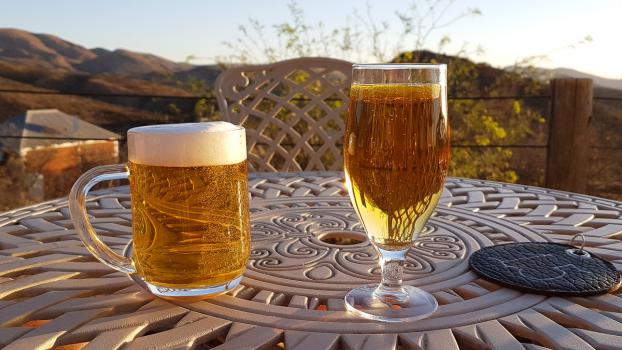 and the last dinner. 
Wednesday october 9 : We leave the lodge at 9:10 am to go to the airport. We refuel. We return the car to AVIS at 10 am which chechs everything. It's ok. We're way ahead of schedule. The Ethiopian Airlines counter is not open yet. Finally, we won't wait long. We get through security and immigration without any problems. We board at 1:45 pm and take off on time at 2:30 pm. Then we hear the eternal « chicken or beef », chicken for both of us. We arrive in Addis Ababa à 7:30 pm (8:30 pm local time) for a 3h30 stopover. Disgusting pizza break. Boarding and take off at 11:45 pm local time.
Thursday october 10 : we land in Paris at 6:30 am. Parkineo comes to pick us up after our call after 20 minutes. And let's go for miles of traffic jams to get home via the Francilienne. No warthogs or springboks on the road, just herons. Finally, it only takes 2h30 to get home. It's 10:15 am. The holidays are over ! How exceptional they were !