Saturday may 23 : home departur at 2 am. Too difficult ! The driver of the travel agency dropped us at the door 2E instead of 2F. It starts badly but it is not over! At the check in, there is a problem with my maiden name and the name on the ticket and passport. This is the first time. Yet we did as usual. We are told to go to the "sale office". Finally, after some manipulations, the guy gives me my boarding pass to the married name (as ESTA). We must take off at 7:20 am but we leave with a 15min delay. Stopover in Amsterdam. The flight to Portland goes smoothly. We arrive at 11:45am (local time). We go to Alamo rent a car to get the car (a Kia, not even an American car!). Then we do our first big shopping at Safeway. Finally, we reach our hotel, the Econolodge. We are very tired and we don't have the energy to go out for dinner. We go to bed very early, 7:15 p.m.!

Sunday May 24 : today, we visit the Portland japanese garden. We arrive à 10:30 am, the parking is full, not easy to find a place, moreover a pay parking : $1,60 for one hour/$6,40 for a whole day. The fee to visit the japanese garden is $9,50. We tour the garden twice because we can not find the famous Japanese tree with red/orange leaves. In fact, we expect a big tree, but ultimately it is rather small and you have to crouch down to shoot from below.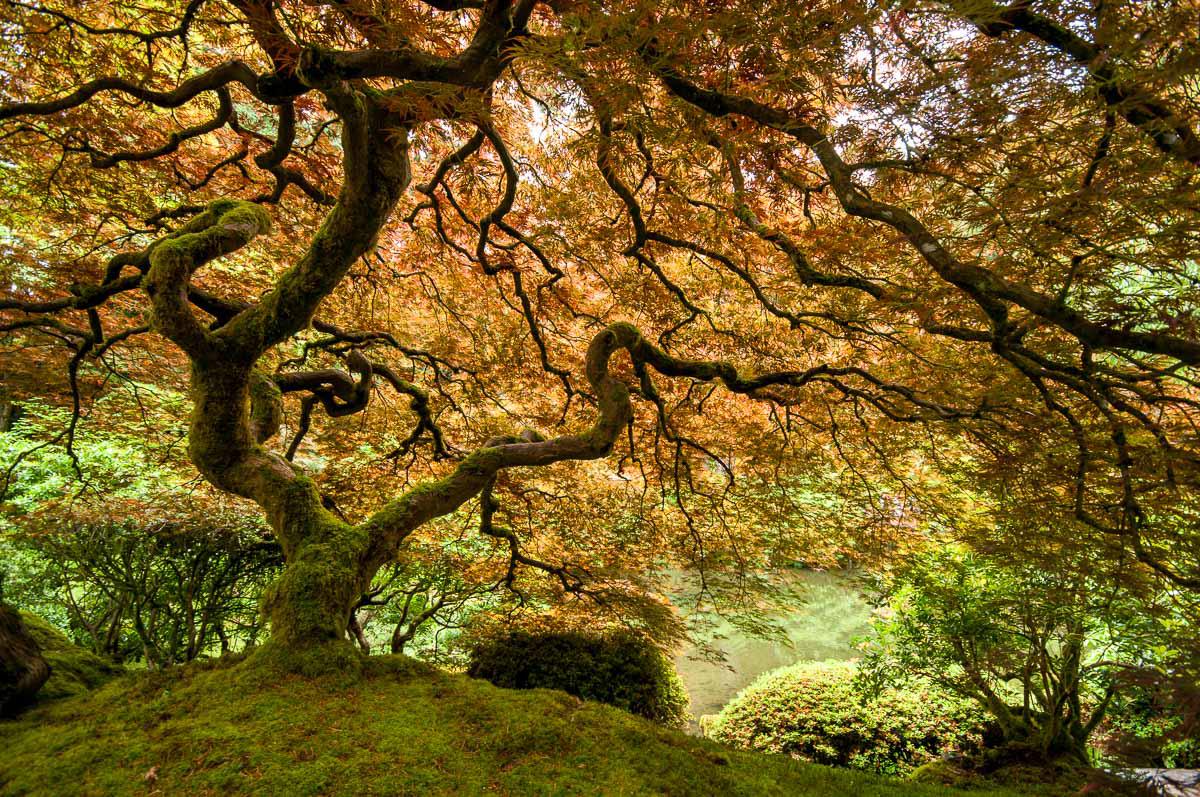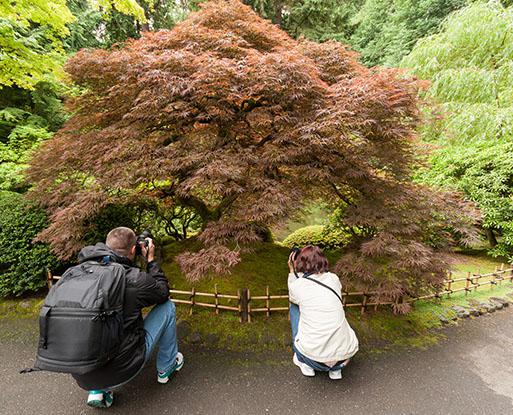 We leave at 1 pm to reach the Pacific coast near Cannon Beach. We seek an accommodation for the night but everything is expensive. We go back to the city of Seaside where we finally find a room at the Coast River Inn in Seaside ($97 for 3 people). Large room and large bathroom, clean. We then go to the coast to identify Cannon Beach for photos of the sunset on the Haystack Rock. Not easy to find where to park. Then we'll eat sandwiches at Bill Restaurant. It starts to rain. It is 7:15 p.m. We go back on the beach to take photos but for the sunset it is unsuccessful ! The sky is overcast and it is not hot.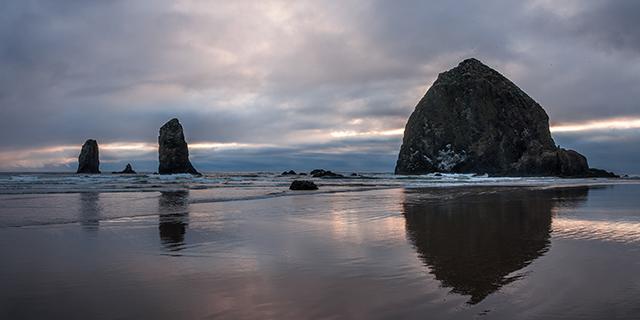 We stay here until 8:50 p.m., and we return to the hotel.
Monday may 25 : this morning is overcast, it drizzles and it's only 53°F. We stop in Cannon Beach while there is a ray of sunshine. Then a stop at Rockaway and its pierced rock. It does not breaks three legs!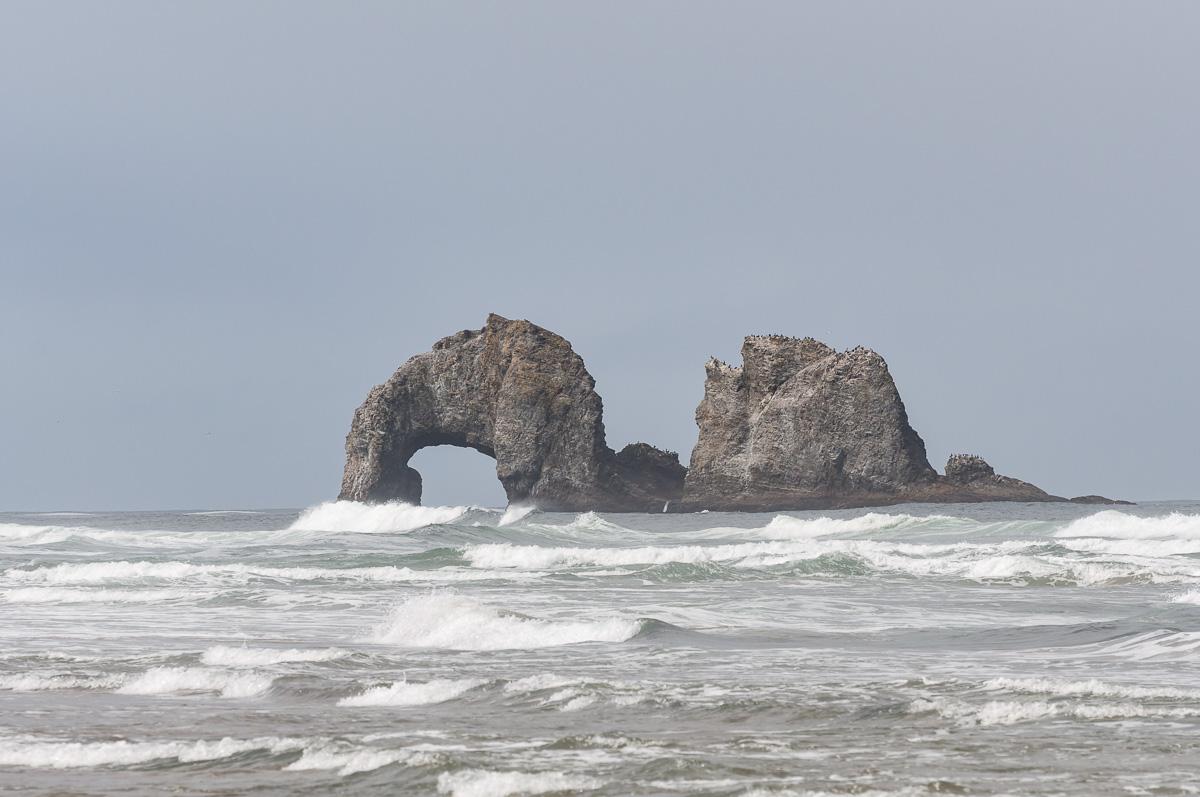 Stop at Devil's Punchbowl State Park. The hole is stuck to the cliff, we hardly see it. It is low tide: no water in it.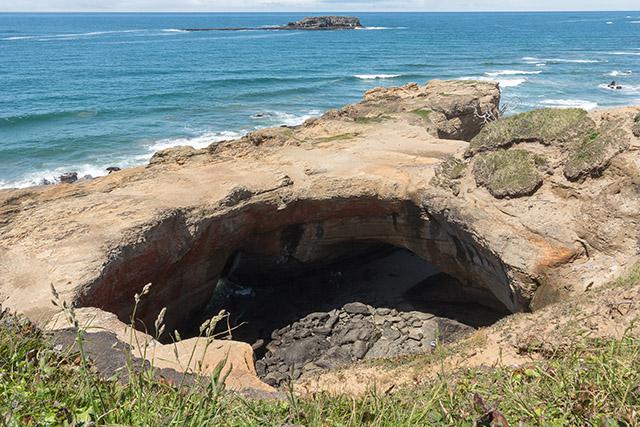 We take a few pictures. We leave and look for a campsite for the night: the Cape Perpetua has too small tent sites. Back to Yachats to take a room at the Dublin House Motel ($ 85 for 3 people). We take the road towards covered bridges. We start with the Yachats North Fork. It's nice.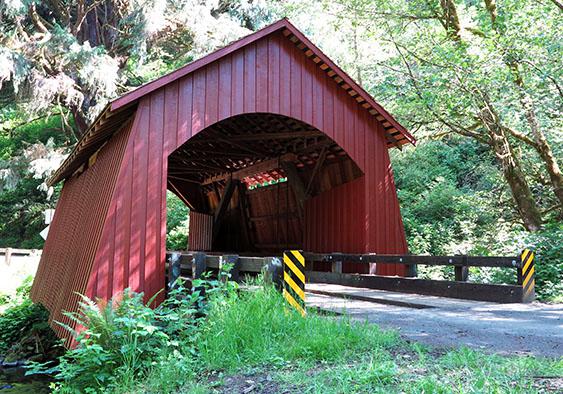 We meet two Americans: Mary and Jack, his neighbor. She speaks some French, she gives us her phone number if necessary. Very nice of her. We head to another bridge: Five Rivers. Not bad but the road is bumpy. In late afternoon, we return to the coast. It is 68°F, but the temperature goes  down while approaching the ocean. We settle on Thor's Well car park for a picnic in the car: it's cold and windy. Waiting for the sunset but it's still very cloudy. We go down to take pictures. And there, it's like Mesa Arch and its gaggle of photographers lined up with their tripods. Thor's Well is quite impressive.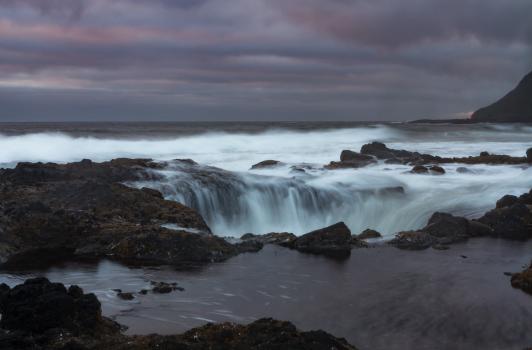 Tuesday may 26 : just when we start the car, Mary arrives. She lives in front of the hotel and saw us load the car. She comes to say goodbye, wish a good trip and be careful. Too kind. She also told us not to trust the Americans. We go  to Florence and we take a tent site in Port of Siuslaw Campground & Marina ($ 22 for 2 people + $ 5 per additional person). We set up the tents and we leave. We enter in the thick of it by going to our first waterfall : Sweet Creek Falls. Hike of 2,2 miles round trip. Beautiful waterfall but soon in the sun. You can park at a second car park for a shorter walk.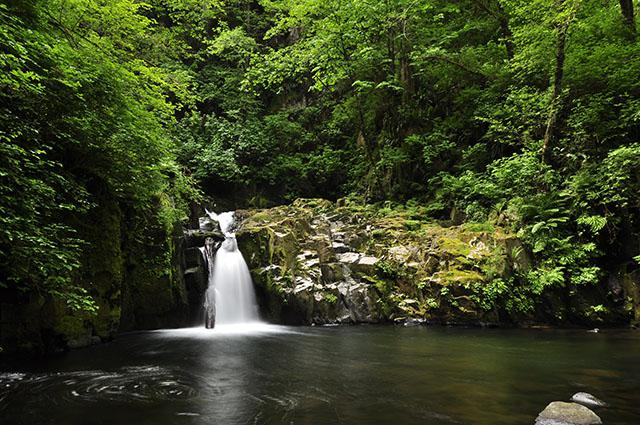 Then towards Beaver Creek Falls, which is 200 feet from the parking. It is already in full sun, not surprising, it's already 1:30 pm, wrong time for photos. It does not worth it, we leave immediately. We drive to Kentucky Falls. The road is the same as Beaver except that it is closed by a tree trunk. We try to find another route. A sign tells the falls is 19 miles away. We follow the sign but at the next intersection no more indication! We take left at random on a narrow and gravelled track. Then right ... and cul-de-sac! We drive back, as there was a small track on the left: cul-de-sac too. F..k ! We return to the first intersection after the "Kentucky Falls" panel. What to do? We decid to return to the bridge crossed this morning and we consult the book Photographing Oregon. We follow the route indicated in the book ... but that is a long road, between gravelled track that climbs up and no marked trail ... We finally arrive at 4:10pm  at the parking lot. Lower Kentucky Falls and North Fork Falls are reached after a 2 miles walk one way. We  travel the trail at a run. It goes down. All that to see Kentucky in sunlight and North Fork not very accessible without taking much time, because given the rise ahead of us, do not drag. Tonight, we want to see the sunset on the Heceta Head lighthouse.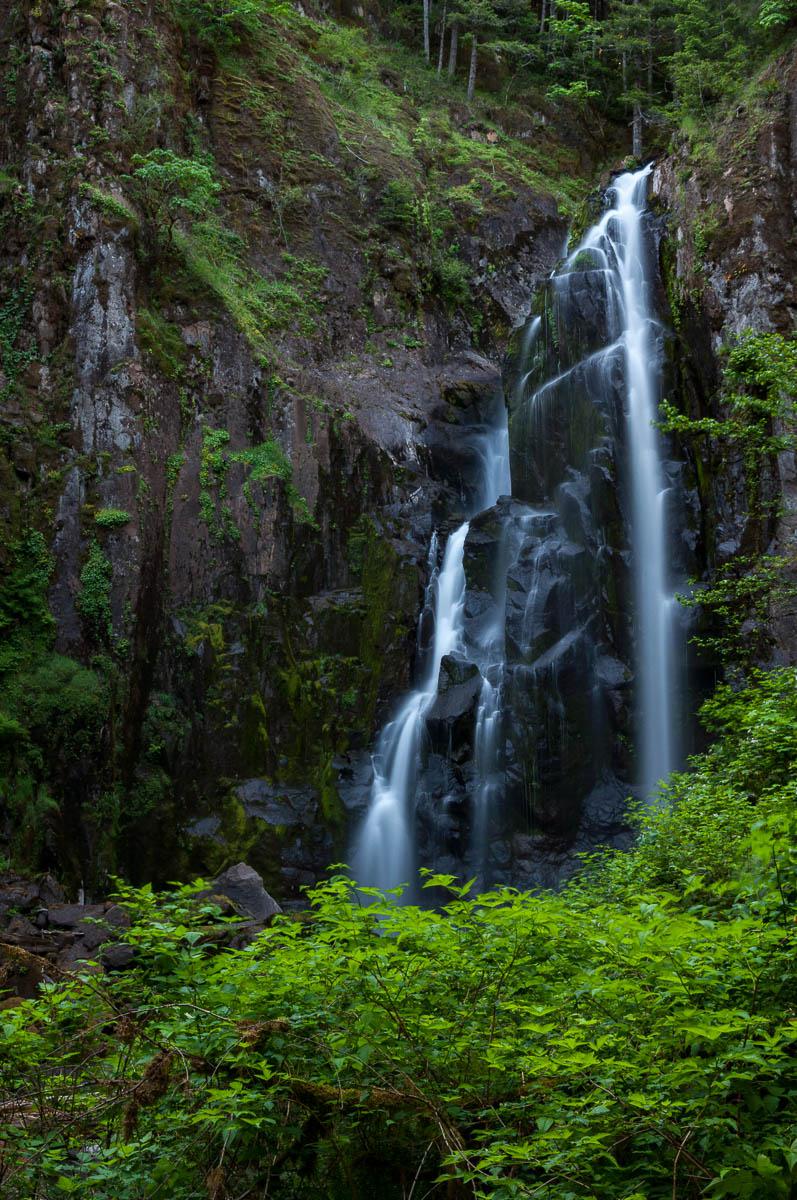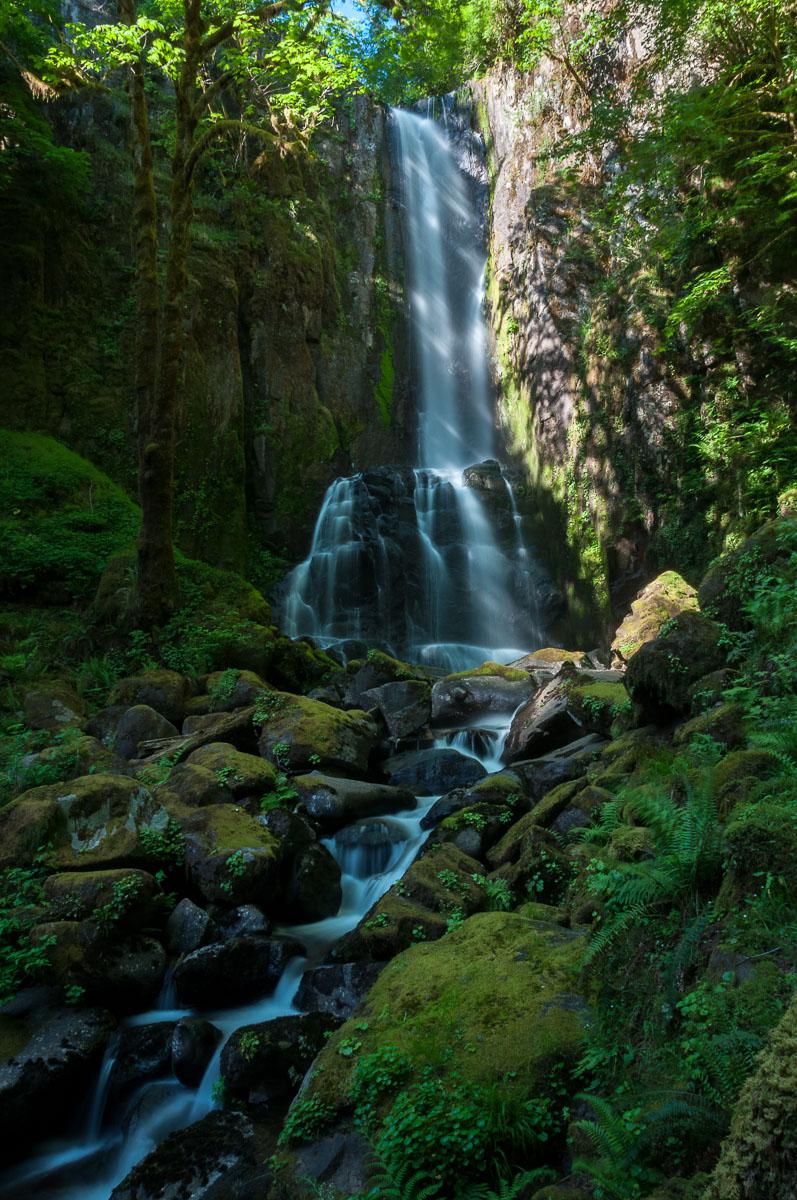 It took 35min to get down without stopping, and 1 hour to go up. Departure from the parking at 6:45pm. We have a 55 miles drive to reach the coast. We arrive at the lighthouse at 8.15pm. It' windy and cold. We are not lucky : there are some clouds again while it was sunny in the day.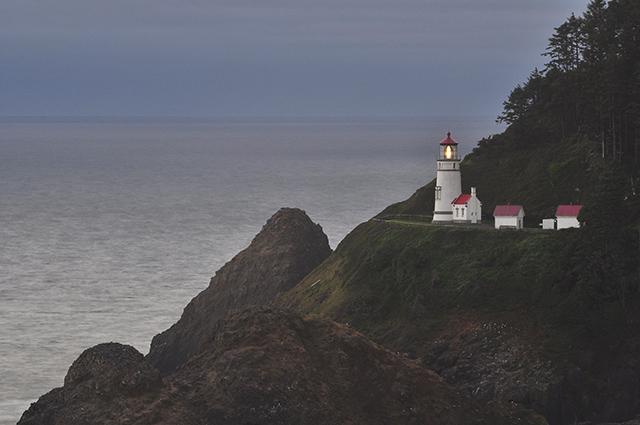 We ran all day to miss everything! Disgusted! It is our failure : we want to see too many things in a day. We really want to see a lot when we are here... We go back to Florence and eat burgers at A & W.
Wednesday may 27 : the manager of the camping talks us about French Polynesian with a catamaran that are moored in port and who would love to speak French with us because they have been on the sea for a long time. We try to go to see them, but no one . Their catamaran is huge. We go shopping and then we leave for Cape Arago. It's foggy and it drizzle. We take a tent site at the Bandon by the Sea RV Park ($ 25). Then we go to Cape Blanco to see the lighthouse. We arrive and of course, the wind is very strong, the sky is overcast and it's no more than 57°F. As soon as we approache the coast it is rotten. We have no luck!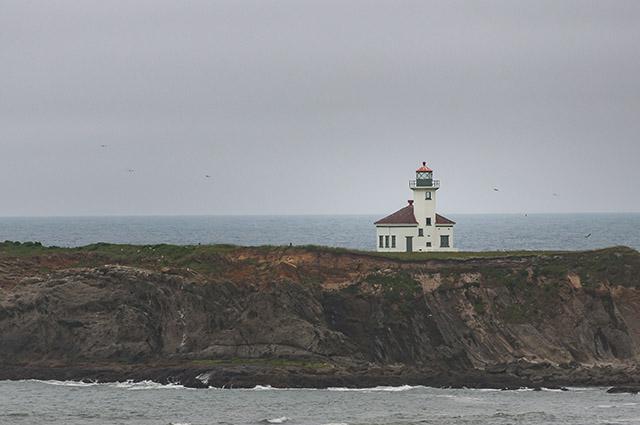 We return to Bandon at 5pm. Hardly moving 0,3 mile away from the coast that the sky is clear and the sun is shining but always windy. We spot the famous Face Rock for tonight and come back to eat at the campsite. It's cool. At 7:30pm, we return to the coast. It is covered, no sunset. We still take some photos and go back to the campground.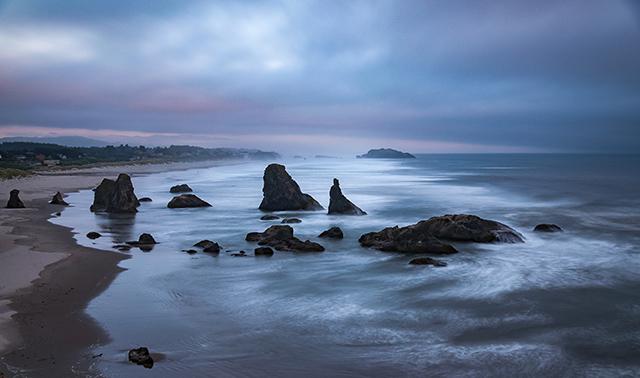 Thursday may 28 : when we wake up it is very overcast, windy and cold. On the road to Roseburg : sun and 77°F. We change today's program with the one of Saturday to avoid doing too much road. We go to Cottage Grove towards Trestle and Spirit Falls. We take  a small road that climbs through the forest. It is difficult to find our way because the roads are not indicated. We don't have much fuel. Turn around or continue? We continue with doubt to find ourselves stuck in a cul-de-sac. Finally, it's ok : we recover a good road. We arrive at 2:30 pm in Cottage Grove. We put some gas in the car and we buy a blanket because the nights are cool in tents. Then we start looking for a campsite. We find a place in the Schwarz Park Dorena: just too good, under the trees, spacious sites,  barbecue, no one, hot showers. $18 for the 3 of us.
Beautiful sun, warm (82°F), light breeze. Finally we can take shorts out of the bags! We set up the tents. Then we go to take pictures of covered bridges : Currin and Mosby (not planned).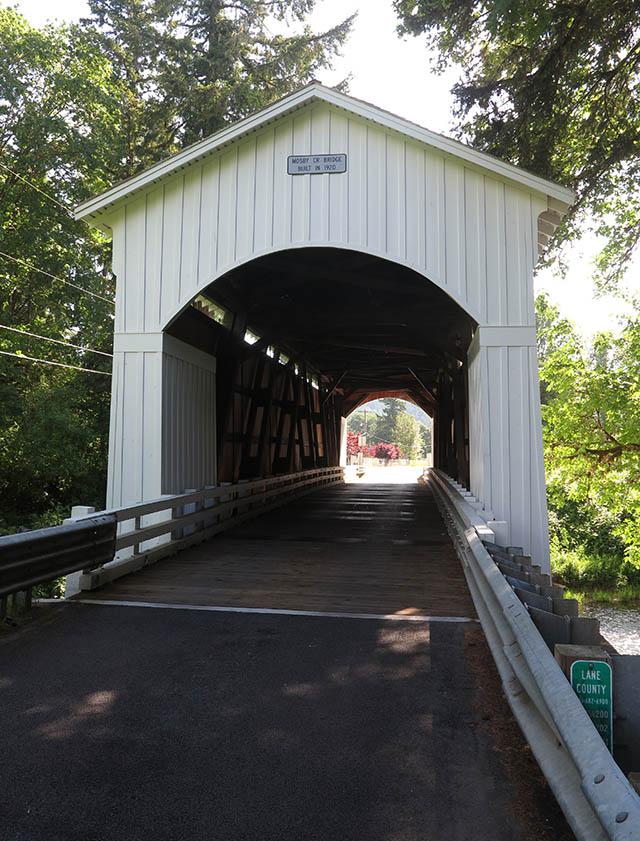 We will visit the falls tomorrow. Back to the campsite at 6pm. First campfire.
Friday may 29 : starting at 9:30 am for Spirit Falls. The waterfall is 0,3 mile away from the parking. It's very pretty ; it is better to do in the morning because it can soon be in the sun.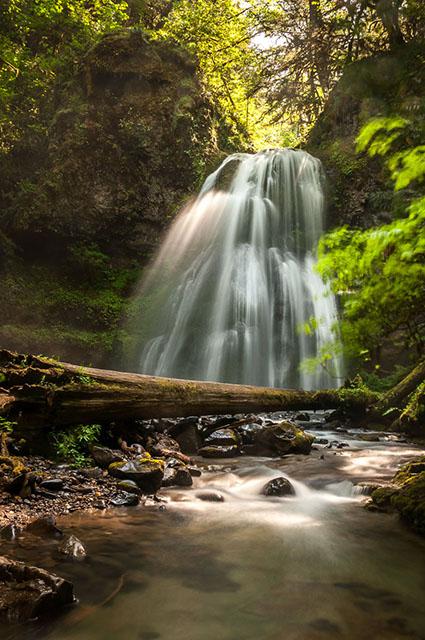 We continue our day with Trestle falls. Short hike of 1.5 mile roundtrip leading to a beautiful waterfall.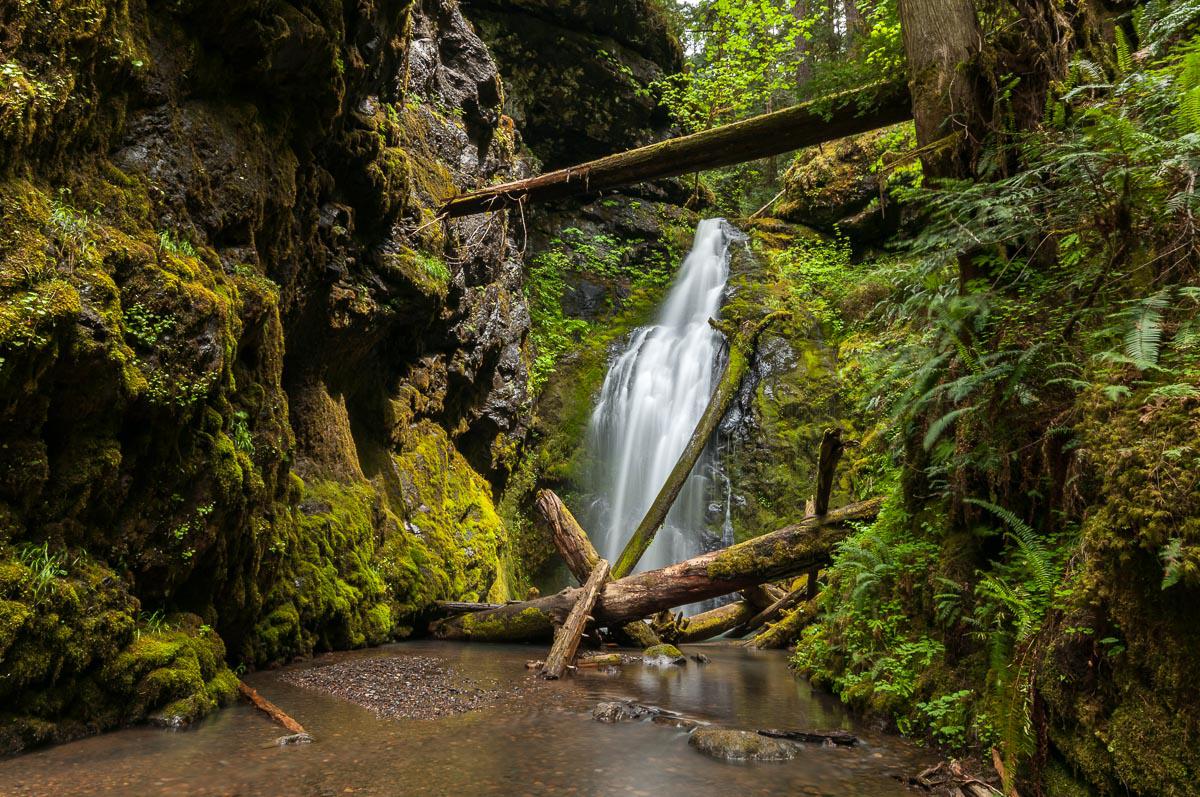 We eat a snack. Then we leave driving on small forest roads specified at the beginning and then no more signs at intersections. It is painful ! At a bend, in the middle of the road, we see a bear about 200 yards from the car. No time to get out the cameras, it's already gone into the woods. We stop at Clearwater Falls. It's not bad. Then towards Whitehorse Falls on the same road. The waterfall is beautiful, small but very photogenic.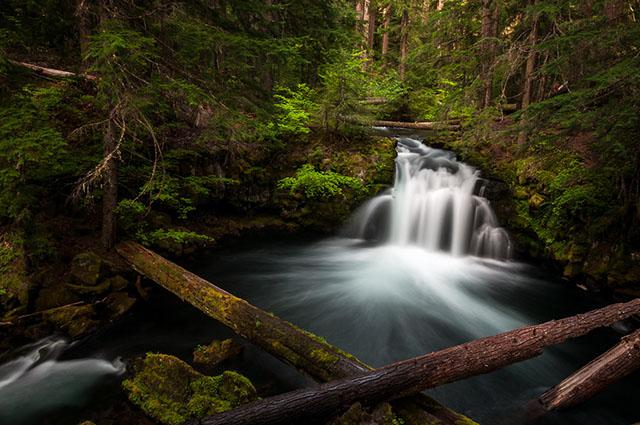 We take  a tent site in the primitive camping of the same name ($ 10 and only dry toilet). We set the tents while cooking  rice and light a fire. There are plenty of mosquitoes.
Saturday may 30 : we get up at 6:30 am, mosquitoes are already there! On the road we stop at Toketee Falls.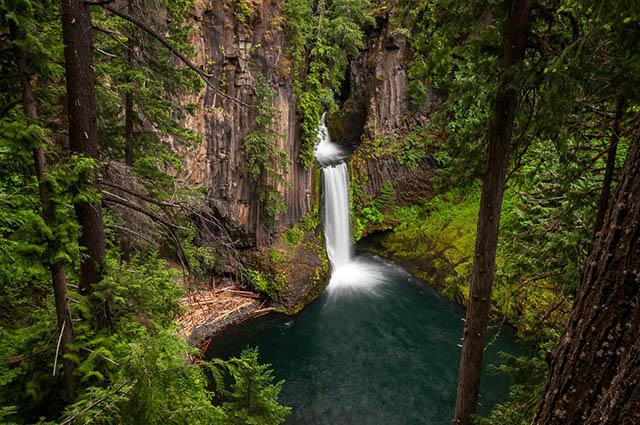 It's in the shade, ideal for the pictures. It's very beautiful. We leave Toketee falls to go to National Creek Falls. After a 0,5 mile walk, we discover the falls but it's in full sun. No way ! We will come back in late afternoon. We so decide to go to Crater Lake. We first stop at Union Creek to buy some drink and wood. We arrive at Crater Lake around 1:10 pm. It's 68°F. There is still some snow in places.  We take a few pictures from  Rim Village and we start the drive with our car stopping at viewpoints.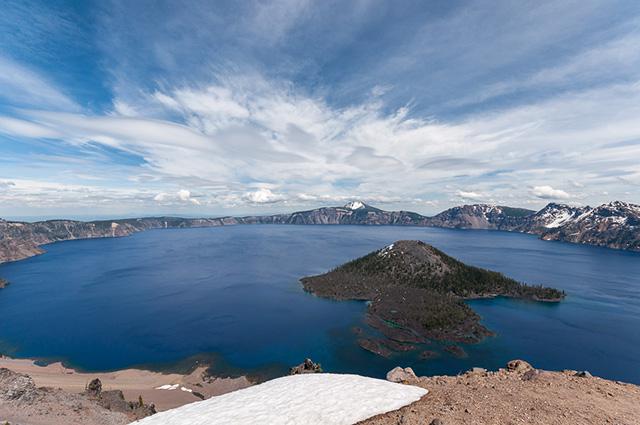 But like in 2010, the road on the east side is closed due to snow. We turn around to try to find a campground. We find a site at the primitive campground Farewell Bend ($20). Then, at 5:50 pm we go back to National Creek Falls. It's in the shade, it's perfect. It's gorgeous. But we have to cross the river because on this side we can't see it whole. Furthermore, on the other side, there are less water projections.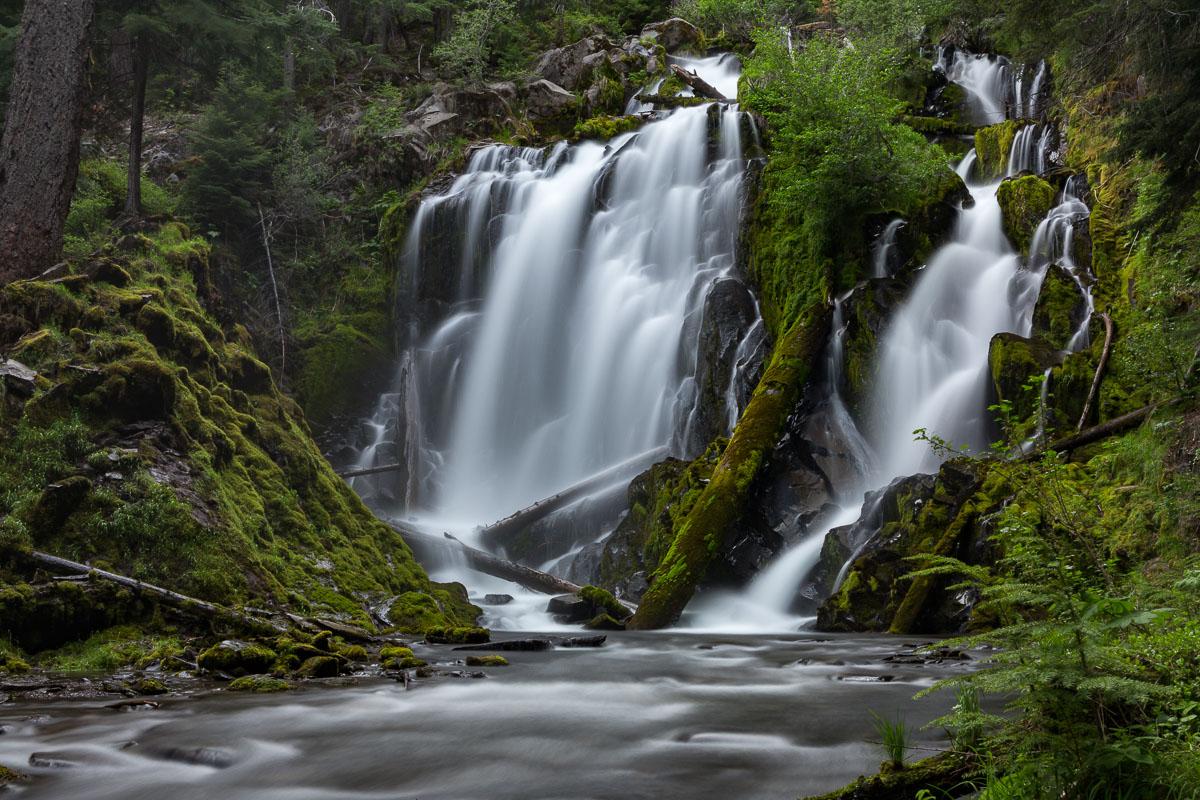 We take a lot of pictures and return to the campground.
Sunday may 31 : today we're heading towards Newberry National Volcanic Monument. On the road, we stop at Salt Creek Falls. It's beautiful, very big with a nice view, but not easy to photograph because of the protective barriers. The sky is overcast, ideal as the fall is not in the shade of the trees. A short trail leads to the foot of the falls. Back to the car to go to McKay Falls which is 150 yards away from the parking. Nice but no more. We then go to Paulina Falls. It's very close to the parking if you want to see it from the top. Otherwise, a trail goes down to the bottom of the falls. The falls are not very nice. We visit Newberry. We stop at East Lake... well, it's a lake, like many others ! The overcast sky does not help. And it's the same for Paulina Lake. Next stop is at Big Obsidian Flow. It's an old lava flow, very dark. It's quite impressive. There is a trail of about 1 mile.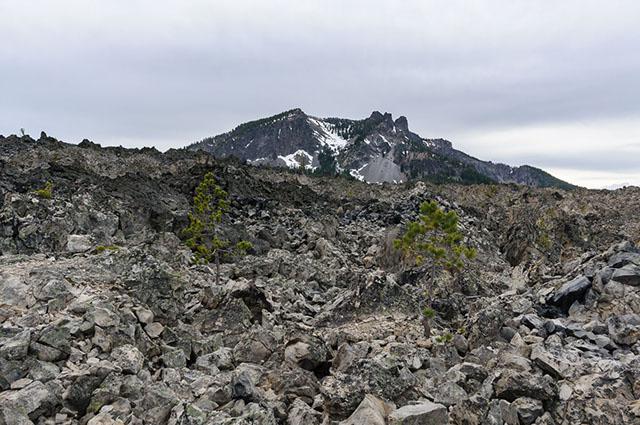 After that, we wanted to go to Paulina Peak Road, but the road is closed, probably because of the snow. We leave the park at 6 pm to try to find a campground. We find one in Sunriver ($37). Our tent site is close to another french camper. Incredible thing, this guy is one of our knowledge : Alain ; a former colleague of David. He's traveling in the west for fishing for 2 months. The world is small !
Monday june 1st : we talk a little with Alain and we leave for Fort Rock at 10 am. It's very overcast, pictures will not be beautiful. Fort Rock is impressive, big. We understand its name.

We book a room in the  Christmas Valley Desert Inn ($58). Then, around 4 pm, we drive to Christmas Valley Sand Dunes. We see in the distance, some sand in the air because of the wind.  Not good for cameras ! As we get closer, the sky is becoming yellow, filled with sand, so that the dunes are disappearing. Not good at all ! The tracks that lead in the heart of the dunes are not in good conditions. Anyway, our car will not pass, we would need a 4wd with a high clearance. We renounce. On our way back, we see a sign «Crack in the ground 7,5miles». We follow this sign, as we have some time. While preparing this trip, we saw pictures of it : it's a small canyon. Once at the parking, we see that there is a 1,9 mile walk. But in the meantime it started to rain, there is some wind and it's only 53°F. We renounce again and head back to our hotel. In the evening, we dine at the Pines Cafe : big burgers and fries.
Tuesday june 2nd : leaving we go back to Fort Rock to take a few pictures. Then we go to Tumalo but the campground is closed. We go to the city of  Sisters to find a campsite. Sisters seems very nice, cowboy style. The McKenzie Pass road is closed, we can't therefore go to Proxy Falls, Linton Falls or Scott lake. Disgusted! We stop at the Ranger Station for additional information. The ranger confirms the closure of the McKenzie Pass Road due to altitude snow, it should reopen on June 16. The ranger tells us another route to Proxy Falls of about 1h30 which also passes at Koosah and Sahalie Falls. But it may also be closed just before the car park to Proxy Falls, which require to walk 1 more mile. On this road, there are also campsites. Rather, the ranger advises us to do this tomorrow because thunderstorms are expected today. Great !
Tumalo road is closed for works. We so decide to come back to these waterfalls at the end of trip to be sure we won't be disturb by snow. It starts to rain. We try to go to Shevlin Covered Bridge which is in Shevlin Park. It's an old bridge, but very well maintained. Then we go to Cline Falls. So here, it's like  being in Idaho because there are pipes, huts, it is not very natural. Not terrible.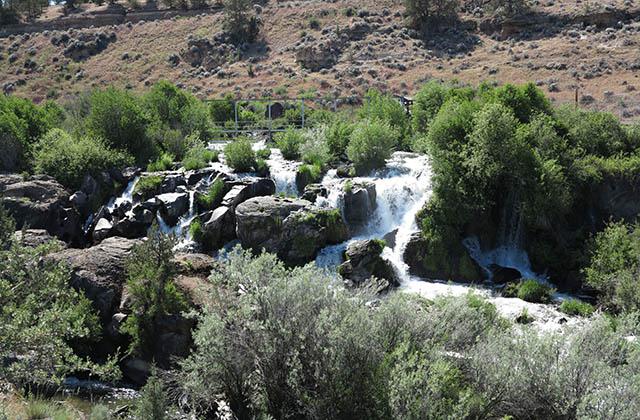 Then we drive to Smith Rock. We settle in the bivouac campground, it is a walk-in campground : on one side, parking, picnic tables, toilets, and on the other side, at 150 yards, the area for tent in the "pampa", surrounded by vegetation and overlooking the cliffs of Smith Rock. Not unpleasant. The campsite is $5 per person + $2 for a hot shower. We make a tour of the viewpoints but the main one is against the light. At 6:30 pm, we reach the town of Terrebonne to eat pizza at Pizza Base Camp. Not bad. Back to Smith Rock at 8 pm for the sunset.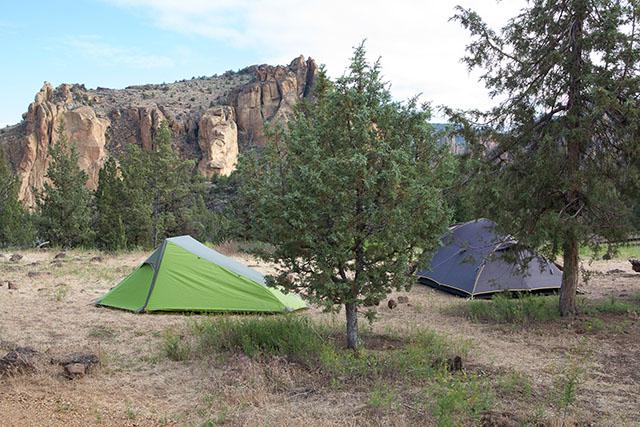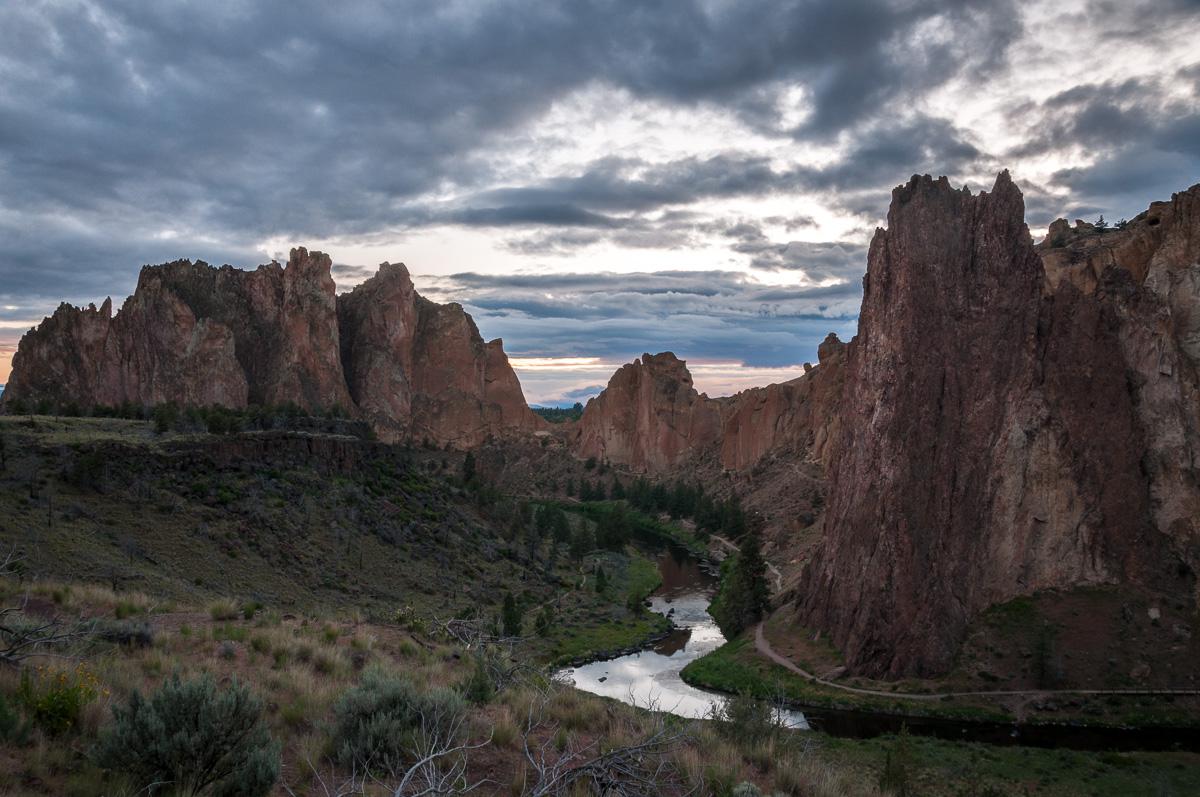 Wednesday june 3 : the night was very calm. We'll have a little stroll in Smith Rock by the river. It's nice but the park is very equipped.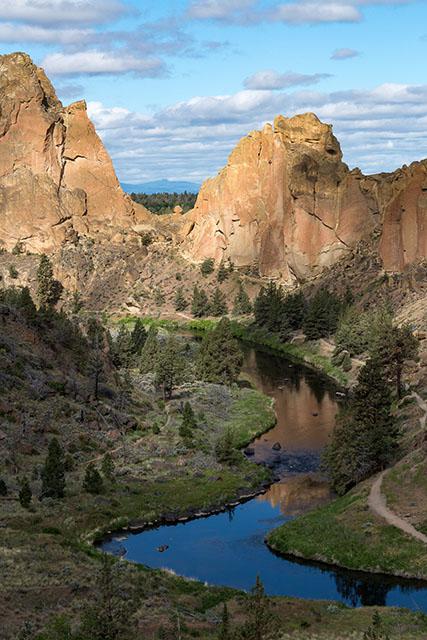 Departure at 10:50 am, toward John Day - Clarno Unit. It's pretty small. 3 trails of  0,5 mile roundtrip allow to go around. The surroundings are pretty with their green hills. We leave for the city of Mitchell. We take a room at the Oregon Hotel ($ 61 for 3, sanitary on the landing). In the late afternoon, we take the car to go to John Day - Painted Hills Unit. We start with the Painted Cove Trail. Very short. Then David embarks on the climb to the Carroll Rim Trail viewpoint (1,6 miles round trip). Meanwhile, Florent and I go on the Overlook Trail. We stay until sunset (8:00 pm).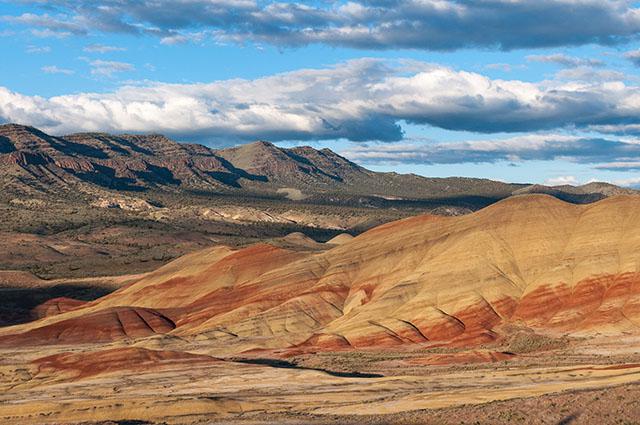 Then we go back to Mitchell to picnic on the municipal campground.   
Thursday june 4 : coffee and home made muffins. Departure at 9 am for John Day – Sheep Rock Unit. We go for a walk in Blue Basin, it's incredible, the rock is green. And we visit Barn James Cant. In the yard and in the barn, there are old agricultural tools left.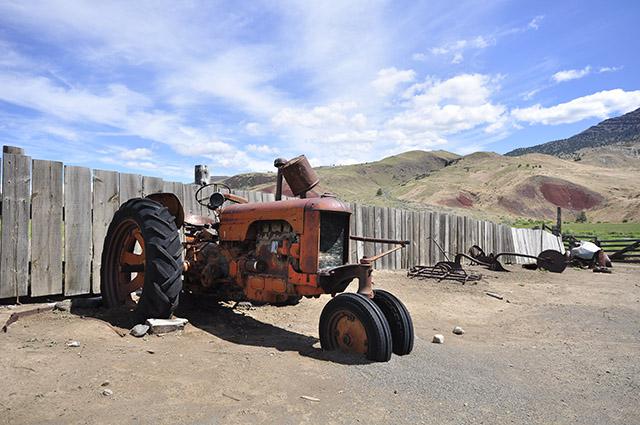 Then we take the road to Alvord Desert at 11:30 am. We're having a shopping break at Burns. Approaching Fields and Alvord, it becomes flat all at once, only green as far as the eye can see. Small bushes, meadows with cows. We cross the Malheur Wildlife Refuge, we see white egrets and many birds. It seems very covered where we go. It rains a few drops while on the desert it falls very little water a year. It will not fall right when we are there, anyway! With the luck we have! ... We arrive at Fields at 5 pm. There is nothing: just a gas station, some shacks and that's it. Maybe a semblance of RV camping because there are electrical hookups. We drive to Alvord (left at the intersection with Fields). At the exit of a hill on the road, a white expanse is offered to us. It's huge. We will see if there is a way to camp on Alvord but puddles of water and the threatening black sky dissuade us. We go to the Alvord Hot Spring Campground. We meet Joe, a German born here. He manages the campsite (toilet, sink) and the hot spring ($ 20 for the tent site, pool included). He talks to us about the desert. It is the most isolated and secluded place of the United States after Alaska. You have to drive 120 miles to go shopping! We can drive on the desert but we must avoid driving in the water because we would remain bogged down, and towing would be very expensive. We  mount the tents under a very overcast sky. We are pessimistic about the sunset. We then ride on the desert. It's a funny impression. It's huge, there is nobody. We stop taking photos, and suddenly, the sky is illuminated with pink, orange. It surrounds us. It's grandiose, beautiful. A unique moment.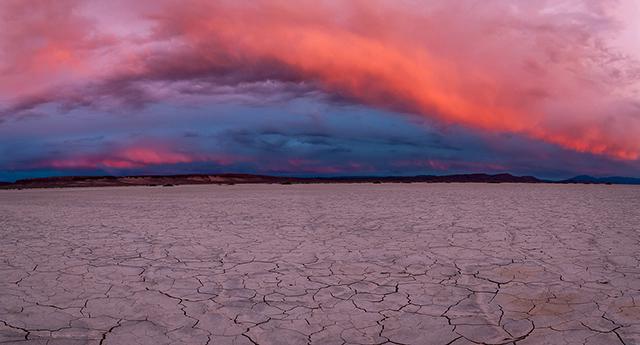 We do not know where to look! The cameras trigger fully. David is out of battery, it's not the moment! We return to the tents at night at 9 pm. Don't  miss the exit. We eat a tuna tomato salad with the only light of our headlamp, still amazed. It was worth it to miss all the other sunsets on the coast to have this one so sublime.
Friday june 5 : Sleep late until 8 am. Very calm night. We talk a little with Joe. He is very nice, maybe a little enlightened! He presents us his parrot.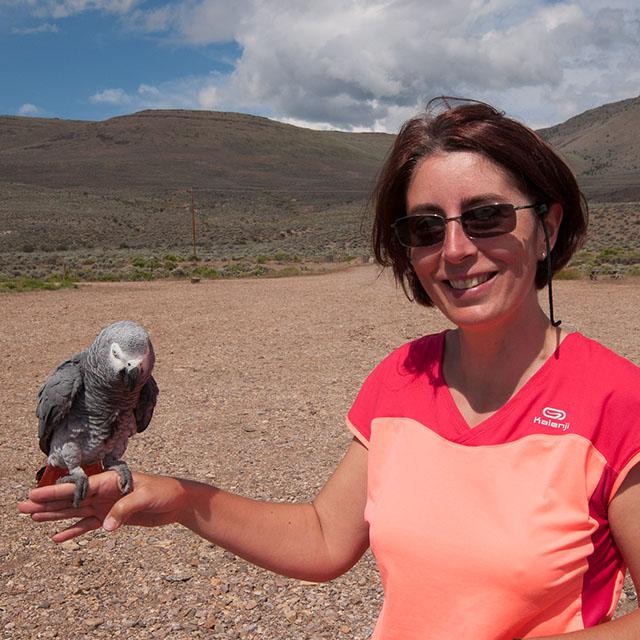 We take some more photos of Alvord. We loved this area.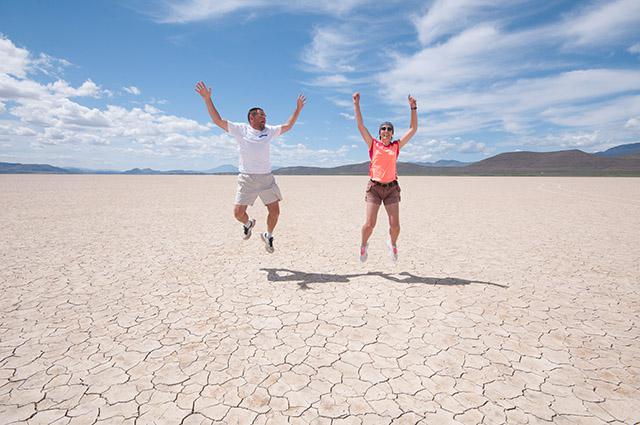 Only regret: not to have camp on the desert. An excuse to come back? !! We depart at 11:45 am north on East Steens Road (gravel road). At one point, I hear a strange noise. We stop and I go out of the car to see the tires: it seems ok. We roll a little more and ... the tire warning light comes on. This is our vein ... in the most isolated area of the USA! This is the first time that this happens to us on the amount of our trips to the USA. The hard part is finding the spare wheel! We empty the chest, we raise the seats 7 and 8: nothing. On the side of the trunk is the jack. It's already that ! We look under the hood: nothing. Under the back: nothing. Where is this tire ? Under the front: still nothing. At the moment one of us is looking at the book of the car, another finds that damn tire under the car at the passenger seat. Phew! The floor mat must be raised to unscrew a nut for the wheel to descend. So we change the tire. It will take more time to find the wheel than to change it! Only two cars passed during our breakdown. Only one stopped and the guy told us we were 5 miles away from the Highway. We leave at 1:10 pm driving slowly. We arrive in Burns and we call Alamo assistance to find out what to do. A half  hour on the phone and the guy does not find the city and basically tells us to get by and he does not know if we will be refunded. Thank you for your help, Alamo! So we go to Schwab's; the mechanic proposes us 2 tires: a used one at $ 73 and a new one at $ 220. In the doubt of not being reimbursed, we choose the cheapest and in 15 minutes, the tire is changed and the spare one put back in its place under the car. Super effective, Schwab! It is 4:30 pm. We then go to a car wash to clean the dust of Alvord then we look for a motel. We take a room at the Silver Spur Motel ($ 66 for 3 people). In the evening, we go for dinner at The Pine Room: for $ 15 or $ 17 a dish, we also have a small salad shrimp cocktail, a super good soup, a salad with cheese, then the dish. David enjoys his ribs of pork, very fine.
Saturday, June 6 : road to Hell's Canyon. We take a short break in Baker City. It is 90° F. The road leading to Joseph's town and then to Hell's Canyon overlook is closed for work. Definitely, there are days when we have no luck! We've been driving all the way from Baker City for nothing. The other road from the intersection leads to the dam of the canyon. Since we are here, we continue. This is not what we wanted to see but hey ... It will, anyway, make a great detour either to go to Palouse or to join the city Enterprise. We stop at Black Point where we have a beautiful view of the canyon and the river ; here, we are in Idaho.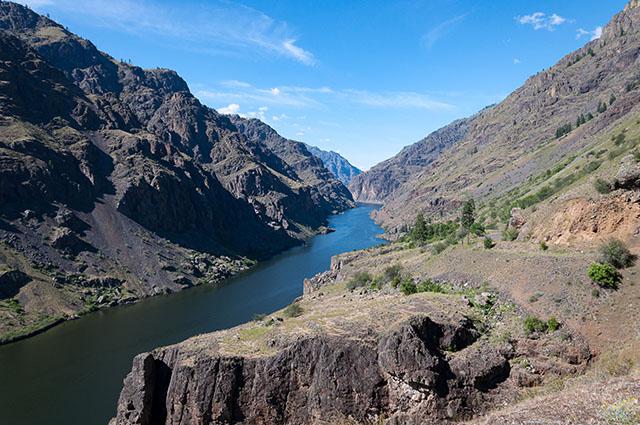 Then further, the dam. Being in a cul-de-sac, we turn around to reach Palouse via New Meadow (Idaho) and Lewiston (Washington). We stop at New Meadow. We arrive at 8pm well 9pm because there is 1 hour more in Idaho. We take a room at the Hartland Inn Motel ($ 74) then we will eat in a Subway.
Sunday, June 7th : this morning towards Palouse. We stop at Kamiak Butte to make a little walk to the viewpoint, then we picnic on the area, very nice. We drive to Steptoe Butte: the view is great but not at this time. We will return in the late afternoon. In the meantime, we will look for accommodation. No camping in Colfax. A hotel with a billboard that says they have a cable problem but when you ring, no one answers. An overpriced Best Western ($ 121). We'll have to go to Pullman but tonight. We'll "land" at City Park Schmuck to nibble. At 6:20pm, we return to Steptoe Butte. We meet a coyote in a field, he looks at us. So cute.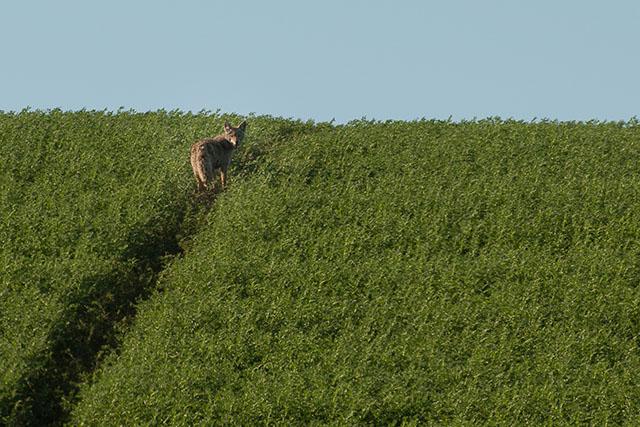 We do a ton of photos at sunset time. It is too beautiful ! There are about ten photographers. The best place is halfway up the hill, no need to climb to the top.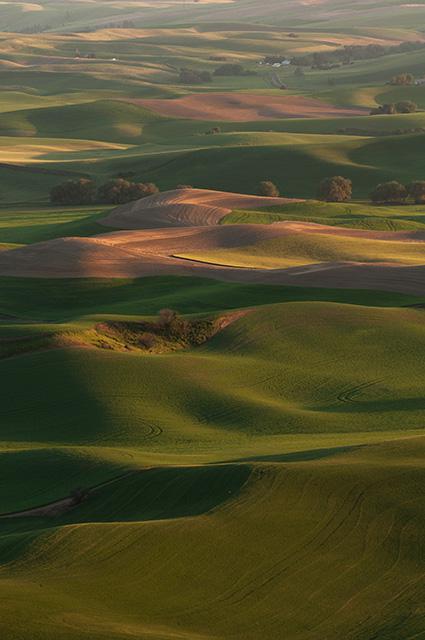 We left wondering for Pullman hoping to find a hotel. We moved to the Travel Inn ($ 74) and we will eat at McDo.
Monday, June 8 : we will have a breakfast of pancakes at the Old European opposite the hotel. Around 12pm, we move to the Koa campground at Lyons Ferry Marina ($ 29 per location). It is 97 ° F and the location is in full sun. They just watered, we can not pitch the tents right away. We drive to Palouse Falls and it is 104 ° F, it bumps! Entrance is $ 5 per vehicle. We do some photos but there is too much sun.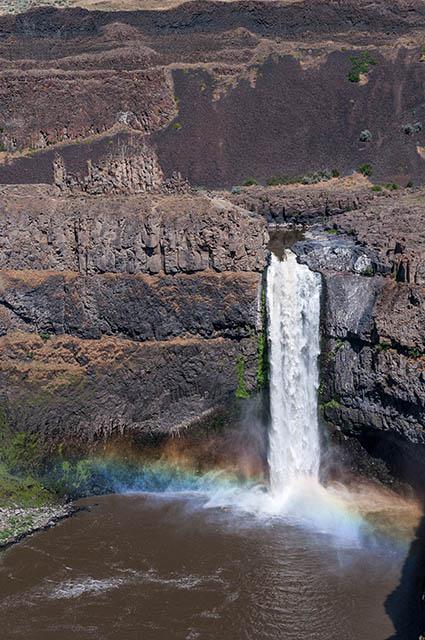 We stay a little in the shade on a table, we nibble a little. We then return to the campsite to mount the tents. Then we do nothing ... we lie on the lawn, we will buy a cherry ice cream at the store. Around 7 pm, we return to Palouse Falls to take pictures at sunset. There are still a lot of people. There is not a great sky.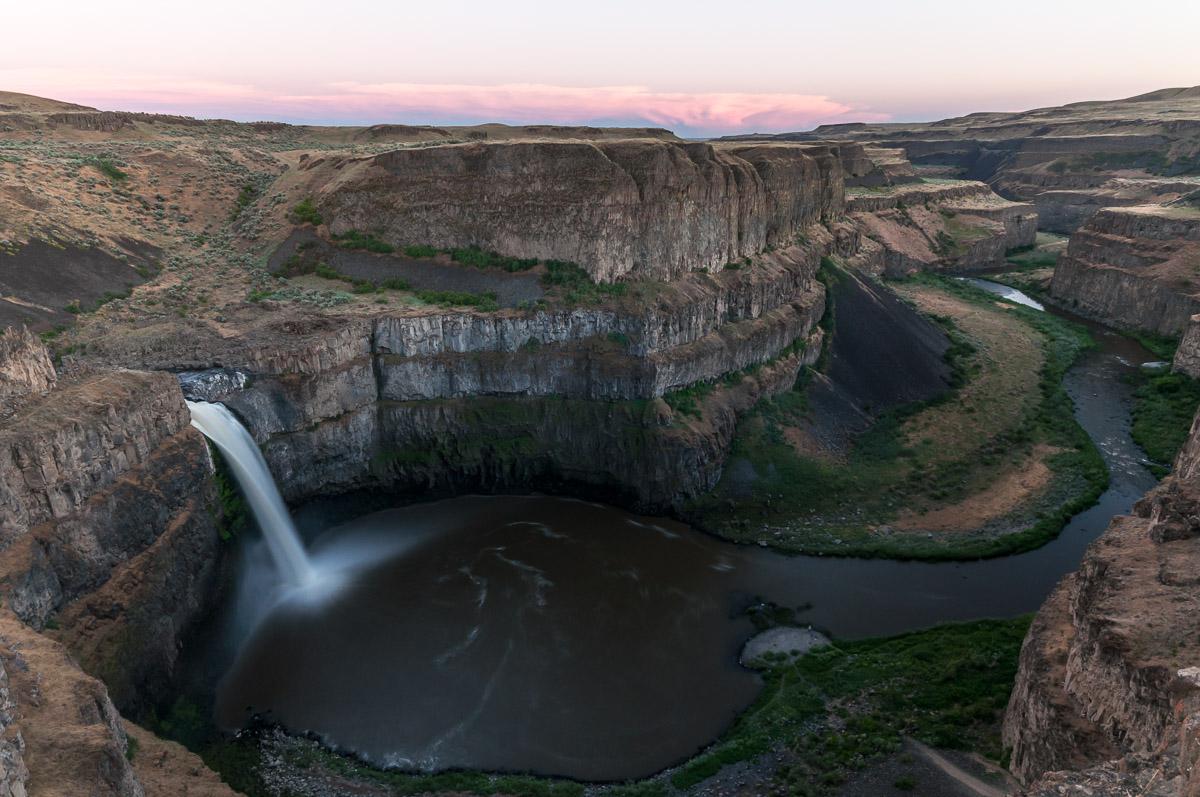 we return to the campsite at 9pm, it is still 86 ° F.
Tuesday, June 9 : we head for Cascade Locks. Passing in The Dalles, we stop to do some shopping. We take a camping pitch at Koa's Cascade Locks for 4 nights. We set up the tents and we nibble a little. It's hot. Around 5:00 pm, we drive to Starvation Creek Falls (Exit 55 on I84 East). Very large waterfall that separates into several small ones. Quite pretty.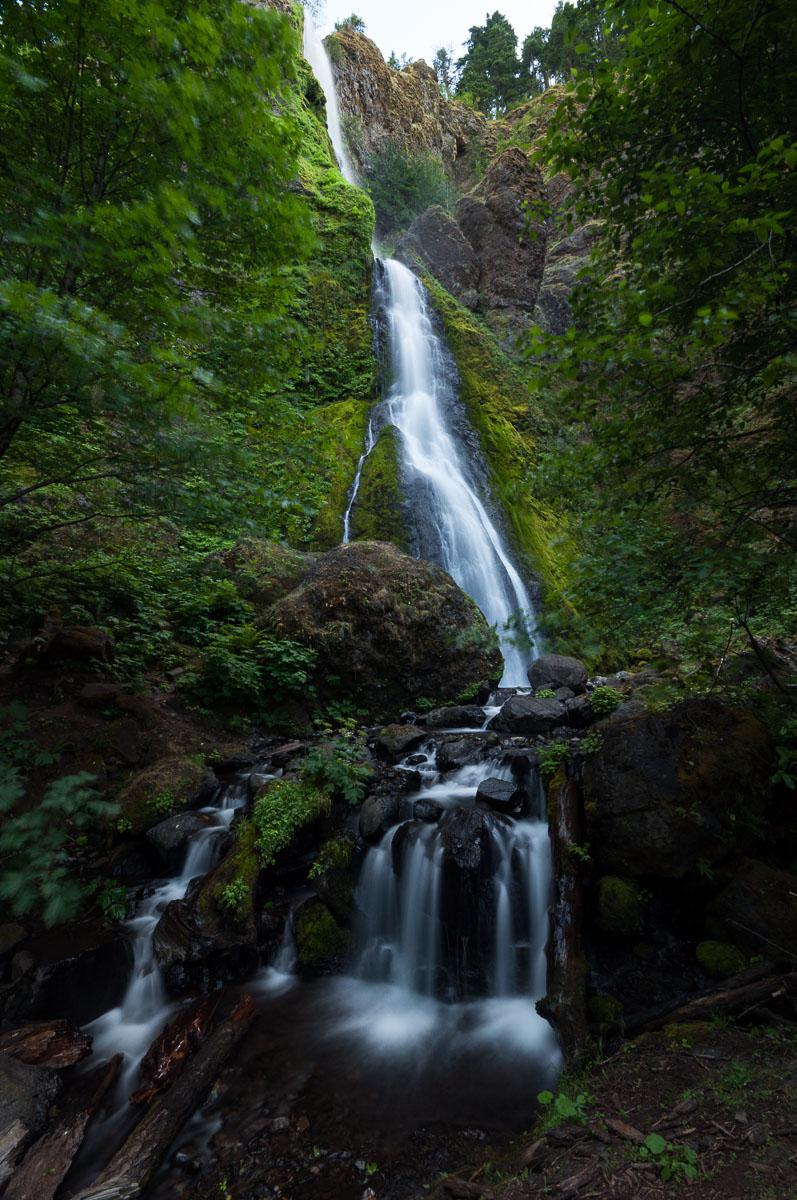 At 7pm, we return to the campground.
Wednesday, June 10 : very noisy night with the passage of honking trains. We attack the day with the Oneonta Gorge. Progress is slow and cautious on the large tree trunks that block the entrance to the gorge.
Then feet in the water, we advance while making photos. It is too beautiful. We stop before the "pool": a passage where people have water up to the chest.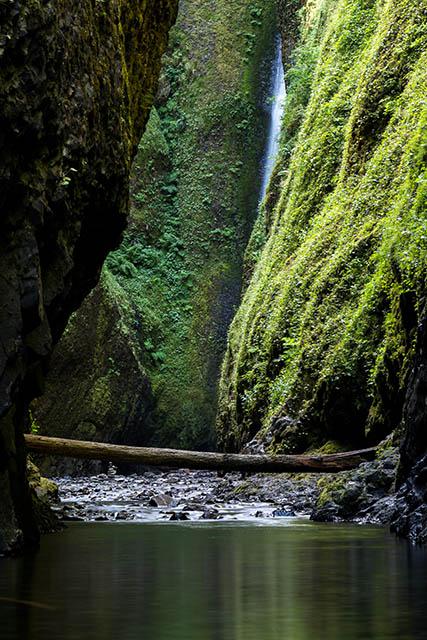 At 9:00 in the morning, the icy water does not give envy! We were alone but it is quickly frequented. There is even a film crew at the entrance to the gorge. We leave at 11:30 am, frozen feet. It is still only 59 ° F. We will then make the loop of 5 miles Multnomah-Weisendanger-Ecola-Fairy-Wahkeena from 12:30 pm to 6:40 pm. It climbs pretty damn early along Multnomah. The hike is very nice. Weisendanger and Fairy Falls are fun.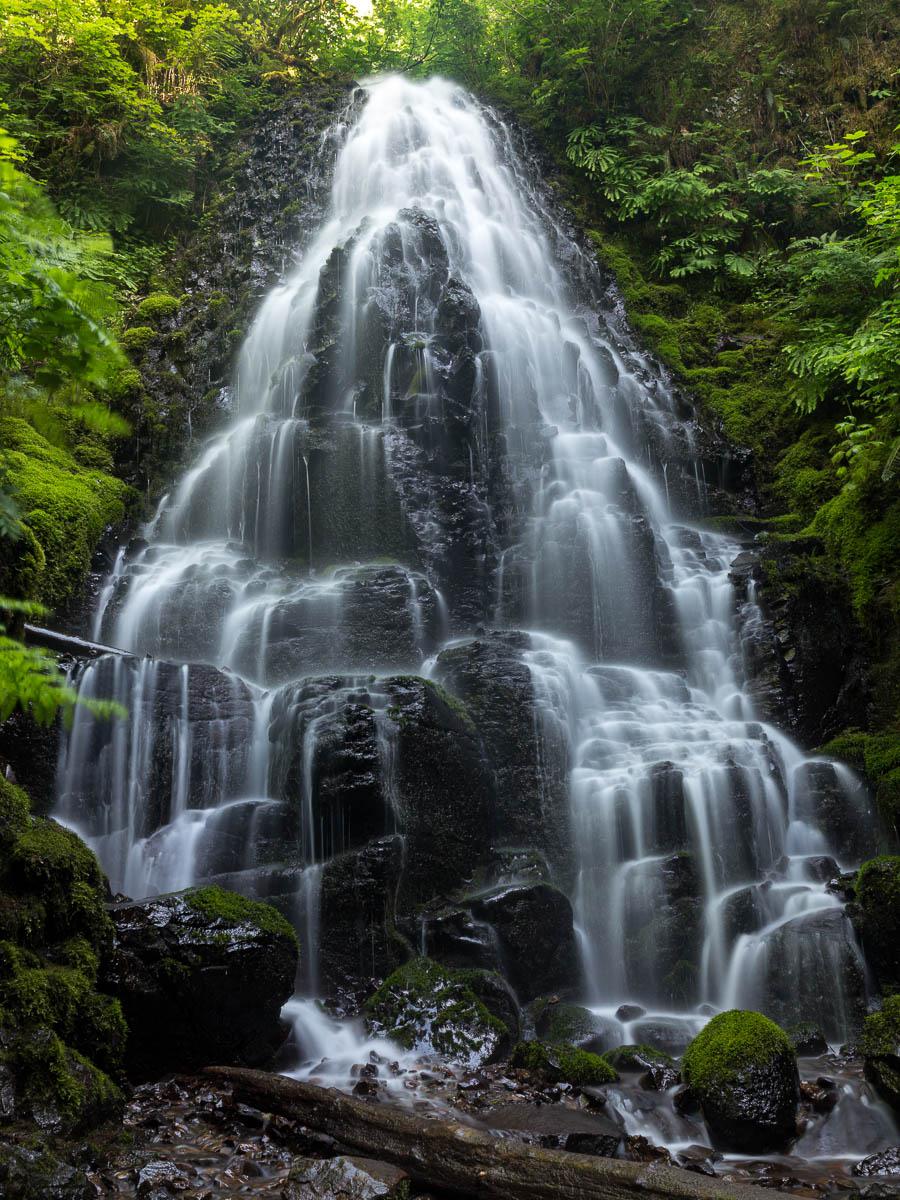 Thursday, June 11 : we leave for the state of Washington, direction Panther Creek Falls. We are there at 9:20 am. The top of the waterfall is already in the sun. We descend to the bottom by a rather vertical rock wall, we do a little climbing, it's a bit of a joke. But it's ok, it's not very high. The view at the foot of the waterfall is great.
We make a lot of photos and we go back to Fall Creek Falls which is close to Panther. She is very tall, very beautiful but in the sun. Better to do it in the early morning. We take the time to picnic and we leave. We give up Lewis River because we fear that it is in full sun. We go back to Oregon to do Gorton Creek Falls. The river is nice, the trees are impressive because very mossy. And after a few rock climbing, at the end of a cul-de-sac, a very large waterfall that splits afterwards. Another beautiful waterfall.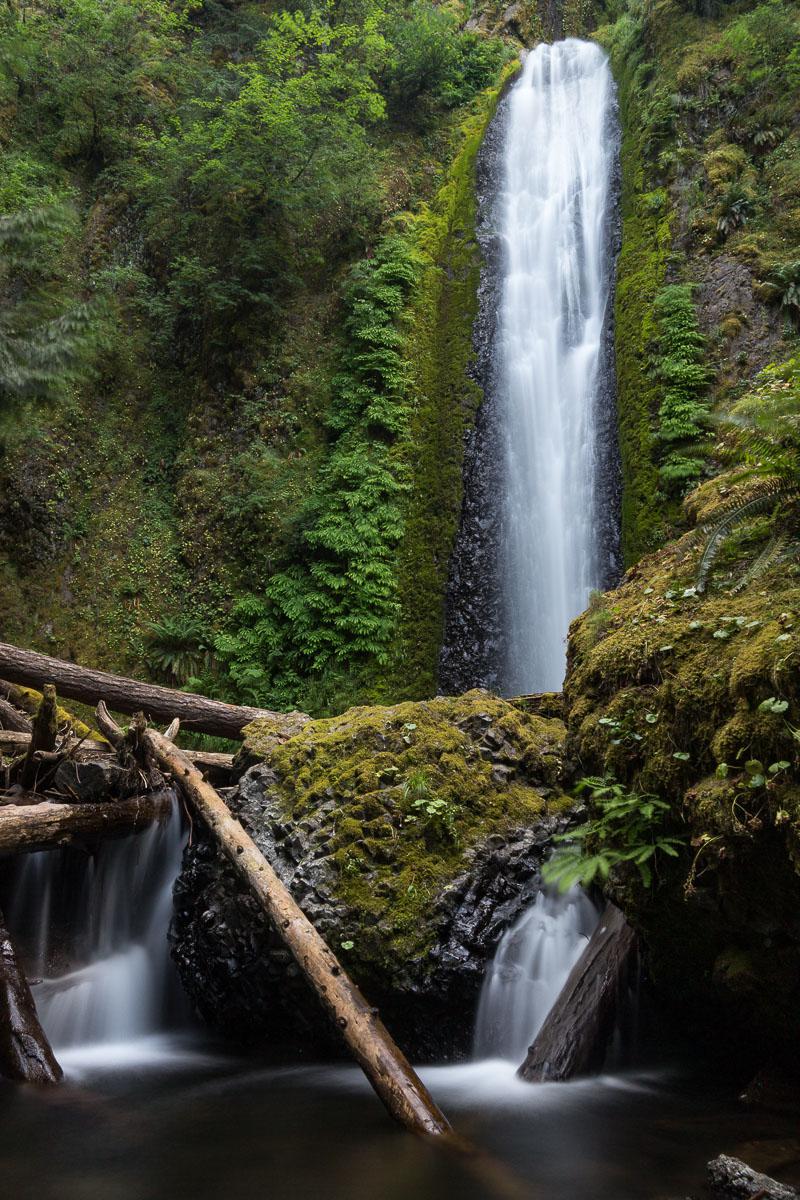 Friday, June 12 : we're going to Punchbowl Falls. It is full of people and the waterfall is in full sun. We go to the point of view at the top of Punchbowl but it brings nothing more. We return to the campsite to do some laundry in the early afternoon to avoid doing more waterfalls in the sun. We leave at 4:20 pm towards Elowah Falls. Not much water flowing and the waterfall is deported by the wind. We are alone, as often. Then we drive to Dry Creek Falls. We start to take a track by car but "no trepassing" signs make us turn back. We took the wrong road. In fact, the trail starts at the Bridge of the Gods car park. 4.3 miles round trip. It climbs a lot but it is deserved: the waterfall is beautiful surrounded by its basalt columns.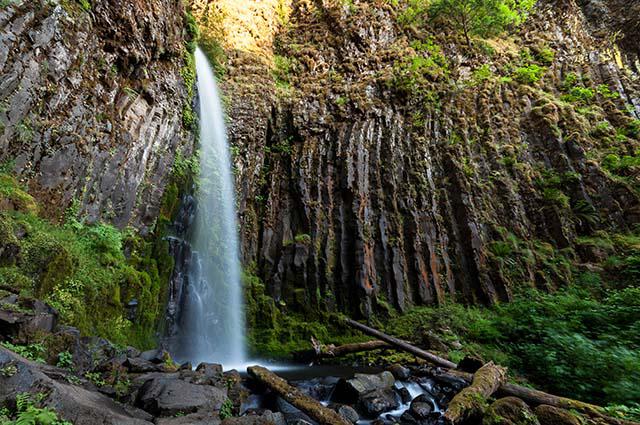 We stay here for a while to take photos. When we come back to the car, it is 9:10 pm! We stop eating burgers at Cascade Inn Restaurant & Lounge.
Saturday, June 13 : we take the road to Lost Lake. The entrance to the lake is $ 8 for the day. It's very crowdy. Normal, it's Saturday. We take some pictures of the lake with Mount Hood in the background. Then we go to Tamanawas Falls ($ 5). After 1,9 miles, we arrive at the waterfall. We do not get too close, it projects a lot of water.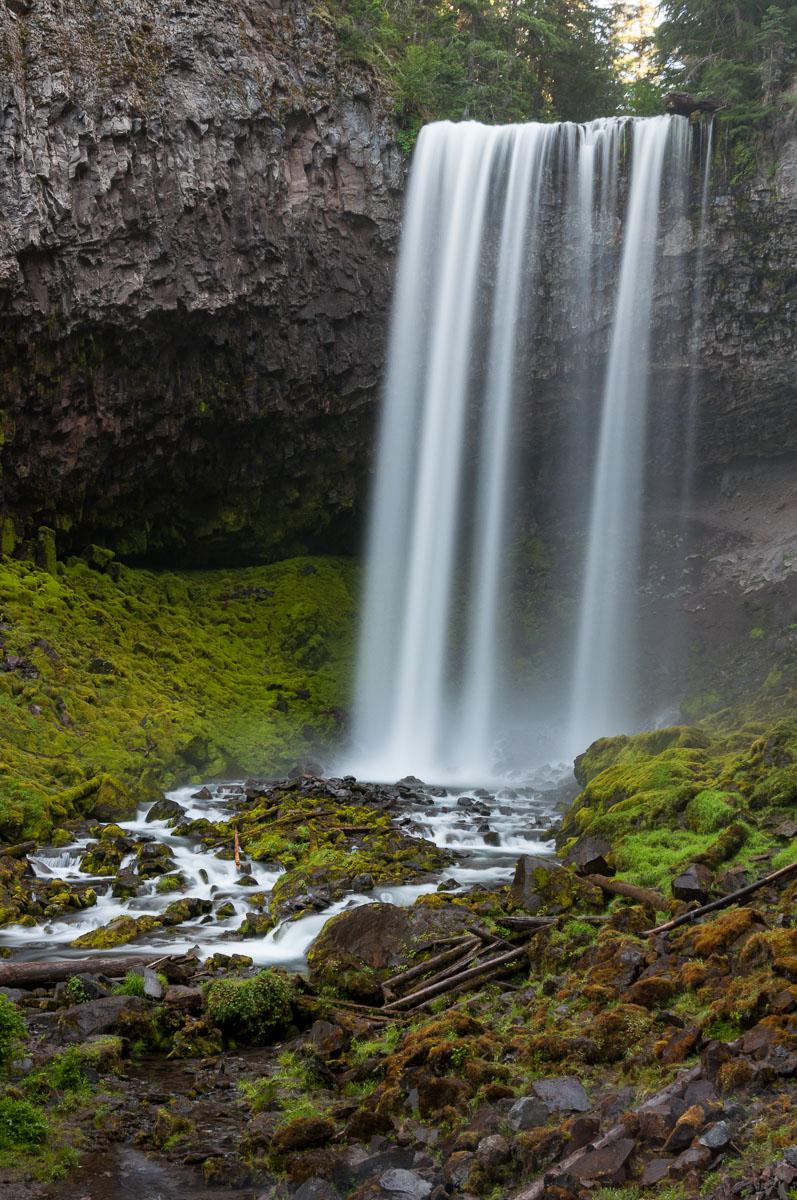 We leave at 6:20 pm towards Trillium Lake. The campsite is full. We return on Highway 26 to find another campsite : Still Creek is full, Camp Creek is "full" too. We will have trouble, it's Saturday and the Americans are out! At Tollgate Campground, there remains a location, # 13. It will have brought us luck, that one! It is a semi-wild campsite : no toilets, no water (just dry toilets). Assembly of tents, campfire, dinner. It is quiet.
Sunday, June 14 : up at 6:00 am. It is very cold. Departure for Ramona Falls. We arrive at the car park at 7:45 am to realize that we need a pass to buy in the city of Rhododendron. So turn around. What a waste of time ! We stop at the store Zig Zag Mountain and luckily it delivers ($ 5). It avoids going to the city. We finally start the hike at 8:25 am. A few steps and you have to fill in a form with the number of people in the group. The trail is 6.8 miles round trip with 1000 feet altitude difference especially on the end. At one point you have to cross the river but ... no bridge. There is a place not too bad to cross on a tree trunk.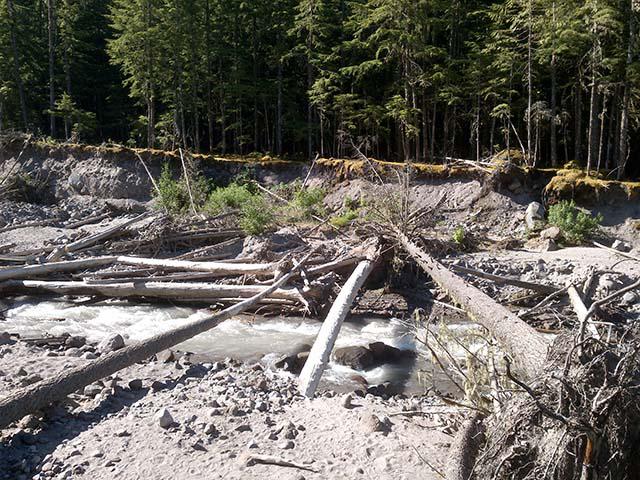 Ramona Falls is beautiful, very big. But it is cool in the shade, we put on our polar sweats. Around 10:45 am to 11:00 am, some rays of sun illuminates it, it is magnificent.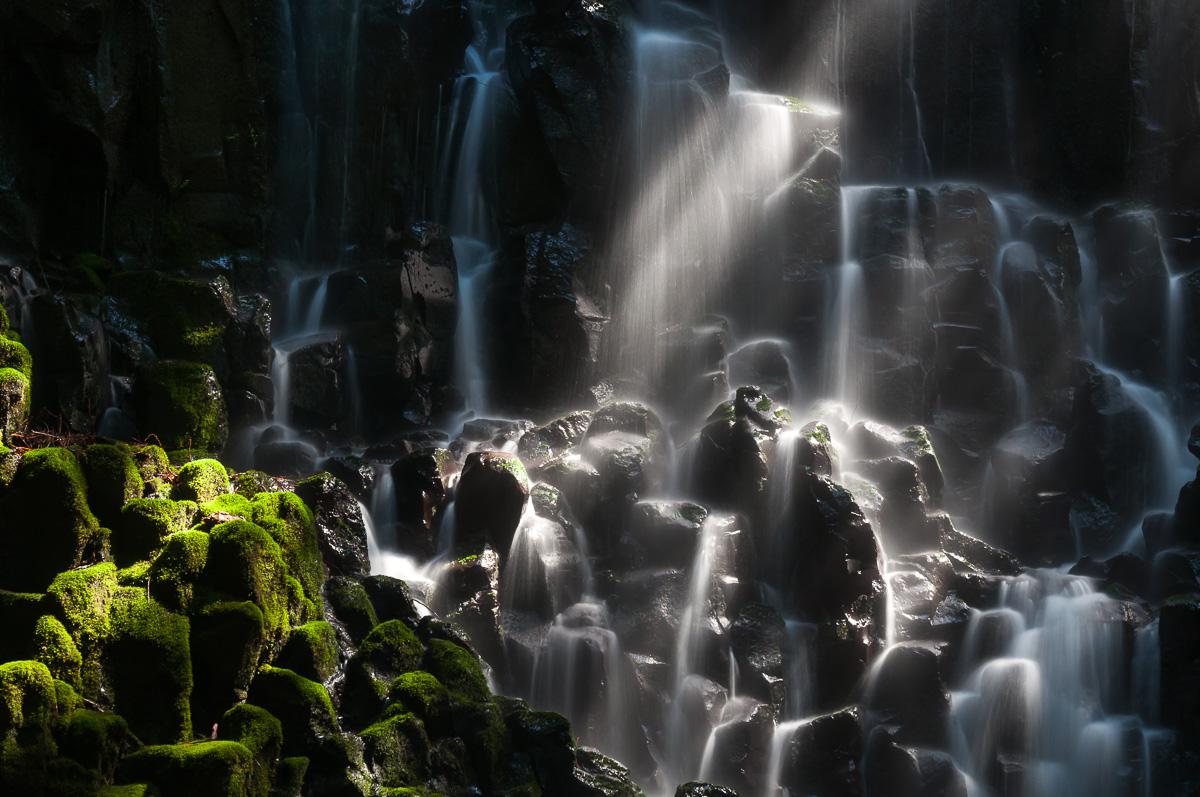 We have a good time here. We take the way back and we arrive at the parking at 1:30 pm (79 ° F). We stop at the small store in Rhododendron after making a detour by Lolo Pass. Nice view of Mount Hood but with power cables in front! We go back to the Tollgate campground to nibble. In the middle of the afternoon, we head for Timberline Lodge at the foot of Mount Hood. This is the hotel that served as the backdrop for Shinning only on the exterior views. It is 62 ° F, we are at an elevation of 5725 feet. We take a short walk on the trails of Mount Hood and visit the entrance of the lodge (built from 1936 to 1938). We leave for Trillium Lake. We picnic and we still take pictures at sunset.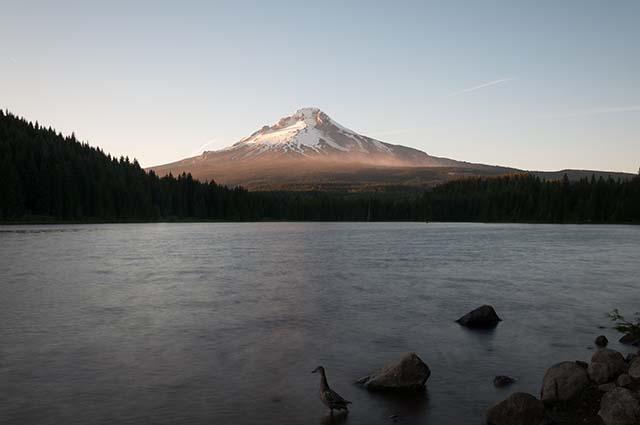 We see a pyguargue fishing. Too bad, it's too far for photos.
Monday, June 15 : we go to Proxy Falls that we could not do at the beginning of the trip. We realized that we will not be able to do Abiqua and Butte Creek because it is an unpaved track and the car is too low. We stop at 1:00 pm in Koosah Falls and Sahalie Falls. They are close to the road, there are two car parks and a small trail connects the 2 falls. They are in full sun otherwise they are not bad. The water of the river is clear blue, transparent in places. We leave to settle at Belknap Lodge campground : large lodge, 2 swimming pools. We take the road back to Proxy Falls by making a stop at the McKenzie River Station to buy the pass ($ 5) which is also available at the car park. The hike begins with a volcanic rock flow crossing. The waterfall is super big and the top is in the sun. There is not a lot of water. Close-ups are cool to do. It occupies us a moment!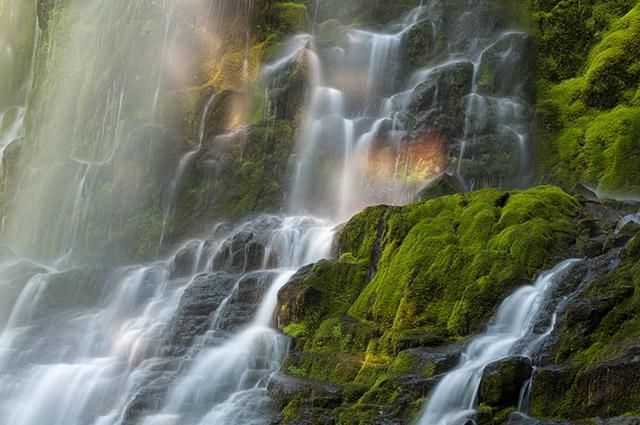 Not far away, there is another waterfall: Upper Proxy Falls. Less interesting and no possibility to put the tripods. We leave the parking at 7:45 pm. We eat at the campsite and then we go to shower. These are the showers of the pool: they are dirty, full of water on the ground, paper. The windows of the showers are transparent and no cabins closed to dress. It's limited.
Tuesday, June 16 : the night was calm. We pay an extra night before leaving. We will follow the McKenzie Pass road to the city of Sisters and stop at different points of view. For this, we take a permit for the day at the Ranger Station. We start with a new stop at Proxy Falls to see if the light is different. That's not bad either. We stop at Scott Lake. Nice view of the Three Sisters chain but the area is "mosquito"! The next stop is at Belknap Crater and its black lava flow. Continuing, there is the Dee Wright Observatory. It is a promontory surrounded by lava flow, with magnificent 360 ° views of the surrounding mountains: North, Middle Sisters, Mount Jefferson, Mount Washington, Black Crater, Belknap Crater and the Little Mount Hood. Then direction the city of Sisters. We go for a walk in this city of cowboy style, very nice city.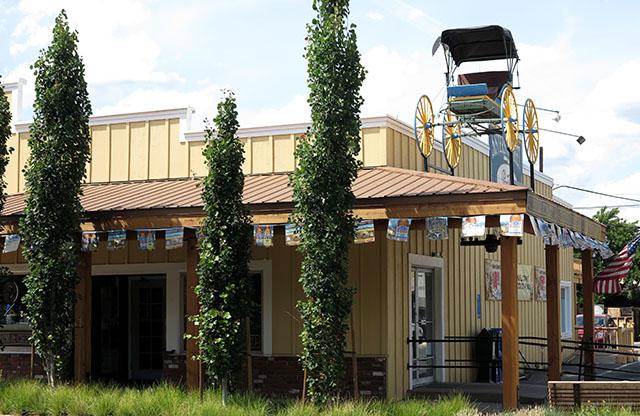 We even make a stop in a discount cowboy shop, I can not resist buying a pair ($ 140). We will then eat an ice cream at BJ's. Too good ! We then do some shopping, full of gas. Then we leave at 5:45 pm for the campground.
Wednesday, June 17 : sleep until 8:20 am. We will see the Secret Garden of the campsite. Then we go to Henline Falls, but it's half in the shade, half in the sun. Not easy for photos. We take the road back to Woodland in the state of Washington. We are looking for a campsite but there are only RV Park. So we take a room at Motel 6 ($ 79 for us 3). We're going to eat at Gilliano's Pizza Parlor.
Thursday, June 18 : in the morning, we go to Cedar Grist Mill. There is a covered bridge and an old mill over a small river. It's in the sun.
We leave at 12h20 pm. We do the idlers : not the courage to go to Mount St Helens or Lewis River. We will reach Portland and take the Columbia River by the historic road 30. We stop at Guy W. Talbot State Park to see Latourel Falls Lower (520 feet from the car park), which is very crowded, and Upper (hiking 0.8 mile) : it climbs steeply, so, there are fewer people. The waterfall is double and pretty.
We leave for Cascade Locks: we return to the Koa Campground to take a night at the campsite, before going to buy wood and bacon.
Friday, June 19 : we'll have breakfast at the campsite office: pancakes with maple syrup. It feels like the end: we give our glacier and the dish basin to other campers but they have no place to take the storage boxes and food. We will buy "souvenirs" to bring back to France: Oregon wine, Reese's, Hershey. Then we visit 2 photo shops in Portland. And we walk a little way. It's amazing how many tramps and zonnards sleeping on the sidewalks or hang out in the streets and parks. We are going to the Econolodge to get a room for our last night, but it is full. We try many other hotels but they are all full. We realize our mistake of not having booked a room in advance: it is Friday night. We end up finding a room with kitchenette at the Powell Motel ($ 75 for 3 people) in a "bad-known" neighborhood. The room is not terrible, dated, not very clean. We prepare the bags for the return to France. Then we will eat one last time at Denny's.
Saturday, June 20 : up at 1:30 am in the morning. Too hard, itchy eyes, not very hungry. Leave for Alamo to return the car. We enter the car park but at the office, nobody, only the guard who opens the gate. She tells us that it opens at 4:00 am. Shit ! we could have slept more. But we freak out: our flight is at 6:00 am. In the meantime, we're going back to Denny's, drinking coffee, hot chocolate. We go back to Alamo at 3:50 am. Already 4 cars are waiting. No time to see with the guy for the refund of the flat tire. We then catch the shuttle to the airport. We take off on time (6:10 am). We turn a little in circles over New York because it's raining. But we are in no hurry, we have a 7 hours stopover. We have lunch in a snack. We take off at 9:50 pm with a few minutes late.
Sunday, June 21 : we land in Paris around 11:00 am with a few minutes in advance. Back home.
In the days that follow, we will see with the travel agency Fraizy Pithiviers by which we buy our plane tickets and the car rental to make the steps for the refund of the flat tire. And in a short time, she gets us this refund. Too effective !