Saturday August 31 : 12:25 pm, we go for our flight from Paris to Washington. Well, almost! a suspicious smell in the plane and boarding stops! After 1 hour of waiting, we are informed that a reading light bulb has blown. We fear to miss the flight to Las Vegas because we only have a 2h30mn stopover. During the flight, we are catching up the late and we finally arrive with 20min delay in Washington. Quick, quick : we go through customs, claim our luggage and deposit them on the conveyor belt, we pass security  and run to our gate. We finally catch our flight. We arrive in Vegas at 8 pm, it's dark since 7 pm ! The night falls earlier in September, this will be the painful stress of the travel. We get our bags and the car : a 4WD GMC Yukon XL. Then we go to the Red Roof Inn for the night. It starts to rain and there is lightning.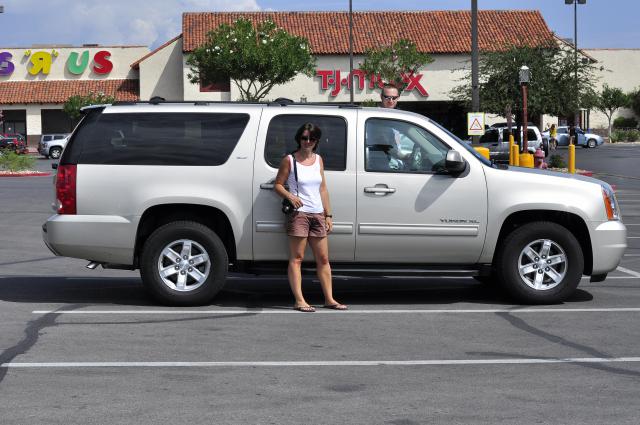 Sunday september 1st : we make our 1st big shopping. We then go to Mesquite and take a room at the Eureka Hotel. Around 2 pm, we drive to Little Finland. The sky is very threatening but it is 90°F. Finally, a storm breaks out while we are almost there.
The temperature drops to 72°C. The rain finally stops and the heat comes back. But it has left traces: washes to cross! We try and pass it for now ! But a few yards away, a 4WD is crossed. The driver, a Canadian, stops and says there is a big wash not to cross. Indeed, he shows us a video : it is not a wash but a river ! Turn is made. Much further on the Gold Butte Road, the guy proposes to follow him in another wash which also leads to Little Finland. He finds that there is less water. We follow him, not too reassured ! This is our first time in a flooded wash ! Sometimes, one wonders what we are doing here, so it shakes, splashes. Is that not going to blow something on the car ? The road seems endless. All alone, we would not have done. We finally get to a parking lot where there is a cattle pens. We follow the guy to the site. You have to go under the barbed wire and along the rocks. There it is ! But we do not like the place as it should because we fear the way back if the night falls quickly. So, we take some photos very quickly and we leave around 6:30 pm.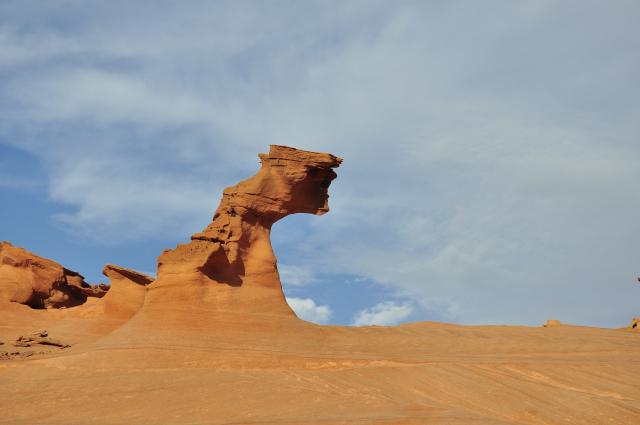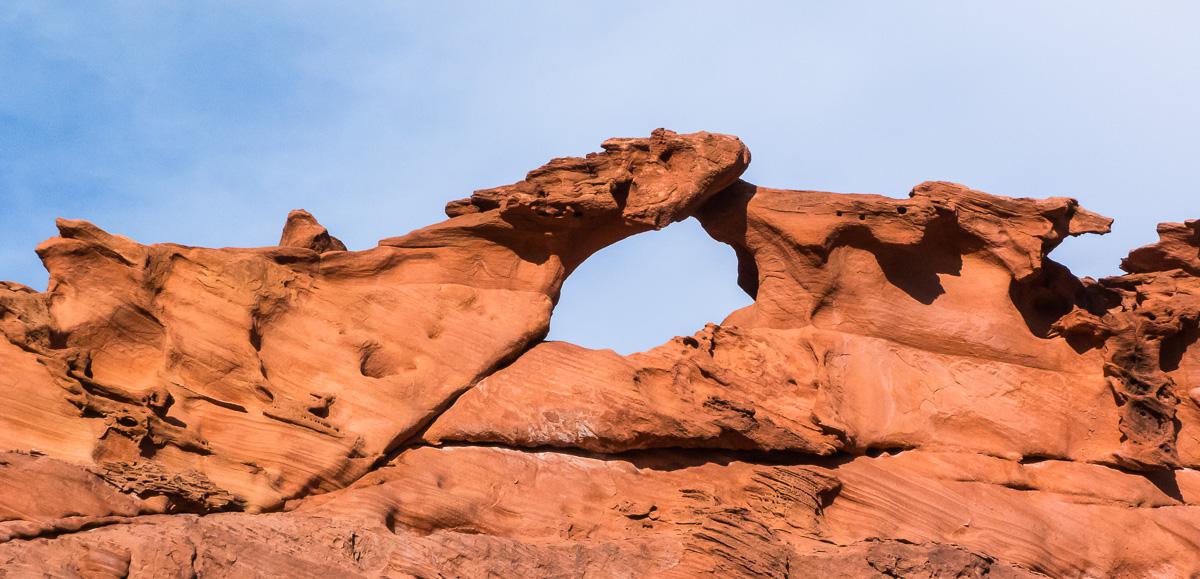 To our great relief, the water is removed from the wash. We almost got lost,  fortunately the hiking GPS had recorded the go. The end of the road is in the dark and seems longer than the go.
Monday september 2 : the night was good: very soft bed, quiet. After our expedition yesterday, we wash the car in a car wash. Then, toward Hurricane and Zion. It's already 81°F. We go directly to the Kolob Canyon Visitors Center to get the pass for Subway. We then make the trekk to Middle Fork of Taylor Creek to see Double Arch Alcove (6,2 miles roundtrip). The hike is along the river with several crossings. There is very little water in this season.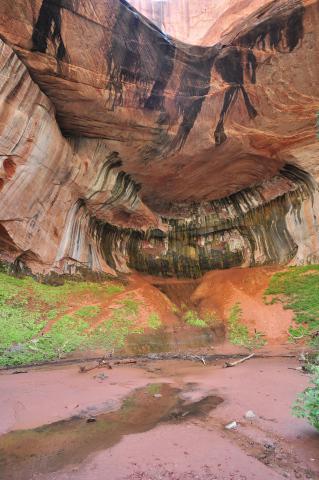 This semi-shaded walk is not of great interest but the alcove is pretty.  We will then see the viewpoints of the Kolob Canyon Road.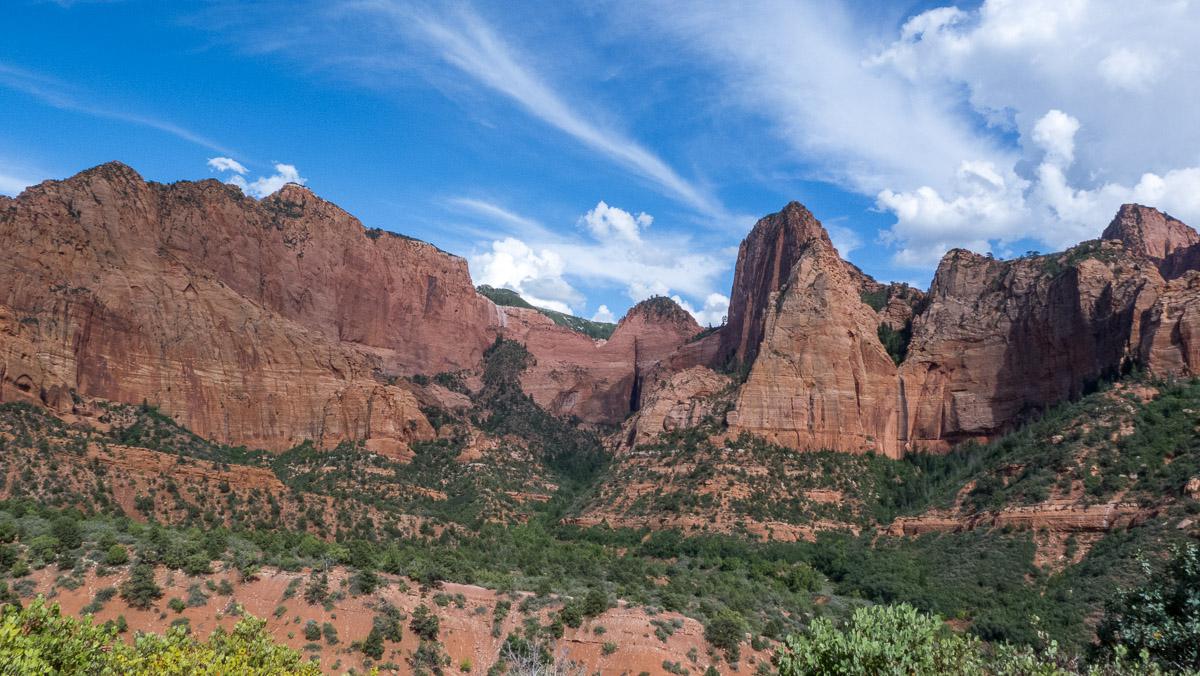 In late afternoon, we take the way back and go to the Super 8 where we have a reservation. And like every time we're here, we'll dine at JB's.
Tuesday september 3 : we begin the descent to Subway at 6:50 am. It is steep ! This is the third time we have the chance to be drawn. We are very happy : we love this area. We arrive at Subway at 9:10 am. There is a little more water than in June and it is even more slippery. This is the first time we come here in September and we do not regret. The colors are different in June. It is still beautiful. The best lights are around 1:30 pm to 2:30 pm. In the meantime, we take pictures anyway, we picnic.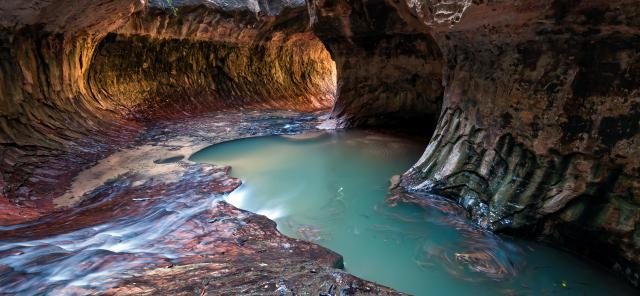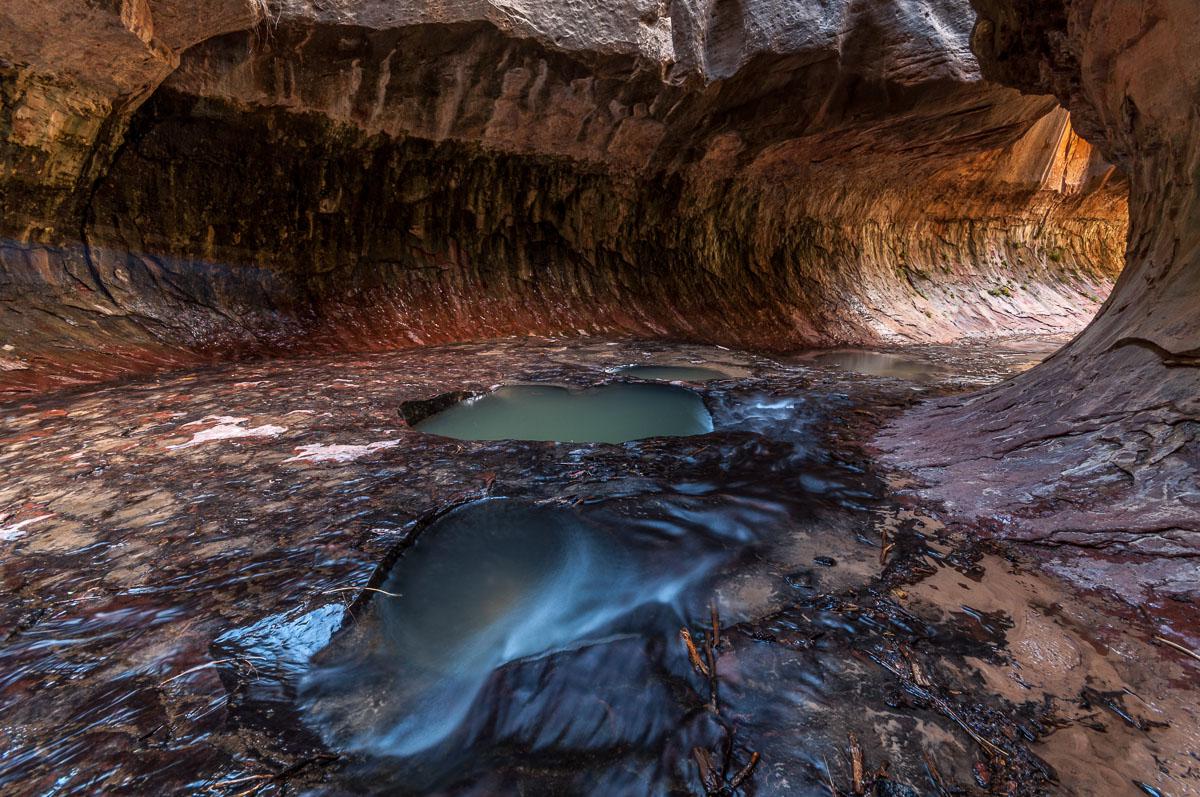 We need 3h30min to go back up. It is always as hard. This is no longer of our age ! It is hot : 90°F. 
Wednesday september 4 : we change a little our program today to rest after our descent to Subway yesterday. We take a motel in Springdale and go to pool, shopping, rest and... laundry ! We leave Hurricane around 10:15 am and it's already hot, 81°F. We take a room at Zion Park Motel. Very good hotel with pool and picnic tables housed in the bottom of the car park. We will do laundries and shopping. We have a lunch at the motel. Meanwhile, a storm breaks and it rains. Finally, we are happy not to be in a  campground. By mid afternoon, we do some shopping. The rain stops. We go to the pool : the water is good for our pains !
Thursday september 5 : we had planned to hike the Canyon Overlook Trail in Zion, just outside the tunnel, but impossible to find parking. We go a little further for a photo stop at a viewpoint.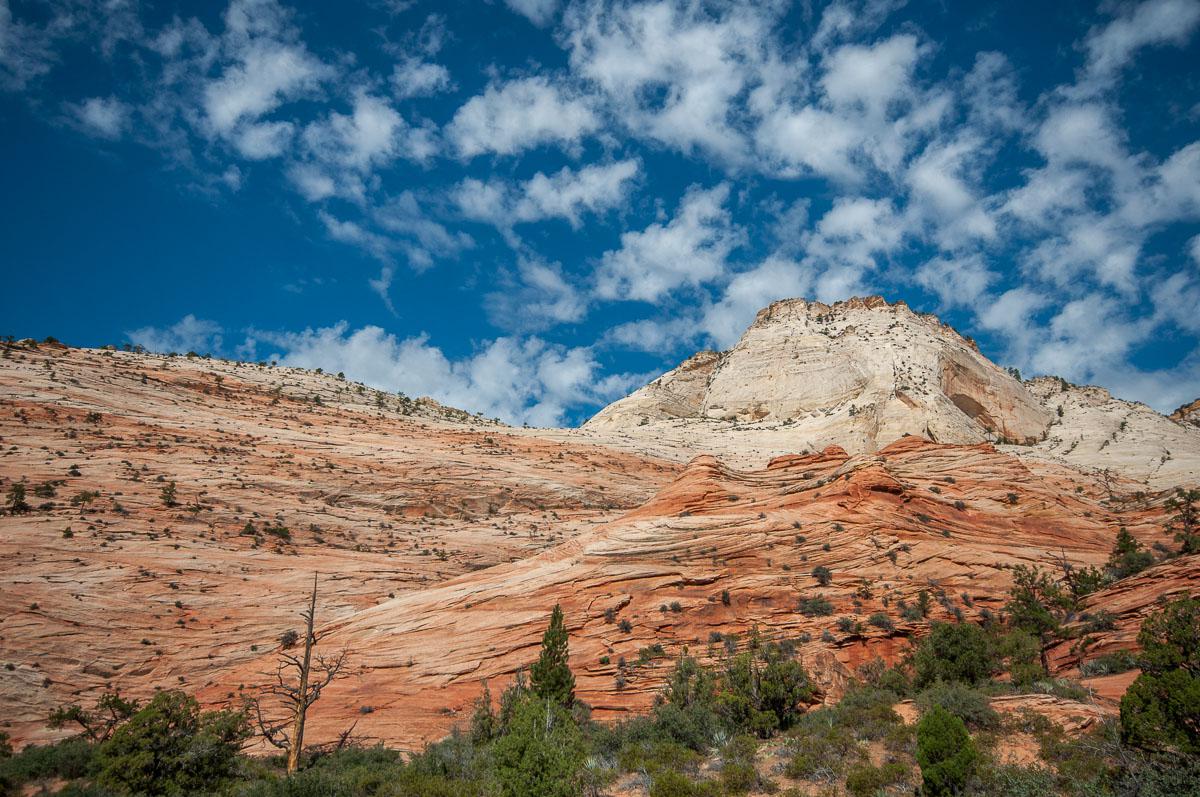 We then go to Coral Pink Sand Dunes. The fee is $6 per vehicle. We walk in the dunes
and then picnic before leaving to Kodachrome. We had time to go to Escalante but we like camping in Kodachrome : quiet, well appointed and beautiful starry sky we intend to shoot tonight. It's nice and warm 82°F. Tents are mounted on arrival. We dine early around 6:30 pm to take pictures of the dark sky.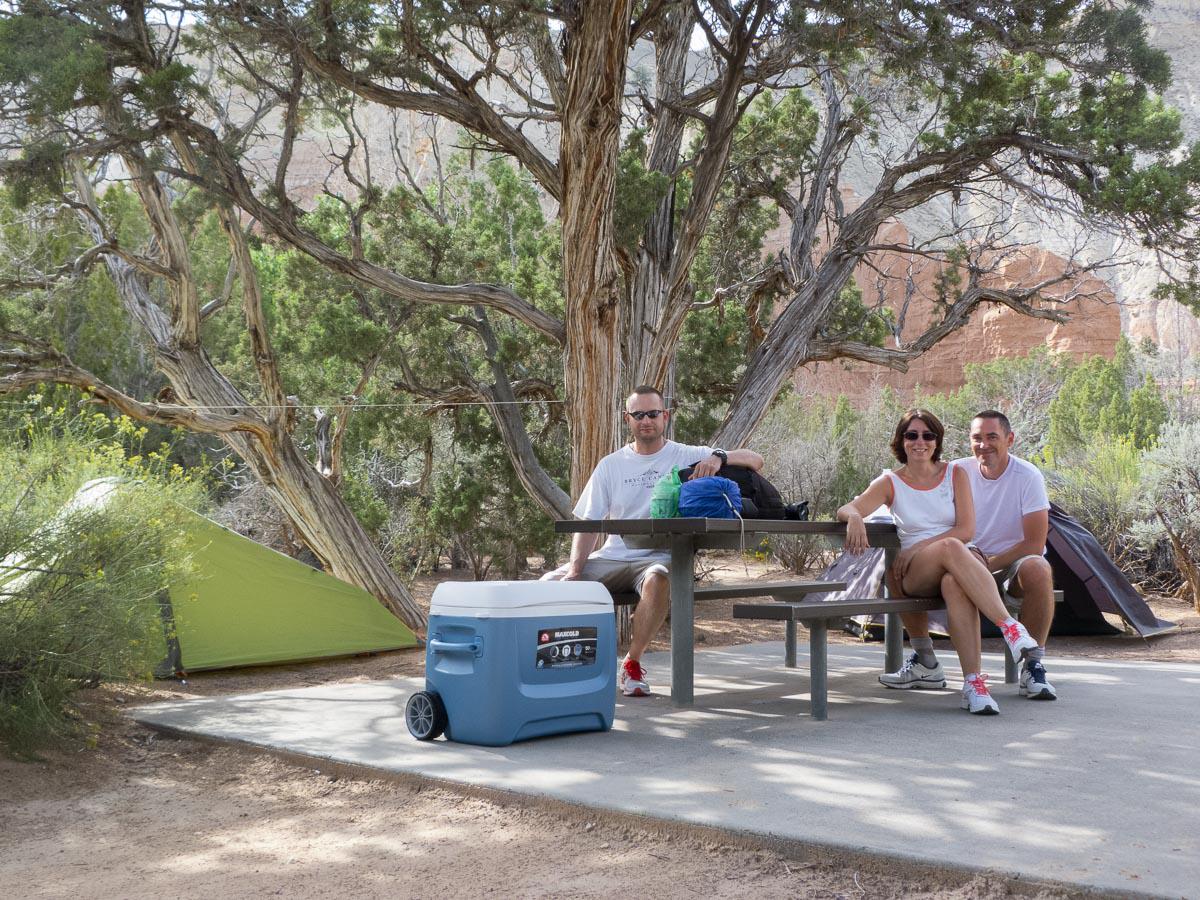 Friday september 6 : on our way to Escalante, we stop at the Visitors Center of Cannonville and  Escalante : we learn that the Cottonwood Road is closed due to landslides caused by storms. The Rangers have no idea of the re-opening date. The Hole in the Rock Road may also be damaged in some places. Bad luck ! We will install our tents at the Escalante Outfitters ($35 for 2 nights for 3 persons). In the early afternoon, we'll see how is the Hole in the Rock Road. We try to go to Egypt Trailhead (parking to Neon Canyon). The track is not too bad except for a few difficult portions and passages slightly damp wash. But about 2 miles from the end, we are blocked by a large pile of loose stones. Our 4WD is big but does not have a high enough ground clearance. Here, we may damage our car. We prefer to turn back. It is only 4 pm, so we try to go to Sunset Arch. A few miles before the junction with Fortymile Road, we are once again blocked by a rather large hole filled with large stones. Again, we turn around. We are disgusted. We are not lucky. We go back to go to Devil 's Garden. There, no problem. It is 5:10 p.m and it's very hot : 96°F. We take a few pictures at sunset,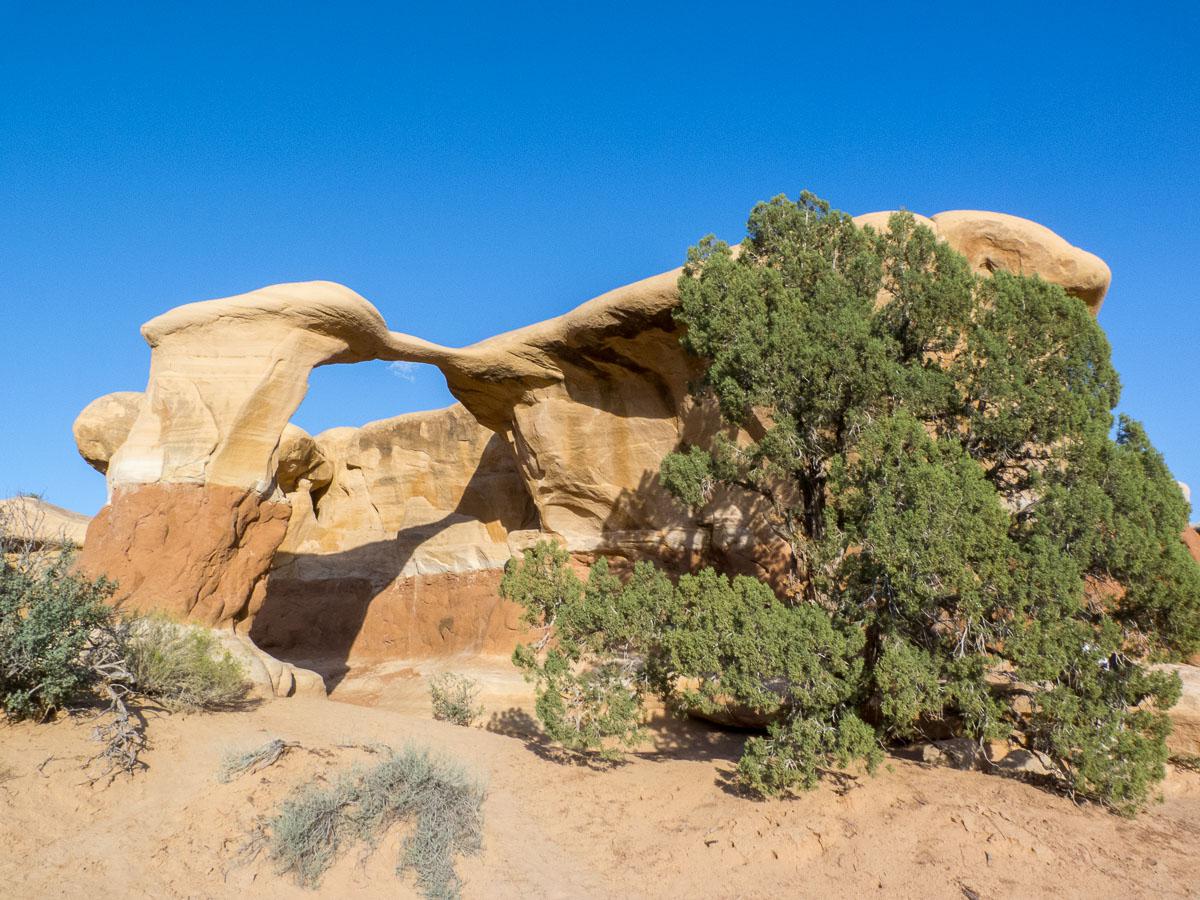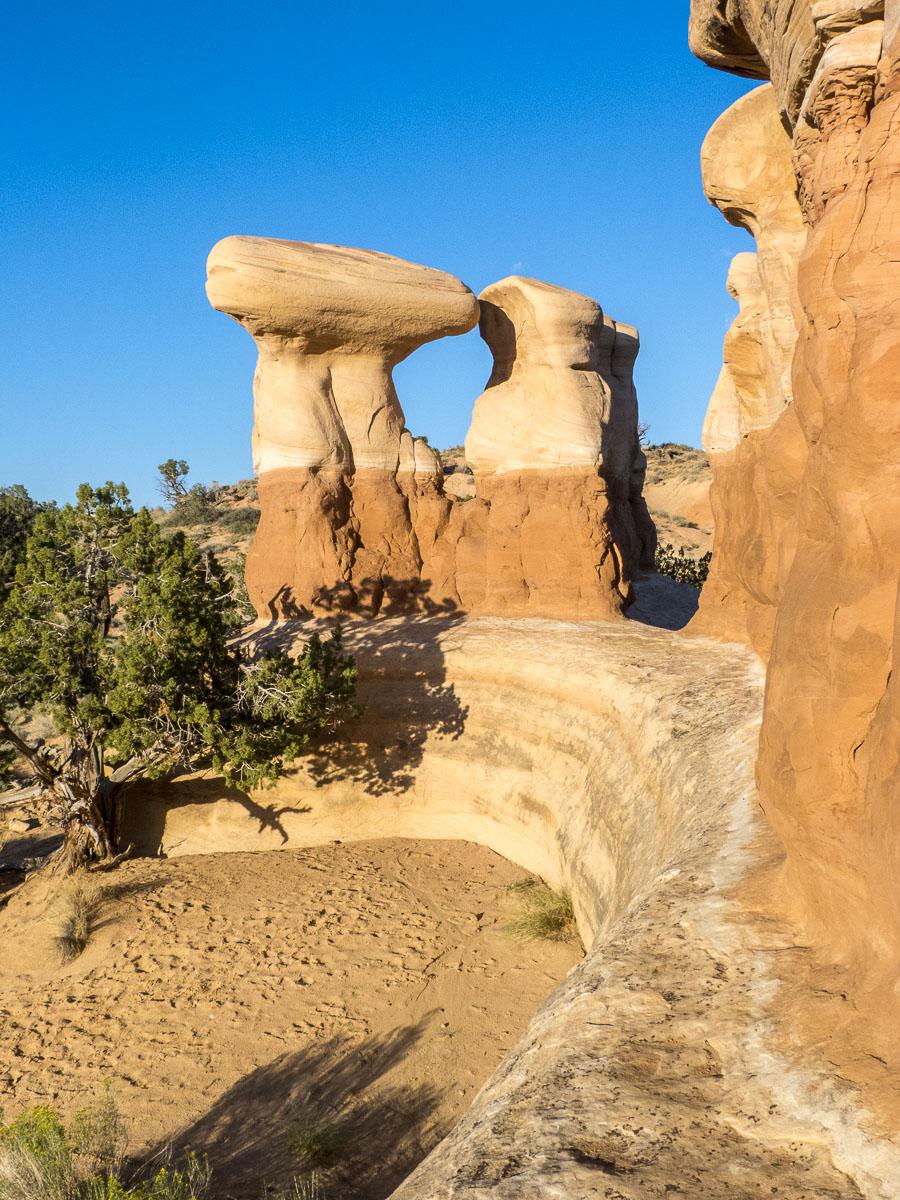 we picnic and take pictures at night until 9:30 pm. We are all alone, it's almost scary ! The Milky Way is superb.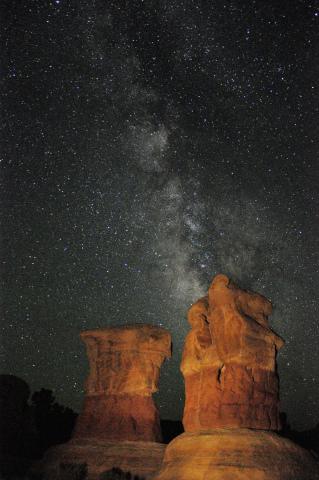 Saturday september 7 : we take the Hole in the Rock Road to go to Zebra Slot. We walk 7,5 miles to Tunnel Slot and Zebra Slot. It is a sweltering heat 91 ° F (33 ° C) and there is not much shade. The 2 canyons are filled with water, it's very muddy and we do not know the depth.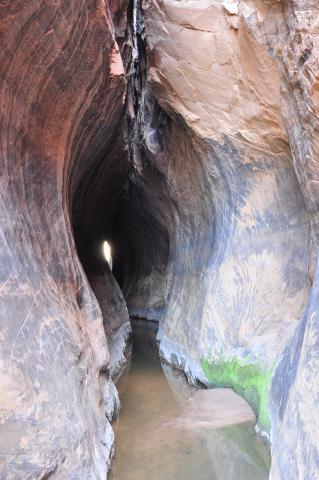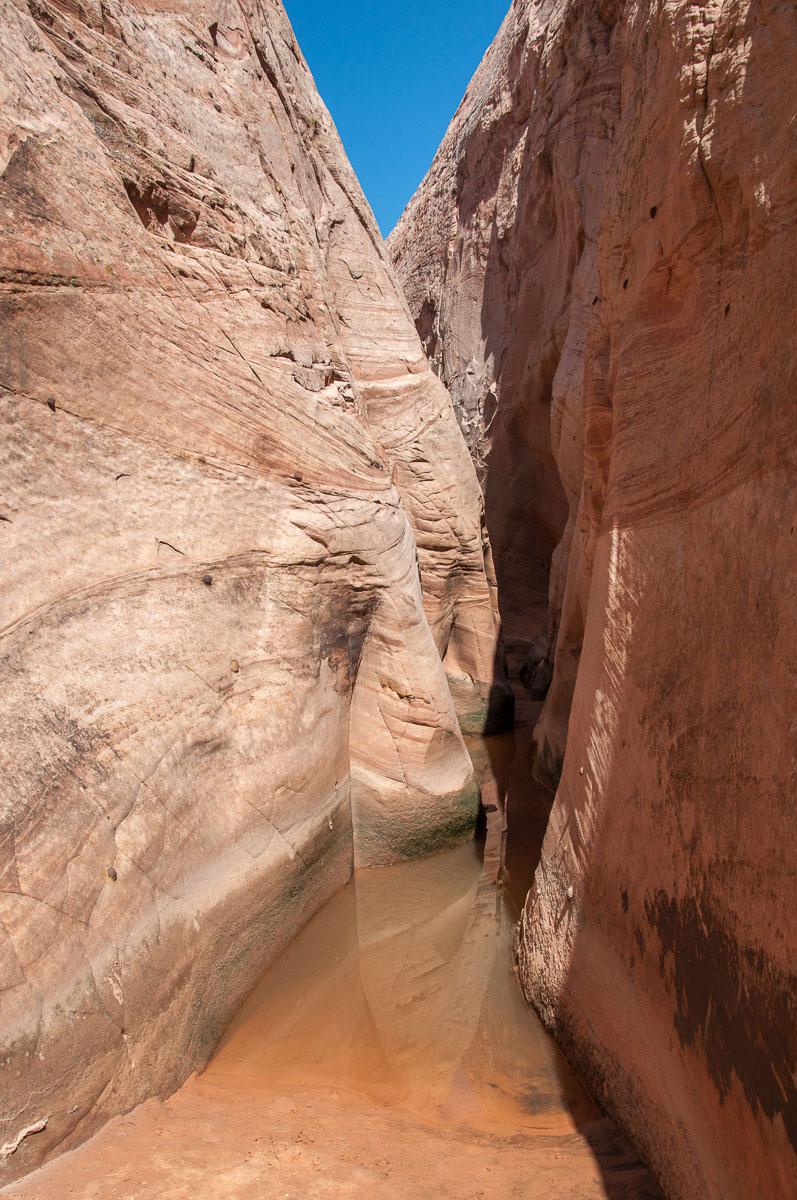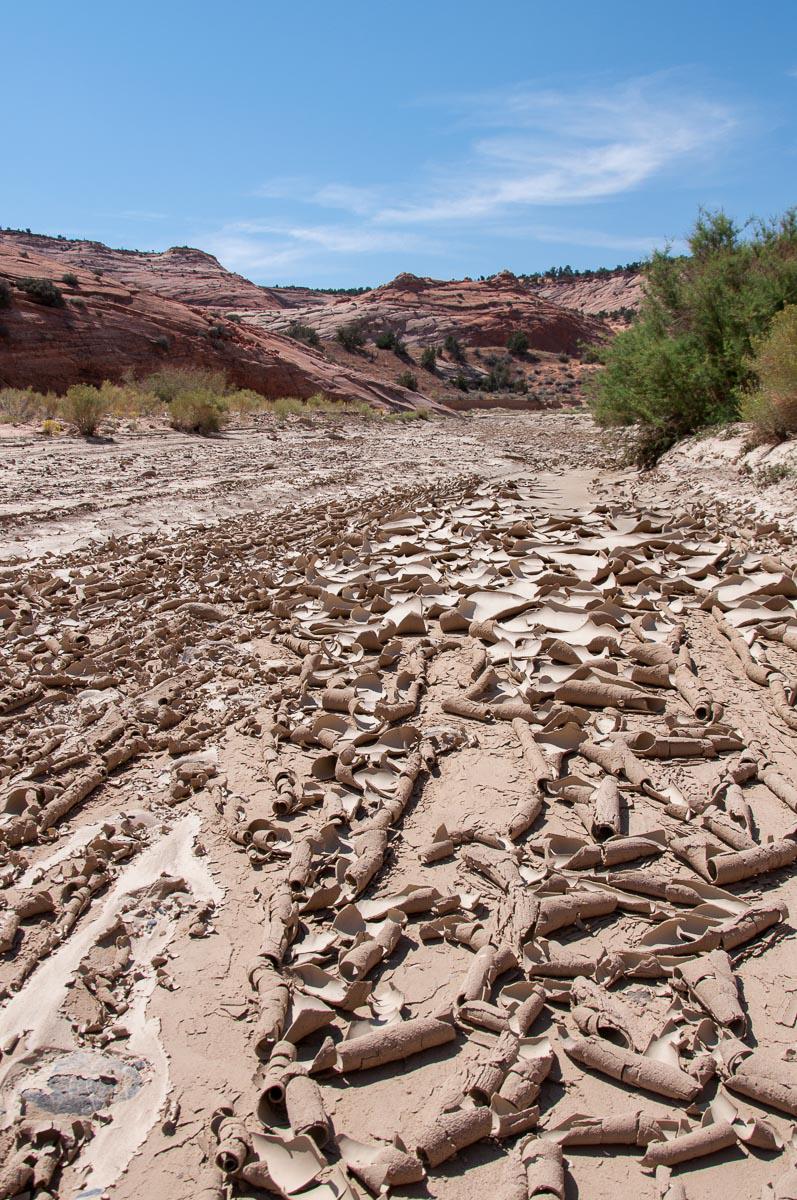 We are not very motivated to put our feet in there. We come back to the car and it starts to rain. It will not stop of the evening. In the evening, we will eat pizza at the campsite restaurant. They are excellent! 
Sunday september 8 : it rained that night from time to time. We breakfast under the arbor and we dismantle the tents and it rains again. It quails, it is 55 ° F. We still go to Goblins Valley ($ 8 entry for the vehicle). We wait a little in the car that the rain stops. During a lull, we will wander through the hoodoos, barely 1 hour before the rain resumes!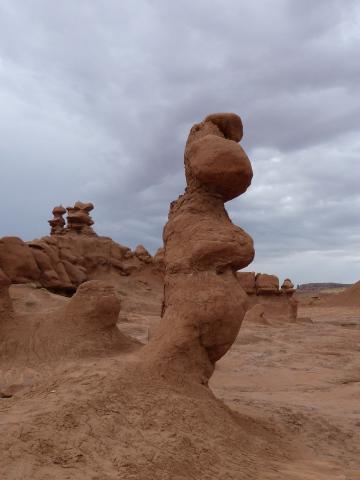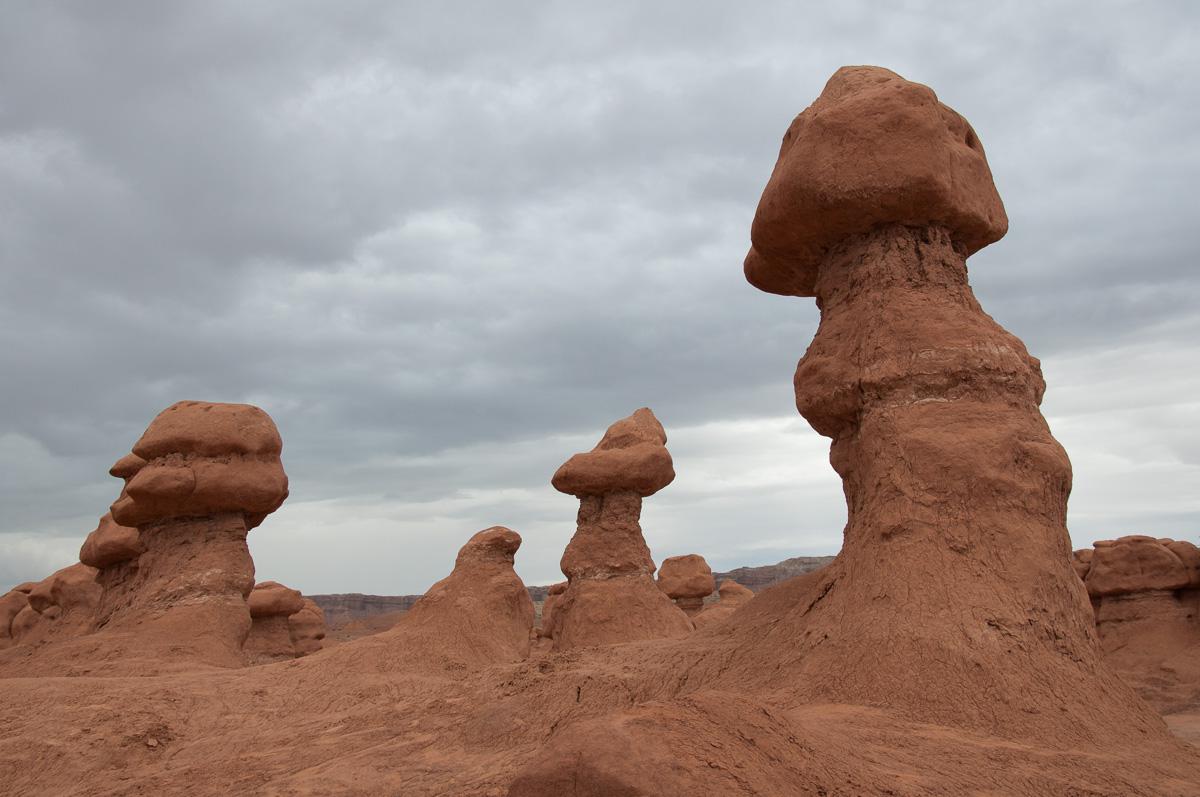 We go back quickly to the car and we leave at 3:20 pm for Moab. No need to stay here with this weather. We take a room in at the Riverside Inn. We jump in the outdoor jacuzzi. Then we'll eat at Denny's right across the street. We are also used to Denny's!
Monday september 9 : it is always a rotten weather: it rains and there is some for the day. Since we can not hike or take pictures, we will do the Moab shops in the rain! Then we go to Denny's to nibble a piece. In the afternoon, to do something, we will take a drive to Arches Park. We return to the hotel to do some laundry and connect to the internet to see the weather. We realize that a huge disturbance is above the states we want to visit : Utah, Arizona, Nevada, New Mexico. We try to see where it is the least worst and we redo the entire trip according to this.
Tuesday september 10 : it is still raining (63 ° F). We leave for Page hoping to have a better weather. We make a stop on the road to Monument Valley (viewpoint on the road). The top of the mounds is hidden in the clouds.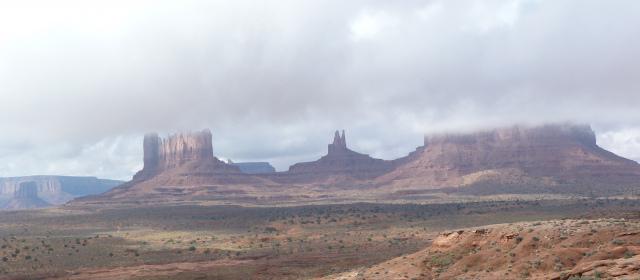 We arrive at 2.30pm at the Wahweap campsite in Page. The rate has increased: $ 26 a night. We pitch the tents. We eat a piece. We go to the BLM to inquire about access to Wahweap Hoodoos. The ranger tells us that it is not even worth going there. Yesterday, there was 8 feet of water (apparently the track makes a bowl in one place) and today there is still 4 feet ! Especially since it starts to rain again and to make a storm. Other flash floods are expected. We are disgusted: we wanted so much to go to the Wahweap Hooodoos. We stop at the Glen Canyon Dam Visitors Center. A ranger tells us that there is not much to do with this time. She is desperate for us! We really have no luck. After some shopping, we go back to dinner at the campsite: pasta Bolognese by the fire. This is the first time we fire at Page because it's cold! Usually, it's always hot ...
Wednesday september 11 : it rained all night. There is some water in the tent. We install the breakfast and ... we pack everything: it starts raining again. We go under the arbours a little below the campsite. We will see the weather forecast on the tablets: not so good. Then we go to Horseshoe.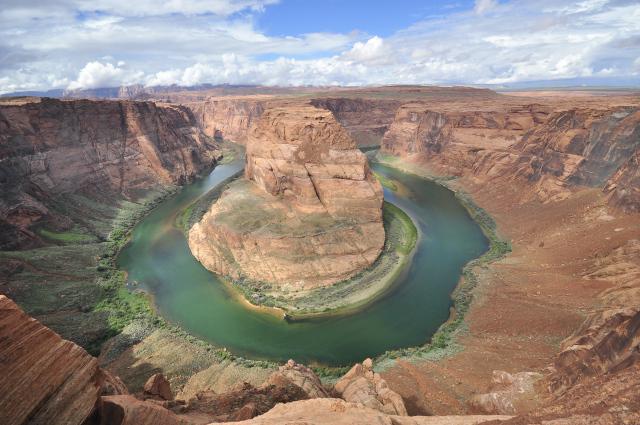 We take some pictures then we come back down quickly because it starts to rain again. Once down, it stops! We are fed up with this changing weather. We leave to go to the Marina trying to connect, it does not work well. It's raining again!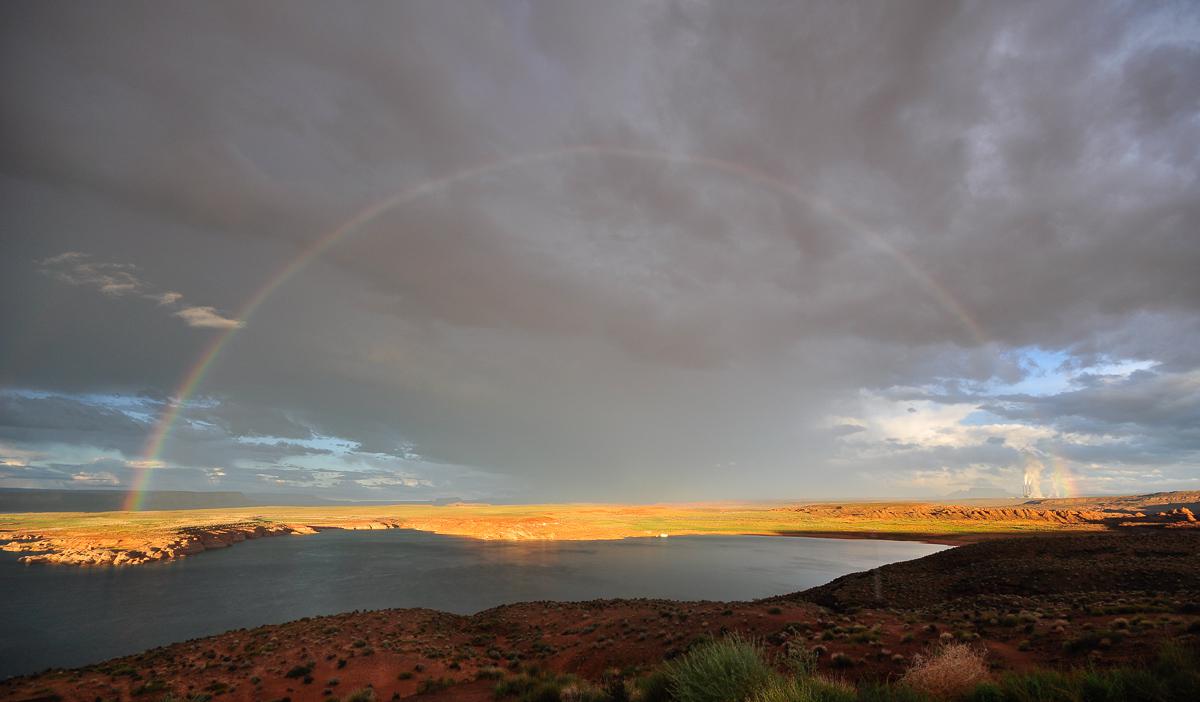 To be safe, we will eat at the steakhouse of the Best Western. It's not cheap: between $ 20 and $ 36 but it's good.
Thursday september 12 : it's sunny and the sky is blue this morning, as long as it lasts! We will pay an extra night then we go shopping. Around 11 am, we go to Lower Antelope but it's closed, probably because it's flooded because of the rains. Instead, we hike Hanging Garden (1,7 miles roundtrip), which starts in the parking lot just before crossing the dam (coming from Page). It is a hanging garden without much interest.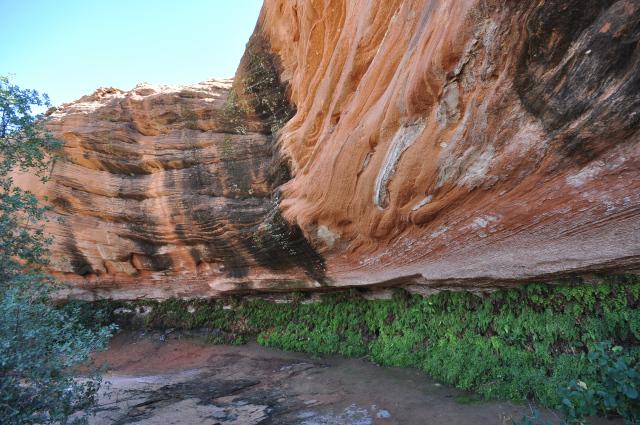 We then take a few pictures of the dam.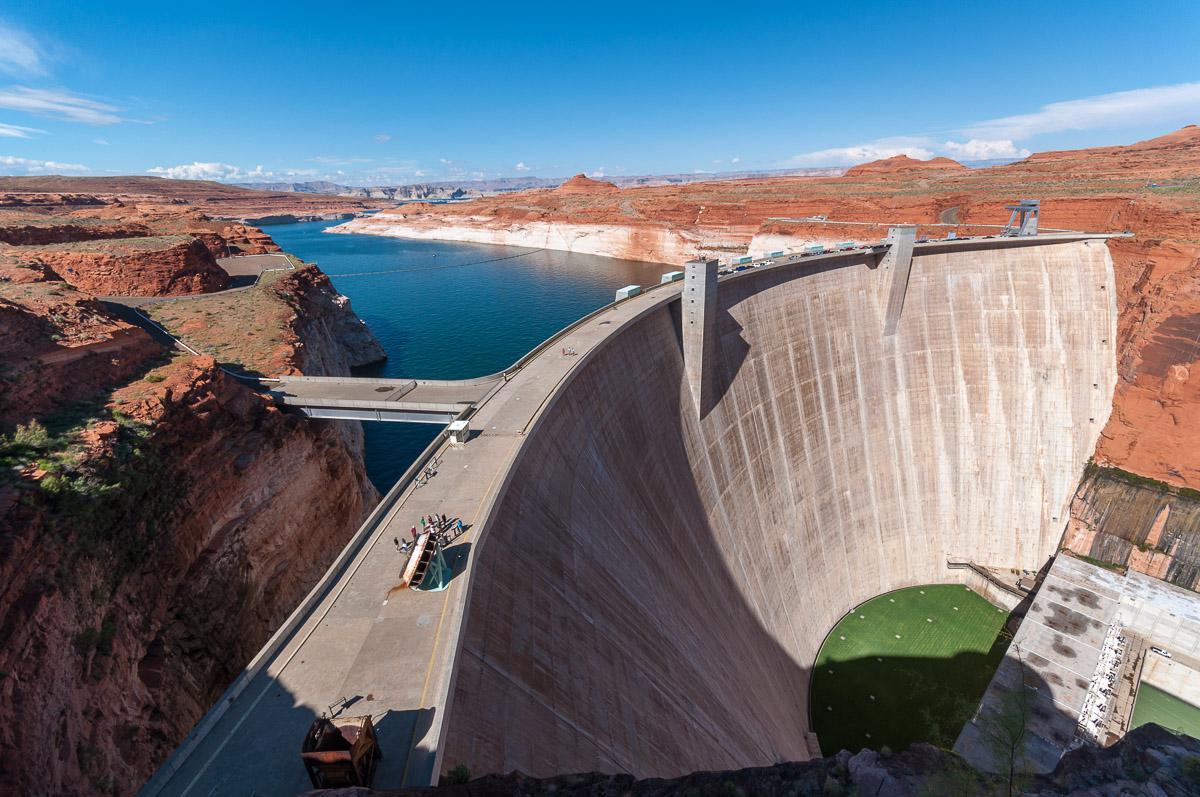 It is 73 ° but we have the impression that it does more. After a quick snack, we go to the Hoodoos Rimrocks which are very close to the Toadstool Hoodoos. We park at the parking of the Toadstools. Without stopping at Toadstools, continue on the left (west) along the rock wall. There are white hoodoos, but they are already a bit in the shadows.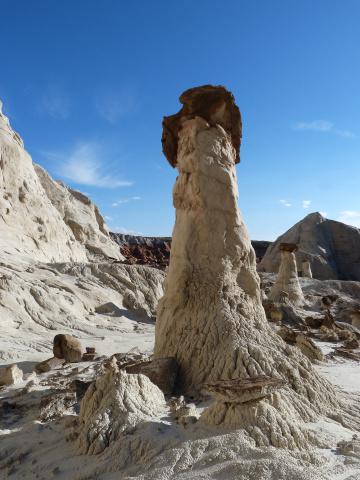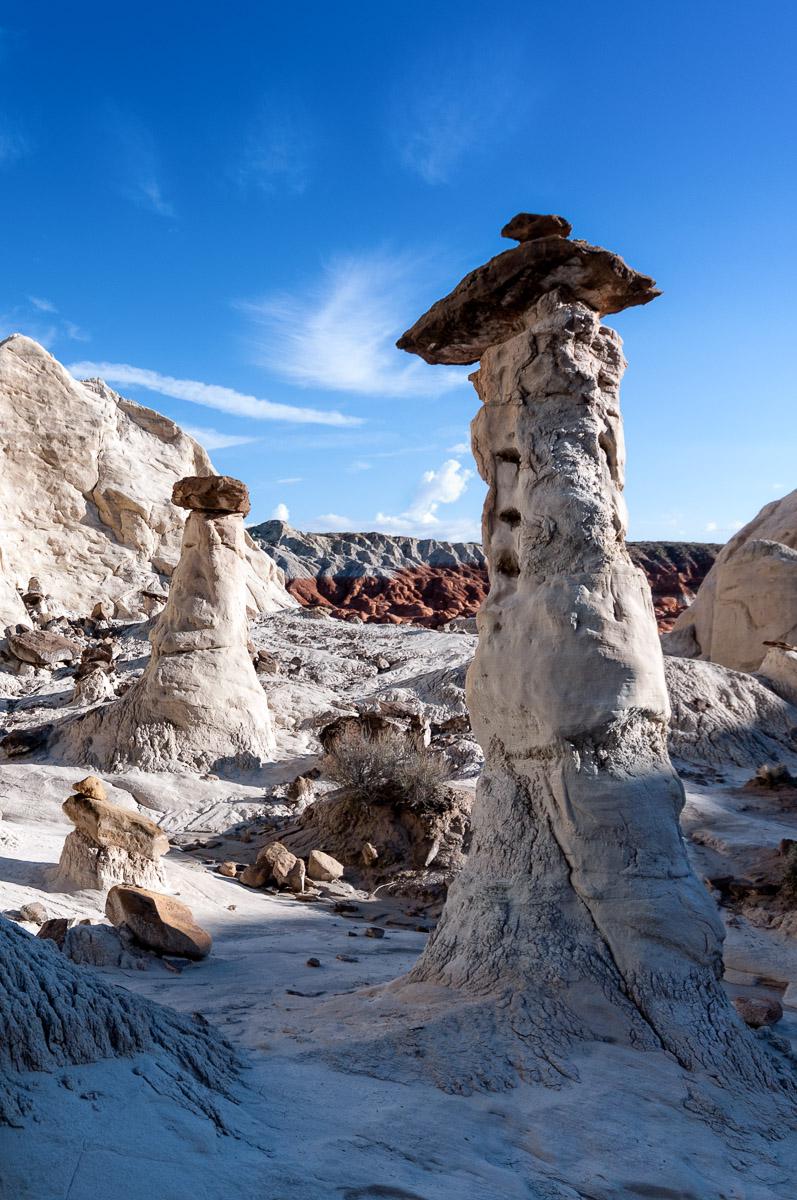 We shoot and then return to the Toadstools, watch the sunset. It's pretty cool.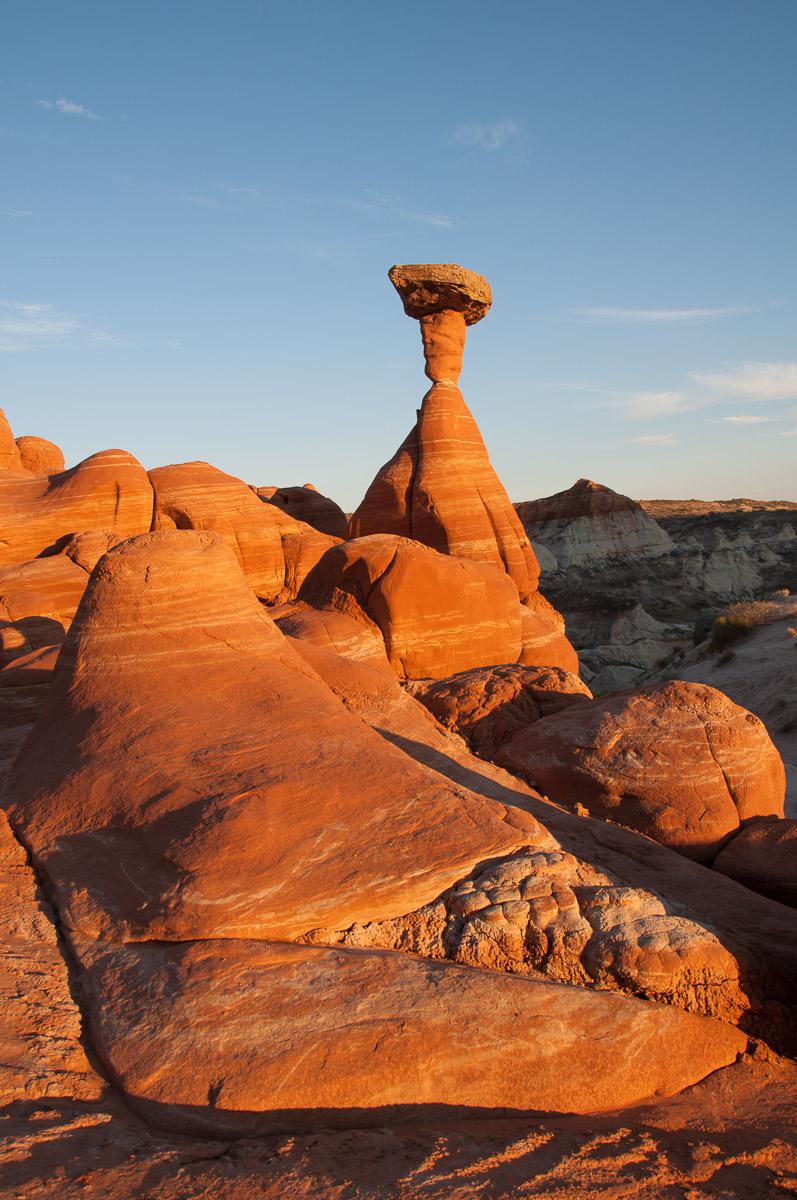 Friday september 13 : We return to Moab hoping to have a better weather than a few days ago. We set up our tents at the Riverside Oasis Campground, on the lawn. This campsite is located between Arches National Park and Moab: well shaded, clean bathrooms, but quite noisy because near the road. There are also bungalows. The "boring" trick: moving tents on Sunday mornings to mow and water the lawn. The weather is cloudy. There is a storm on Moab and wind at the campsite. We still go for a ride in Arches National Park. We take a storm on the head.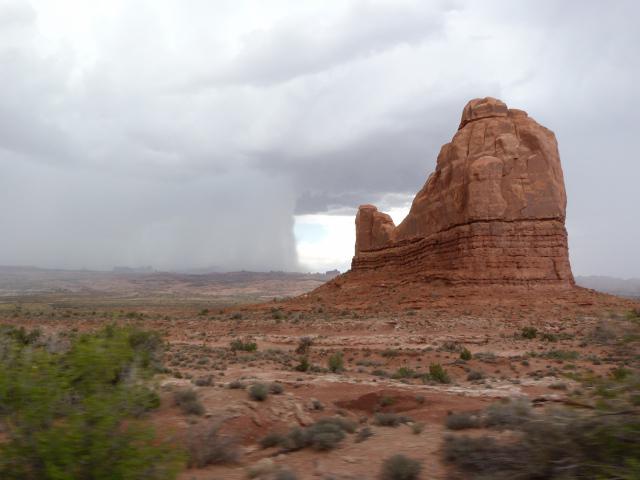 Then the sky gets more clear and we take pictures at Balanced Rock.
Around 9 pm, it's raining again. We hope the night will not be to wet.
Saturday september 14 : it is still a very overcast sky, windy and cool! We go to Corona and Bow Tie Arches by taking the Potash Road: 4 kms AR, 500 feet of elevation: it climbs a little at the beginning, passage with rope and ladder.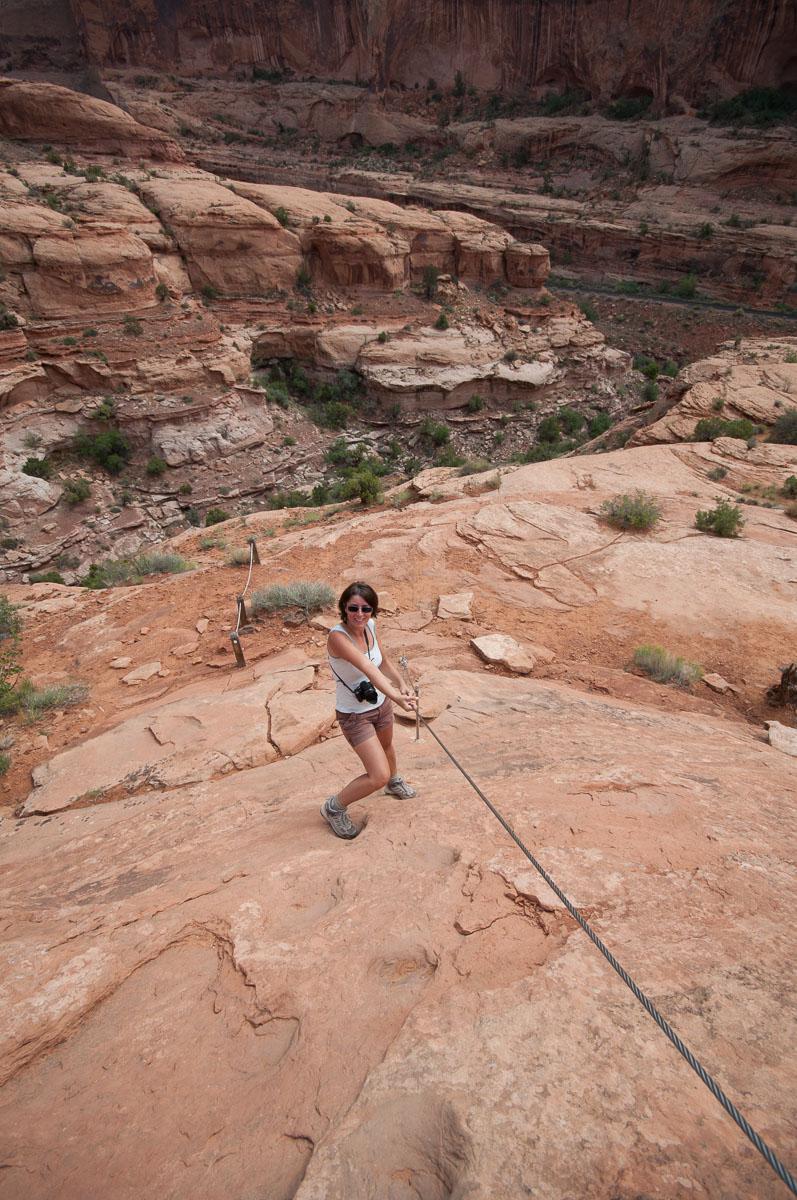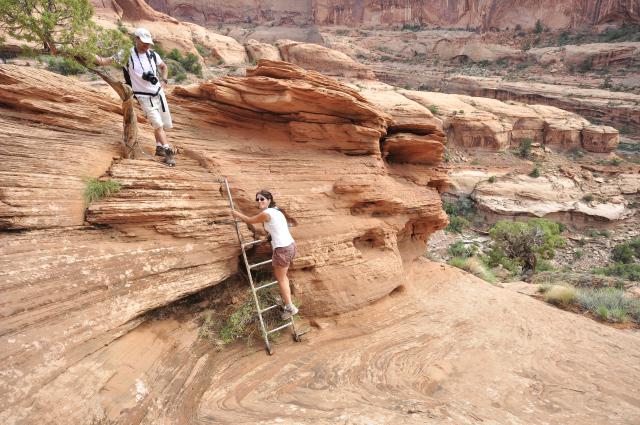 Very nice.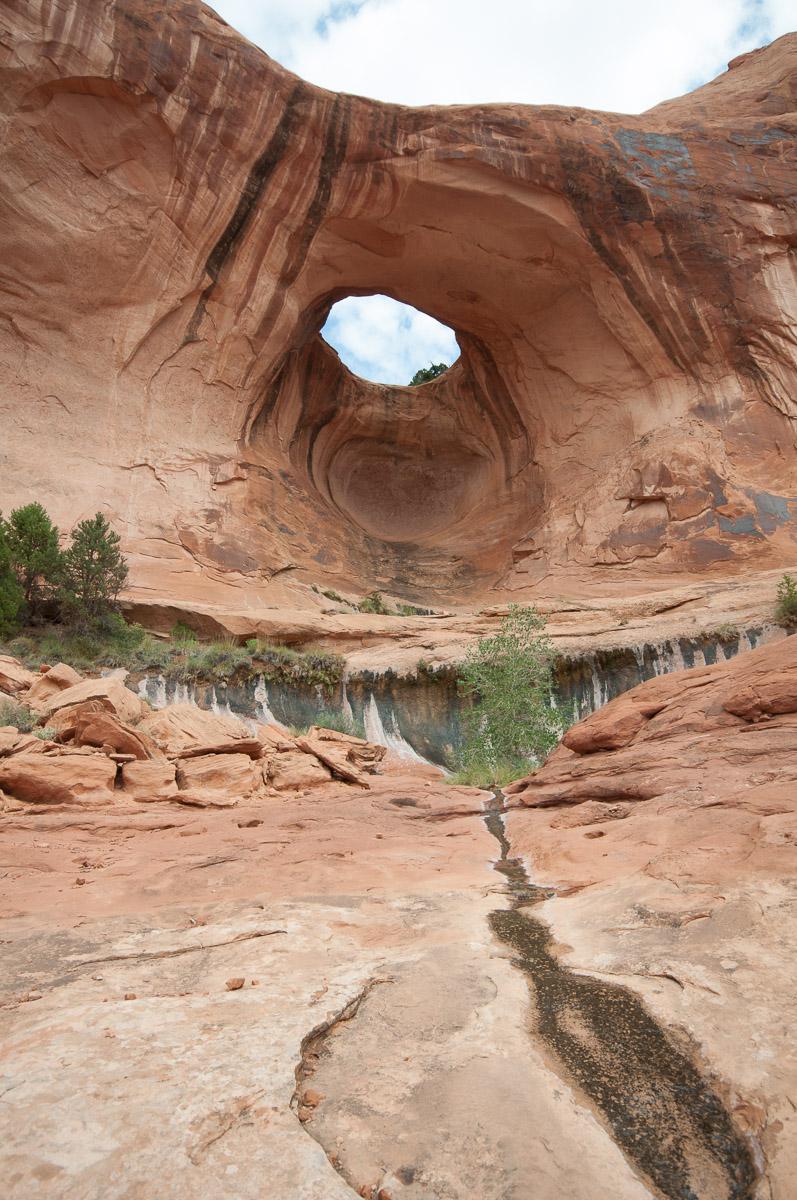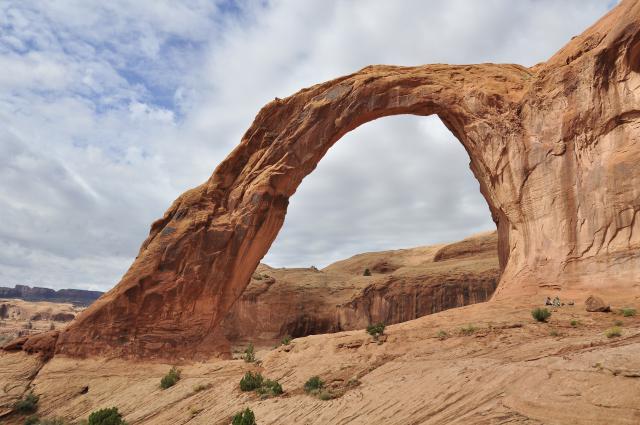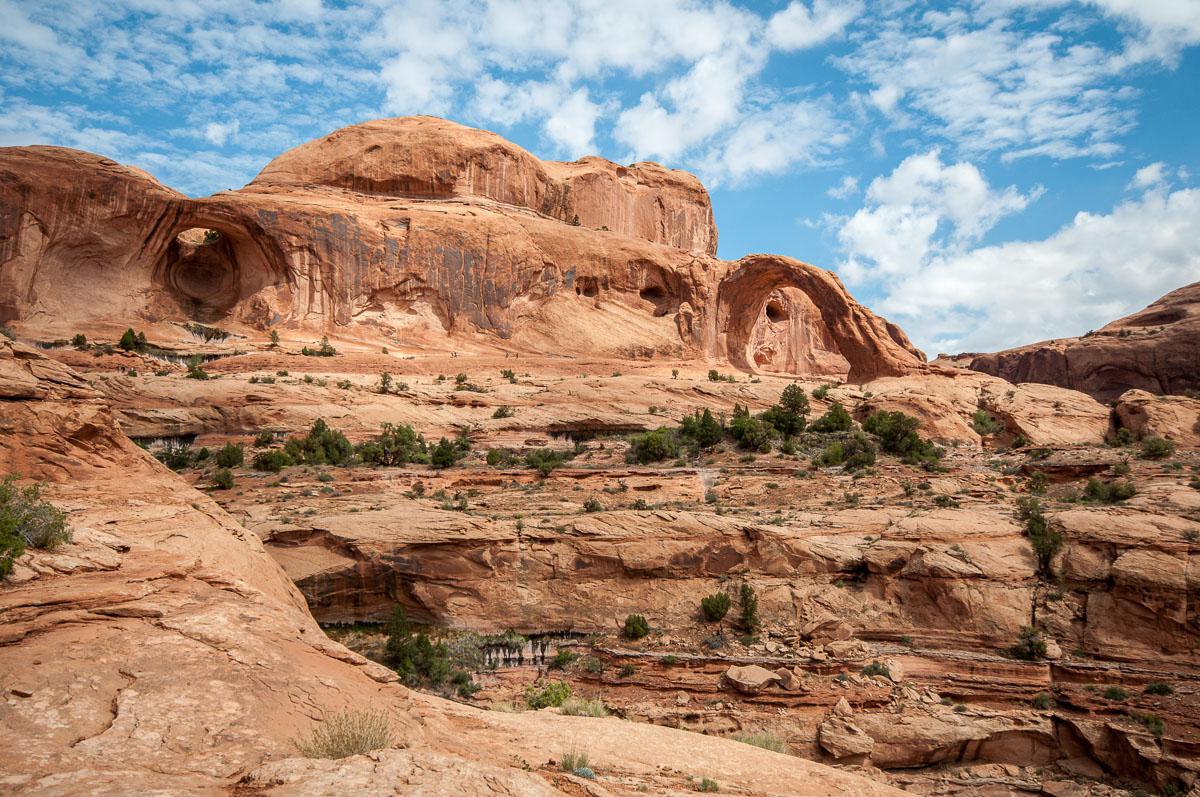 We then follow the Potash Road which continues on stony track. We end up turning around because there is a very muddy part. We go to the Arches Park to picnic facing Balanced Rock and it rains again with a few thunderclaps. Finally we return to the campsite under the rain. 
Sunday september 15 : the weather is nice. The sky is blue. Finally ! We go to the Visitors Center of Arches National Park. The Delicate Arch Trail and  road are closed and the Salt Valley Trail to Klondike is closed as well. We can say thank you to the storms! We go to Mill Creek. 4,6 miles hike: quite nice.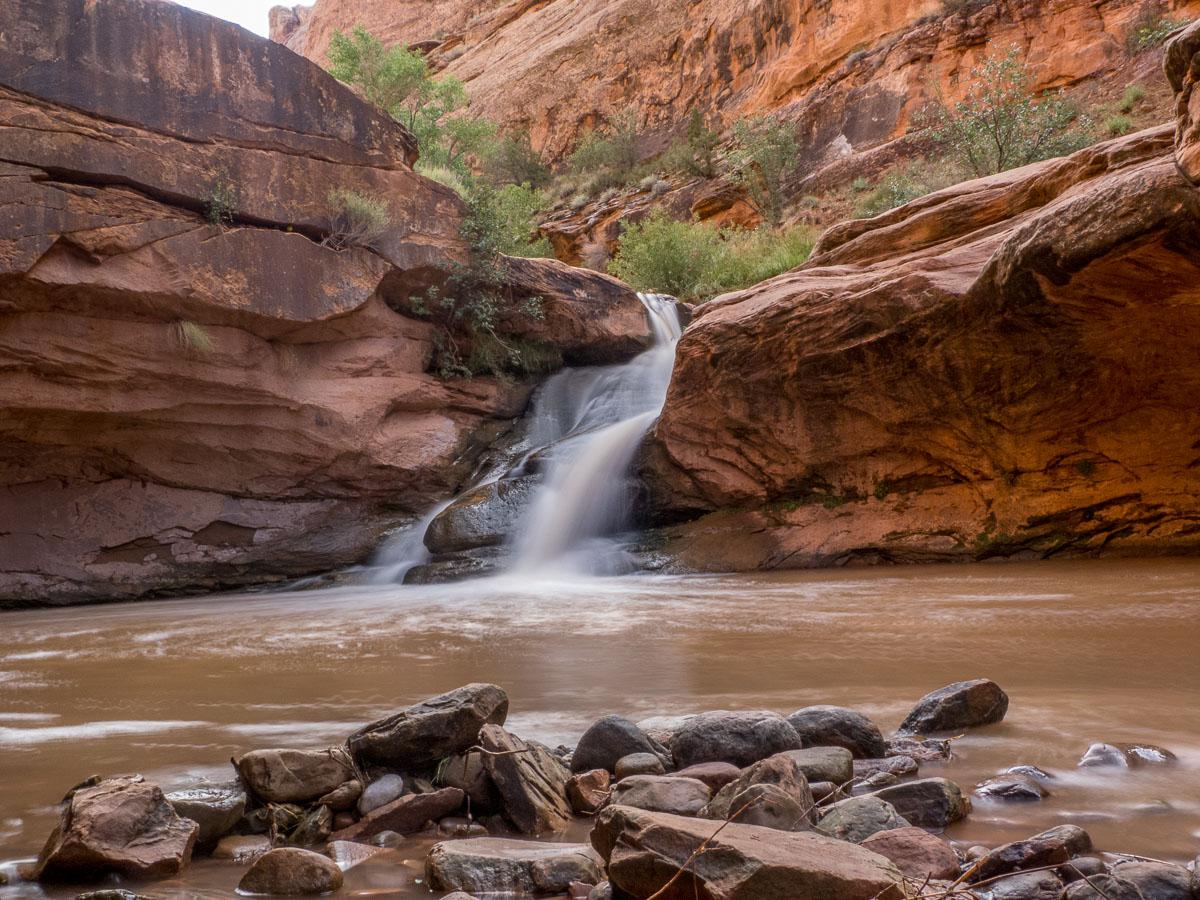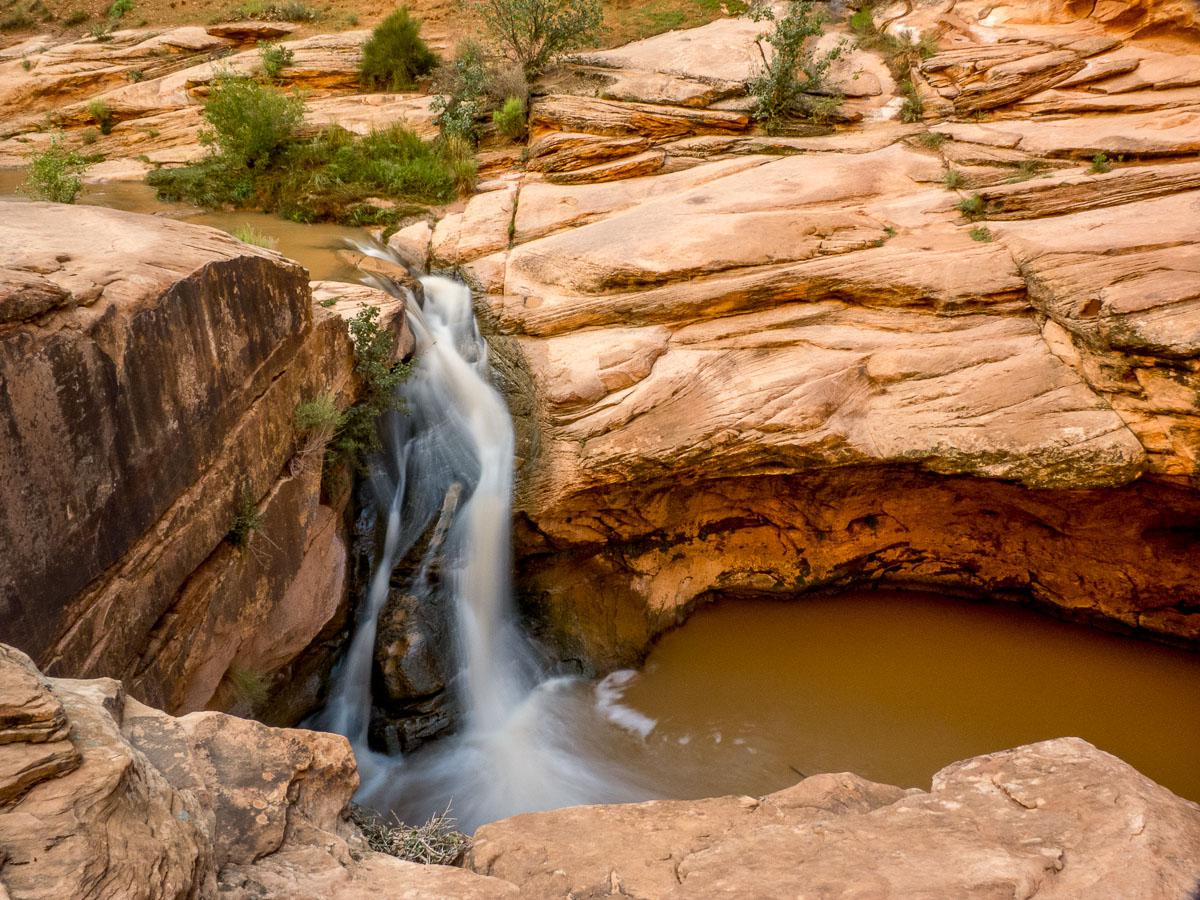 We then go to Negro Bill Canyon (5 miles). Some acrobatic passages, other passages in the river, but nice hike that leads to a very large arch, impressive.

Around 6 pm, we will witness the sunset on Balanced rock. Too handsome ! We got on the hill on the opposite side of the road: we have a view of Balanced Rock and the chain of La Sal Mountains.

We have dinner at Denny's.
Monday september 16 : we get up at 5 am to attend the sunrise on Mesa Arch. When we arrive there, there are already a lot of people.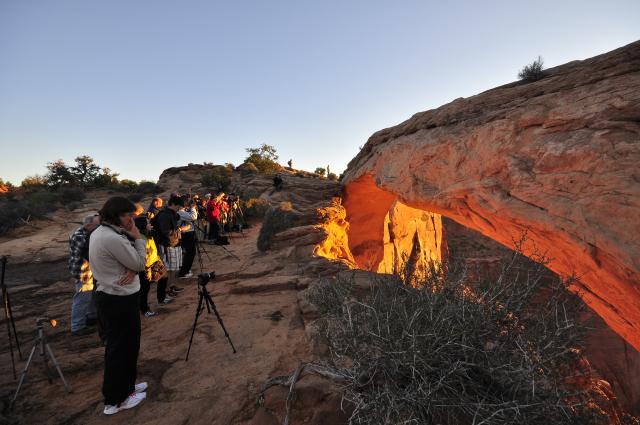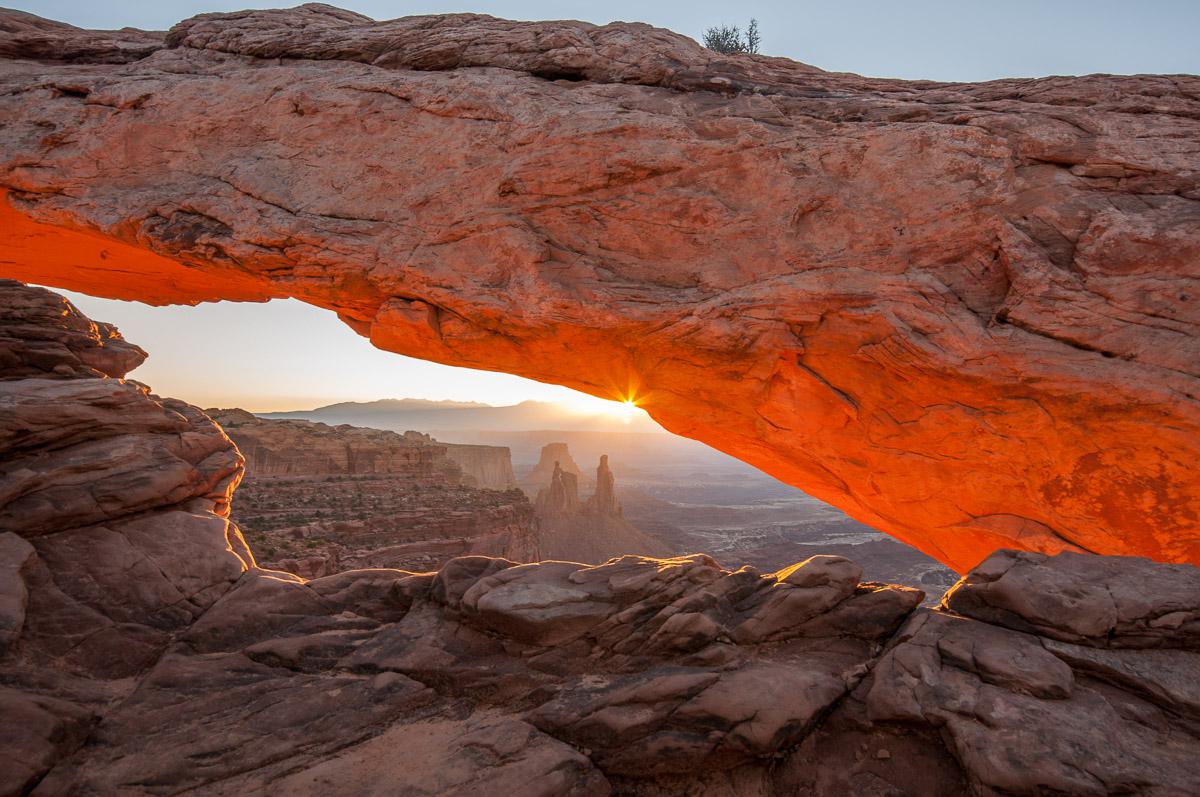 Once again, it's different from June. Around 8:00 am, we will have breakfast on a picnic table. We then walk the White Rim Trail (1,9 miles) which leads on a cornice with a bird's-eye view, impressive.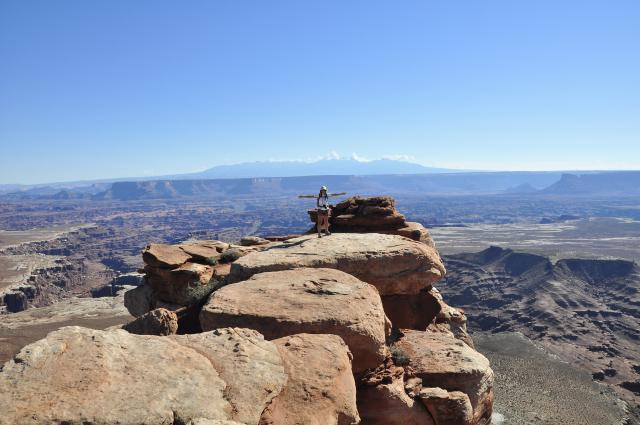 Suddenly, there is a big boom. We believe at first a thunderclap but the sky is totally blue. In fact, a piece of rock has unhooked from the cliff. Then we will hike on the Murphy point Trail. Before the end of the trail, it is better to take the right side: the view of this side is beautiful.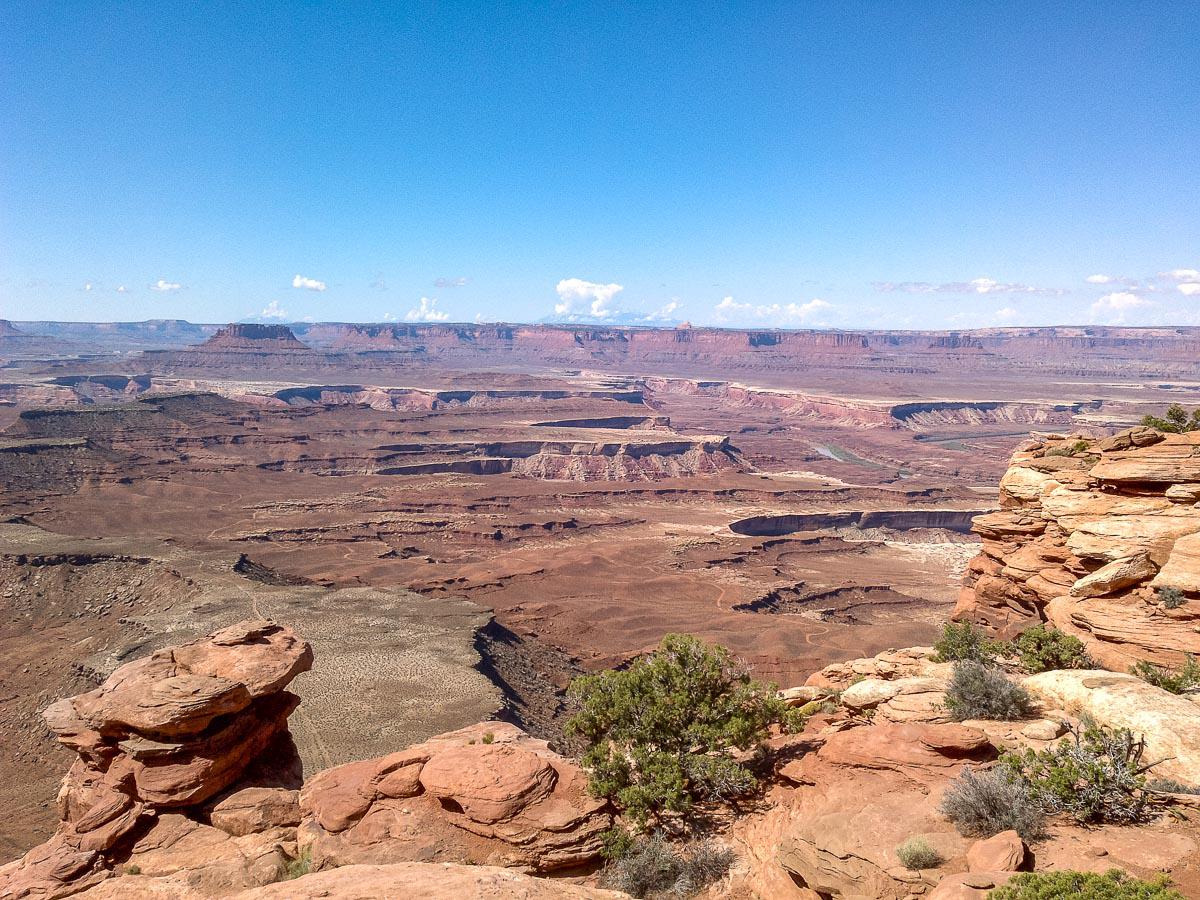 We can see a kind of horseshoe.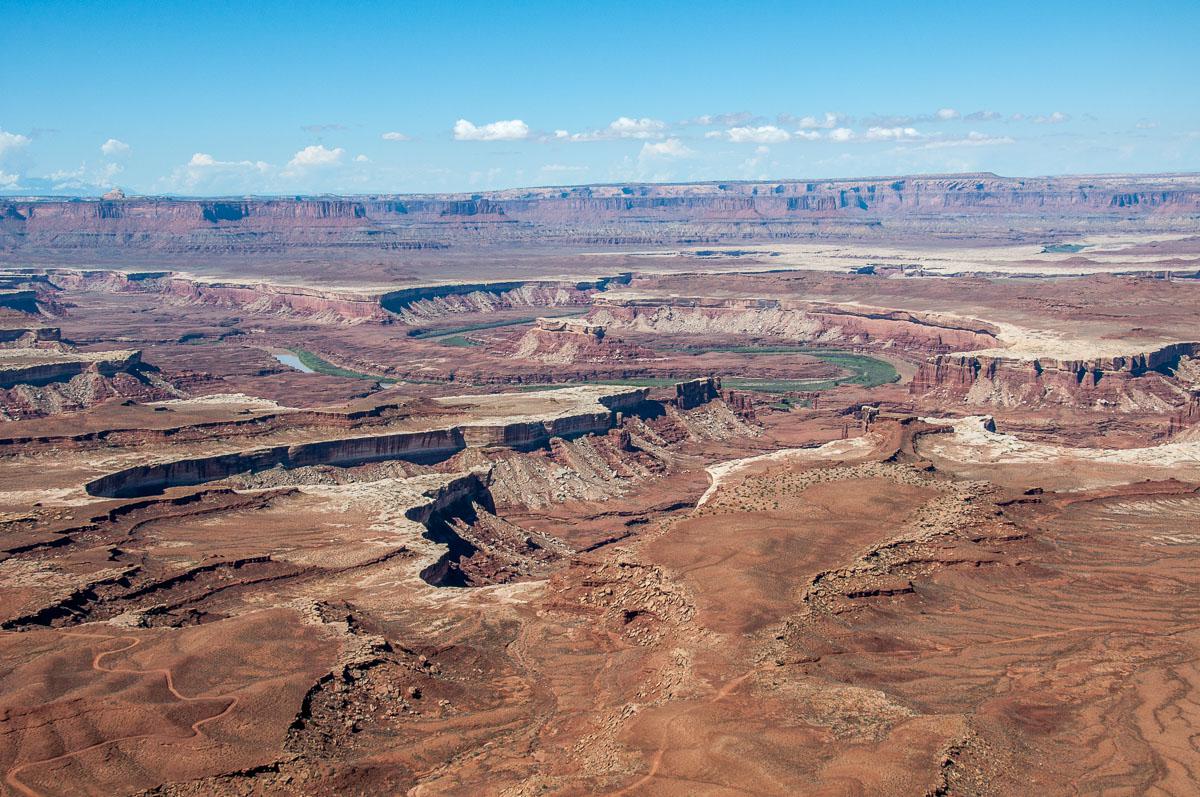 Then we go to Grandview Point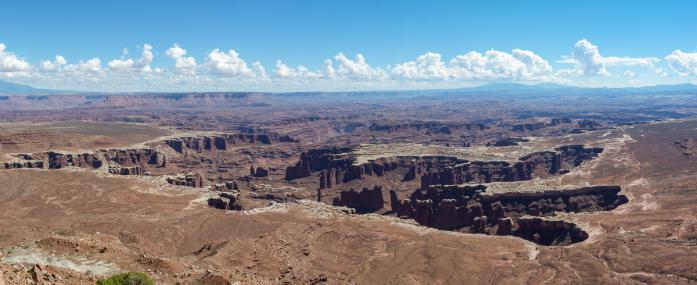 and we leave. We stop at the Visitors Center. A ranger explains to people that it rained in 7 days one third of what normally falls in 1 year. Roght when we are here !!! Many parks had to close some sections, some trails as far as Texas (we will learn later that Colorado suffered several massive floodings and that 500 people are still missing. In late afternoon, we go to Arches National Park to see the sunset on Windows arches. It's nice.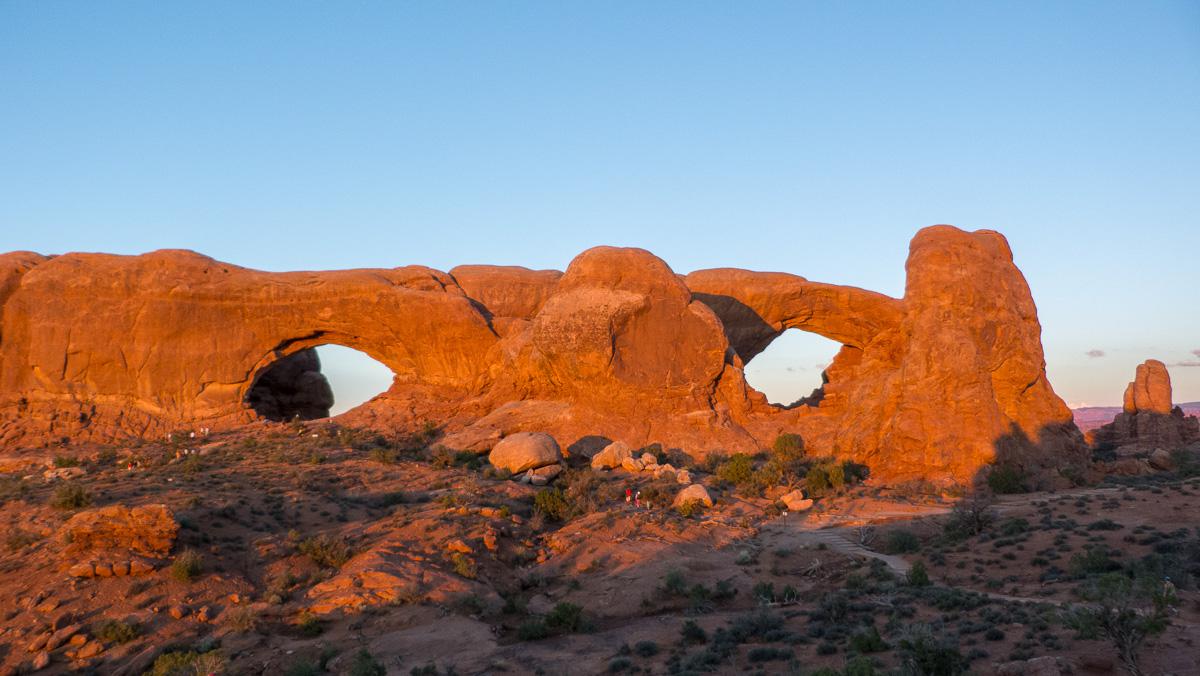 Tuesday september 17 : we fold the tents and go to Goblins. We pay $ 20 per night at the camping, entrance included. The location assigned to us is all muddy. We will have to put ourselves under the arbor of the table where the floor is concrete. We go to Little Wild Horse Canyon. The entrance to the canyon is full of water, but anyway, we must go on the top, left side, because down, even without water, it would not pass (big blocks of rocks).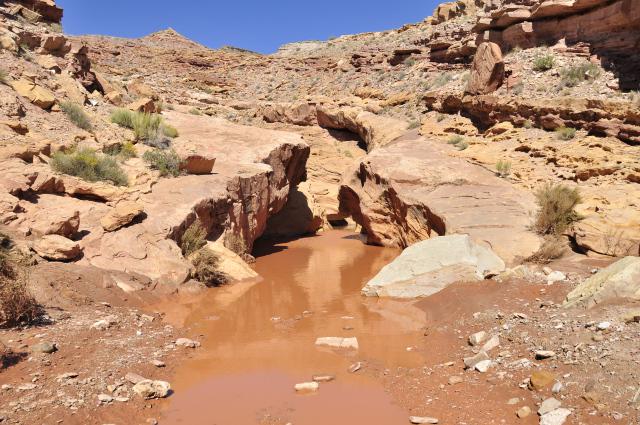 The rest of the canyon is quite soggy, you can not go very far, too bad. After a quick picnic and set up of the tents, we go to Goblins Valley to take pictures. We walk for 2,5 miles through quirky forms.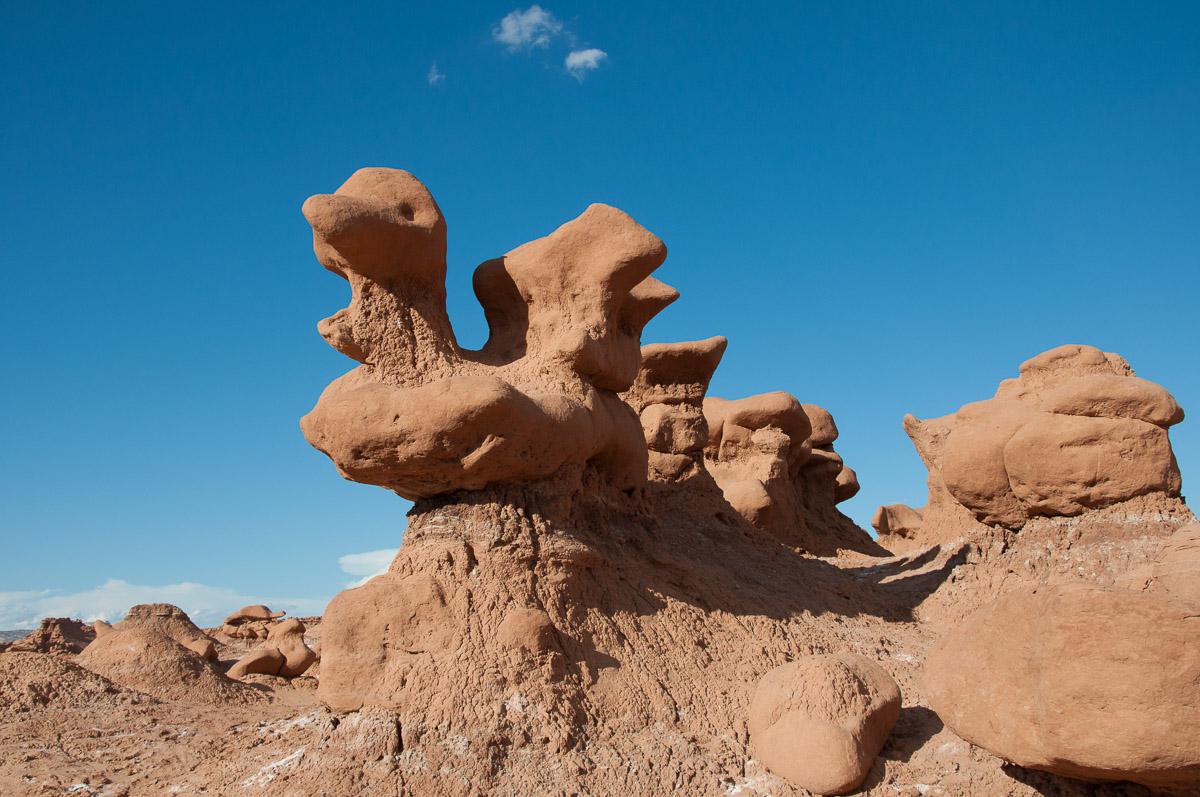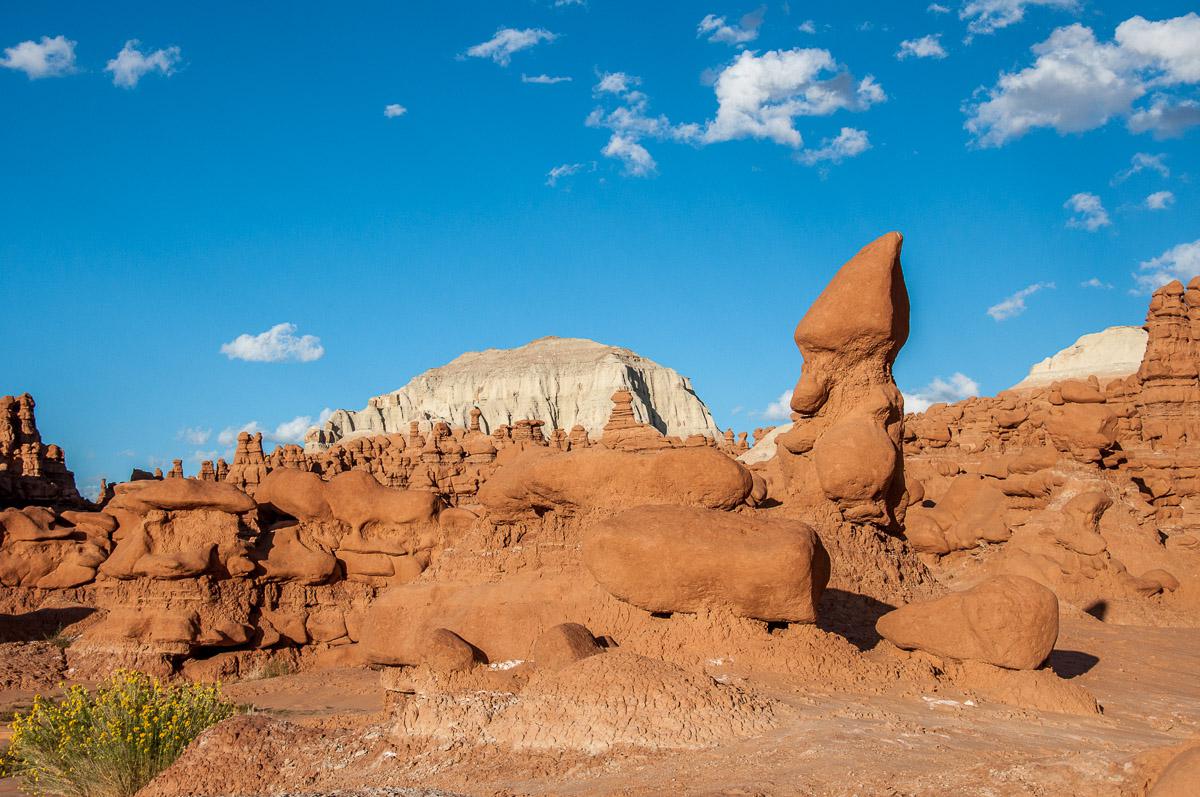 We assist to the sunset: colours are beautiful.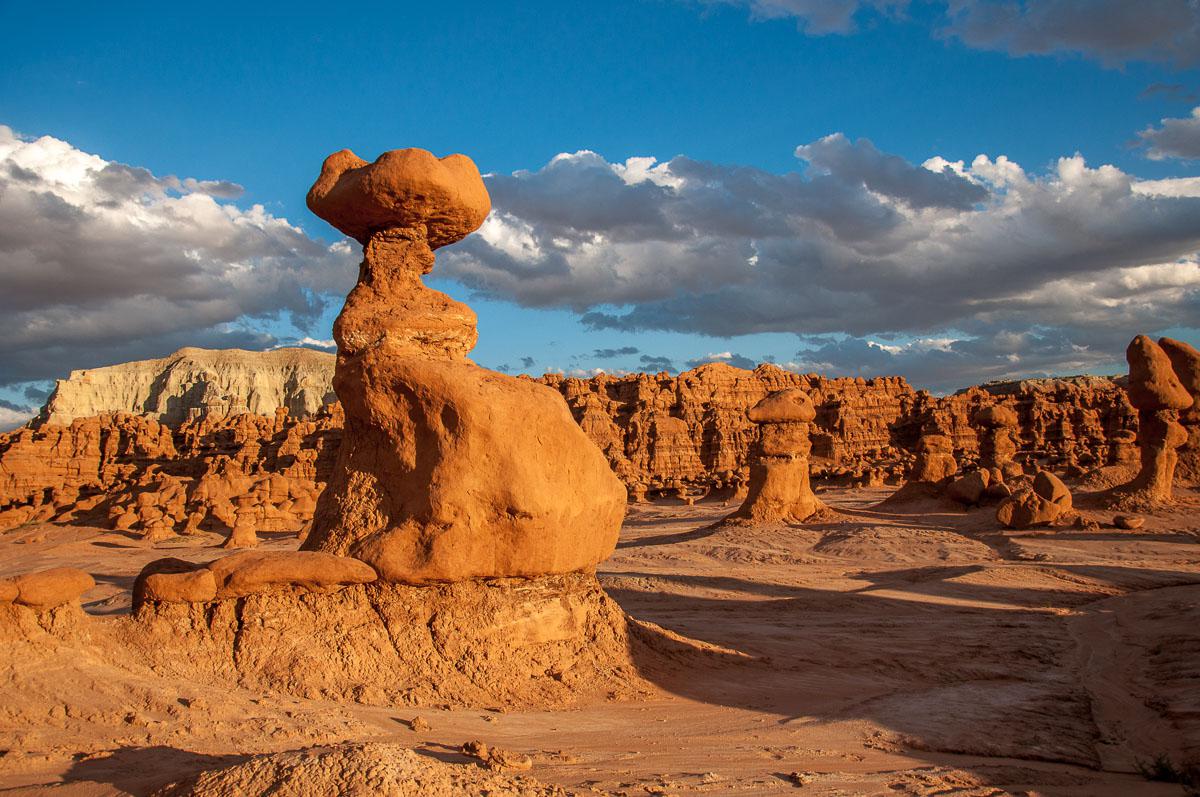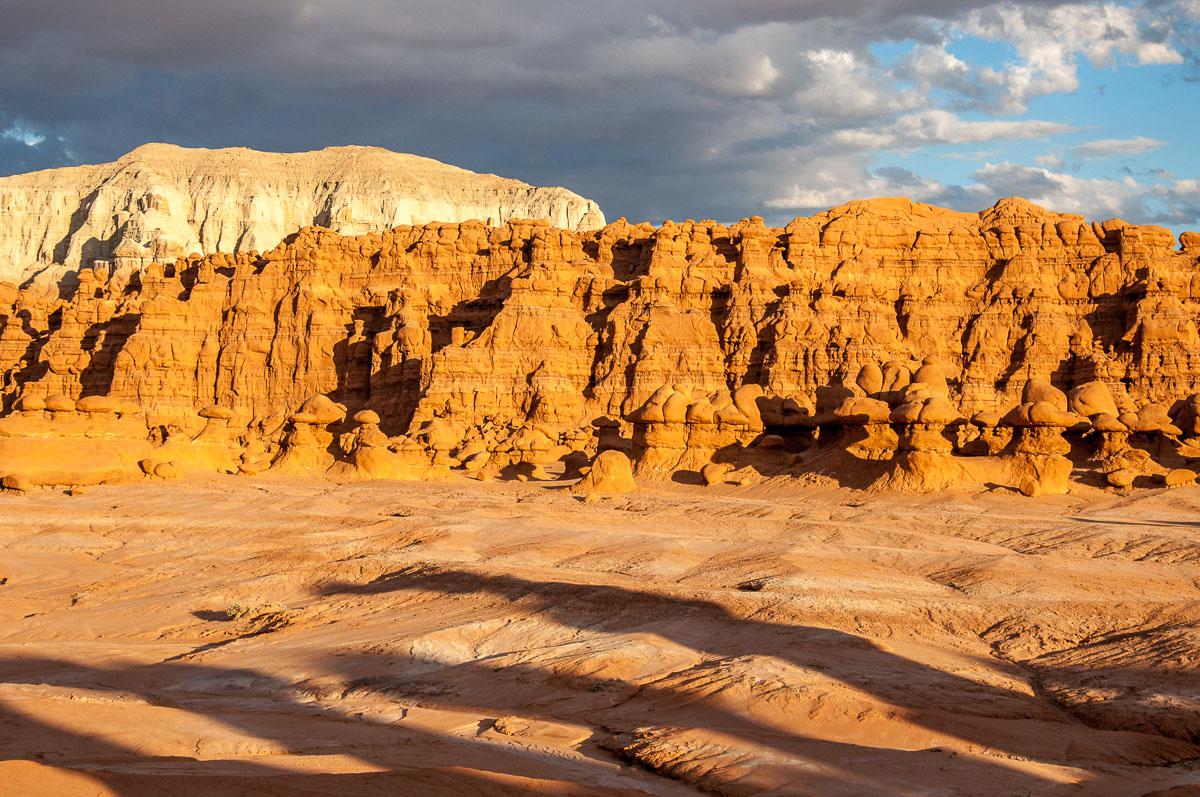 Around 7 pm, we have dinner on the table at the parking. And, at sunset and moonrise, we go back down to take pictures at night.
We are all alone. At one moment, we see eyes in the distance. Frightening !
Wednesday september 18 : we leave for Escalante. We stop at Little Egypt where there are brown and white hoodoos.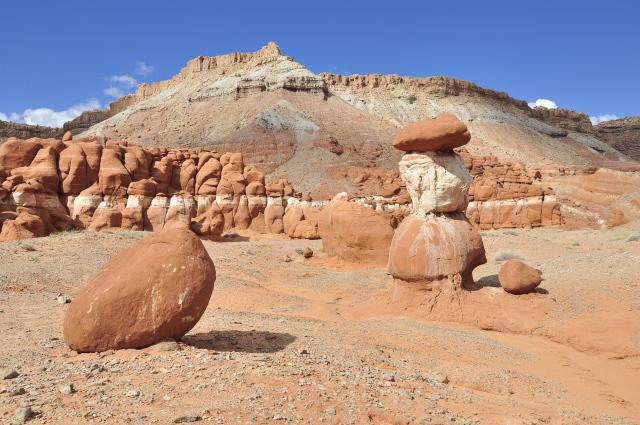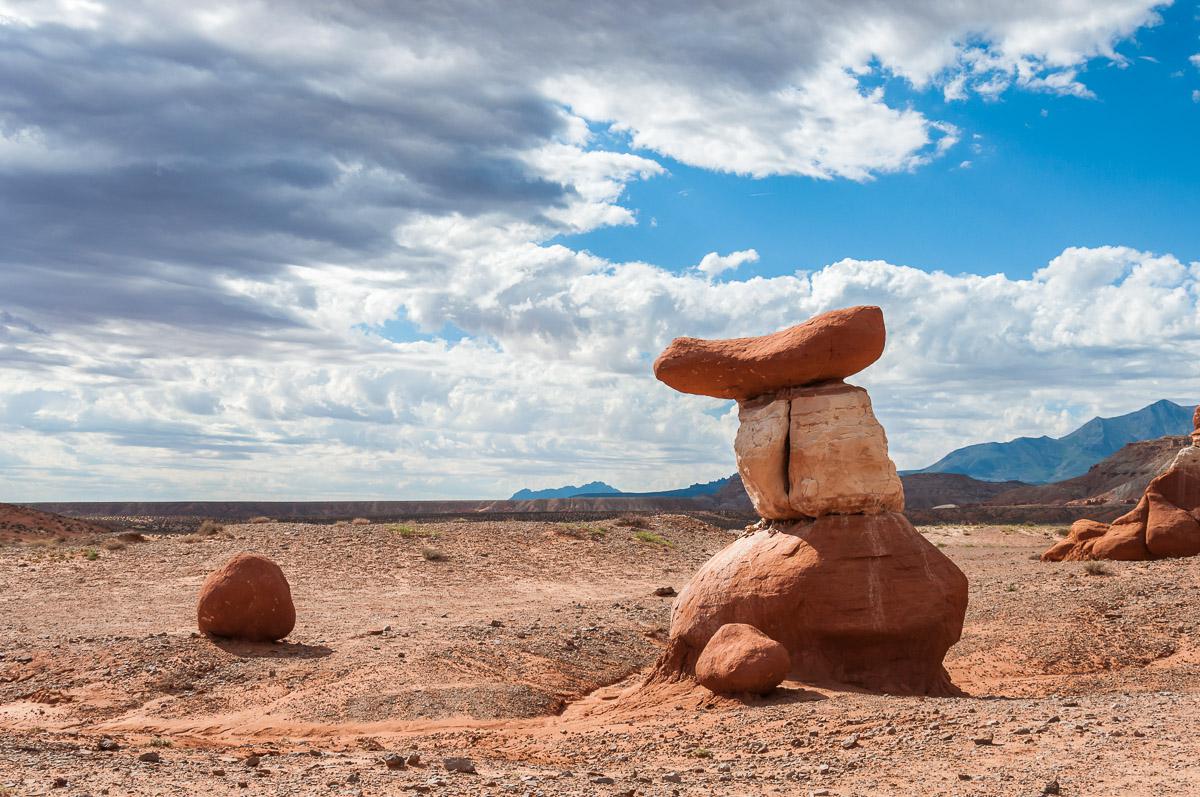 Not easy to take pictures because they are glued to each other. Near Escalante, on the road, we stop at the Escalante River Trailhead hoping to see Natural Bridge. From the beginning, you have to cross the river. We get around the problem by going across the bridge onto the road. But after 1/2 hour of walking, you have to cross the river again. But the level of the water is too high and we prefer to turn around so as not to wet our shoes and go to  Horizon Arch tonight in dry feet. We go to the Visitors Center to inquire: the Cottonwood Road is still closed. For access to Wahweap Hoodoos, the Ranger does not know. She advises us to go to Willis Creek. We try to go to Horizon Arch. On the way, there are huge ruts. The 4WD will not go without touching. So we turn around again. We will then move to the Outfitter Campground. In the evening, we will eat a pizza.
Thursday september 19 : we head towards Cannonville. We take the concrete road of the Cottonwood Road, then the Skutumpah Road (n°500) to go to Willis Creek. We walk 4,4 miles in the canyon, sometimes large, sometimes narrow, with a small trickle of water in the middle. The hike is nice, very refreshing. There are nice colours. We love.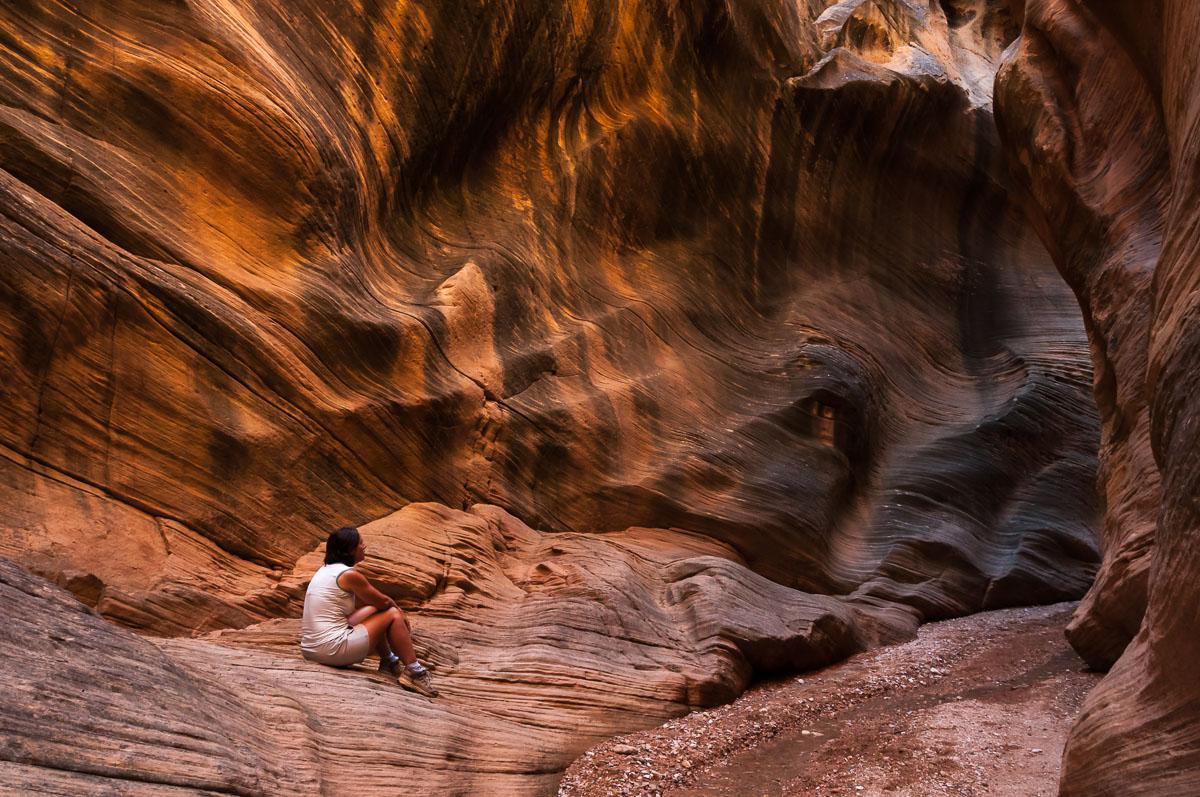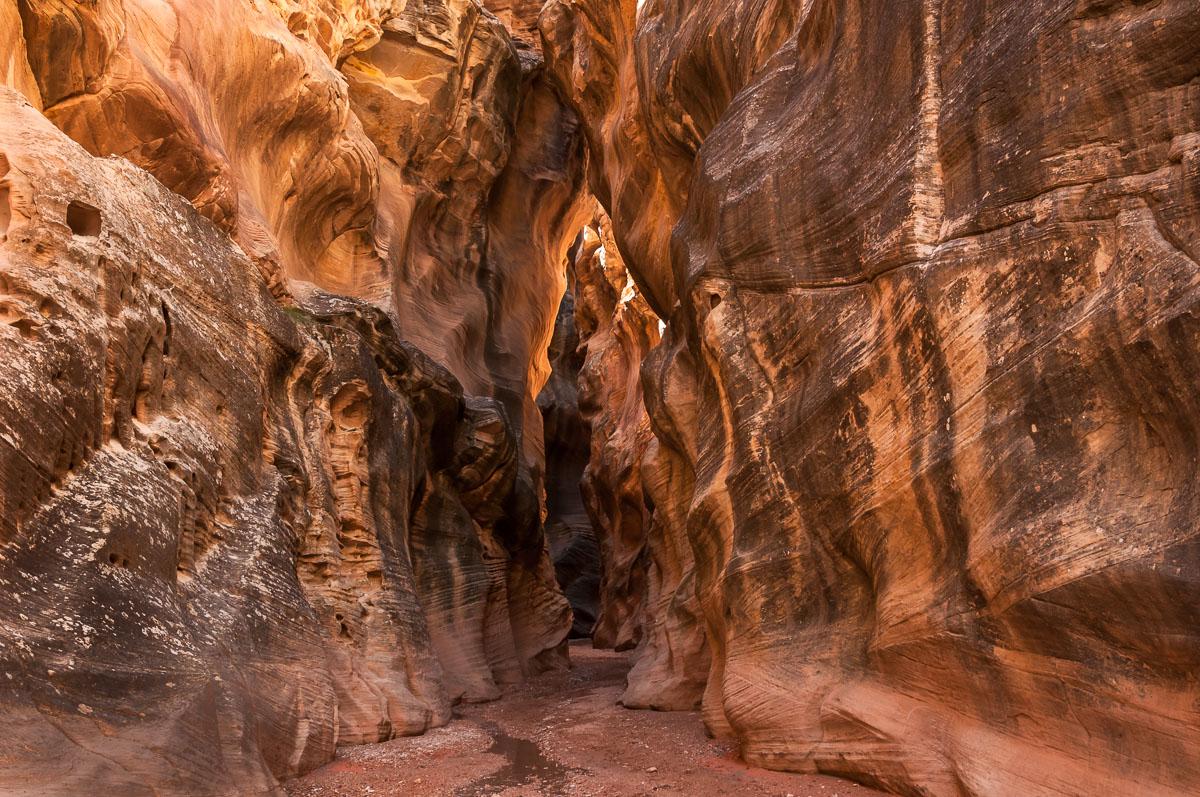 Next stop is at Bryce Canyon. And the campgrounds are full. Damn. We find a tentsite at the Ruby's Inn Campground, 32$ for 3 people. Around 5 pm, we return to Bryce to take a few pictures,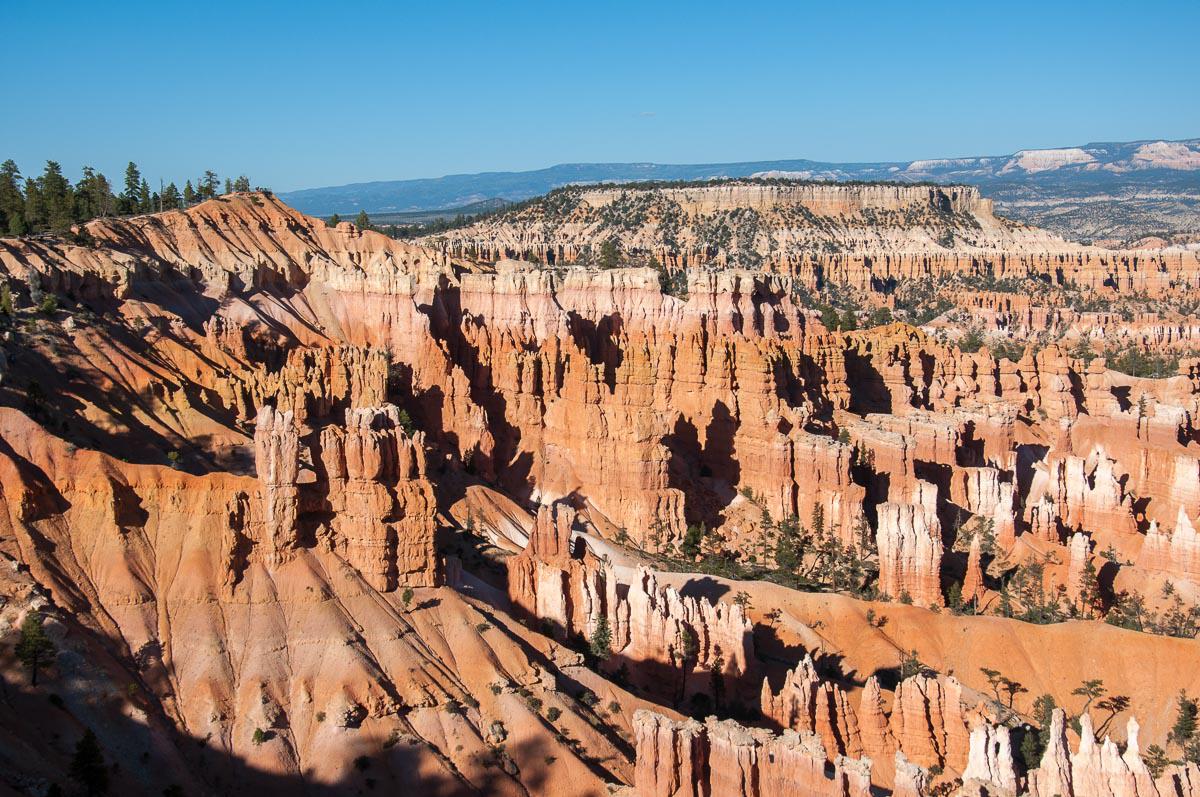 and then back to the campground to have dinner close to the campfire. 
Friday september : the night was cold. I put extra clothes on : jogging, polar sweat and jacket but I was still cold ! The car is frozen. We go to Red Canyon right next to Bryce Canyon. We hike the Pink Lodge Trail : 0,7 mile. It's more orange/red than Bryce. Then we take the Photo Trail : 0,3 mile.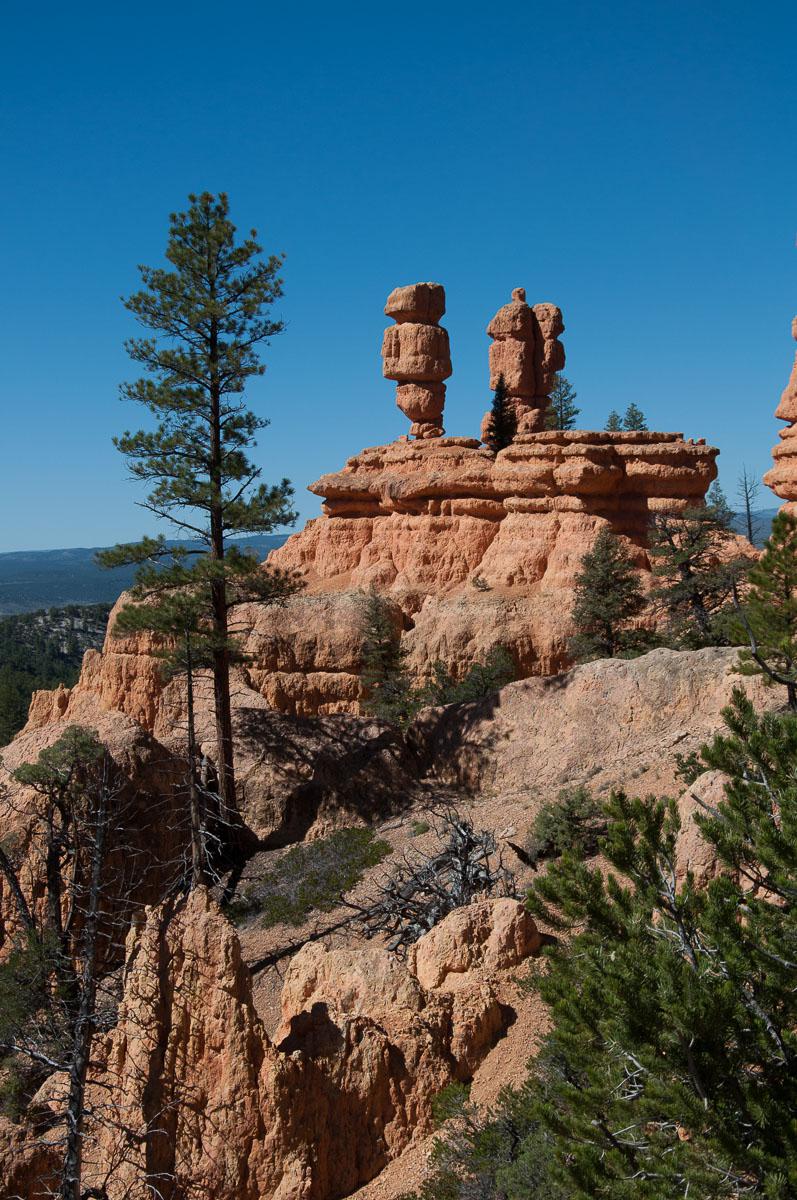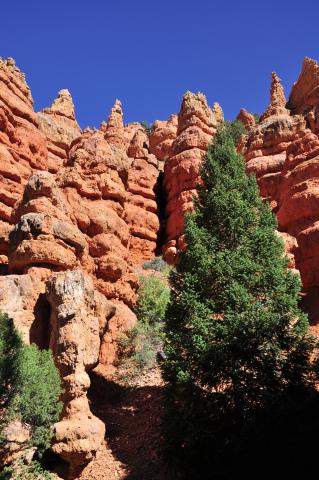 We then go to Springdale to find a campsite. Those in Zion are full and in Springdale there is none. So we take a room at Zion Park Motel. Then we go for a walk in the Narrows. The water is cool!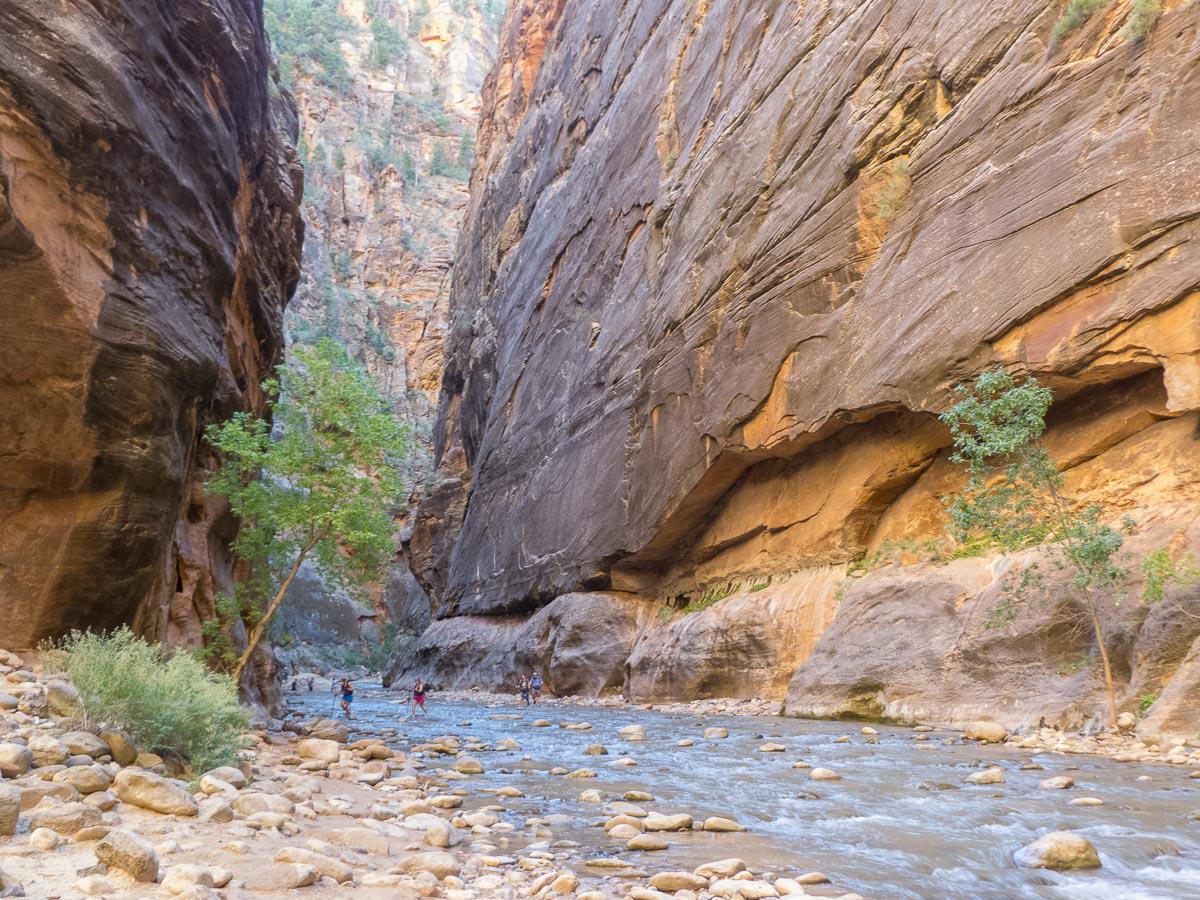 Saturday september 21 : we return to Zion to hike Canyon Overlook Trail. Finding no place to park, we go to a viewpoint and we plunge into the canyon, off the beaten tracks.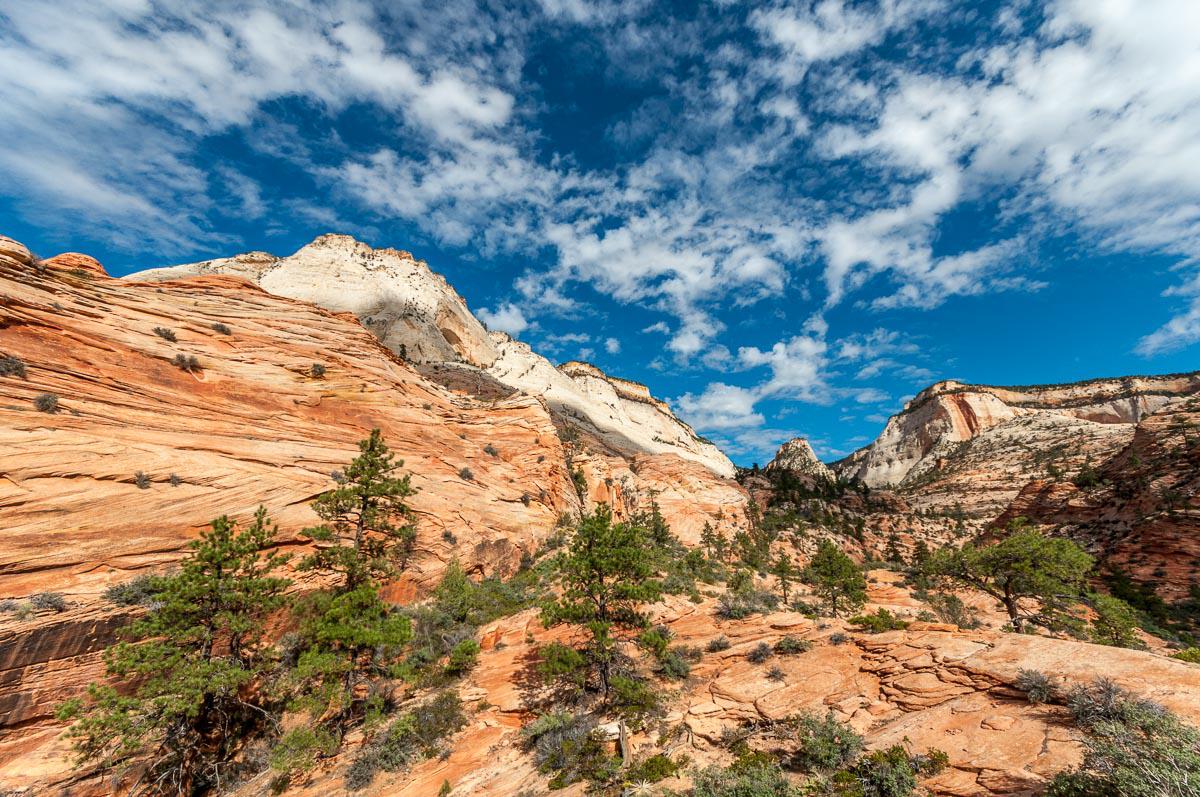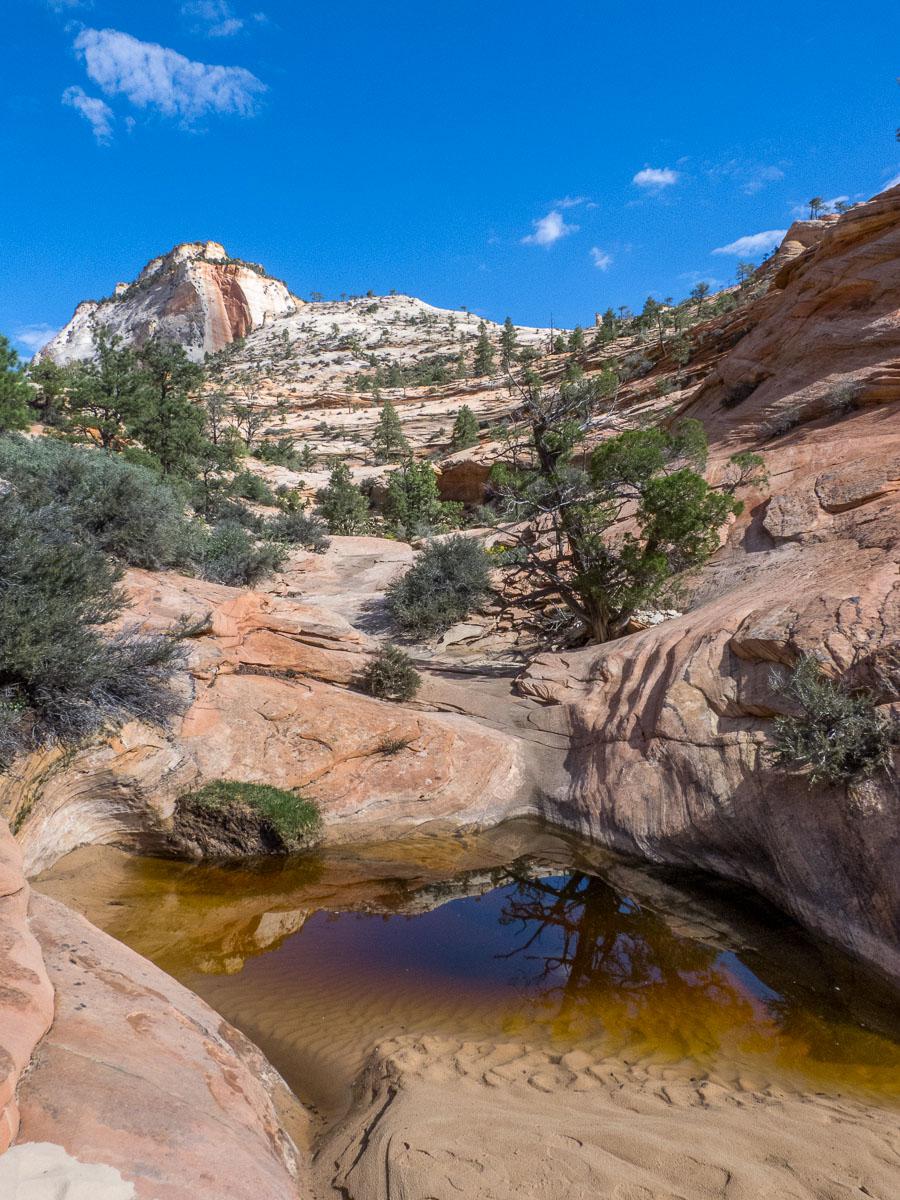 It's nice and we are alone. And the must : we met wild goats.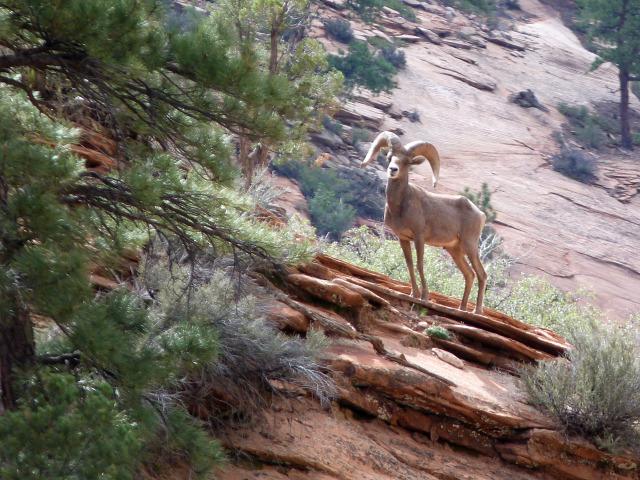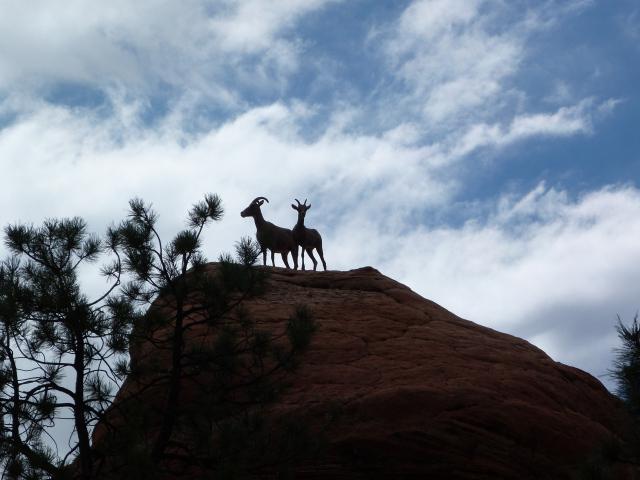 Then we return to Springdale to do some laundry, nibble and eat a great ice cream at the Springdale Candy Company. Then we go back to the Narrows. We go a little further than yesterday. It's pretty fun. We come across a nice place where the rock is illuminated by the setting sun.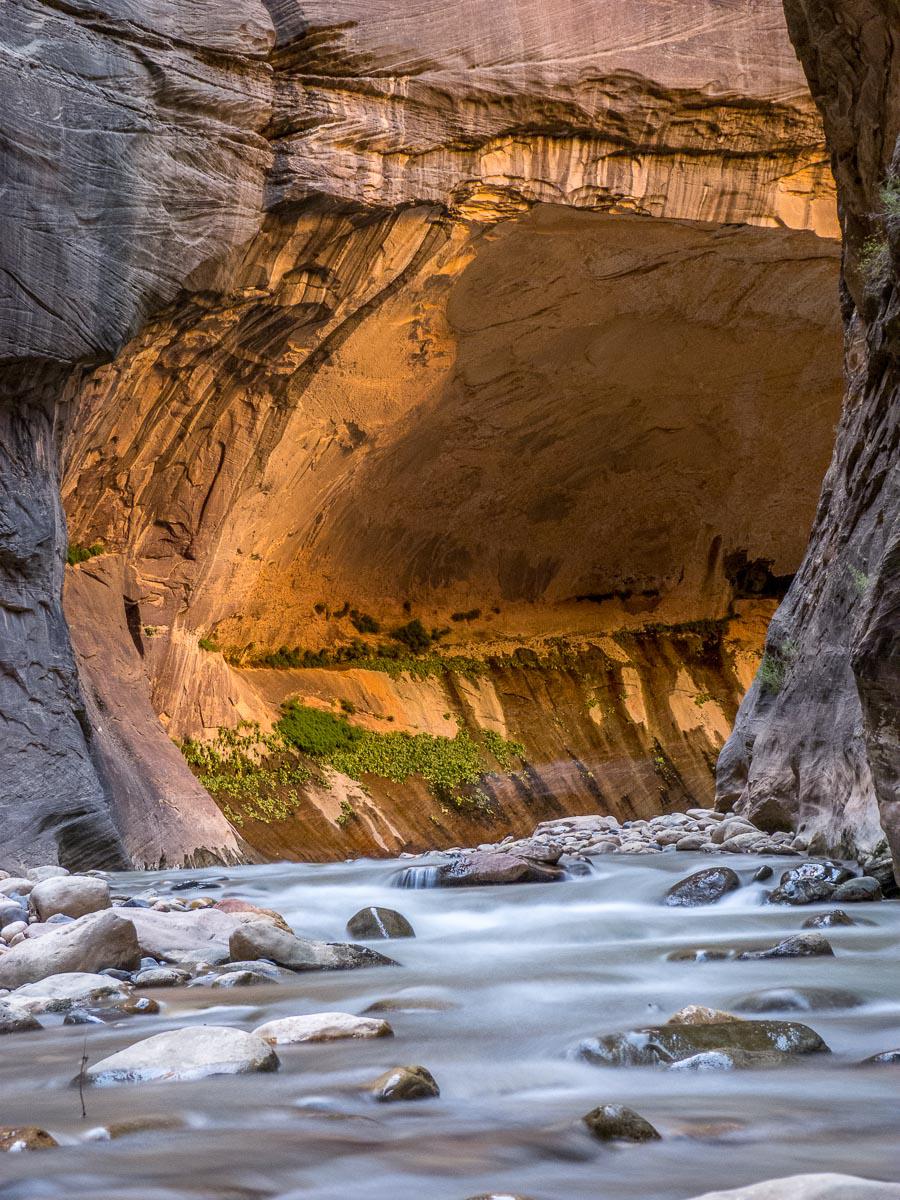 In the evening, we go to Saint Georges where we booked a room at Super 8 yesterday. Arrived at the Super 8, the hostess tells us that the credit card has been refused and that the hotel is complete. It is 9 pm and we have no room! The girl, very nice, phone to several hotels to find us a room. She found one at Motel 6 (where we have already been) and in addition next to Denny's, where we will eat, after our installation in the room.
Sunday september 22 : after a hearty breakfast at Denny's, we leave for Red Cliffs National Conservation Area ($ 5 per vehicle). We walk in some kinf of  Narrows for about 1,9 miles roundtrip. There are some acrobatic passages, including one with holes in the rock for the feet and a rope and that over a pool.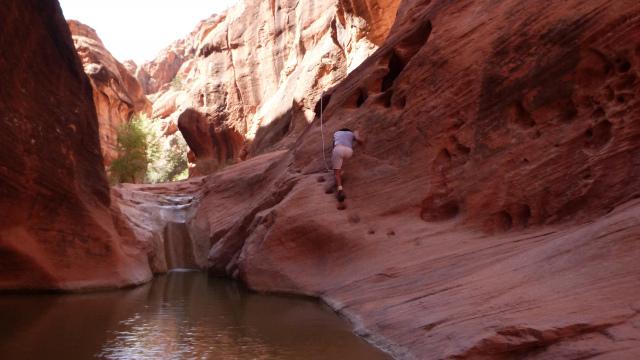 At the end of the afternoon, we go to Snow Canyon: $ 6 per vehicle for the entrance, $ 16 for entrance and camping (for 3 people). We set up the tents and we nibble. The location is nice and quiet. Then we will visit the park. We hike Petrified Dunes Trail up to hoodoos with black hats.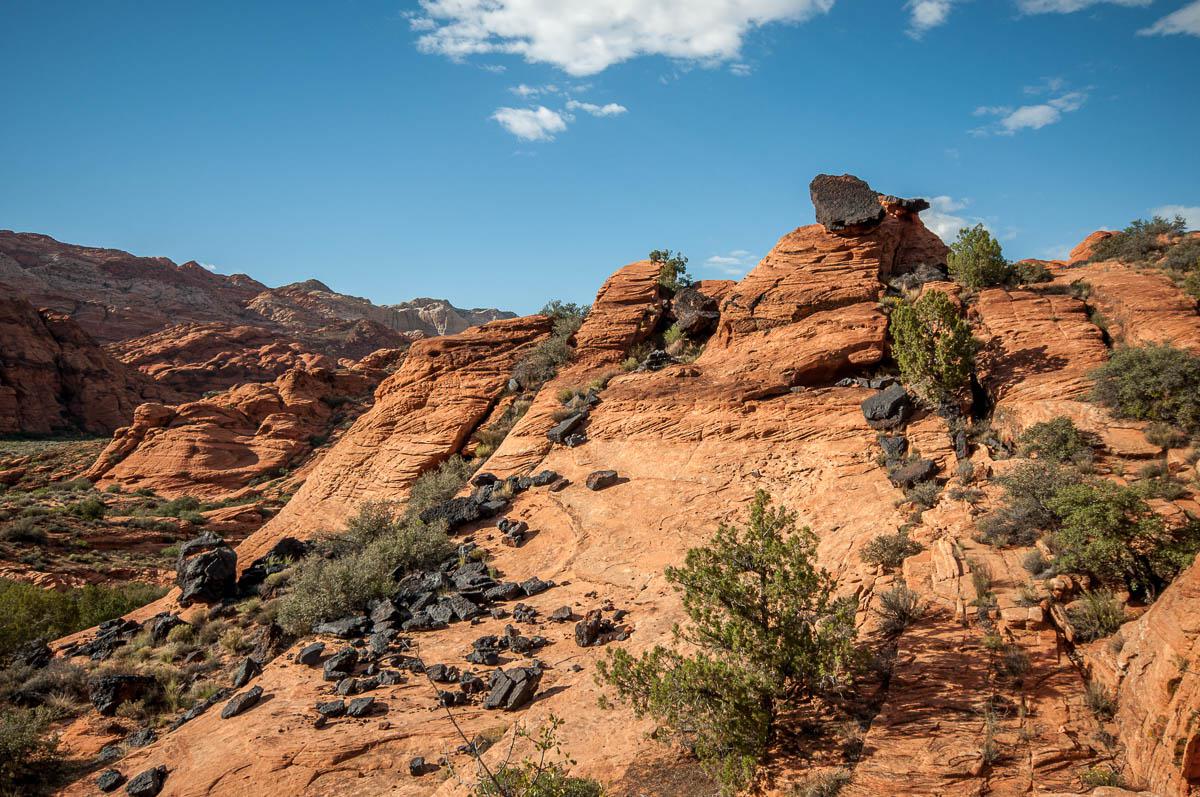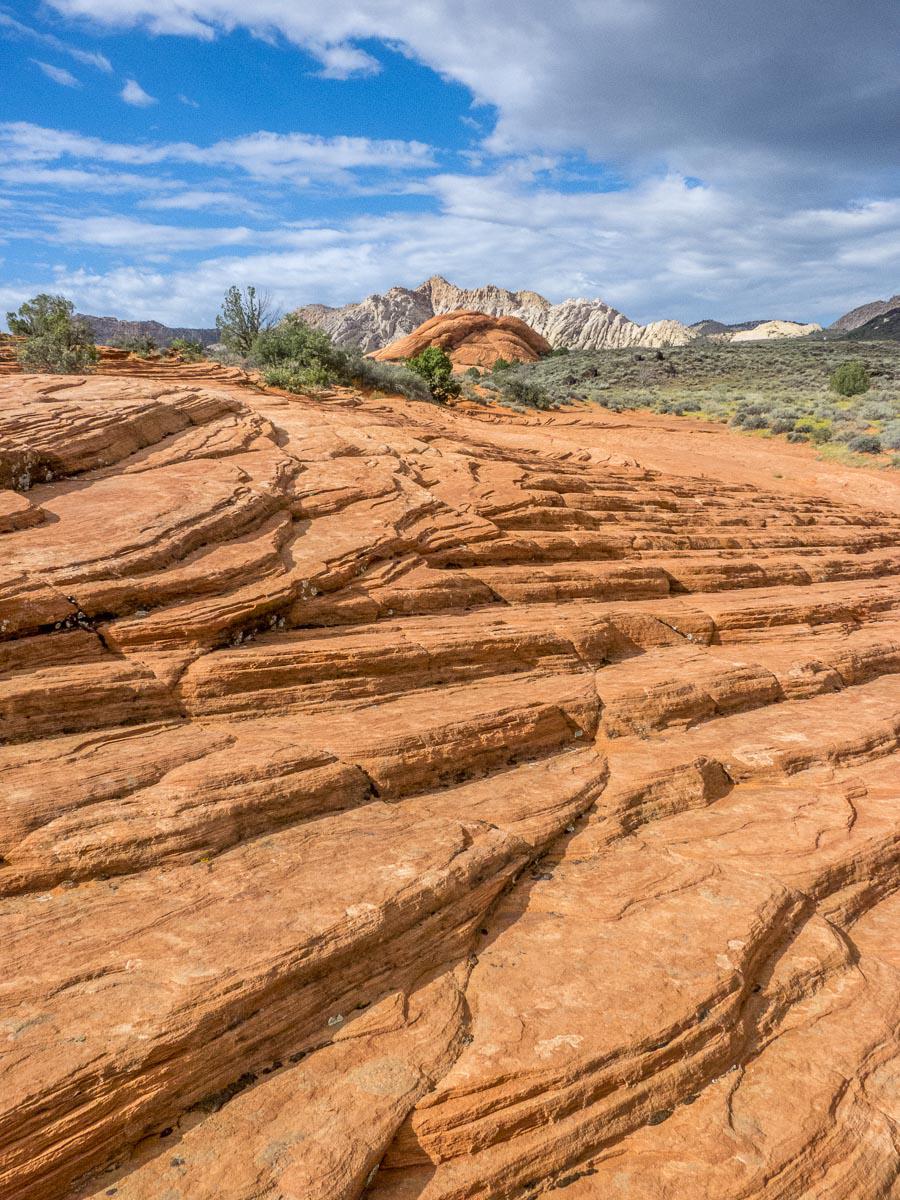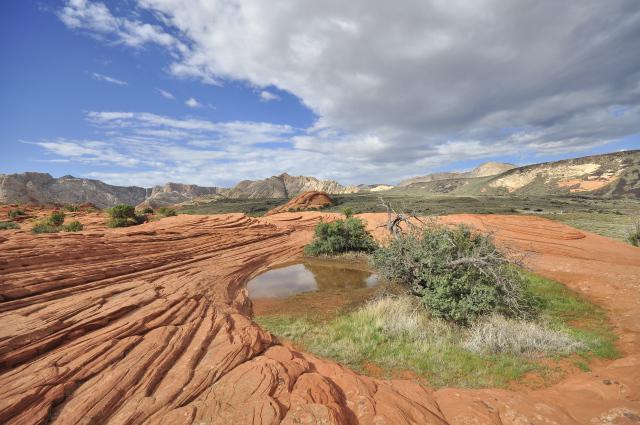 This volcanic landscape is quite impressive.
Monday september 23 : we continue visiting Snow Canyon this morning. We hike a portion of Lava Flow Trail  (1,9 miles). Not very interesting, if not the black lava flows and the Lava Tubes (lava holes where many small animals like bats take refuge).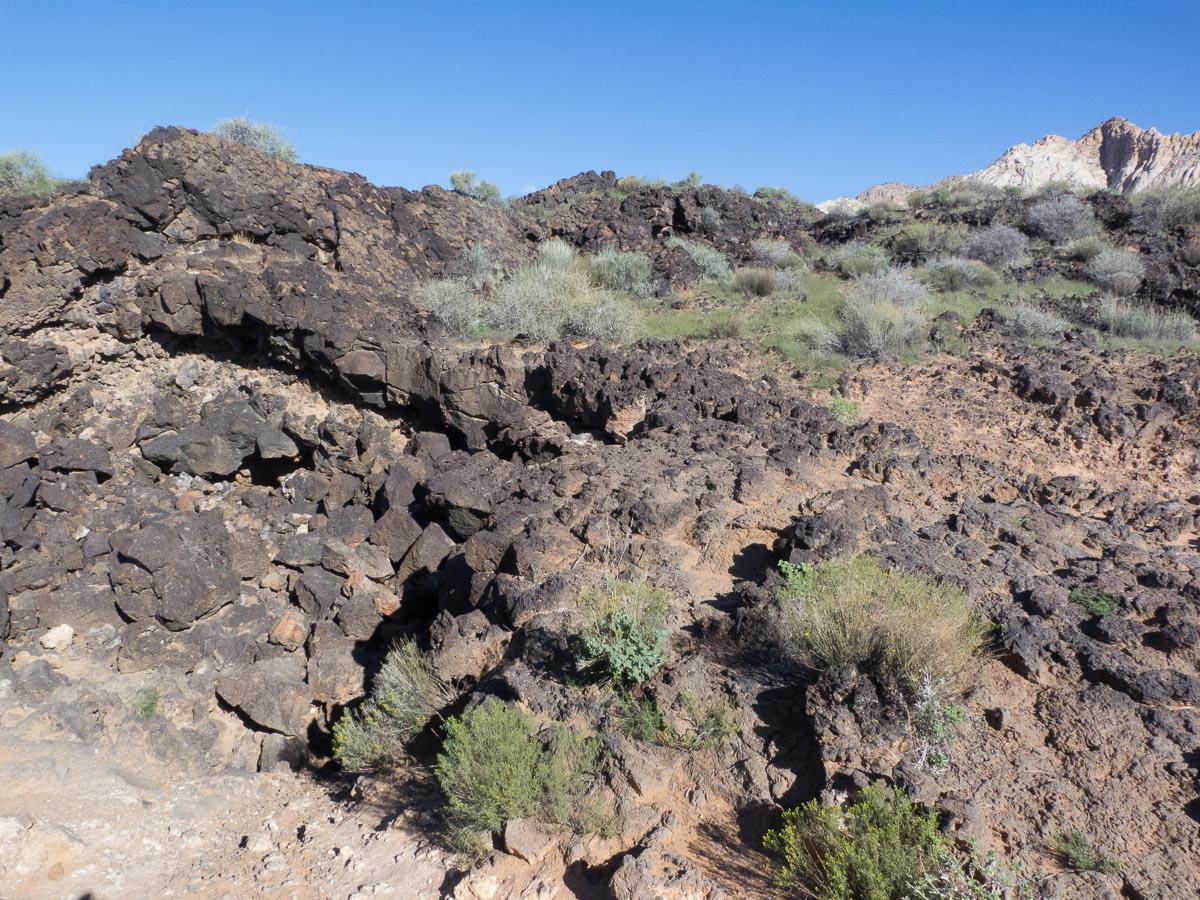 We then go to the Sand Dunes.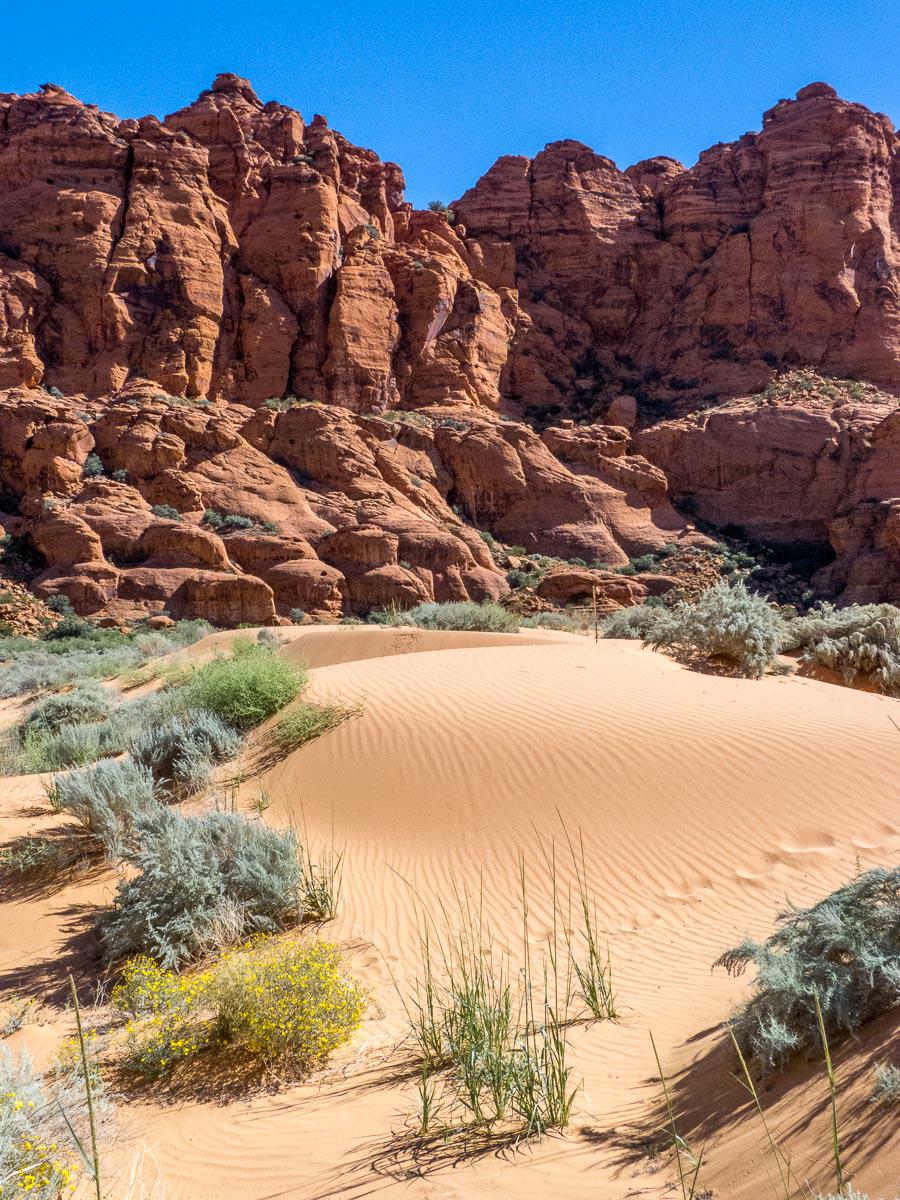 We will dismantle the tents. Direction Mesquite where we take a room at the hotel Eureka. Around 2 pm, we take the road to Little Finland. It's nice and warm (84° F) this time! We are watching the sunset: it is really very beautiful.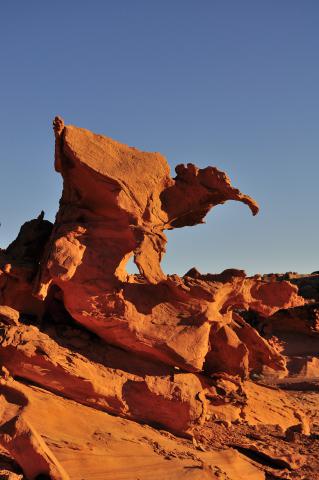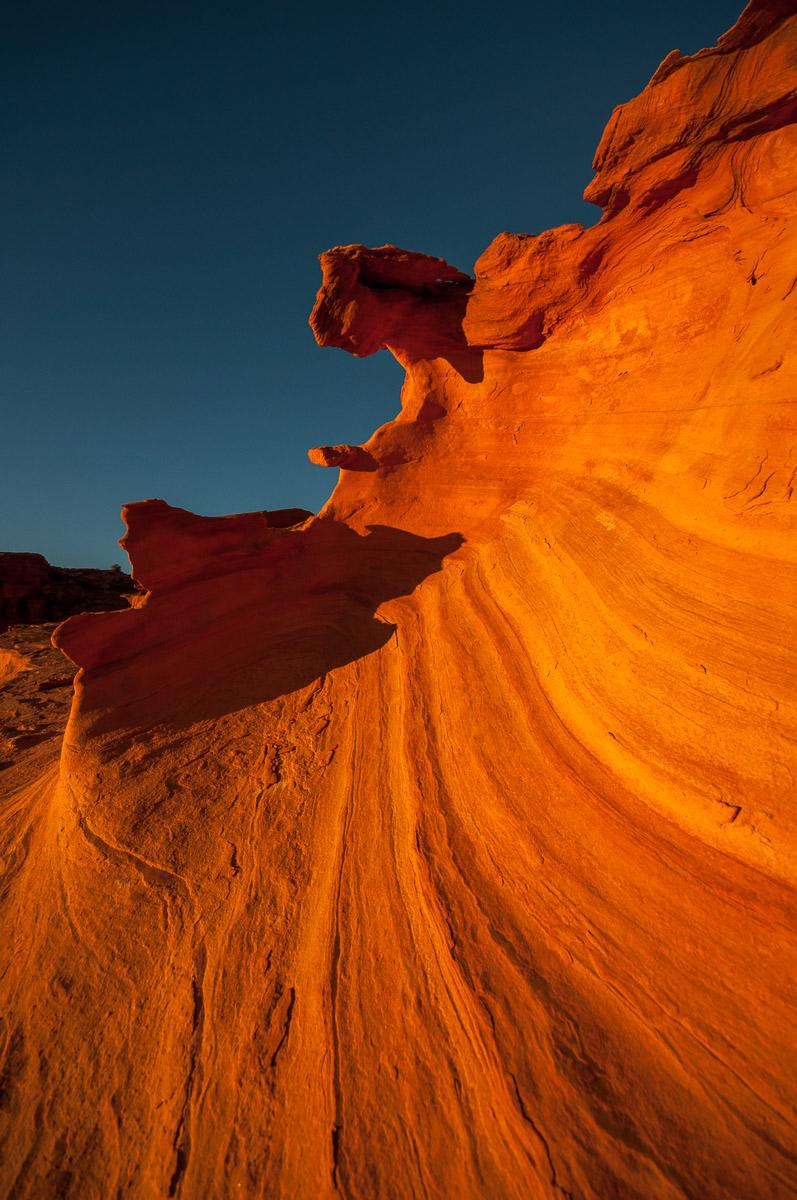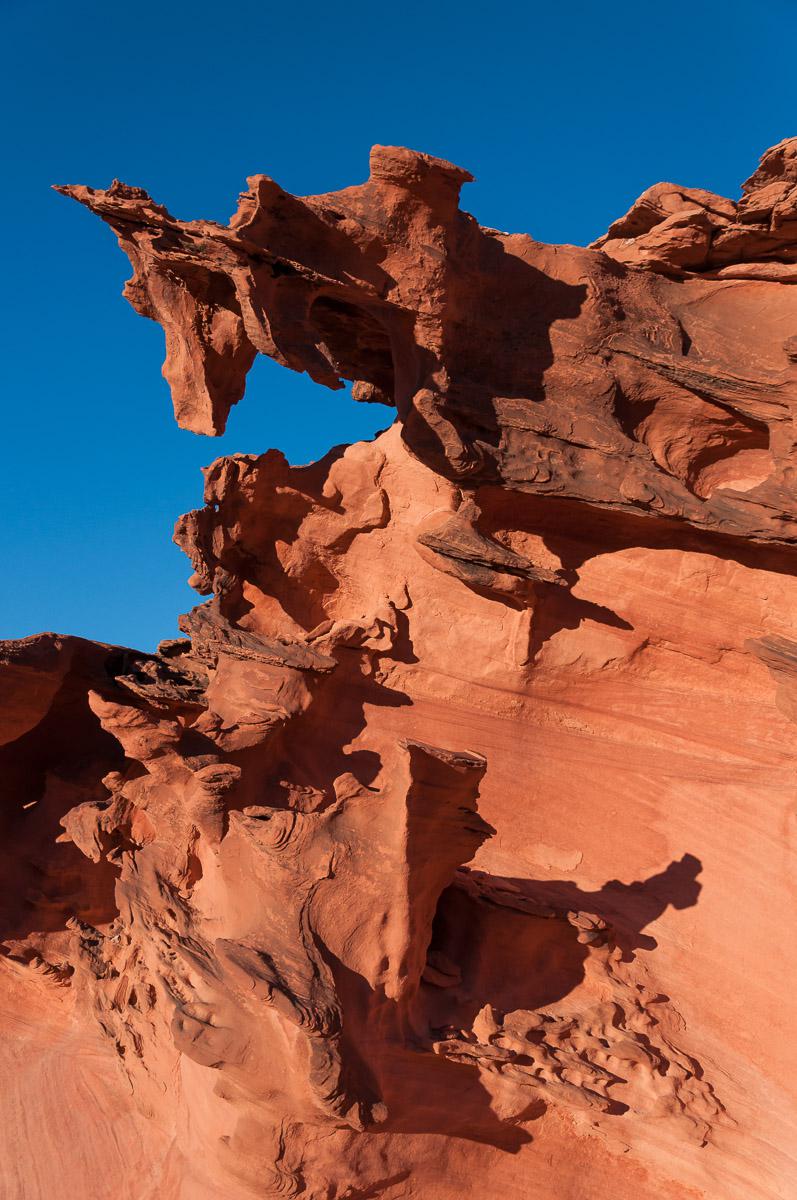 In the evening, we eat at a casino next to the hotel : Mason Street.
Tuesday september 24 : we are heading toward Valley of Fire. It's very hot : 86° F. We take a campsite at Atlatt campground (20$ for the entrance and the campground for 3 people). We set up the tents and nibble. We will then visit the park by 93°F :
Elephant Rock – 650 feet roundtrip.
Mouse's Tank – 0,8 mile roundtrip. We can see petroglyphs.
Fire Canyon and Silica Dome viewpoint.
White Dome on 330 feet, but the trail is normally 1,3 miles.
Fire Wave : 1,5 miles roundtrip.
Arch Rock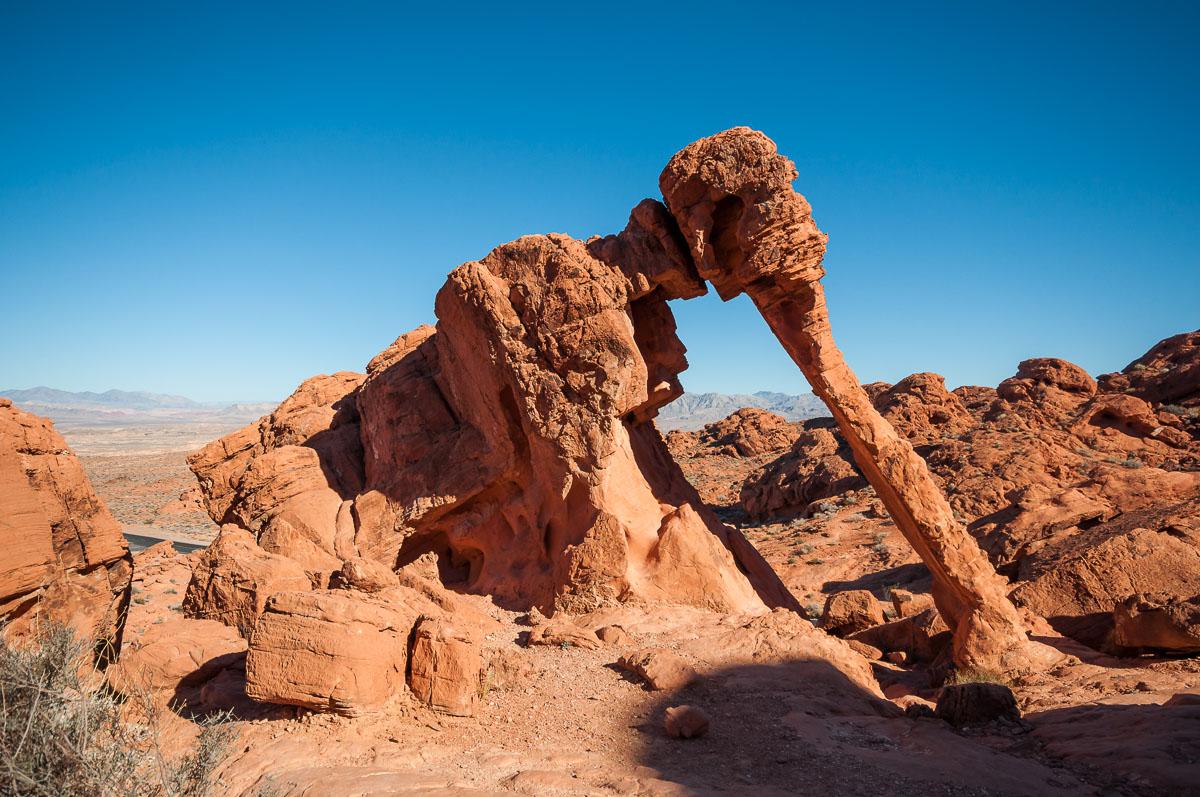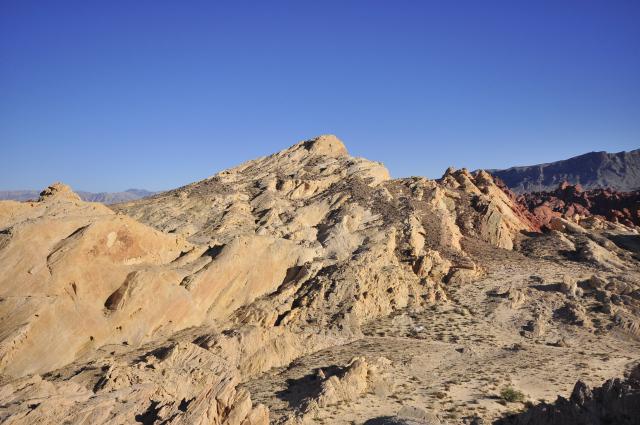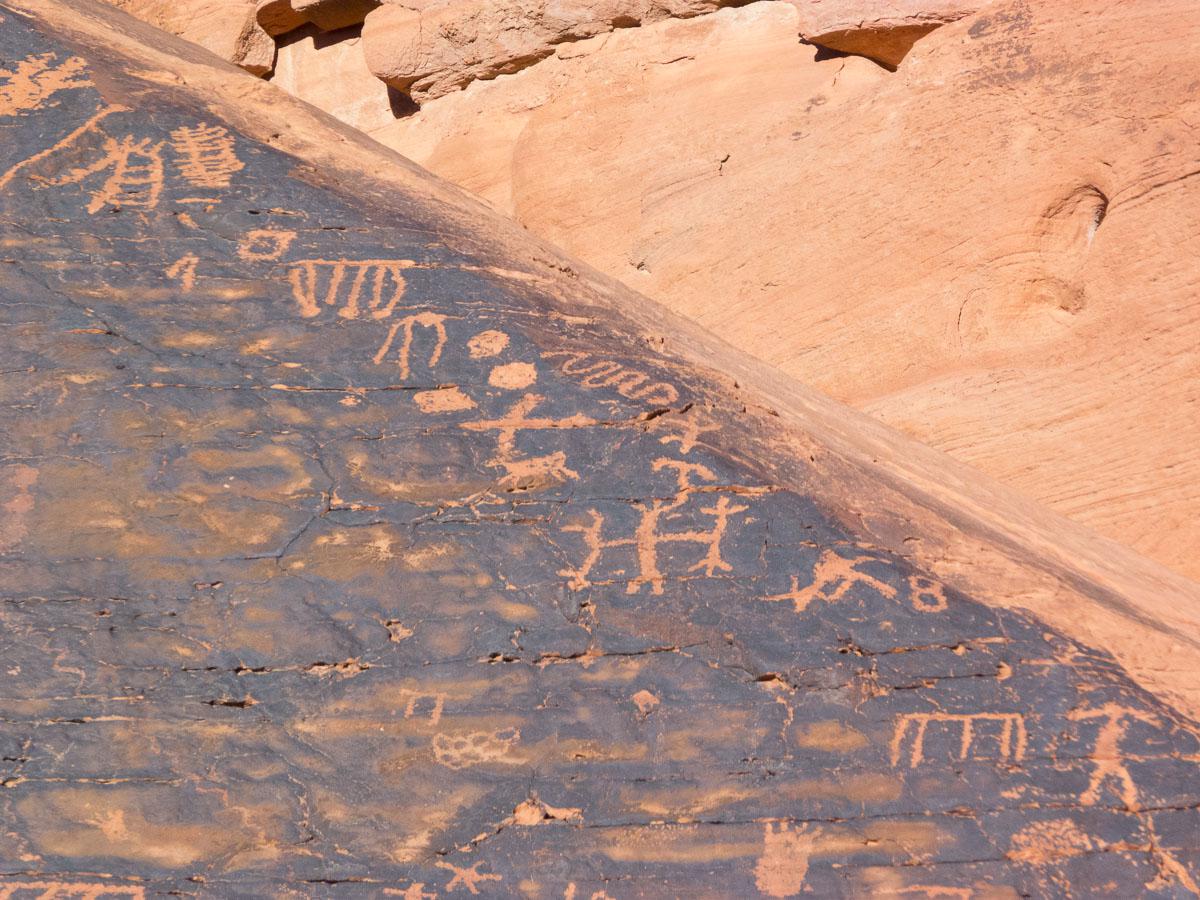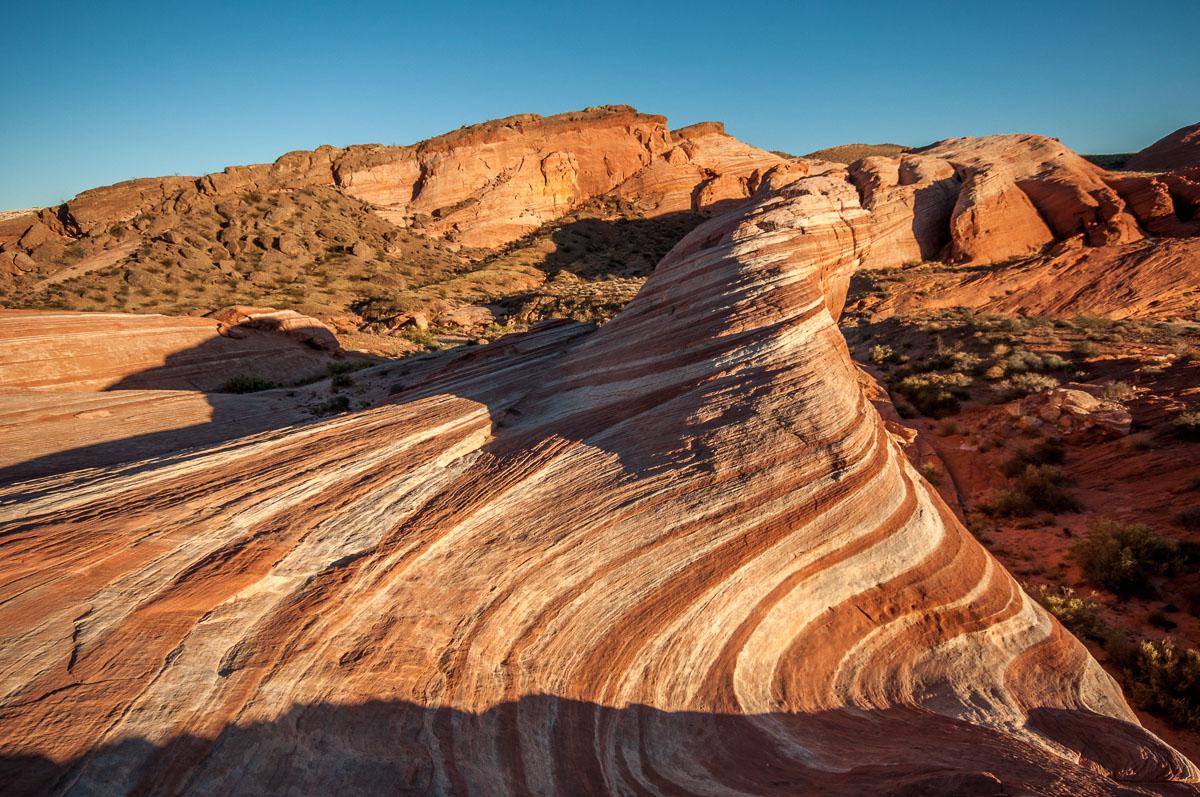 Wednesday september 25 : it's very windy : not easy to have breakfast and to pack the tents. We then go to Las Vegas. At the Super 8, they ask us to come back later, check-in being at 3pm. So we'll go for a walk and some shopping .... We have one last meal at Denny's: light dish and Milk Shake Oreo! Then we go back to the hotel to pack our bags. In the evening, we try to eat at the buffet Caesar Palace: not only there is a lot of people but in addition the price has increased: $ 45 per person. We give up. We take the car and go to the strip "northern part". We'll eat at the Circus Circus buffet: $ 17.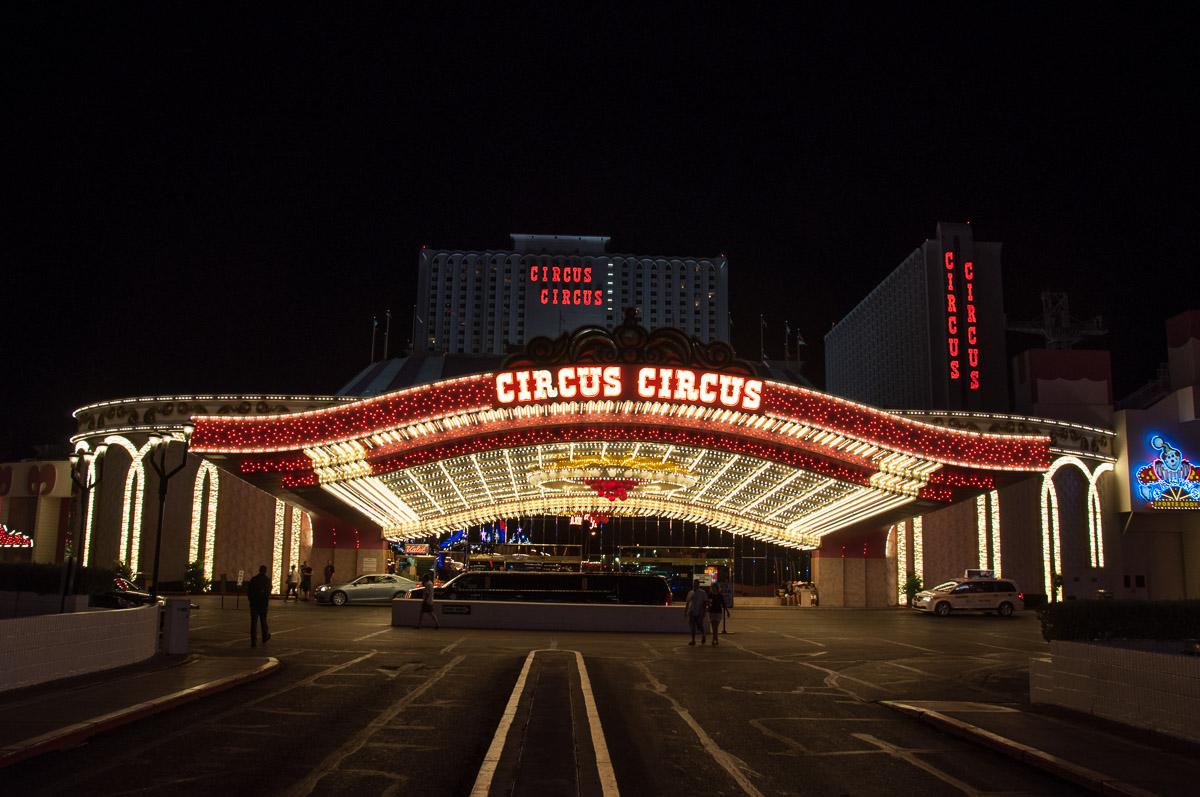 It's better but there are also a lot of people. 
Thursday september 26 : we get up at 3:30 am to go to the airport. Departure is at 7:10 am. We'll make a stopover in Washington DC. All the flights are going well. We arrive in Paris the next day at 7 am.