Friday june 18 : Once again, we're travelling to the USA ! Boarding at 10:30. We should have take off at 11:10 but we had a delay of 2:30 because a guy has scratched the floor baggage compartment with his craft. Have to make some kind of statement to conform. The plane was new! So the 4 hours of call in Charlotte have been reduced! We had to run not to miss the plane and then pass the immigration service where there was a lot of people. We had to get the luggage to put them on another conveyor belt and then pass control to run to the gate. We arrived just in time, we were almost the last to go up! It starts well! 4:30 later we finally arrived in Las Vegas. We recover the car. This year, we opted for a 4WD, which had failed last year on some tracks. It is a Dodge Journey. Then we go to our room at Super 8 to leave our baggage and we go to Denny's to eat.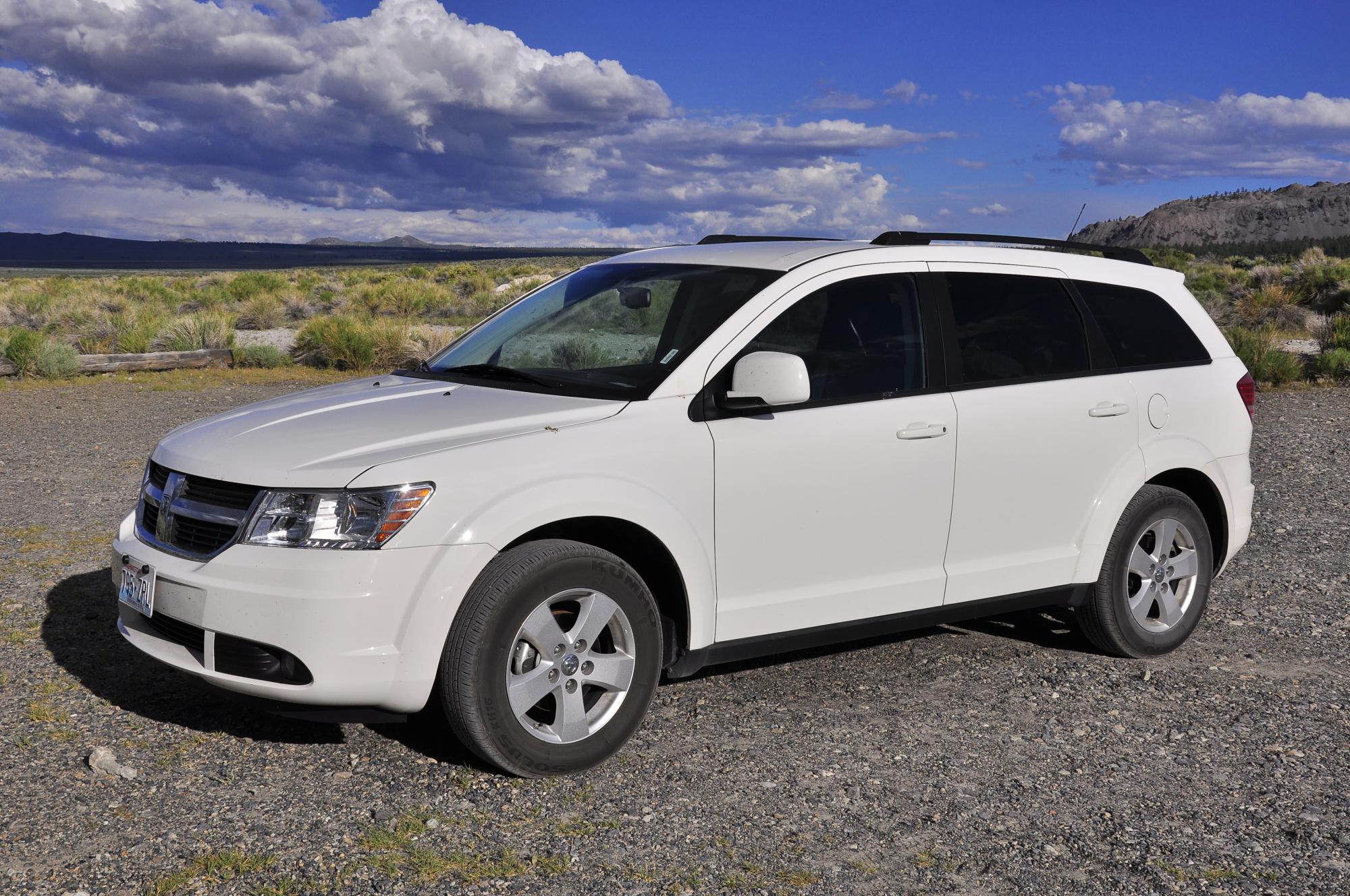 Saturday june 19 : departure for Hurricane. We go to Zion, to the Visitor Center to get the permit for Subway. For this hik, we had to apply on the internet for the lottery a few months ago. And we were lucky because we won the lottery. We pay 5 more dollars each. Back to Hurricane to buy some food and some stuff.
Sunday june 20 : we wake up early (4:45 am) to start the hike with cool temperatures. We drive half an hour on Kolob Terrace Road to go to the parking lot where starts the walk to Subway. It's 17°C. We begin the descent into the canyon of Zion at 6:15 am for 10 miles roundtrip. The beginning of the trail is fairly flat and then it goes down very steep, it will break our knees!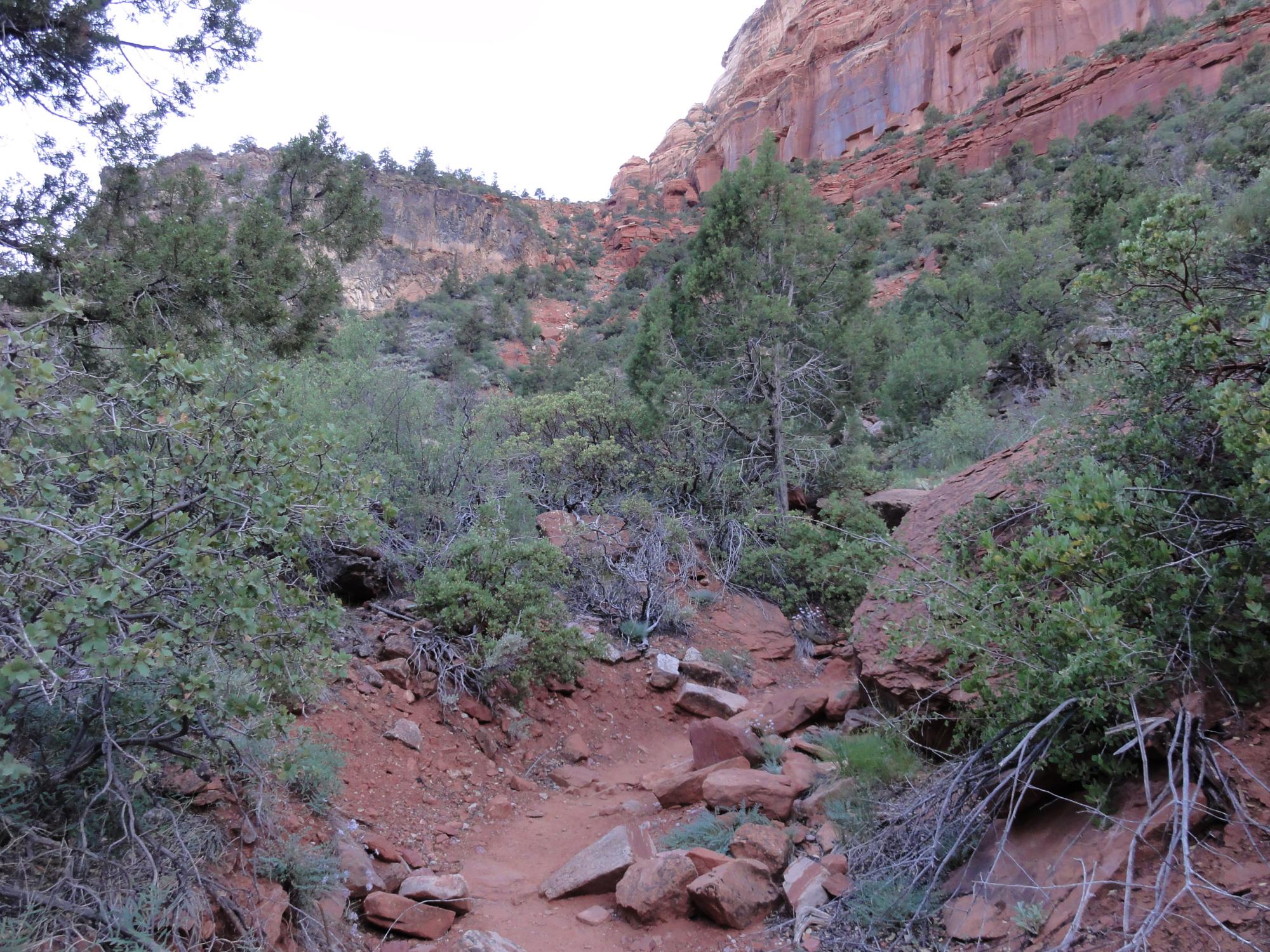 Then at the bottom of the canyon, it alternates from one side to the other of the river and sometimes outright in the river. Fortunately, we put our neoprene shoes, it protects from the cold water. Finally, we arrive to the terraces where there are lots of little waterfalls. It is very beautiful and cameras begin to strafe!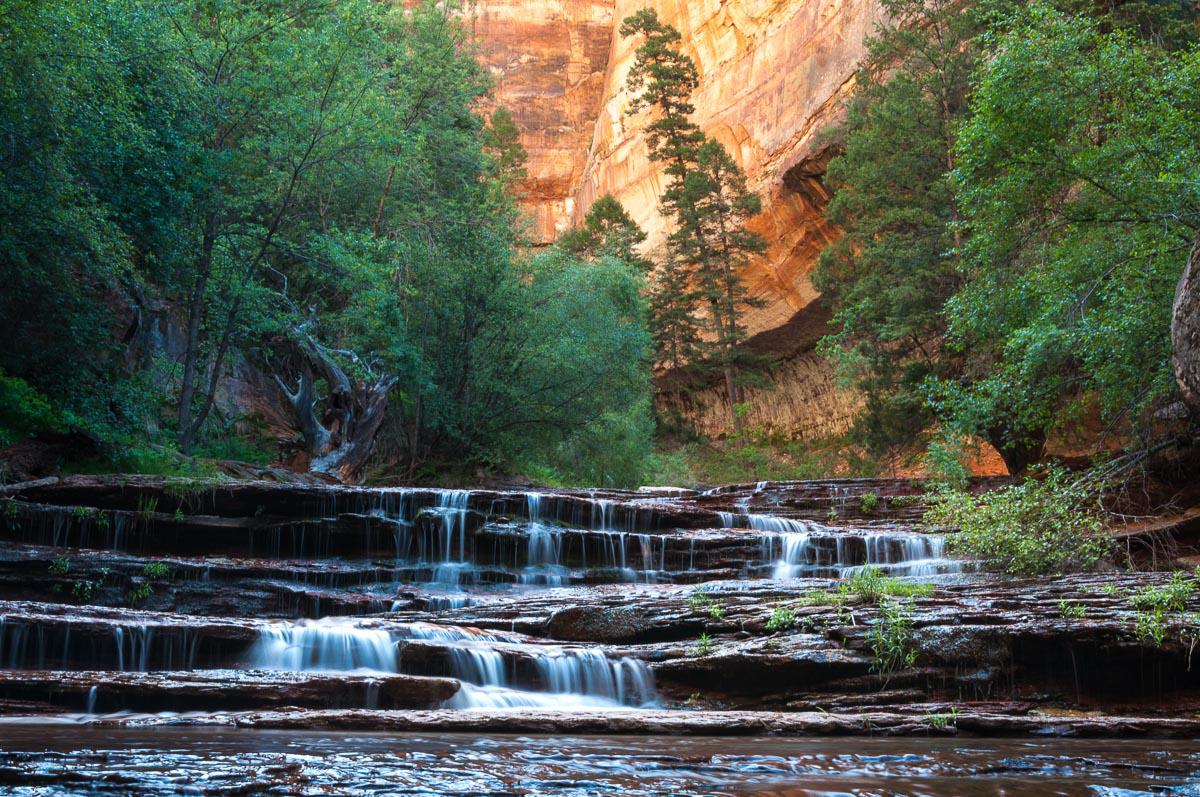 Then the Subway is not far.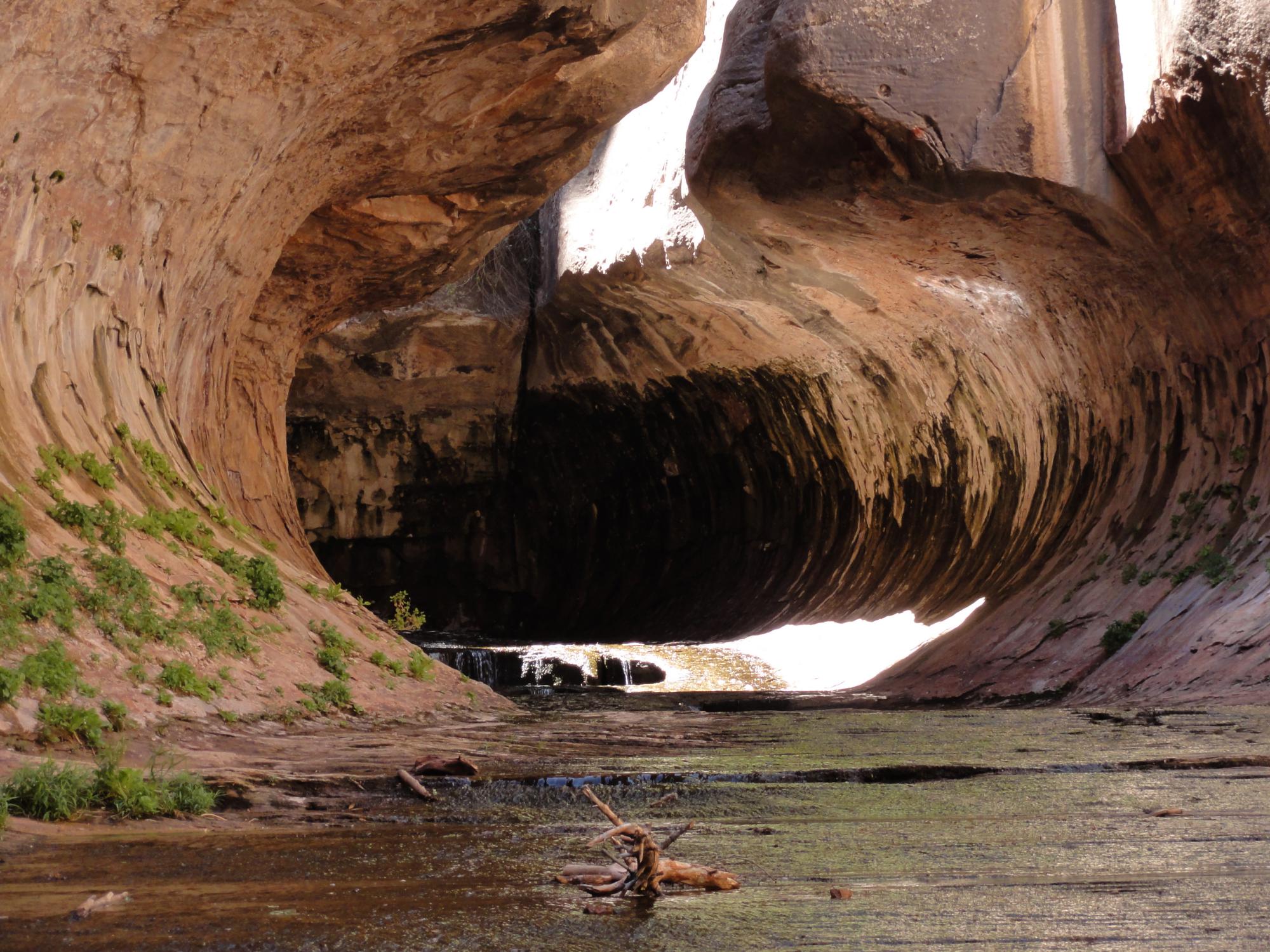 It's pretty impressive these kinds pool in the shape of hearts. But due to the position of the sun, it is not easy to make the photos, there are reflections. But it's beautiful anyway. We love !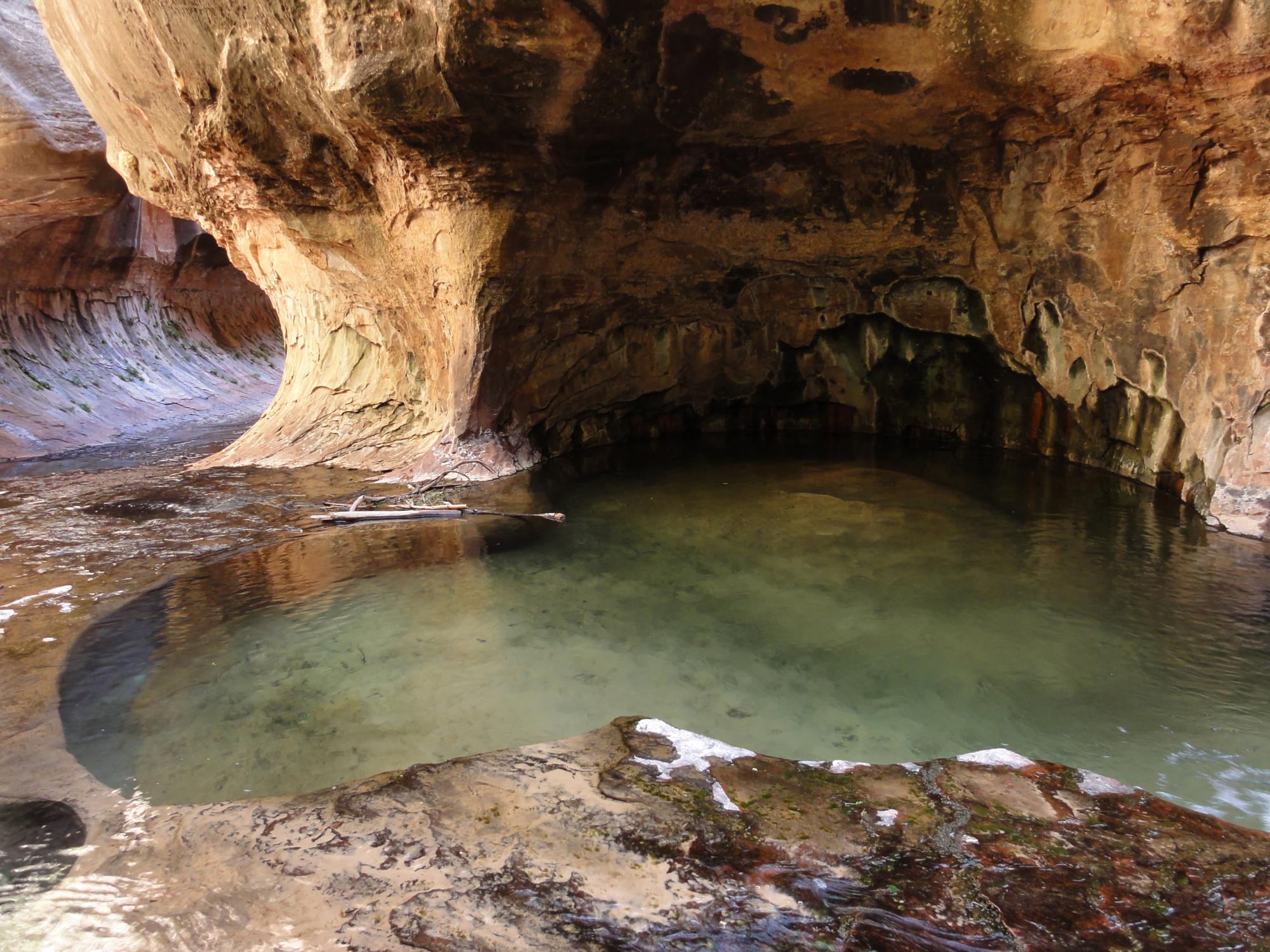 We take the way back at 2 pm. The return at the beginning is easy, we don't hesitate to set foot in the water. But then, not easy to find the path that goes back to the parking lot of the canyon. There is even a fear: thinking gone too far, we turned around and finally back on our feet and there we met two young people who confirm to be on the right trail. It thus continues without recognizing the way. We are doubled by a French who shows us the way. We eventually found the two signs back: a footprint and "Left Fork trailhead." The French told us that if we had gone too far, two yellow banners in the middle of the river would have shown our error. The final ascent is very harsh: broken knees and broken breath. Finally, we hear the cars ... one approaches the parking lot. It is 5:15 p.m. And it is 32 ° C. We return to the hotel, we have a well deserved dip in the pool!
Monday june 21 : we have very sore legs! We leave the hotel to find a campsite in Zion. We settled in the South Campground. Then we walk to the Visitor Center to learn about the Narrows for tomorrow. We take the shuttle to go to the Weeping Rock Trail ballad (0.6 km, 30 min). It rises a little.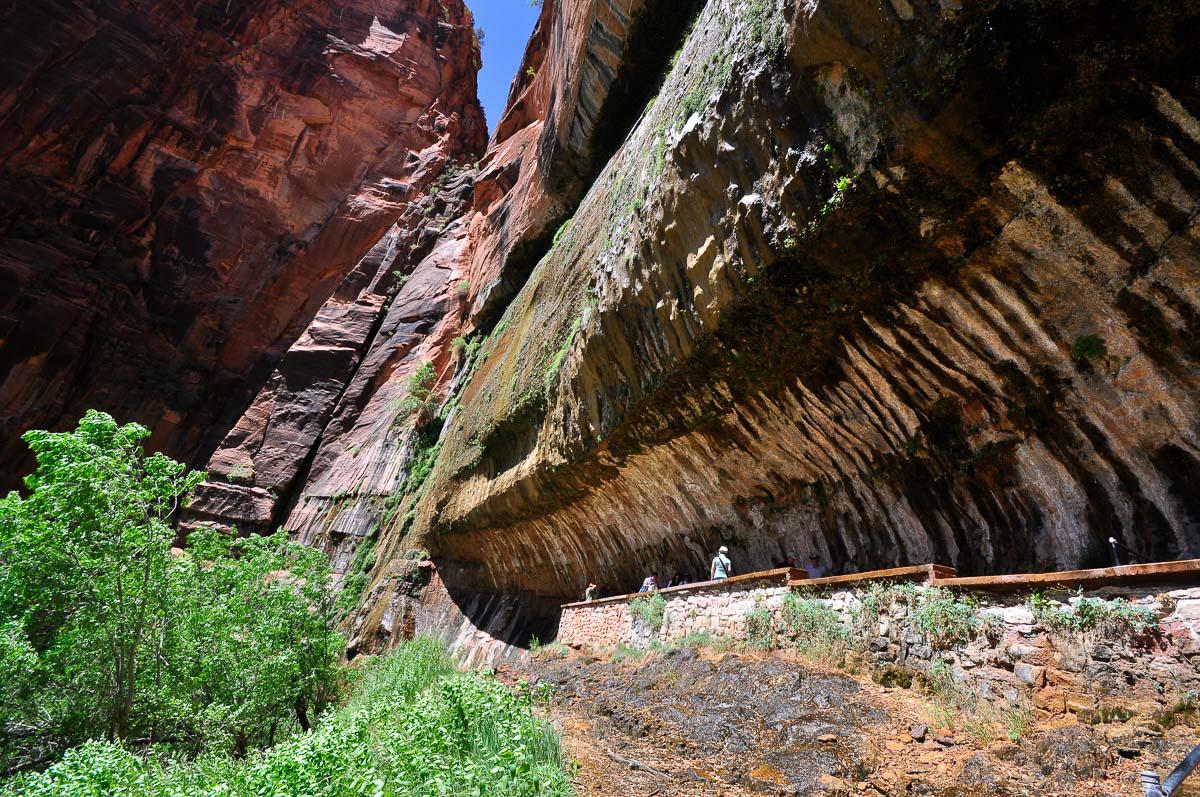 Then we stop eating ice cream at Zion Lodge. Too good! And we start to make the trek Pa'rus Trail. On the way we cross the road of a snake striped red and black.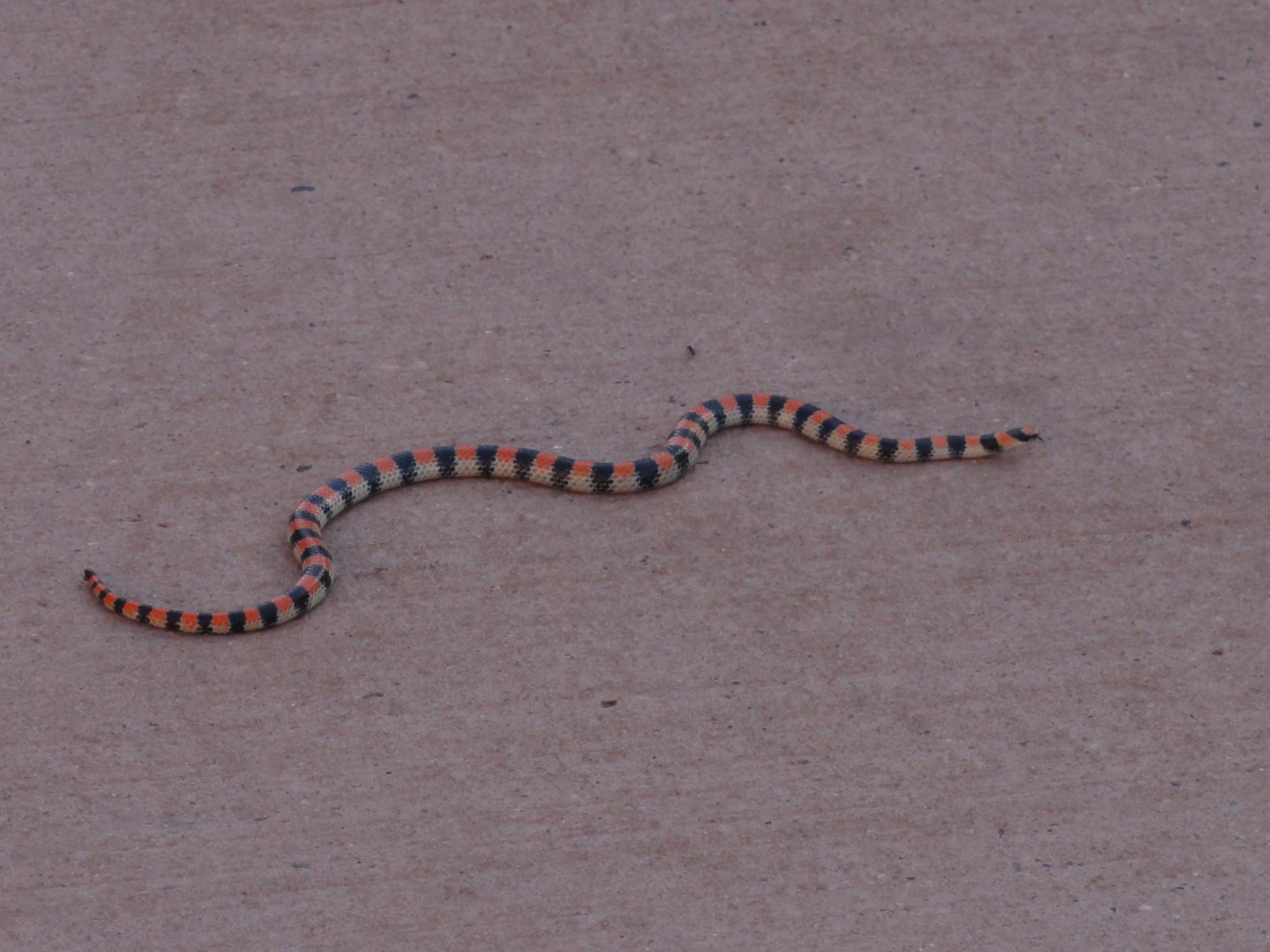 We do not know if it's a good guy or a bad guy, so we let it go quietly !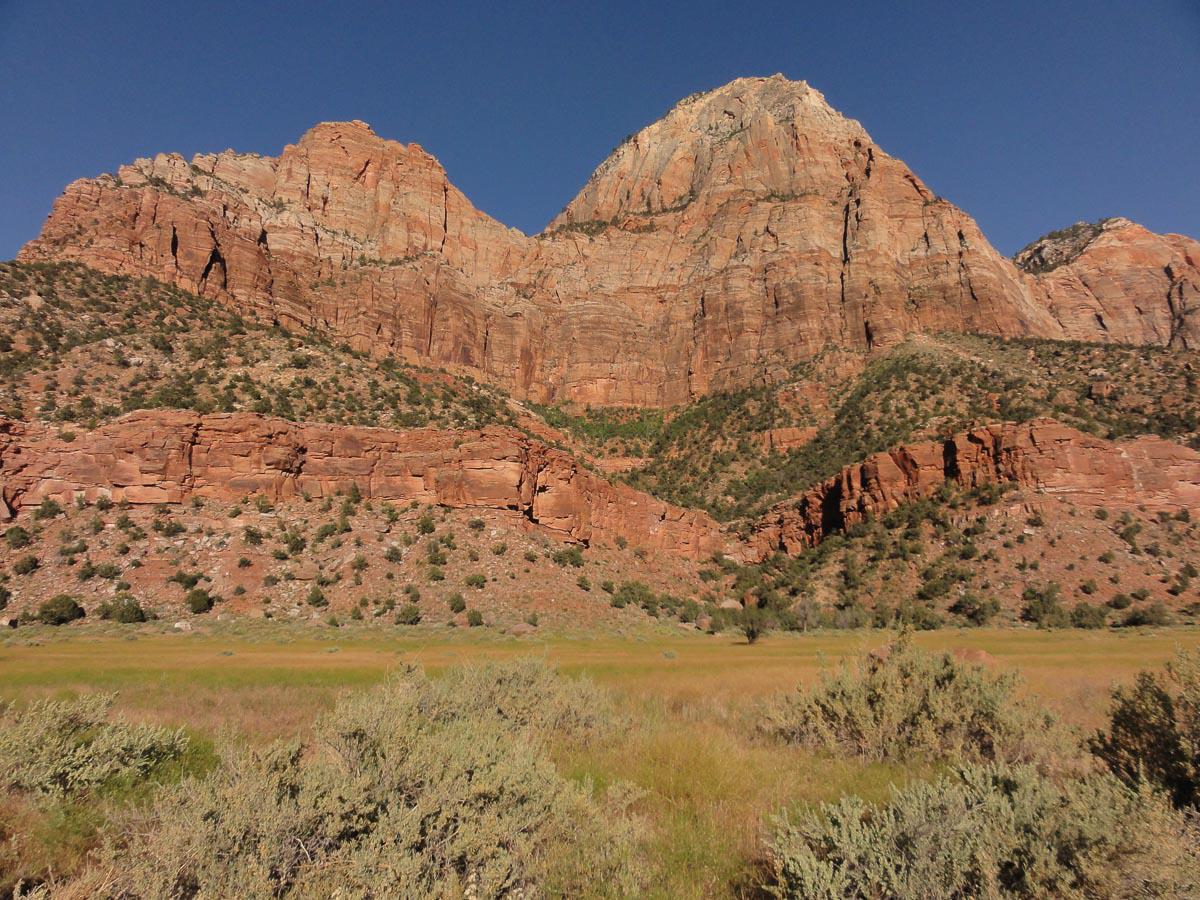 Then return to camp for a small fire !
Tuesdeay june 22 : we go to the Visitors Center to do the Riverside Walk and the Narrows. At the beginning, the trek is on a paved road and finishes in front of the mountain, then you must continue in the water ! We are in the Narrows, we sometimes have water to the buttocks. The water is cold and anesthetic our legs !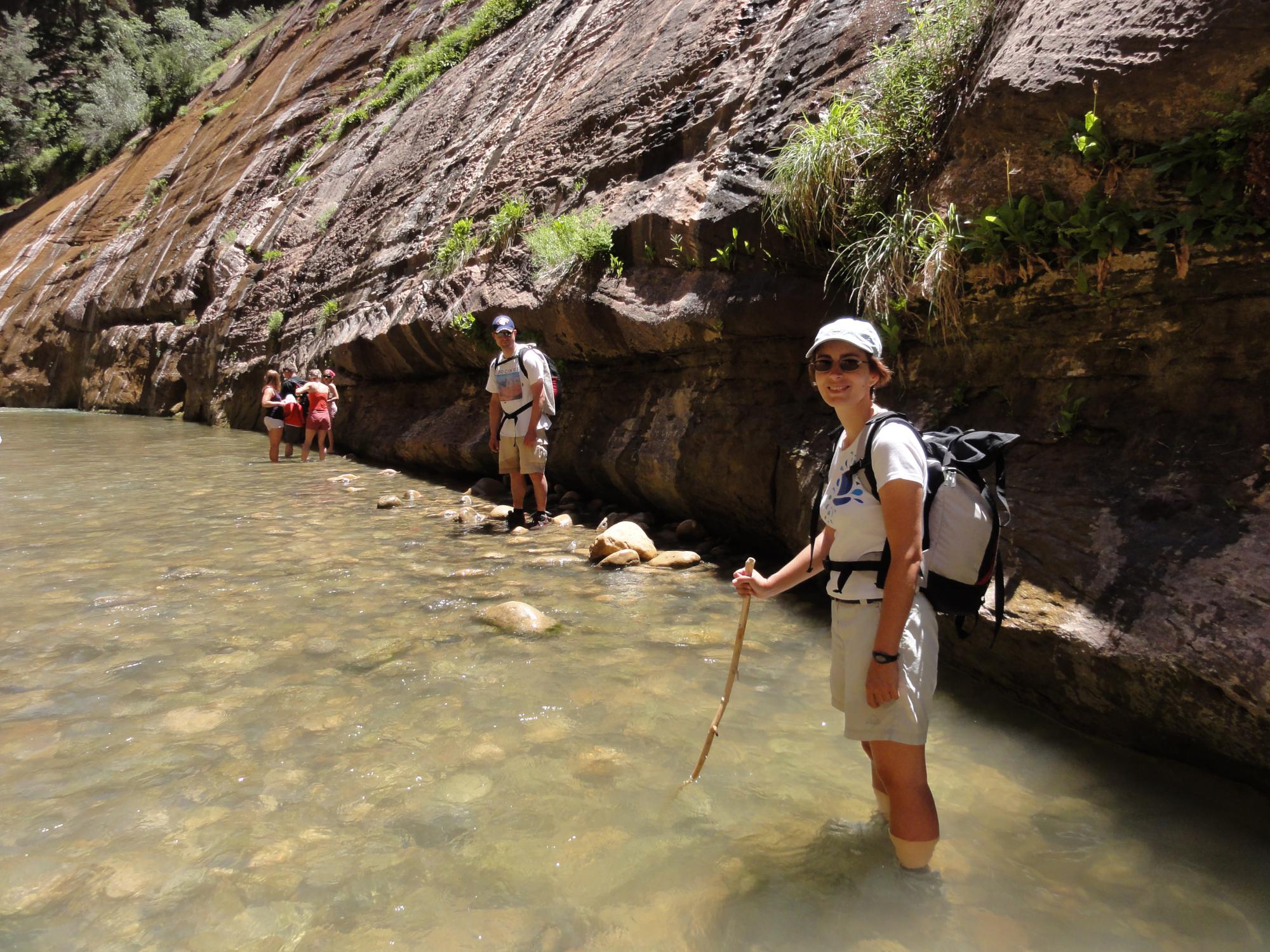 We're going as far as we want and we turn around. It's very nice and funny but it slips a little, it is better to take a stick. We return to the campsite around 4:30 pm. As there is no shower in Zion, we go to Spingdale: $ 5 and it's dirty ! Then we will visit the photo gallery of Michael Fataly at the entrance to Zion. 
Wednesday june 23 : departure to Kanarraville for the trek to Kanarra creek (4 miles roundtrip). We reach the first cascade quickly because we did not hesitate to walk in the water very soon. on the tree trunk along the cascade, the scale has been changed since last year, so it's easier to mount on the bars of wood driven into the trunk.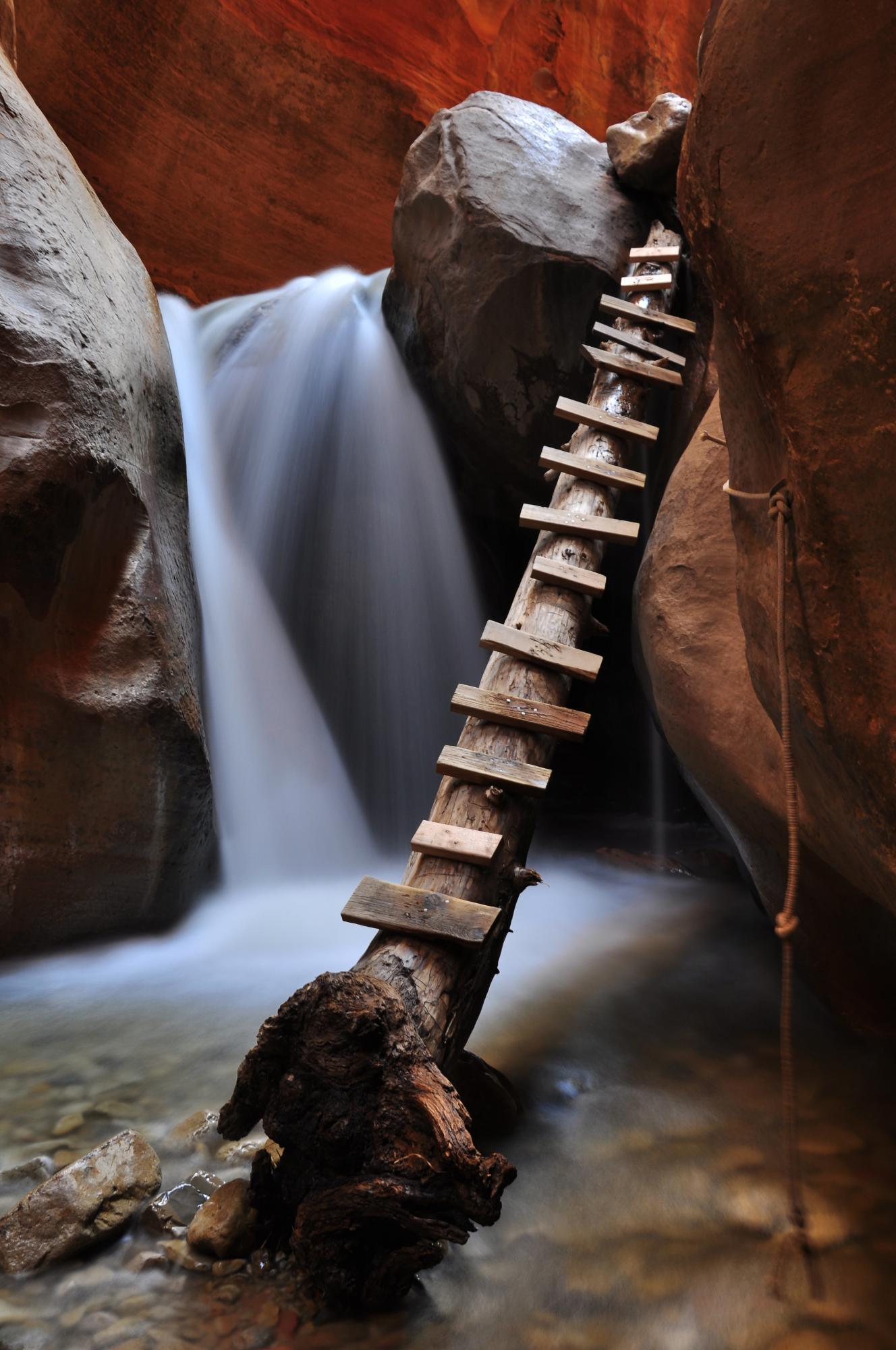 The second waterfall is close behind but it is less beautiful.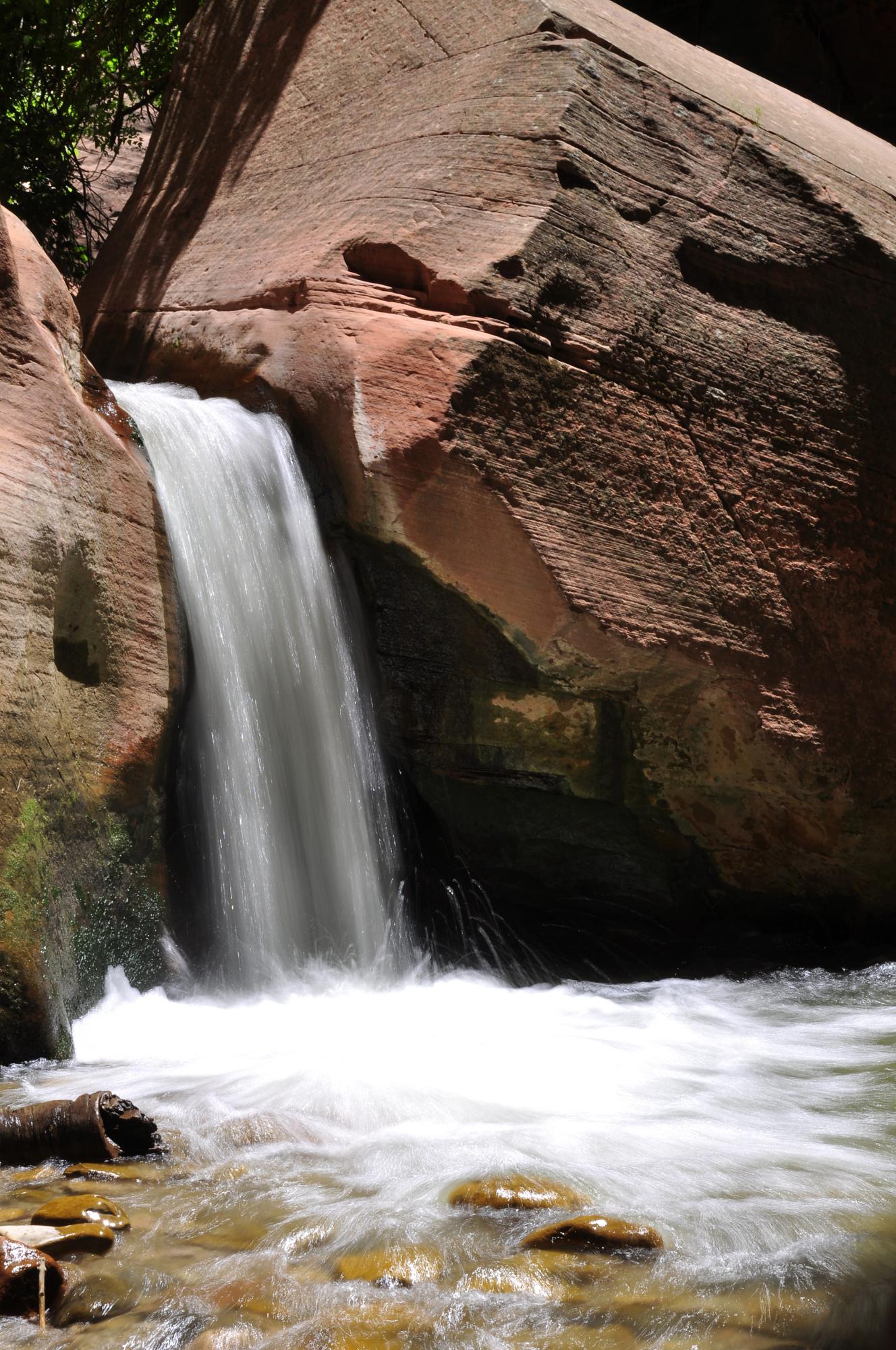 By cons, here no scale to climb. The third waterfall is a little further; it looks great and runs in several small waterfalls.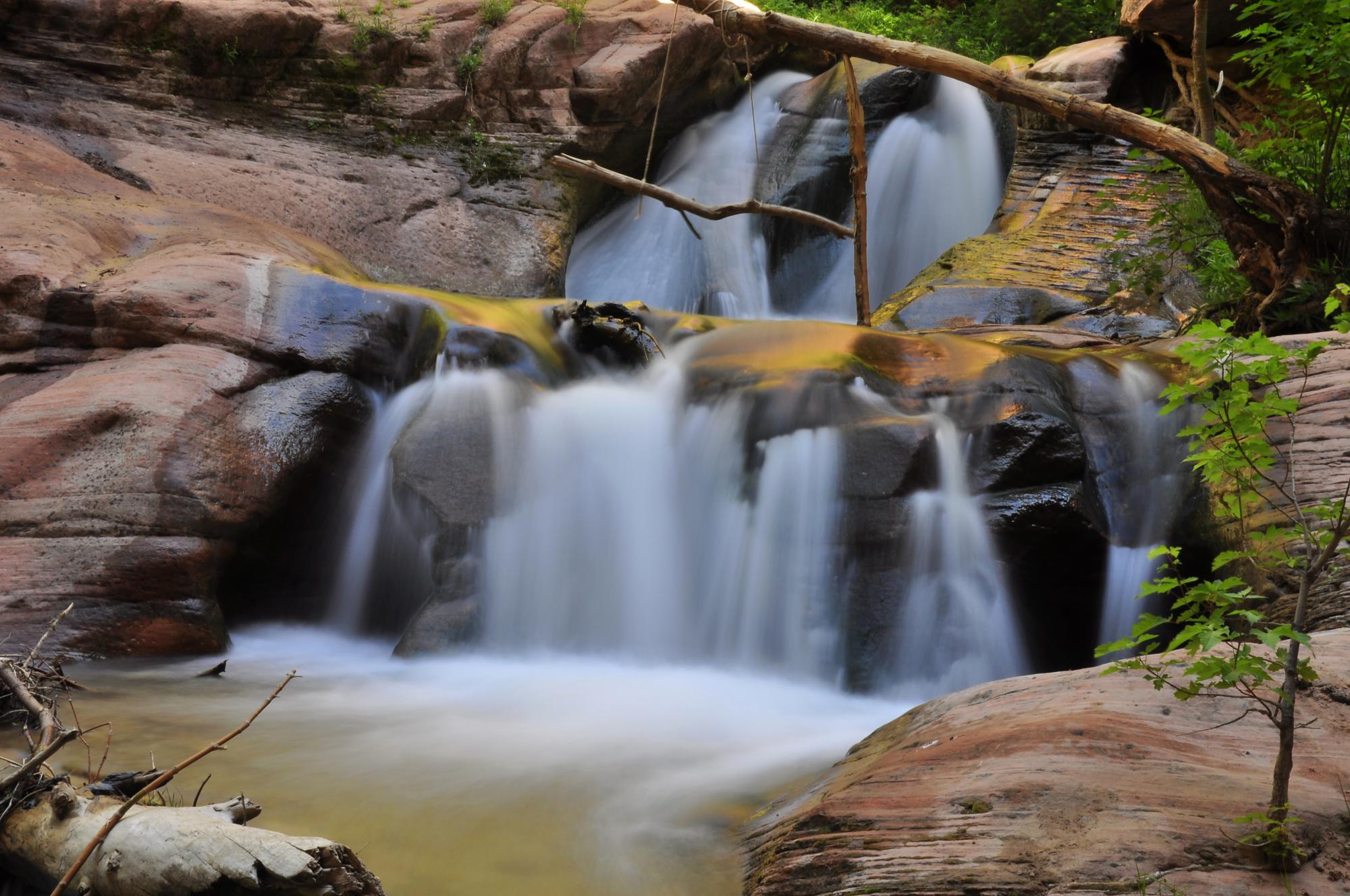 Back at 4:20 pm and we take up the road to St George. Taking a room at Motel 6 and dinner at Denny's. 
Thursday june 24 : taking the road to Death Valley. We arrive at Beatty and we take a room at Motel 6. We are waiting for the end of the afternoon to go to Death Valley. We take this opportunity to make a laundry and eat a little. We start around 3:50 p.m., it's 100° F (38 ° C). We enter Death Valley and the temperature rises more: 104 ° F, 112, 117, 118 = 48° C at 6 pm ! We start with Artist Drive. There are two interesting viewpoints. The first is a little high on a hill and gives a panoramic view. There is a wind to fly caps! It is hard to breathe because of stron wind when it was in front and it's hot. The second stop is Artist Palette that shows a whole shade of color.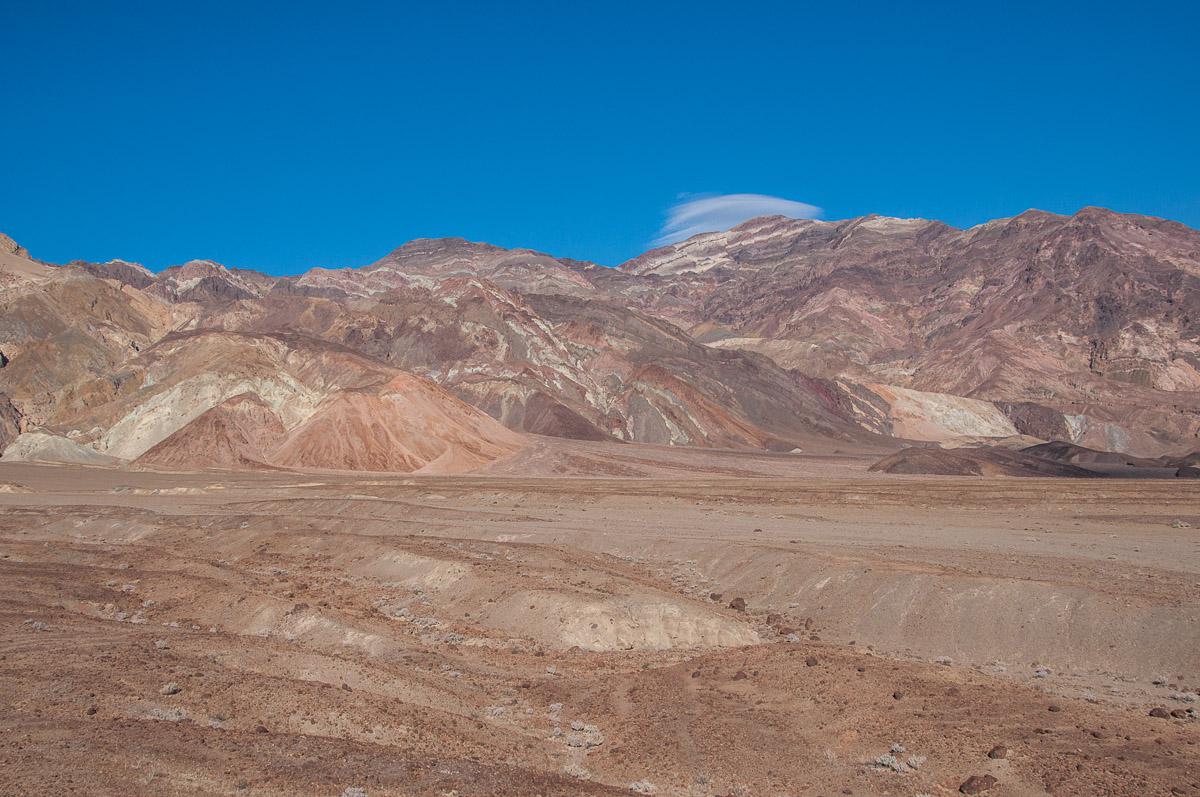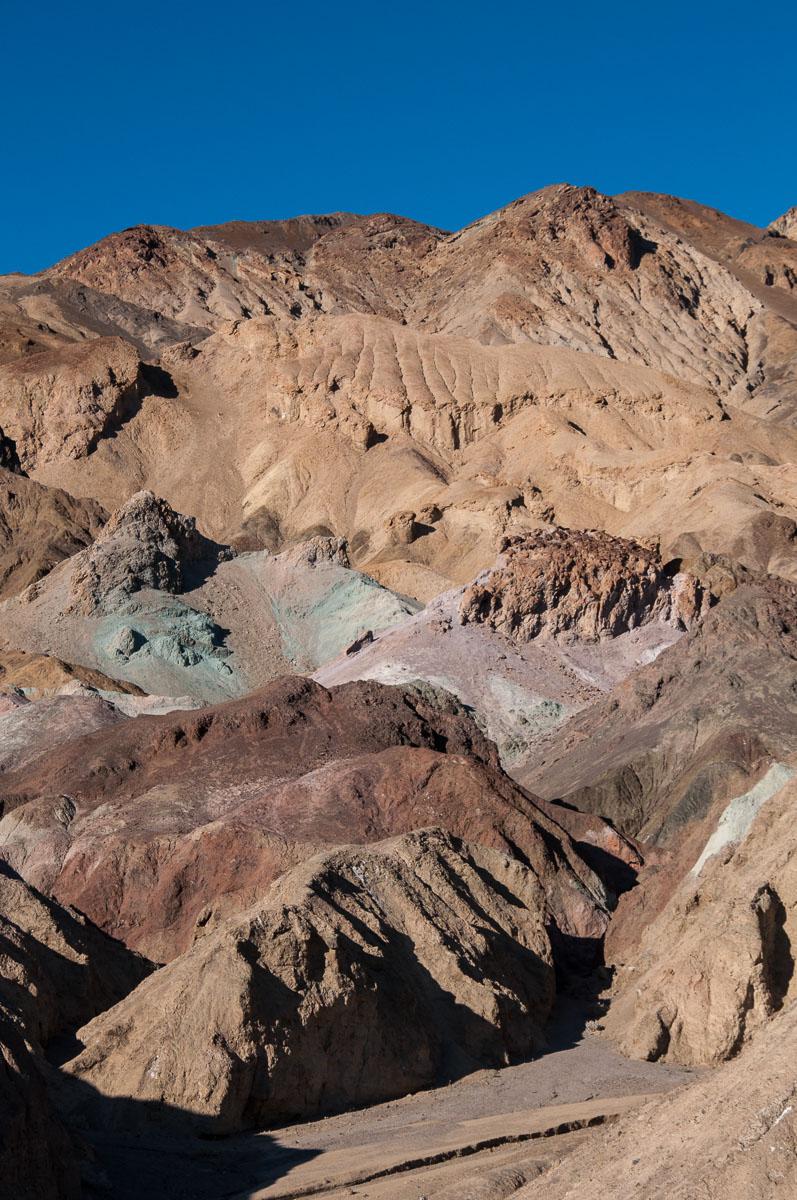 I don't feel very well, I think I have a heat stroke! I'm bright red and I prefer to go back in the car to cool ! Then we go to Badwater, it is less windy. This is the lowest point of the United States:-86m below sea level. It is a former salt lake, and when we walk on it it seems like walking on cookies.We stay here until sunset at 8:00 pm.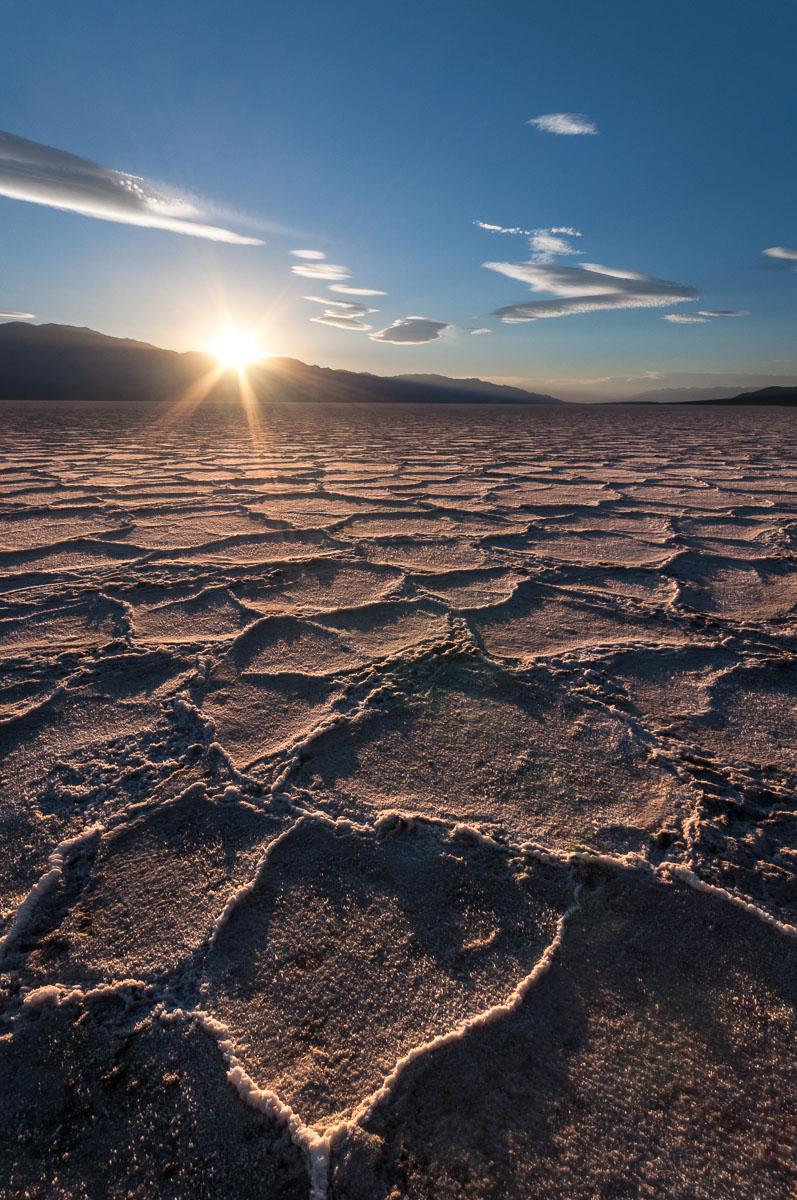 Friday june 25 : we return to Death Valley to take a few pictures at Sand dunes.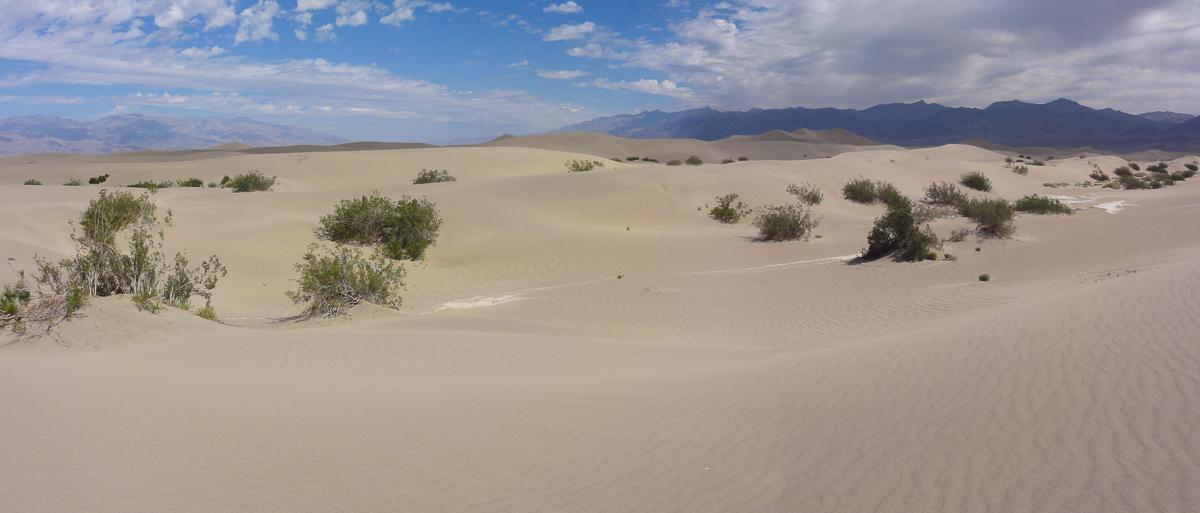 Then we're heading to Mono Lake. Hot dog stop in Big Bend shopping in Bishop. We arrive to Lee Vining at 4 pm and we settle our tents at the Mono Vista Campground. Very nice campground, at the foot of the mountains and with a view on Mono Lake. After settlement we drive to South Tufa and Navy Beach.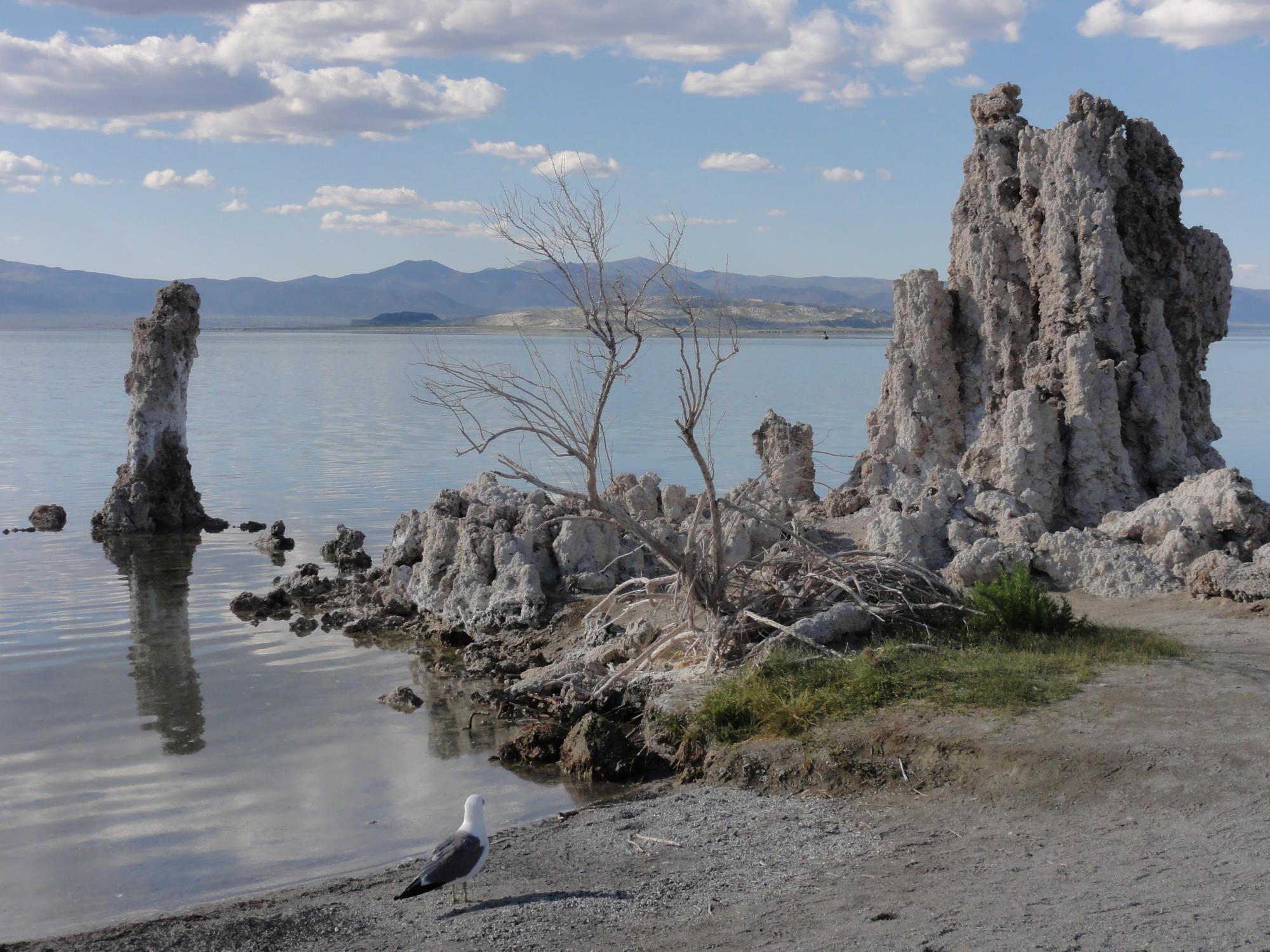 Back to the campground.
Saturday june 26 : we visit Lee Vining and its visitor's center and in the shops, but there is not much to see. At 11:30 am, we leave for Bodie, the ghost mining town (7$ the entry). We need 3 hours to visit the town. Wooden houses, hotel, saloon, undertaker, mine, school, church... we really believe it. We watsh trhough the windows : the faded wallpaper is peeling, old tools remain in bulk, school is deserted... we can easily imagine the people leaving here in the middle of nowhere and that left, leaving everything behind.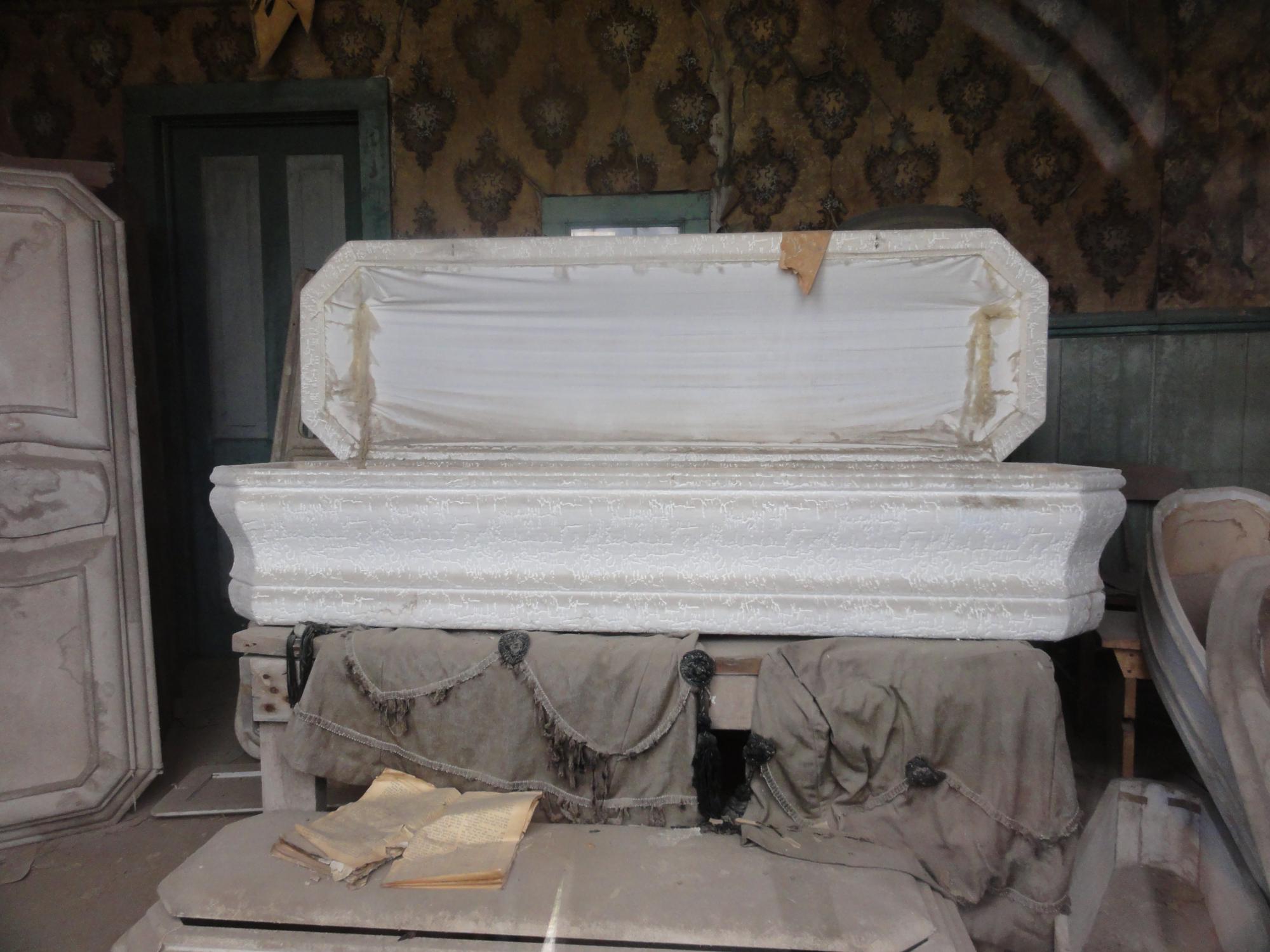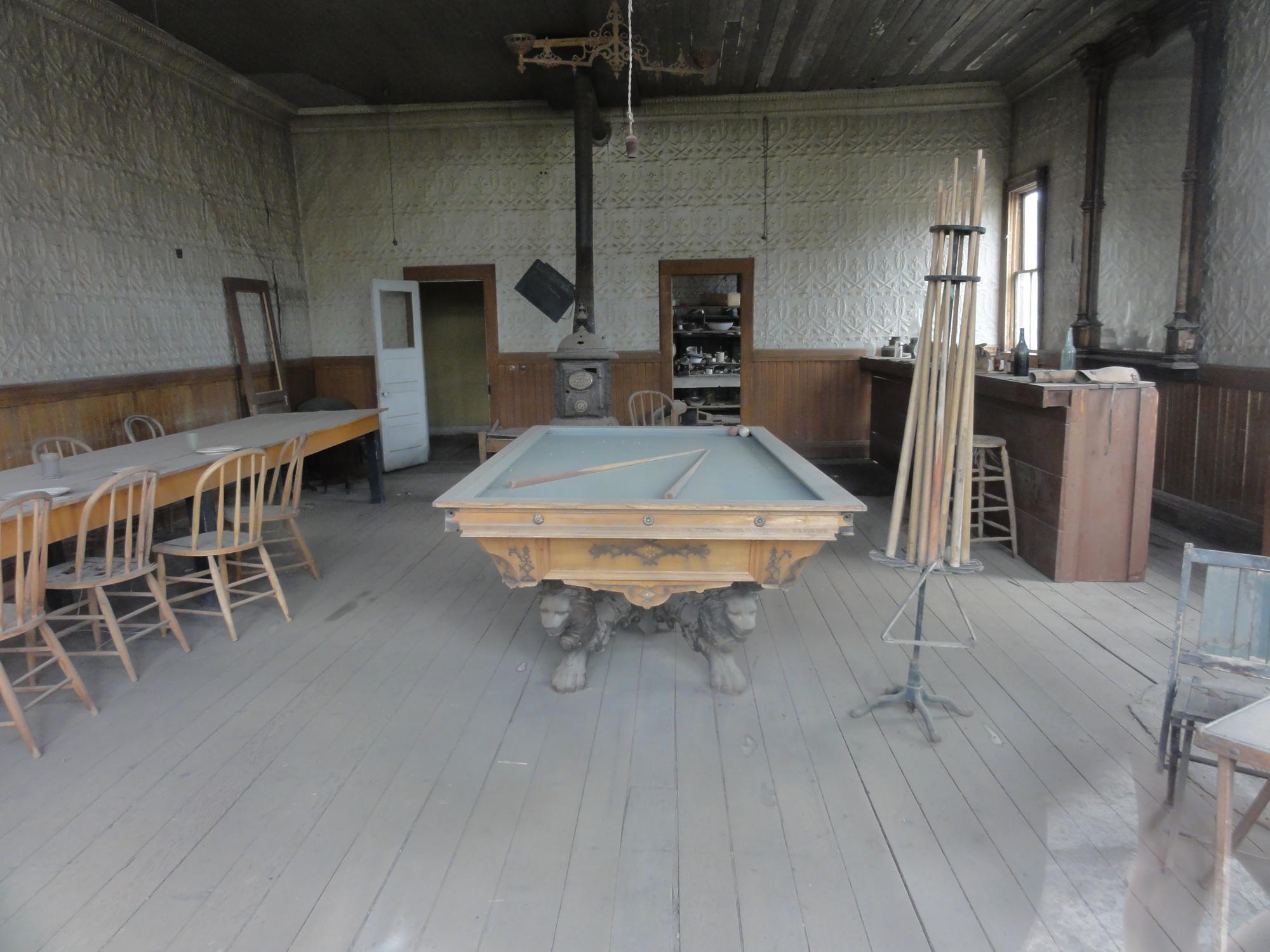 We return then to South Tufa around 5 pm. It's very nice.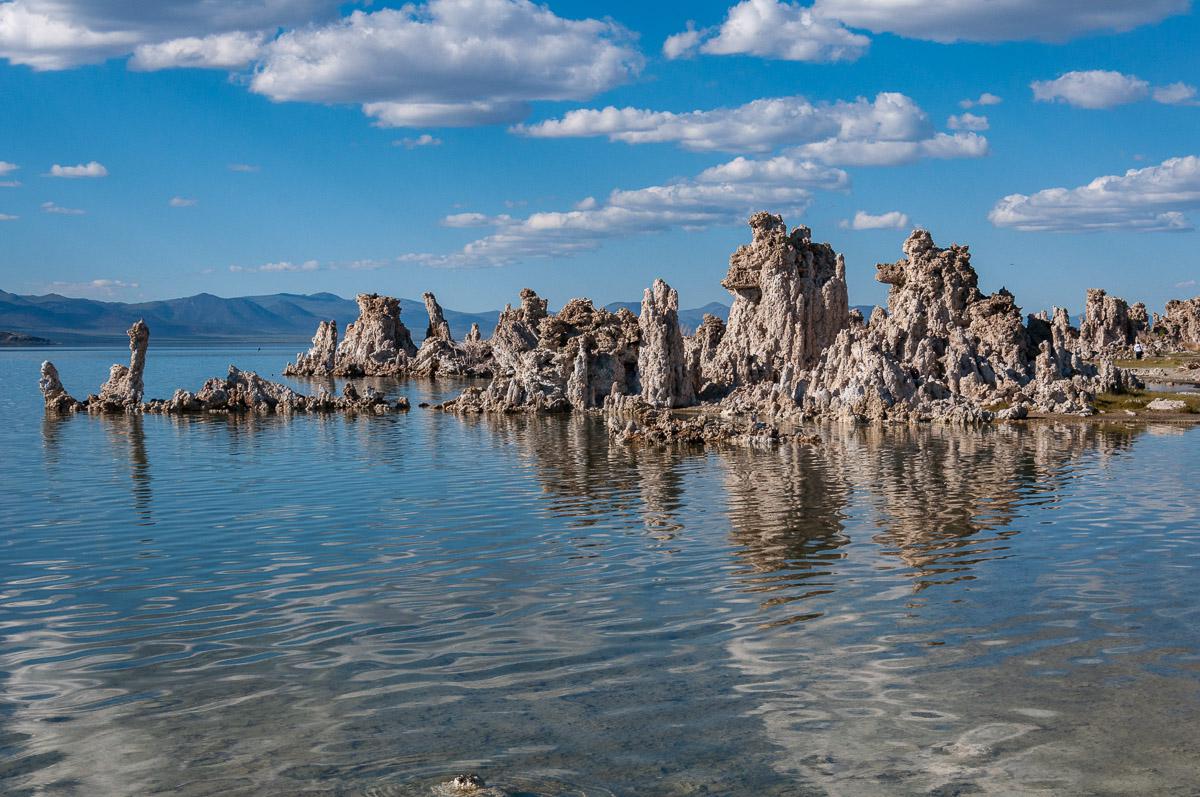 Sunday june 27 : we leave for Yosemite at 9 am. We arrive at the park entrance around 9:20 am and we realise that all the campground are full. We try anyway at the Curry Village. There still is place at Camp 4. But it's a walk-in campground : the car remain on the parking lot outside the campground. We book for 4 nights. We carry our baggage, cooler...and we plant the tents: the sites are pretty bad, not well marked or delimitated. In addition, because of the bears, we must store food and toiletries in iron boxes. Anything that smells must be enclosed, nothing in the car. It's a mess to carry everything and furthermore the cooler does not fit into the box. We are forced to drain the water and to lie it on the side for it enter the box. At 3pm, we return to the Curry Village to see if there is place in a campsite a little better. No, no! We then go to walk to Mirror Lake. It's beautiful but crowded.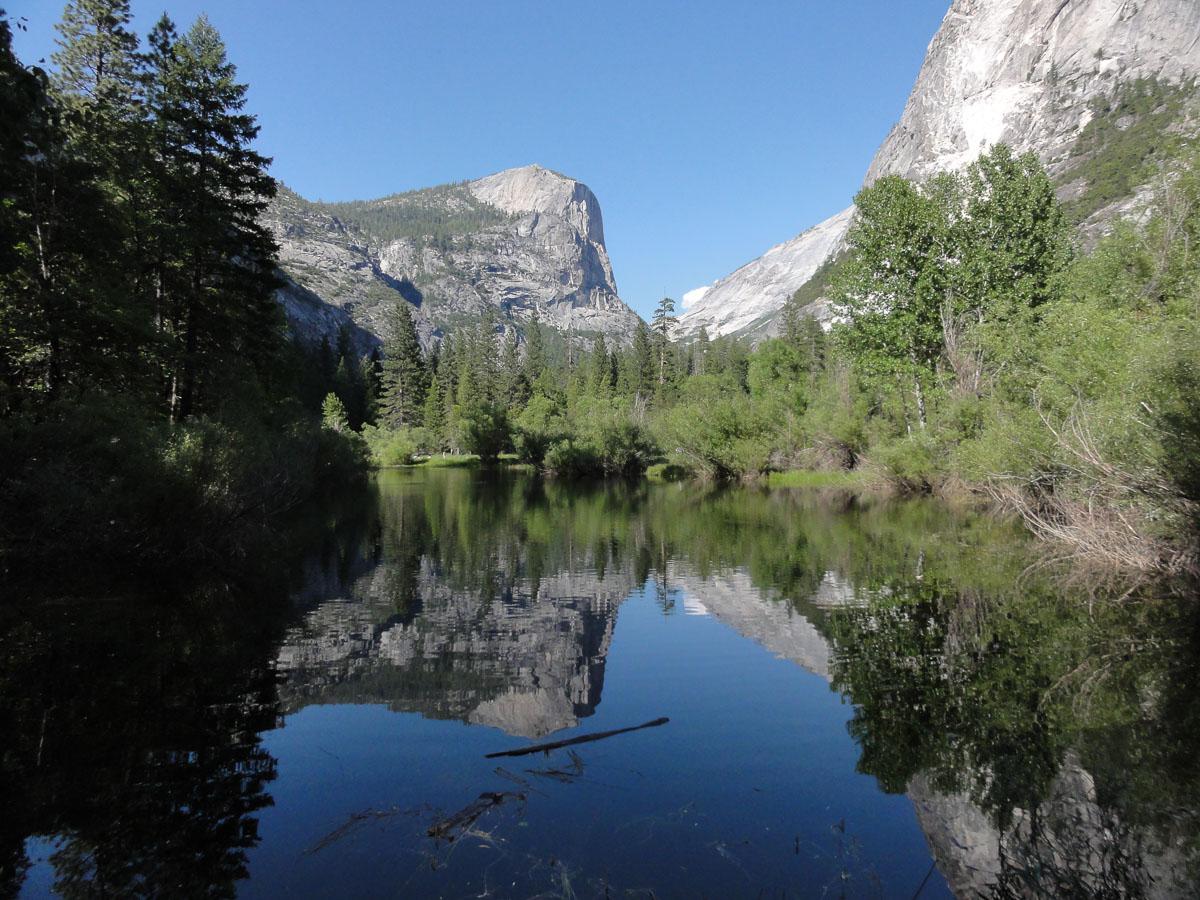 In late afternoon, we turn quite round to find the showers. We eat a pizza at Curry Village and go to the Visitor Center to ask where the showers are. They are at Curry Village and is $ 5.
Monday June 28 : we decide to leave this campground because it is too impractical and galley. We go to Yosemite Lodge to book the bus to Glacier Point for tomorrow ($ 75 for 3 of us). We then take a short walk to Lower Yosemite Fall. It's nice but crowded and not easy to photograph as it splashes a lot!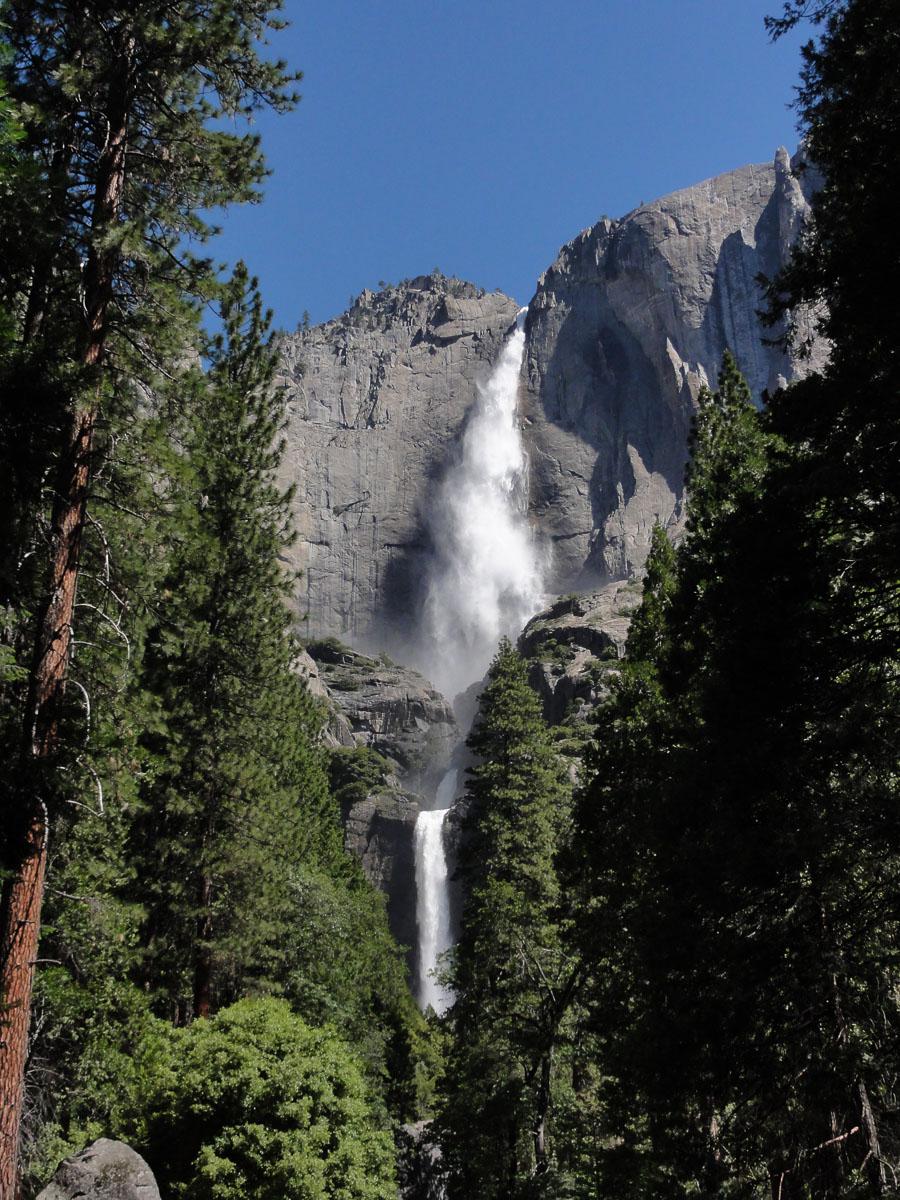 Around noon, we look for a hotel or camping outside the park. We toured all hotels in Mariposa: too much or too full! We finally take a room at the Yosemite Inn for $ 120! no much choice! We spent the rest of the afternoon in the room to empty SD cards on computers and send mails. Then we go to eat excellent steaks at Savoury's.
Tuesday june 29 : we get up at 5.30am to be at the Yosemite Lodge at 8:20. We take the tourist bus to get to Glacier Point and back down on foot by Panorama Trail for 9 miles. The views are superb, the first being at View Point.
The rest of the descent is nice but we regret not being able to get closer to the bottom of the falls. They send a lot of water. After Ililouette, there is a hard climb. And between Nevada Fall and Vernal Fall, it goes down steep on rocks.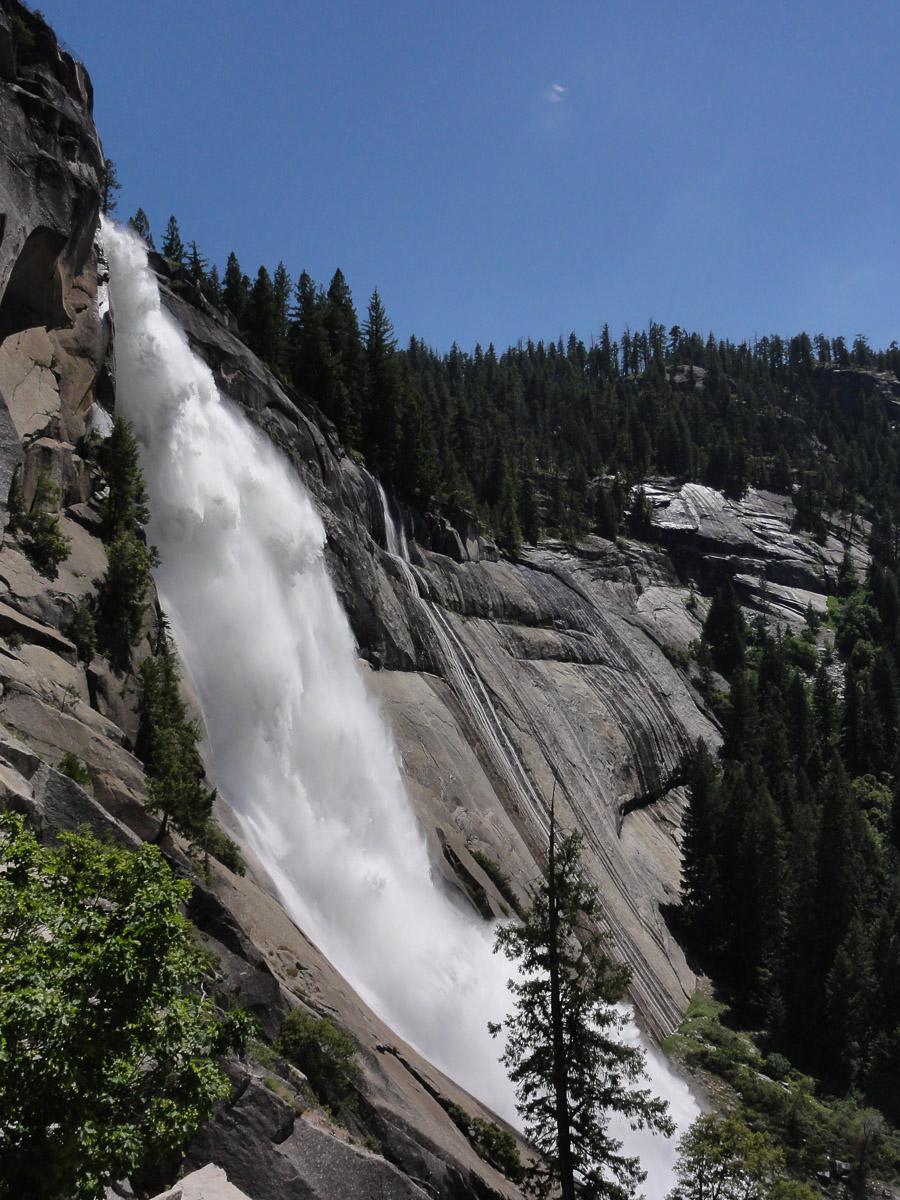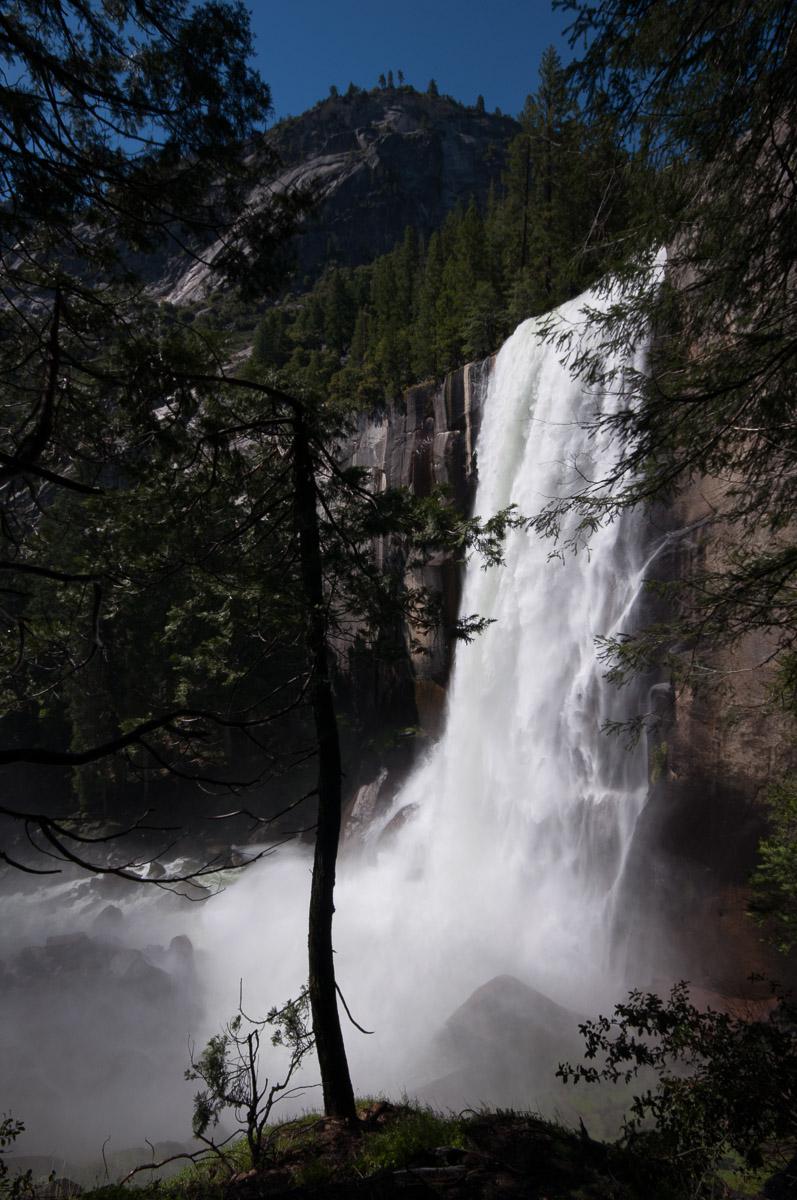 Passing near Vernal, we are literally rinse. We are soaked head to toe! But as it's hot, it will dry quickly! We finally come down around 4:45 p.m., we take the shuttle to return to the parking. Then back on the road to exit Yosemite. The park did not scored, we were a little disappointed. Not by the landscapes that are beautiful, but the infrastructure that are really not suitable to accommodate as many people as it is shielded from tourists and the general layout of campsites, shuttles, routes ... is not equal to the other national parks that we know. Too bad because it's still beautiful. We stop around 8 pm at Applegate Inn, a hotel in Atwater. We dine at Denny's close to the hotel.
Wednesday june 30 : departure for Lassen Volcanic and surprise ... there still is a lot of snow from the winter. Campground is still covered by snow. The road and the trail to Bumpass Hell are closed. At this elevation, temperature is 14°C and snow is 2 meters high !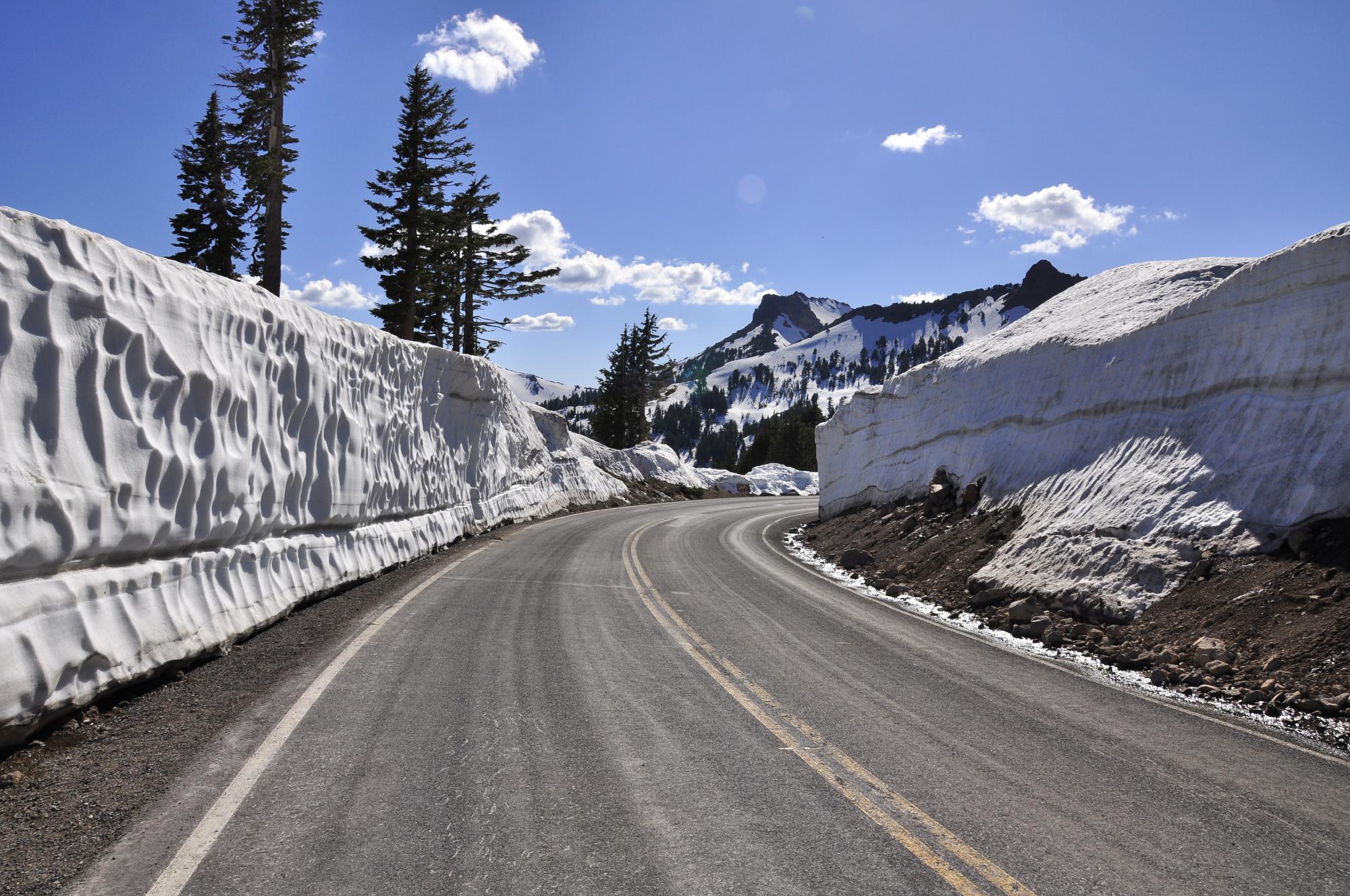 We go back down to try the walk to Mill Creek Falls. But it's already 6 pm so we return to Red Bluff to find a hotel. We find a room at the Cinderella Motel (not that nice, and not very clean) and we go to eat at the Denny's.s.
Thursday july 1st : We go back to Lassen for the Mill Creek Fall trek (10:45 am, 16°C). Well, finally this walk is shortened because we can't see the path because of the snow. We drive to the other side of the park to Manzanita Lake. We stop, before arriving in a Koa campground that seems very well (43$). Furthermore, managers, Al and Jean, are very nice. Al is always laughing. We settle the tents on straw locations. It's gonna be cozy tonight !! We eat a piece and we go to Manzanita Lake. We walk along but we can't go around completely because firefighters are triggering fires. We go around Reflection Lake on the other side of the road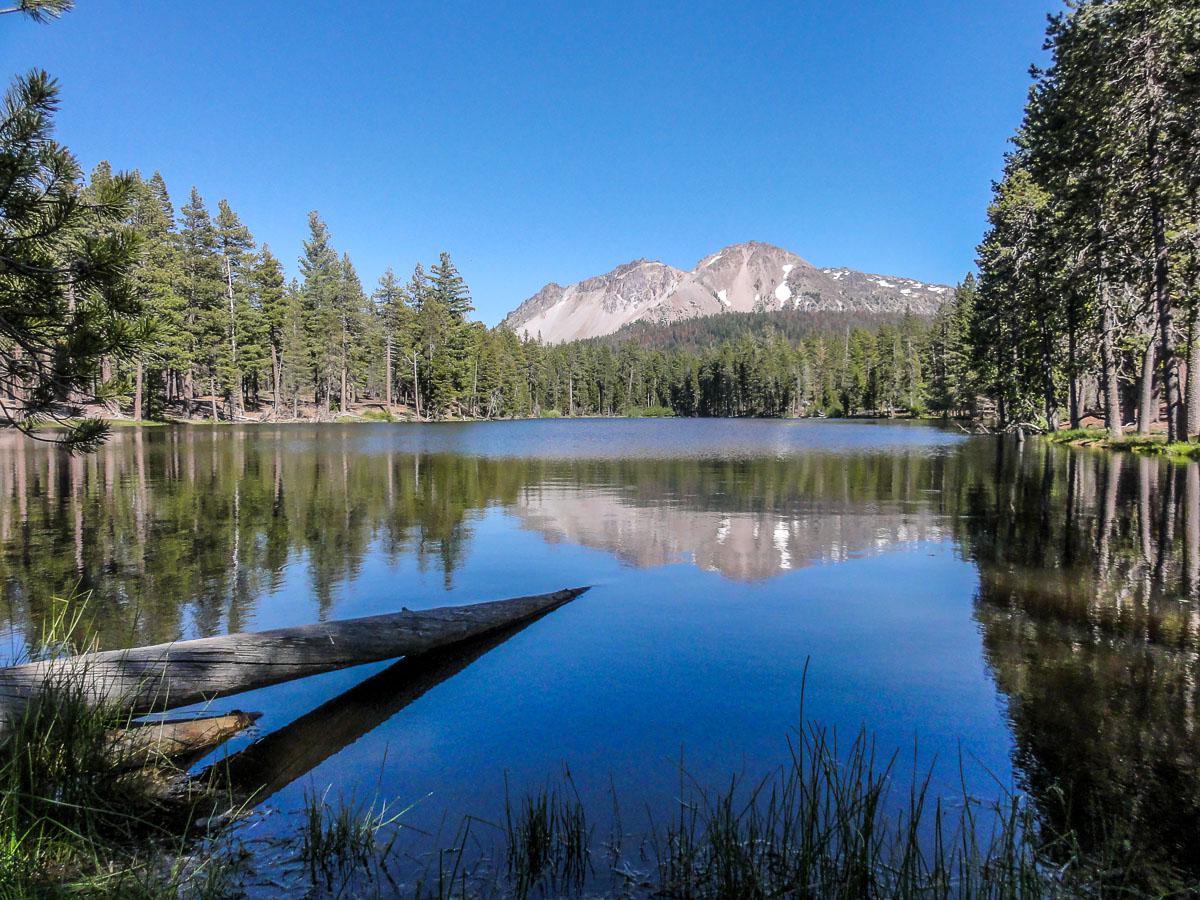 and we then go to eat an icecream in Manzanita Lake store. We go back to the campgorund. Tonight, cowboy dinner : campfire, hot dog and marshmallows with a California wine.
Friday july 2nd : heading to MacArthur State Park. We arrive around 11:30 am. The trail is closed on a part. Certainly, no chance! We see the Burney Fall from the top and it is a trail of 1,3 miles to see the waterfall at the bottom. It is superb.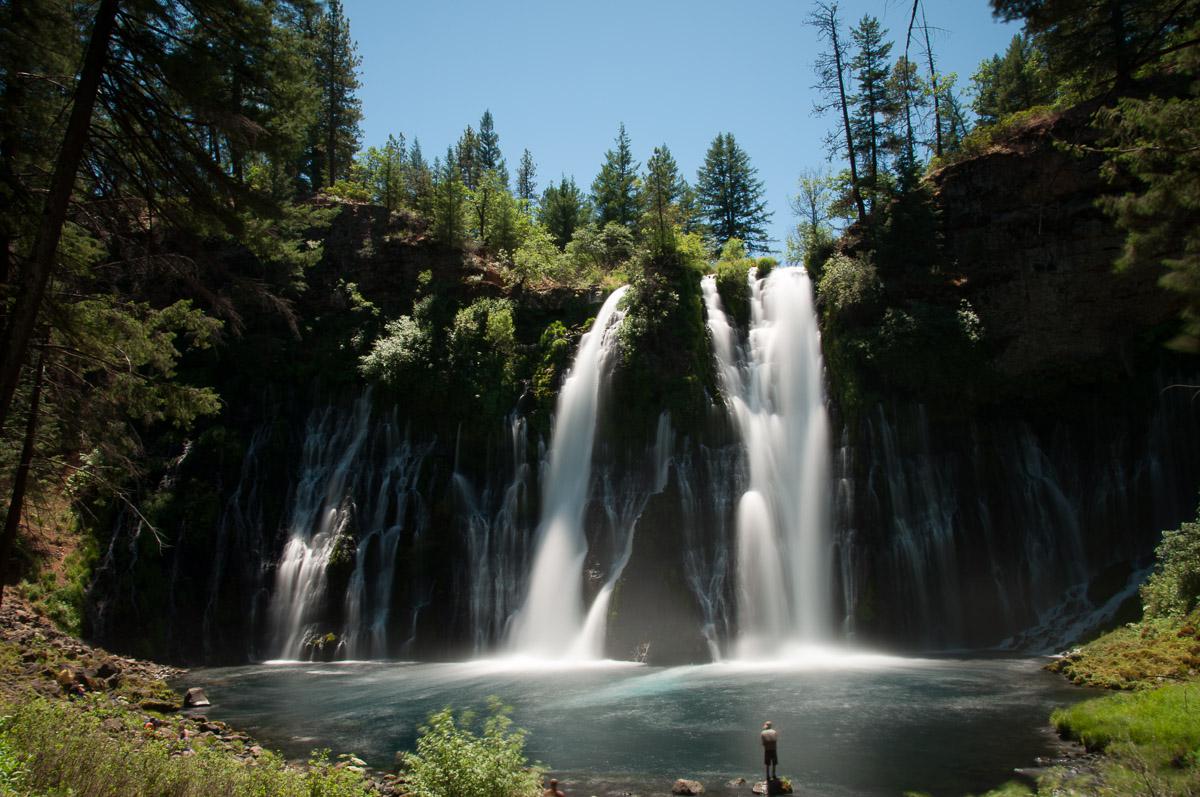 We leave around 2:40 p.m.. It is unclear where Moosbrae Falls is. It does not appear on maps. We drive to Mount Shasta City and we move to Koa Campground. You can take only one night as it is then complete. We pay for 1 night but the location sucks: it is on the other side of camping on a vacant lot under power cables. The table is rotten, as well as the barbecue and tap water is leaking. All this for $ 31. We ahev been used to better in Koa! We ask the manager where is Moosbrae but she doesn't know. So we go to the Visitor Center. We can not find it! We then go to Mac Cloud to see three waterfalls. We start with Lower then Upper and finally Middle. Middle is the most beautiful.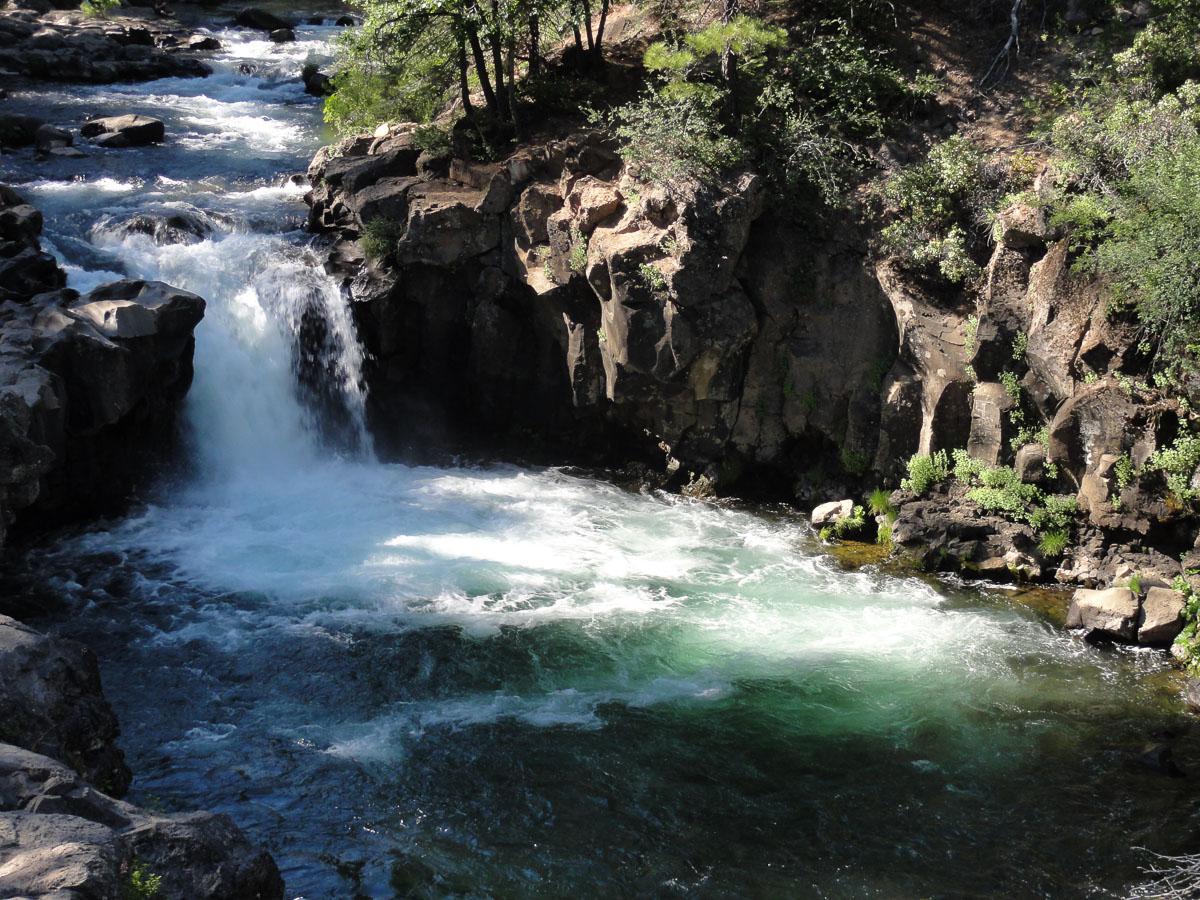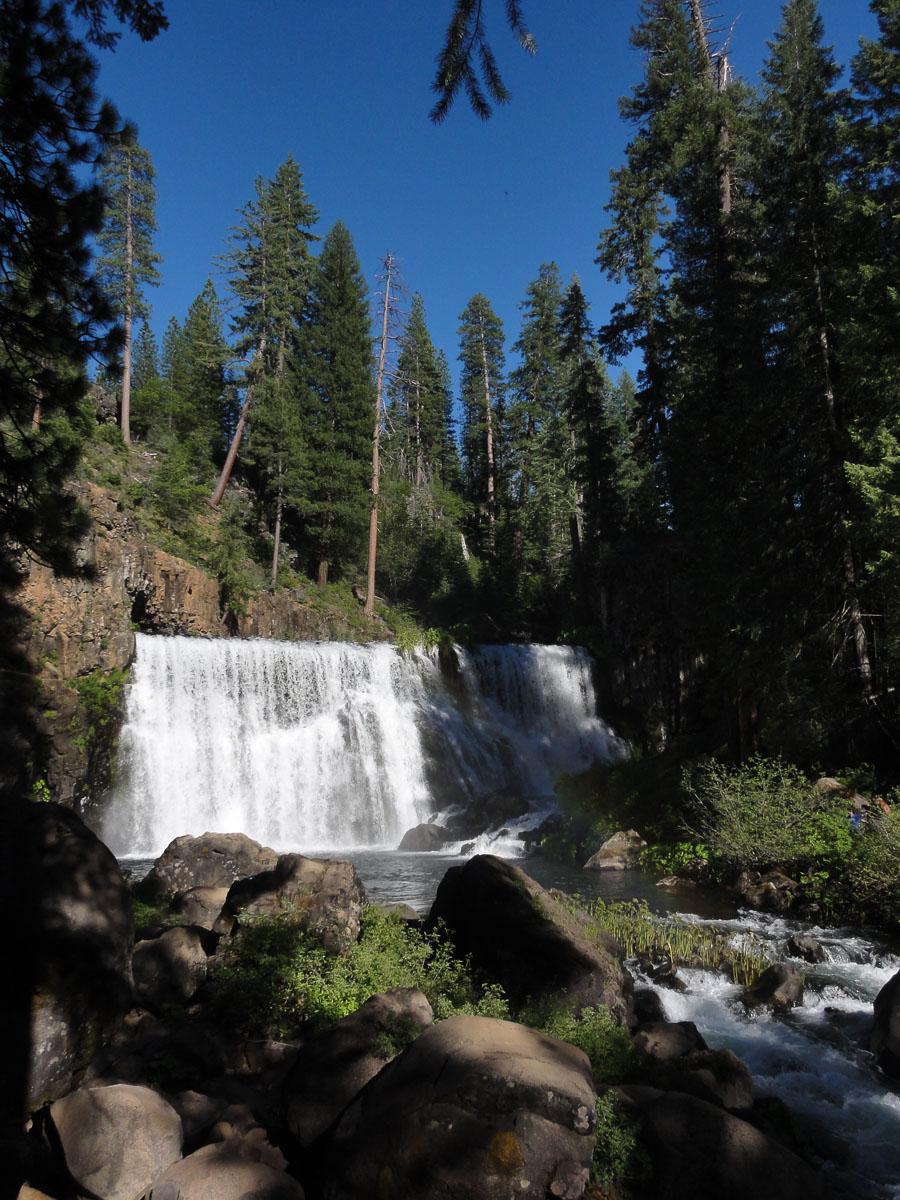 End of the walk at 7:10 pm. 
Saturday july 3 : we're gonna try to find Moosbrae Falls in Dunsmuir. We take Scarlette Way to the railway track and park. Then we have to go up the river for 1 mile, along the railway (beware of trains) to a metal bridge with the words above "1901". Then we go down to the river at that point. The waterfall is beautiful but a bit against the light.

We leave then and drive to Crater Lake at 1pm. And for the first time, we enter Oregon. We arrive at Crater Lake entrance around 4:30 pm. It is 16° C and ... there is still a lot of snow! Admission fee is $ 10 for the vehicle. How beautiful it is ! and the blue color of the lake !... wouah !!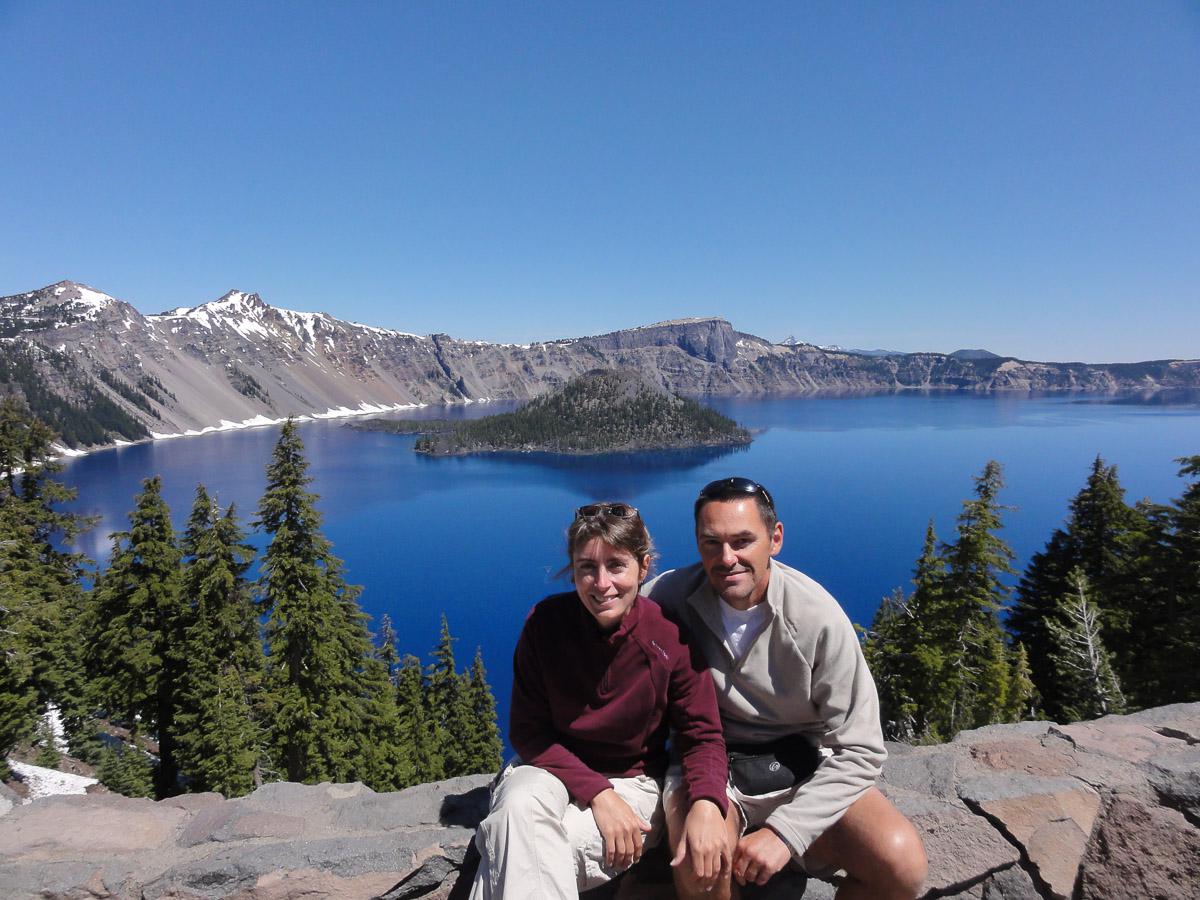 It's too cold to go camping. We just come down to the valley to see what we can find. But there are only camping "self service" in the forest with just a puppy and lots of mosquitoes! We go to Prospect: nothing, then we go to Shady Cove. We finally find a motel just at the exit of the town. We are lucky for once, there is a free room because there was a cancellation. We will eat in front of the hotel in Ma's Restaurant, a mixture of US-Thai restaurant.
Sunday july 4  : departure at 9am for Crater Lake. We're going to Rim Village to take a few pictures . Then we drive on the Rim Drive to the west. It is 15 ° C.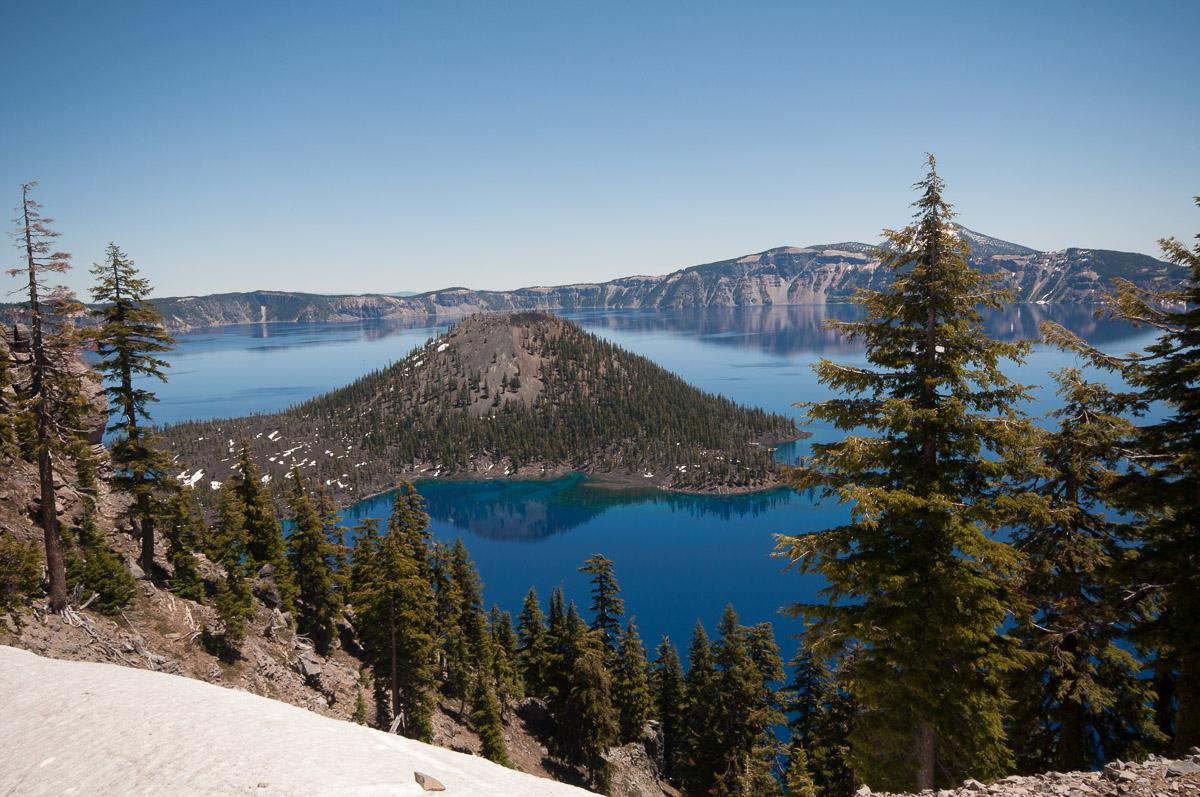 We continue to go around the Crater, stopping at viewpoints up to around View Point Overlook Cloudcap before the road is closed due to snow. We turn around and go to Diamond Lake where we try to find accommodation for tonight. There is nothing at all. En route, we try to find Warm Spring Fall, but no way! There are works on a road, maybe it was that? By cons, we stop at Watson Falls (0.6 mile roundtrip). This waterfall is really not bad.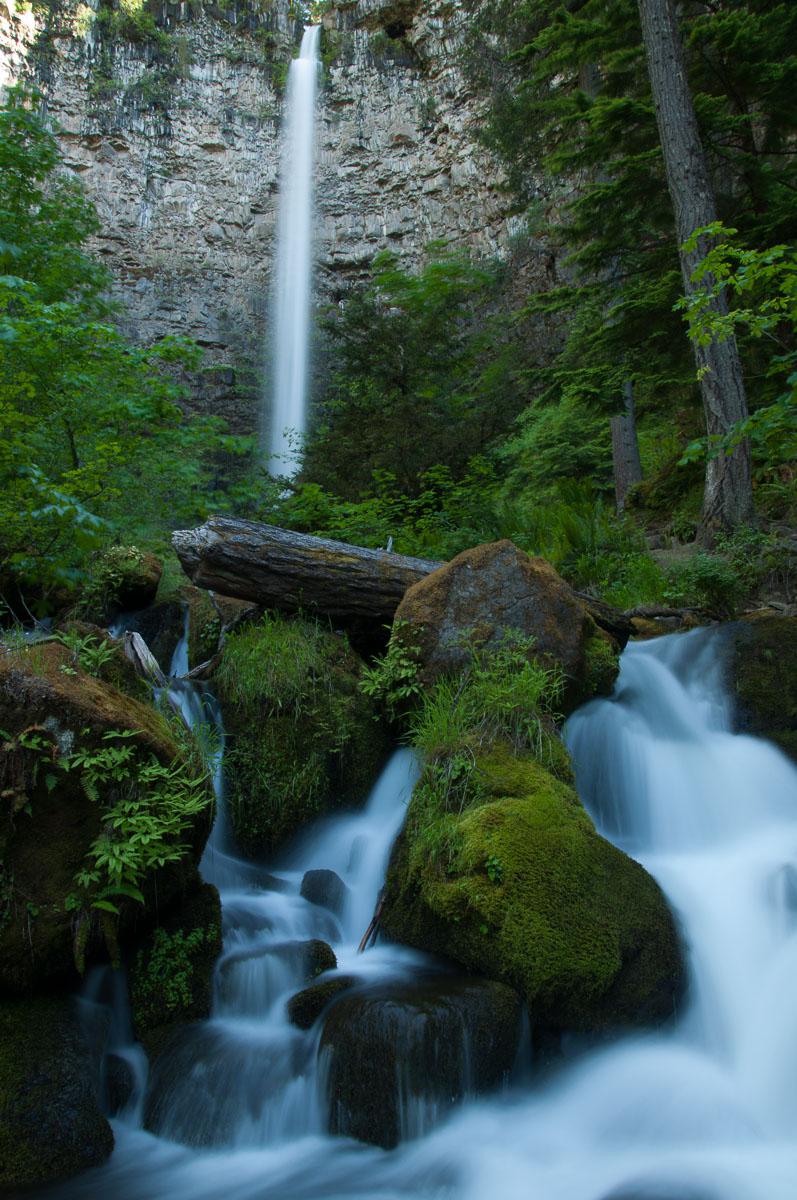 We also stop at Toketee Falls (0.6 mile roundtrip). It's pretty but not easy to take pictures.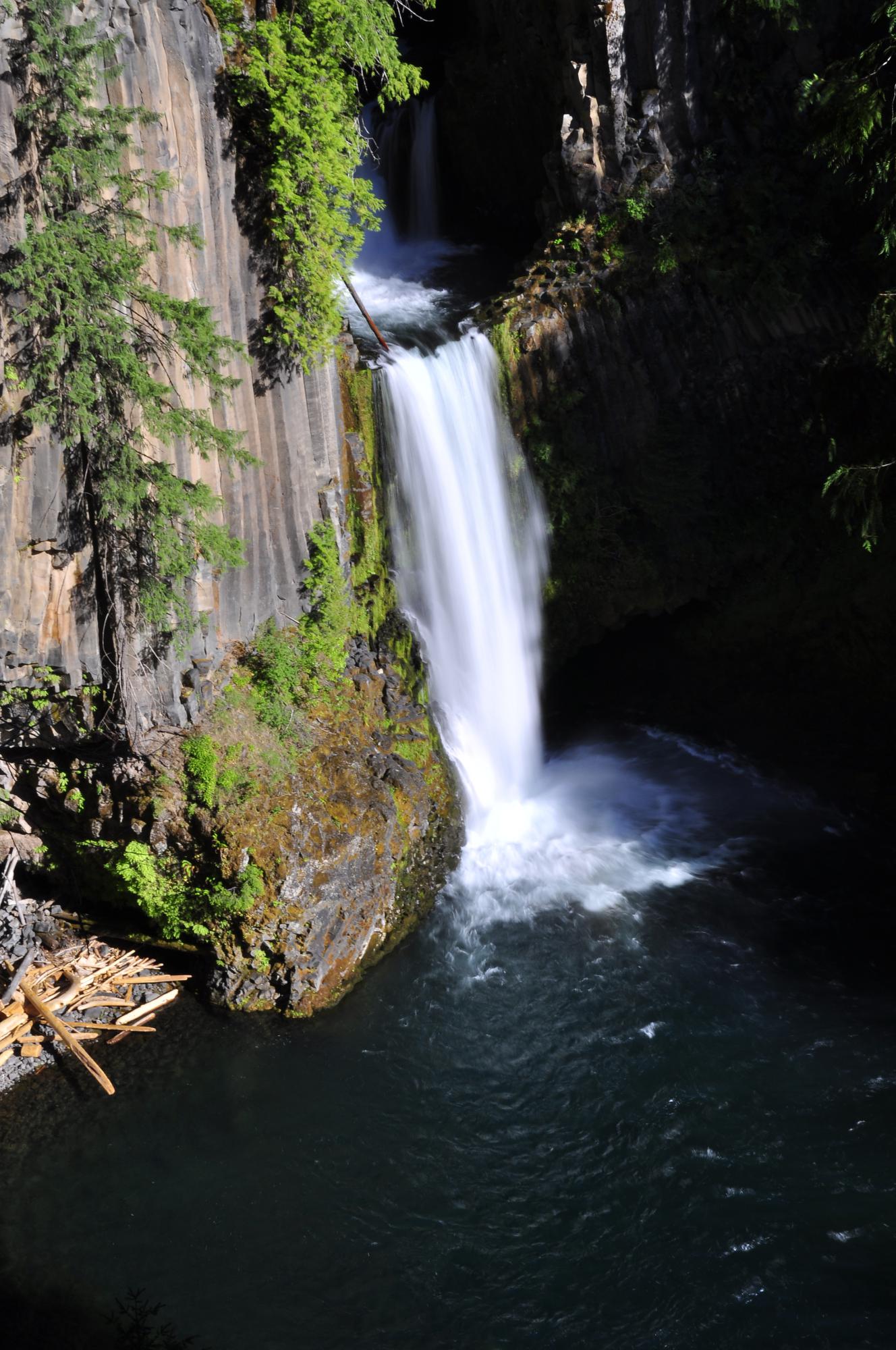 We hit the road to Roseburg. By the way, we stop at Fall Creek Falls. The trail is 2 miles roundtrip. We start at 7:30 pm as it is getting dark. Very pretty waterfall.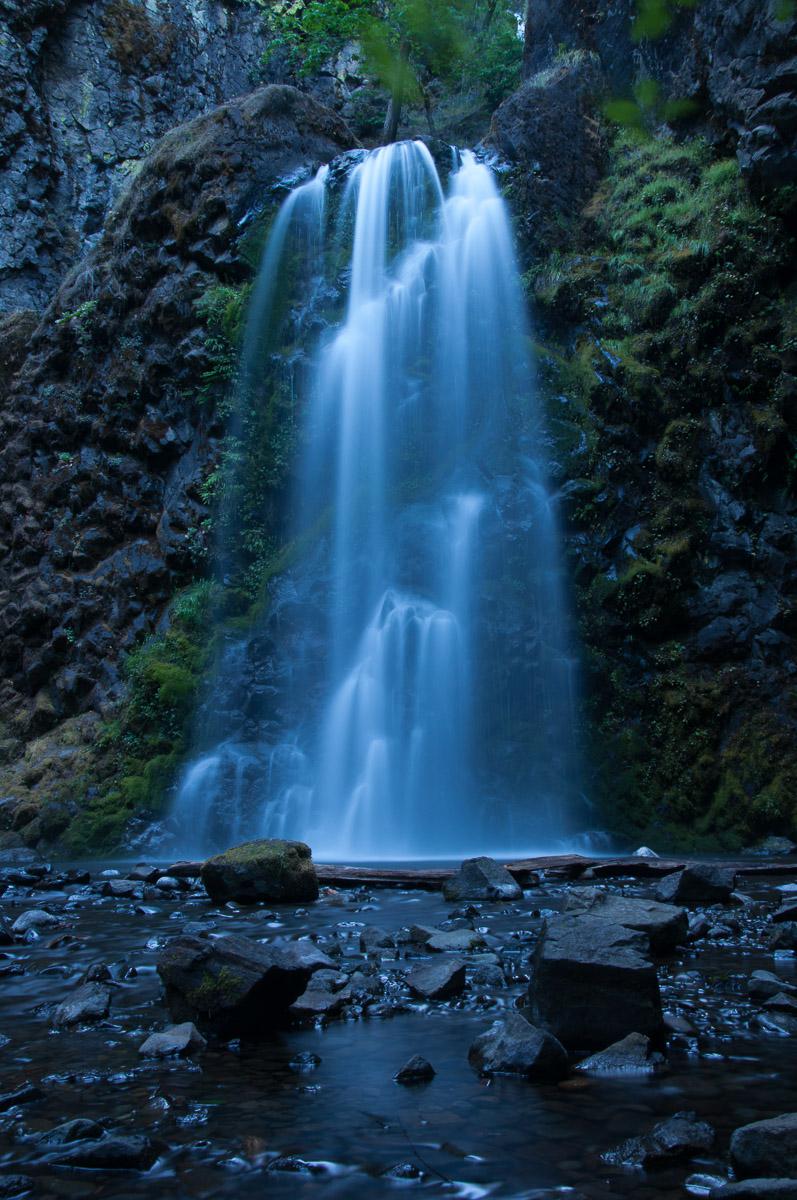 We finally drive to Roseburg. And find a room at the Dunes Motel (towards the I5) next to a Denny's, our favorite US restaurant! The manager of the hotel is very nice but a real chatterbox! He is Polish and gives us news of the Tour de France cycling and is sorry for the Blues have not won the World Cup of soccer! He gives us tips on what to see on the Pacific coast. We eat at Denny's and we just missed the fireworks of July 4th ! 
Monday july 5 : we get up 9am. Starting at 10am. We decided to shake up our program, as we saved time on ballads that we could not do because of snow. So we go to the Pacific coast. The guy at the hotel advised us Reedsport. We arrive on the coast around 12 and we look for a campsite. There is not much. We end up in a Motel 6 for 2 nights in Coos Bay near Reedsport. Preparing a picnic to eat on the beach. Photo stop at Sunset Bay, then to Simpson Reef where we can see sea lions, and finally stop at Cape Arago where we picnic.
We return to enjoy the spa. Then around 7:15 pm, we left to see the sunset at Cape Arago.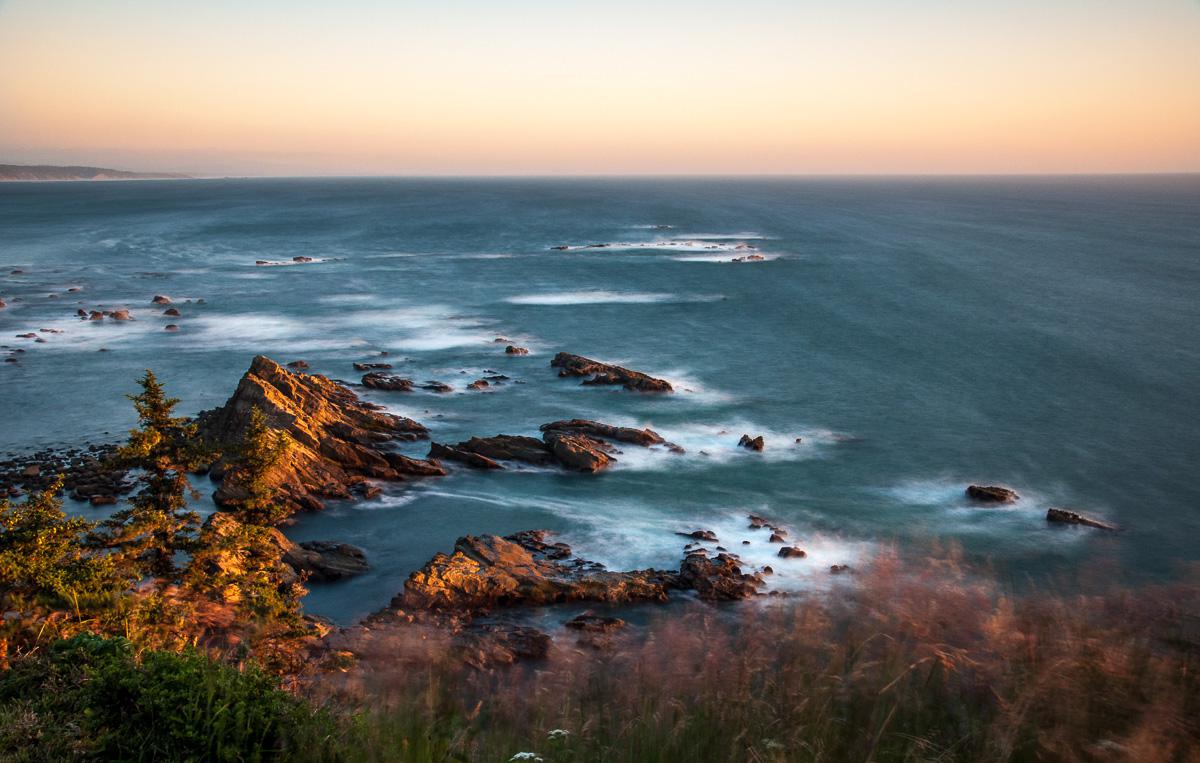 It is 13 ° C and quite windy. We leave around 9pm. The only open restaurant is McDonald's!
Tuesday july 6 : departure at 10:50 am : shopping and laundry. It's sunny, warm and less wind, 21° C. At 2:30pm, we leave to see two waterfalls, Golden and Silver Falls north of Coos Bay. It's a 15 mins walk to Silver, (not much water at this fall), and 20 mins to Golden. 
We then go to Oregon Dunes National Recreation Area to the John Dellenback Trail . It is a nice sand desert and wide. We stay there until sunset,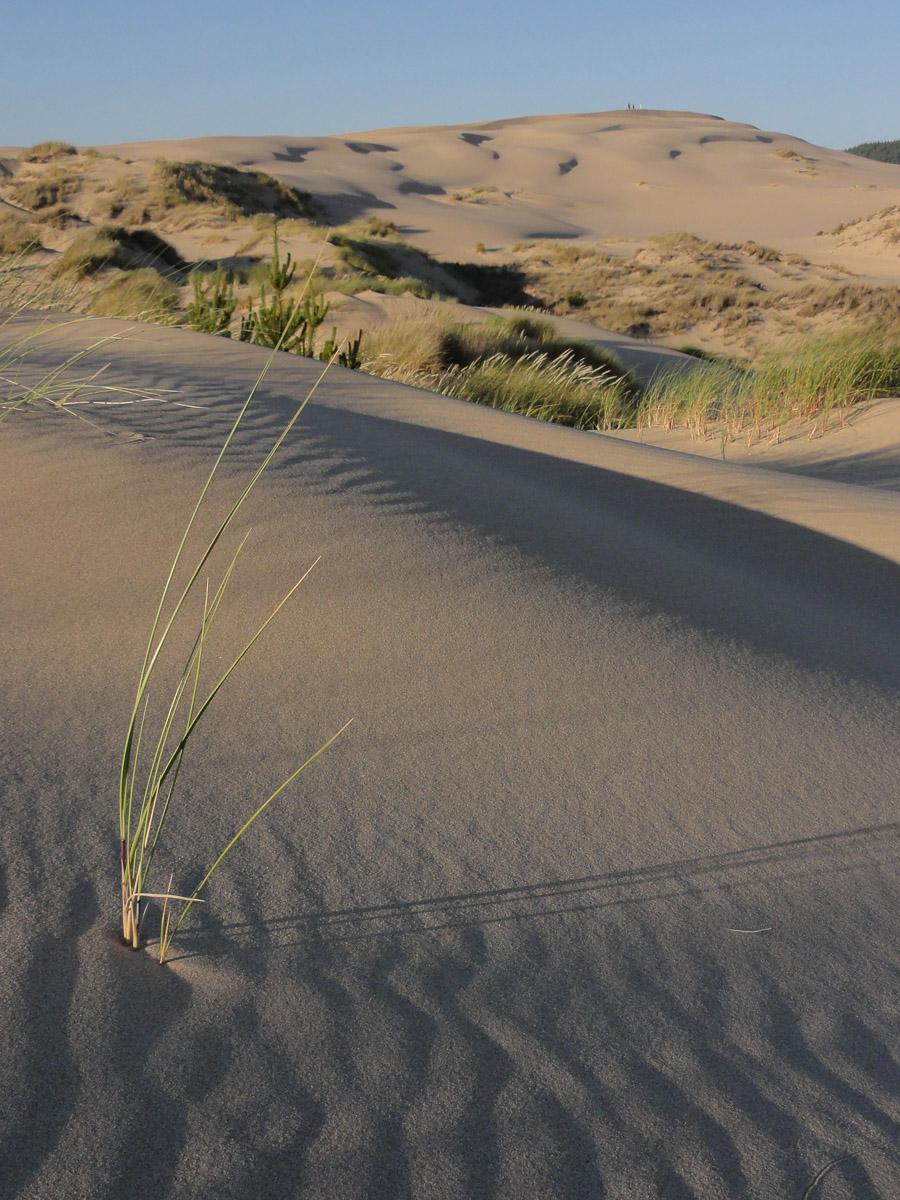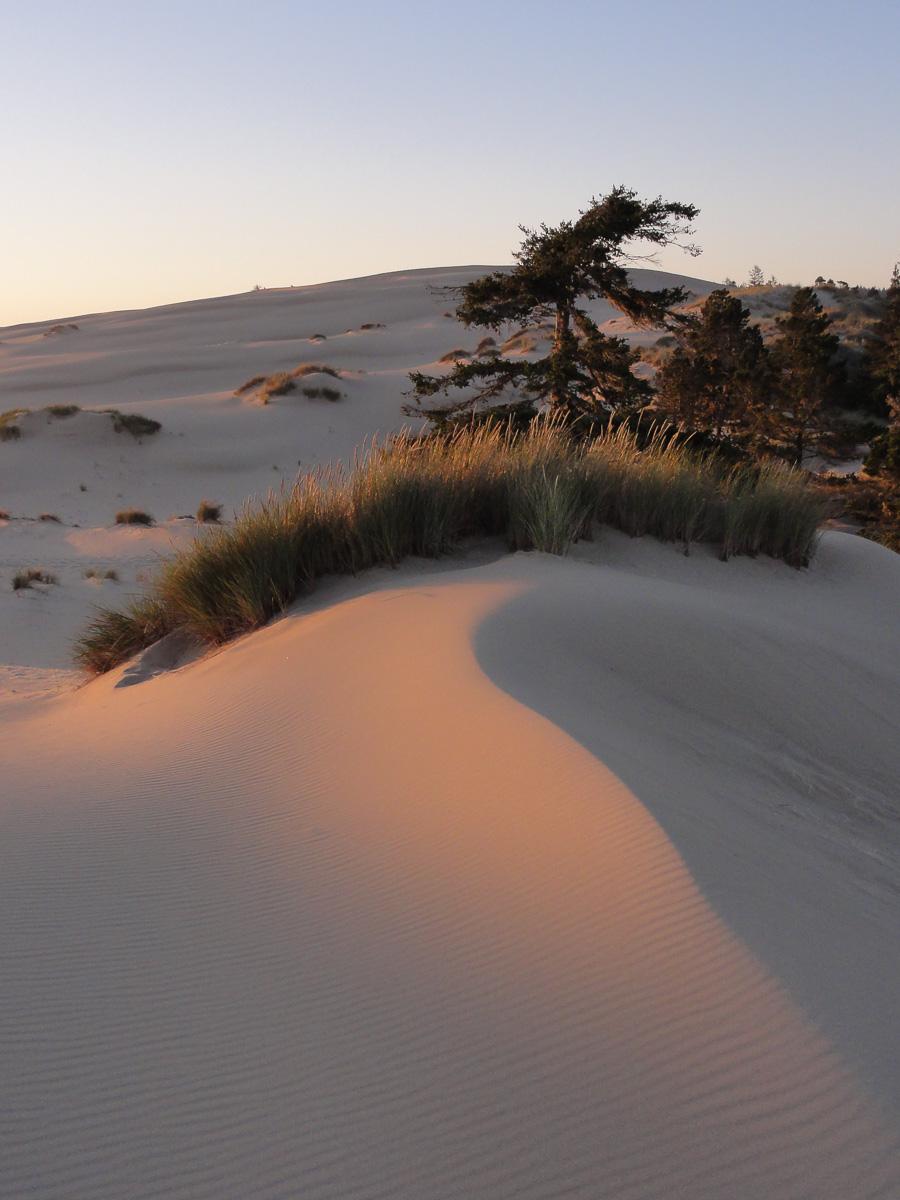 and leave around 9pm. We will then eat at Wendy's.
Wednesday jult 7 : departure to Albany at 9:15 am. We find a campground, the Koa of Albany Corvalis. We settle the tents, eat a piece and leave to go to Majestic Falls at 2 pm. It's 35°C. At 3:15 pm we arrive at MacDowell Creek County Park, . There are a few other waterfalls, not only Majestic.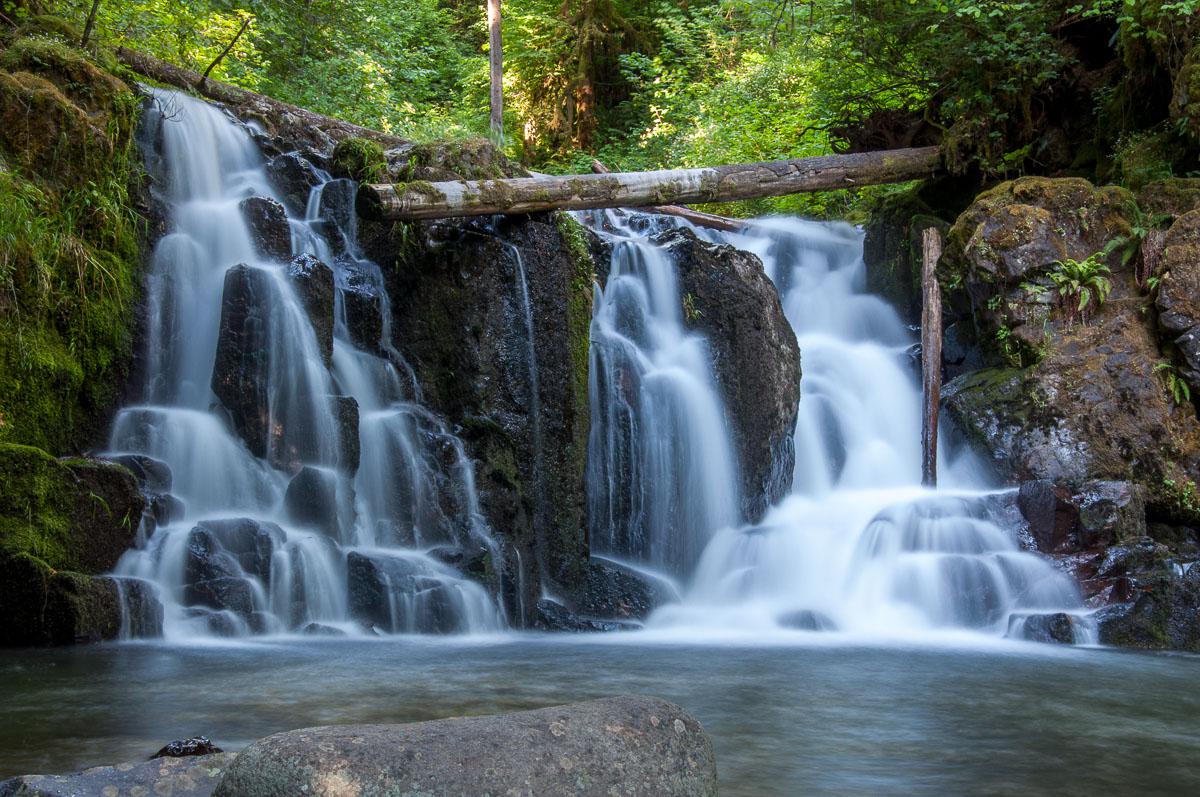 The whole trail is 2 miles long. We leave at 6;50 pm. Tonight schedule : barbecue, hot dog and marshmallows.
Thursday july 8 : drive to Opal Creek Scenic Recreation Area. The trail starts on a wide path then at a crossing we turn right and follows the sign « Opal Creek ». From there, there isstill 3 miles to walk (the whole trail is 8 miles roundtrip). The path is in the middle of the forest and we sometimes can hear the river. Opal Pool is a kind of poolsurrounded by rocks. The green trees are reflecting in the water so we can believe it's the water that is green.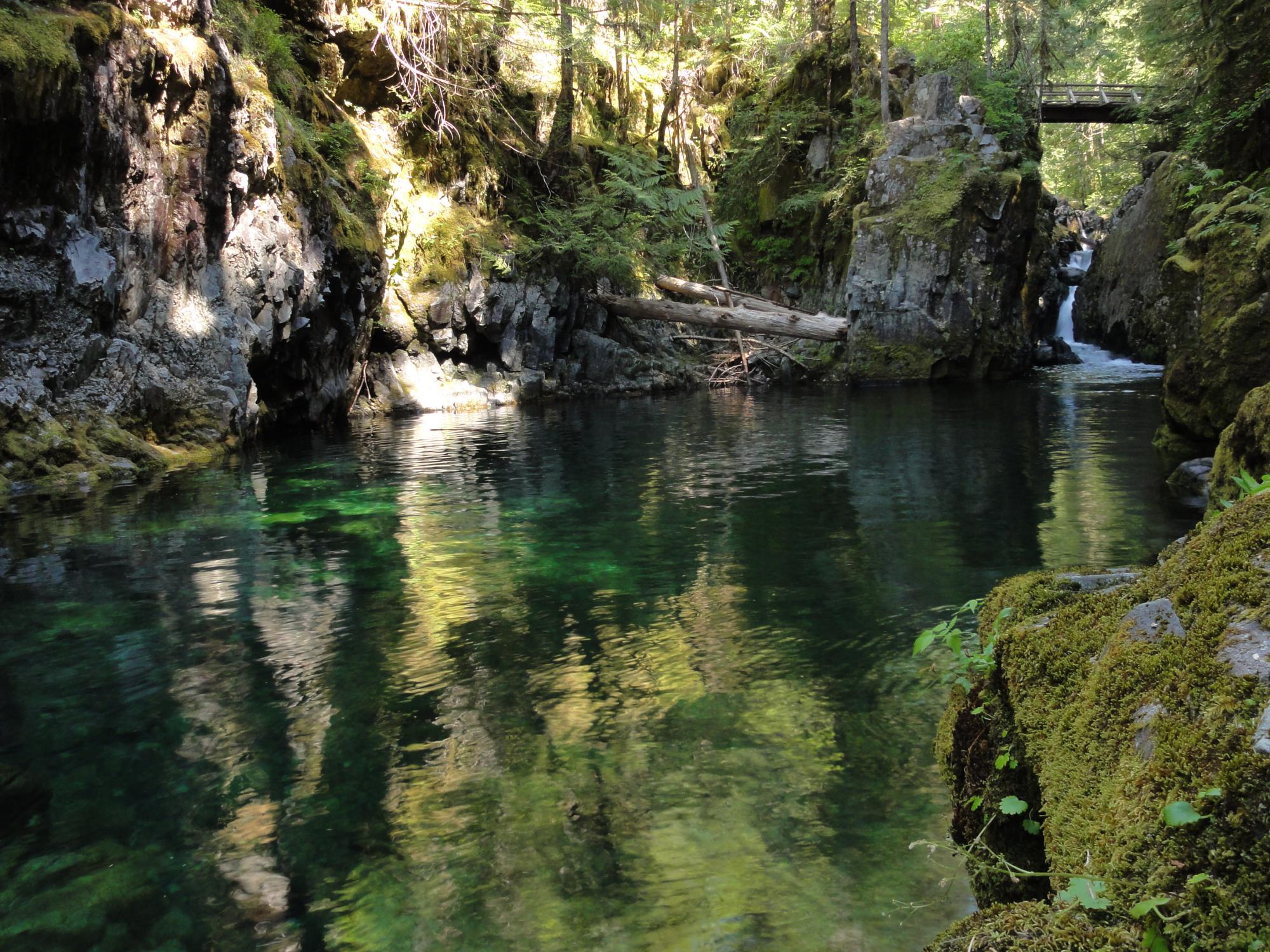 A little further there is a bridge and small waterfalls. Back to the campground after a stop for dinner in a Denny's.
Friday july 9 : at 9:30 am we go to Silver Falls State Park. We arrive at 11am. The hike is 7 miles and passes close to 10 waterfalls. We are not going to do the whole trail as some of the waterfalls are not very interesting. We start with South and Lower falls.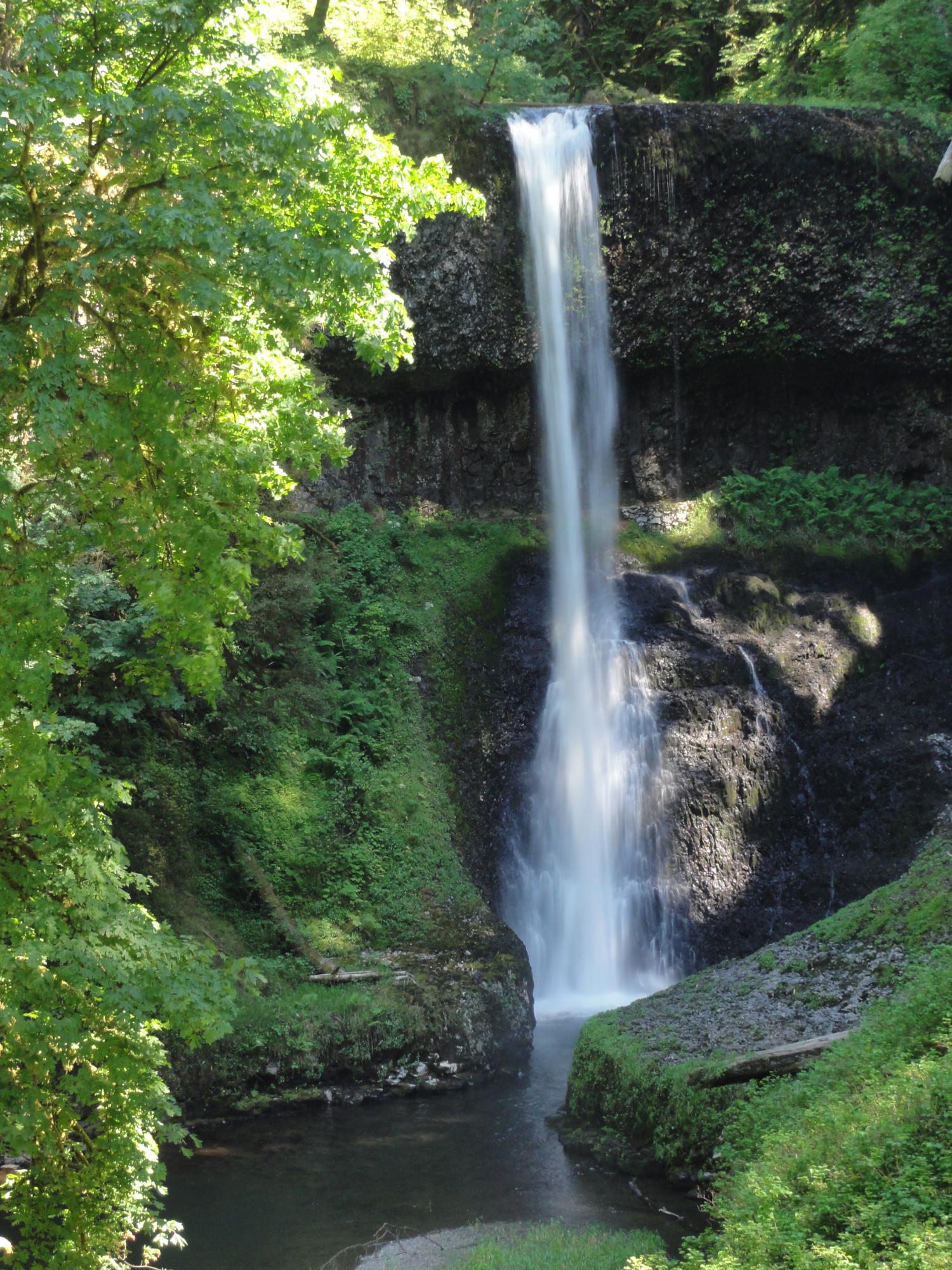 Then we picnic. We then park at Winter Falls to see 4 cascades.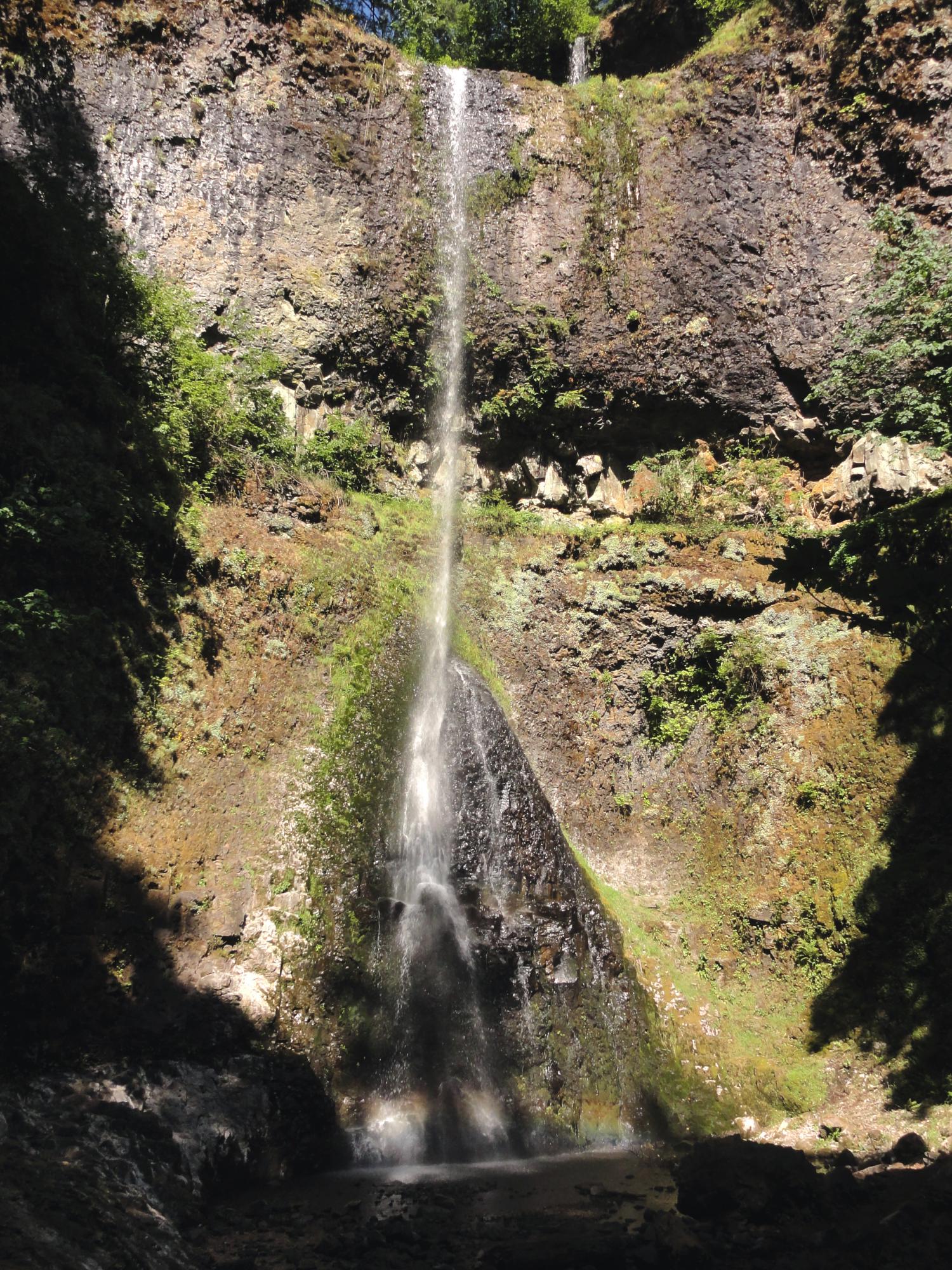 Then we go to North falls viewpoint and we walk on the trail to North Falls and Upper North Falls.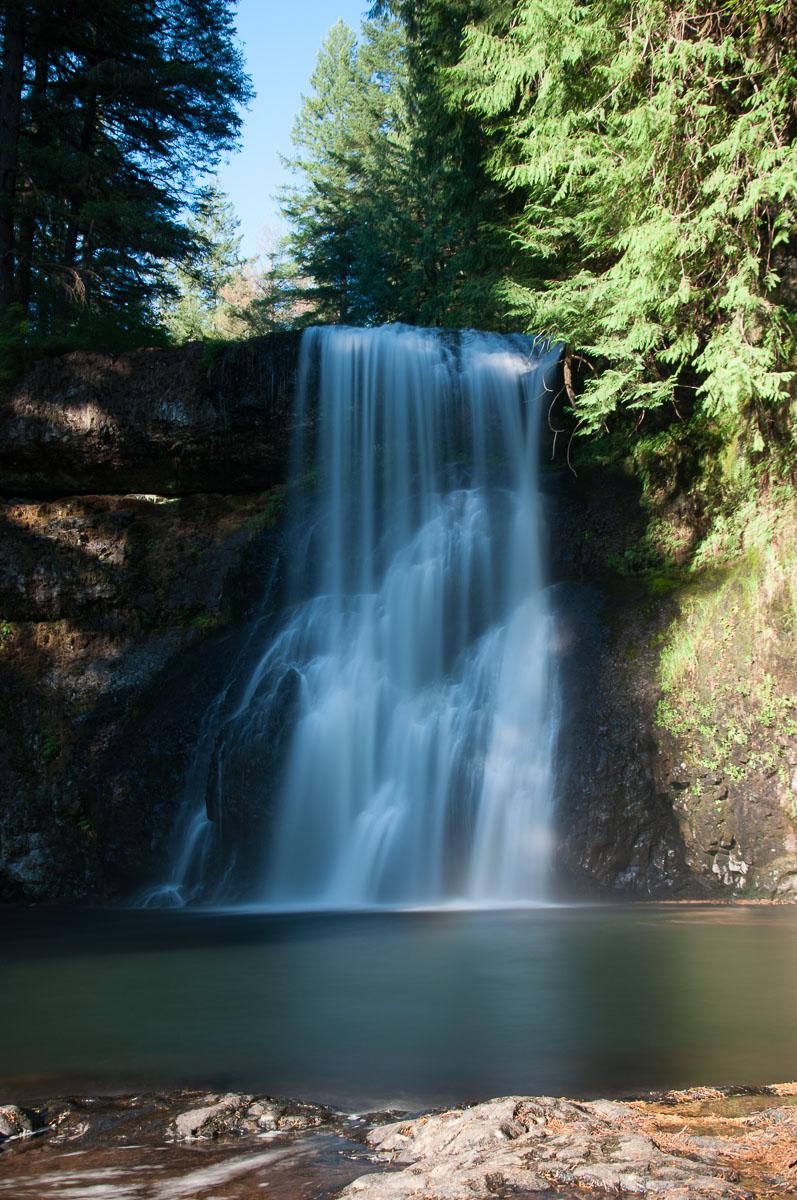 Back to the campground after buying woods for a campfire and beers.
Saturday july 10 : we return to Opal Creek to see a cascade, Sawmill, that we miss on thursday and to see the Three Pools. We start with three pool but it's very crowdy. Not easy to picture. Then we go to Sawmill. To find it, we have to go behind a wooden barn that is beside the path. The waterfall is very beautiful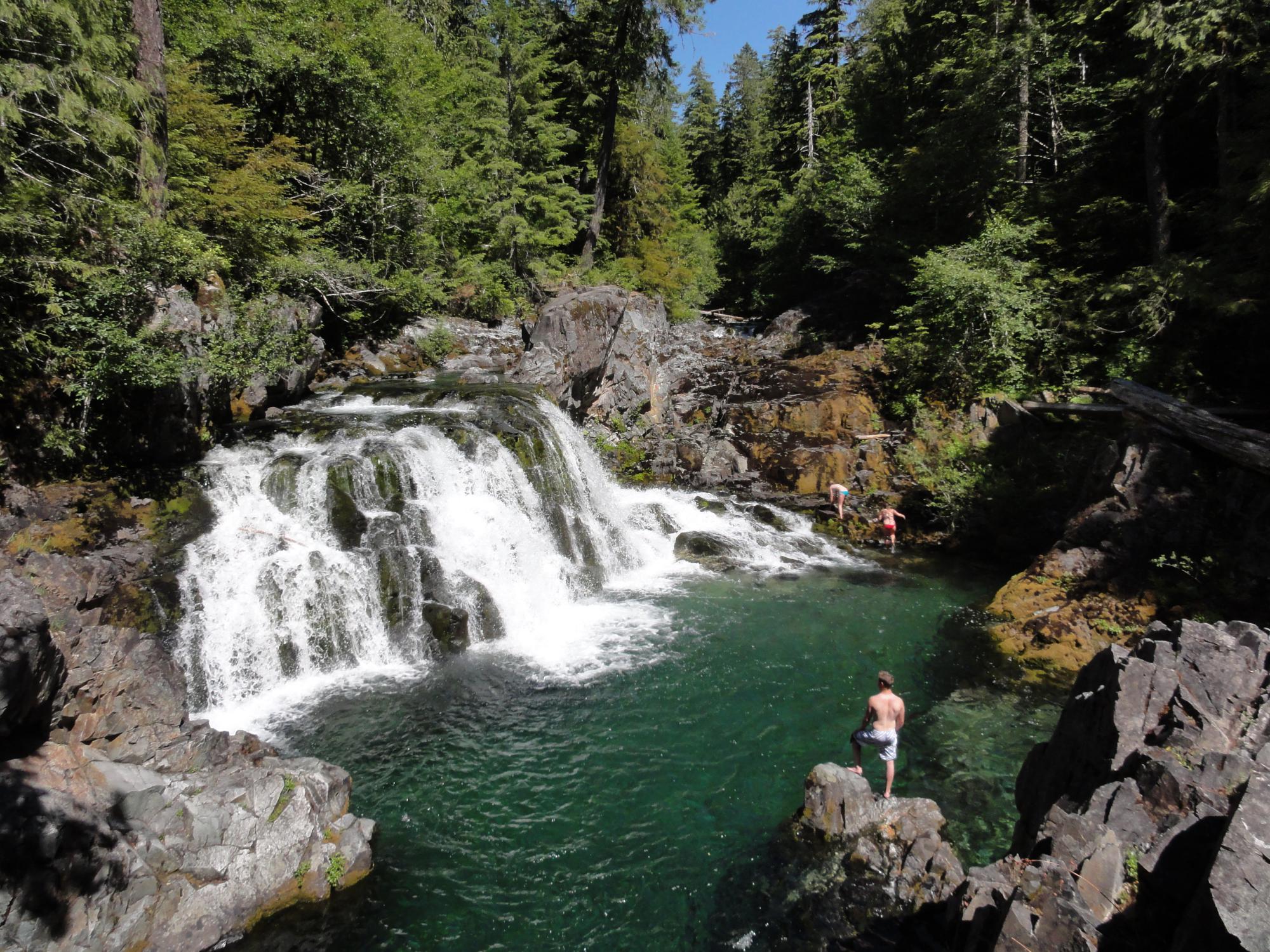 Back to the campground after shopping at Safeway in Lebannon to buy Oregon wine to bring back home.
Sunday july 11 : it's almost the end ! The tents are folded and it is the road to Portland. We stop eating for the last time in a Denny's in Salem. We arrive at the Super 8 in Portland at 2:30pm. We drag a little, we made the bags and we reserve the shuttle to the airport for tomorrow.
Monday july 12 : departure day. The shuttle drives us to the airport. Boarding is on time but...we don't take off on time ! In the boarding room we saw a little girl eating a lot of candies. And at the moment to take off she did not feel well. She must go down of the plane with her family after claiming their bagages. We take off very late. We have one stop in Philadelphia. The weather there is very bad and there is a storm. With such weather conditions and the delays of several flights, we can't land and we have to wait in the air. We finally land, but we can't go out of the plane because our bording door is still occupied by an other plane. We still wait. And of course, we miss our flight to Paris. In spite of a running in the airport, our international flight did take off on time, him ! Bad luck !! And so it is gone for hours of hassle and waiting ... We find another flight for Europe that day, but in Lisbon, Portugal! then another flight to Paris. Always because of bad weather, the flight to Lisbon shifts from hour to hour. So we must also re-shift the flight to Paris! What a pain! Well, we are still back in France on Tuesday night instead of Tuesday morning, but it was not without difficulty!