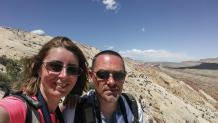 We share the same passion for travels, especially the United States, which we had the opportunity to visit several times between 1992 and 2022.
The first, for David, was in 1992 on the east coast of the United States, from New York to Miami. The following trips were all in West America, with Magali since 2000. Our starting point is often Las Vegas and we then visit more or less touristic places, with a preference for "wild" places. The sensation of freedom is what drives us to return so often to these countries.
As a result, we have gained some knowledge of the American West through our travels between some very well known states such as Utah and others less frequented such as Oregon.
This experience is useful only if it is shared. It is the object of Rêves d'ailleurs : making available to future travelers, informations about places to visit.
The United States are not our only destination : we went to the Seychelles for our honeymoon in 2005. In 2011 and in 2022, we set out to discover a country further north : Iceland. Much cooler but with beautiful scenery. In 2016, we put our suitcases in Ireland, in 2018 in Portugal. In 2019, 2020,  2021 et 2023, we went to Africa respectively in Namibia, in Ethiopia and Kenya. In 2022, we discover Norway, its fjords and the northern lights.
Creating this website was a long-lived project. And then we started. Because, somewhere, by developing this website, we still get away a bit. And although Rêves d'ailleurs tries to make you travel,  realising it allows us to relive our travels.                         
 Have a nice trip on Rêves d'Ailleurs !
 Magali & David