Monday June 1st : there it is, we are back in the USA ! « We », means the two of us and our friend Florent. At the airport in Roissy, there are more controls than usual : we have to wake the laptops, cameras, even lenses from our bags !! And so it is in Minneapolis. At last we arrive in Las Vegas at 5:20 pm local time. We get our luggage and our car. We then move to the hotel (Super 8 on Koval Lane), and to the Caesar's Palace to eat at the buffet.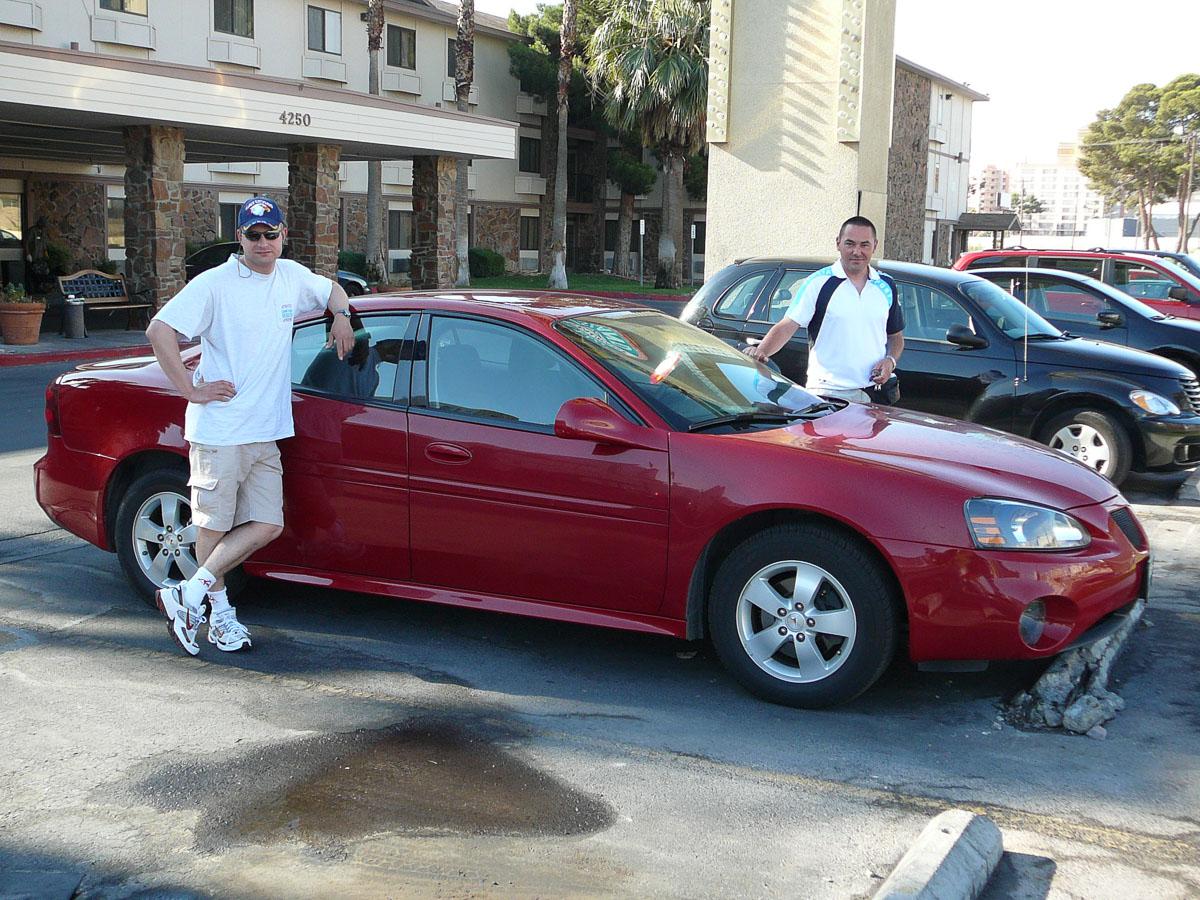 We then move to the hotel (Super 8 on Koval Lane), and to the Caesar's Palace to eat at the buffet.
Tuesday June 2nd : departure for Zion NP. We start by booking a room at the Terrace Brook Lodge in Springdale. We buy the annual pass (80 $) that will allow us to enter every national parks. We then move to the Visitors Center to get informations about the trail to the narrows. According to the ranger, there is a lot of water. We decide not to hike this trail and prefer the "Emerald pool" trail, 5km round trip. A shuttle drives us to the beginning of the trail at Zion Lodge. This loop is quite nice, because it's in the woods The temperature is so a little cooler !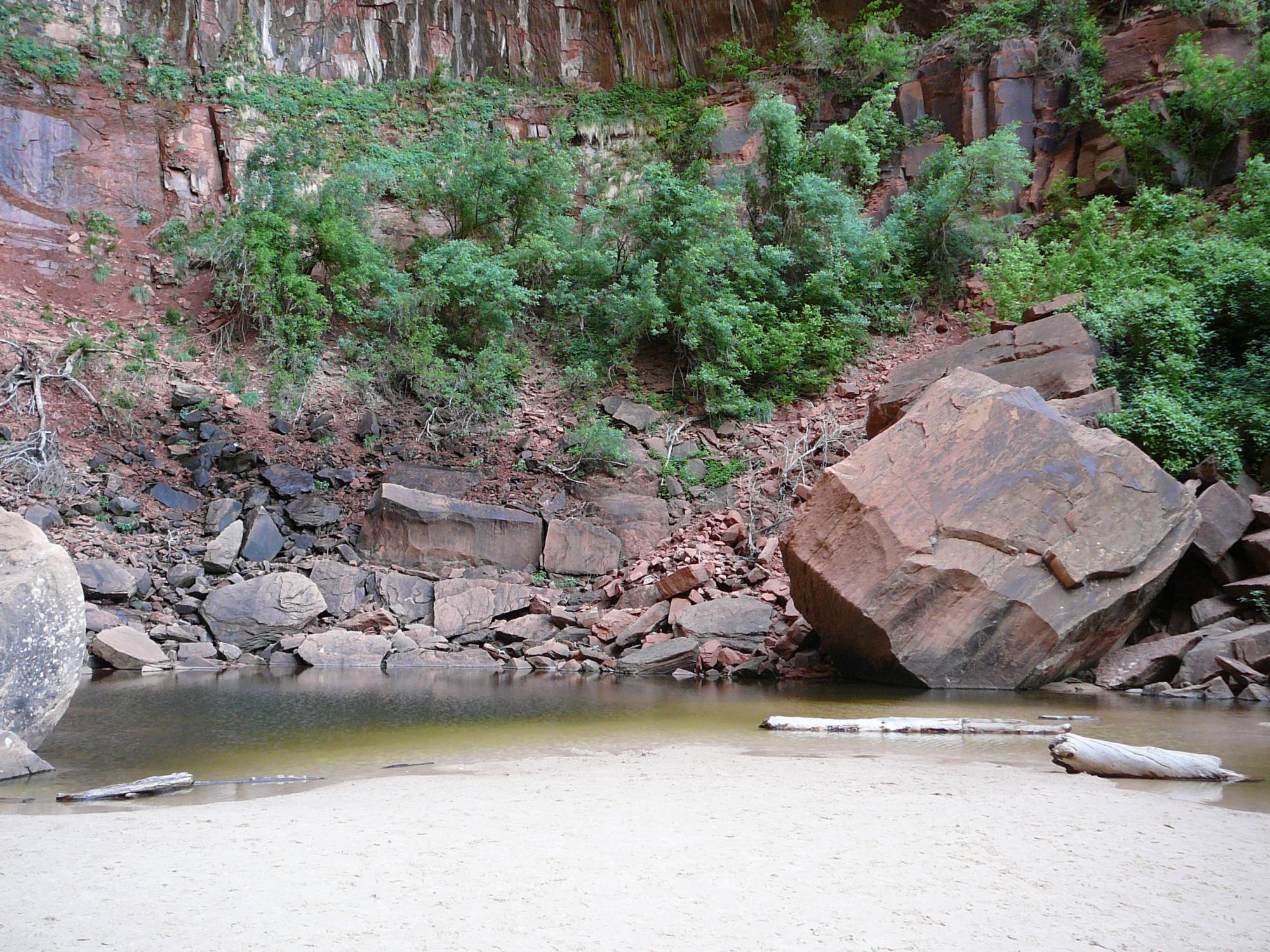 We still have time to walk on the "Paru's Trail" from Canyon Junction to the Visitor Center, about 2 miles along the Virgin River.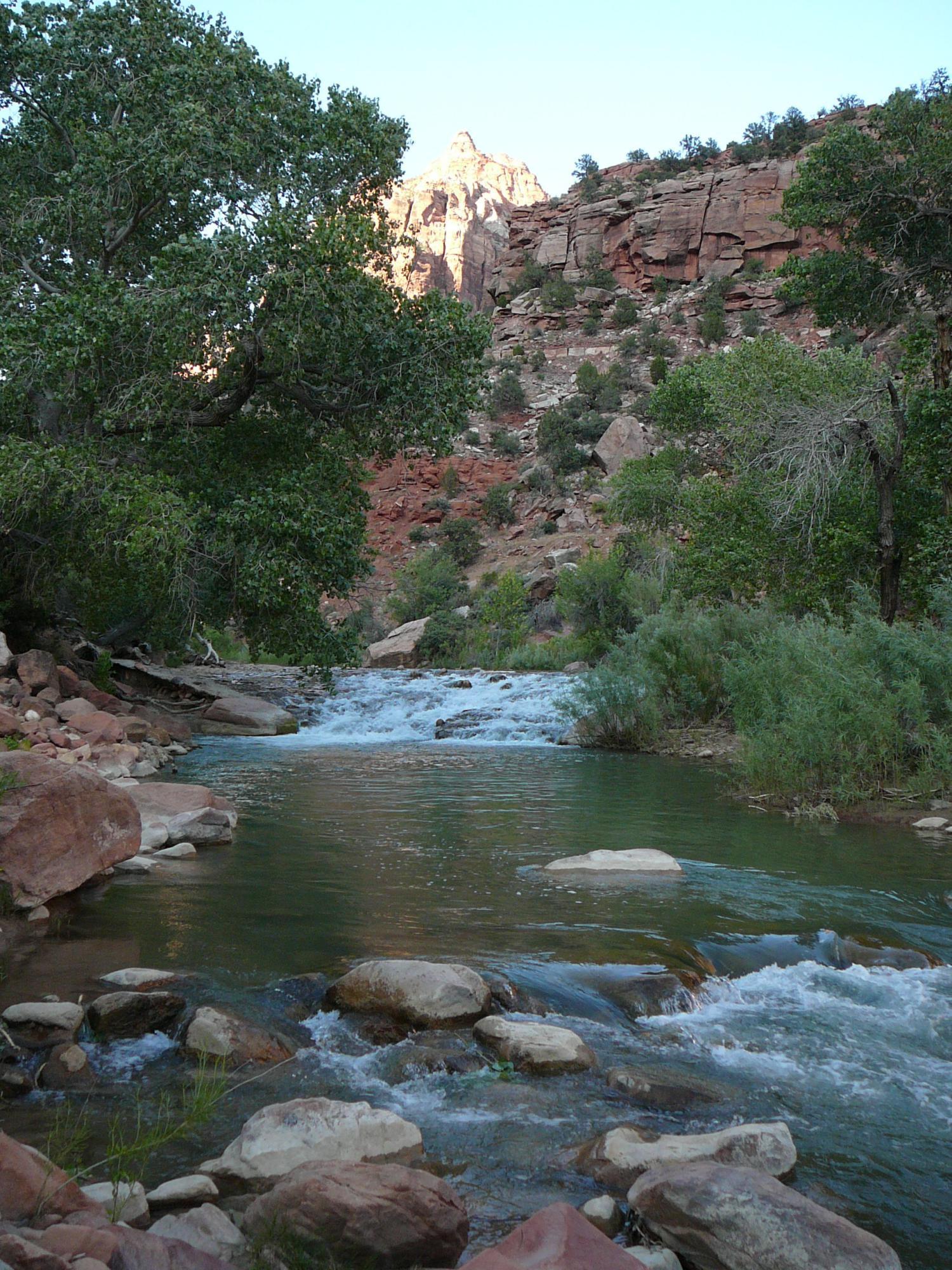 Wednesday June 3rd : today, direction Kanarraville to see the cascade of Kanarra Creek. At first, it climbs a bit and then you end up in the forest. The path is not indicated, one sometimes wonders if we are on track. We must follow the river and cross it several times to make the best track, cut a path through the trees and rocks. We avoid putting foot in the water, but for the last 30 meters, as we enter the canyon and hear the famous waterfall, there are no more corners of 'beach'. We are thus obliged to set foot in the water and have no regrets because Kanarra Creek is beautiful.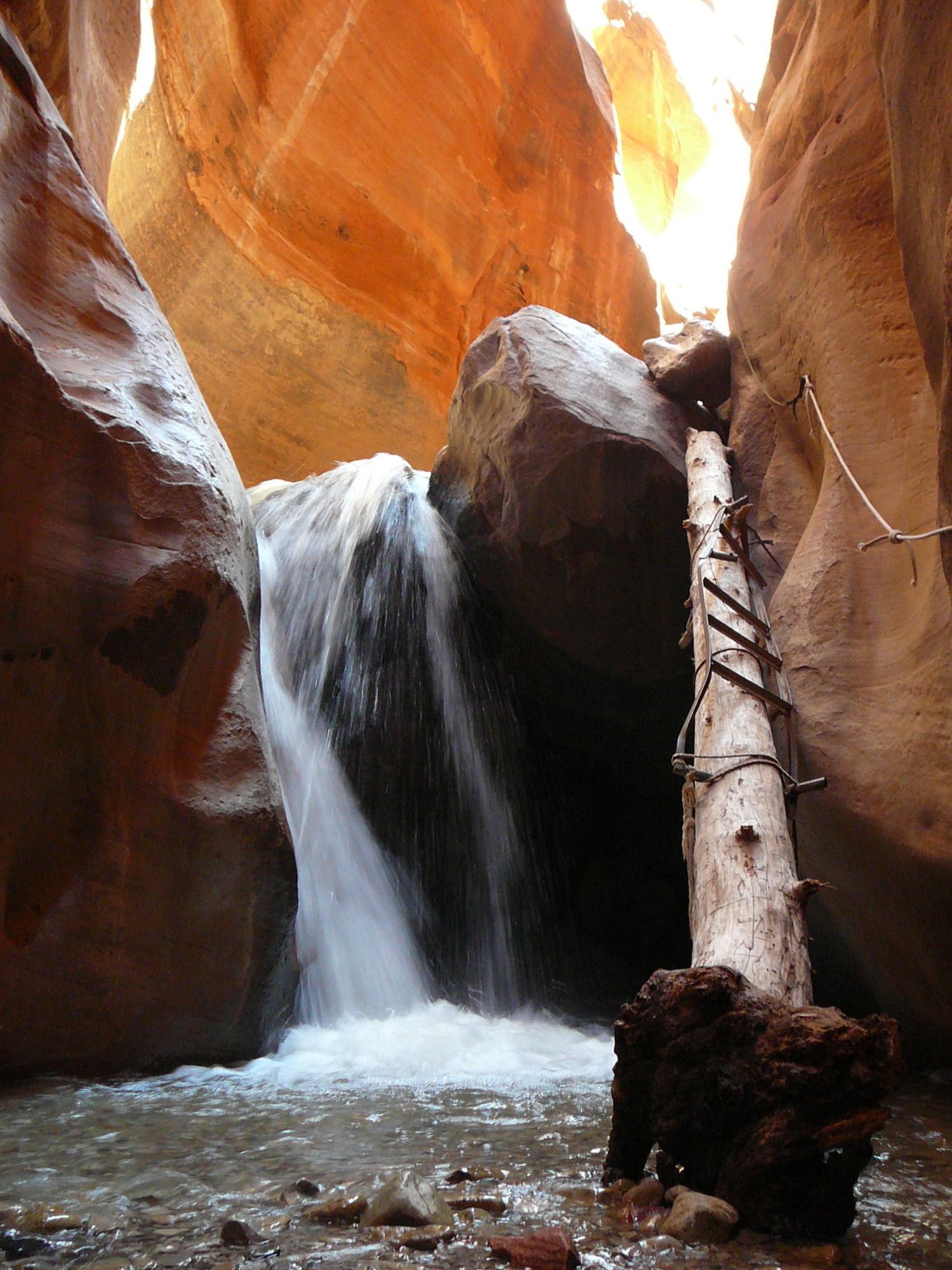 We hesitate to climb the ladder on the side of the waterfall to see two other cascades but the back down by that scale does not reassure us, it looks very slippery. Furthermore, we must join Page tonight. We therefore turn around. This time, we don't hesitate to put feet in the water as they are already wet. With the heat, hiking boots will dry quickly. Walking in the water, the return seems faster! We made about 6 miles round trip. We get the car and head towards Page. We find our American friends, Richard and Wendy at Wahweap Campground. 
Thursday june 4 : we have planned for today a walk to Cathedral Wash. It is a slot canyon that leads to the Colorado River (6 kms round-trip). The beginning is pretty easy because it is flat but then we have to climb on the rocks. It is sometimes quite steep.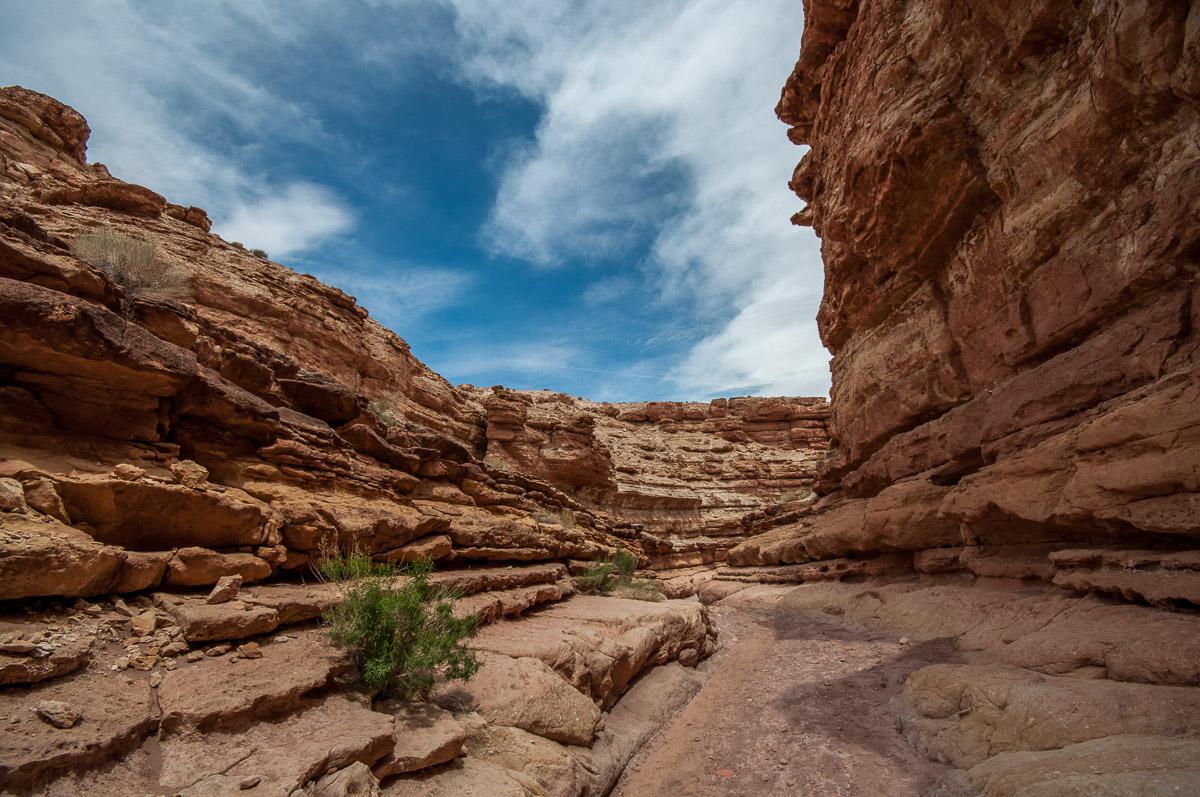 What refreshment on arrival! We are all alone. Not a single tourist. That's fun! Colorado is very beautiful but very cold too!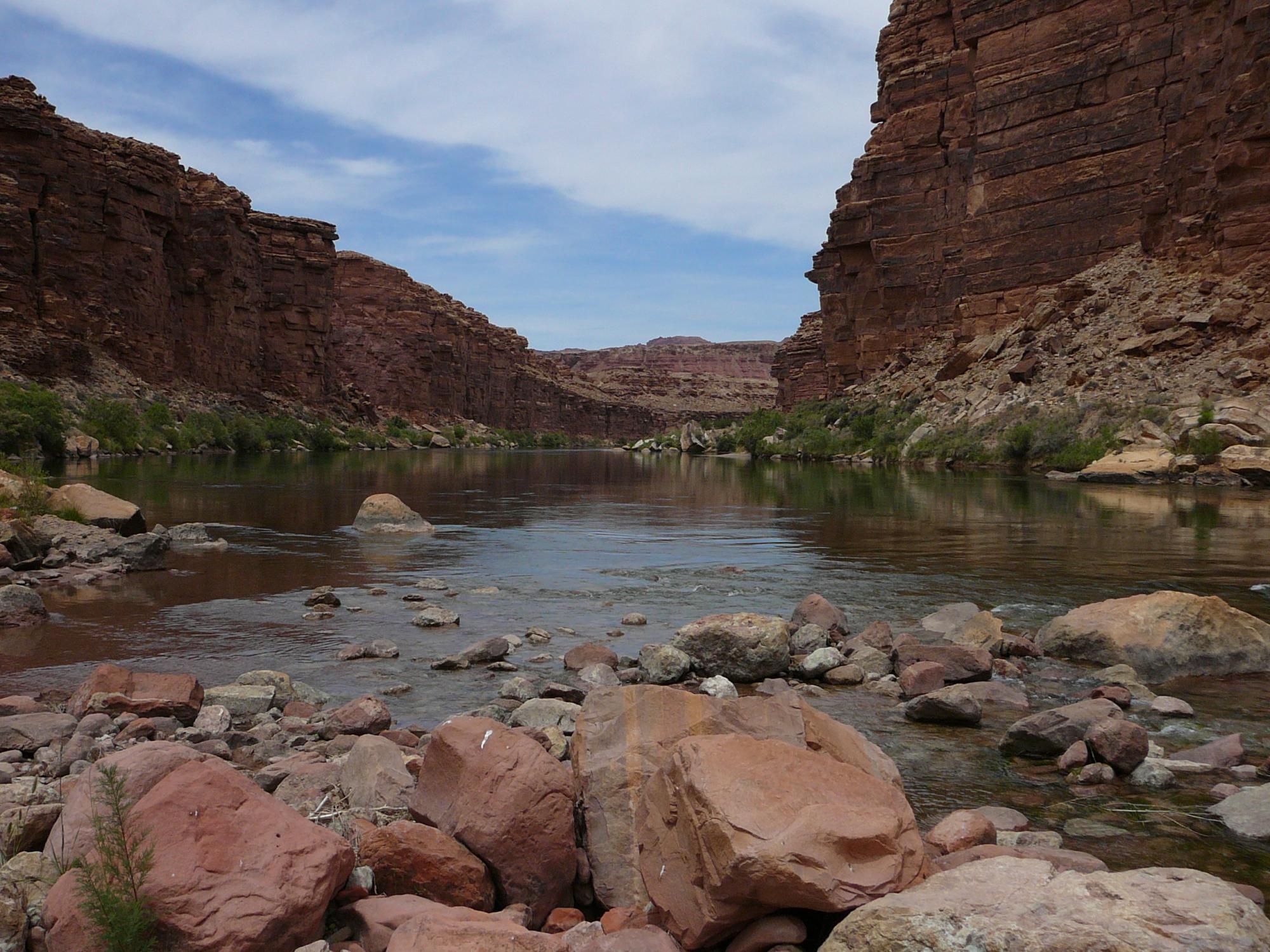 Dipped your feet, calves but it stops there! We go back and we then go to Lees Ferry. Some rafts are preparing to leave for several days.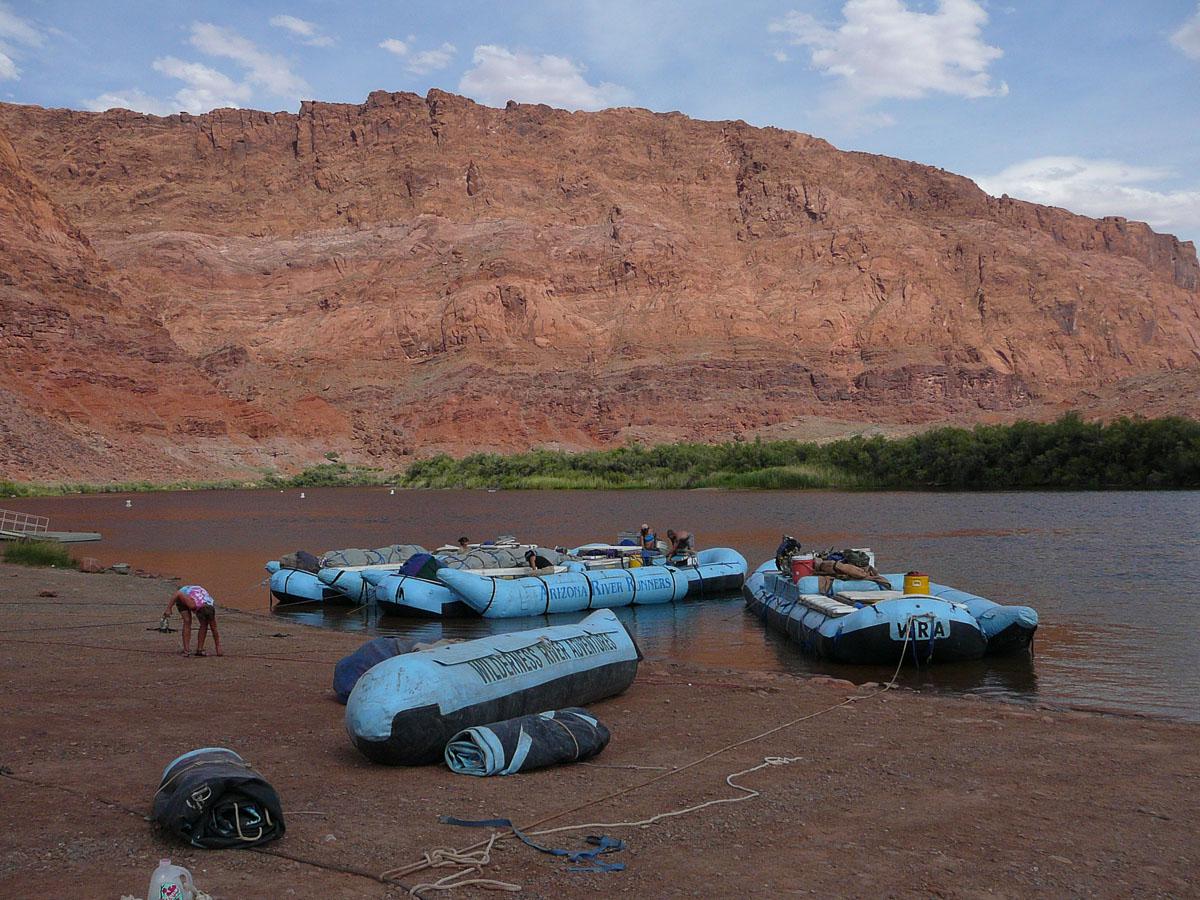 We then relax in the pool at the marina.
Friday June 5 : we head to Waterholes Canyon after purchasing a permit at Upper Antelope Canyon: $ 5 per person. We are heading south on road 98, a small parking lot marks the entrance.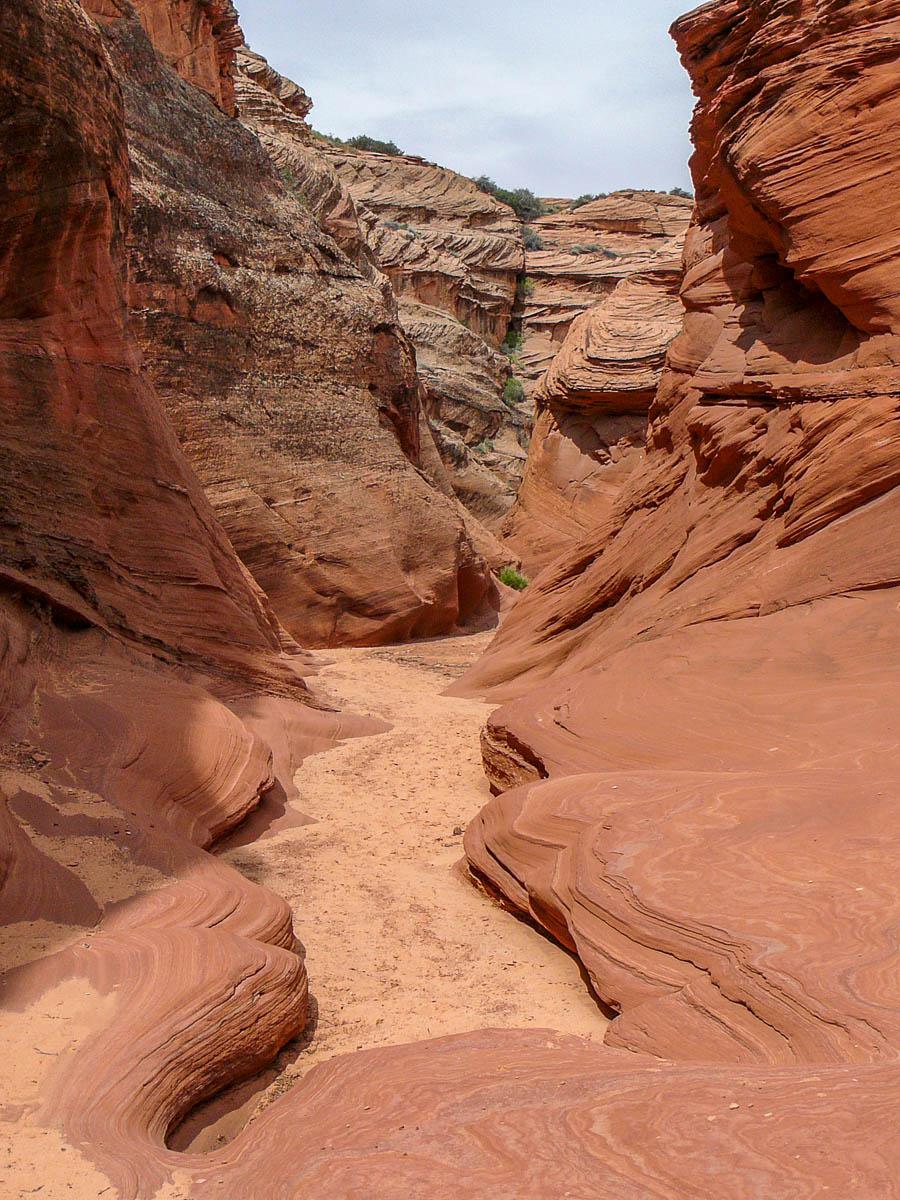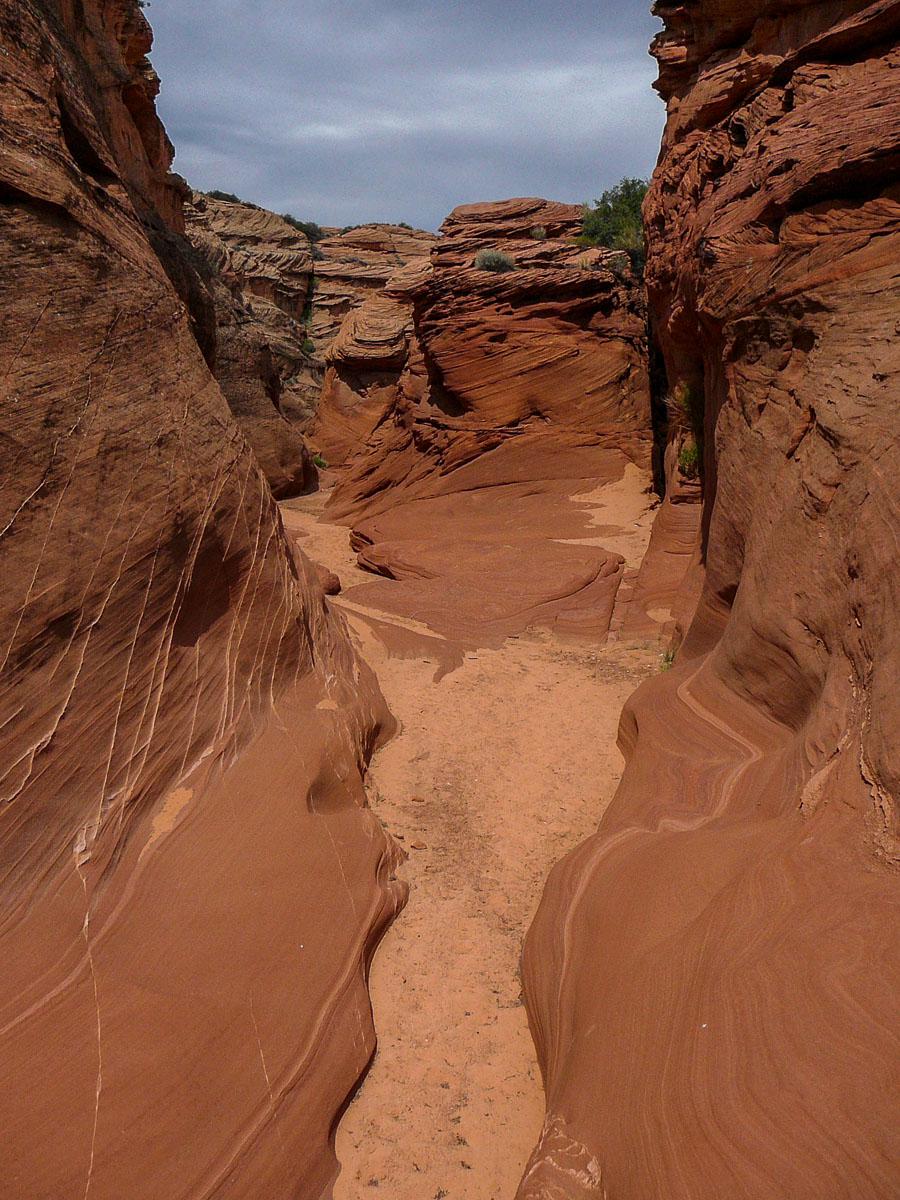 After this walk, we go to Horseshoe. There are a lot of wind.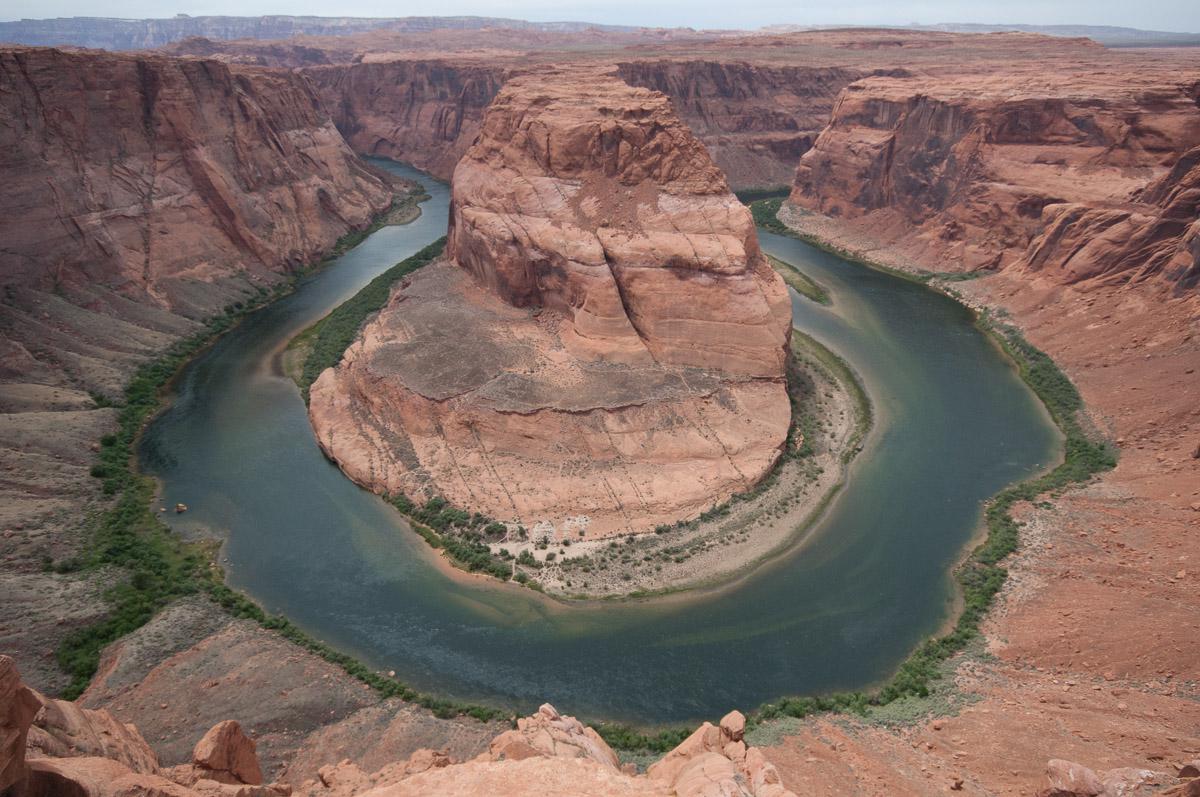 We go back to the campsite in the early afternoon. There we eat and have relaxation at the pool. In the evening, Richard and Wendy take us on a restaurant in the desert. It is a cowboy restaurant, the Paria Outpost, only open the first weekend of each month. It is located on Highway 89 about 30 minutes from Wahweap Campground. This is a great place: the beef is excellent ! The smoked chicken is also very good. And it's buffet for $ 17 and there is a small group of musicians.
Saturday June 6 : we have the breakfast at the marina. Not to be missed ! At midday, we go to Upper Antelope Canyon, 6 $ for the permit + entrance fee of 25. That makes 31 $ per person. It's very expansive, crowdy and we don't have much time in the canyon.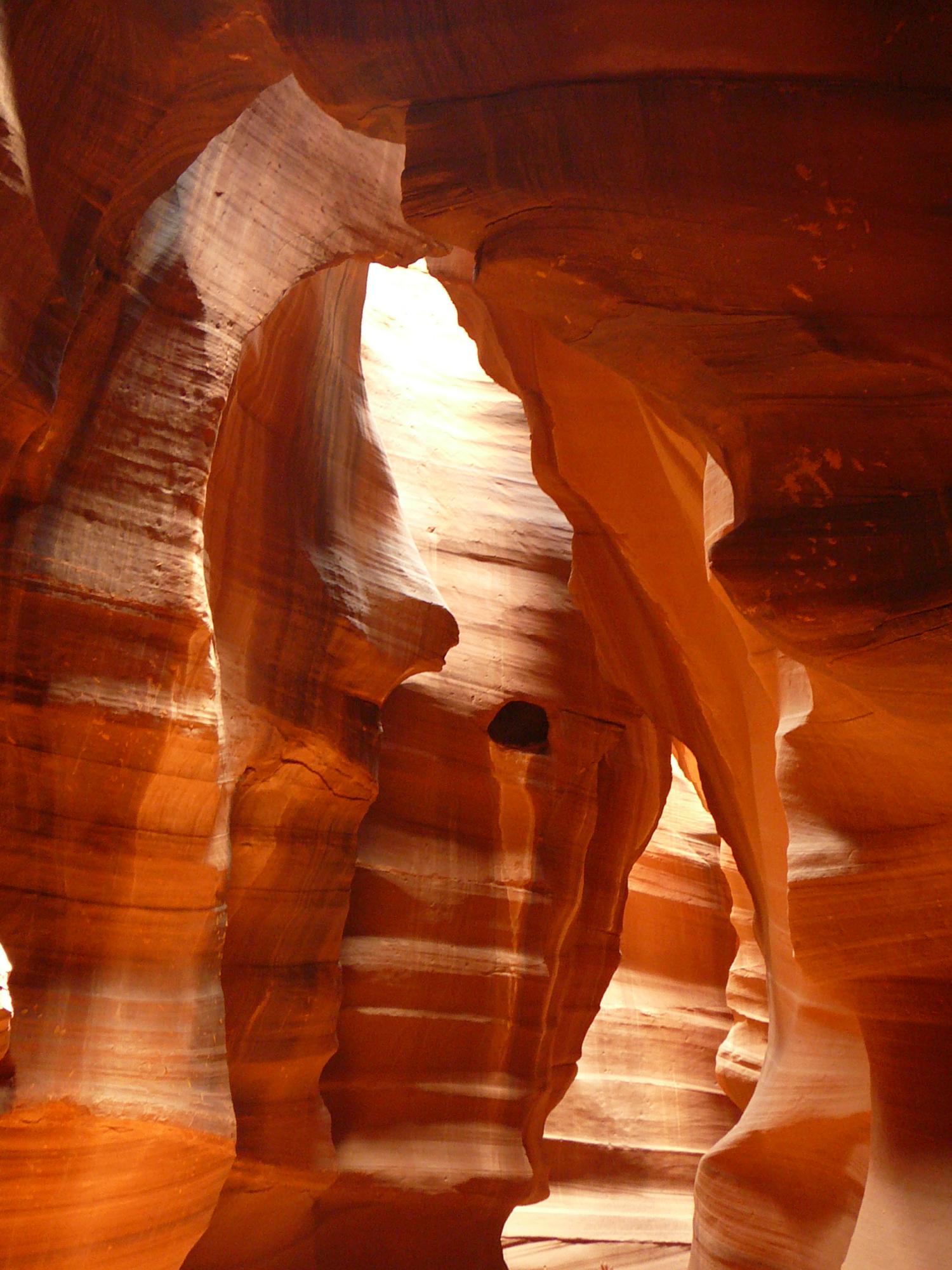 There also is a lot of sand falling in the canyon : not very good for the cameras. We then go back to horseshoe bend. The light is much better than yesterday and there are no more wind. We have our dinner in a restaurant located at Antelope Point. It's a restaurant on the lake. And the only access is by using the pontoons. That's pretty cool.
Sunday June 7 : departure from Page to the State of Colorado. Around 12:30, we stop at Four Corners. It is a tourist site where four states meet: Colorado, Utah, Arizona and New Mexico. Bad luck, it belongs to the Indians, so there is an entrance fee of 3 $!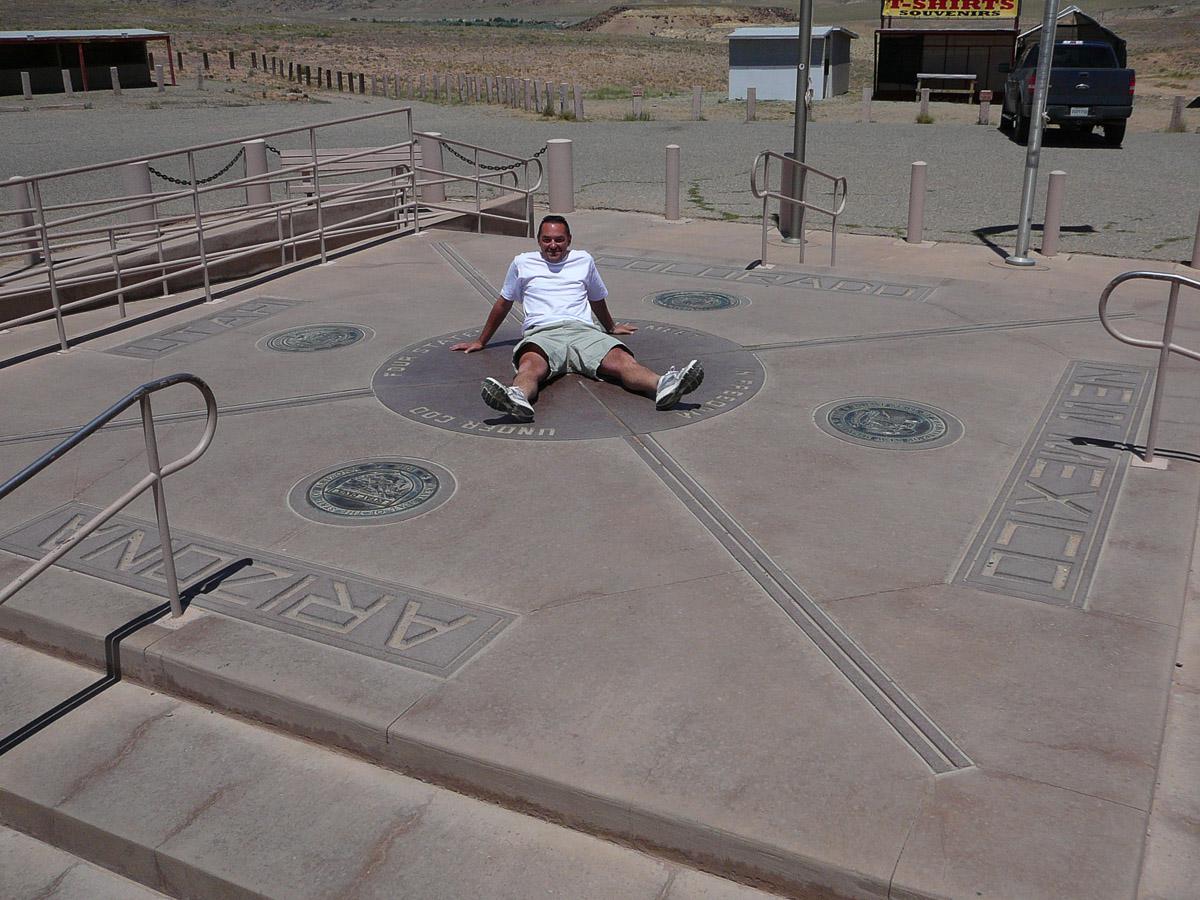 We arrive at South Fork in the late afternoon and we stop at Rainbow Lodge. The receptionist first announces a chamber for 3 to 105 $. Seeing our hesitation, she drops the price to $ 94 and finally to $ 84. The room is nice and the beds are separated in two rooms. Compared with Page, he is not very hot here, just 20 degrees and windy. It is 2700 meters.
Monday June 8 : it is cool this morning, we emerged pants and sweets. We left for the town of Creede, typical old mining town, to see the old mine and the waterfall on the Bachelor Loop. Access was not easy to find and there is work on the road. After a few photos,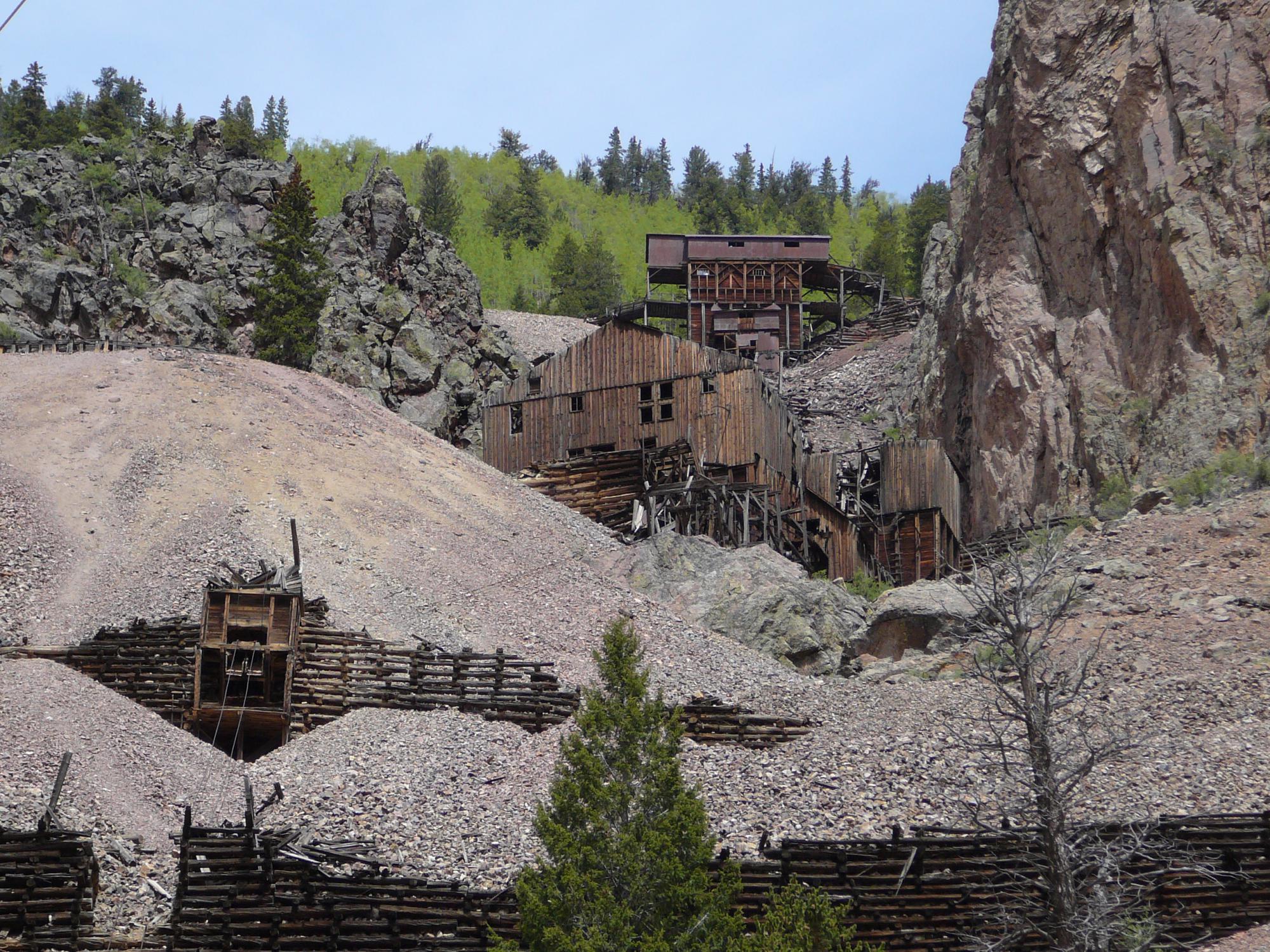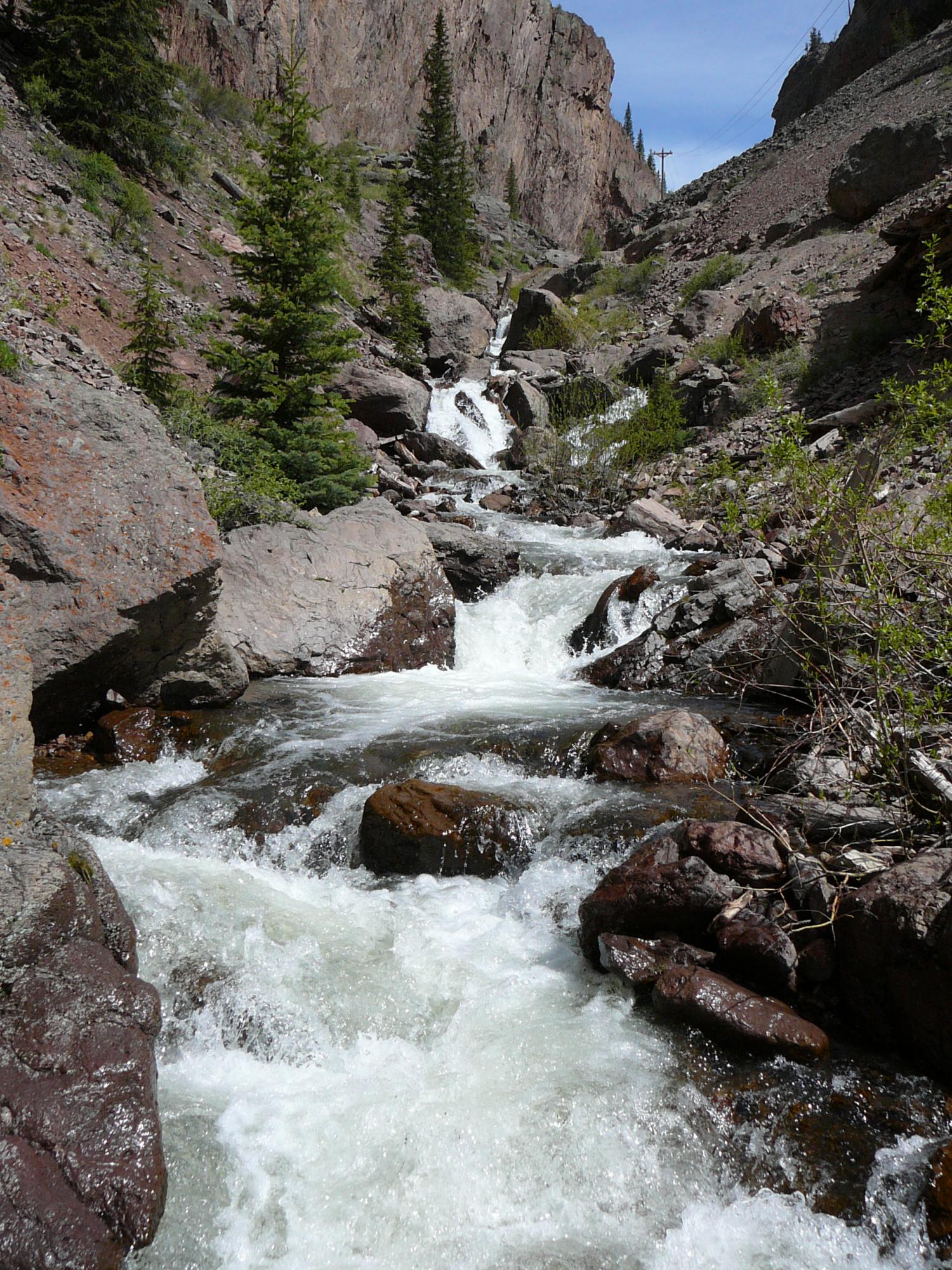 we go in the direction of North Creek Falls on Highway 149. The waterfall is beautiful.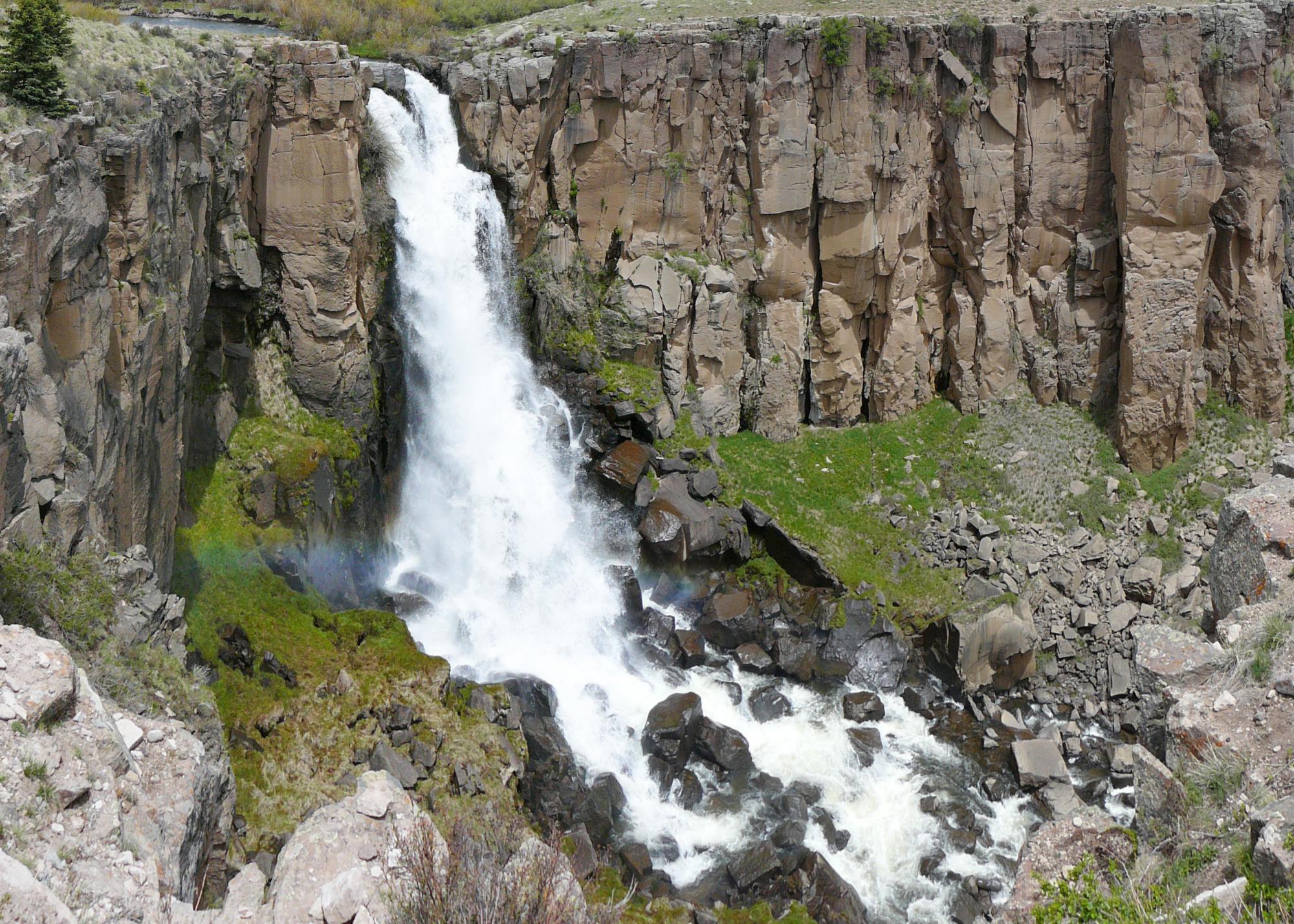 We then head to Alamosa. It is a 2 hours drive. We deposited our stuff at the Super 8 and we are then going to Great Sand Dunes, accessible with the Annual Pass. Just before reaching the dunes, there is a sort of river to cross.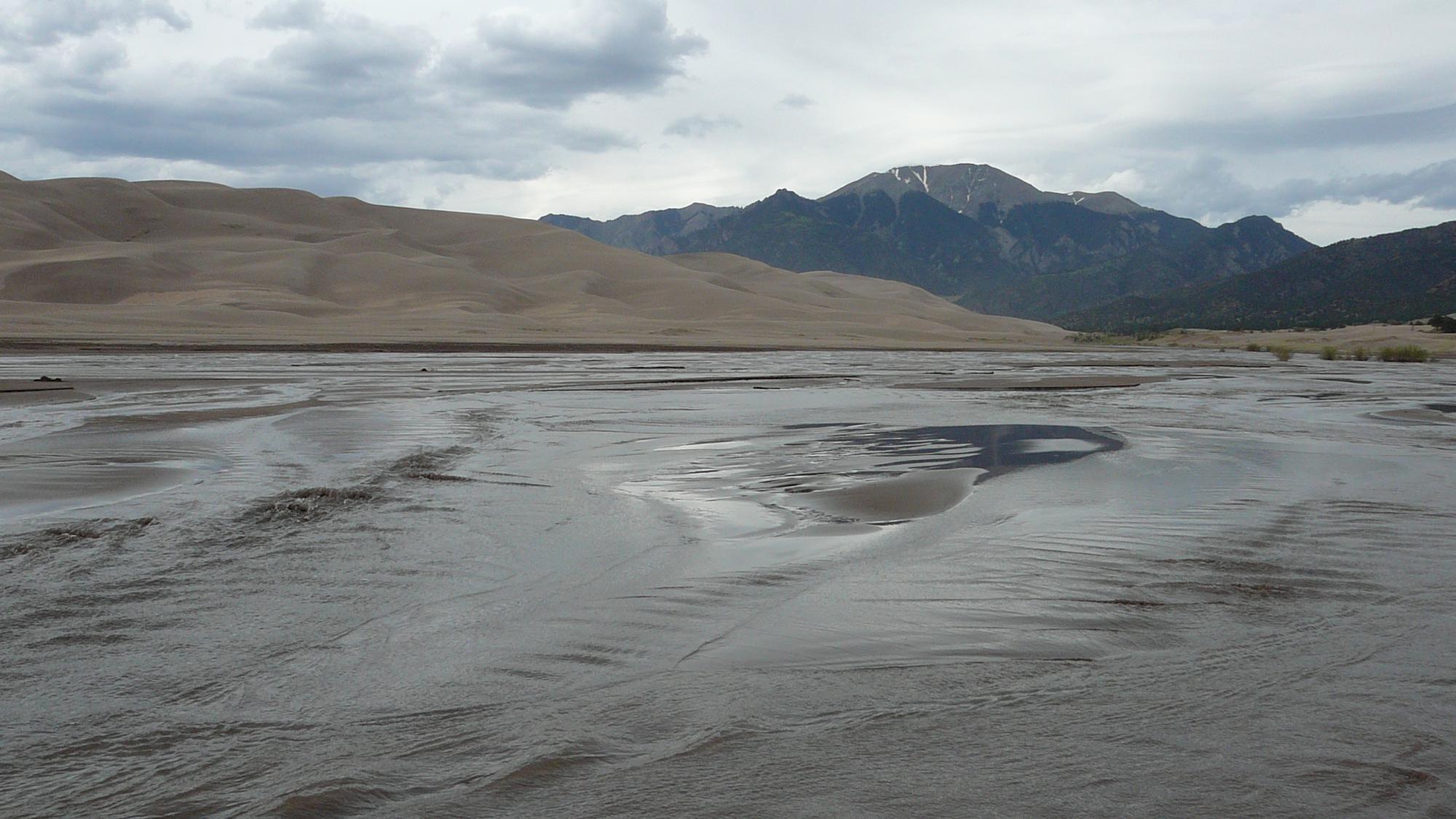 It is not deep but by the time the wind back the waves. Climbing the dunes is not easy. The sand is fine and there was quite windy.
Tuesday June 9 : it's very cold. Only 10 degrees. Today we drive to South Dakota. During the drive we have a lot of rain. We pass our night in Newcastle at the Sundowner Inn (75 $). It's a nice hotel, but cooling of the room is noisy. By luck we find a very good restaurant facing the hotel : the Old Mill Restaurant (on Main Street). It's a western decoration restaurant and the food is very good.
Wednesday June 10 : It's raining and cold. We are heading to Mount Rushmore. Temperature is only 5° and we are on the top of the mountain supposed to lead us to the mount Rushmore. But we are in the fog and we can hardly see the road. Because of the fog we decide not to visit Mount Rushmore and we pass our way, heading to Devil's Tower hoping the weather will be better up there. After a few miles, the weather is not getting better, still raining and foggy. We decide not to visit Devil's. We are frustrated to cancel those two visits. We continue our road to Cody. The road is a pain because of the bad weather and the winding road. We drive slowly and we don't see very well. We have never seen such a weather in the USA !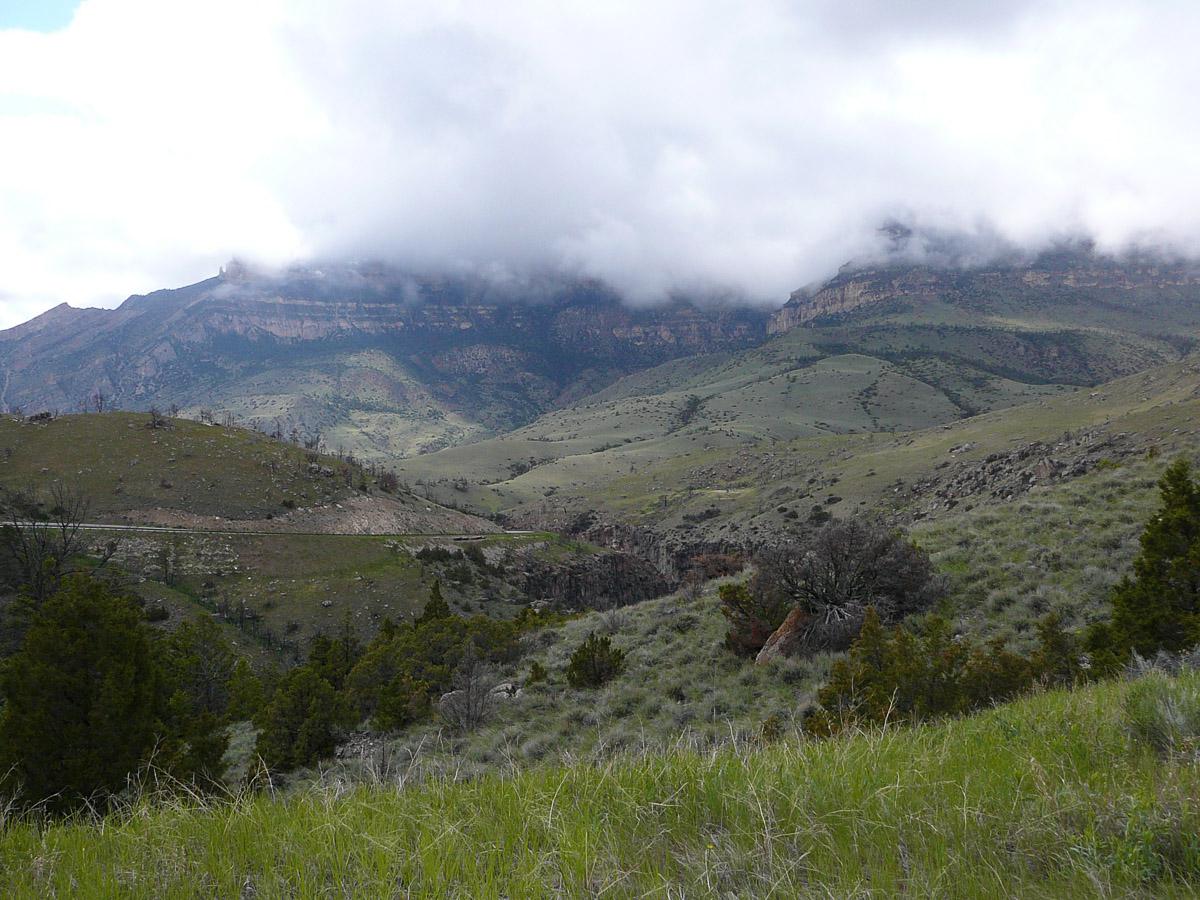 Finally we arrive in Cody at 5:30 pm and we book a room at the Cody Motor Lodge on main street. We also buy tickets for the tonight rodeo (18 $ per person). It starts at 8 and stop at 10 pm. That's pretty. There is rodeo on a horse, on cows, tracks...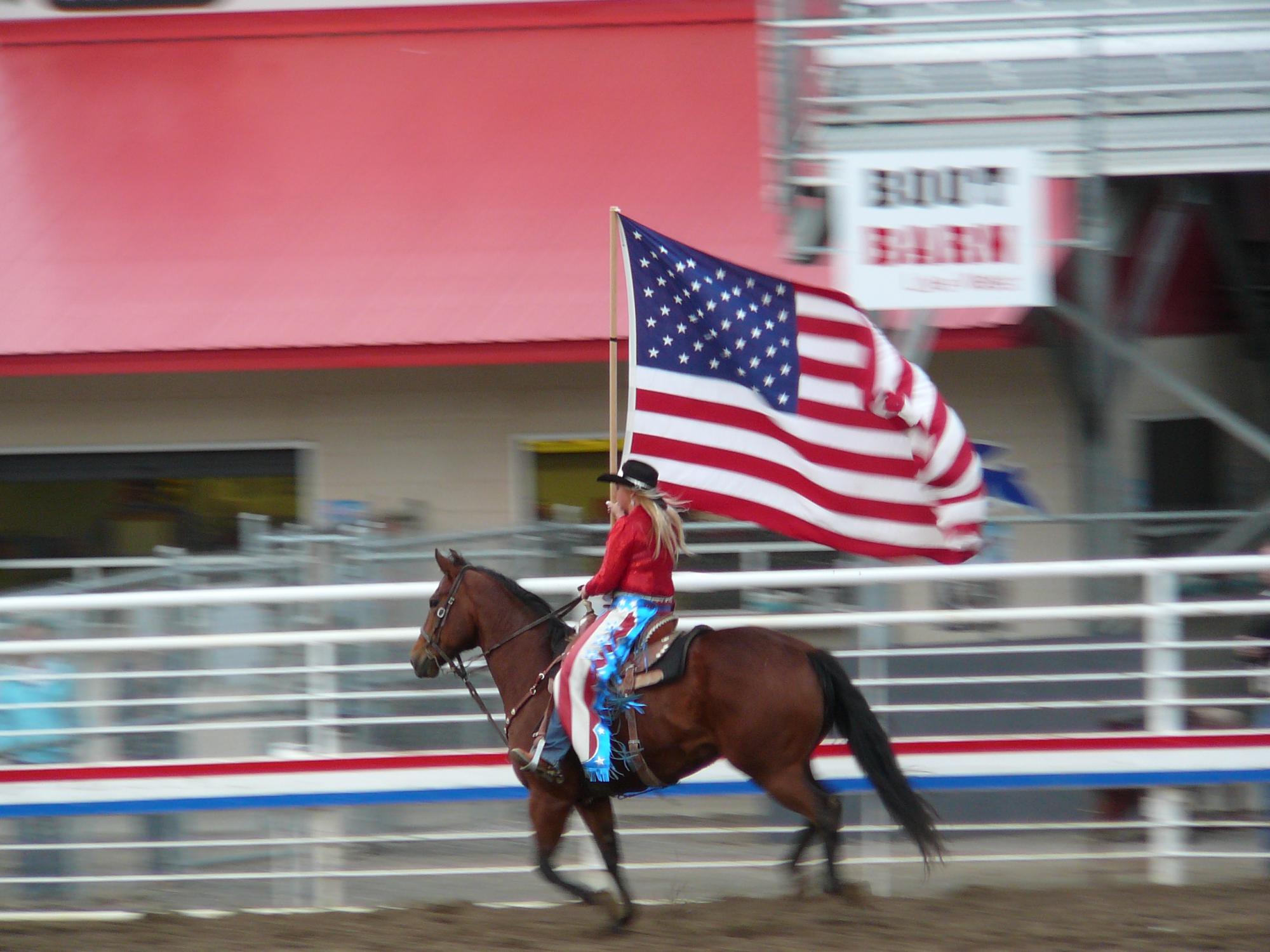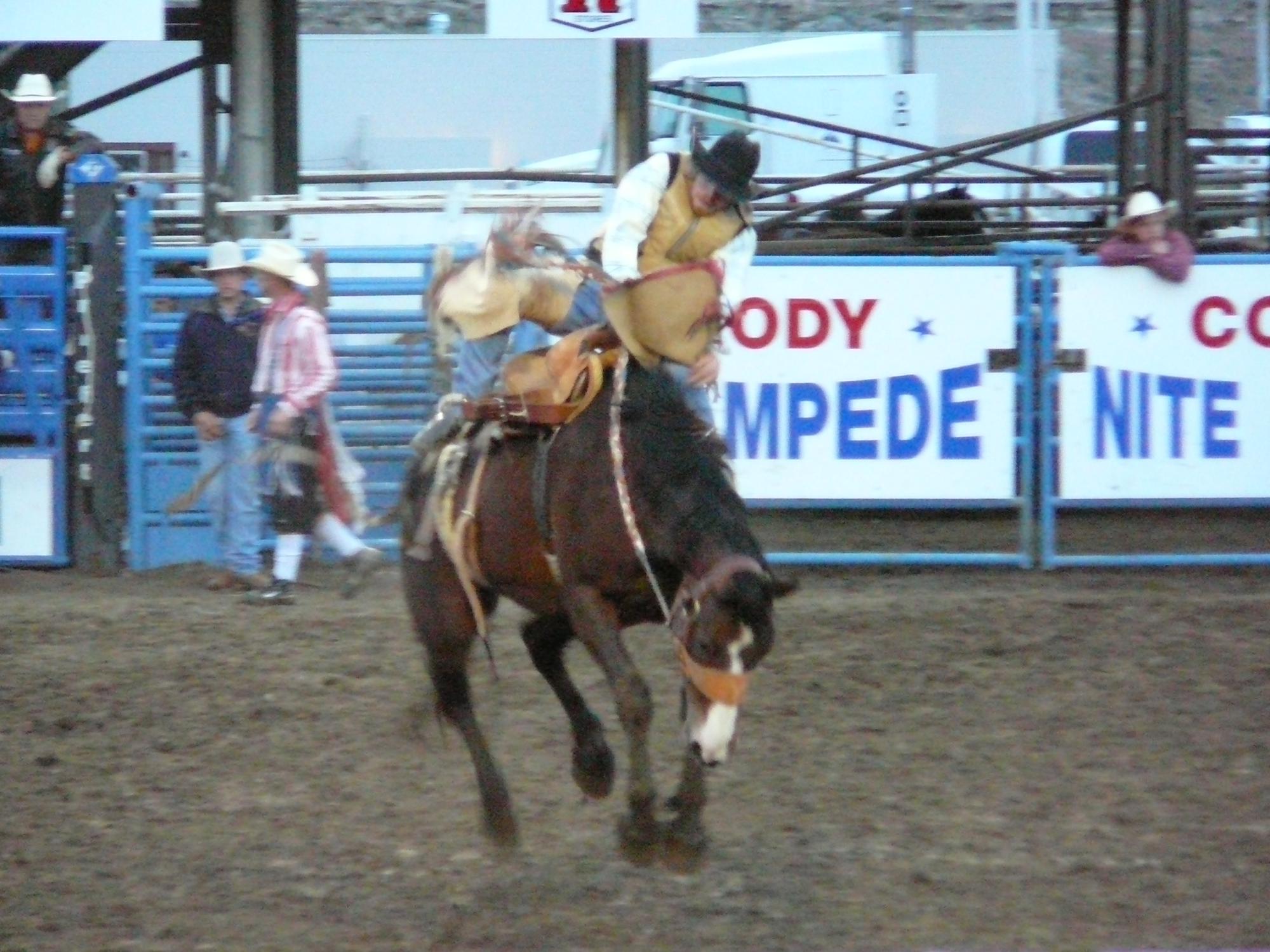 That's cool but it's very cold.
Thursday June 11 : let's have a few shopping in Cody: boots and hat. The town of Cody is very nice, and typically western. We then leave to head to Yellowstone. It's not very hot and the sky is covered. We arrive in Yellowstone and there still is some snow on the ground. Sylvan Lake and Yellowstone Lake are still frozen.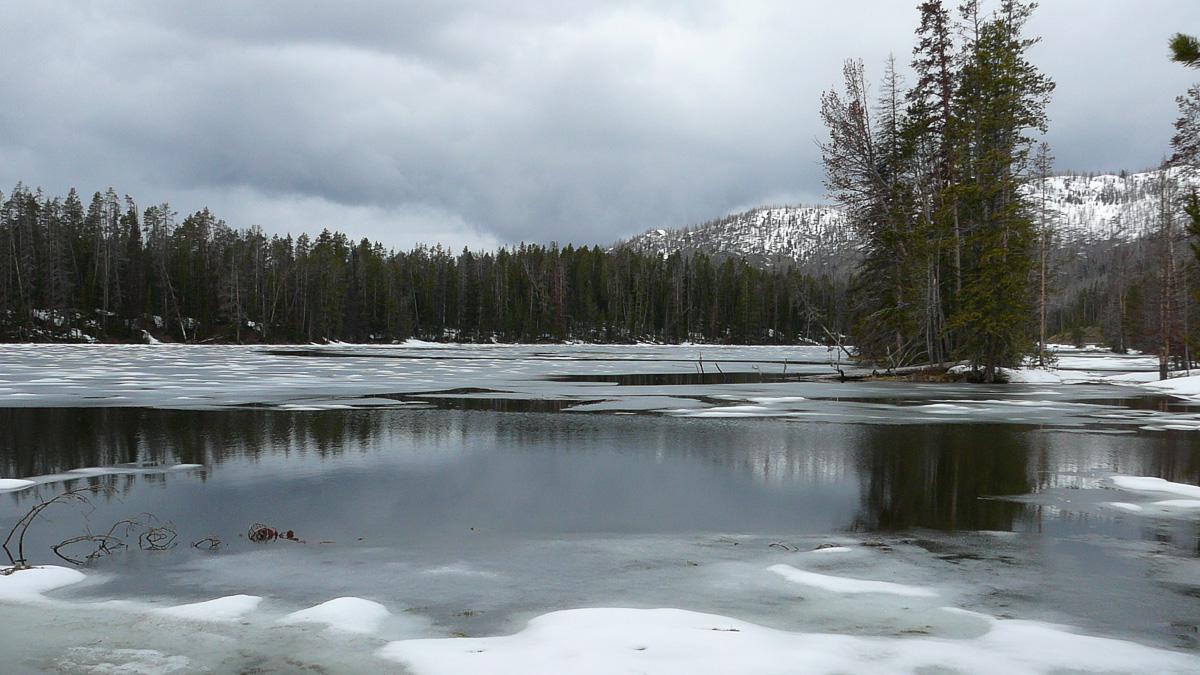 That's beautiful but very cold. We drive again for a few miles and we have a great encounter...2 bears eating.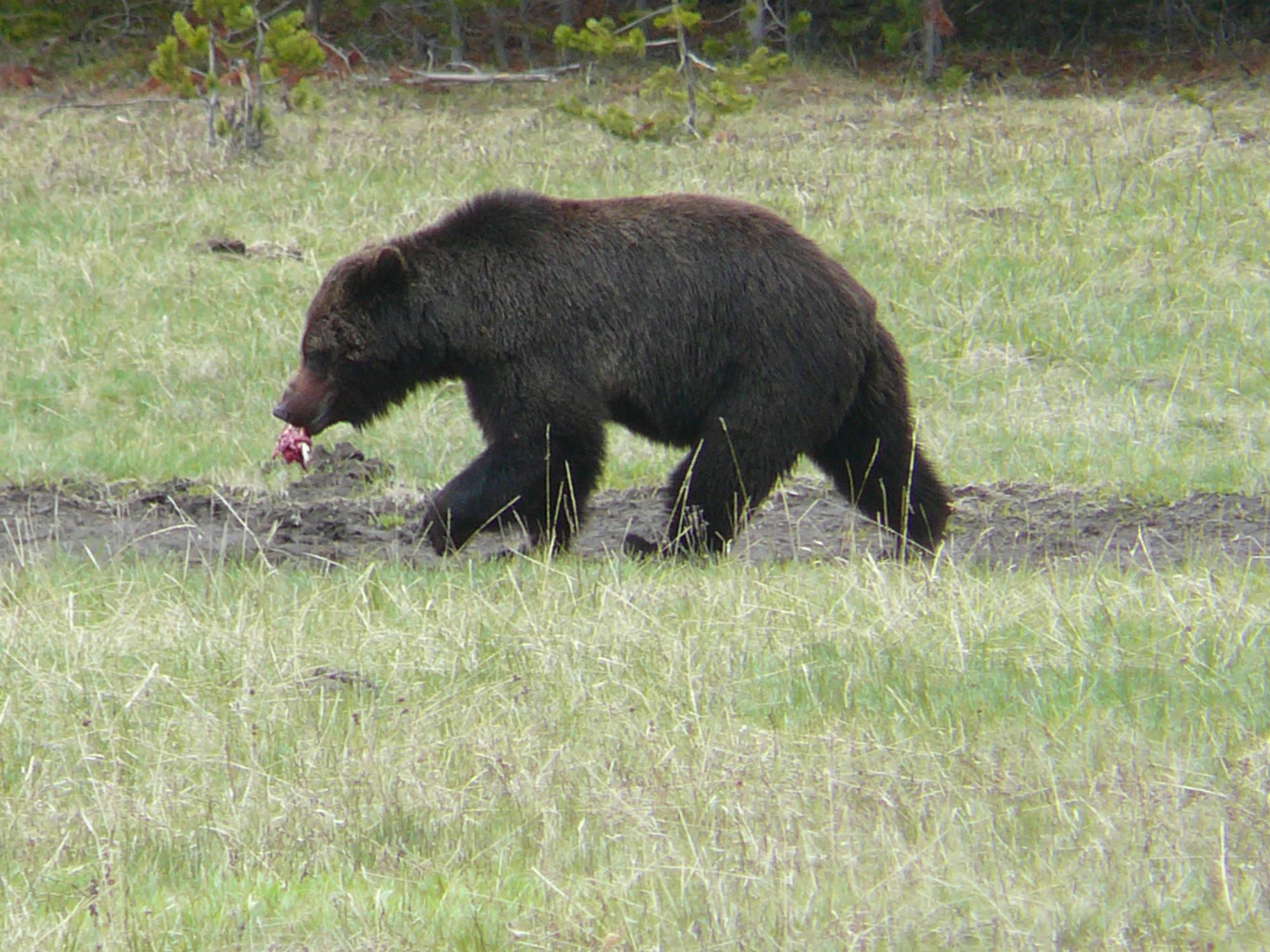 We go to West Yellowstone to book a room at the Madison Hotel. We go back to Yellowstone to see Grand Prismatic from above. We look for the access path. We have to walk for half a mile and climb a small hill. The view from here is magnificent but bad luck the sun is behind the clouds and colours are less beautiful.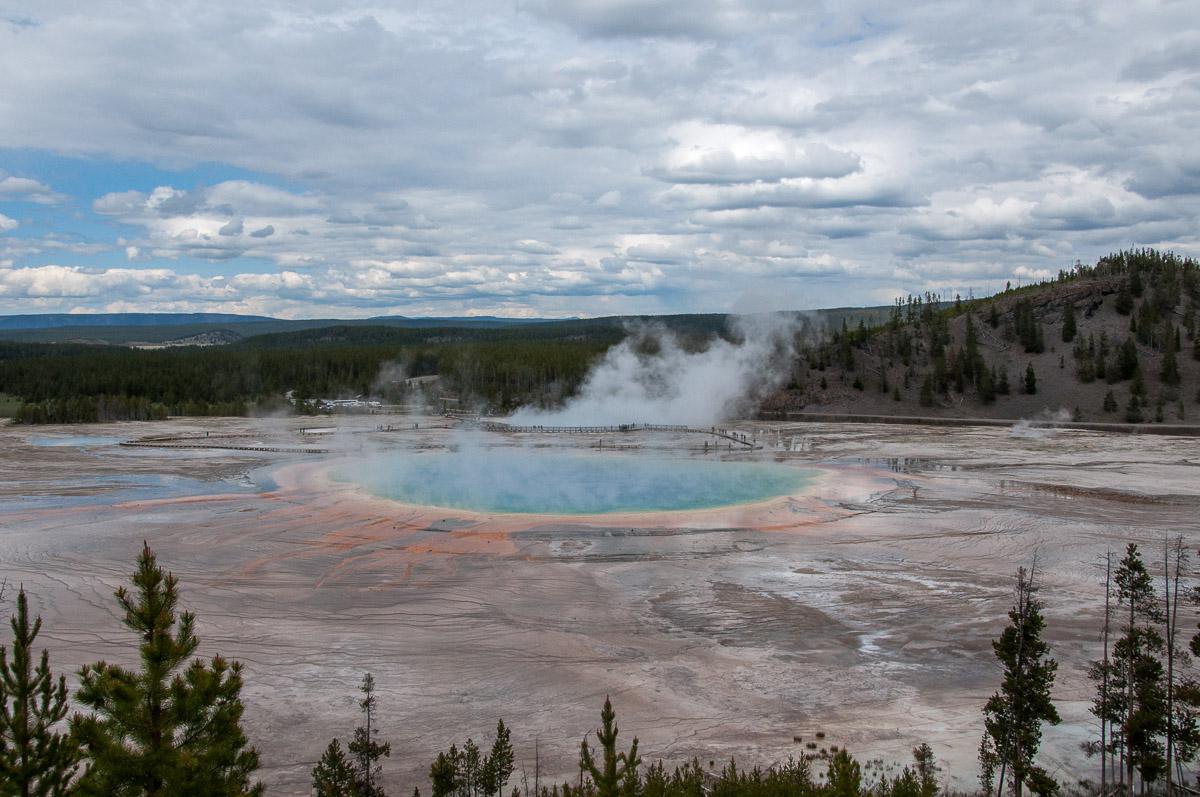 We then go to Midway Geyser, Fountain Painpot, Great Fountain Geyser.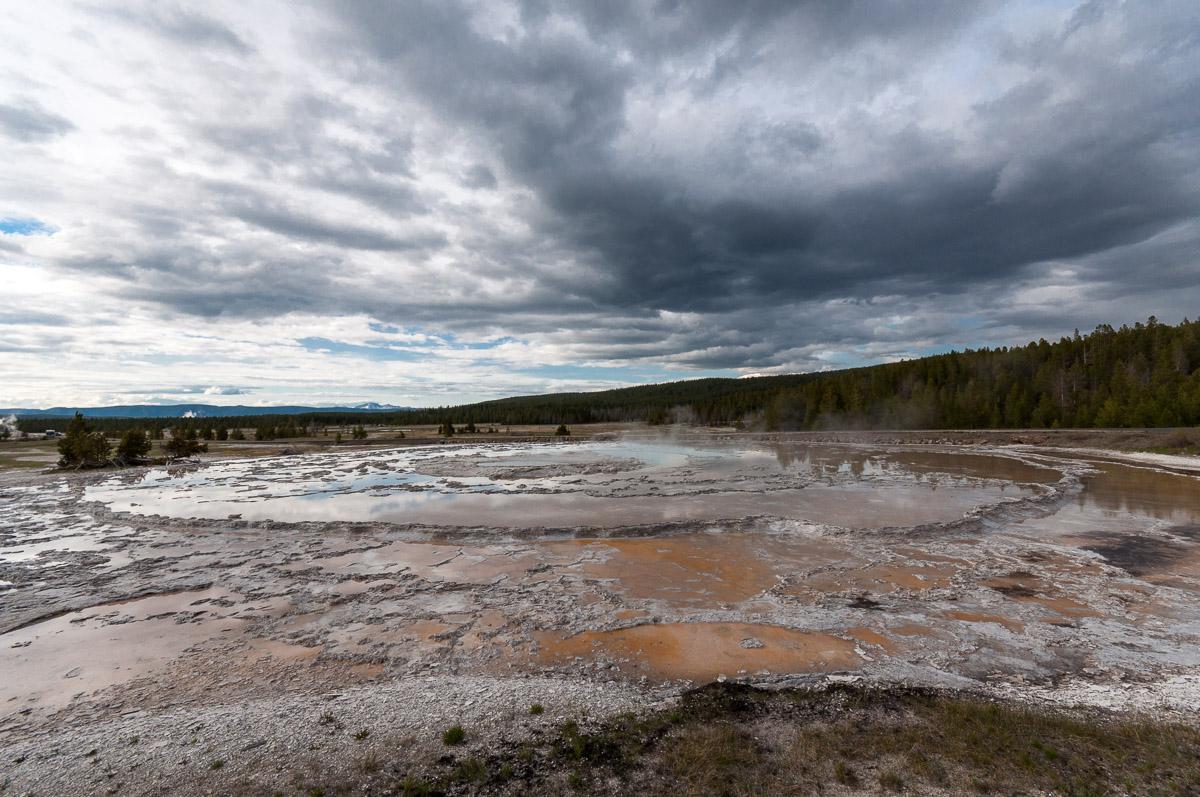 Friday June 12 : we return to Grand Prismatic (from above) to see if the light is better. And again, the sun hides once there, there are even a few drops of rain. After an hour of waiting, the clouds leave a breakthrough to the sun. The colours are beautiful.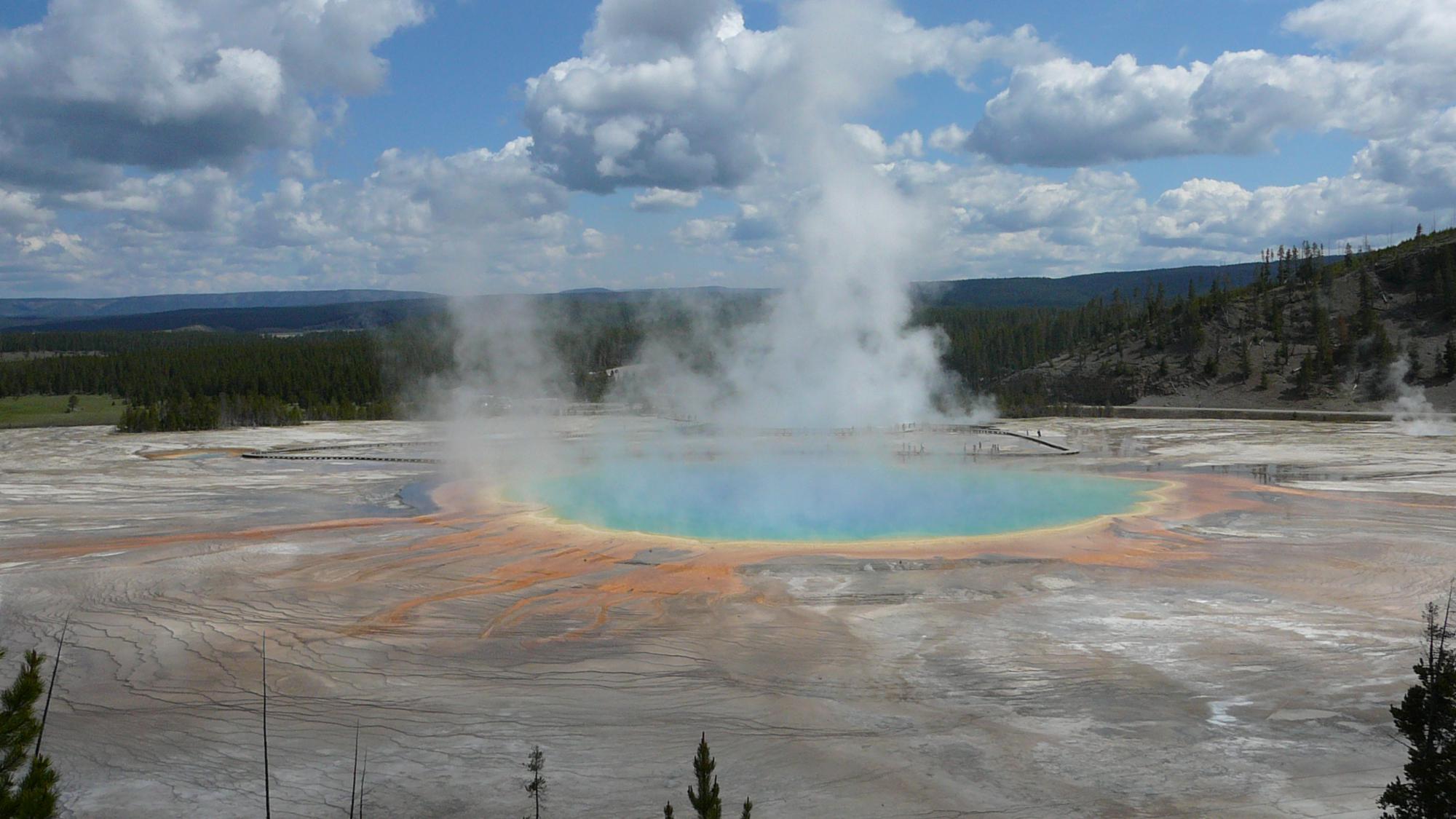 Then we go to Biscuit Basin, Black Sand Basin,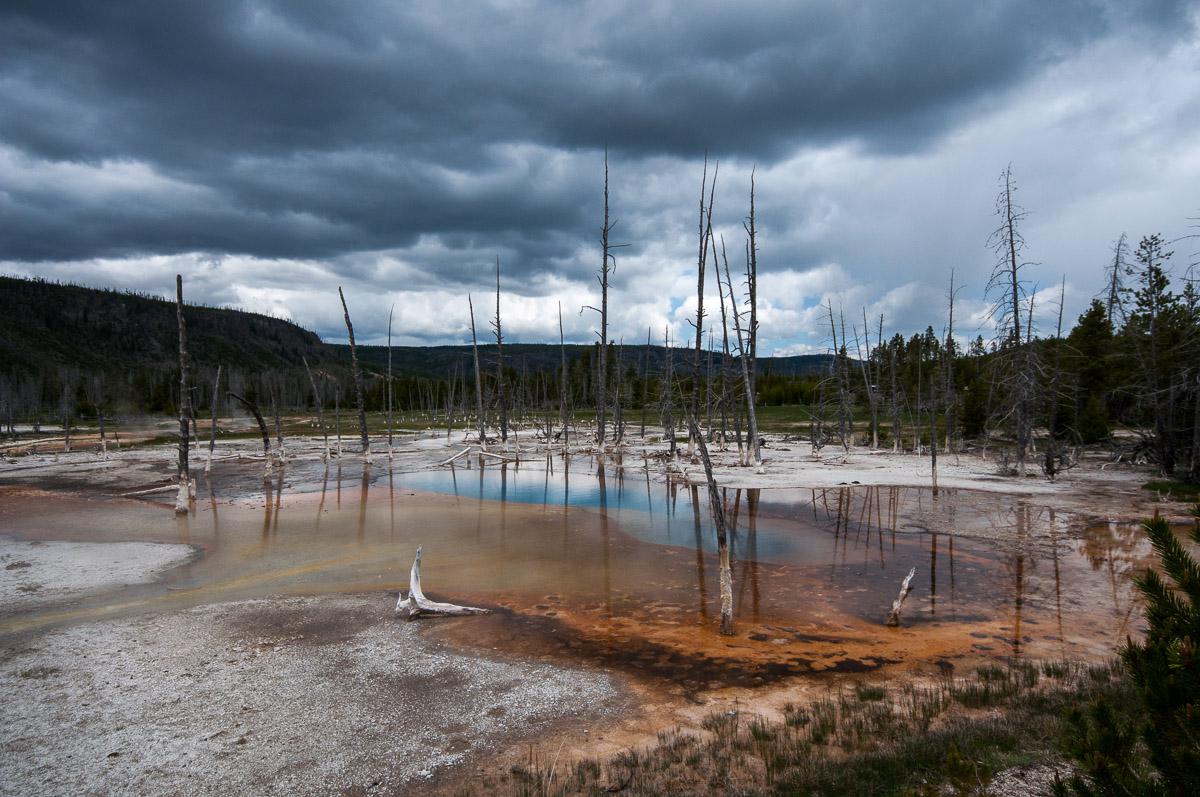 Old Faithful. We wait for the eruption of Old Faithful and it curdles!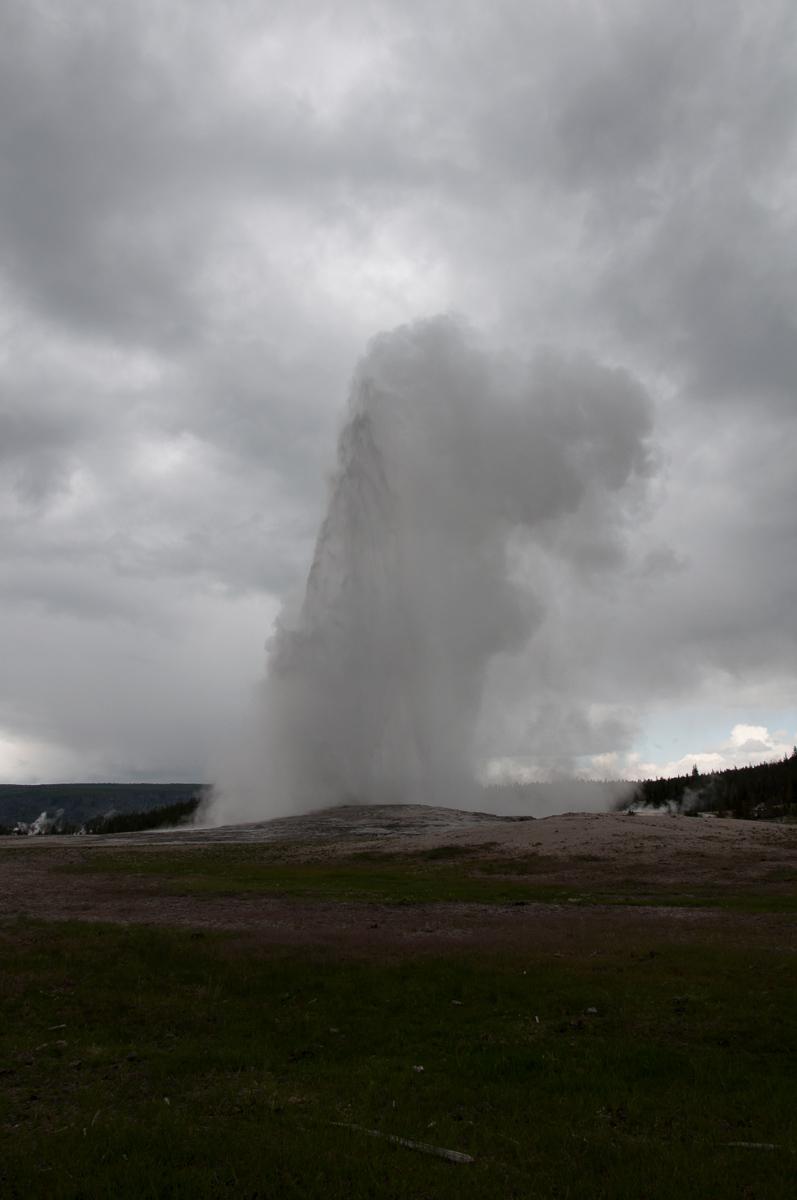 There is a little storm in the distance. It starts to rain. So we will get warm in the building. And we buy windbreaker! Since we can not do much because of the weather, we go back to West Yellowstone with a stop at Firehole Canyon Drive (2 falls).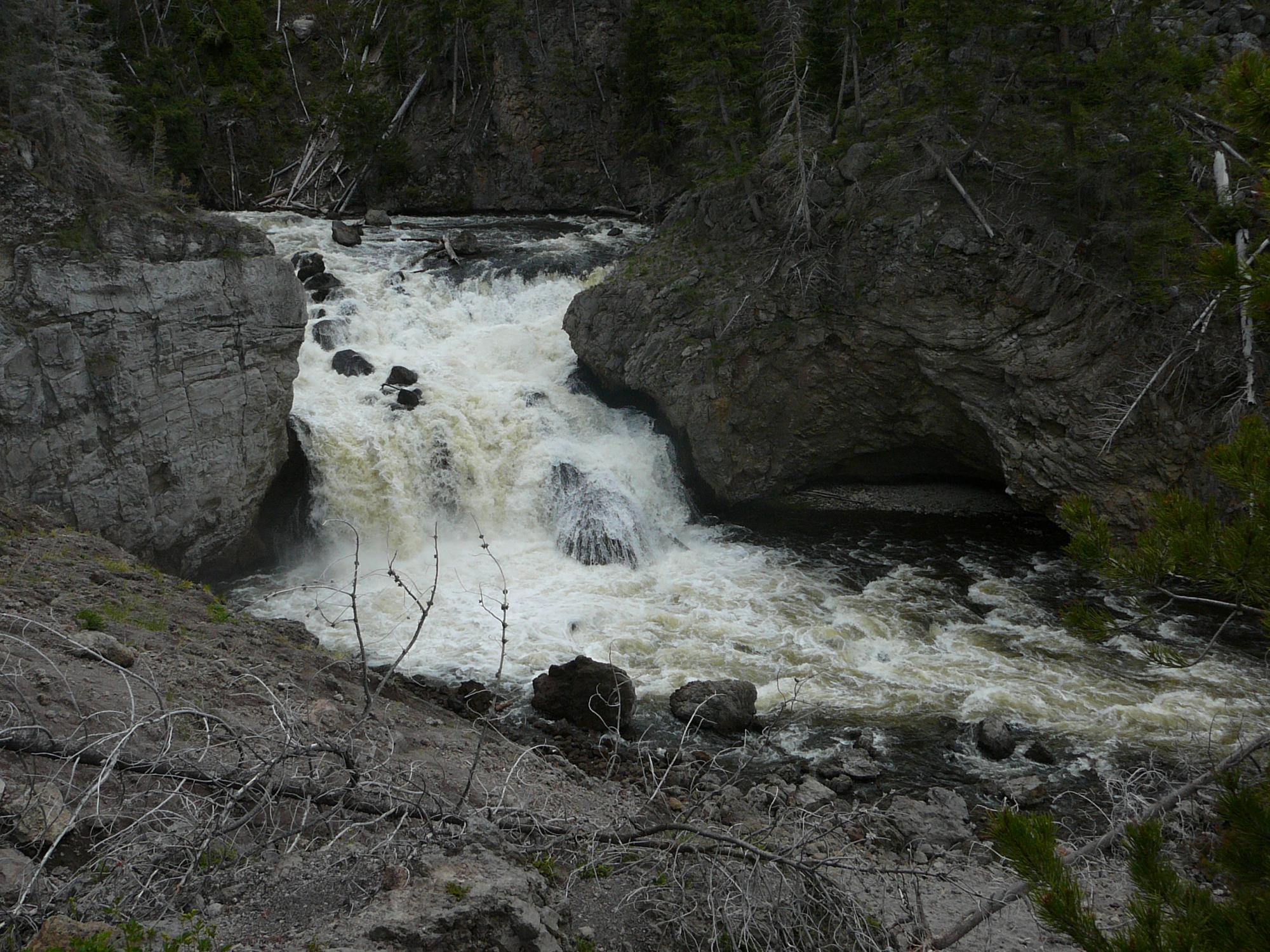 The storm is past, we finally make the trek back to Old Faithful. In the evening we will dine at Bullwinkle's Saloon & Eatery on Madison Avenue. On the menu: Buffalo Burger.
Saturday June 13 : we return to Yellowstone, this time on the side of Mammoth Hot Spring. We stop at Artist Painpots, Norris Geyser Basin. The colors are differents here.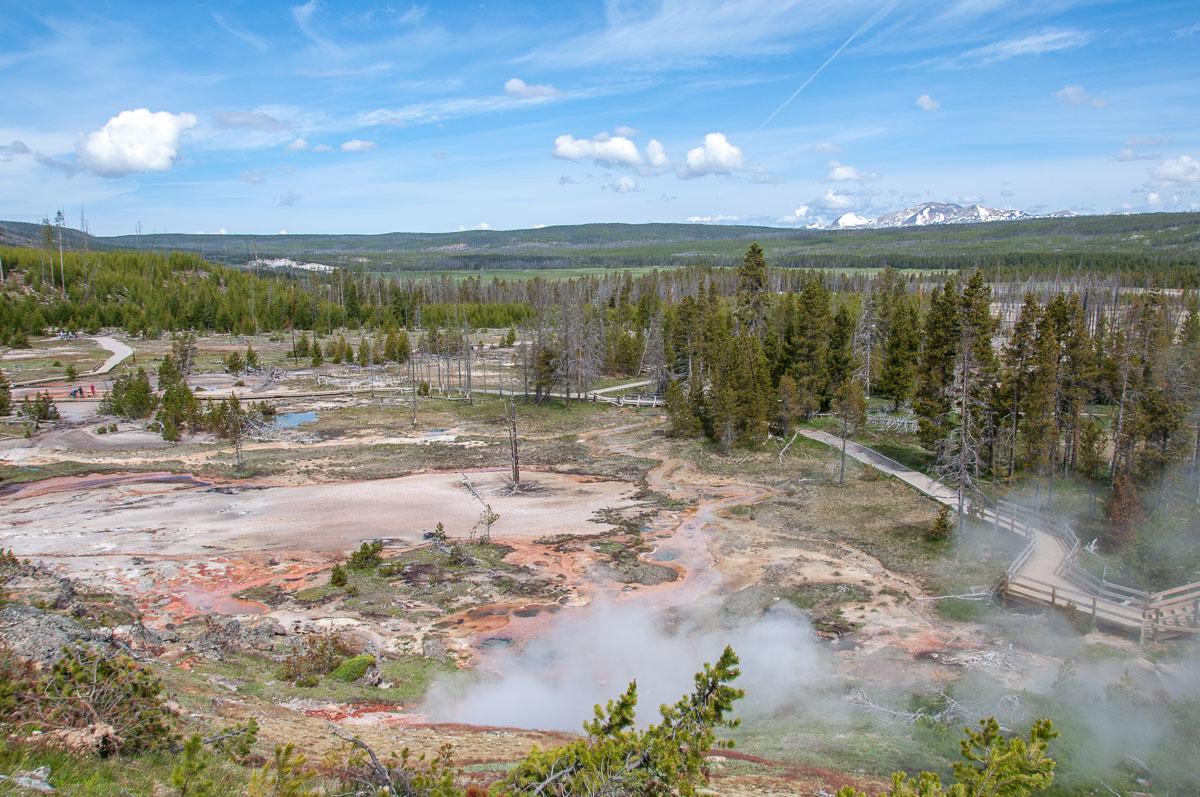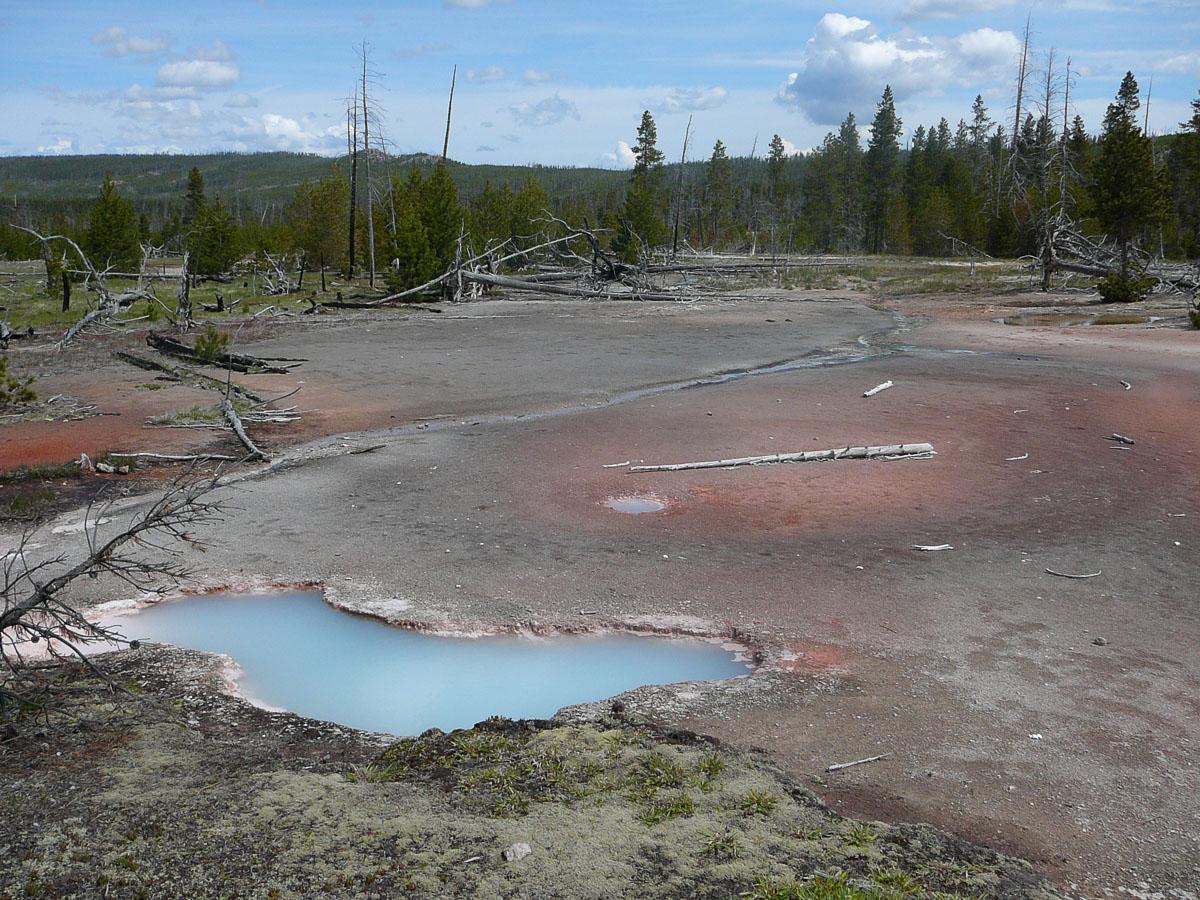 And it starts to rain. We stop still in Mammoth Hot Spring but with such a grey sky and rain, it does not work. We continue our journey and stop for lunch at the Mammoth Hotel Room Dinner. Not bad. We go back to Mammoth during a breakthrough.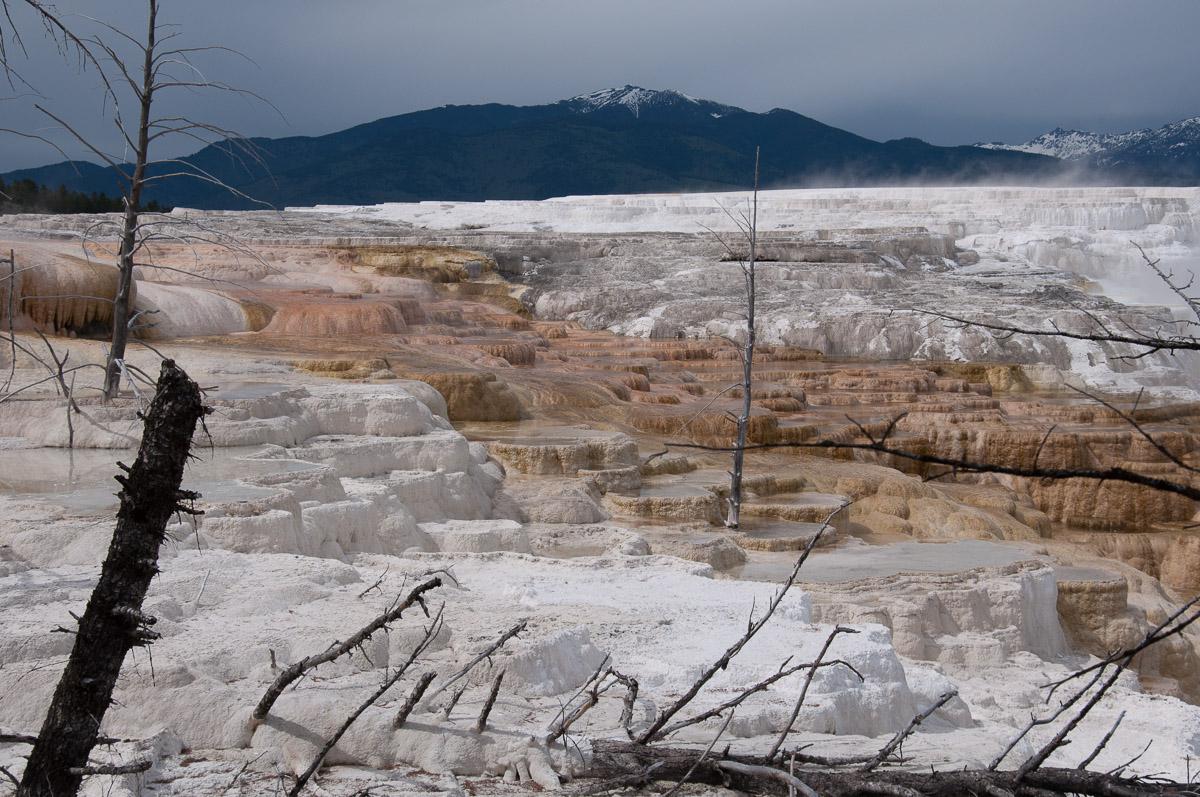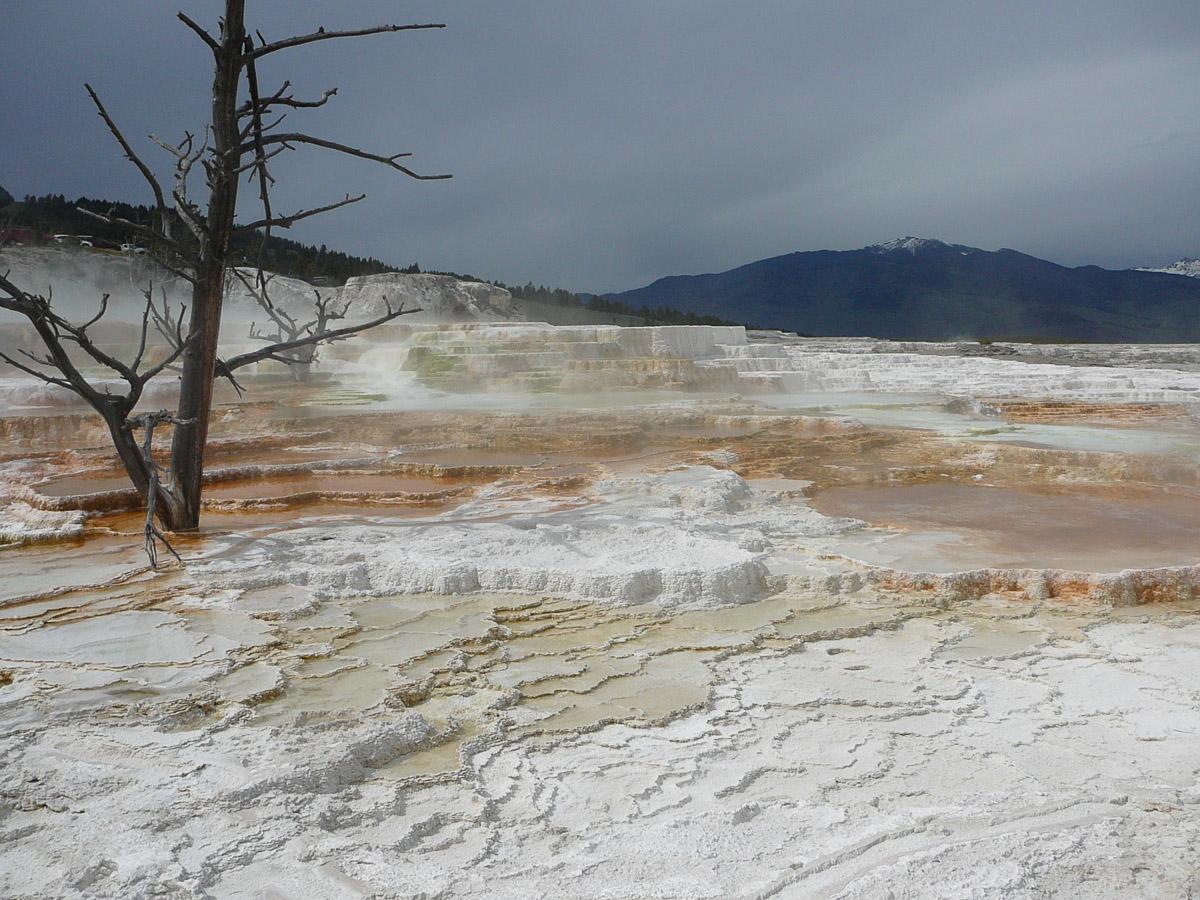 Around 16:30, it starts to rain. We're sick of the rain! We return to the hotel and we will eat at the Three Bears. Not bad as a restaurant.
Sunday June 14 : departure for Grand Teton. The weather is still terrible. On the road, we stop at West Thumb (Yellowstone) to take some pictures,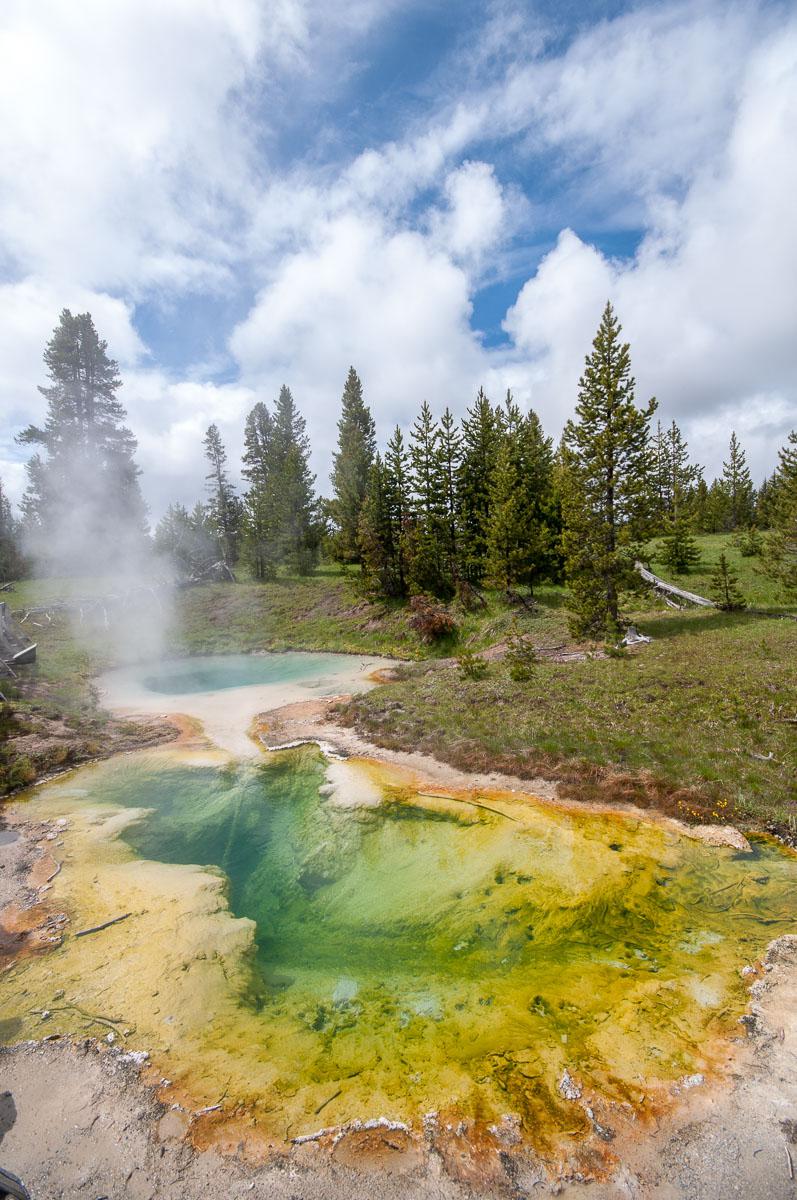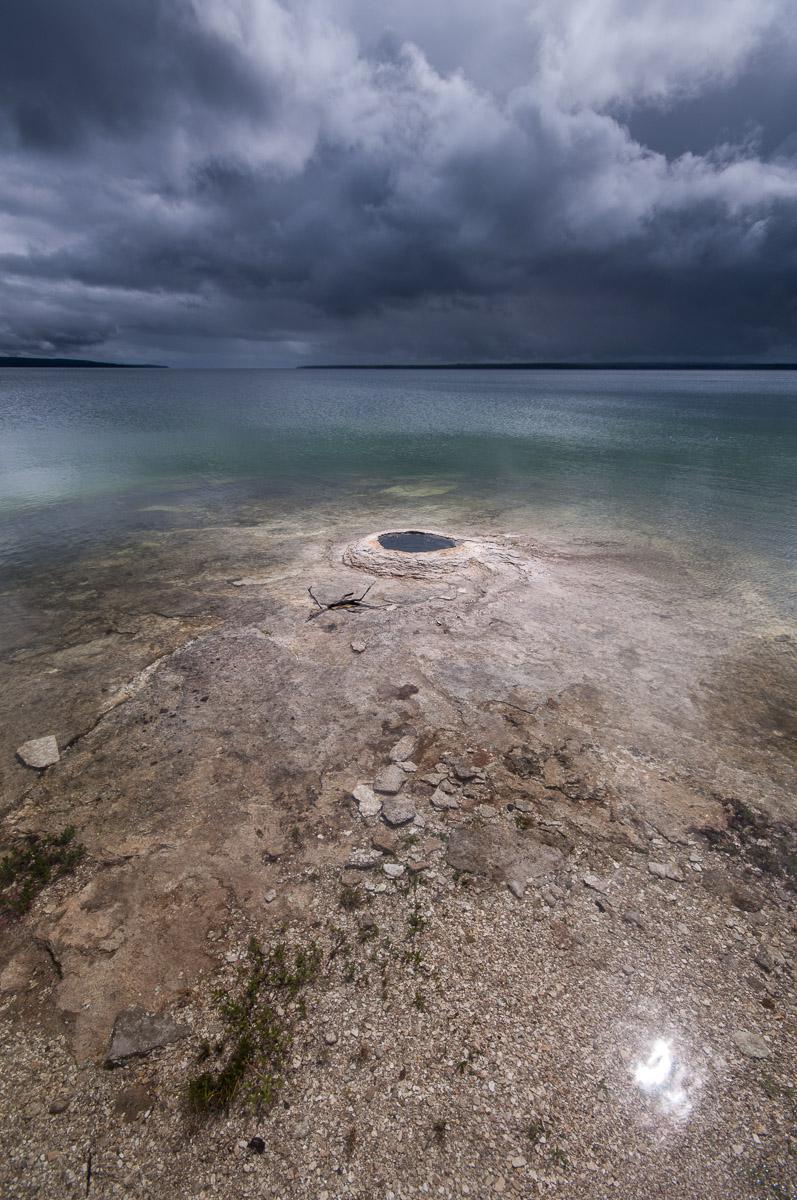 then in Grand Teton to Glacier View Turnout,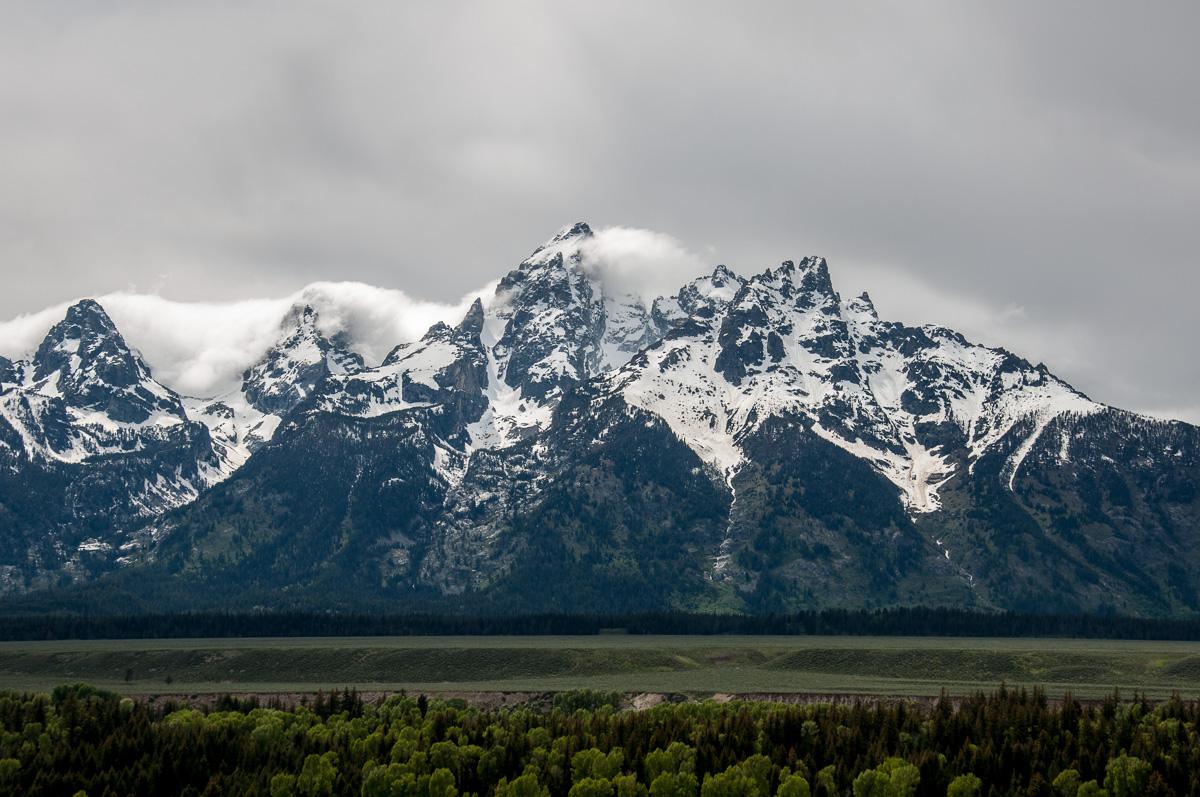 and at Jenny Lake.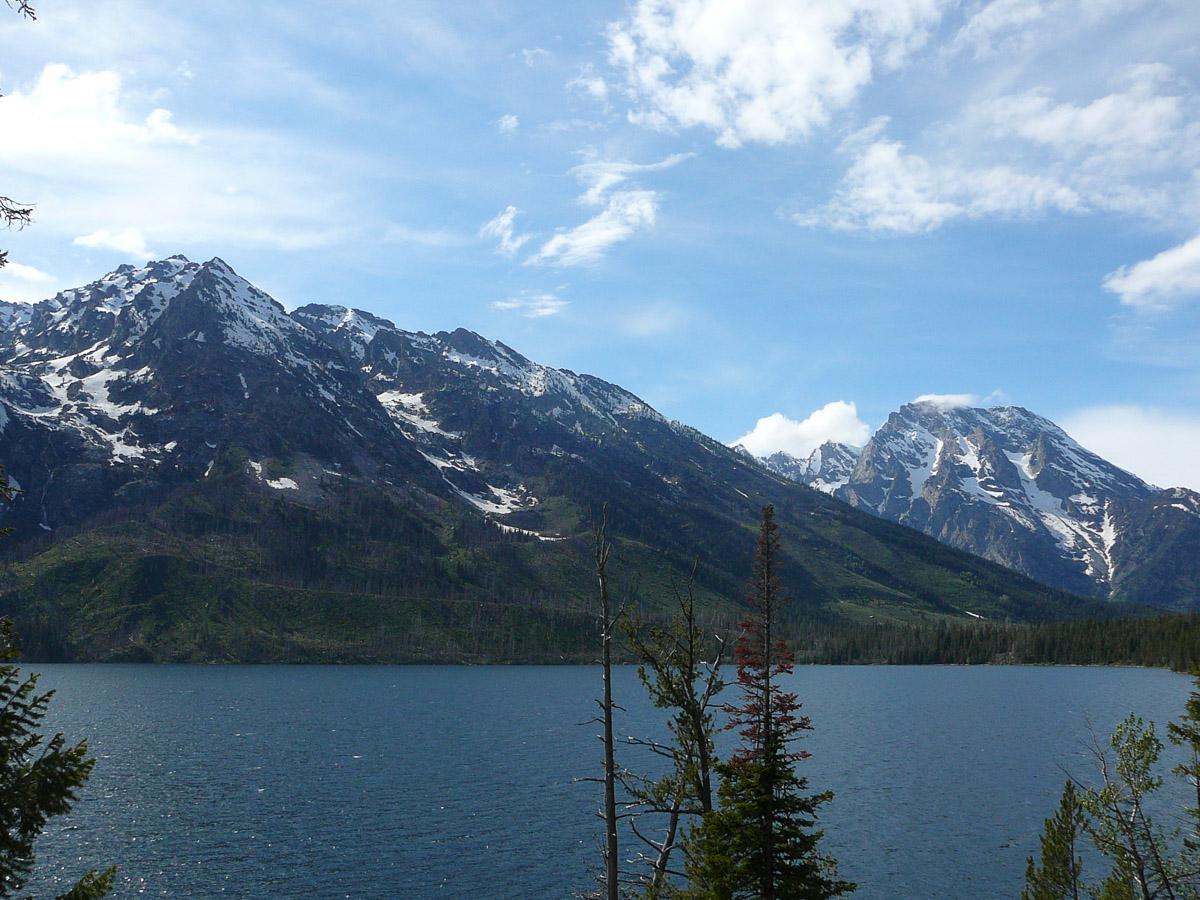 The weather being so bad, it was decided to cancel our planned walks in Grand Teton. With the storm, it is not prudent to venture into the mountains. We drive therefore to Jackson to find a hotel: Anvil Motel. We lodge in the 2nd hotel El Rancho Motel. We'll hang out in Jackson. The city is very nice western style with wooden sidewalks.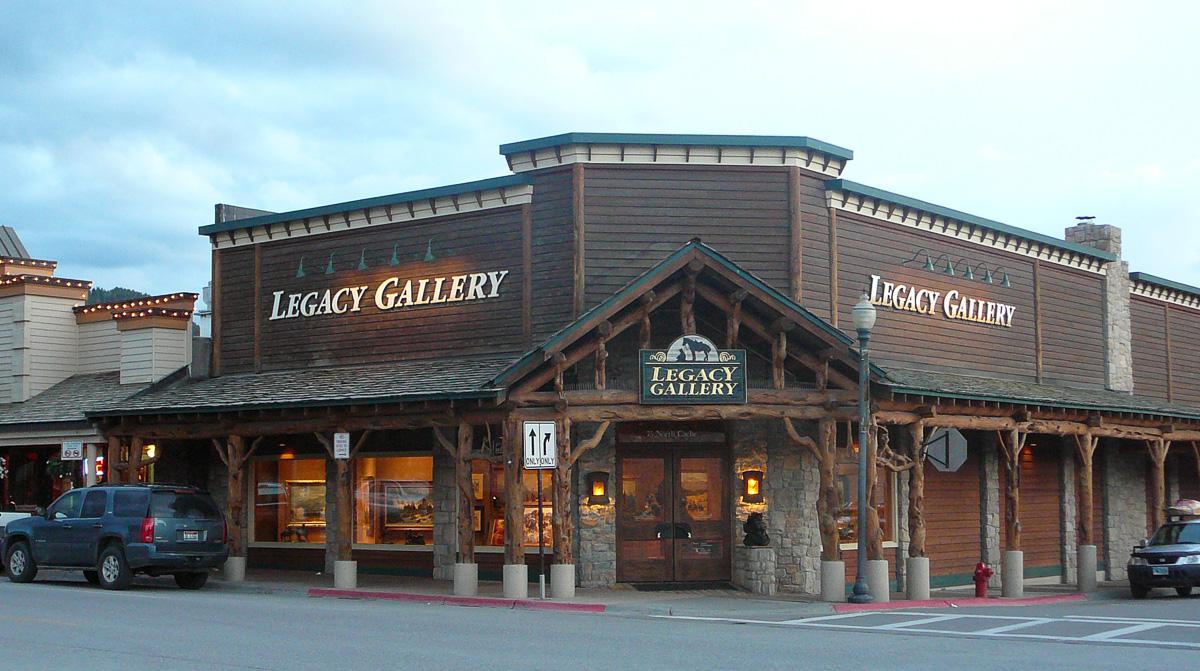 We will drink and eat at the Million Dollar Cowboy Bar. The bar area is nice with chairs bar saddle. The Steakhouse restaurant is below. The steaks are good but not great given: $ 22.
Monday June 15 : Vernal direction, Utah. We take a room at the Split Mountain Motel. We finally find sun and heat ! Around 4:50 p.m., we head to Fantasy Canyon. We arrive around 6 pm. And we're all alone. The most beautiful colours come with the sunset around 8 pm.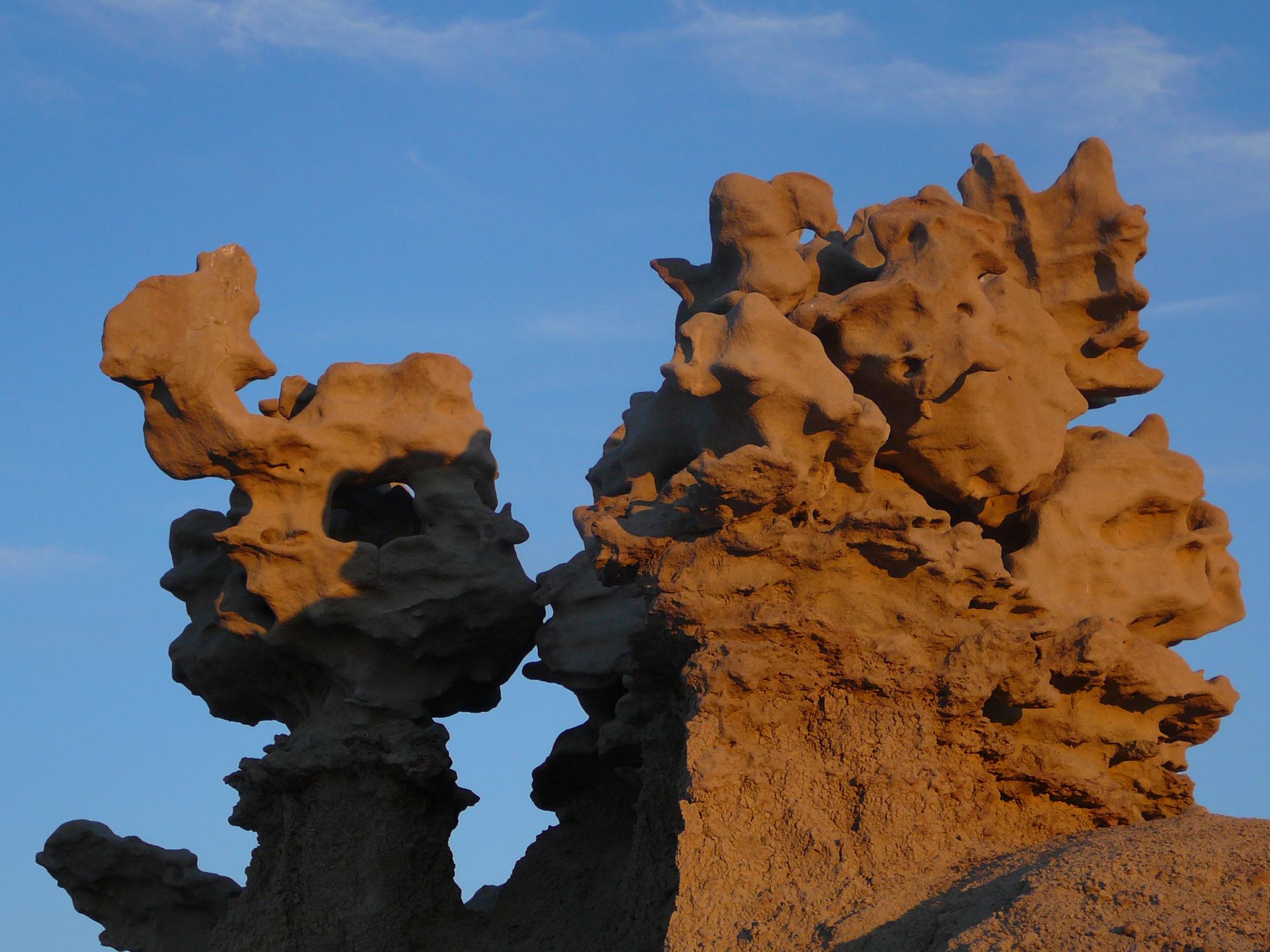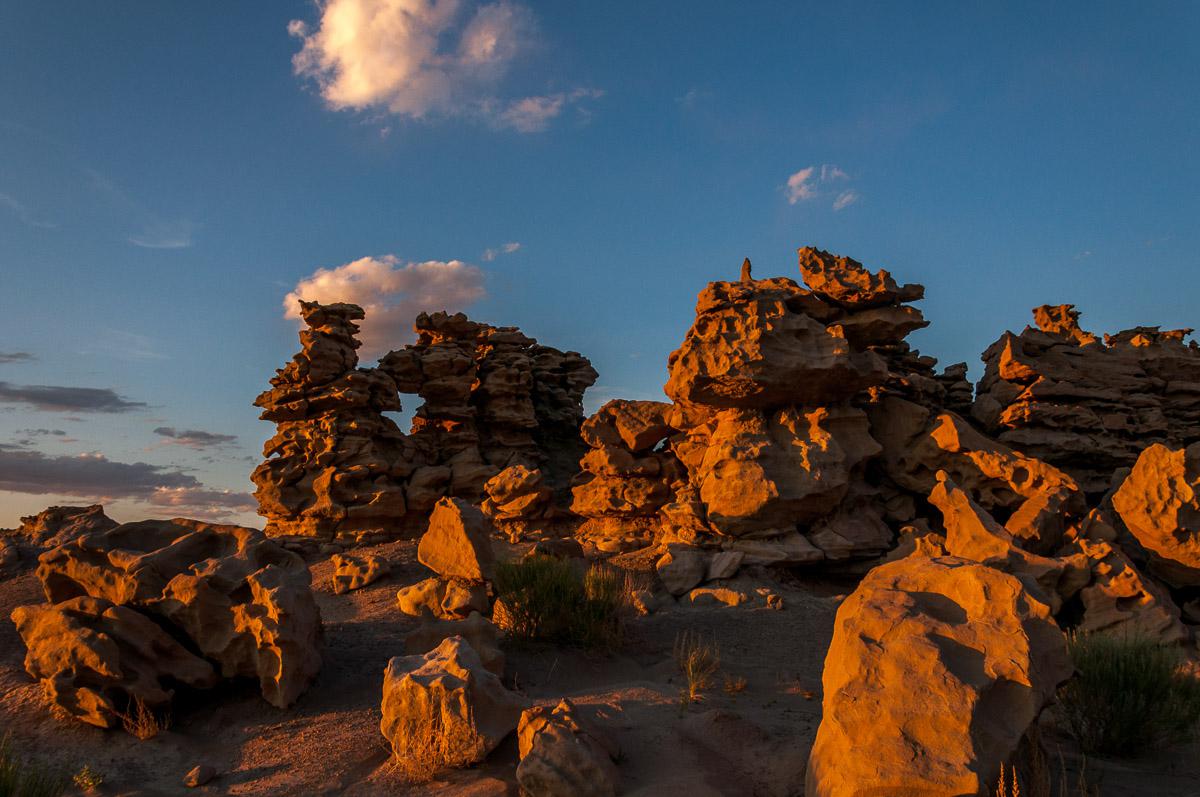 Tuesday June 16 : departure for Capitol Reef. We house at the Days Inn in Torrey. Not a bad hotel with pool, spa and continental breakfast. We take some pictures in Capitol Reef: Chimney Rock, Navajo Dome and Pictol's Pyramid.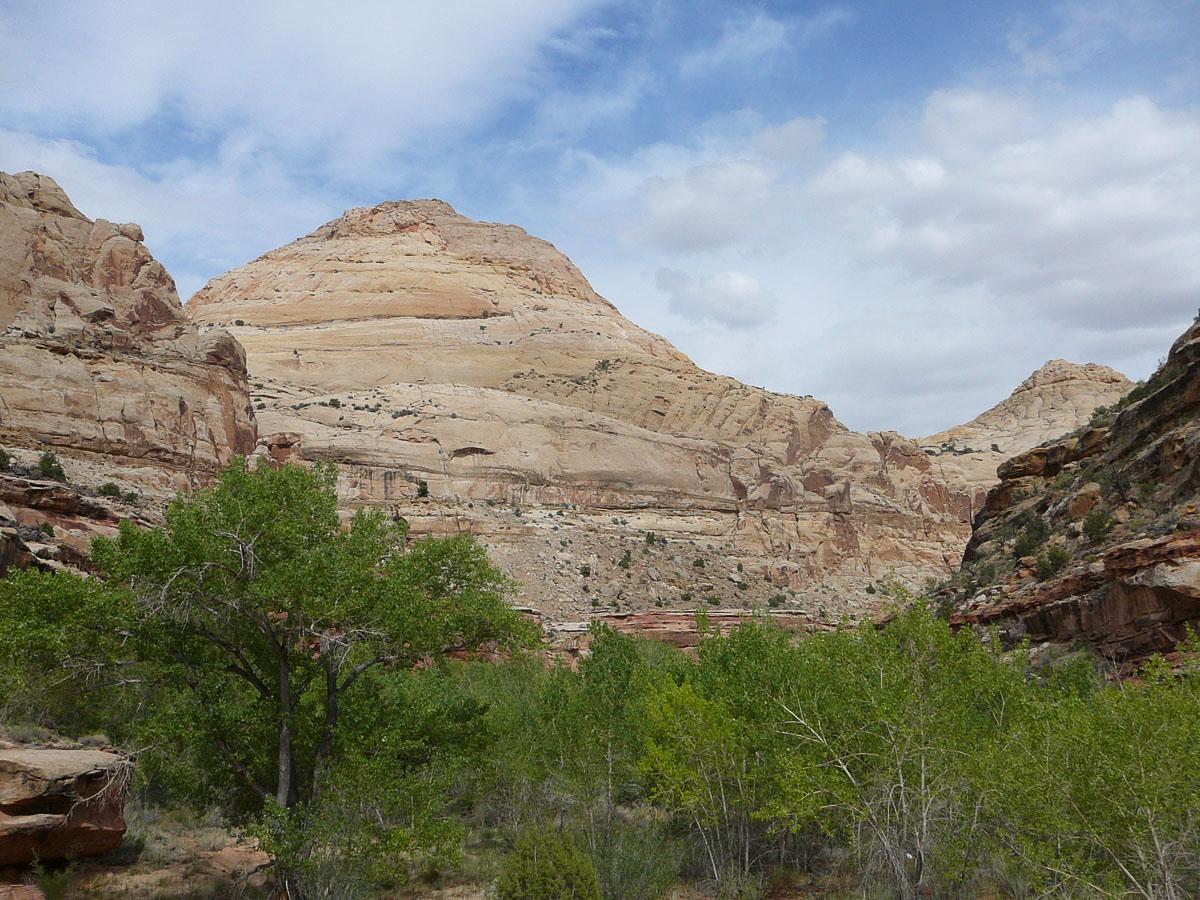 In the evening we dine at the Rim Rock Patio, eating "western spaghetti" named "Sergio Leone" and "Lee Van Cleef."
Wednesday June 17 : we hike Hickman Bridge, about 2 kms one way.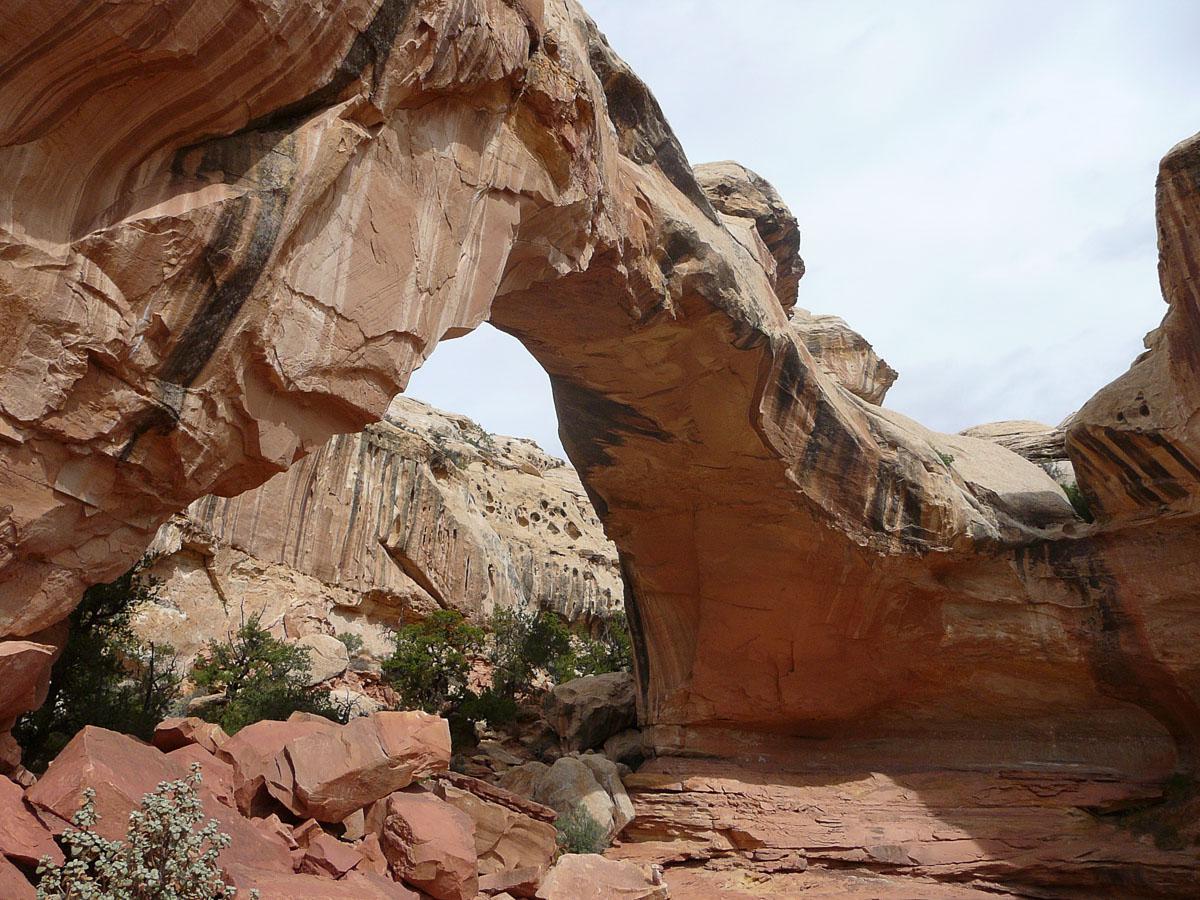 We then go to Panorama Point, Goosenecks Point and Chimney Rock.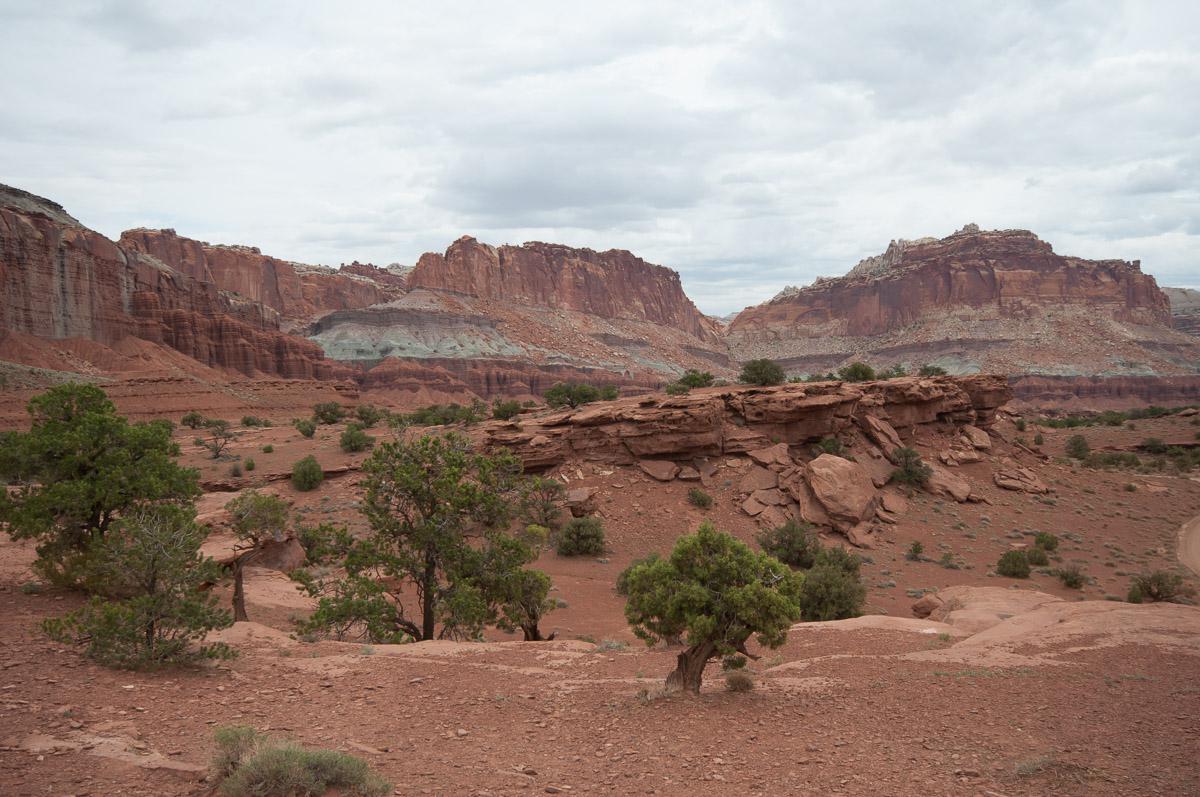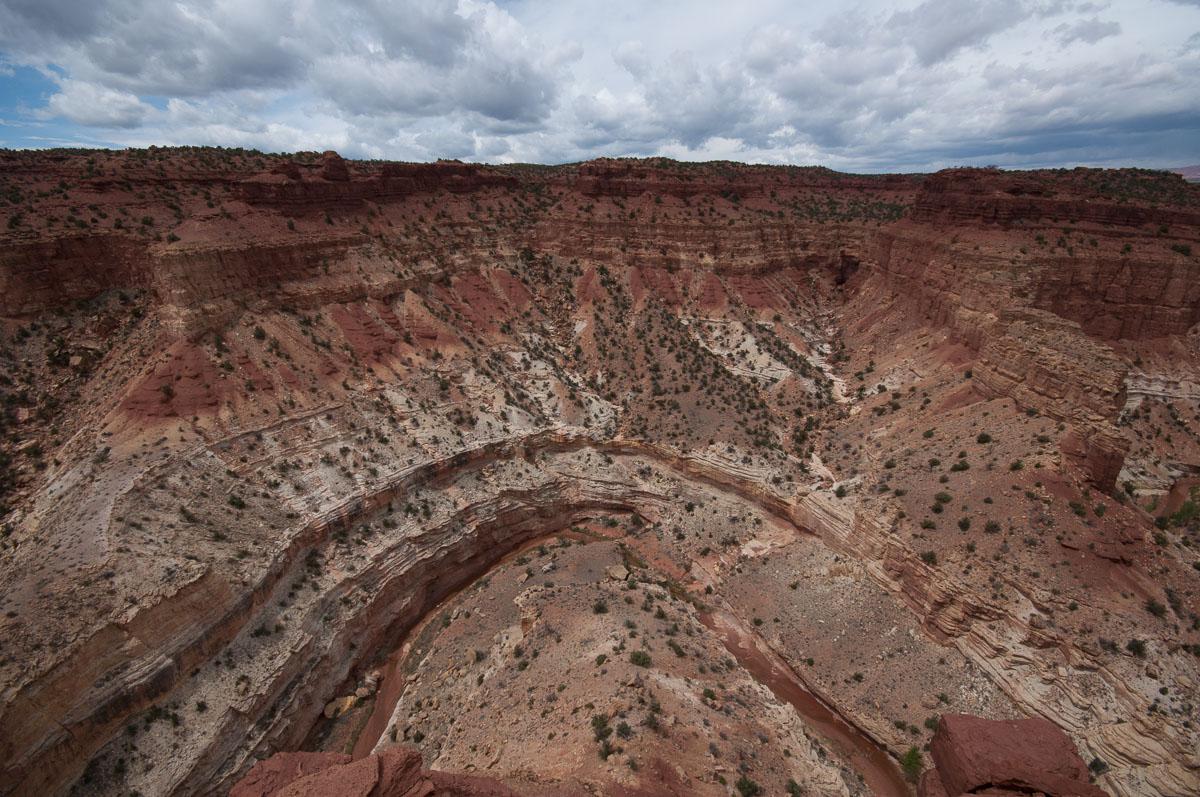 We then drive to Escalante. We wanted to settle in camping Calf Creek Recreation Area, but it is full. We therefore take a room at D Motel in Escalante. In the late afternoon we visit Devil's Garden for the colours of the sunset. You have to drive 13 miles on a track quite hilly. But it's worth it.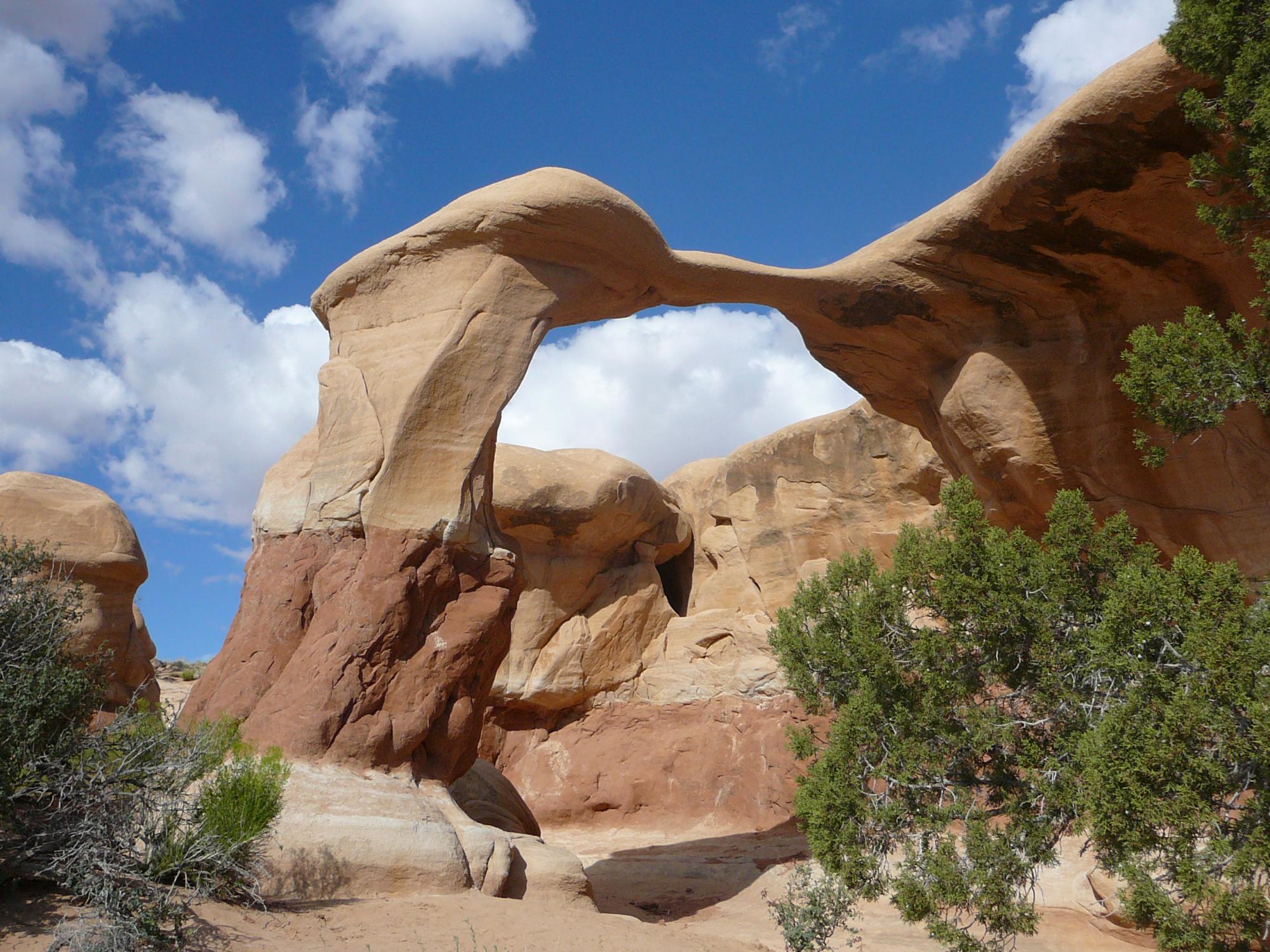 Thursday June 18 : weather is beautiful, we settle at camping Escalante Outfitters ($ 17 per tent). We hike the trail that leads to Calf Creek Falls. The 6 miles walk is a lot in the sand. The waterfall is beautiful.
We picnic and leave in mid-afternoon as ... a storm comes.
Friday June 19 : we go to Peek-a-Boo Gulch. The sky's blue and it's hot. We use the same track as Devil's Garden. The drive is only 30 miles but 2h15min! Better to have a 4WD! We need 30 minutes to walk down to the bottom of the canyon that serves 3 slot canyons: Dry Fork, Peek-a-Boo Gulch and Spooky Gulch. We ventured a little in Dry Fork. Then we go to Peek-a-Boo. The entrance looks pretty acrobatic and high off the ground. In addition, there is a big pool of mud in front. So we abstain and go to Spooky. It's a very narrow slot canyon, which narrows gradually as you advance.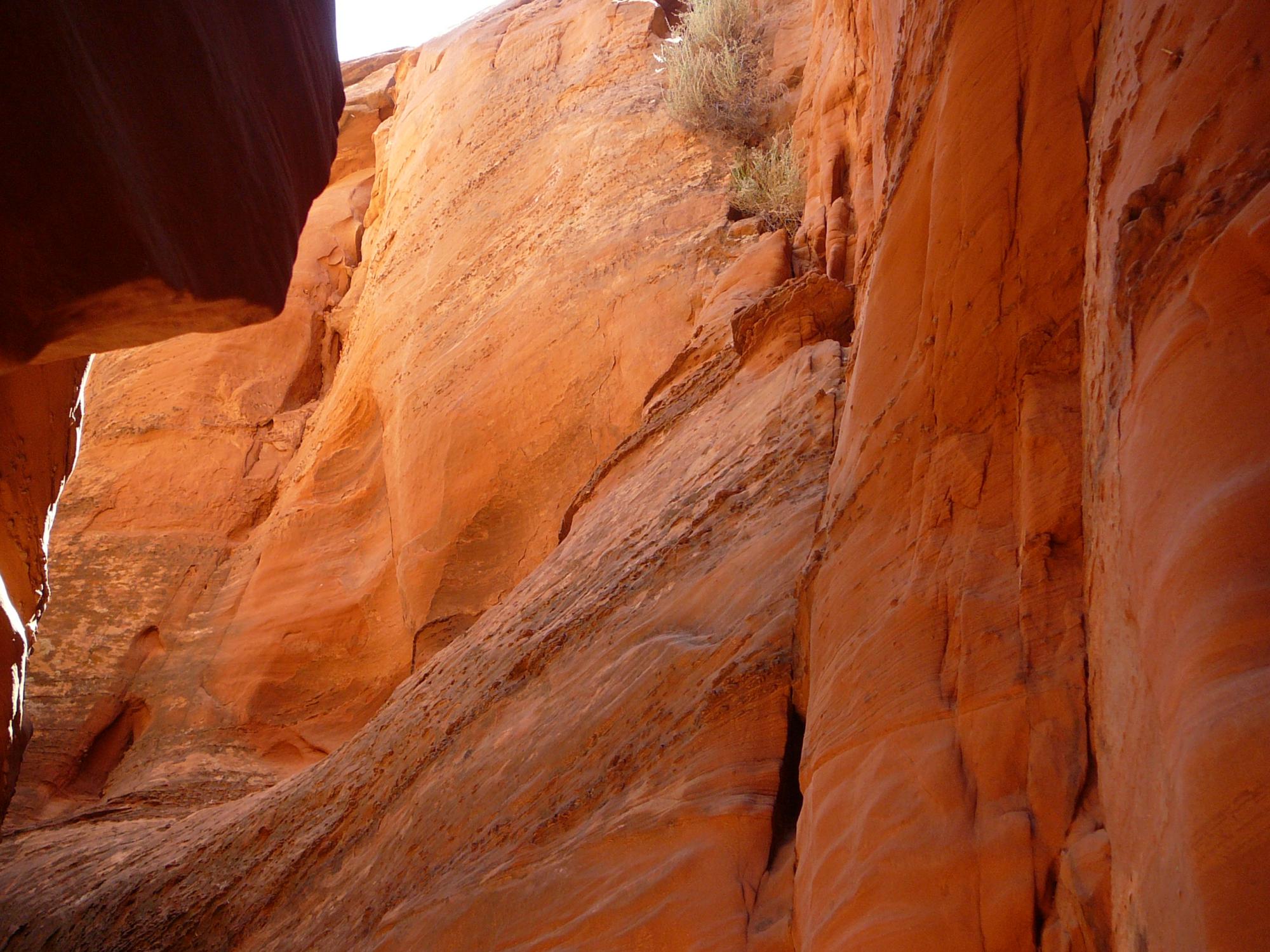 Bags must be removed from the shoulders to pass. We go back at 4 pm
Saturday June 20 : we drive to Bryce Canyon. We set up at the sunset campground. We go to the Visitor Center as there is a weekend of astronomy. We observe the sun through the telescope between two clouds. We then go to Sunrise and Bryce Point. Here, we don't even go out of the car because there is a storm and hail! We decide to go shopping. And we go back to Bryce point and Inspiration Point during a breakthrough.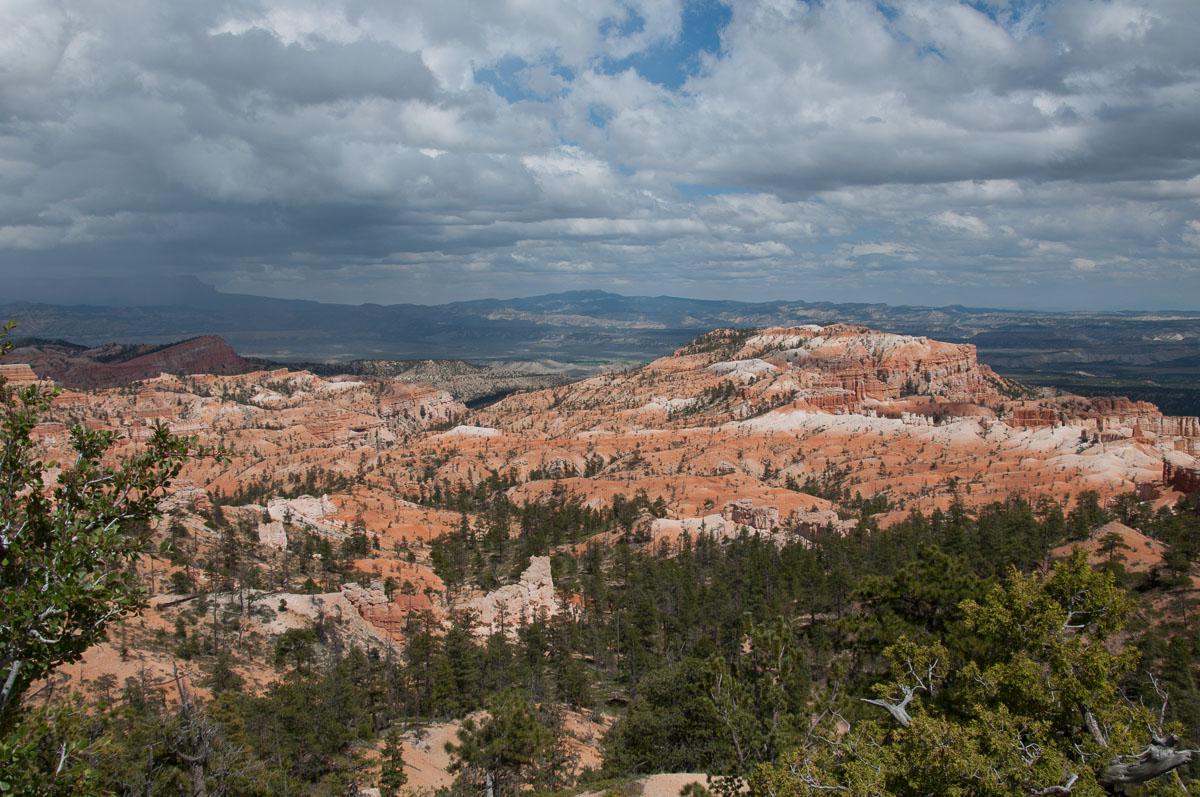 We return at the campground for diner.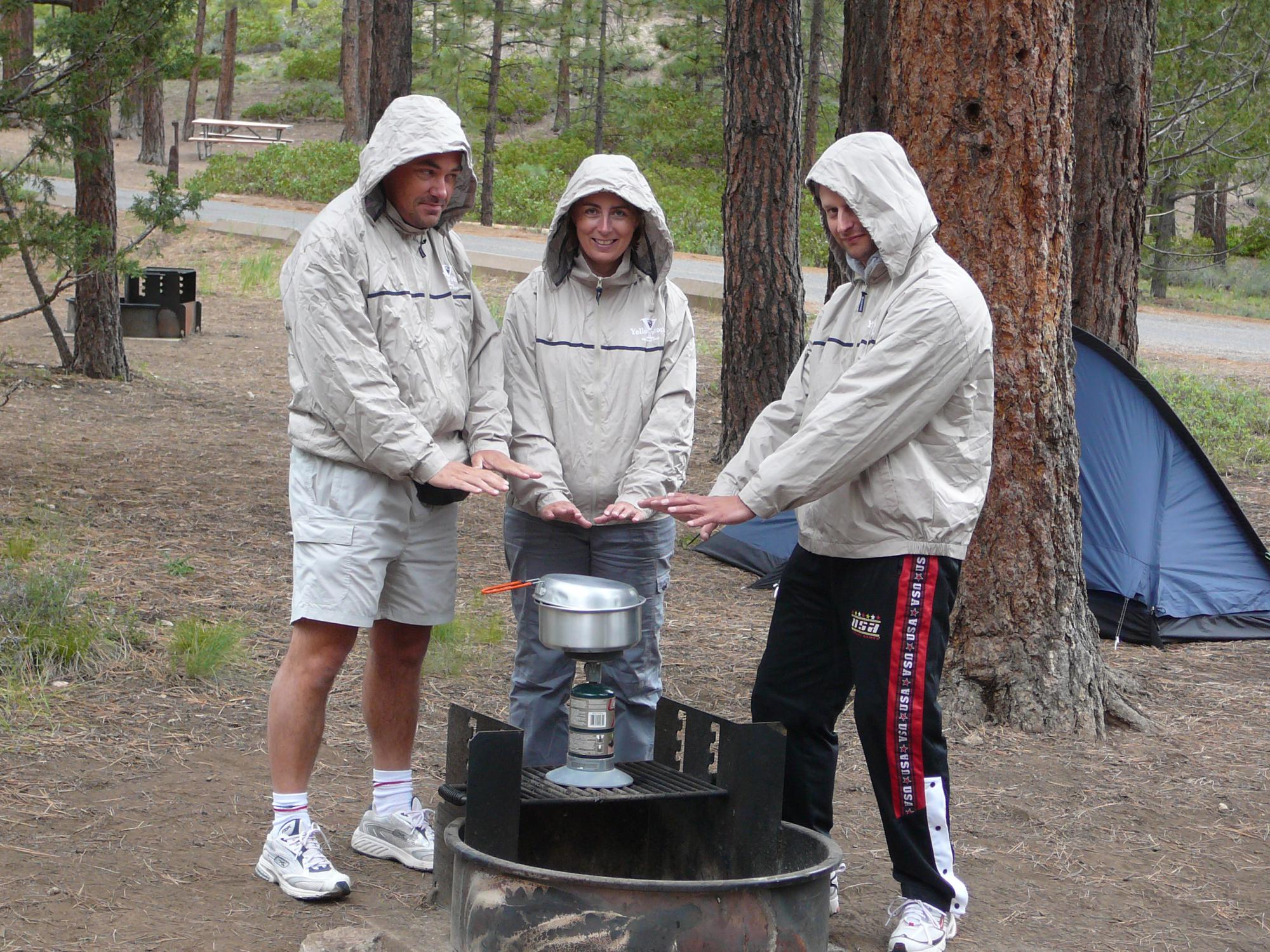 Evening is cool and we superimpose layers of clothing to go to see the stars. The sky is clear and there are many stars. The night is very cold, sleeping fully clothed in our sleeping bags.
Sunday June 21 : as the weather is good, we decide to walk on the Rim Trail, a trail we never walked completely before. It gives different views of Bryce Canyon. That's pretty and the walk is easy.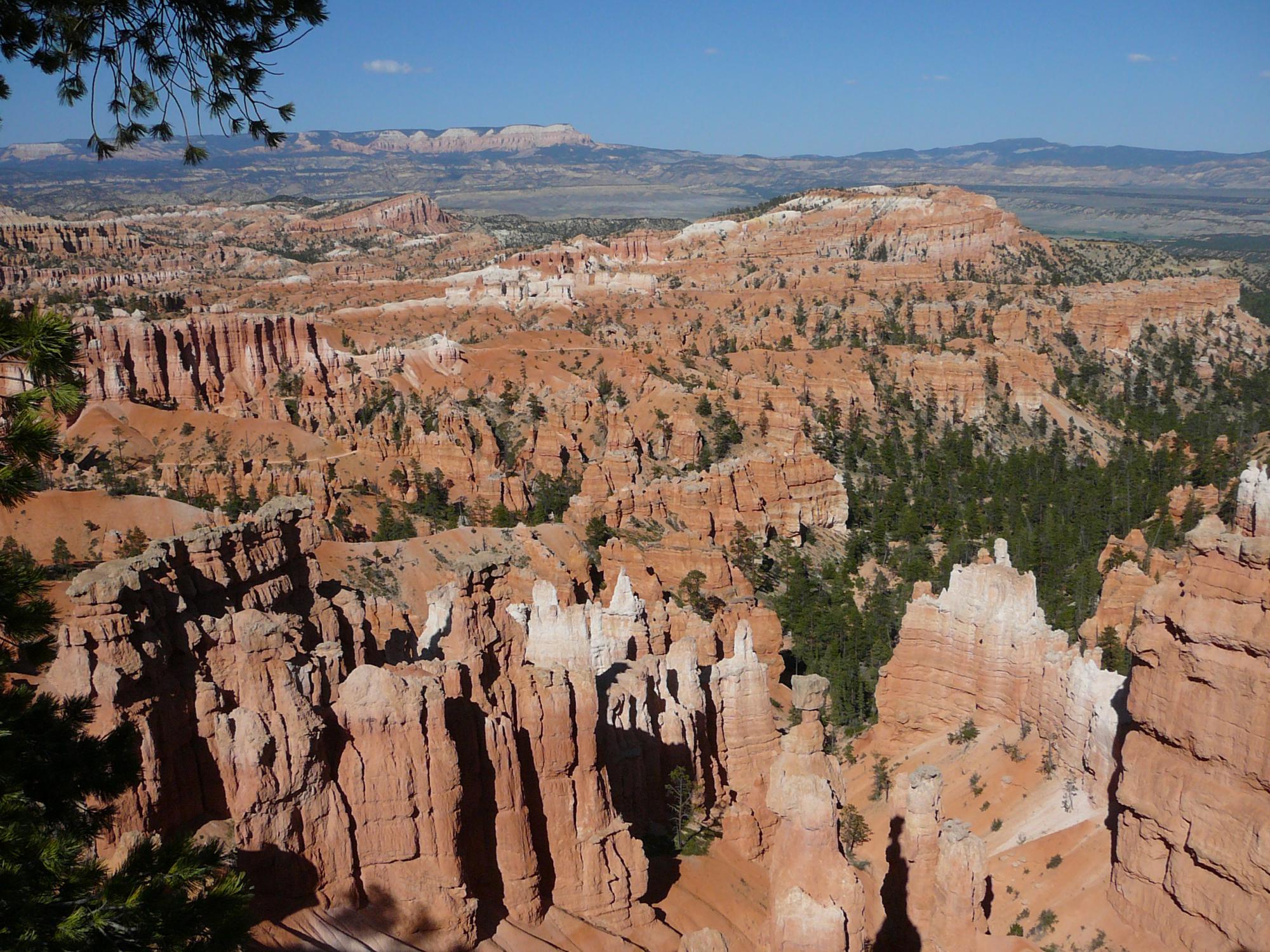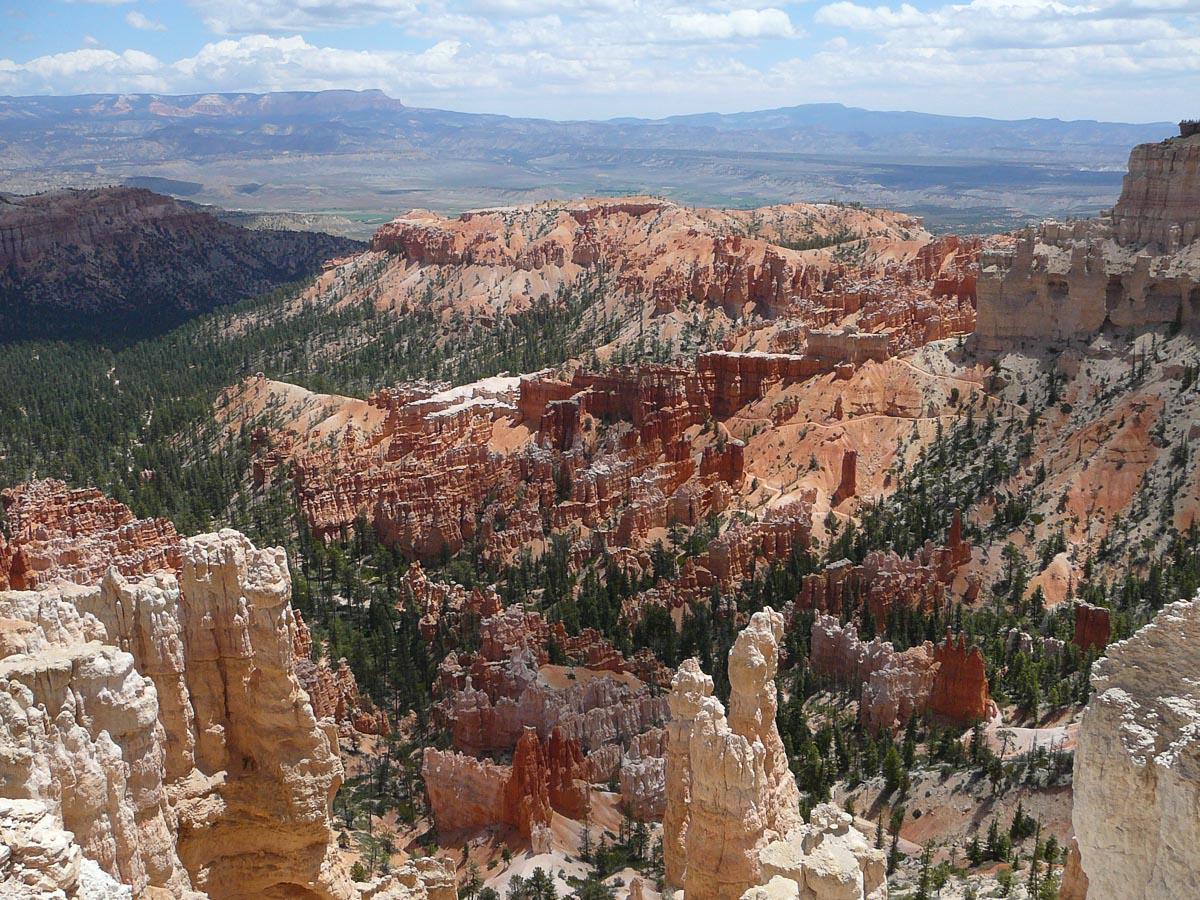 Since our last visit, the park has instaured free shuttles that drive you from one viewpoint to another. We can use those shuttle from the campground, so we don't need our car. In the late afternoon we go to the market to buy wood to light a fire which is very appreciated as the evening are cold. And we toast marshmallows.
Monday June 22 : this night was even colder than the previous one. We visit the south part of Bryce Canyon : Swamp Canyon, Farview Point and Piracy Point, Natural Bridge (beautiful), Agua Canyon, Ponderosa Point, Rainbow Point and Yovimpa Point. The only place that's really worth the pain is natural bridge.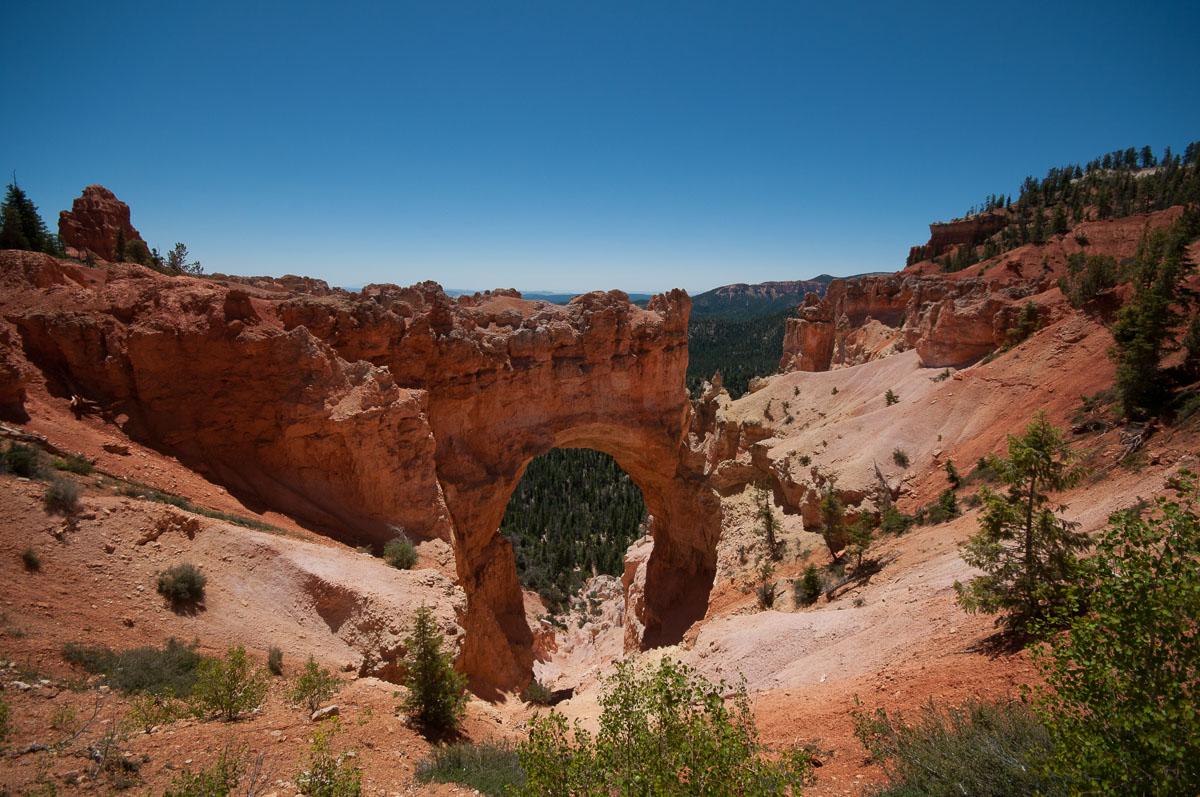 We then go to Fairyland Point, which is not that interesting.
Tuesday June 23 : we go back to Las Vegas. It looks like the end of the trip ! We stop in Zion to take a few more pictures. We arrive in Las Vegas in the middle of the afternoon and we return to the Super 8 motel because it's not bad and not far from the strip. We walk in Las Vegas.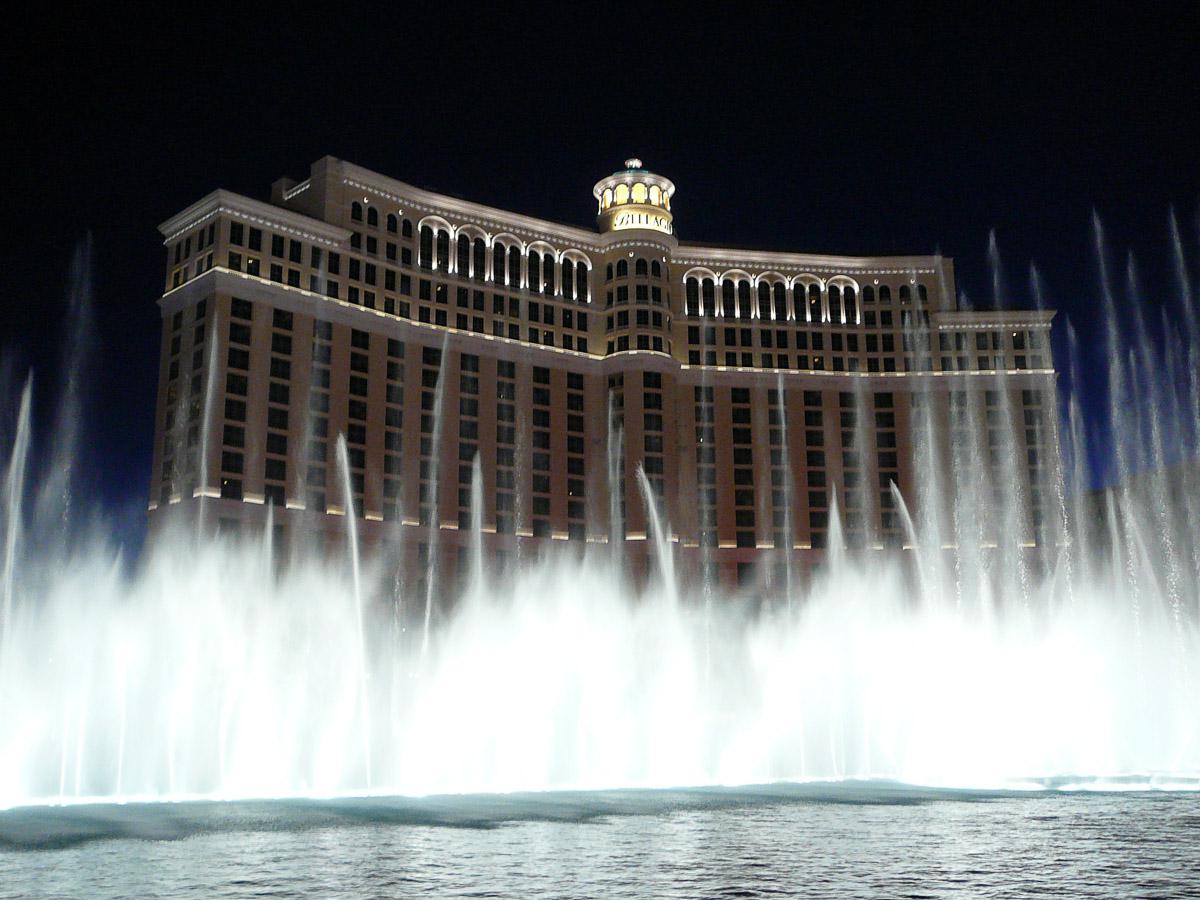 Wednesday June 24 : walk in Vegas. And surprise of the day : it's raining and there is storm ! Well it doesn't last very long, not enough to cool the atmosphere !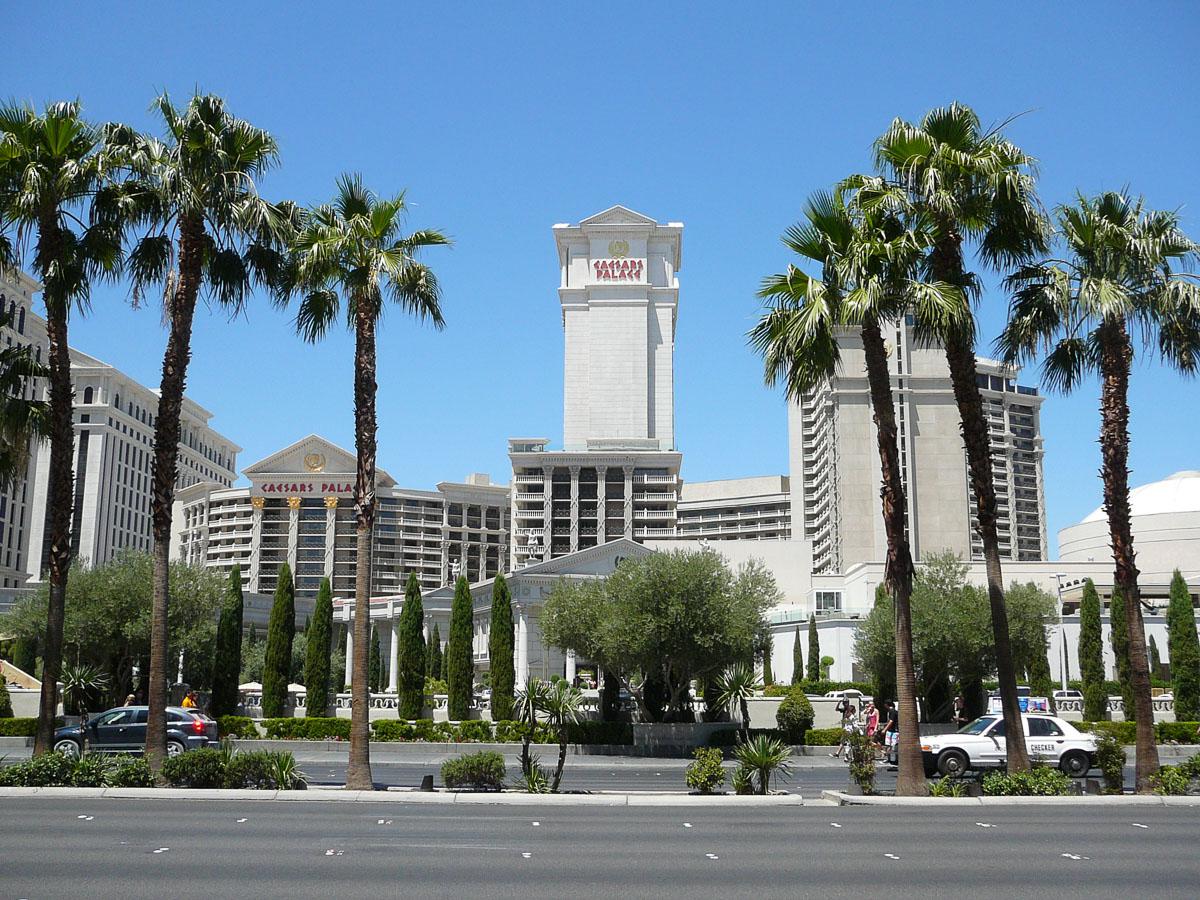 Thursday June 25 : departure for France.
Friday June 26 : arrival in France around 9 am