What about the rock formations? We have already said, but we must repeat, they are extremely fragile. Their forms sometimes evoke an elephant, sometimes a dragon, a unicorn, a mask, a horse ... imagination is limitless. As the hours go by and the sun goes down, the colors turn to the most beautiful orange. The last hour of the day is certainly the best time for photographers. As for the morning, Little Finland is in the shade but the colors are softer. The site is not very large. It extends about 0,6 mile long and 400 feet wide. Anyway, you can spend hours looking for strange shapes.
Access : this is the least enjoyable part of the visit. First, a 4WD is mandatory. From I15, take exit 112 and follow signs for Riverside, Mesquite. Continue on the 170 for 3,4 miles and turn right at the New Gold Butte Road, just after crossing the Virgin River. Drive on the New Gold Butte Road for 25 miles to GPS point 36.475385, -114.164188 (+ 36 ° 28 '31.39 ", -114 ° 9' 51.08"). From there, you have 2 options:
The first one: turn right into the wash and continue straight ahead by staying in the wash until you reach the "parking" marked by a livestock on the right (GPS 36.441836, -114.211496 [+ 36 ° 26 '30.61 " -114 ° 12 '41.39 "]). This is the fastest but also the most risky solution for the car.

The second option: continue straight on the New Gold Butte Road for 3,35 miles (to GPS point 36.432615, -114.143820 [+ 36 ° 25 '57.41 ", -114 ° 8' 37.75"]) then turn right toward "Devils Throat". Continue straight ahead for 1400 feet and turn right again. Continue straight for 2,67 miles until reaching a wash. Follow this wash on 1,67 miles to the parking (GPS 36.441836, -114.211496 [+ 36 ° 26 '30.61 ", -114 ° 12' 41.39"]). From the exit of the I15, it takes 1h30 of road for about 35 miles.
It is possible to continue by car farther than this enclosure but the track becomes even more difficult and more sandy. We tried in September 2017 and remained stuck in the sand.
Once parked at the enclosure, head north on foot after passing the cattle yard.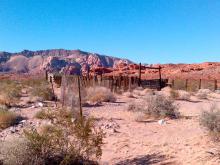 You must then walk about 0,3 mile to reach the first rock formations. On this short trip you will crosqs a fence with barbed wire.