To have the luck to hike the trek to the Subway, you must register 3 months in advance, to a draw (on the website of Zion NP) as the entrance is limited to 80 people per days.
The hike is 10 miles round trip. The descent is quite easy even if you have to find your way between the rocks. The beginning of the trail is flat for about 0,6 mile. Then it goes down very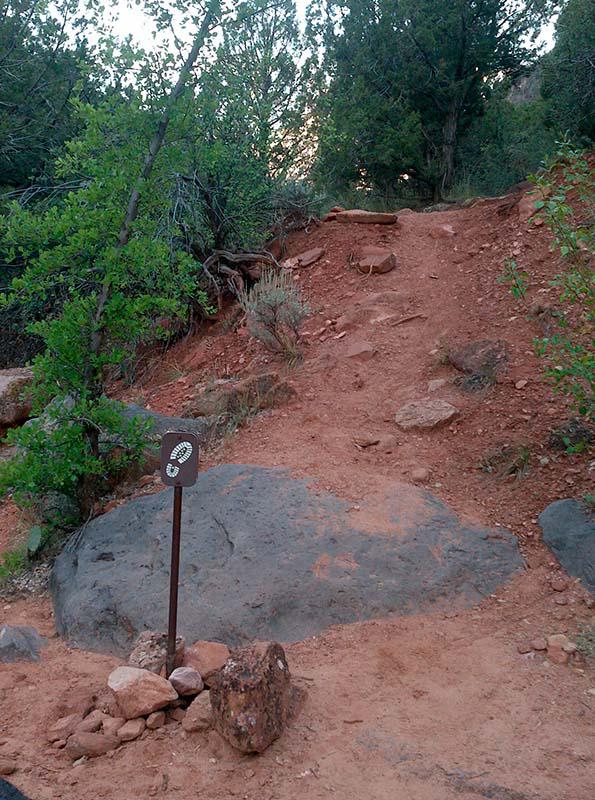 steep. Once at the bottom of the canyon, it is up the river alternating between the trail and walking in water. It is 2:30 to get to the Subway. The return is more difficult and tiring, especially the ascent of the canyon which has a high elevation gain (about 426 feet over a 
distance of 0,37 mile). Do not miss the way back up to the parking lot. It is indicated by two 
signs : a footprint on one (see picture on left) and "Left Fork Trailhead" on the other. If you go too far, you will see yellow banner across the river, you will have to turn around.
Tip : start hiking early in the morning to enjoy cooler temperature. Do not hesitate to walk in the water as soon as possible to save time. 
Photo tips : to have a good light in the tunnel, you have to be there before the sun illuminates the walls and bottom of the canyon. For example, during our trip in June 2012, we had to be there between 7:30 and 8:00 am to have enough time to settle cameras. From 9:15 am,  too much light enters the canyon. By cons, for the pools we still can  take pictures until about 10:30 am. Things are a little different in September. In general, the light is better, no matter the time of day. However, the best time to take pictures is from 1:30 to 2:30 pm. A tripod is mandatory for long exposure and the use of neutral density filters is recommended.                                                
Access : from the city of Virgin, take Kolob Terrace Road to the parking "Left Fork Trailhead".