This trip is different from the others since we are going on a trip organized by Aventure et Volcans, on the theme « Ethiopia – Erta Ale, Dallol : another planet» proposed by our friend Etienne. So we privatized a group to stay among friends Etienne, Stephane, Michele, Jean-Michel and Thierry. We will be accompanied by a guide, drivers, cook and policeman. 
The goal of this one week hourney is to see Erta Ele volcano and its lava lake and Dallol.
Friday february 14 : leaving the house 1:15 pm to go to Michele and Jean-Michel house. We leave our car in their garage and drive to  Parkineo together at 4:30 pm. It's going well and we arrive at the airport in half an hour. Thierry arrives then Etienne et Stephane. We recover the gas masks we had to buy for the volcanoes. Then we check-in, go to the security and take off at 9:15 pm. The company is Ethiopian Airlines. The flight goes well.
Saturday february 15 : we arrive in Addis Ababa à 6:20am (local time) for a 5 hours stopover. We get off on the tarmac and we are driven by bus to the airport's terminal. It's a little bit of a mess, not very well indicated to know where to go. We look for a exchange office to take birrs. Then we're going to get something to eat. We are already in the mood : a lady makes some coffee. She sits on the floor with cups in front of her and roasts the coffee beans. It smells good.  Then we go to the boarding gate and we take off late at 11:45 am for Lalibela in a small propeller plane.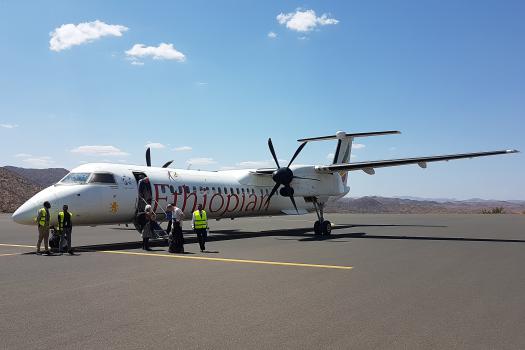 The descent is also on the tarmac and we reach the small airport on foot.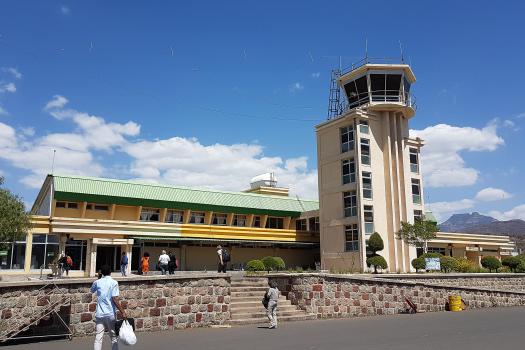 Once the luggage is collected, we are welcomed by Mekashaw dit Mika who will be our guide during our stay. He is part of Sphere Tour & Travel. He introduces us to the driver Sovalo. He loads the luggage on the roof of a minibus.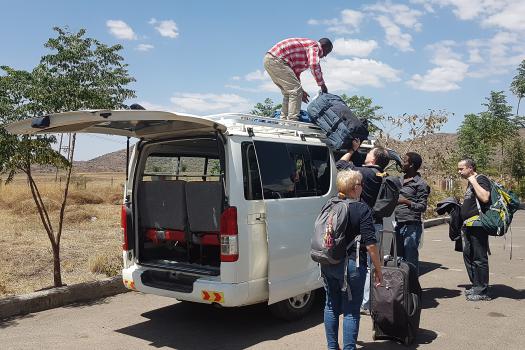 We're going to the city of Lalibela. And there is the culture shock: the houses are made of wood and tin, the children walk barefoot and are dressed in rags. Everywhere in the streets, rubbish litters the ground. It's misery. Donkeys, goats, cows are walking in the streets. Sovalo takes us to the Lal Hotel.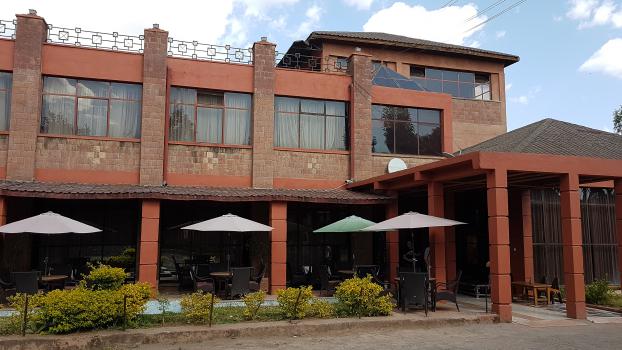 We drop our stuff off in our rooms before having lunch. The hotel is not to bad. At 3:30 pm, we leave with Mika to visit the typical churches of Lalibela. We are accompanied by Ababa whose job is to watch our shoes that we have to take off when we enter in the churches and we take them off several times !  These churches are dug and carved in the rock. It's quite impressive. We start with the north group.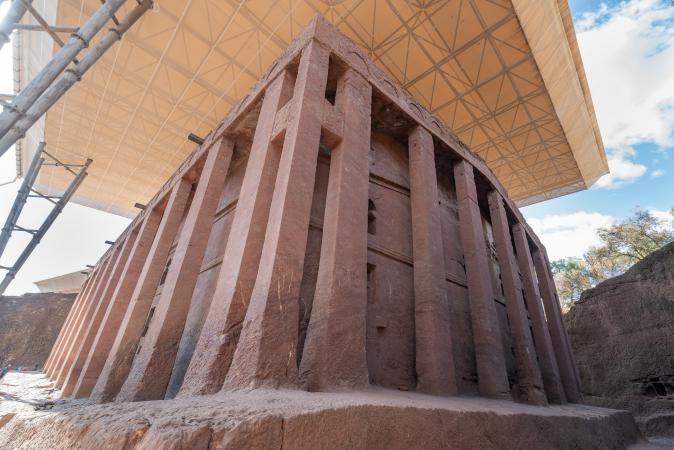 The insides are quite simple : tapestries and some religious signs.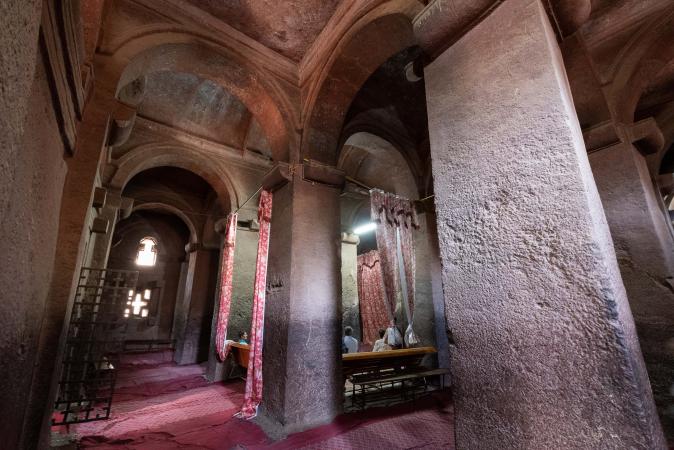 Then we end with St Georges Church, the most famous and beautiful. At sunset, it's great. The light is pretty.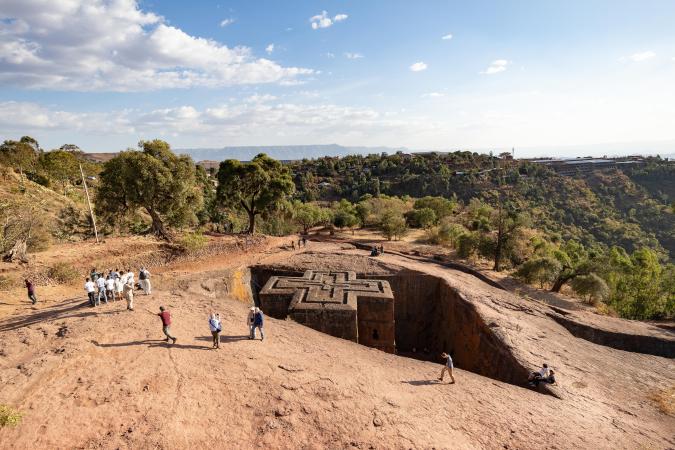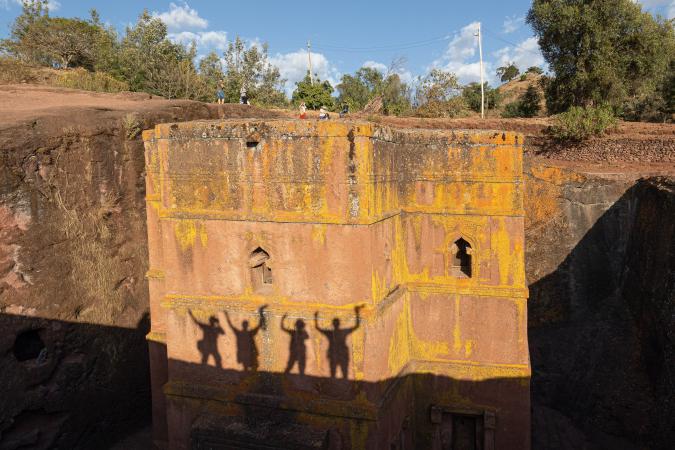 Back to the hotel at 5:40 pm. We try to take a shower but the water is so boiling that it's impossible to remain below. We go to the reception to tell and a guy comes to see but does not fix the problem. He gives us the key of a room facing our. There, the water is not very hot but it will be fine. The night is very noisy with a man calling for prayer. 
Sunday february 16 : up at 6:10 am for the breakfast at 7 am (buffet). Departure at 7:30 for the churches. The weather is nice and warm. Today is mass day. Every believers wear a white stole.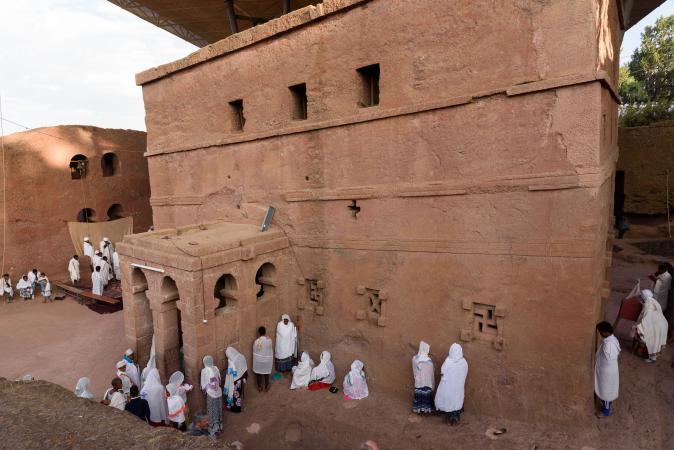 We enter into several churches. It's quite intense. But we don't feel very comfortable, we don't feel at our place and we don't know if we can take pictures of people.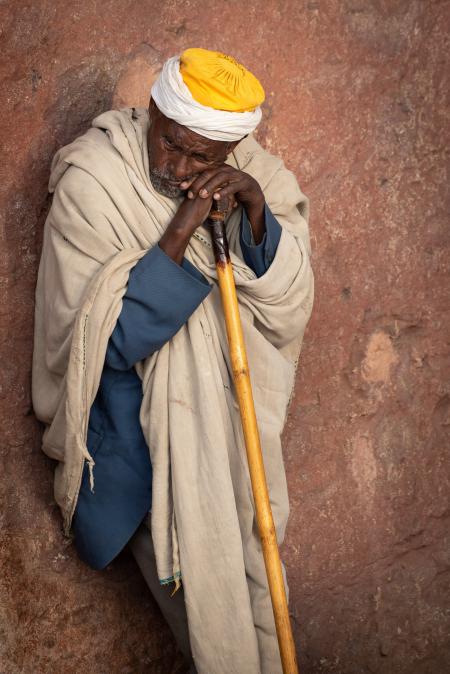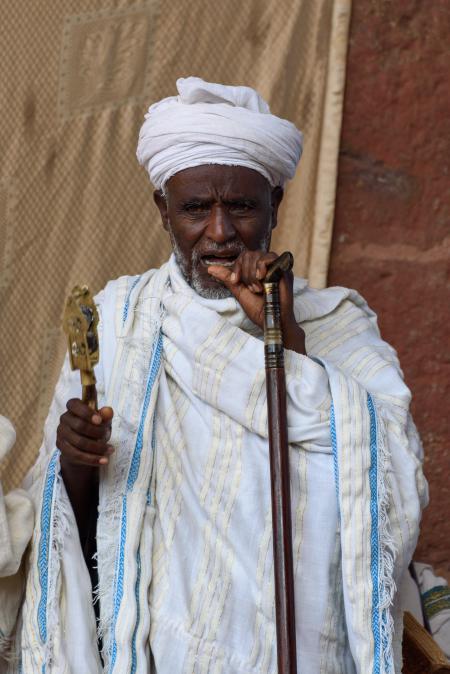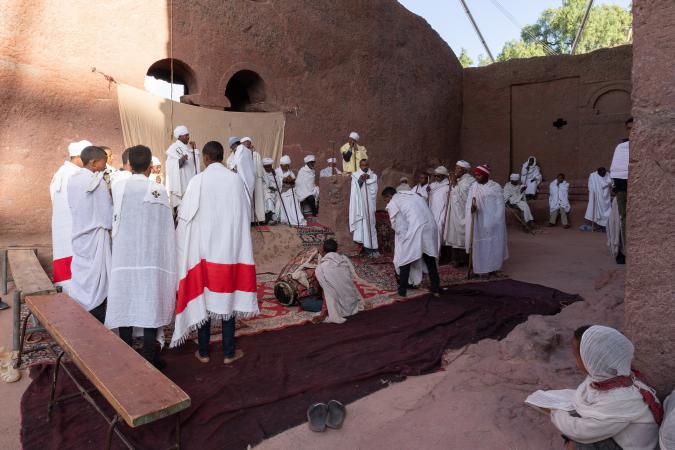 We're going back to some of the churches we visited yesterday. We even assist to a wedding where 3 couples are joined together in music. They are beautiful.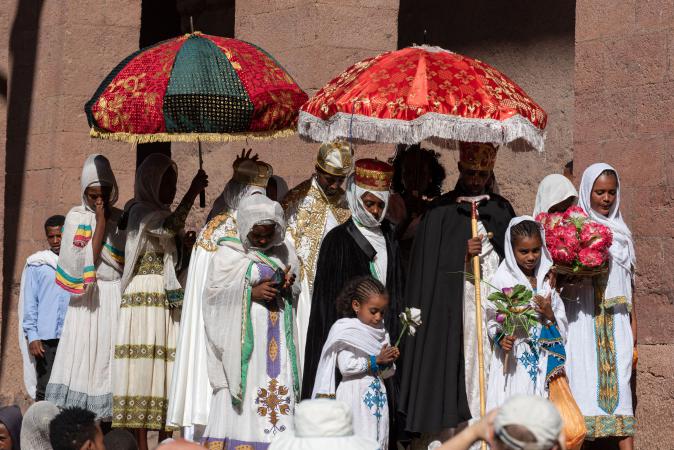 Then we visit the south group.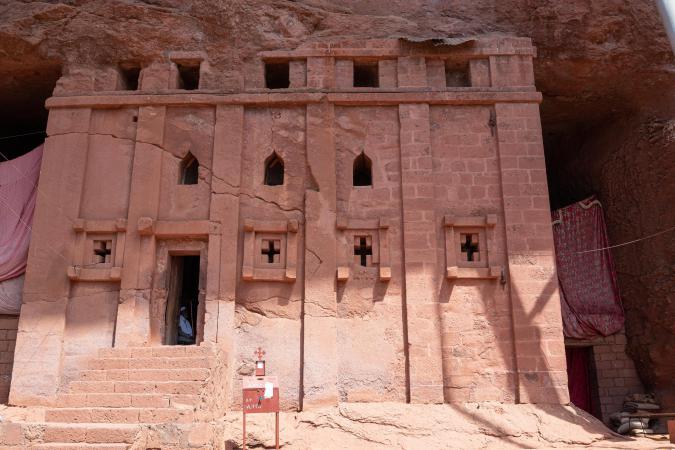 In one of them, we have to go through the "tunnel of hell" to reach the next church. We have to pass in single file by putting the right hand on the wall and the left hand on the shoulder of the people in front of you. The tunnel is 25 meters long and is very dark. We ask Mika to go back to St Georges church. With a bit of height, we can see all the people in white and it's very beautiful.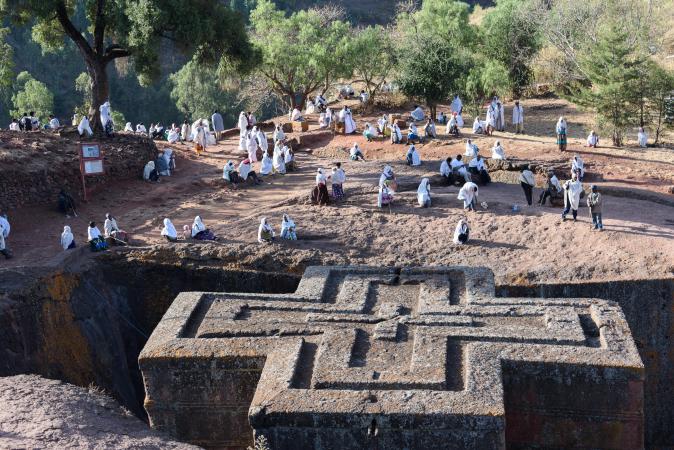 Then we have lunch at the Kana Restaurant : local buffet. Not bad. Mika leaves us. We walk back to the hotel to rest a bit. At 3 pm, Mika and Sovalo come to pick us up to visit the St Neakutoleab Monastery. It is built under an alcove in the mountain.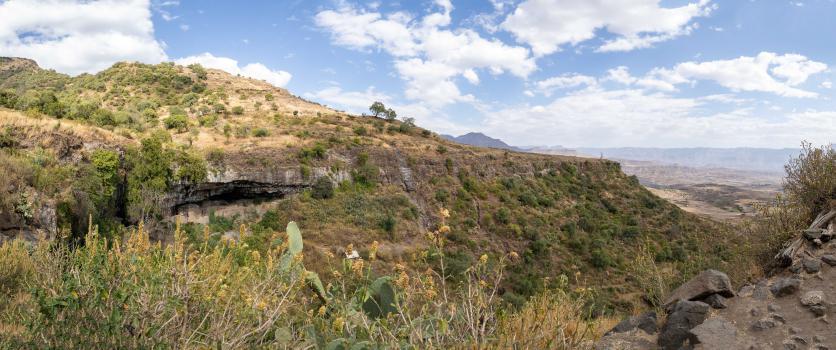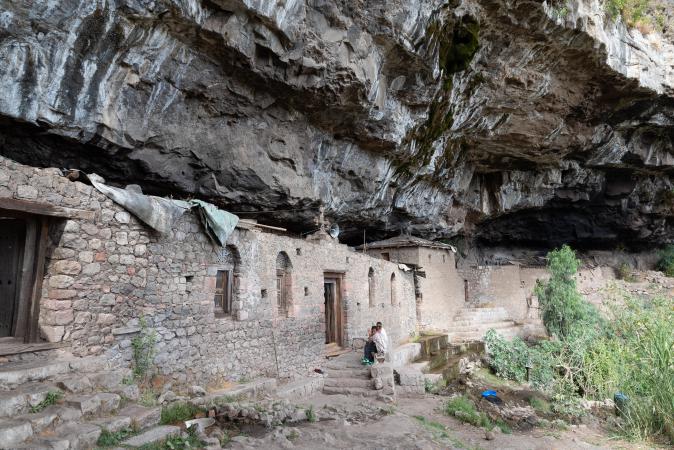 It's a very nice place. We visit the few prayer rooms and a priest shows us his treasures: different crosses and a very old prayer book.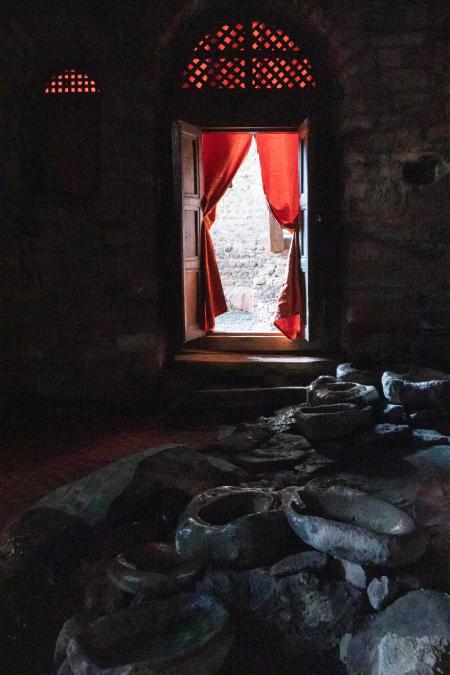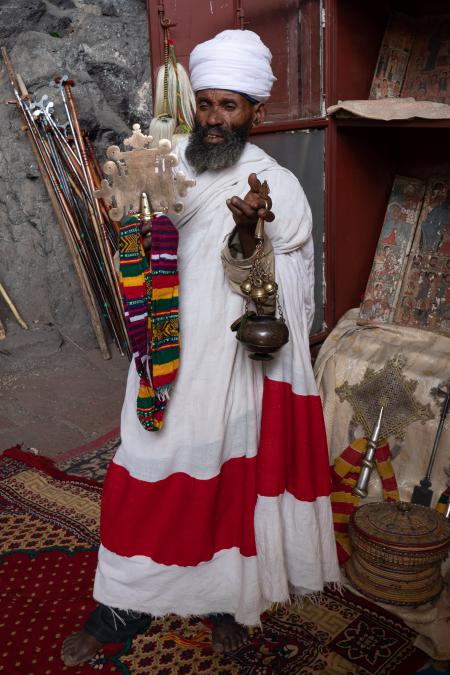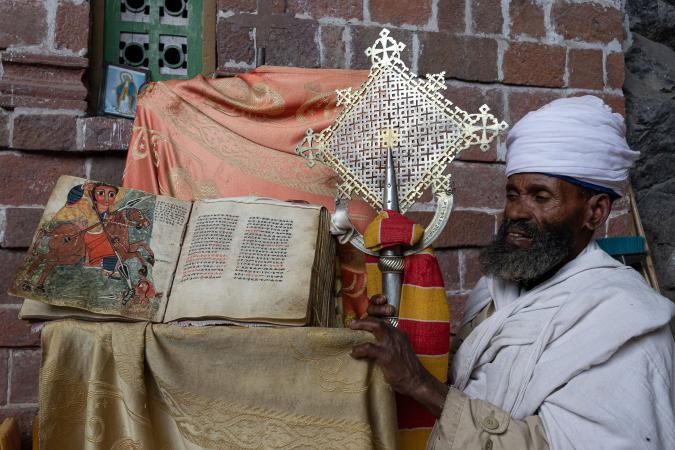 Back to the hotel at 5:00 pm.
Monday february 17 : up at 5:45 am. Departure at 7:10 am for Mekele. We have a 280 miles drive from Lalibela. We go through tracks crossing mountains, plains, villages. It's beautiful but dry.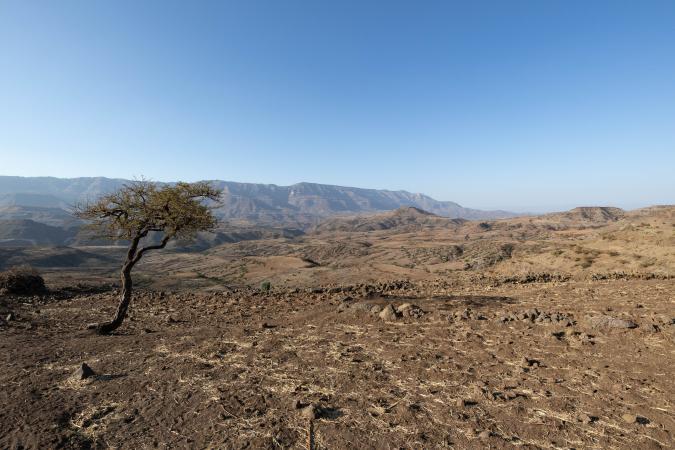 Some places are green thanks to small streams.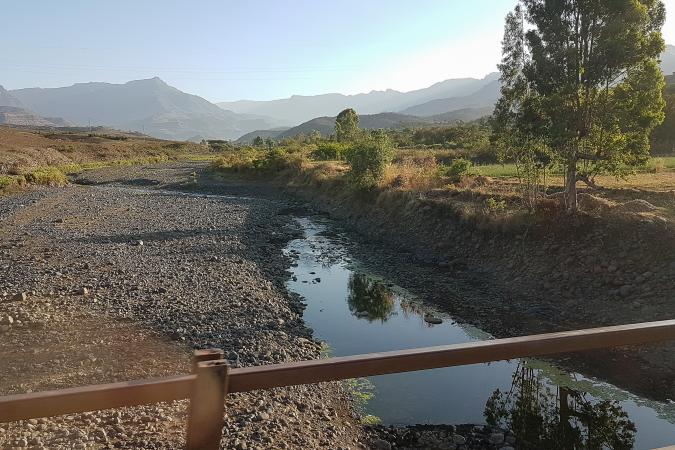 There are terrace crops. When crossing some villages, people and especially children ask for money. We drive up to an altitude of 10270 feet, it's much more green : there are eucalyptus, bamboos, banana trees and fields of corn, barley, wheat, beans, onions and cabbage.  The guide buys hot chickpeas and seeds for us to taste. We go down the mountain and it's very wooded. The landscape is nice, it's a shame that there is garbage everywhere. Agriculture is done the old fashioned way with oxen.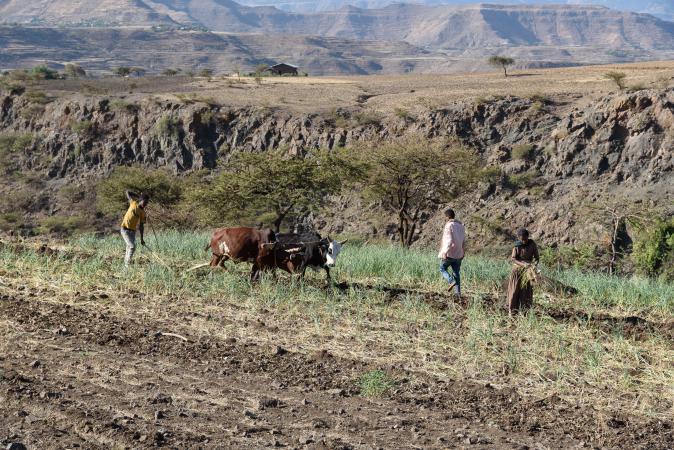 We cross the village of Sanka and Weldiya.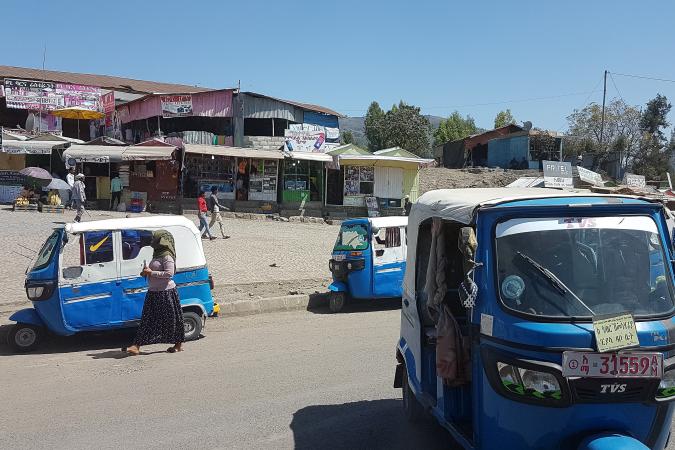 There is a tuk-tuk and trucks traffic jam, it's crawling with people. We stop for lunch at a restaurant at 12:50 pm (chicken curry). The road is very long, fortunately, we recovered a paved road. We are controlled several times and once we are asked to show our passeports. After a 10 hours drive, we finally reach our hotel in Mekele, in the Tigre area : Desta Hotel at 6:30 pm. Our bagages have to go through a security gate. We settle down in our room, it's very class,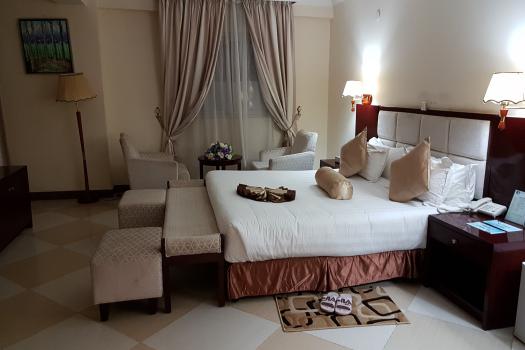 then we have dinner. It's Etienne's birthday today : 50 years old, we could not pass through this ! We made him the surprise of a cake and some small  presents. Etienne offers us a white ethiopian wine, it's very good. 
Tuesday february 18 : up at 6:45 am. Departure at 9 am with Mika and two 4WD cars and 2 driverrs : Johnny and Aye.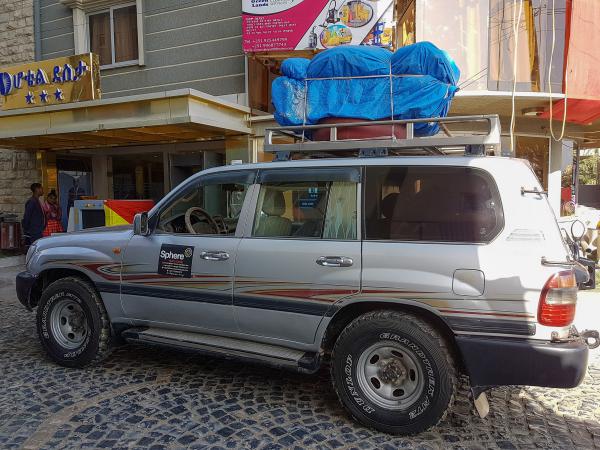 Another car has already gone with the cook. We have about 186 miles to go to the camp of Erta Ale. We stop in a village in the Mekele region where there is a market, Blazat. We go around the market with Mika, it's very colorful. The stalls are on the ground : vegetables, spices, plastic sandals, fabrics...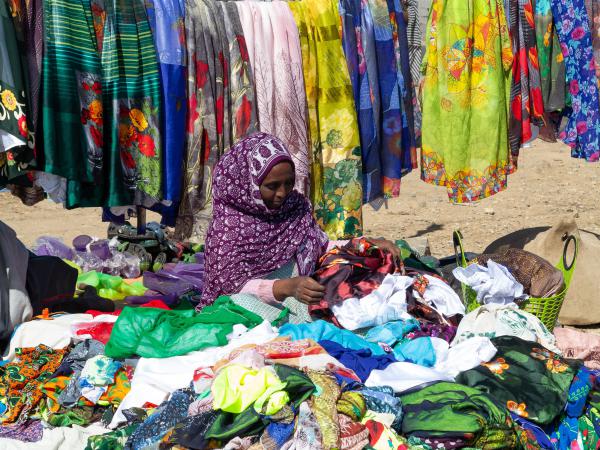 At 10:35 am, we arrive in the town of Abala at 4822 feet altitude, it's the beginning of the Afar region. Johnny and Mika go to get the permits to go up the Erta Ale volcano. Meanwhile, we drink coke or coffee in a bar. We take with us a policeman Khaled (and his Kalashnikov) who will accompany us until the end of our trip. We stop to eat in another village : Irepathi at noon. The "restaurant" is a hut made of  wood and tin.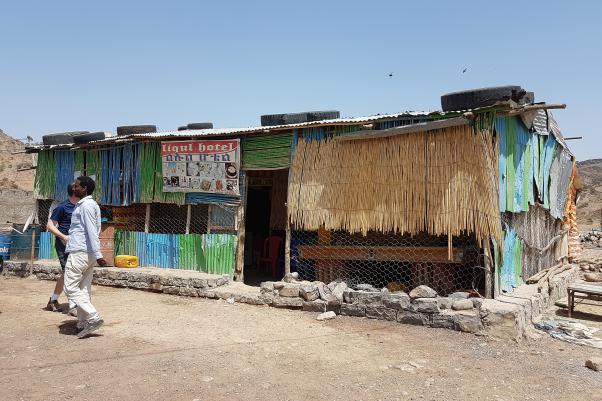 There is an old billiard table at the entrance. It is not the first one we see, in every villages, there is one or even several - amazing. We settle down on plastic chairs and our cook serves us rice, vegetables, canned tuna and sardines banana for dessert. We go to the toilets, which are... how shall I say... very rustic.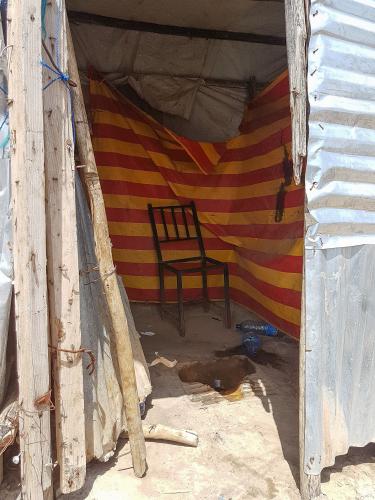 We leave at 1 pm. The landscape is flat and monotonous, it's long. And suddenly, it becomes volcanic. Hills of black rock appear.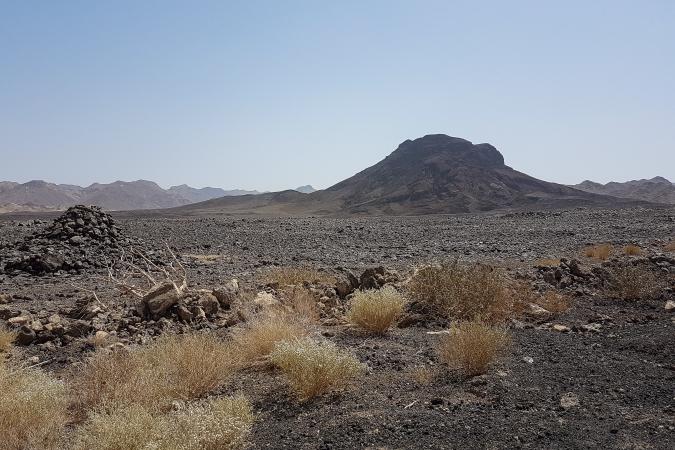 We go down to an altitude of 490 feet. We pass in front of nomadic villages : wooden huts. We wonder how they live here. There is nothing, no water, nothing to eat. We see the tombs of their dead. Mika explains us that the dead are buried where they die. We pass a checkpoint and take a track to the left, straight ahead is Eritrea. It's very hot, about 104-108°F at 2:20 pm. A paved road, made by chinese, is under construction along the track, it will soon be the parade of tourists. At 3 pm, we leave the track to go into the bush, in the sand, to go and pay the permit to the Afars. We stop once again in another village for another check and pay again ! At 4:35 pm, we finally arrive at the camp. It's stone huts with a straw roof at the foot of the Erta Ale volcano. 
From there, we have to walk up. Before that, we finish to prepare our belongings and give the guide the bags that will go up with the camels. We start the ascent on foot at 5:10 pm, it's 97°F. It goes up continuously but tranquilly, no big denivelation, but it's done in the volcanic rock, not very pleasant ! We stop often to drink because it's very hot. We go up there :
We arrive at night at the second camp at 7:15 pm. We did 2,7 miles with 940 feet of elevation gain. This camp is made of the same stone huts. The camels arrive at 7:30 pm.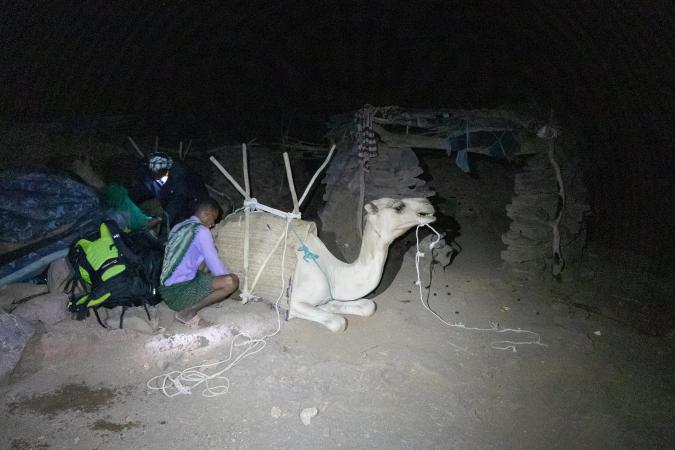 We are having spaghettis for dinner, prepared by our cook, sitting on mattresses. We then go to see the lava lake. On our way, we have to put on the gas masks. The fumes are coming towards us.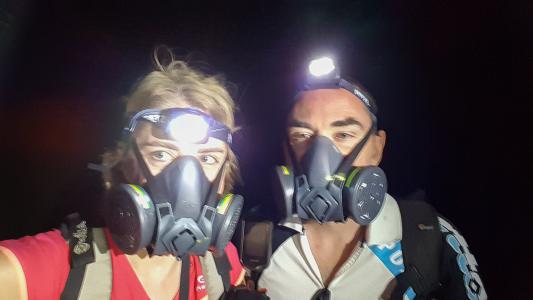 There are only 2 points of activity on the lake, we don't see much even if the walls are orange. It must be bubbling below us but the guides don't let us get closer, too dangerous.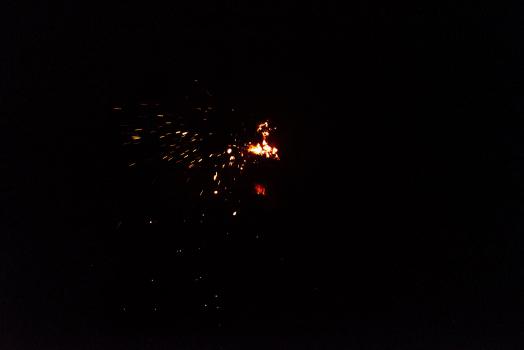 What a frustration ! We come back to the camp around 9:30 pm under the smoke. We cough a lot. We install the mosquito nets to sleep on the mattresses in the huts. Sometimes we have to put back the gas masks on. I can't stop coughing. On the other hand, it's not cold, we only sleep we our silk sheet. 
Wednesday february 19 : up at 4:30 am. We pack up our stuff and start the decscent, headlamps on, to the first camp. We are disappointed, we thought we could see the lava lake during the day but this would mean going down in the heat. 1:15 later, we arrive at the bottom and the breakfast is ready :   pancakes, toasted bread, jams, mango juice, fruits (pineapple and mango). Top ! We take the cars again at 7:30 am towards Dallol area. The usual tracks that leads to it is closed, we so have to return to the road we used yesterday, which makes us a big detour. At 10:55 am we stop at the same restaurant as yesterday in Irepahti. We drink a coke while the cook prepares our lunch. We leave at 11:30 am and stop to eat at 12:30 pm in Abala. There is an Afar market. The policeman proposes us to visit it.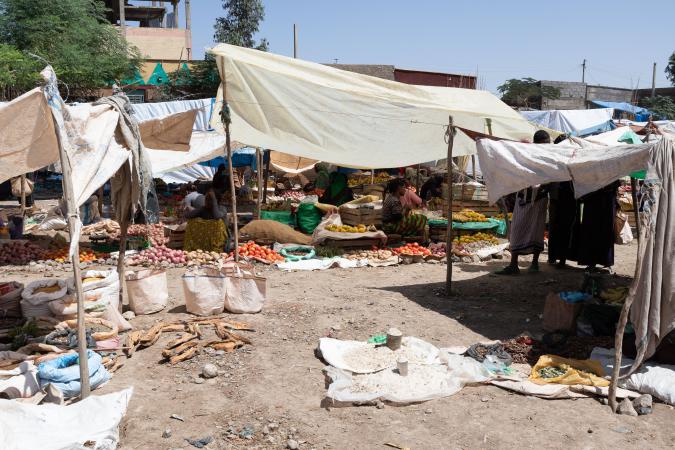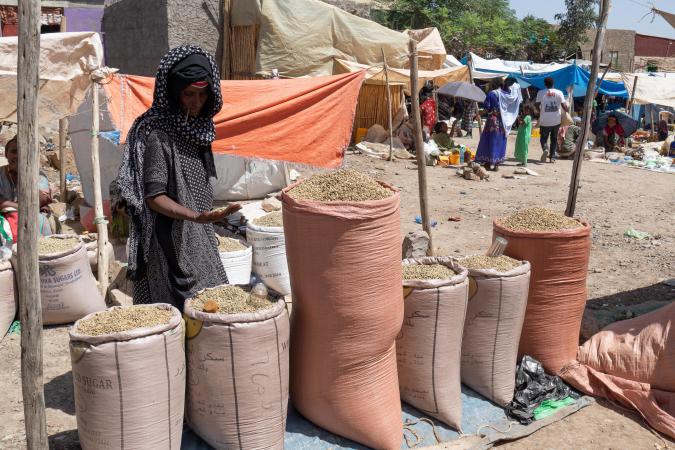 We are not very welcome. Some people don't want to be photographed. We leave at 1:45 pm. At 4:30 pm, we stop at a place to see the Danakil depression. It's a canyon located at 140m altitude.
It's very hostile : dry, very hot : 113° F. At 4:45 pm, we stop again at a place where we are at see level. Mika shows us fossils : shells, see sponges...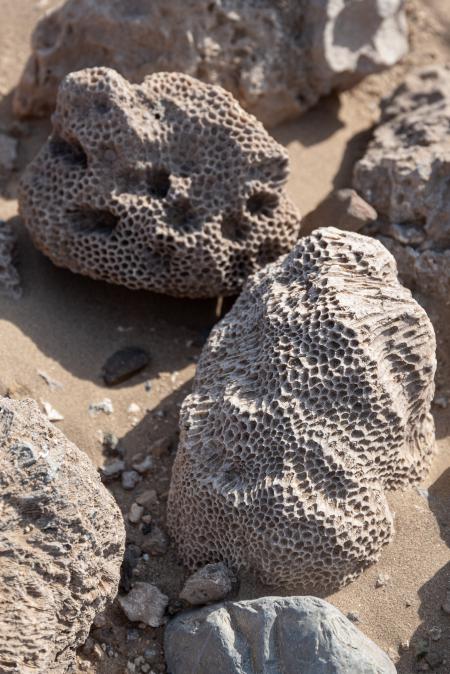 We finally arrive at 4:45 pm in the village of Ahmed Ila. In the middle of the village, we stop near wooden huts open to the 4 winds. This will be our  camp for 2 days. Beds, made of wood, with goat or cow skins as a base are installed along a building in the street, on a kind of village square. The drivers put the mattresses on them. This will be our dormitory.... like this ... in the open air in front of the inhabitants.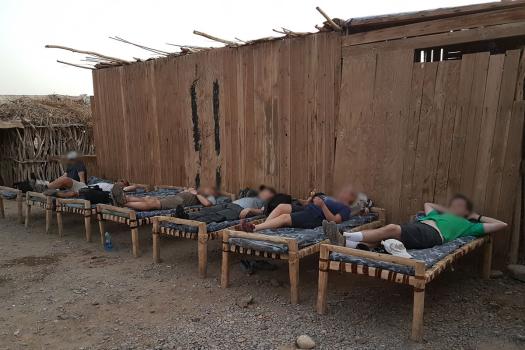 Donkeys and goats pass through our "room" ! Total immersion ! The youngs of the village observe us as if we were wild beasts. Even in the middle of nowhere, we find a bar with beers and cold drinks. We go there with Mika and Aye.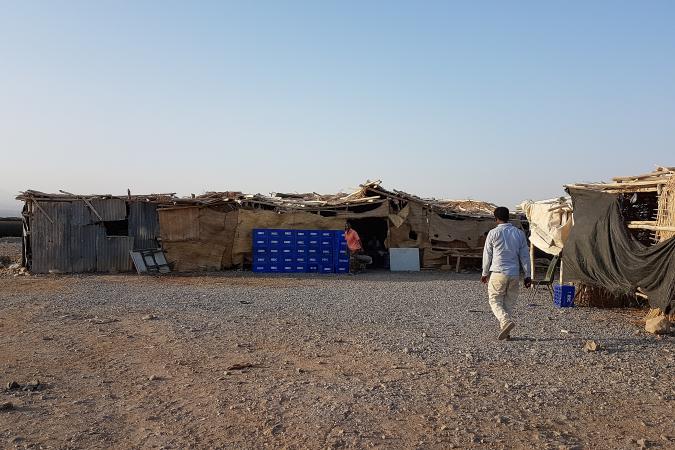 That's good ! The wind rises and lifts the dust. It's so thin that it's everywhere, in the eyes, in the ears, it sticks to the skin. Here, no running water so no proper restrooms.  There are turkish toilets without water. And the shower, it's just a canister filled with water and a bucket to empty on us. Come on, I'm trying ! It's good anyway. I feel less dusty. Chidren are talking to us. One of them has a wound on his arm with flies on it. Jean-Michel offers to look after him. With Michele, they disinfect the wound and put a bandage. We try to make him understand that he has to keep the bandage for 2 days before taking it off (well, he will come back the next day, the bandage half off !).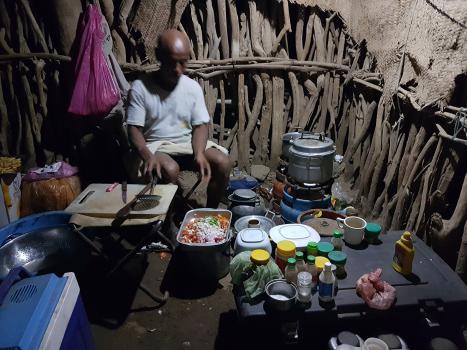 Dinner at 7:30 pm : vegetable soup, green salad and tomatoes, spaghetti, rice, fries, meat and banana. Bed around 9 pm under the wind and the flying dust.
Thursday february 20 : a few drops of rain fall. The night under the stars was pretty good, it was quiet and the beds comfortable. Up at 6:15 am. We pack our beds and have breakfast : toasts and fruits. Departure at 7:30 am towards Dallol with a military "Abdu" aka Rasta kalash" and his kalashnikov. We drive on salt tracks. It's very beautiful. Unfortunately it starts to rain. Mika tells us that it rains 1 or 2 days a year, bad luck, it has to be today ! We wait a little in the cars until it calms down. We go at 9:10 am during a lull. We go up a small hill of purple and yellow rocks.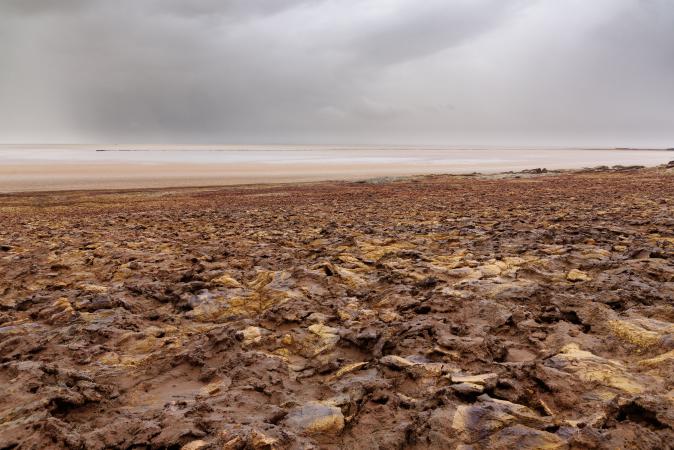 The miltary makes us do a big tour. We discover incredible palettes of colours, strange shapes, very thin lace, small pools of turquoise ou green water.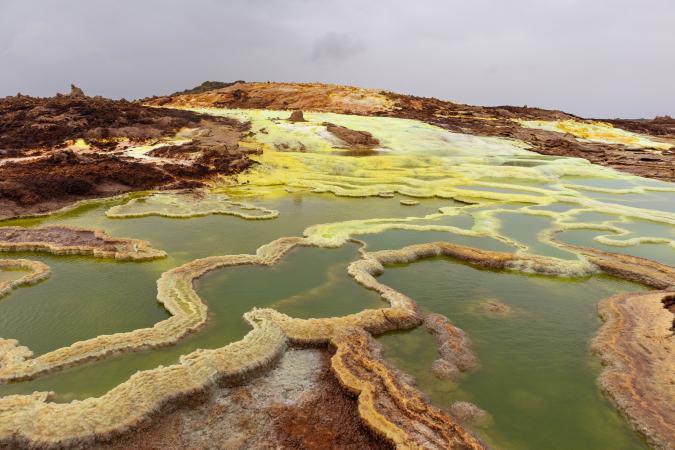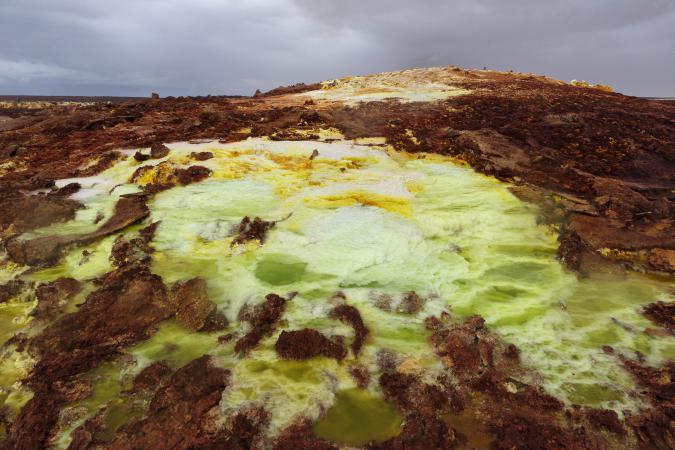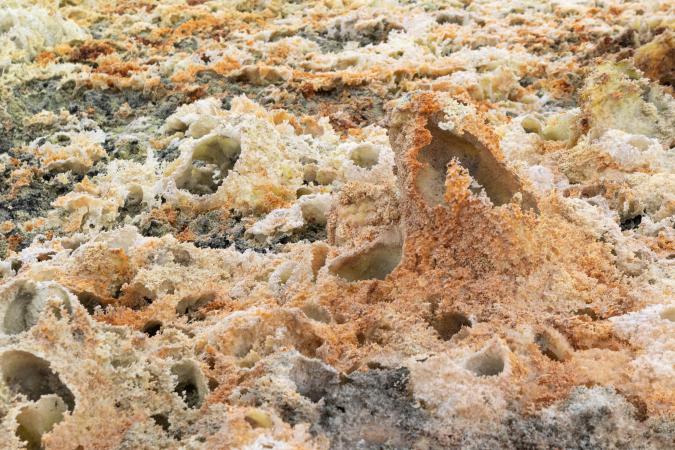 It's really wonderful. It's larger than we expected. But, it starts to rains again. The water is not cold but we're soaked to the bones. It's 77°F. We stay on the site for 2h20. Unfortunately, for the visit, we walk on these formations, it crumbles under our feet and we damage everything. We don't like that. Something really has to be done, pontoons for example like in Yellowstone, otherwise, in a few years we the rise of tourism, the site will be destroyed. We come back to the cars at 1:30 pm and we go see another site. Here, there are salt peaks.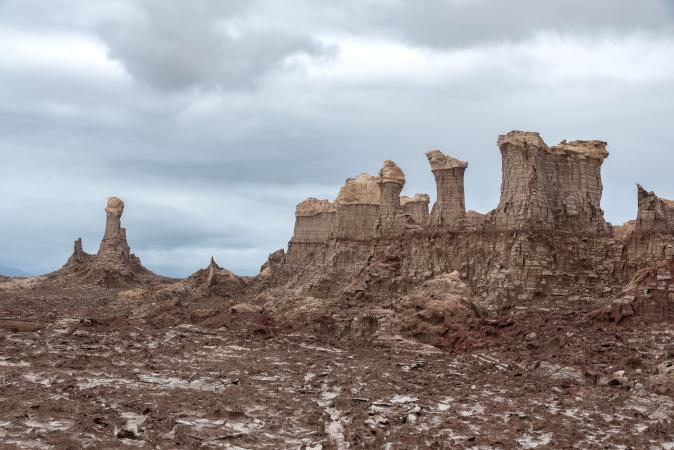 Then we're going to see a little bubbling lake: Petroleum.

It reminds us of Yellowstone. We return to camp at 1:45 for lunch: lentils, rice, oranges. We pack our bags again for tomorrow's departure. A little boy, Amin, comes to talk to Étienne.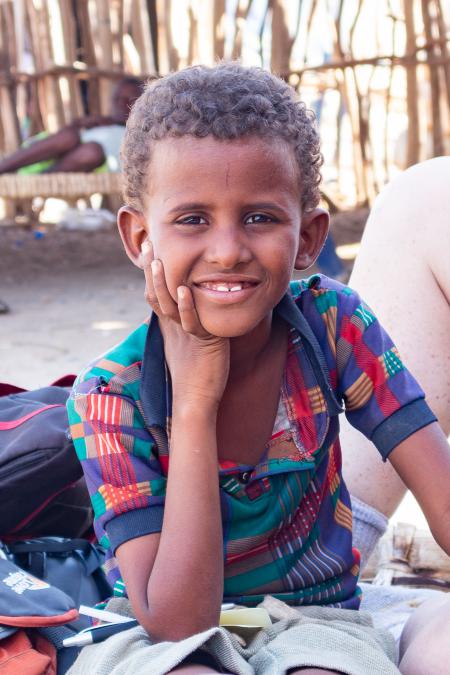 Other children come to the foot of our beds including the pretty Aïcha.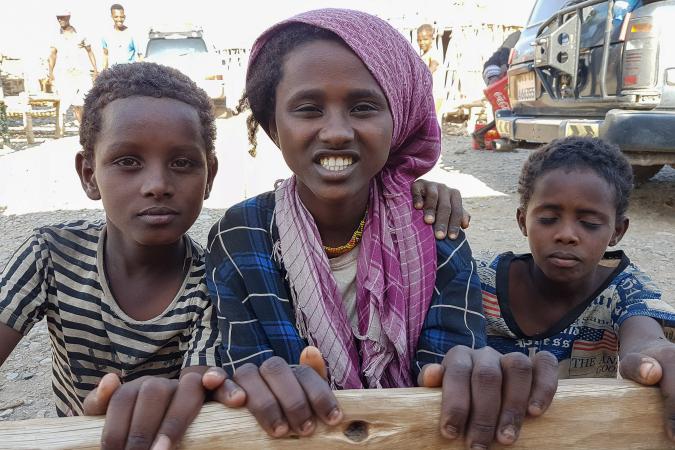 She speaks 3 words of french "bonjour ça va". At 4:30 pm we leave for Lake Karoum. We can see blocks of salt extracted by the workers and piled up waiting to be taken away by trucks (no more camel caravans).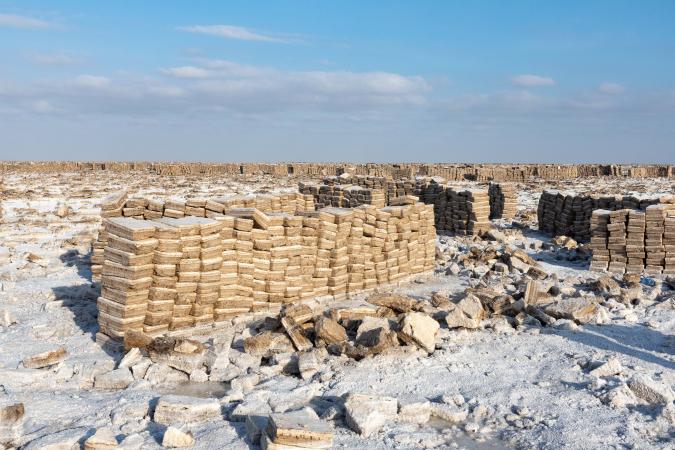 We climb the small moutain Assalé. At its top, the view is a sea of salt as far as the eye can see. It's immense. We then go further on the sea of salt, to watch the sunset. 
The light is very nice. We leave at 6:15 pm.
Friday february 21 : wake up at 4:45 because yesterday we negotiated with Mika to go back to Dallol. The sky is overcast. We leave at 7:10 am. The military makes us a different tour. Here, the yellow is bright.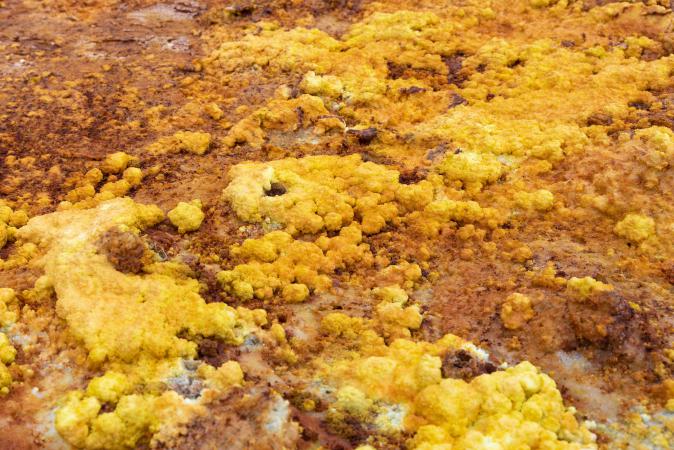 It's beautiful. It's 28 degrees. There's so much to see that we don't know where to look.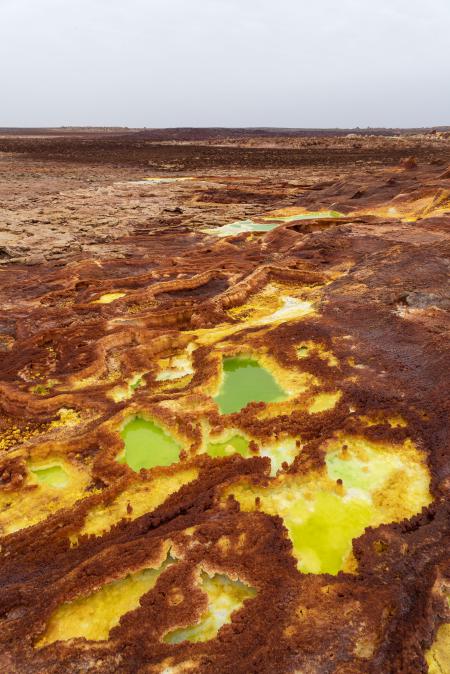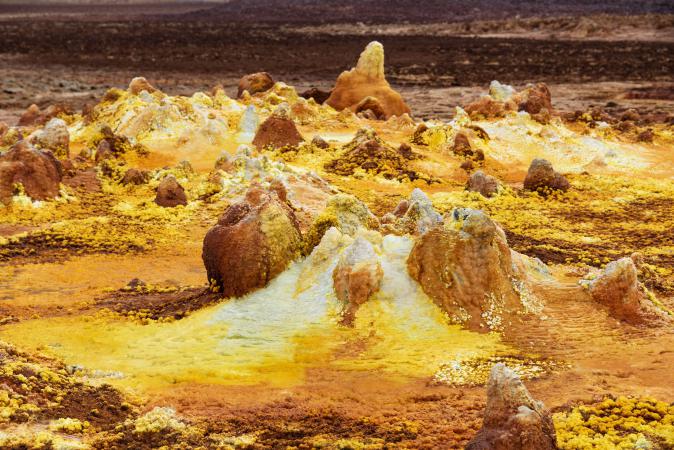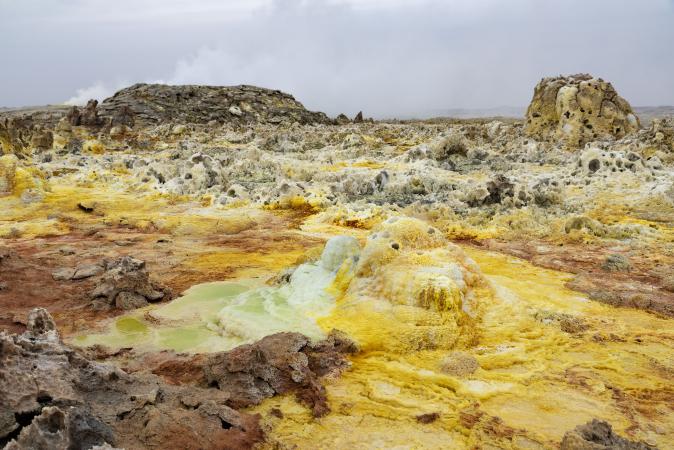 We stay again 1h10 on the site. Back to the car at 8:40 am. We go back to the camp to load the luggages. Aïcha is here and helps loading the luggage. We leave at 9:45 am in the direction of Mekele. We arrive at a checkpoint at the end of the Afar country. One of us is about to take a picture but there it goes into a tailspin. A young policeman starts shouting and doesn't want to lower the chain. Our driver Johnny gets angry too and they shoot looder and looder. He finally stops the car and gets out of the car. I'm afraid. Our 2 other cars are joining us. The young policeman opens our trunk but the driver closes it immediately. Aye comes to the rescue and lower the barrier himself. Phew we can go. We pass a pass in the mountain and we're in the Tigre region. We find blue sky. We pass without problem other checkpoints at entrances or exits of villages. We stop at a viewpoint on Mekele. We take a few pictures and we say goodbye to our cook and his driver.  We finally arrive at Mekele at 1 pm. We go to the Planet Hotel for lunch and a shower. The hotel is very class and the meal very good. Our drivers pick us up at 3:50 pm and drive us to the airport. We say goodbye to everyone. We have to pass a security point at entrance of the airport then we check in and go through another security check. We take off at 6:10 pm with 15 minutes delay for Addis Ababa, where we arrive at 7:15 pm. Once again it's the mess to go through the controls, we don't know where to go. Finally an agent take us to immigration. We have to take a bus to terminal 2. We have dinner in a buffet but it's really not good. We buy some souvenirs. At last, we board at 0:30 am. We take off with 45 minutes delay. They're serving a dinner while I would prefer they turn off the lights to sleep. I'm over !
Saturday february 22 : a breakfast is served around 4:00 am. We land in Paris at 6:10 am. We recover our luggage. We all leave happy with this beautiful experience. We leave with Michele and Jean-Michel to find Parkineo. We take back their car and we have a good breakfast at their home with croissants and chocolat bread. Still 1 hour of road for us and we arrive at home at 10 am.
In the late afternoon, we learn that one of our friends is in hospital with high fever, diarrhoea and dehydration. Another one doesn't answer the phone or the door, we all start to worry (finally he slept 24 hours non stop!) and 2 others are sick, including me, fever at 39.5°, diarrhoea, stomach aches. 4 sicks out of 7 people ! A few work stoppages, some rest and it will pass. We didn't expect an end of holidays like this one.